Instant Pot Mashed Potatoes are so easy to make! These creamy mashed potatoes are made with goat cheese, and they come out absolutely delicious. It's the perfect side dish for any meal, and making mashed potatoes in a pressure cooker couldn't be easier!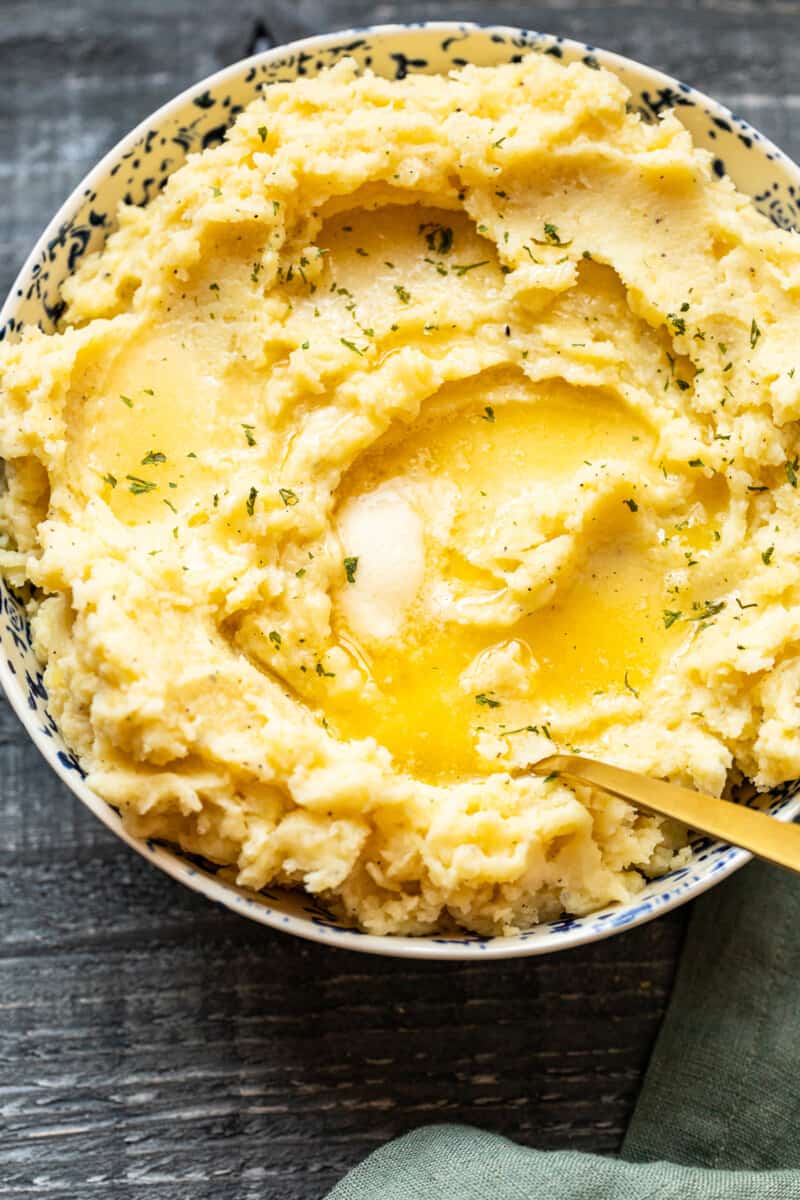 Easy Mashed Potatoes
This Instant Pot mashed potatoes recipe is my new go-to! It's the quickest and easiest way to make mashed potatoes, and they are super creamy and cheesy.
Everyone will love these creamy mashed potatoes with goat cheese, and they are a great side dish for any dinner. Pair them with pork, chicken, beef, turkey, or any other main you choose. And if you make them for the holidays, it'll be the easiest recipe on the table!
Why You'll Love this Mashed Potatoes Recipe:
EASY: Making mashed potatoes in an Instant Pot is truly the easiest method I've ever tried. No par-boiling required!
CREAMY: We're adding goat cheese and half n half into these potatoes to make them super creamy and cheesy. They're melt-in-your-mouth delicious!
PERFECT SIDE: Mashed potatoes are the perfect side dish. They go with everything, they always taste amazing, and no one will ever complain about these creamy potatoes.
When I say this recipe is simple, I mean it! We're just quickly cooking the potatoes in the Instant Pot, then mashing and mixing in the rest of the ingredients to create the perfect mashed potatoes. That's all there is to it!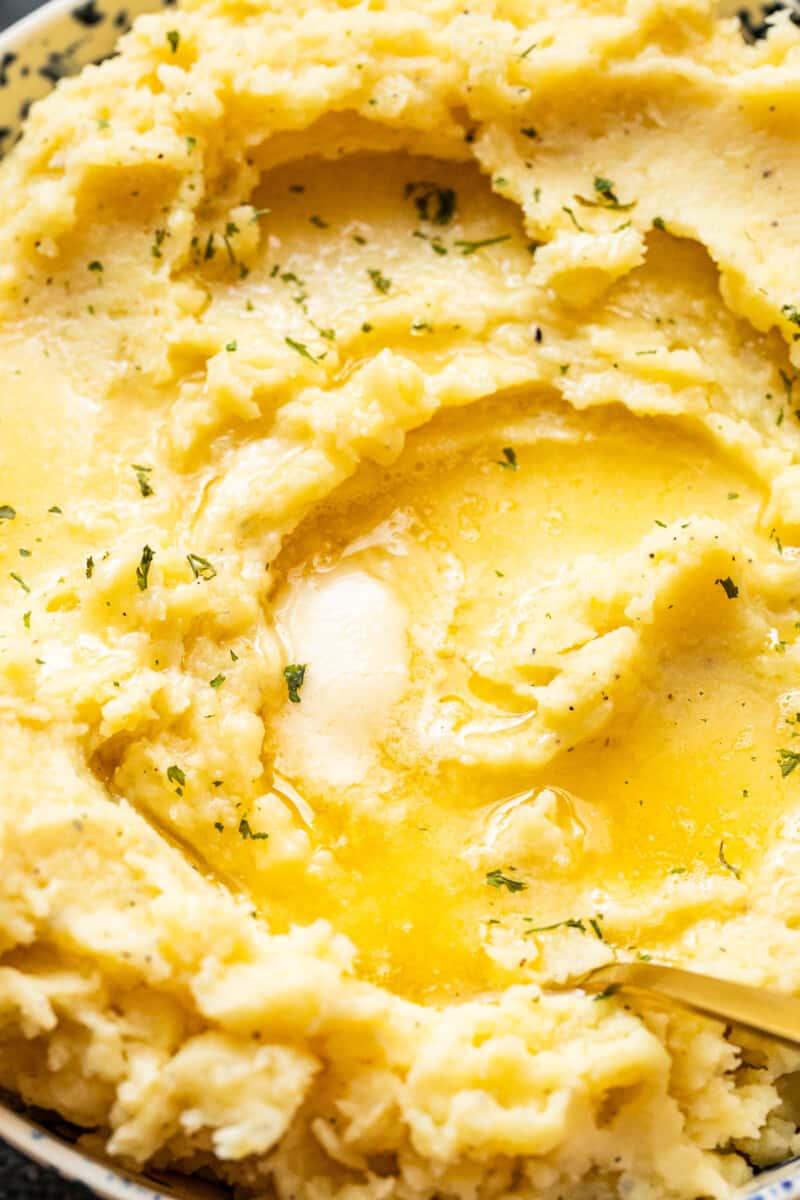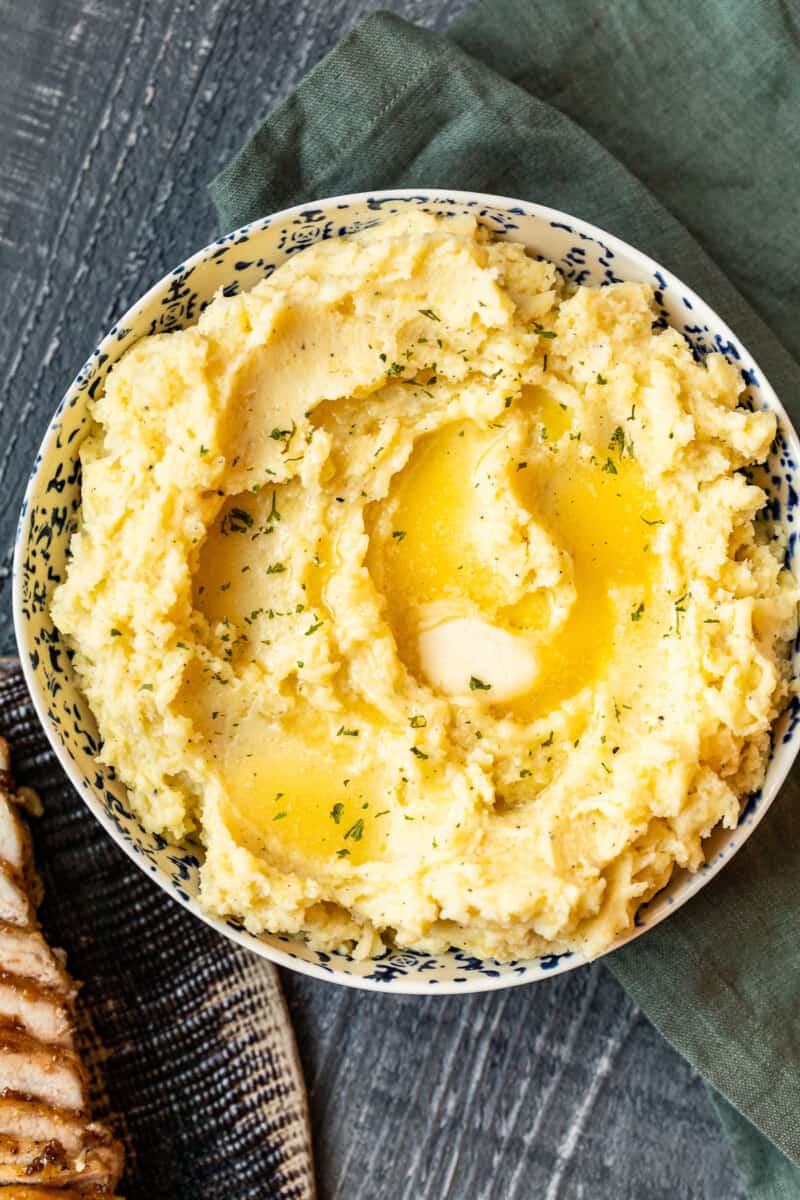 How to Make Instant Pot Mashed Potatoes
You can jump to the recipe card for full ingredients & instructions!
Peel and cut potatoes, then add them into the Instant Pot with water and cook.
While the potatoes cook, warm the other ingredients in the microwave.
Mash the potatoes, then stir in the warmed ingredients and season.
Serve with more butter and enjoy!
See how quick and easy this recipe is!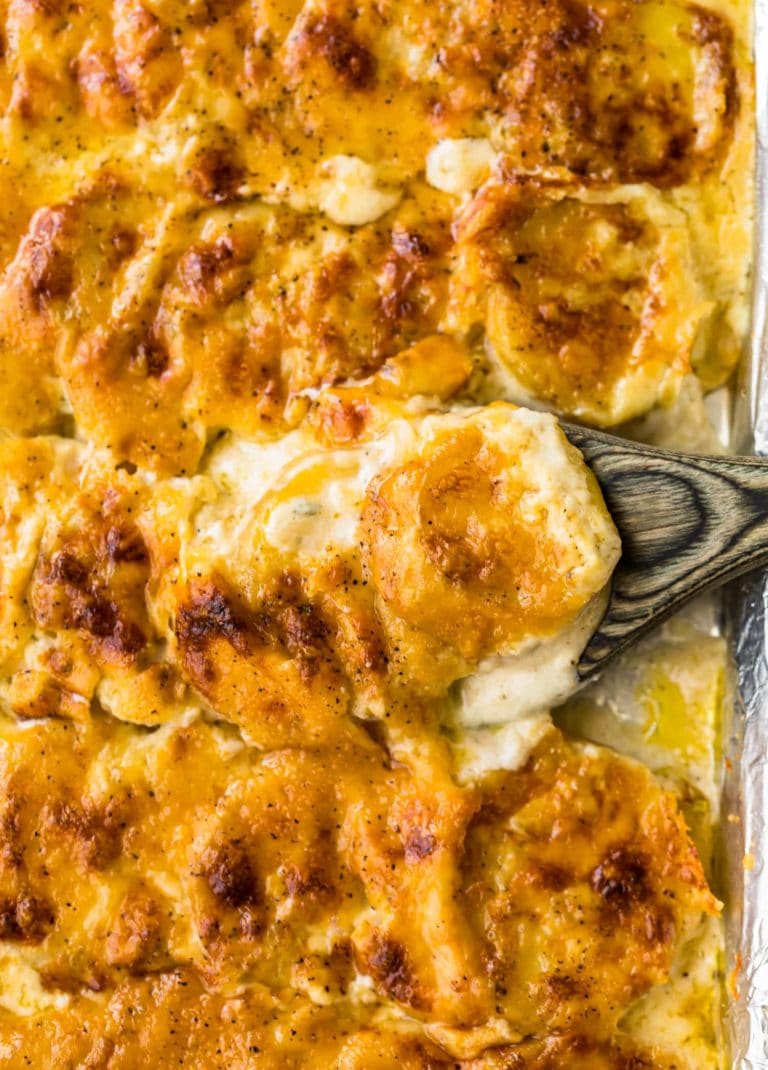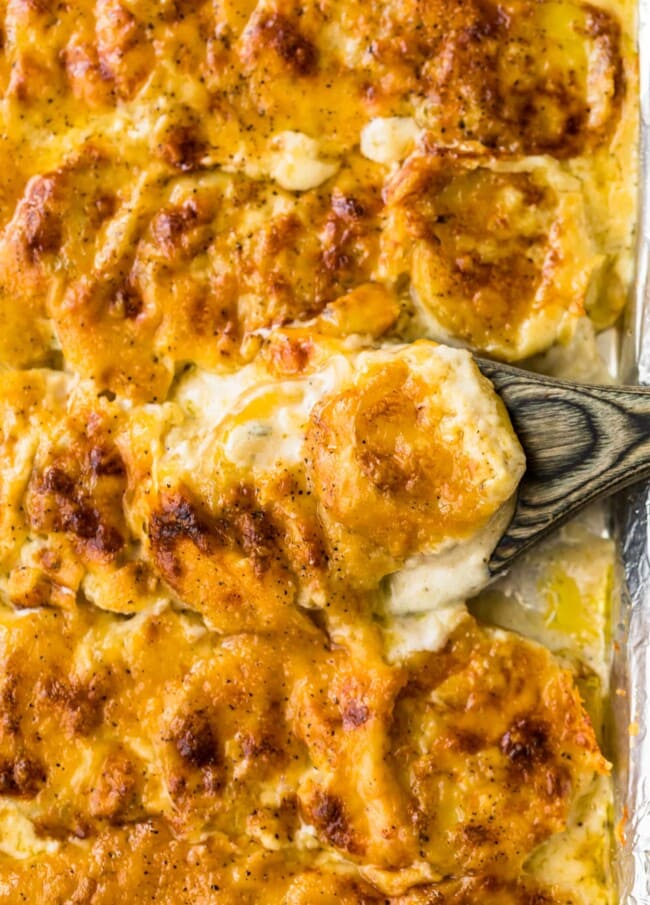 All the Holiday Sides
60+ Holiday Side Dish Recipes
This holiday season be sure to check out our sides guide for all the recipes plus tips and tricks for entertaining.
See Sides Guide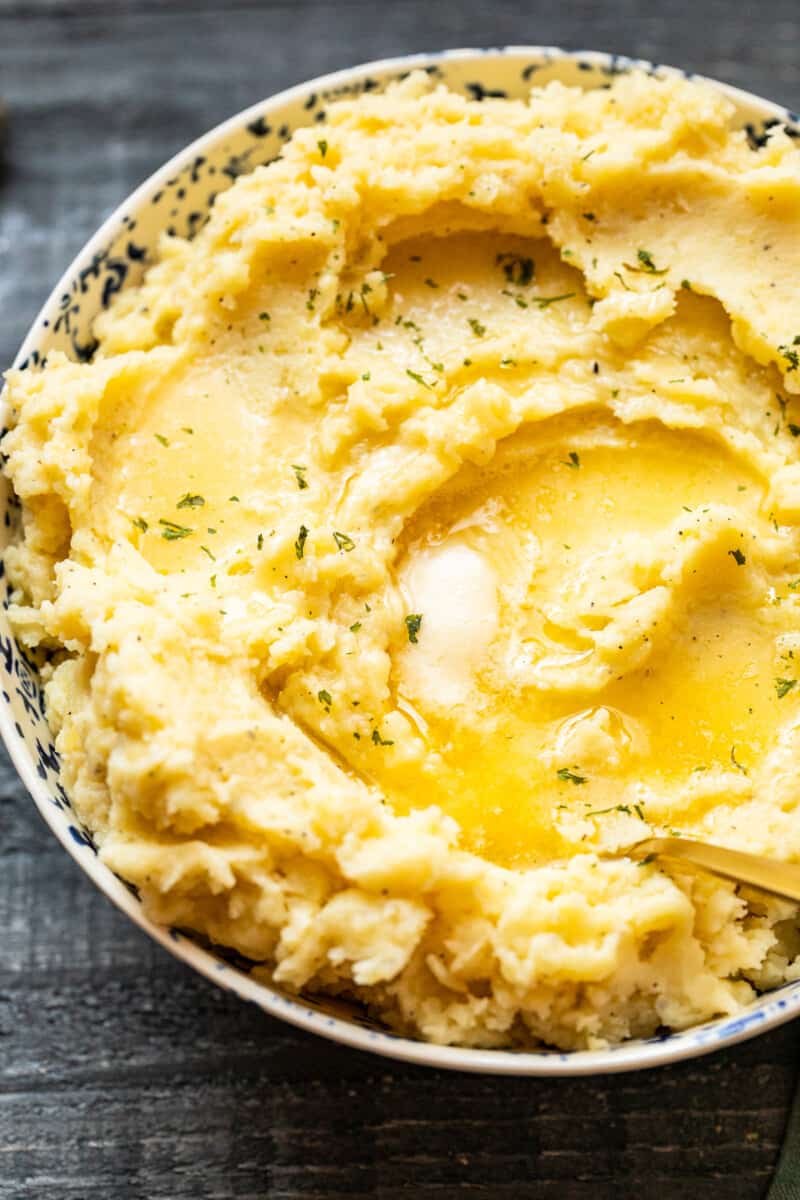 What potatoes are best for mashed potatoes?
For classic mashed potatoes, I like to use Yukon Gold. They have a great texture when cooked and mashed, and get nice and creamy. Russet potatoes are another good option.
Can I make these mashed potatoes ahead of time?
This is a quick recipe, so it's easy to make when you're ready to serve them. But you certainly can make them ahead of time and keep them in the fridge. Just reheat to serve!
How can I prevent mashed potatoes from drying out?
If your potatoes get dry before serving, add a splash of half an half and stir. Keeping them warm will also help prevent drying out.
What should I use to mash potatoes?
Use a potato masher, ricer, or electric hand mixer to mash the potatoes after they've cooked.
Serving Suggestions
These Instant Pot mashed potatoes go with absolutely everything. I can't think of one dish I wouldn't serve them with! They pair well with chicken, beef, pork, turkey, and even seafood. I love them for the holidays too, because they work with lots of other side dishes.
Here are some of my favorite mains to serve these with:
Make these potatoes for the ultimate Christmas side or Thanksgiving side dish!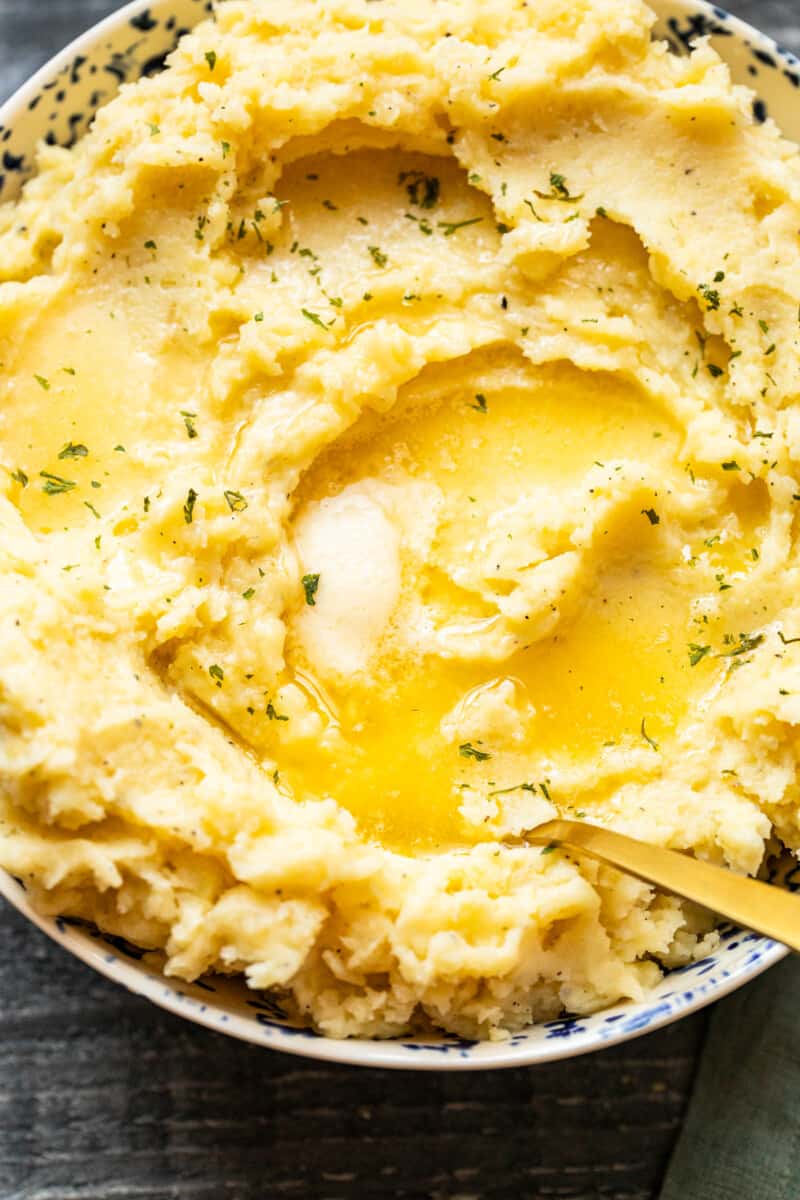 Tips!
Use a steamer basket for your pressure cooker to cook the potatoes.
You can easily add in any other ingredients you like. Stir in bacon crumbles, garlic, a different kind of cheese, etc.
Be sure to warm the other ingredients before stirring them into the mashed potatoes.
You can keep mashed potatoes warm in the Instant Pot as well. Just empty/clean it out, then add them back in on the warm setting.
Leftovers should be stored in an airtight container, and kept in the fridge for 3-5 days.
Creamy? Check. Cheesy? Check. Easy? Check! I guess that makes this the perfect mashed potatoes recipe!
What can I use instead of goat cheese?
Goat cheese has a really nice tangy sort of flavor, which I think blends in nicely with potatoes. But it also creates a really creamy texture that not all cheeses can create. If you need a substitute, cream cheese, ricotta, or soft feta are your best bets!
Can I make mashed potatoes in a crockpot?
Absolutely! I love this Slow Cooker Mashed Potatoes recipe. It uses garlic butter, but you could easily swap out the ingredients to make it more like this one if you prefer.
Can I make mashed sweet potatoes in the Instant Pot?
Yes! This recipe works with any type of potato. But for more detailed instructions, I recommend using this Instant Pot Mashed Sweet Potatoes recipe instead.
How can I make vegan mashed potatoes?
The butter, goat cheese, and half n half all add so much creaminess to these Instant Pot mashed potatoes. But you can definitely swap these out with dairy-free ingredients and achieve similar results. Try using margarine and coconut milk/cream.
Or, try this dairy-free mashed potatoes recipe instead!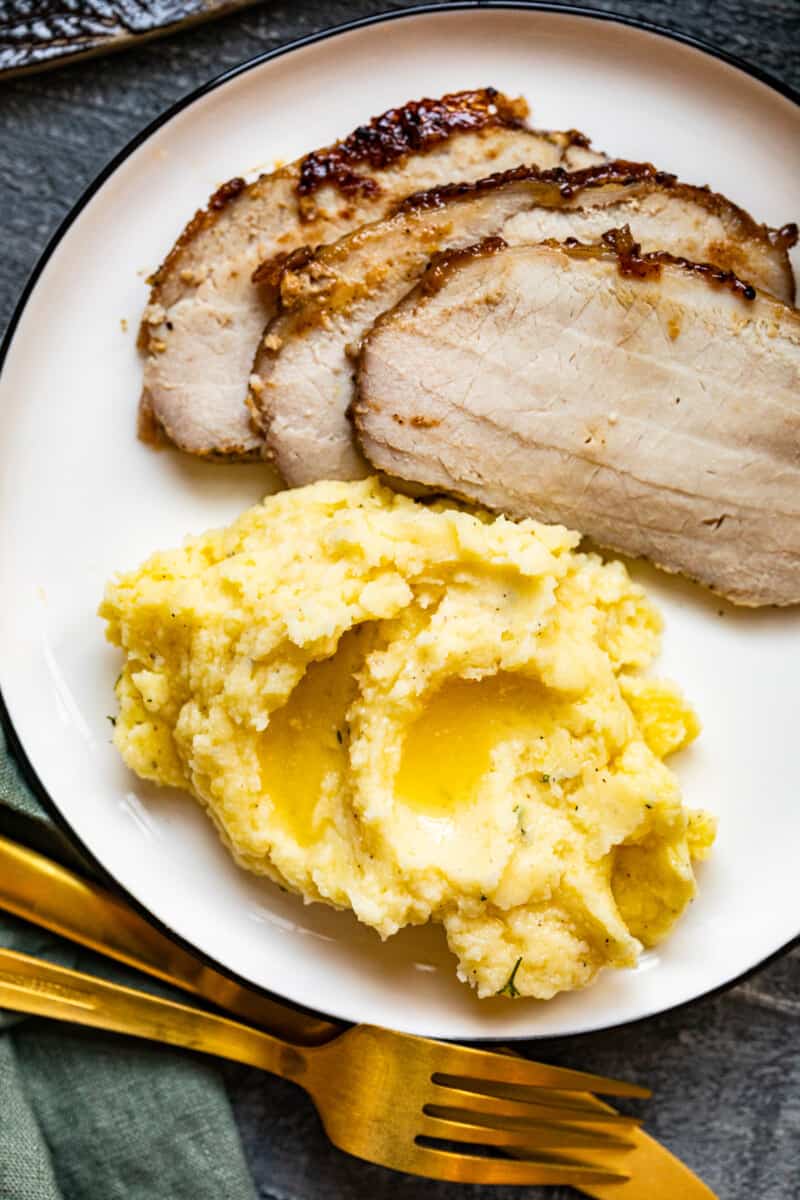 This Instant Pot mashed potatoes recipe is about to be your new favorite. It's so quick and easy, and these potatoes are just so perfectly creamy!
If you make this recipe be sure to upload a photo in the comment section below or leave a rating. Enjoy! You can also jump to recipe.