Everyone's favorite holiday side dish, Sweet Potato Casserole, is a breeze to make in the Crockpot. Sweet and crunchy, topped with pecans and marshmallows, it's perfect to serve alongside your roasted turkey.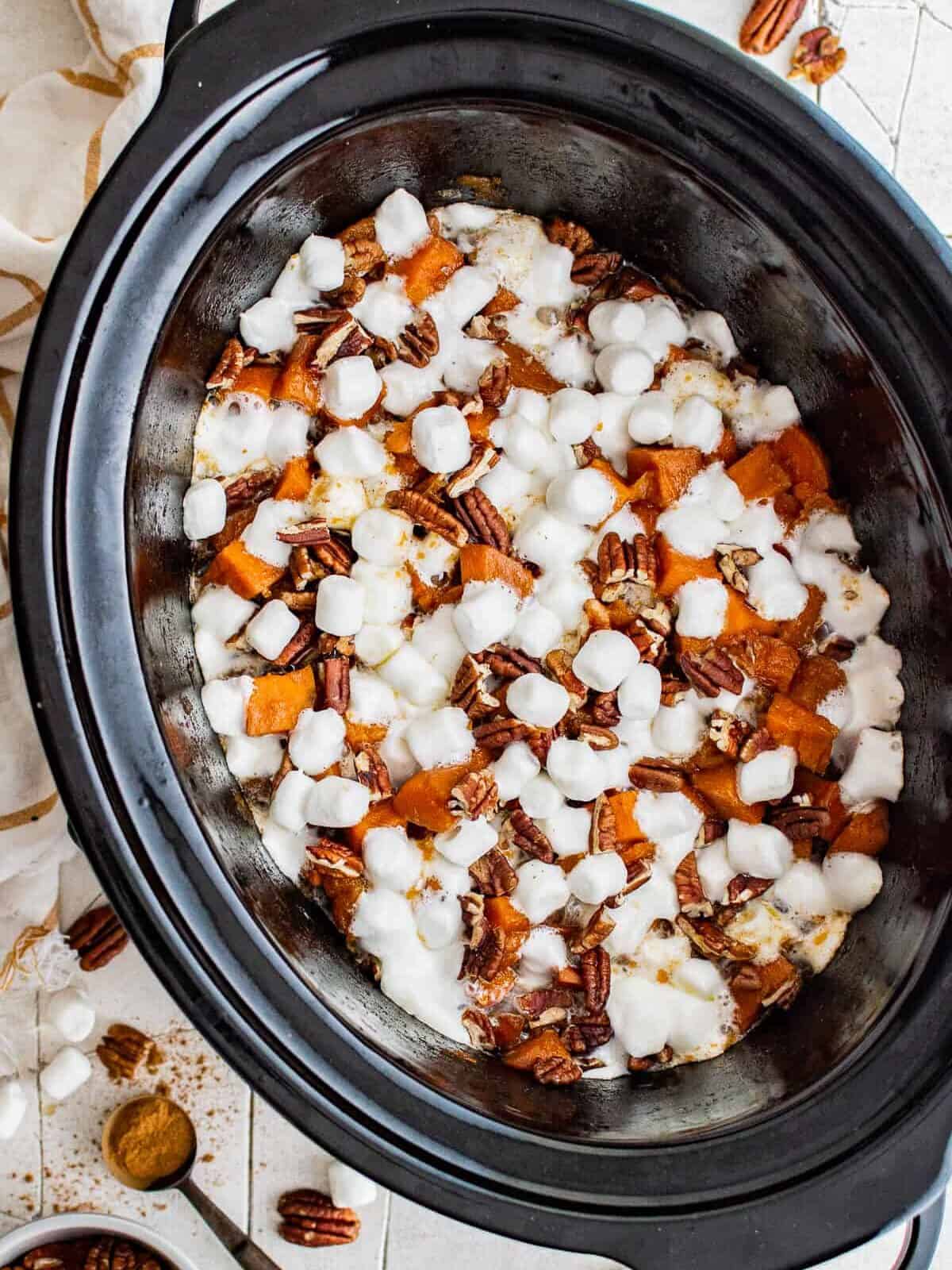 What's in Slow Cooker Sweet Potato Casserole?
This classic sweet and savory vegetable side dish is a breeze to make in the Crockpot, and it will free up your oven for the rest of the meal. It's a great alternative to oven baked and so simple to prep.
Brown Sugar: Adds the perfect amount of rich sweetness to this casserole.
Unsalted Butter: Enriches the potatoes and infuses them with a delicious flavor.
Water: Helps the potatoes steam and cook through in the slow cooker.
Ground Cinnamon: Adds a warm and spicy flavor.
Vanilla Extract: Enhances the natural sweetness of the potatoes.
Sweet Potatoes: Cut the sweet potatoes into evenly sized cubes so that they cook evenly.
Mini Marshmallows: Add a pop of sweetness and an ooey-gooey texture!
Pecans: Add a nutty flavor and a crunchy texture.
Pro Tip: Pecans are the traditional topping, but walnuts work great too!
Variations on Slow Cooked Sweet Potato Casserole
There are so many ways to jazz up this classic casserole. Try swapping the marshmallows for a pecan streusel topping by combining chopped pecans, brown sugar, melted butter, and cinnamon. Sprinkle this over the casserole during the last hour of cooking.
You could also drizzle the casserole with a maple syrup glaze or add a pinch of nutmeg to the potatoes as they cook for even more holiday flavor.
For a more savory casserole, add herbs like rosemary, thyme, and sage to the sweet potatoes and sprinkle them with grated cheddar or Parmesan cheese during the last hour of cooking.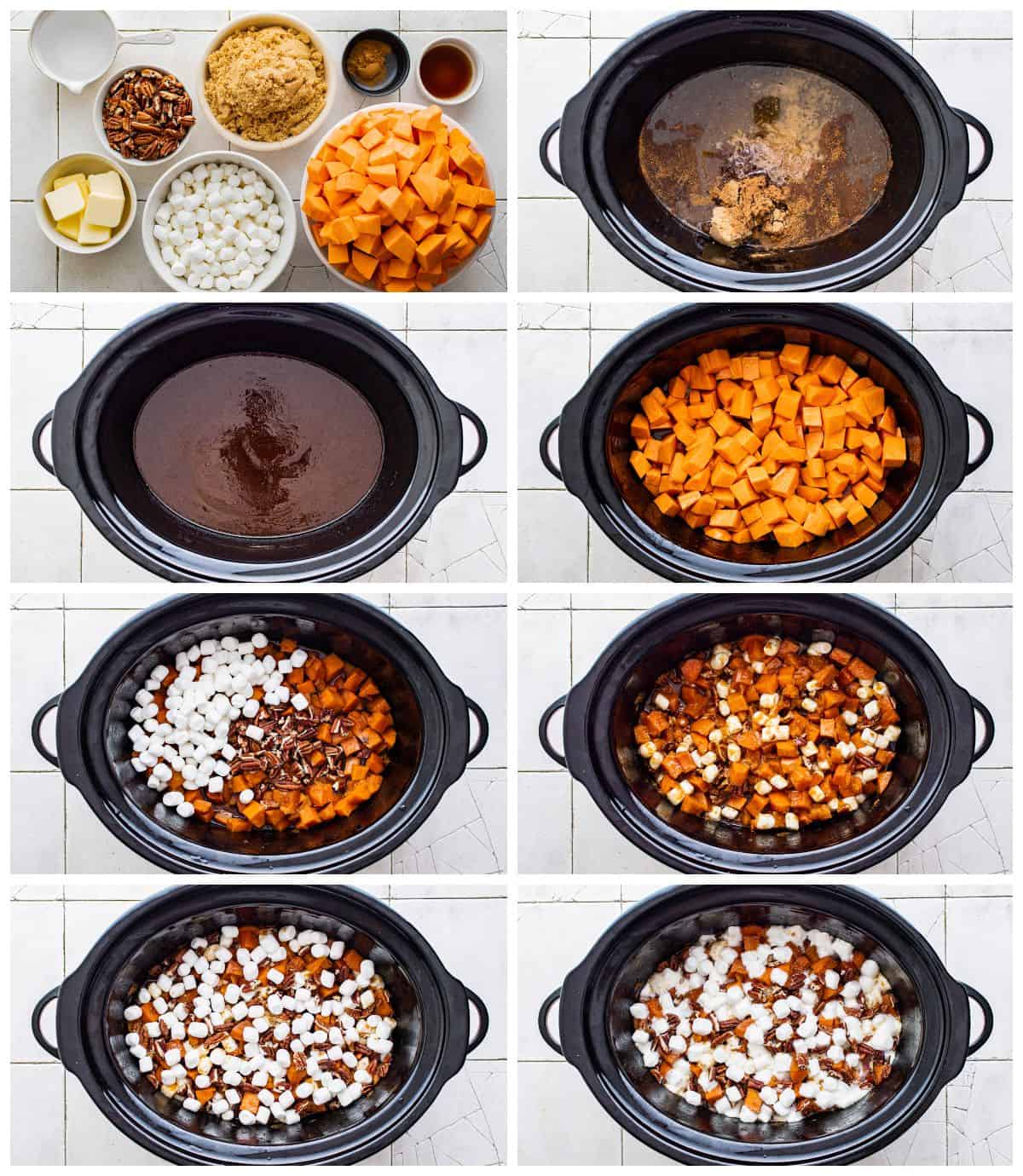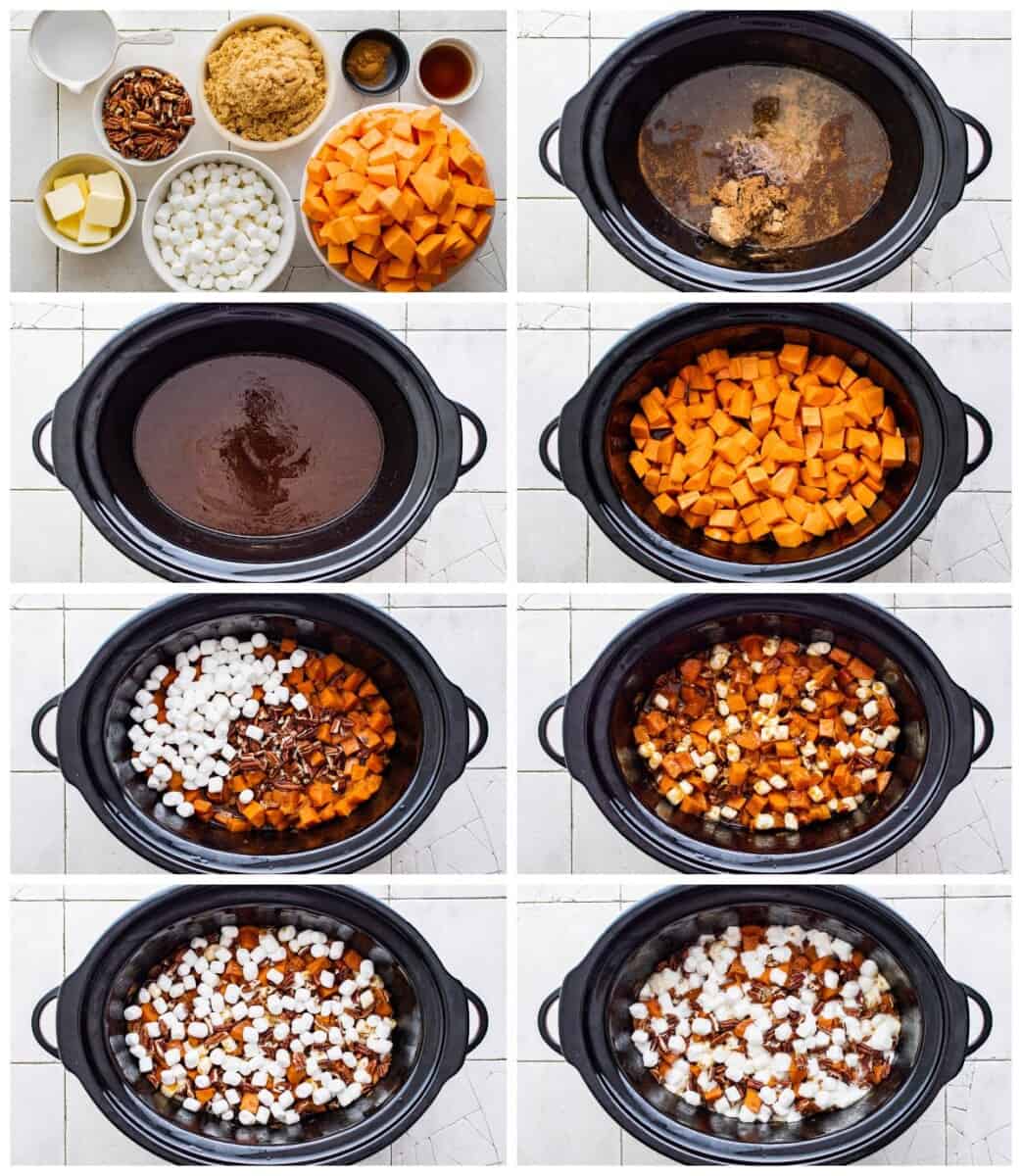 How long does it take to cook sweet potato casserole in a crockpot?
This side dish takes 3 ½-4 hours on a high setting, or on low for 6-8 hours. Just set it to go while you are prepping the rest of the meal and your Thanksgiving dinner will be a breeze to make!
Do you need to peel the sweet potatoes before making casserole?
Yes, it's best to peel the sweet potatoes as the skins can be quite tough and chewy even when cooked. Cut them into similar-sized pieces so that they cook evenly.
Can I substitute canned sweet potatoes for fresh sweet potatoes?
Canned or thawed frozen sweet potatoes can be used in this recipe.
Should sweet potato casserole be firm?
Sweet potato casserole should be set and firm, not loose and runny.
Why does sweet potato casserole get watery?
Sweet potatoes tend to absorb water, so if you boil them before making the casserole, they will release that water as they bake/cook, making the casserole watery. We avoid this by cooking them from raw in a crockpot.
How do you thicken up sweet potato casserole?
If you prefer a thicker casserole, add 2-3 tablespoons of flour to the sweet potatoes to help them thicken up as they cook. You can also stir in some cornstarch towards the end of the cook time.
Can I make this ahead of time?
Yes! You can prep the whole dish the night before and keep covered and refrigerated until ready to cook. Once cooked, the casserole will keep well for up to 5 days in the fridge.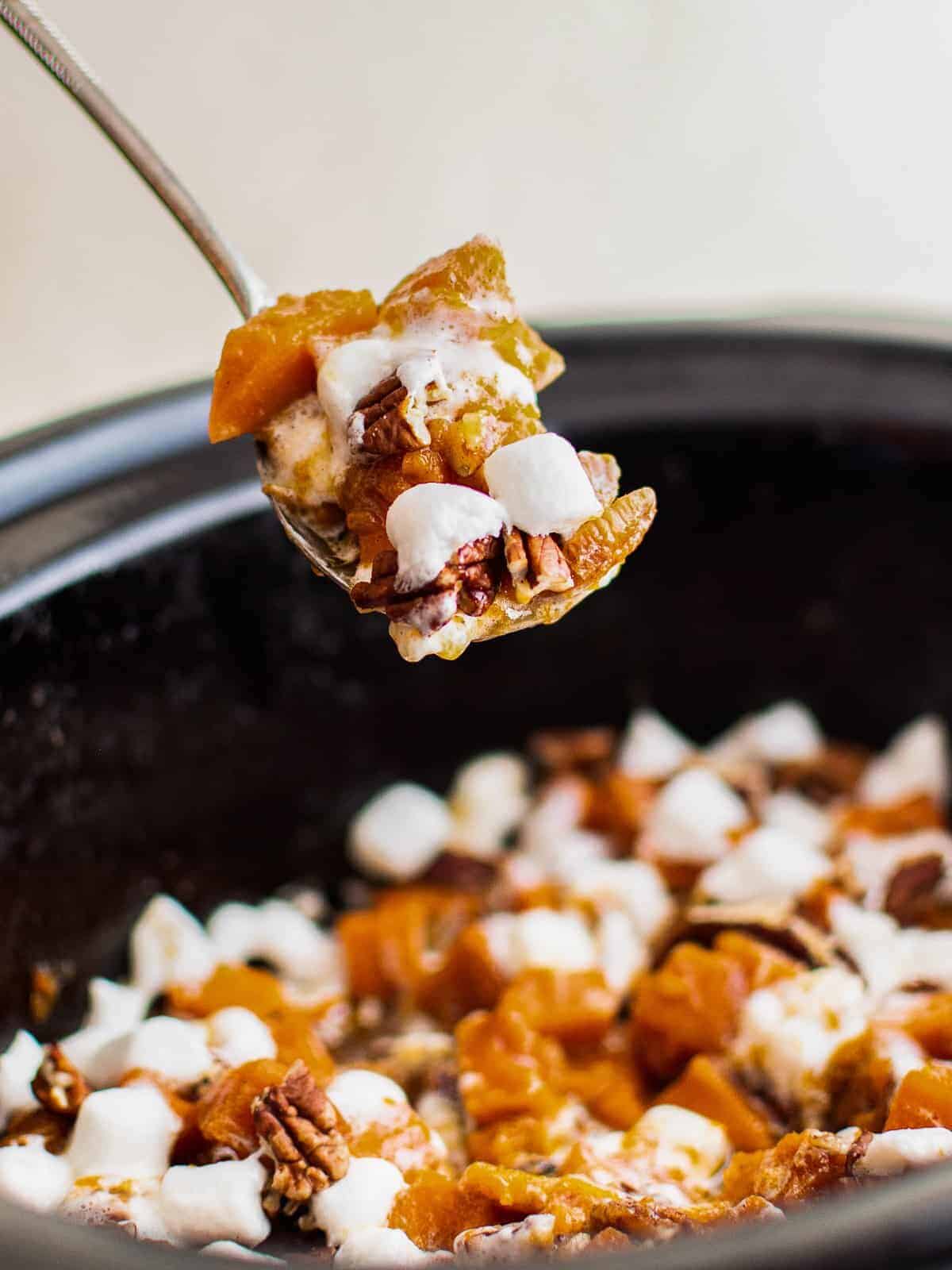 How to Store and Reheat
Store leftover crockpot sweet potato casserole in an airtight container in the refrigerator for up to 5 days. Reheat on the stovetop or in a 350°F oven until warmed through.
How to Freeze
Freeze sweet potato casserole in an airtight container or Ziplock bag for up to 3 months. Let thaw overnight in the refrigerator before reheating.
Serving Suggestions
This crockpot sweet potato casserole is great to serve as part of your Thanksgiving or holiday dinner. Try it with a festive main, like Roast Turkey, Smoked Turkey Breast, Prime Rib Roast, or Honey Mustard Pork Tenderloin
This vegetable casserole will be a surefire hit with whatever you serve it with!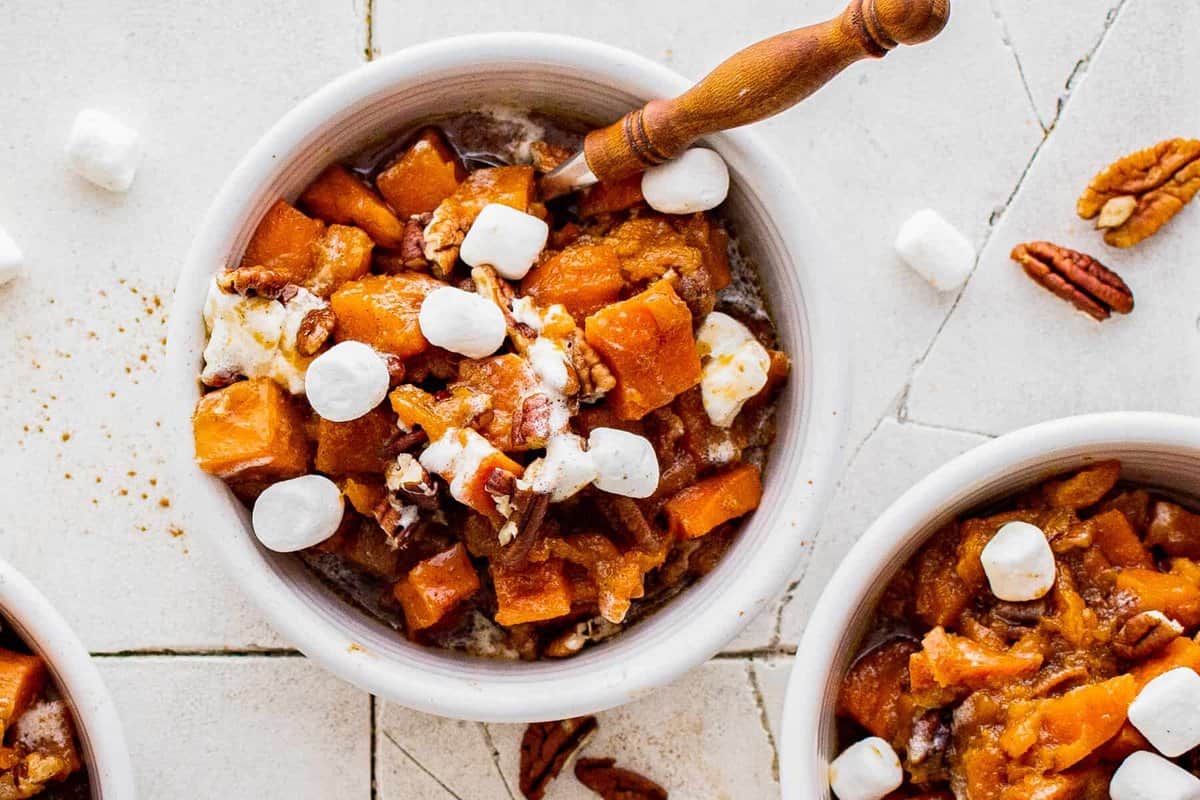 More Sweet Potato Recipes We Love