Sausage Stuffed Mushrooms are cheesy, savory, and so delicious! This easy, cheesy sausage stuffed mushroom recipe is the perfect appetizer for holidays, game day, or any special occasion. Mushroom caps are stuffed full of cheese, sausage, onion, and more to create the most amazing flavor!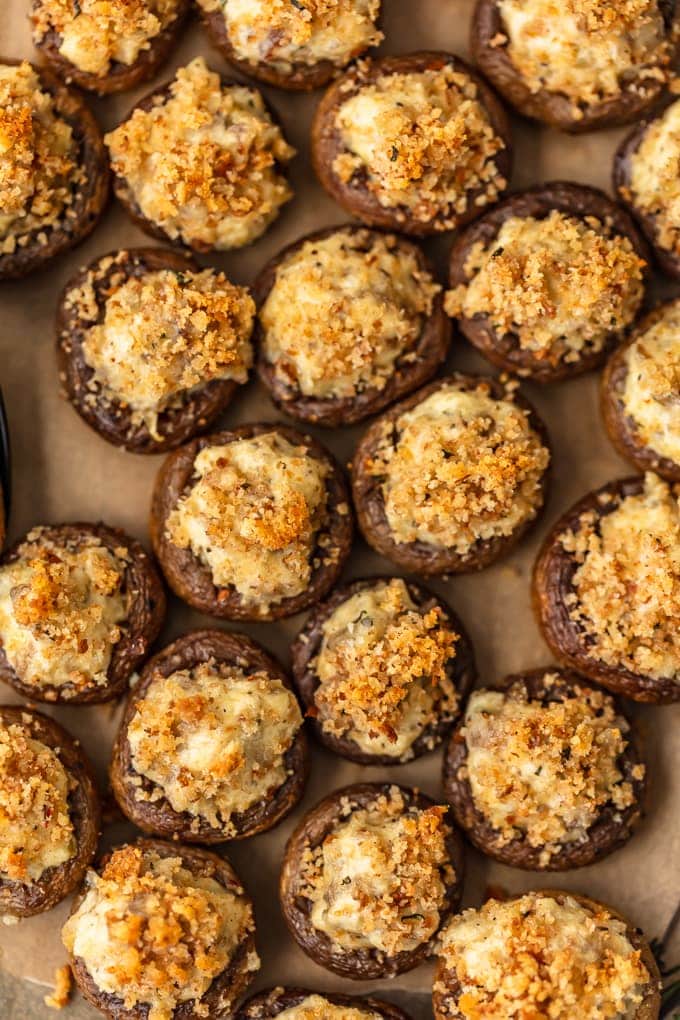 Sausage Stuffed Mushrooms
Sausage Stuffed Mushrooms are the appetizer you need for any occasion. They're cheesy, easy, and so tasty!
There's something extra tasty about food stuffed with more food. In the past, I've made Cheesy Stuffed Tomatoes, Cheesy Stuffed Peppers, and now I'm sharing these Cheesy Sausage Stuffed Mushrooms! Okay, maybe there's something extra special about food stuffed with CHEESE, if we're going to get specific. Cheese makes everything taste better!
This amazing Sausage Stuffed Mushroom Recipe makes a great appetizer for holidays, game day, or any party. I stuffed mushroom caps full of a cheesy sausage mixture and baked them to perfection. These savory, cheesy stuffed mushrooms are beyond delicious!
Make these easy stuffed mushrooms for your holiday guests and they will devour them. They're just so easy to grab and eat, you won't want to stop!
These Cheesy Sausage Stuffed Mushrooms are the perfect appetizer. They're simple, they're cheesy, and they're so deliciously savory!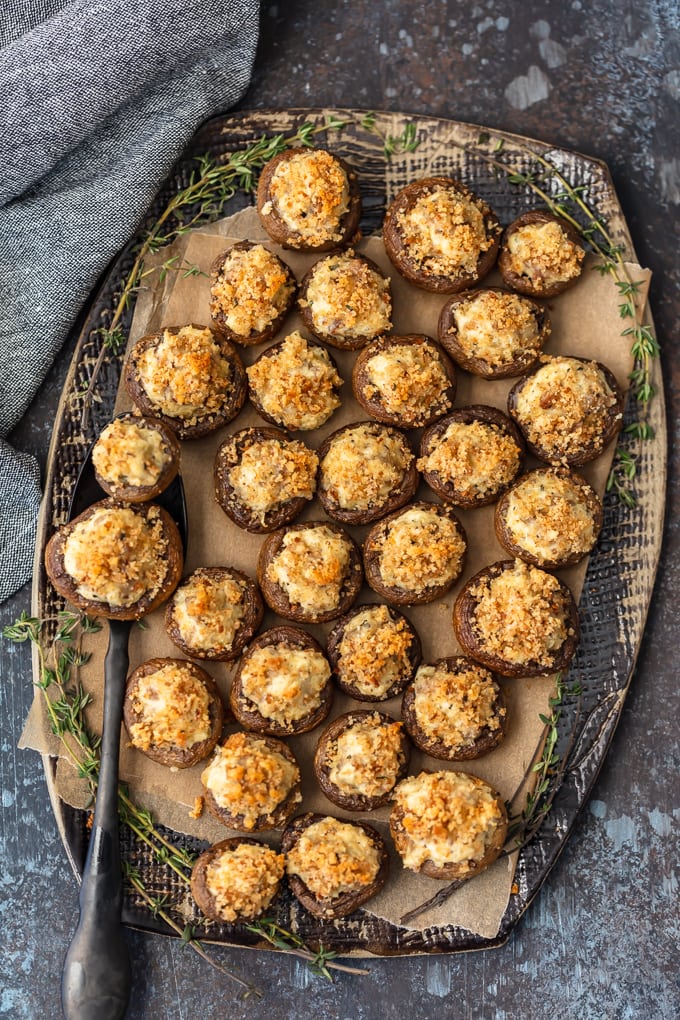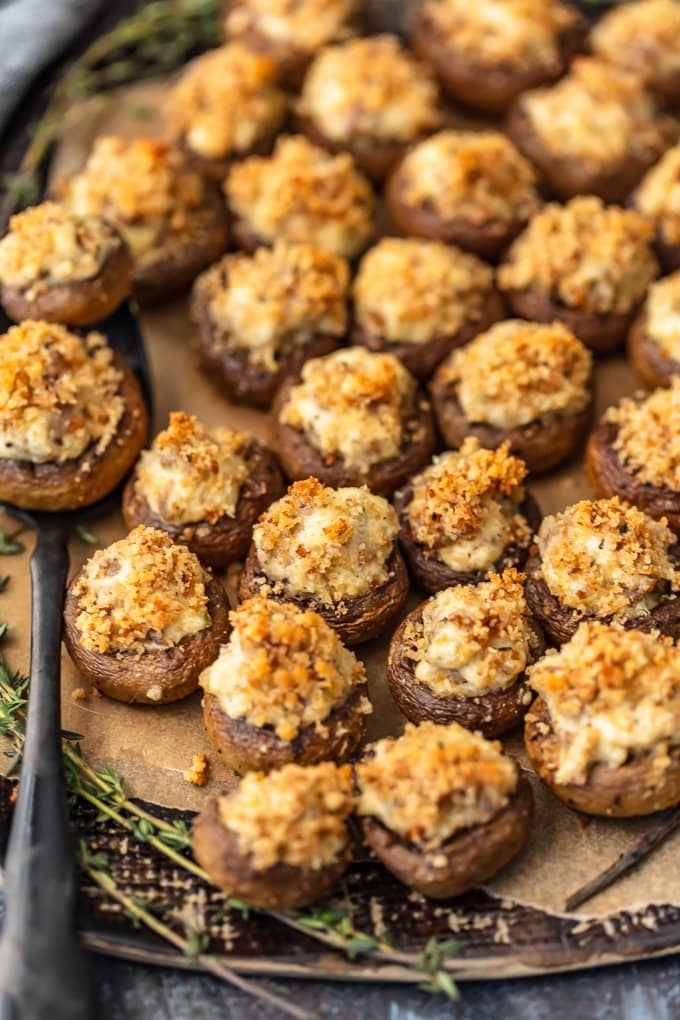 Easy Cheese and Sausage Stuffed Mushroom Recipe
These sausage stuffed mushrooms are one of my favorite appetizers. It's hard to resist something stuffed with cheese, sausage, and herbs. Yum!
I like getting larger mushroom caps so that they're easy to stuff, but you can use smaller ones if you want something more bite-sized. Either way, they taste incredible! When choosing your mushrooms, keep in mind that they will shrink when cooked.
What do you put in stuffed mushrooms?
You can put all kinds of things in your stuffed mushrooms. Get creative with the types of cheeses you use, add veggies, herbs, spices, pork, or chicken. The possibilities are endless, but cheese is the most important part if you ask me.
For this sausage stuffed mushroom recipe, I went with a super savory and cheesy filling. Here's what's in it:
Pork Sausage
Cream Cheese
Goat Cheese
Onions
Garlic
Mushroom Stems
Parmesan Cheese
Dry White Wine
Egg Yolk
This all gets mixed and cooked together to create the perfect sausage filling for our mushrooms.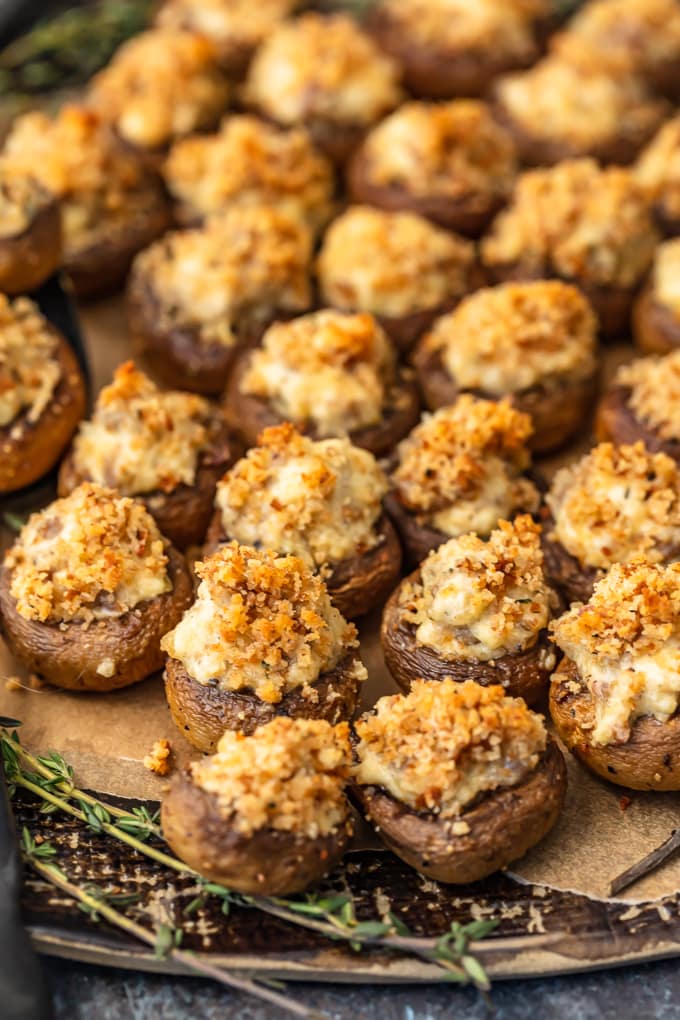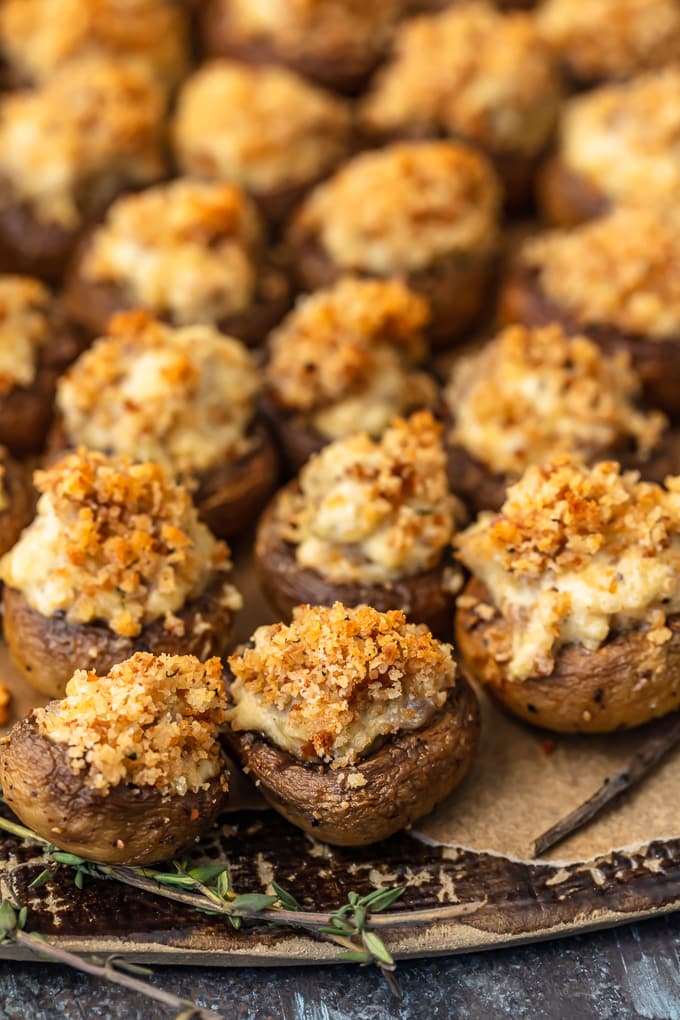 How to Make Stuffed Mushrooms
To make this sausage stuffed mushroom recipe simple, let's break it into a few separate parts: the mushrooms, the filling, and the topping. Start by making the topping and set it aside, that way it's ready to go. Next, you can go ahead and prep the mushrooms and get them in the oven. While they're cooking, make the sausage filling and set it in the refrigerator so it has time to cool. And finally, stuff the mushrooms! Not too difficult, right?
Okay, now let's get into the details:
Tear up some slices of bread, add them into a food processor along with herbs and butter, and pulse until they turn into a coarse crumb texture. Set them aside.
Prepare your mushrooms by rinsing them and removing the stems from the caps, then chop up the stems to use in the filling.
Toss mushroom caps in olive oil, lemon juice, and salt & pepper, then set on a baking tray.
Place them in the oven and cook them for about 15-20 minutes at 350°F, then turn them over and roast another 5-10 minutes.
(While mushrooms are in the oven) Cook the sausage in a skillet and crumble it. Set aside.
Saute the onion, garlic, and mushrooms stems, then transfer them to a bowl with the sausage.
In a separate bowl, whisk together the cream cheese, goat cheese, and egg yolk, then add in the parmesan cheese.
Combine the cheese mixture, onion mixture, and sausage. Set it in the refrigerator while the mushrooms finish cooking to let it firm up a bit.
Once the filling has cooled, stuff the mushrooms, sprinkle on the breadcrumb topping, and then return them to the oven. Bake another 5-10 minutes.
These sausage stuffed mushrooms come out with the perfect texture, and they're just so cheesy. They are super craveworthy, and so fun to bite into. I could eat a whole plateful of these instead of dinner!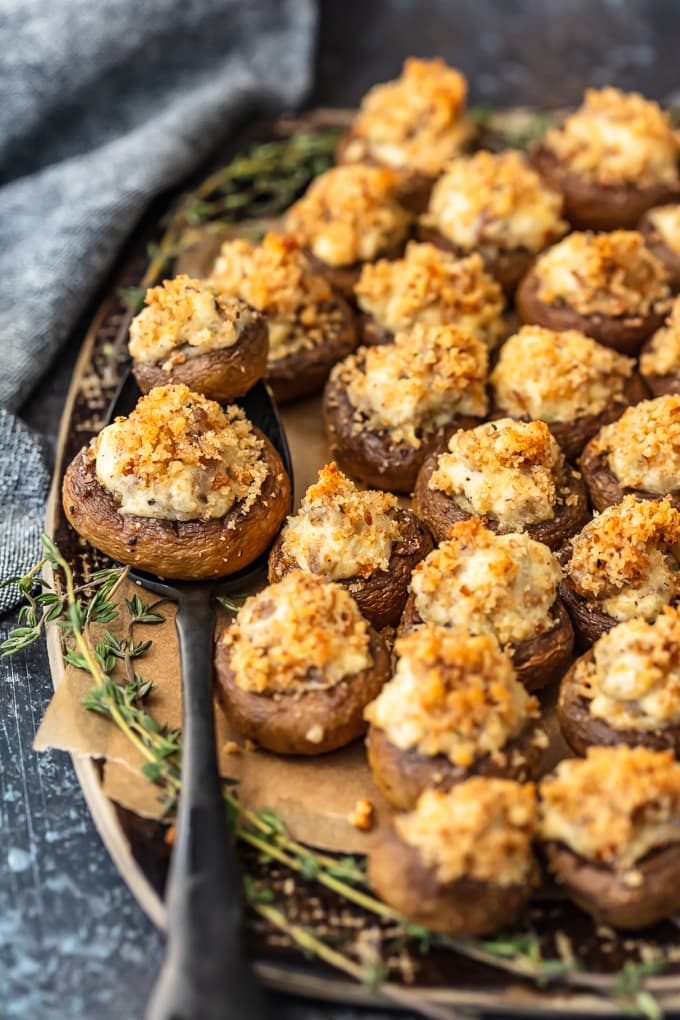 Can sausage stuffed mushrooms be made ahead?
Another great thing about these sausage and cheese stuffed mushrooms is that you can easily prep them ahead of time. Make the sausage filling and the bread crumb topping, then store them in separate containers and refrigerate. You can do this 2 or 3 days ahead of time, that way both are ready whenever you cook the mushrooms.
How long do stuffed mushrooms last in the fridge?
Once the mushrooms have been cooked, you can save any extras that are leftover. Place the stuffed mushrooms in resealable bags or airtight containers and store them in the refrigerator. They will keep up to 3-4 days.
Can stuffed mushrooms be reheated?
Yes! If you save the leftover mushrooms, you can easily reheat them in the microwave or oven. I recommend reheating them in the oven to get the best result.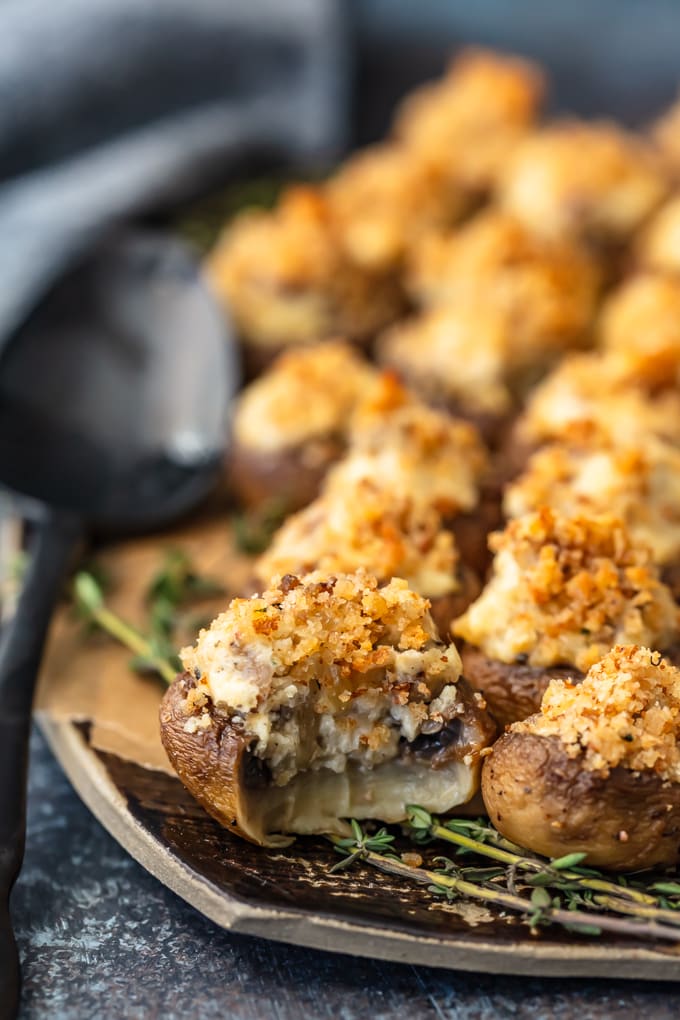 You need to make these cheesy Sausage Stuffed Mushrooms asap! Whether you make them for Thanksgiving, Christmas, New Year's Eve, game day, or for a dinner party, everyone will love these stuffed mushrooms!
See the recipe card below for details on how to make Cheesy Sausage Stuffed Mushrooms. Enjoy!
If you like this stuffed mushroom recipe, try these other appetizers: