Fried Apples are a fun fall treat! With apple-picking season right around the corner, it's time to get the perfect fried apples recipe out there. Fresh apples, sugar, and butter fried on the stove top with cinnamon…so delicious! Learn how to make fried apples for breakfast, dessert, snacks, or even as a side dish!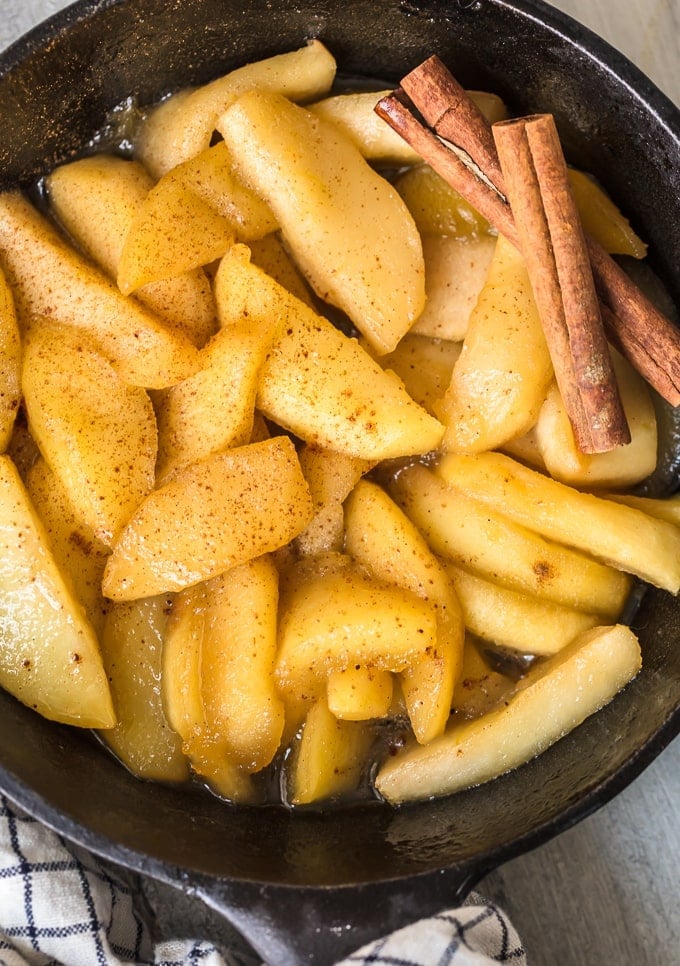 Fried Apples
Fried Apples are a southern classic that is absolutely perfect for fall. When apple-picking season comes around, you've got to make this easy fried apples recipe!
There's nothing better than the taste of fried apples. It's such a simple dish, but it's one of the best fall recipes. Fresh apple slices fried on the stove top in butter, sugar, lemon juice, and cinnamon. YUM!
Learning how to make fried apples is super easy. Just throw your ingredients into skillet and let them cook. Then you'll have the perfect fall treat to snack on.
Fried Apples are great for breakfast (eat them by themselves or try them with a bowl of oatmeal), and they make one amazing dessert! Eat them with a bowl of ice cream, use them as a pie topping, or just eat them up one by one.
The flavor of this fried apples recipe is absolutely delectable. They are so sweet, but perfectly balanced out by the butter they're cooked in. I just can't stop eating these!
Learn how to make fried apples with this simple Fried Apples recipe. It's the best fall recipe for breakfast, dessert, or snacking. So good!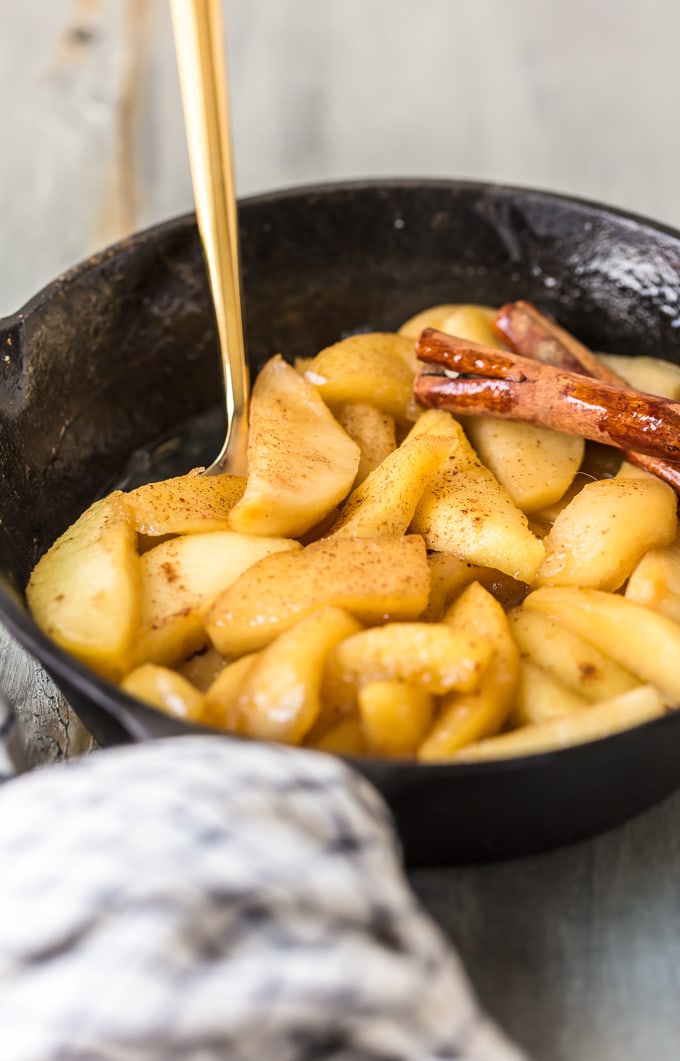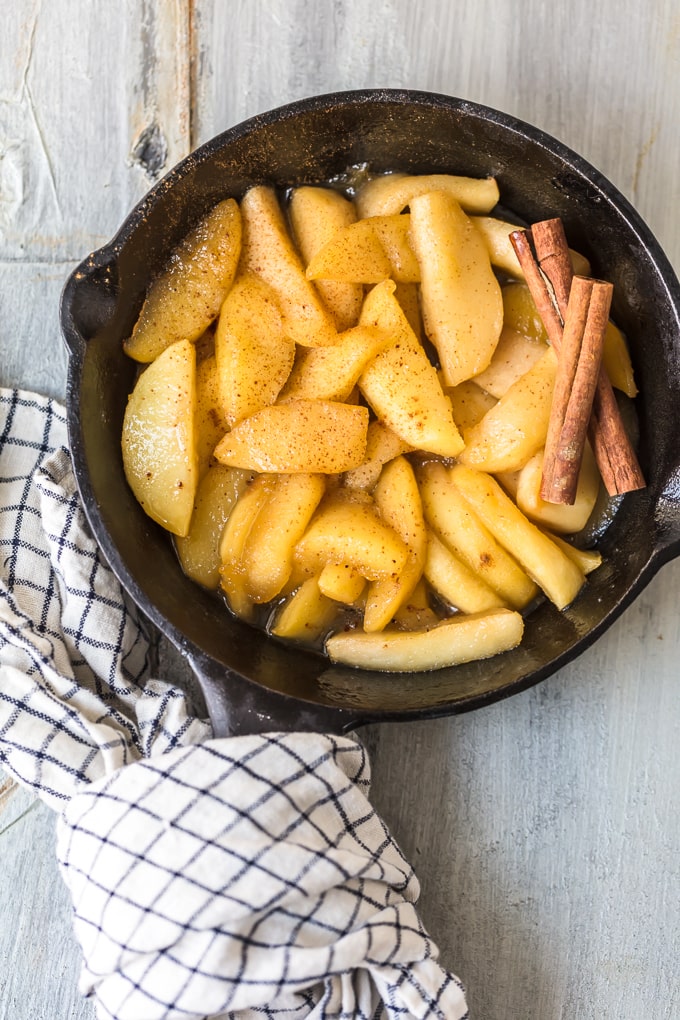 Easy Fall Recipe
Autumn is a time for warm, comforting foods. As the weather starts to change, all I want to eat is soup, baked goods, and hearty, flavorful meals. I want to eat pumpkin, and I want to eat apples!
I want easy fall recipes that represent the season. And this fried apples recipe is the perfect representation of all of that.
Apples fried in butter and sugar is the most simple recipe ever, but it never fails. Fried apples give me that comforting feeling I need in the fall and they taste incredible.
It's so easy to eat these one by one with a fork, but they work just as well mixed in with other recipes for breakfast or dessert.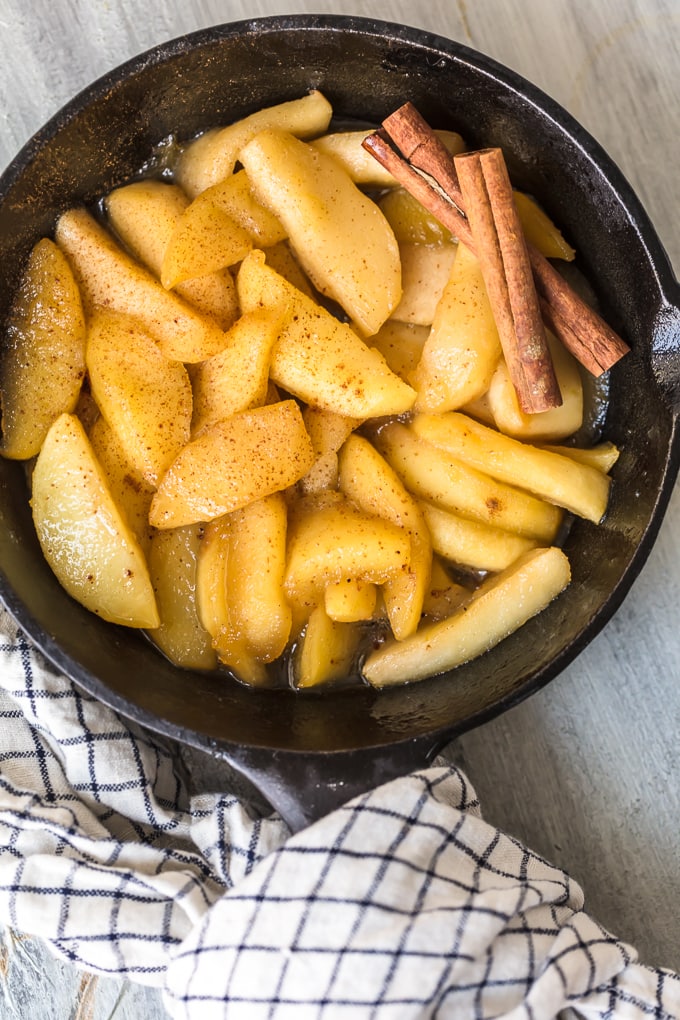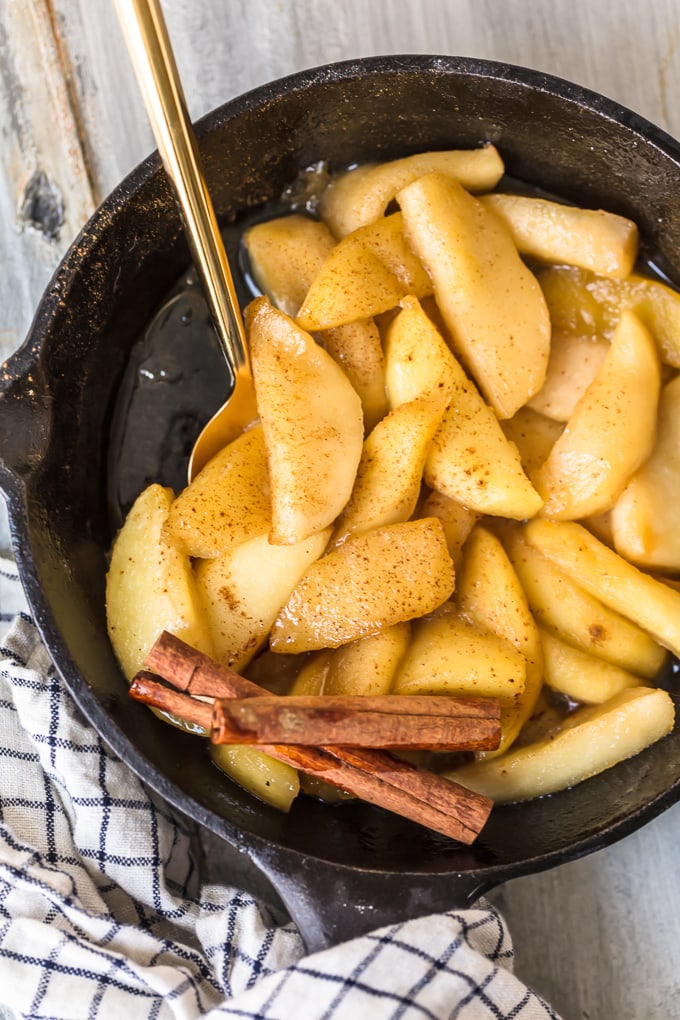 How to Make Fried Apples
You can jump to the recipe card for full ingredients & instructions!
Melt butter over medium-low heat in a large skillet (I recommend using cast iron if you have it).
Add apples (peeled and sliced) and all other ingredients into the skillet
Cook apples uncovered for 8-10 minutes
Use a spatula to gently flip the apples every couple of minutes
This fried apples recipe couldn't be any easier. It's basically just a one-step recipe: cook the apples in the skillet. And done!
I love simple recipes like this that take almost no effort but come out tasting so flavorful and delicious.
See the step by step photos below when making this fried apples recipe for extra help.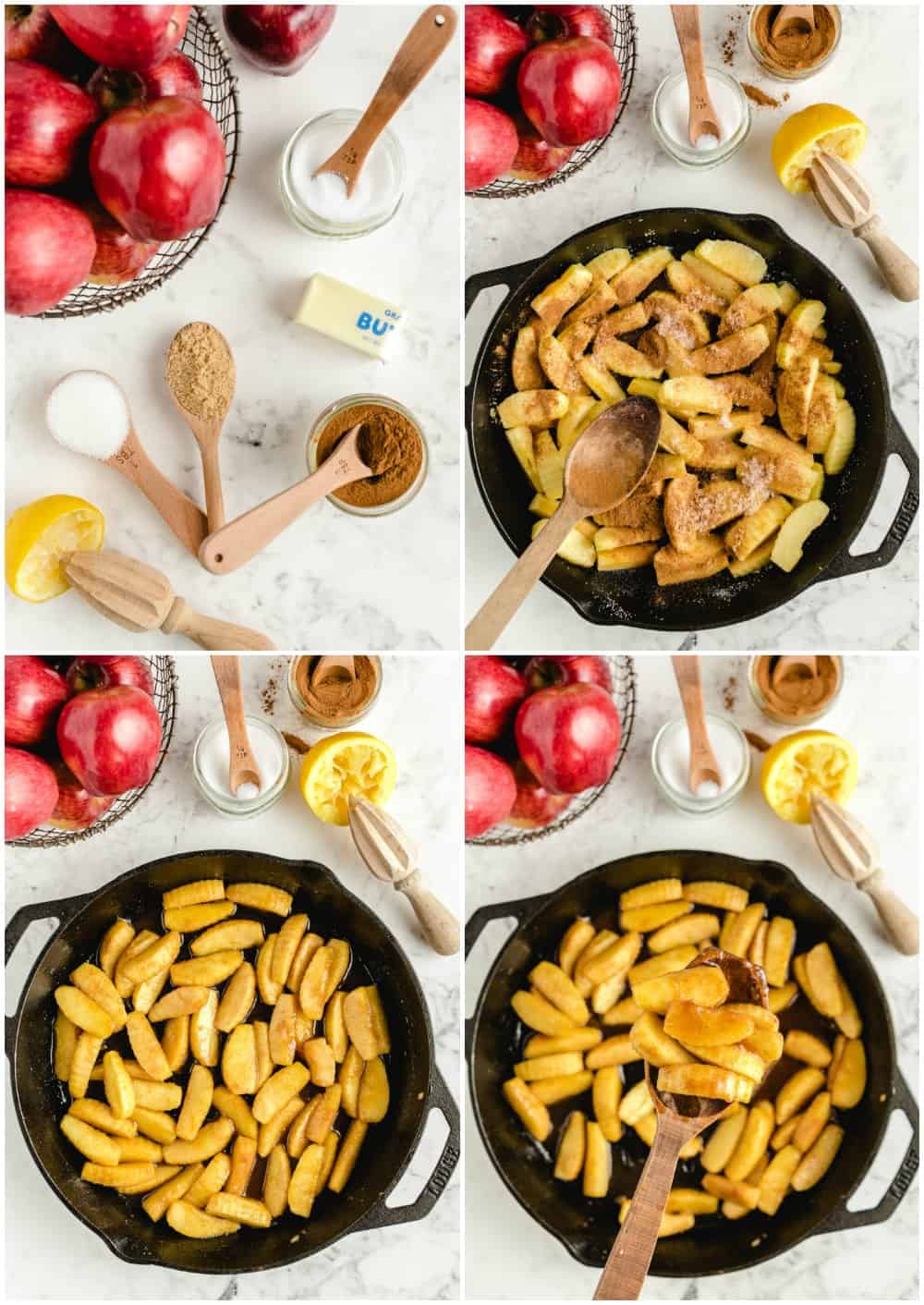 And that's it! So easy The fried apples will come out tender but not mushy. They'll still have a bite, that slightly crispy apple texture, but much softer. Sweet, simple, and delicious!
We make these delicious fried apples as a holiday side dish and also just for a fun and simple breakfast. Henry is a huge fan.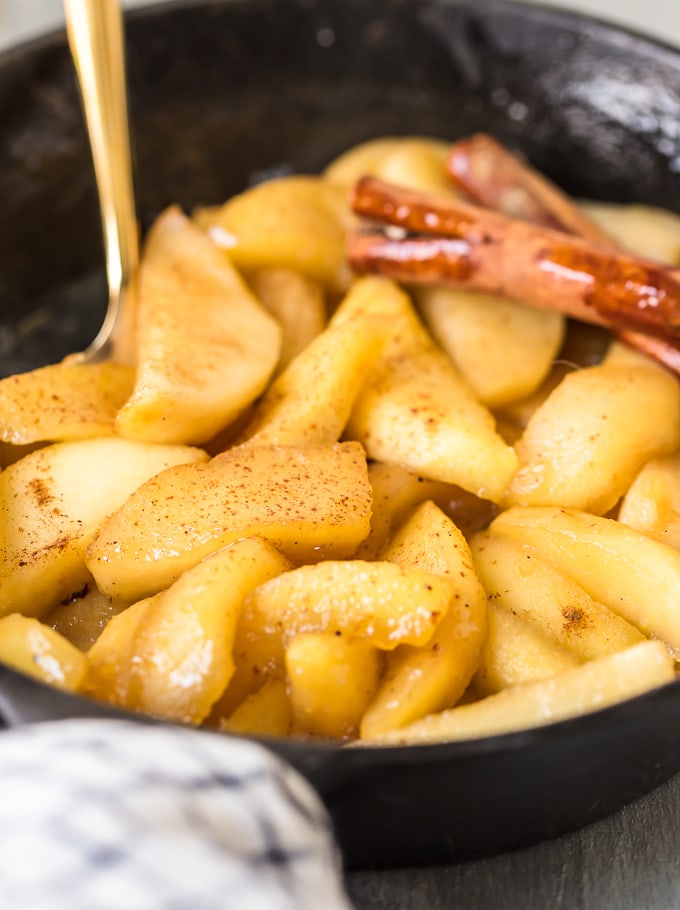 This fried apples recipe is sure to please! So sweet, so simple, and so comforting. This is the perfect recipe to make this autumn to use up those fresh apples. Another easy fall recipe that is absolutely irresistible!
More Apple Recipes
This fried apples recipe is just one of our favorite ways to cook (or sip!) with apples. Once you've tried this recipe, try these others as well.
Apple Recipes
If you love this fried apples recipe please let us know by uploading a photo in the comment section or leaving a rating. Enjoy!