Level up your side dish game with this delicious Loaded Mashed Potato Casserole. Creamy and rich and are easy to make ahead of time, making them a great option for Thanksgiving and the holidays.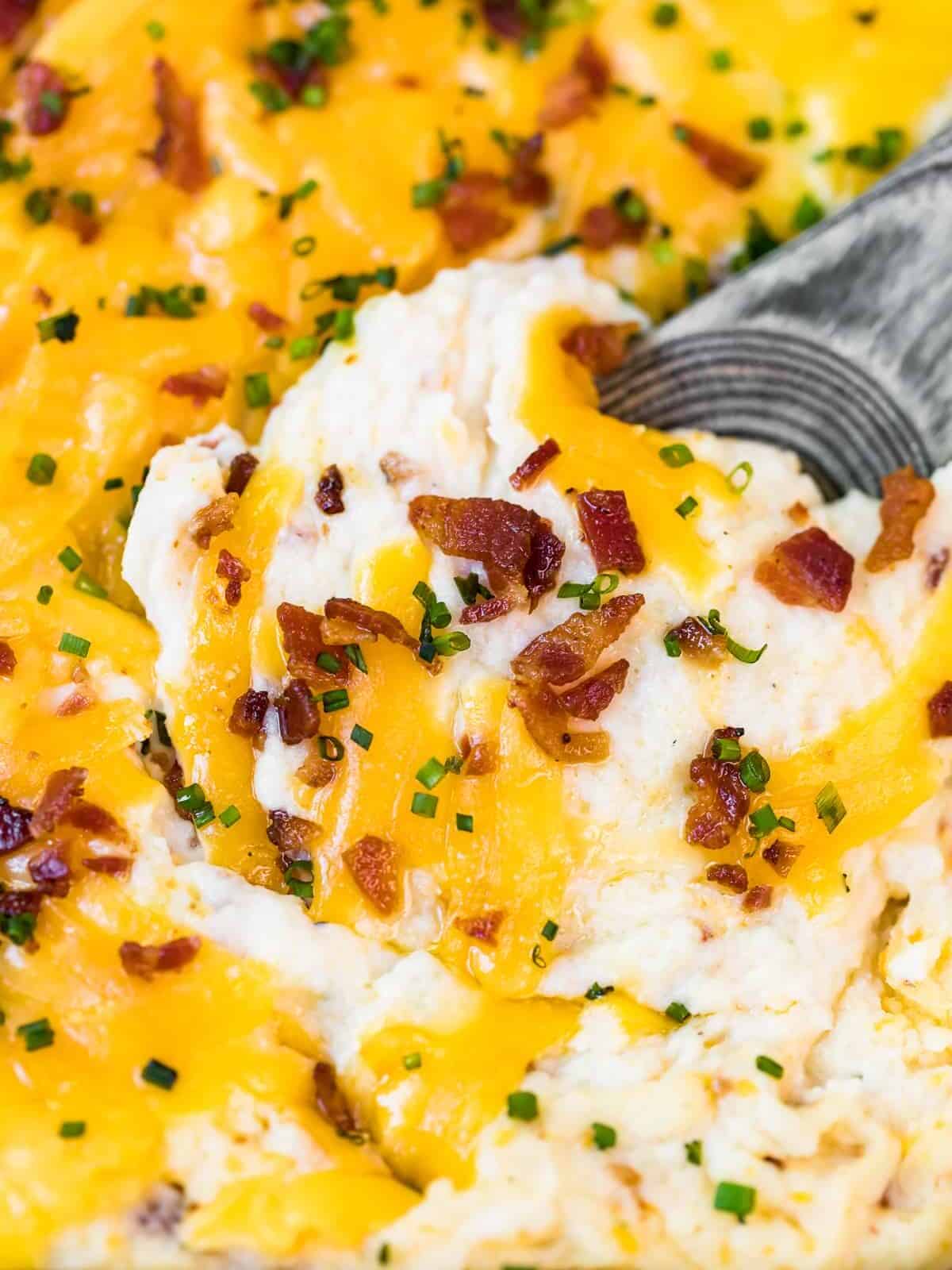 What's in this Loaded Mashed Potato Casserole Recipe?
When it comes to deciding what to serve up for Thanksgiving and Christmas I always want to find lots of make-ahead options to make the day less stressful in the kitchen. And that's where this delicious loaded mashed potato casserole comes in! Super easy to make, this side dish is creamy and buttery, and of course, loaded with bacon and cheese. What's not to love?!
Potatoes: Yukon Gold is my favorite variety of potatoes, but Russet or Idaho potatoes also work well.
Salt + Pepper: Enhance the natural flavor of the potatoes.
Granulated Onion: Adds a savory and earthy flavor to the potatoes.
Garlic Powder: Adds an earthy flavor and a pungent aroma.
Unsalted Butter: Adds moisture and richness to the potatoes.
Cream Cheese: Makes these potatoes super rich and creamy.
Sour Cream: Adds even more creaminess and a slightly tangy flavor.
Half-and-Half: Adds richness and moisture. You can also use heavy cream.
Cheddar Cheese: Makes these potatoes super cheesy!
Crumbled Bacon: Adds a salty and umami element.
Fresh Chives: Add a pop of color and freshness.
Pro Tip: If making ahead of time, let the potatoes cool completely before storing.
Variations on Fully Loaded Mashed Potato Casserole
I flavored these potatoes how I take my baked potatoes, fully loaded. Feel free to swap in your favorite baked potato toppings, like broccoli and cheddar cheese, pico de gallo and Mexican cheese, or caramelized onions, garlic mushrooms, and Swiss cheese.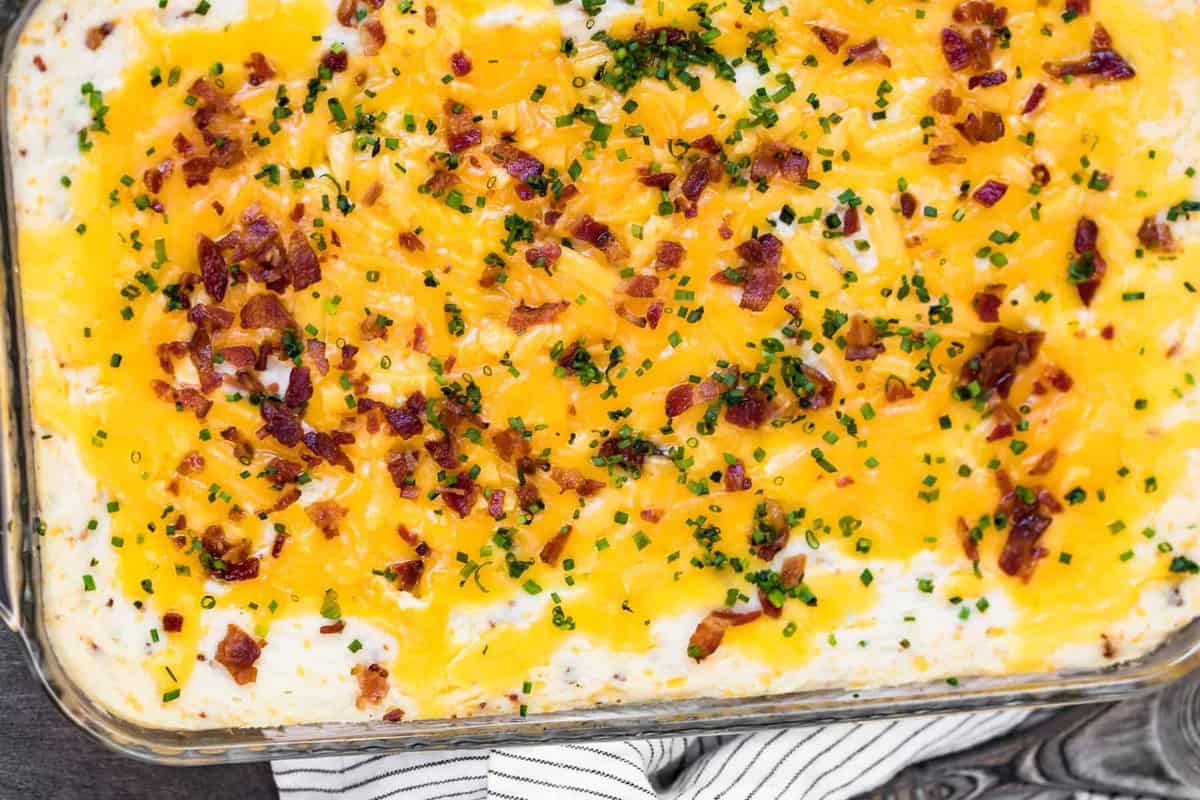 What is on loaded mashed potatoes?
A loaded baked potato is topped with sour cream, cheddar cheese, bacon, and chives.
What are the top 3 potatoes for mashed potatoes?
My top potato when making mash is Yukon Gold. They are nice and starchy so get really fluffy. Russets or Idaho potatoes are also a good choice but stay away from waxy potatoes like red-skinned or fingerlings.
Should milk be cold or warm for mashed potatoes?
I prefer to warm the milk or cream before adding to prevent it from curdling from the sudden temperature change.
Is it better to use milk or heavy cream in mashed potatoes?
While both options work, I prefer half-and-half or heavy cream over milk for a richer flavor.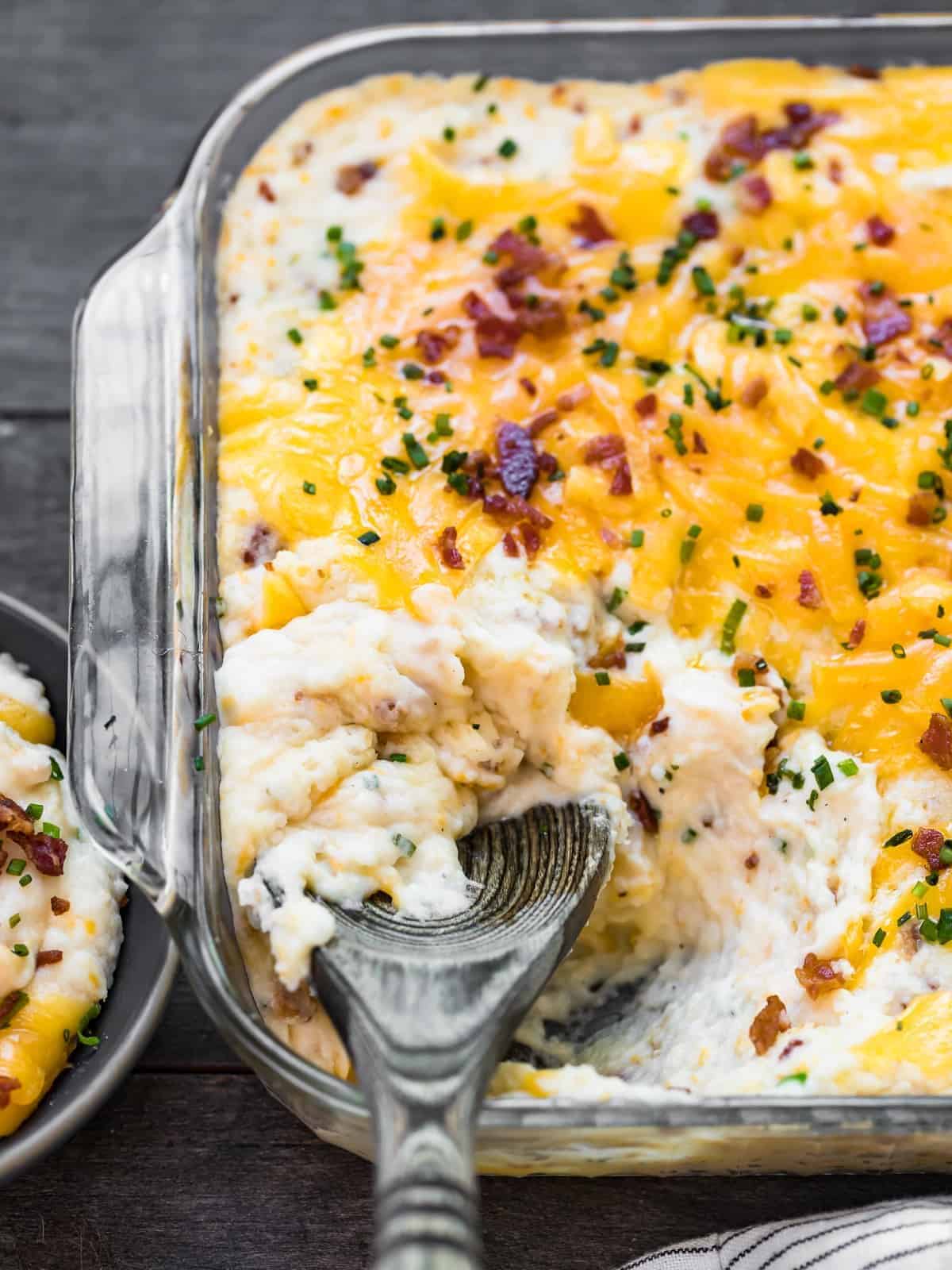 How to Store and Reheat
Store leftover loaded mashed potato casserole in an airtight container in the refrigerator for up to 4 days. Reheat in. 350°F oven for 20-30 minutes, or until heated through.
How to Freeze
Freeze loaded mashed potato casserole tightly wrapped in 2 layers of plastic wrap and 1 layer of aluminum foil for up to 2 months. Let thaw overnight in the refrigerator before reheating.
Serving Suggestions
This loaded mashed potato casserole is the perfect accompaniment to your Christmas or Thanksgiving meal. Try it with Thanksgiving turkey, prime rib roast, mini turkey meatloaves, pork crown roast, roasted turkey breast, or pork roulade.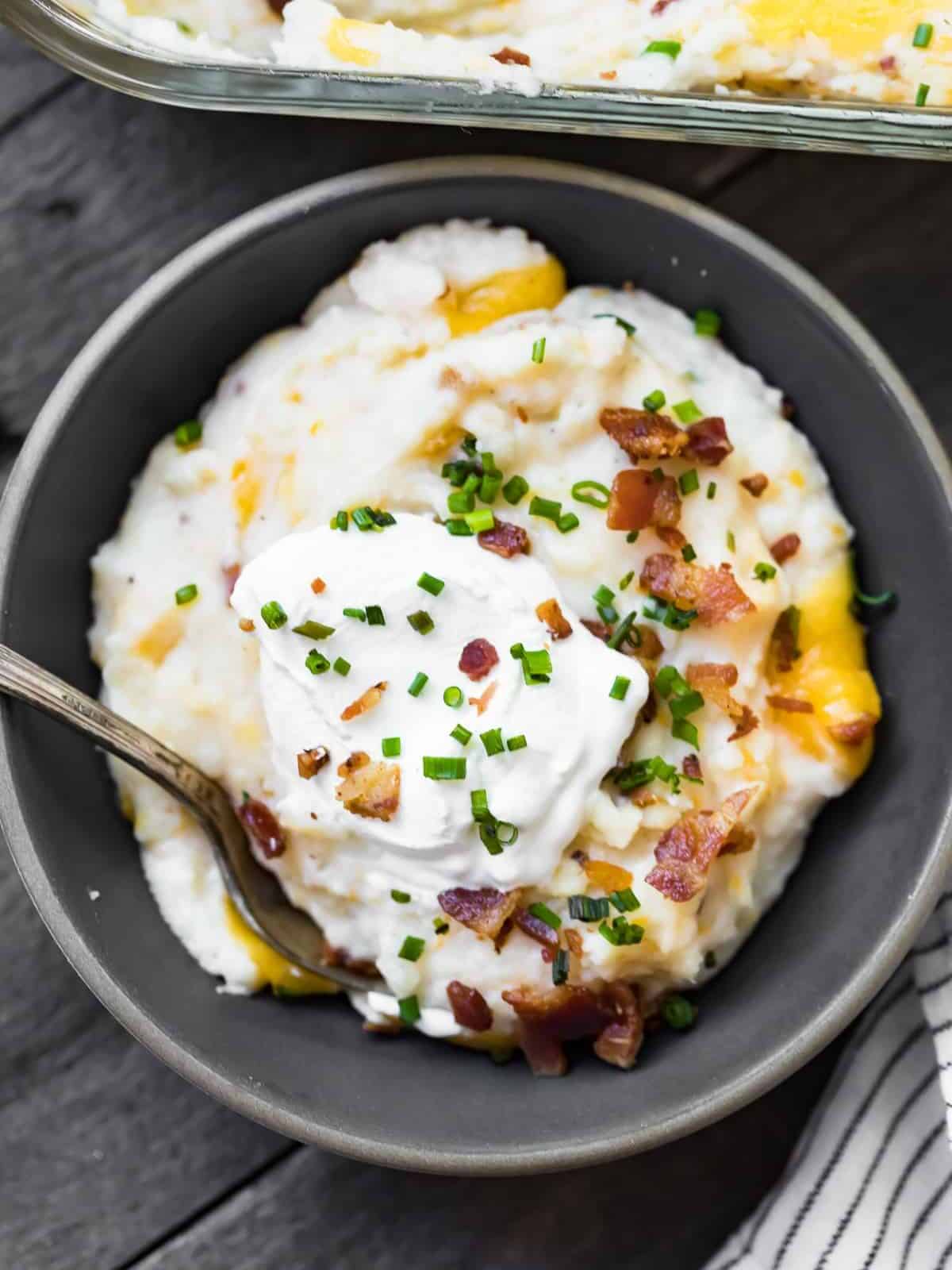 5-Star Review
"Made this for Easter Dinner today and even my daughter who hates mashed potatoes loved this recipe." – Tiffany
More Loaded Potato Recipes We Love