Be the hero of any party with this LAZY GIRL'S SNICKERS ICE CREAM CAKE! Made with pound cake, chocolate and vanilla ice cream, caramel, and peanuts. It's the best easy ice cream cake recipe!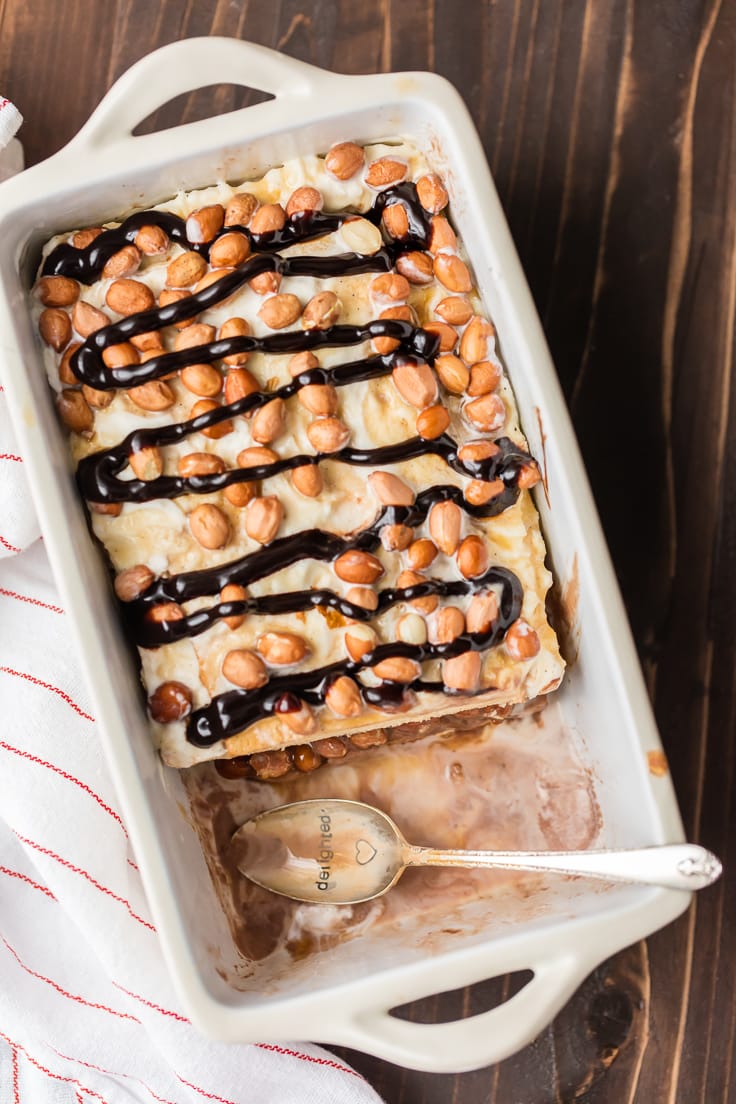 Snickers Ice Cream Cake
This ice cream cake recipe is surprisingly easy to make, and it tastes just like a Snickers bar! Yum!
When it's my birthday (or really any occasion that calls for celebrating), I would choose ice cream cake over regular cake ANY DAY OF THE YEAR. I crave it…it's a problem. There's just something about the cool refreshing taste, the hot fudge center, and that little bit of crunch. Sure, regular cake is great and if you ever want to make me one, I won't say no, but if you really want to know the way to my heart, ice cream cake is the way to go.
However, I am also way too lazy to craft a full homemade ice cream cake on my own. It's requires a lot of shaping and sculpting, waiting and freezing the layers, whatever else needs to happen to create the perfect one. I don't really want to do all that. At our house, my solution is this Lazy Girl's Snickers Ice Cream Cake!
This easy ice cream cake recipe is thrown together in just minutes, not too big and not too small, and has ALL THE FLAVOR of a tasty Snickers bar! You're gonna love the taste, and you're gonna love how simple it is even more.
Make ice cream cake the EASY way with this delicious recipe!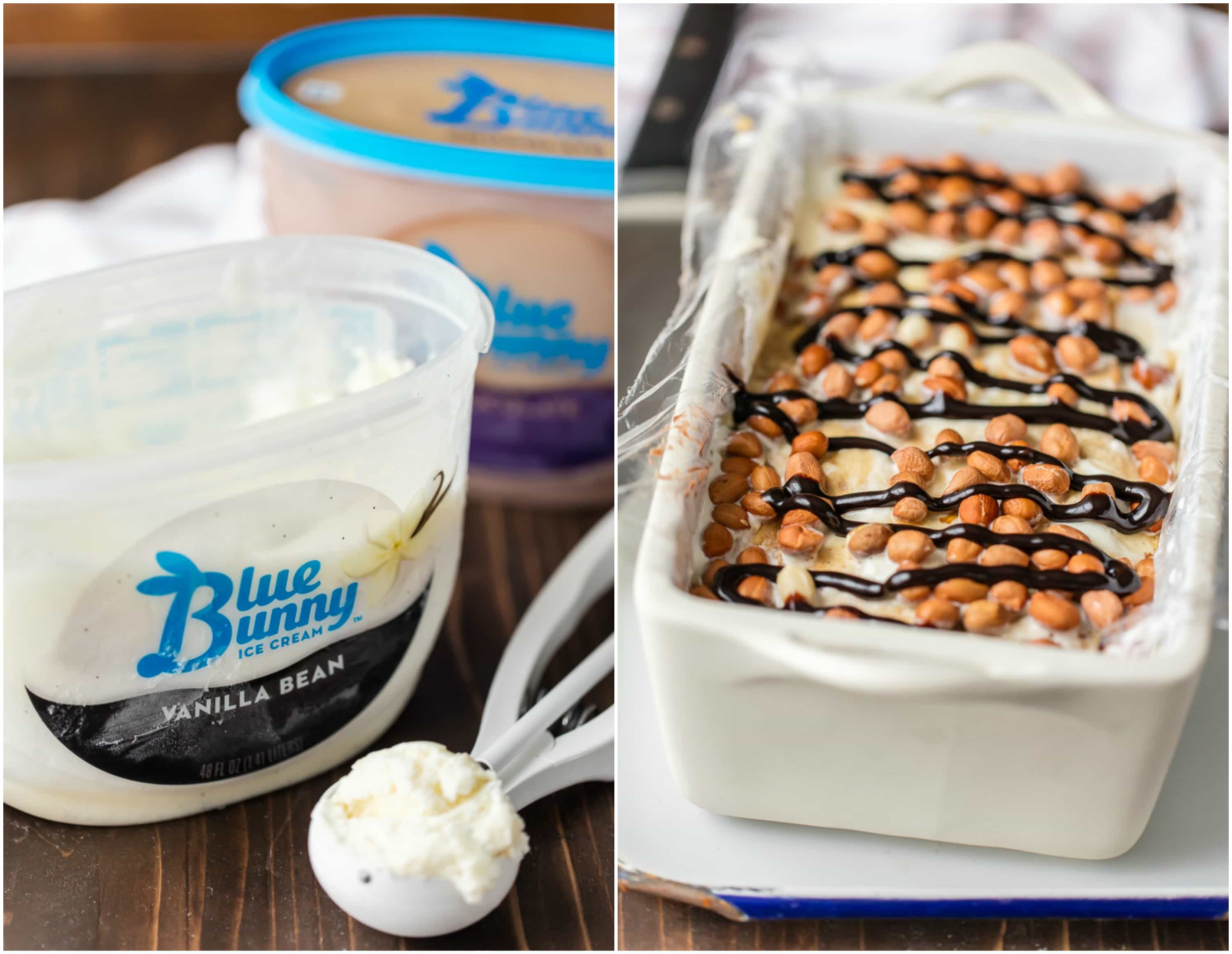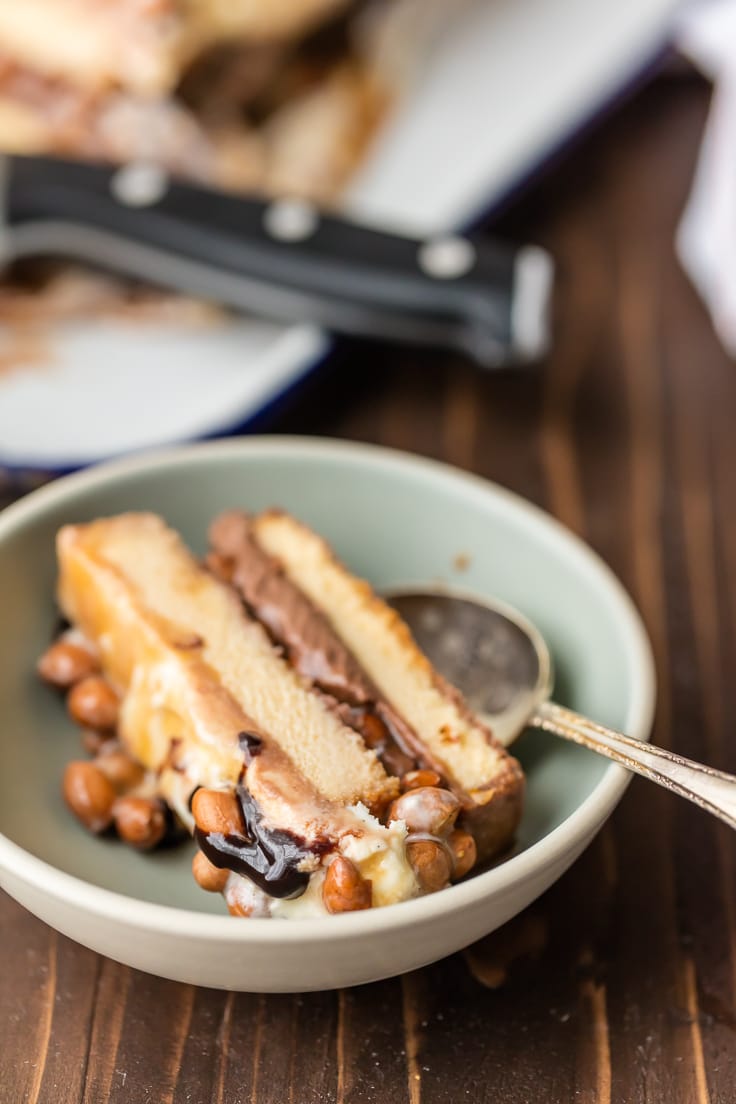 Easy Ice Cream Cake Recipe
The other great thing about having this Lazy Girl's Snickers Ice Cream Cake in July is that July 25th is NATIONAL HOT FUDGE DAY! The people that make up the national food holidays sure do know what they're doing. There is literally nothing better than ice cream topped with hot fudge. Well, maybe this cake topped with hot fudge is better, but it's all one the same level of delicious.
When I say this is the "Lazy Girl's" version, I mean it. It's EASY. Anyone can make this ice cream cake at home without stress. All you need is ice cream, pound cake (I bought a frozen cake, so you don't even have to make that part!), caramel syrup, peanuts, and hot fudge. You're going to love how simple this is!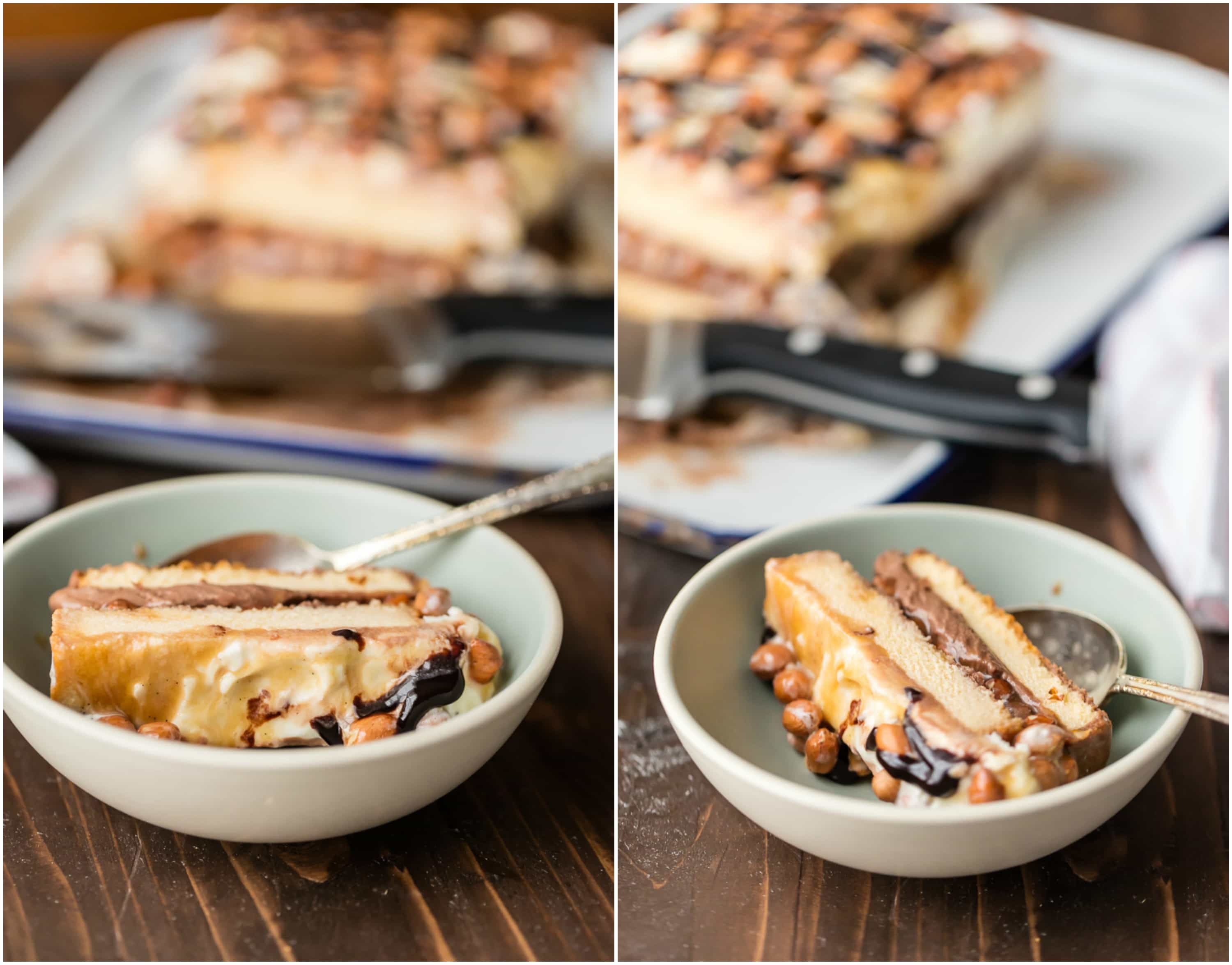 How to Make Ice Cream Cake (the EASY way!)
Inside this easy ice cream cake recipe, you'll find layers of vanilla bean ice cream, chocolate ice cream, pound cake, caramel, and of course peanuts. It's all topped with hot fudge and served with a smile. You're gonna be famous for this one. Everyone will be amazed that you made this, and only YOU will know that you hacked it together in the simplest way possible (yay for cooking hacks!).
How to Make Snickers Ice Cream Cake:
Cut the pound cake into three long layers. You only need two layers, so save that third layer for another time.
Line a loaf pan with plastic wrap.
Place one slice of pound cake into the bottom of the pan, then spread a layer of chocolate ice cream on top (it helps to let the ice cream soften before you begin).
Pour the caramel syrup over the ice cream, then top with half of the peanuts.
Now place the second slice of cake, and spread a layer of vanilla ice cream on top.
Top it off with hot fudge and the rest of the peanuts.
Then place the cake in the freezer to set for at least 8 hours.
When it's time to eat, slice up that ice cream cake and enjoy!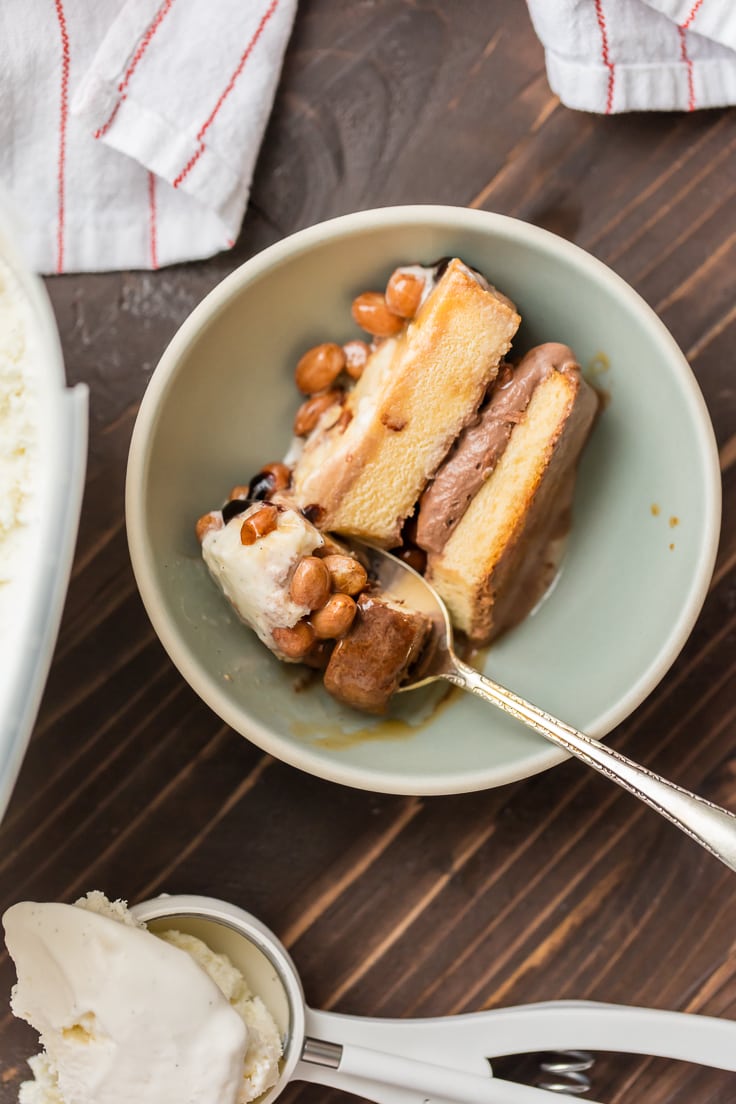 Make this easy ice cream cake recipe for birthdays, summer get togethers, any party, or just because. There's never a wrong time for a dessert this good!
See the recipe card for details on how to make Snickers Ice Cream Cake. Enjoy!
Be sure to try these other homemade ice cream recipes: