Pumpkin Ice Cream is the perfect treat to make for fall. It doesn't get better than this pumpkin pie ice cream for Thanksgiving! It's like a creamy frozen version of pumpkin pie… what could be better?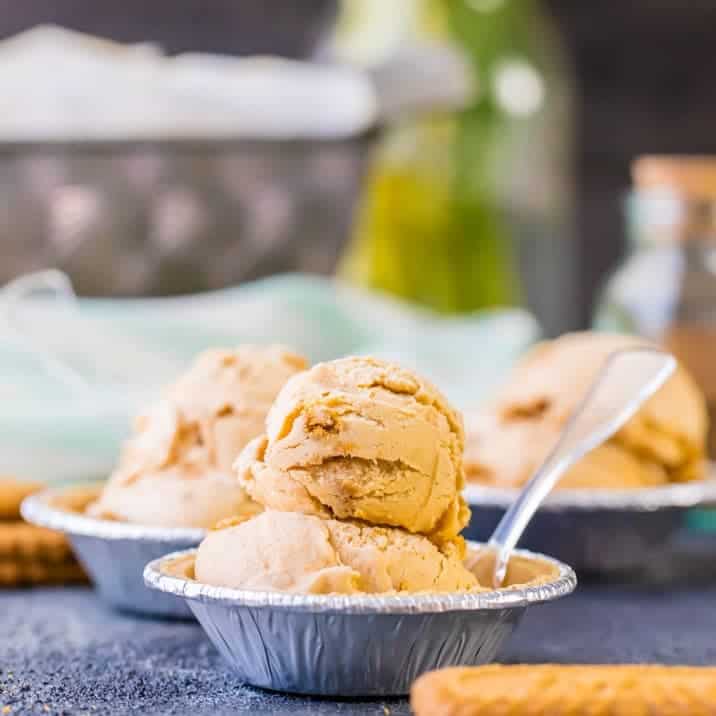 What's in this Pumpkin Ice Cream Recipe?
Homemade Pumpkin Ice Cream is the perfect cool treat to make during the fall season. We love ice cream, we love pumpkin pie, so why not just turn it into one delicious dessert?
Heavy Cream: Provides a rich and creamy texture and a luxurious mouthfeel.
Whole Milk: Balances the richness of the heavy cream so that the ice cream isn't too fatty.
Nonfat Sweetened Condensed Milk: Sweetens the ice cream and helps keep it smooth, silky, and free from ice crystals.
Pumpkin Puree: Adds natural pumpkin color and flavor.
Pumpkin Pie Spice: Infuses the ice cream with a classic warm and spicy pumpkin pie flavor.
Biscoff Cookies: Adds a delightful crunch to the ice cream that is reminiscent of pie crust.
Pro Tip: Make sure to use nonfat/fat-free sweetened condensed milk. Adding too much fat to the recipe will make the ice cream oily.
Variations on Pumpkin Pie Ice Cream
While I don't recommend tweaking the ice cream base recipe, you can certainly get creative with your mix-ins. Try stirring in some chunks of edible chocolate chip cookie dough, pumpkin gooey butter cake, snickerdoodles, molasses cookies, shortbread cookies, ginger cookies, or cooked pie crust pieces.
You could also layer in a swirl of caramel sauce or chocolate sauce as you pour the churned ice cream into the storage container.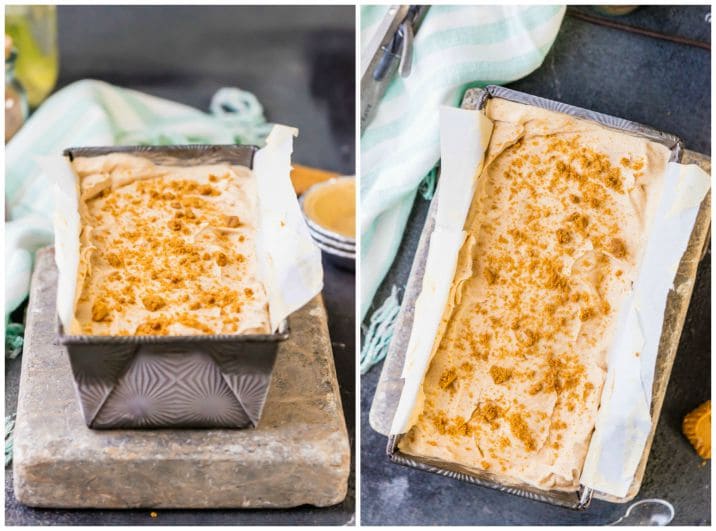 Is pumpkin ice cream seasonal?
At many ice cream shops, pumpkin is a seasonal flavor. But once you learn to make this at home, you can enjoy it any time of year!
What does pumpkin spice ice cream taste like?
This ice cream tastes just like pumpkin pie in ice cream form! It's creamy and chock-full of pumpkin pie flavor!
Why do you put condensed milk in ice cream?
Condensed milk adds sweetness to the ice cream, which helps to lower the freezing point so that your ice cream doesn't turn out too hard. It also helps to make the ice cream super smooth and prevents ice crystals from forming.
Can I make this without an ice cream maker?
If you don't have an ice cream maker, you can use the ingredients I listed, then follow this tutorial to make ice cream without a machine. But if you're someone who enjoys making homemade ice cream regularly, you'll find that buying an ice cream maker can really come in handy over the years. It's one of my favorite kitchen appliances!
Why is my ice cream rock hard?
Too much water could cause your ice cream to turn out hard. Make sure to use heavy cream (not half-and-half) and whole milk (not 2%, 1%, or skim) to ensure the mix has enough fat to keep it scoopable.
Why is my ice cream not freezing solid?
Once the mixture has been churned, it should have a soft-serve consistency. You can serve it that way if you like it soft, or scoop it into a container and allow it to freeze solid for at least 2-4 hours (preferably overnight) to firm it up!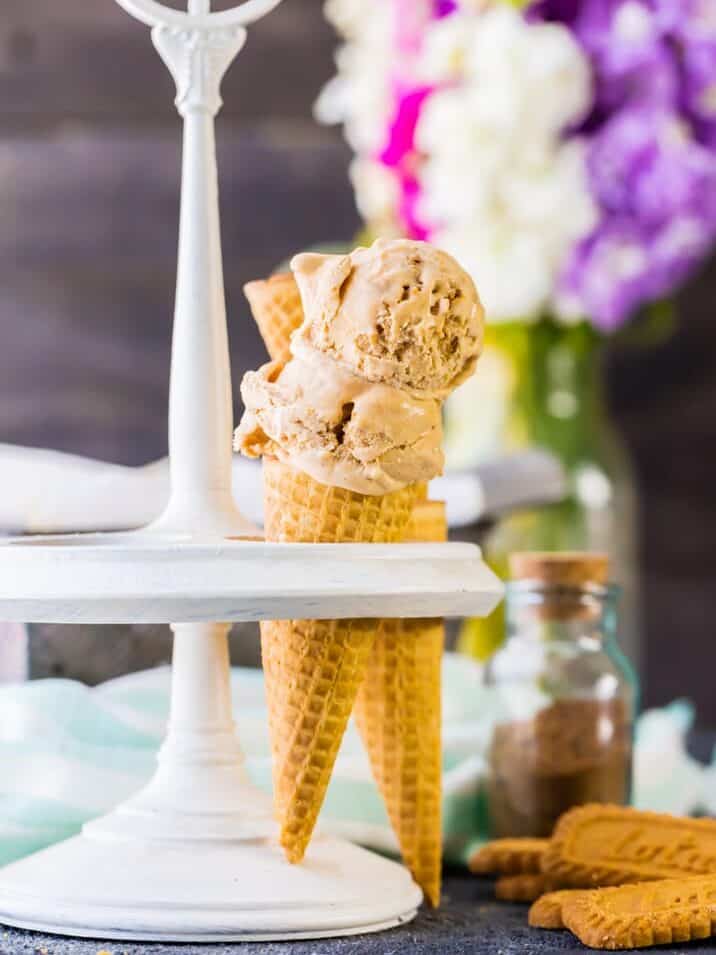 How to Store
Store leftover pumpkin ice cream in an airtight container in the freezer for up to 1 month. Let thaw at room temperature for about 10 minutes if it's too hard to scoop.
Serving Suggestions
Serve this pumpkin pie ice cream with a slice of pumpkin pie, pumpkin gooey butter cake, pumpkin brownies, pumpkin bars, pumpkin crisp, or pumpkin pie cheesecake. For a beverage, whip up pumpkin cream cold brew, a pumpkin spice latte, a pumpkin spice white Russian, or some pumpkin pie punch!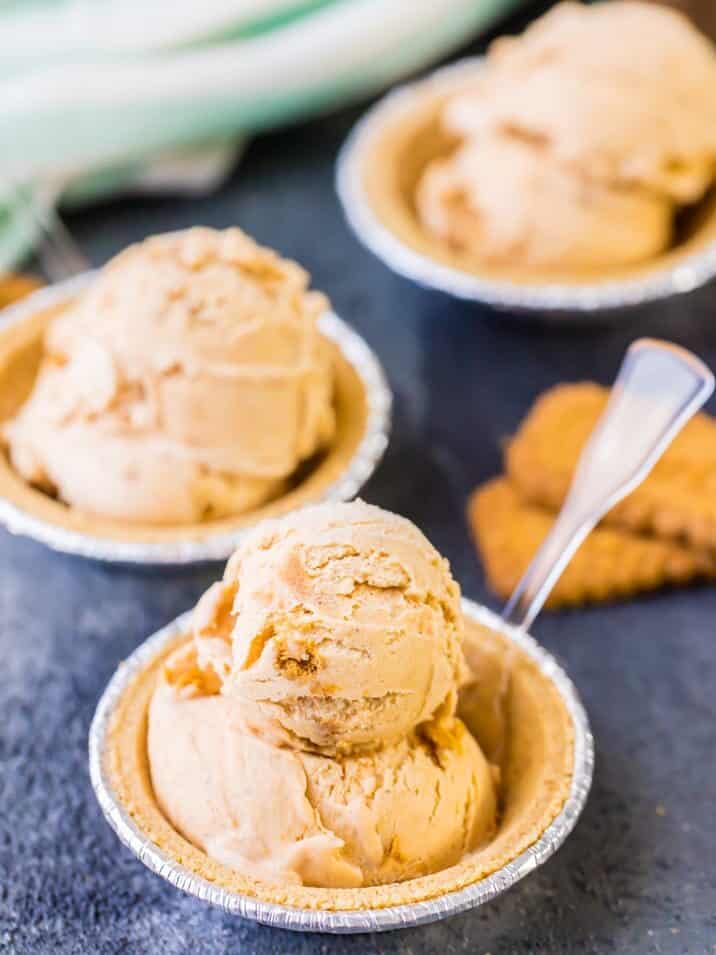 5-Star Review
"I made this ice cream for Thanksgiving and it turned out GREAT, thanks for sharing! For people who had problem getting it to harden I just followed the instructions with my churn – put canister and paddle in freezer for 30 mins and mixture in refrigerator for 30 mins and had not problems." – Ally S.
More Ice Cream Recipes We Love