Lemon Sauce is a fresh, fruity addition to blueberry pancakes and lots of other baked goods. Lemon Syrup for pancakes adds so much flavor, and it tastes much lighter than heavy maple syrup. I love adding in a bit of lemon sauce to brighten up my morning pancakes!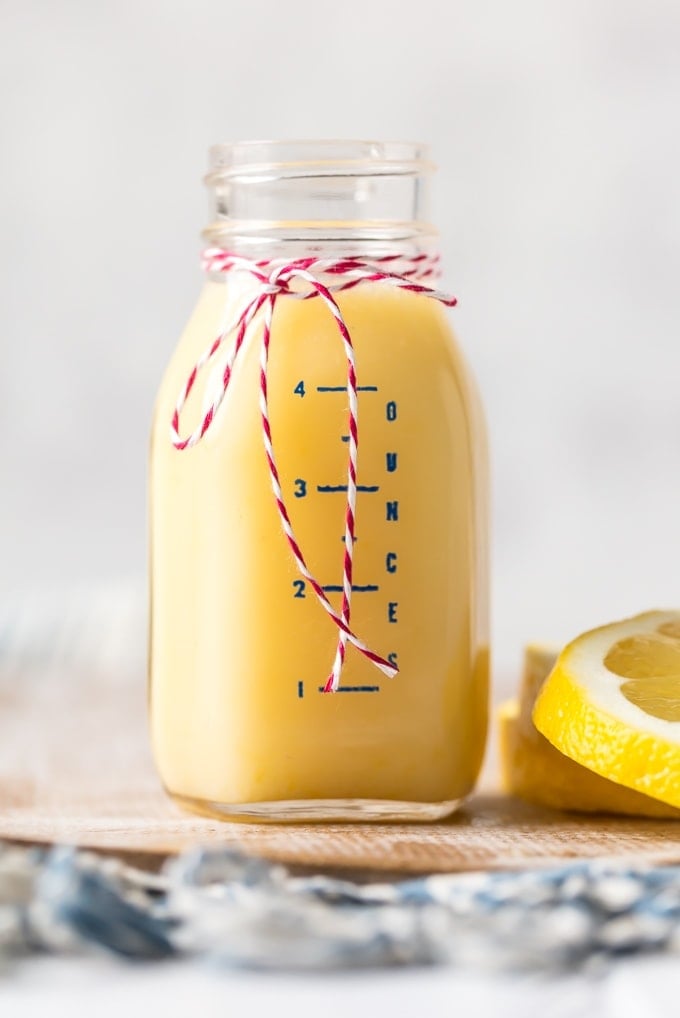 Lemon Sauce
Lemon sauce is the perfect addition to blueberry pancakes. Switch out your maple syrup and try this lemon syrup instead!
Lemon Sauce is light, fresh, and citrusy. The flavor is bold without being overwhelming, and I absolutely love the way it tastes drizzled over fresh blueberry pancakes. Lemon and blueberry just tastes like the perfect summer flavor combination!
Lemon Syrup is a welcome change for simple pancakes. Maple syrup can often feel heavy (even though it's super delicious). But using lemon syrup for pancakes adds a light and bright flavor! It's always nice to try something different and this sauce just feels creative and fun.
This lemon sauce would also make a great topping for a simple cake (like this Easy Angel Food Cake) or this Easy Banana Bread recipe.
Lemon Syrup and Blueberry Pancakes are a match made in heaven! Try this Lemon Sauce with your next batch of pancakes.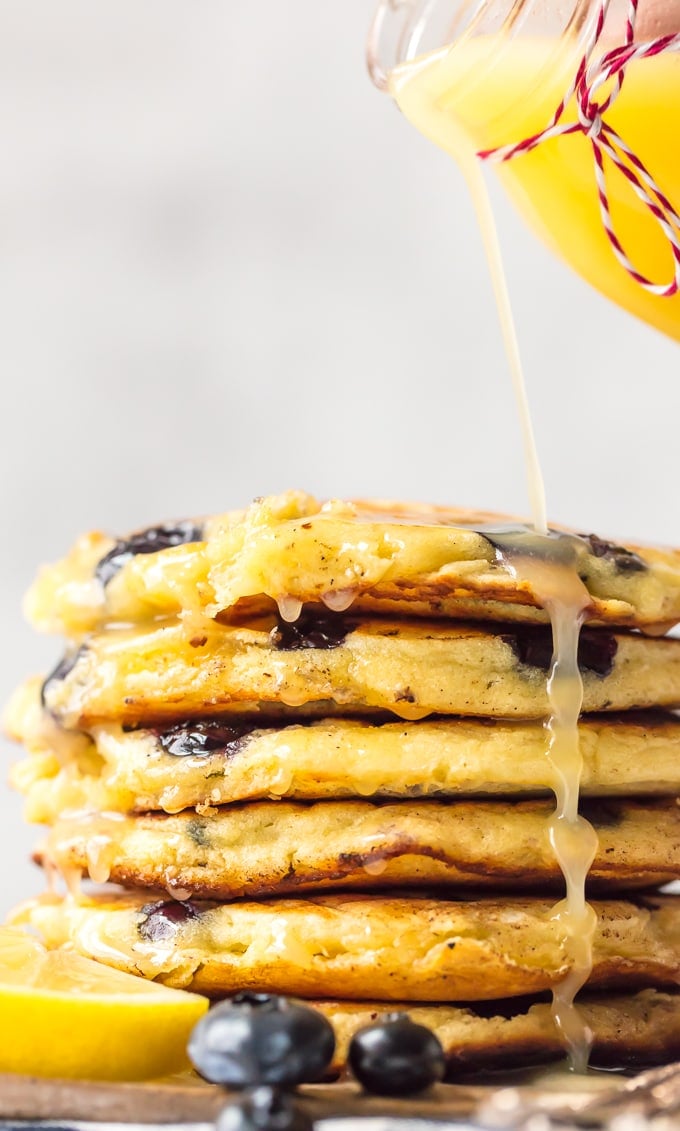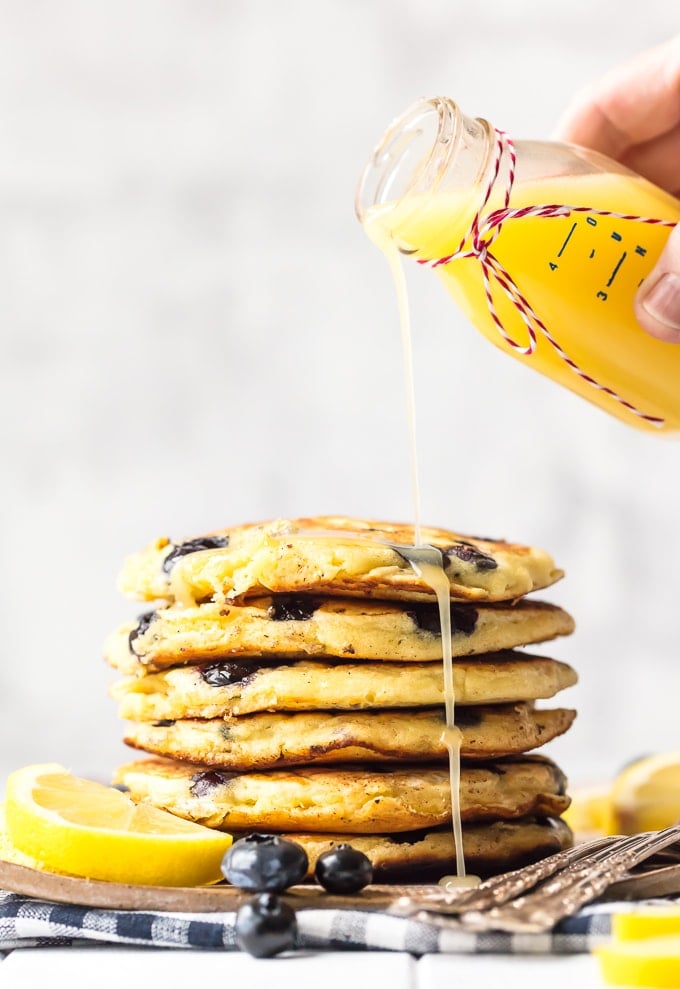 Lemon Syrup for Blueberry Pancakes
This creamy lemon sauce is absolutely divine! I love using this in place of the typical maple syrup when I make fresh pancakes. It's a nice change, and the fresh fruity flavor is so yummy.
Lemon Syrup and Blueberry Pancakes are a match made in heaven. When I first combined these two flavors, my mind was blown. Why would I use maple syrup on blueberry pancakes when I could be using THIS? Lemon and blueberry is such a summery combination, and it makes for a bright morning!
Next time you make blueberry pancakes (the best blueberry pancake recipe is right here), you have to try this lemon syrup. You won't be disappointed.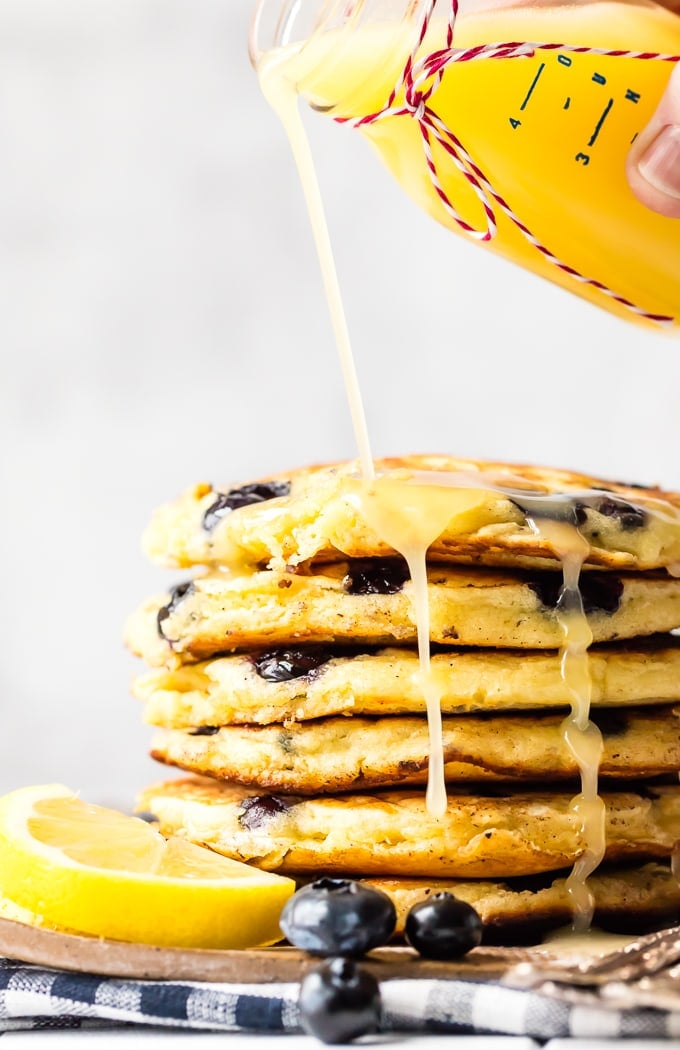 Lemon Syrup Ingredients
This lemon syrup is easy to make. Just grab a few ingredients and mix them together!
Unsalted Butter
Granulated Sugar
Heavy Cream
Freshly squeeze lemon juice
Lemon zest
Sea Salt
Baking Soda
This makes a wonderfully creamy lemon sauce without adding in too many ingredients.
How to Make Lemon Sauce
Whether you're making this Lemon Sauce for your pancakes or as a topping for a dessert, it's simple to make.
Heat a saucepan on medium-low heat
Combine all ingredients except for the baking soda
Boil and cook until the sugar dissolves
Remove from heat & add baking soda
Stir continuously
Return to low heat & continue stirring
Let the syrup cool before serving
Prepare this lemon sauce and set aside to cool while you cook up your pancakes!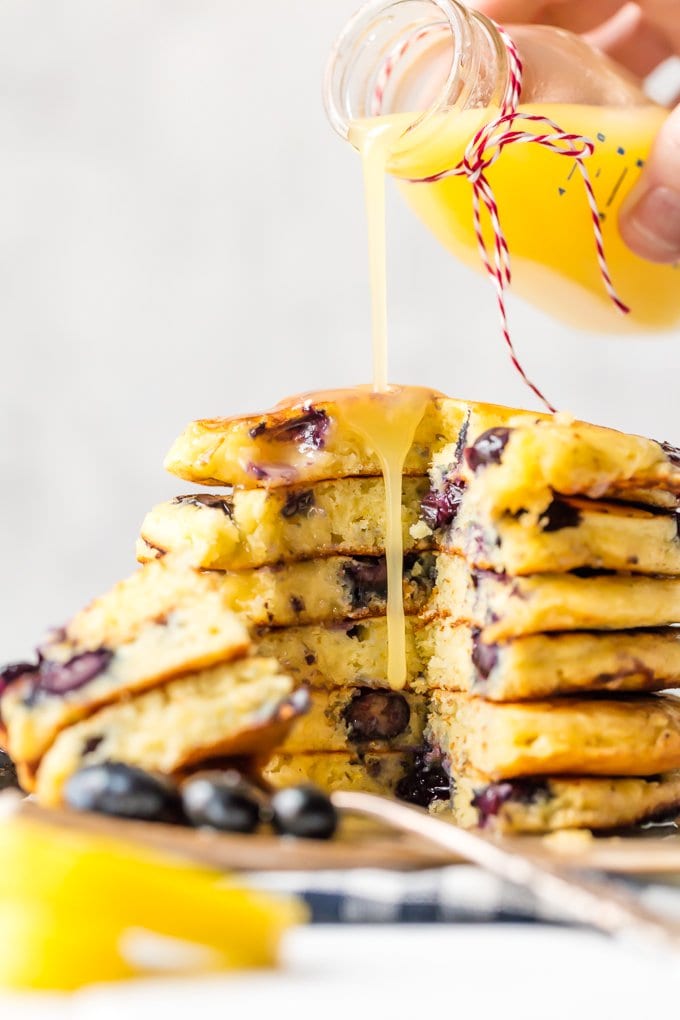 You absolutely must try this creamy Lemon Sauce for your blueberry pancakes. The flavor combination is fresh and fruity! Make your mornings brighter with Lemon Syrup for your pancakes.
See the recipe card below for full details on how to make Lemon Sauce for pancakes. Enjoy!
If you enjoyed this recipe, try these other recipes too: