EASY BANANA BREAD RECIPE with Peanut Butter Glaze makes me think that I might just be able to bake after all! Even if you think you don't know how to make banana bread, anyone can make Simple Banana Bread and today is the day! That salted peanut butter banana bread glaze takes the cake, literally! This Easy Banana Bread is something your family will crave and request time and time again. The ultimate easy bread recipe.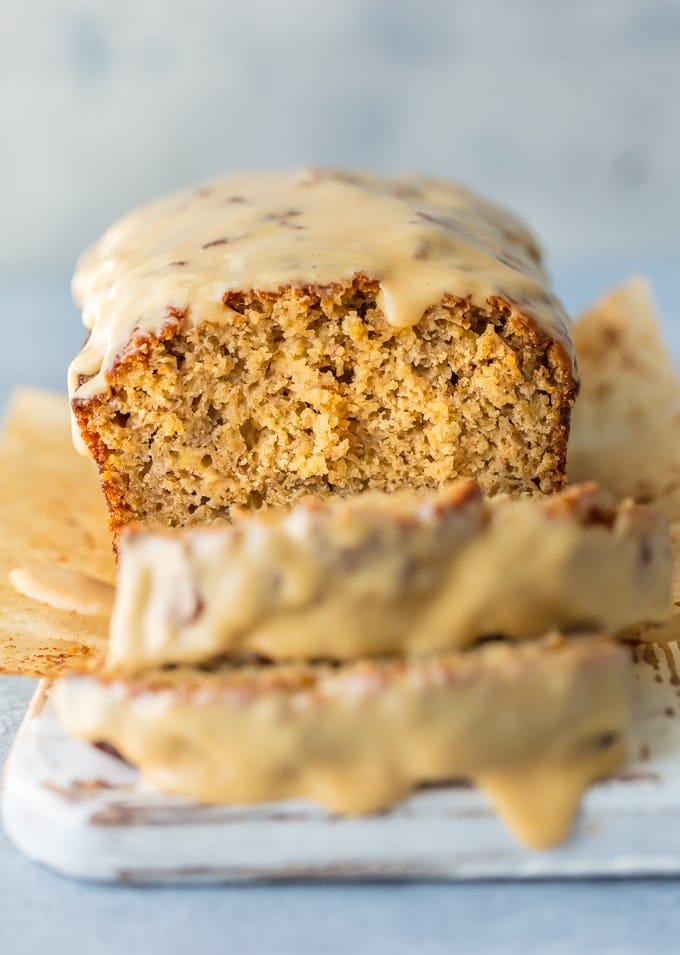 Best Banana Bread Recipe
Easy Banana Bread is a must make whether you're new to baking or an old pro. This simple banana bread recipe is so easy!
This Easy Banana Bread Recipe is exactly what I need. Can you believe I'm 35 years old and I didn't know how to make banana bread?! I can believe it…I didn't boil water until age 30…but still. I'm a little shocked that I've had this site for 5 years and never made a simple banana bread. So let's skip all the regular recipes and go straight to THE BEST shall we?
This EASY BANANA BREAD RECIPE WITH PEANUT BUTTER GLAZE is the stuff of the Gods and I'm so excited about it! Pat and I are supposed to be on a New Years diet (insert eye roll here) but I have been sneaking off to the pantry to eat this Simple Banana Bread Recipe with a fork for days. Can you blame me?!
It doesn't matter if you don't know how to make banana bread, because this EASY Banana Bread Recipe is so simple!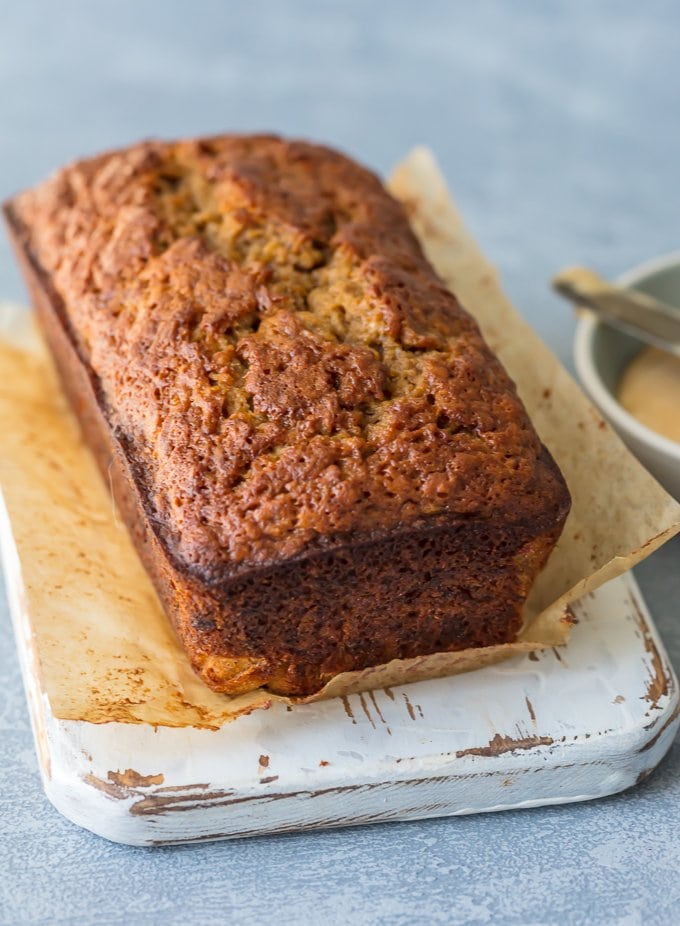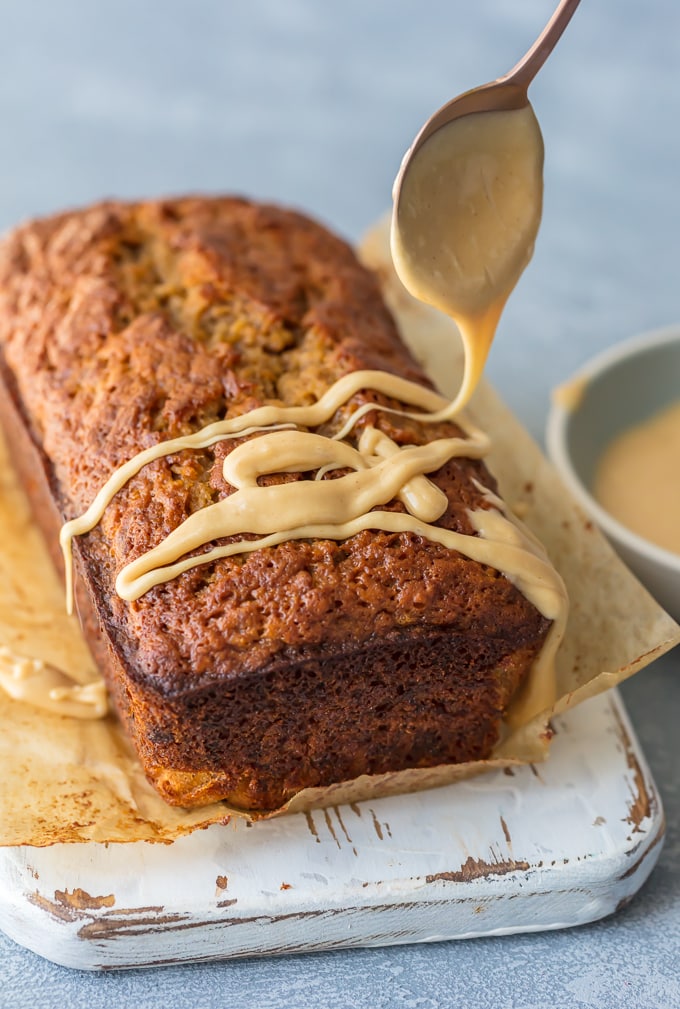 How to Make Banana Bread
I want to show you how to make banana bread, because it doesn't have to be as difficult as it sounds. Trust me, I was kind of terrified before I made this easy banana bread recipe!
This version is so easy that anyone can do it. If you're intimidated by baking (totally normal, I still am!) and specifically baking breads (HELLO, ME!), don't be. Anyone can master this delicious and simple banana bread recipe and you'll be using up those brown bananas instead of tossing them in the trash.
My eyes are always bigger than my stomach when shopping for bananas and I ALWAYS have extras left over. Now I have the perfect way to use them and I'm pretty darn happy about it.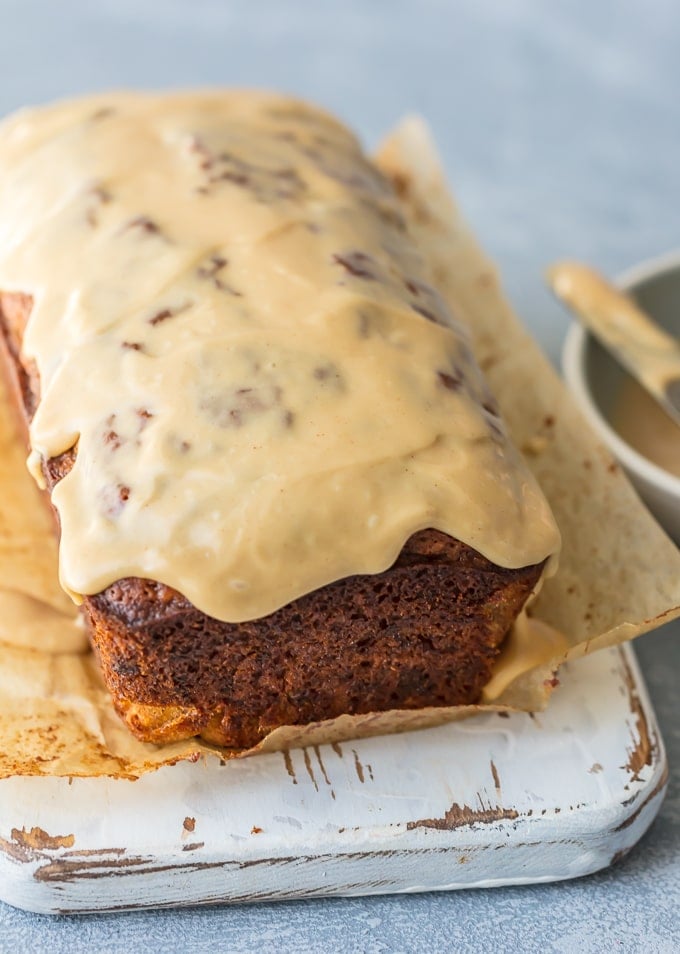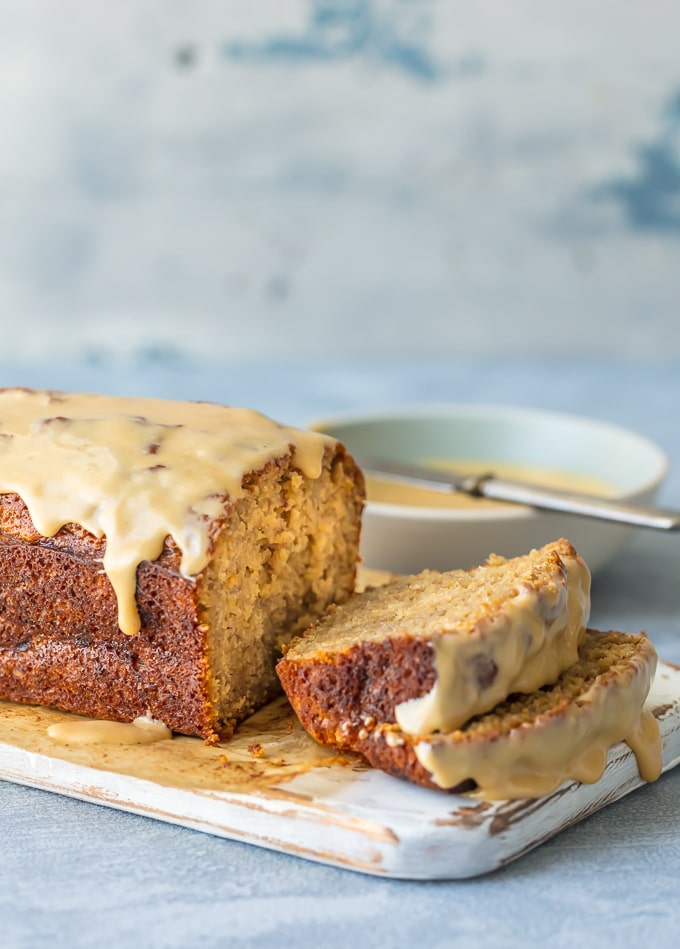 Peanut Butter Glaze – The Perfect Banana Bread Glaze
This Peanut Butter Glaze is the stuff of legend. Just try to not eat it with a spoon!
Now that we've discussed the bread, let's talk about that Salted Peanut Butter Glaze. It's almost an icing…but thin enough to be a glaze. I am IN LOVE with this peanut butter banana bread combo. There's something about peanut butter and bananas that are a match made in heaven. Next time I might add in some chocolate chips…because I like to live life on the edge.
Now that I typed that I'm craving it like you wouldn't believe. Banana Bread is just BEGGING to be smothered in peanut butter glaze. I mean, that's my dream as well. Good on you, Peanut Butter Banana Bread.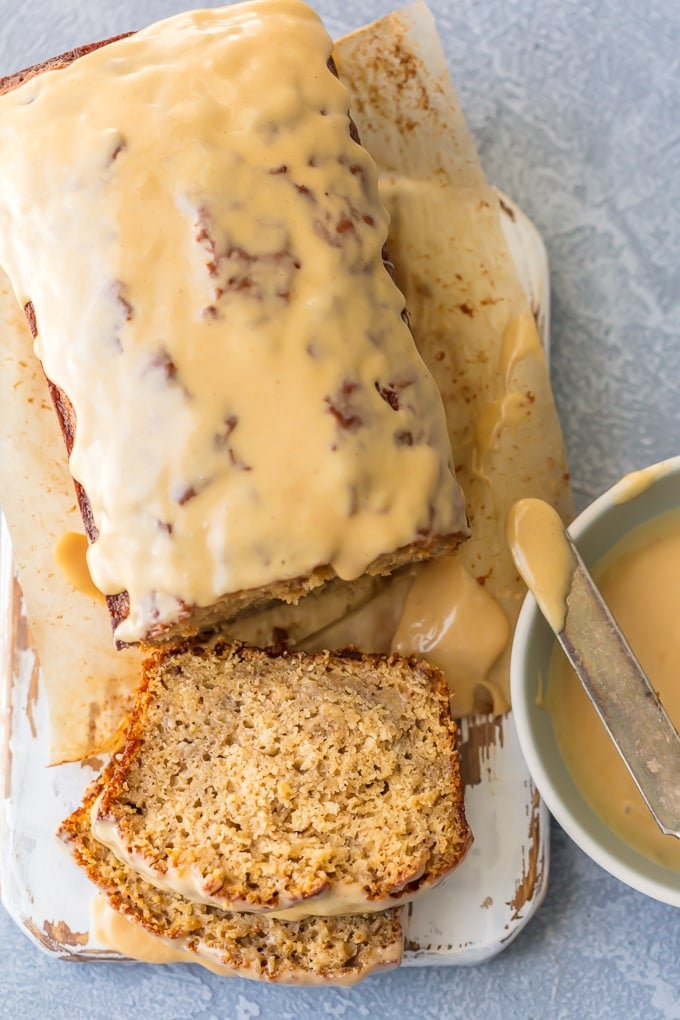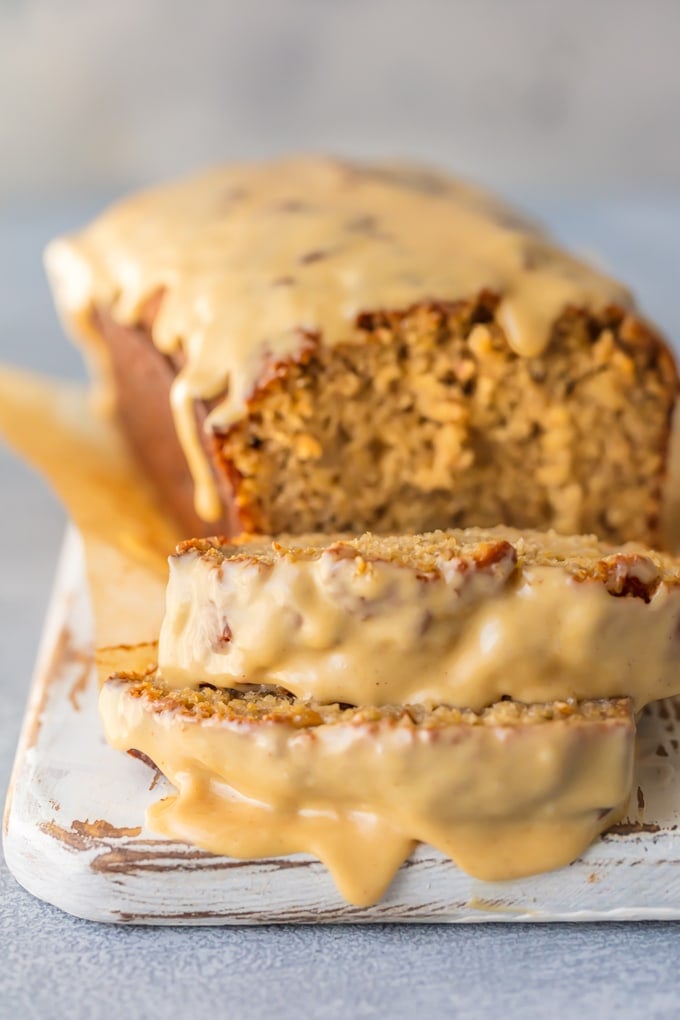 Do you have to use very ripe bananas for Banana Bread?
Bananas are easier to mash (and therefore easier to quickly incorporate into a smooth batter), sweeter, and smell stronger when they are overripe. That makes bananas that you might not want to eat for breakfast PERFECT for baking. If your banana has turned black, however, it's time to throw it in the trash. Use up those bananas before its too late! (hint hint)
Why is my Banana Bread sinking in the middle?
Usually bread recipes can rise too quickly and then sink in the middle if you're using too much baking powder. This is why baking is more of an exact science than cooking. I always follow a baking recipe as closely as possible.
How long can you keep Banana Bread?
When properly stored in an airtight container, this easy banana bread should last 1-2 days on your counter or up to 1 week in the fridge. You can also freeze it without the glaze. YAY!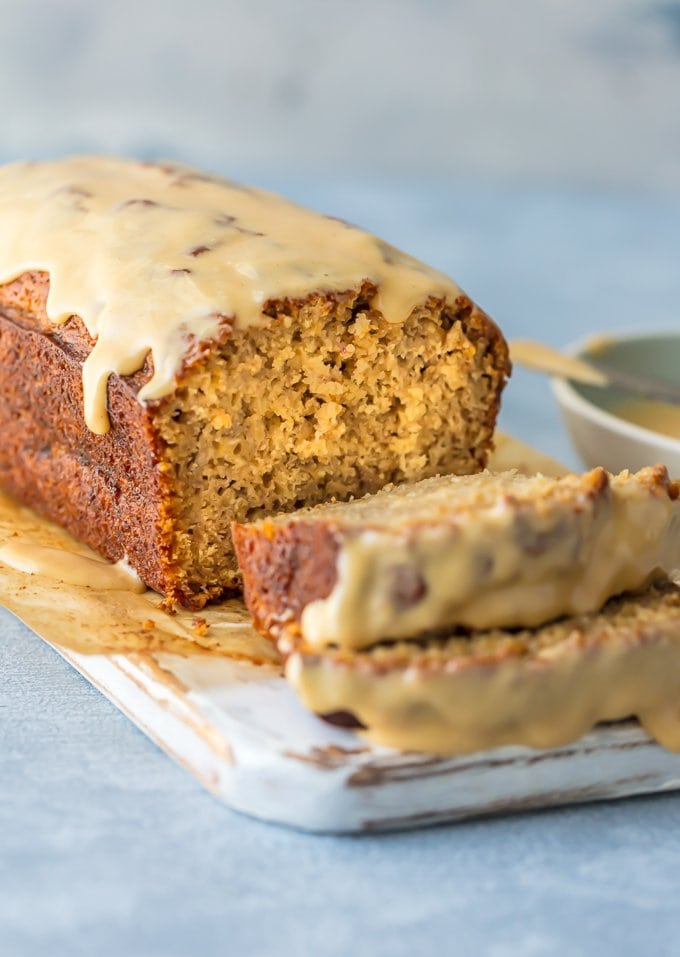 Now go and make this Easy Banana Bread Recipe just to prove how simple it is! If you think you don't know how to make banana bread, think again. You're going to love this easy and delicious bread, especially with the Peanut Butter Glaze.
Watch the video or see the recipe card below for How to Make Easy Banana Bread with Peanut Butter Glaze. Enjoy!
If you loved this easy bread recipe, be sure to check out some of our other favorite simple desserts;
If it's Quick Bread Recipes you crave, we especially love our