This Banana Bread recipe with Peanut Butter Glaze is one of the best! Not only is this one of the easiest banana breads to make, but it's topped off with the best glaze for banana bread as well. That salted peanut butter flavor makes the cake! Your family will crave and request this time and time again. Banana and peanut butter is the best flavor combo!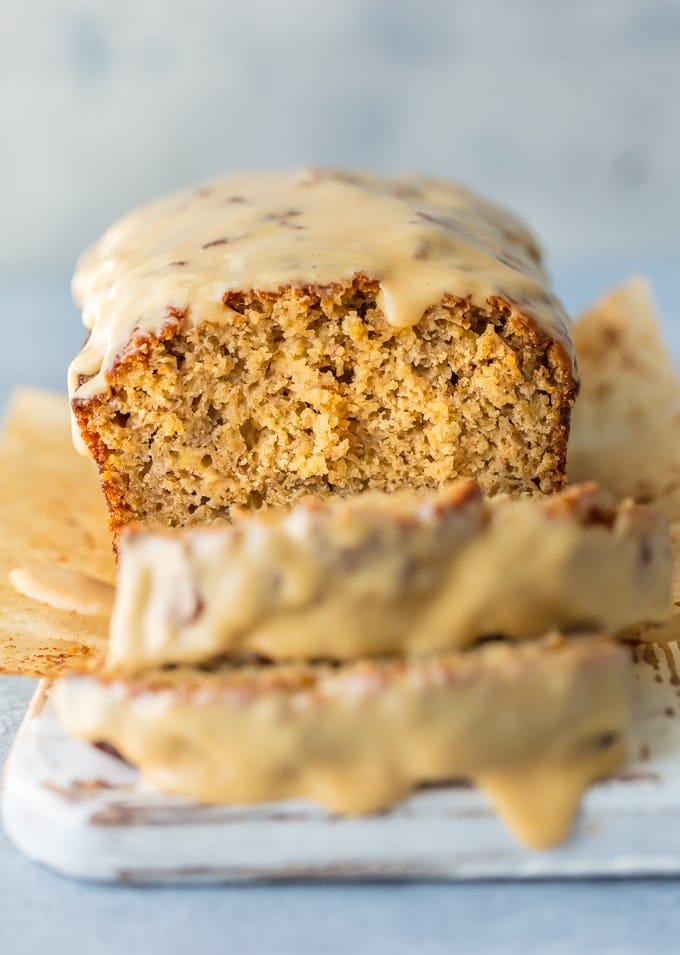 Best Banana Bread Recipe
This Easy Banana Bread is a must-make whether you're new to baking or an old pro!
What makes this the best?
This recipe is truly one of the easiest bread recipes I've made. Even if you're new to baking, you can follow this recipe.
The peanut butter glaze goes perfectly on top of the banana bread.
It's moist, soft, flavorful, and just soooo delicious. What could be better than that?
You can also make this recipe without the glaze if you don't like or can't eat peanut butter. It's still super tasty and I think it just looks so beautiful to serve at breakfast or for dessert.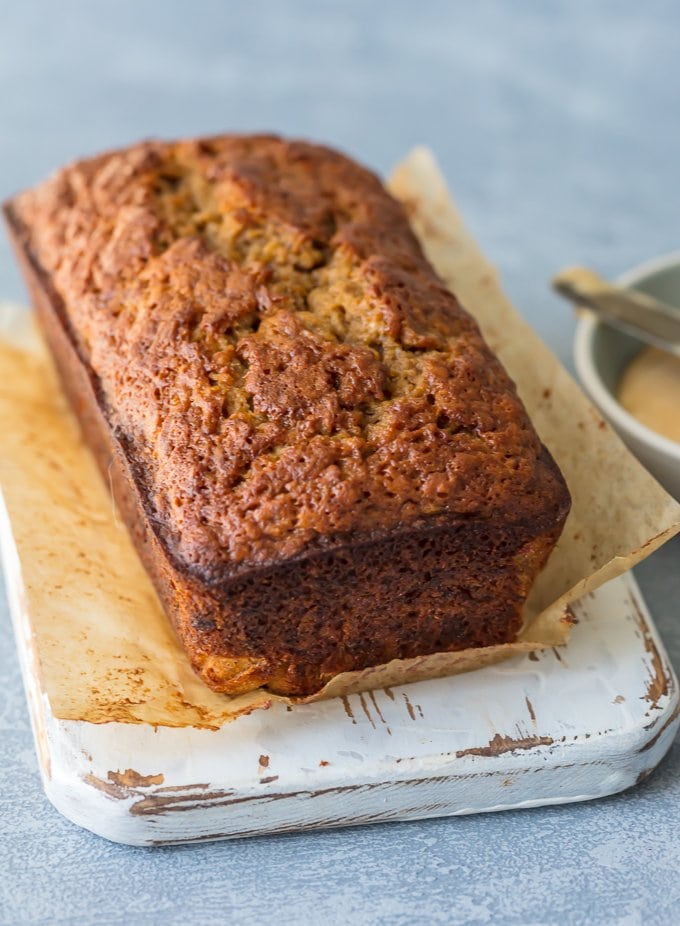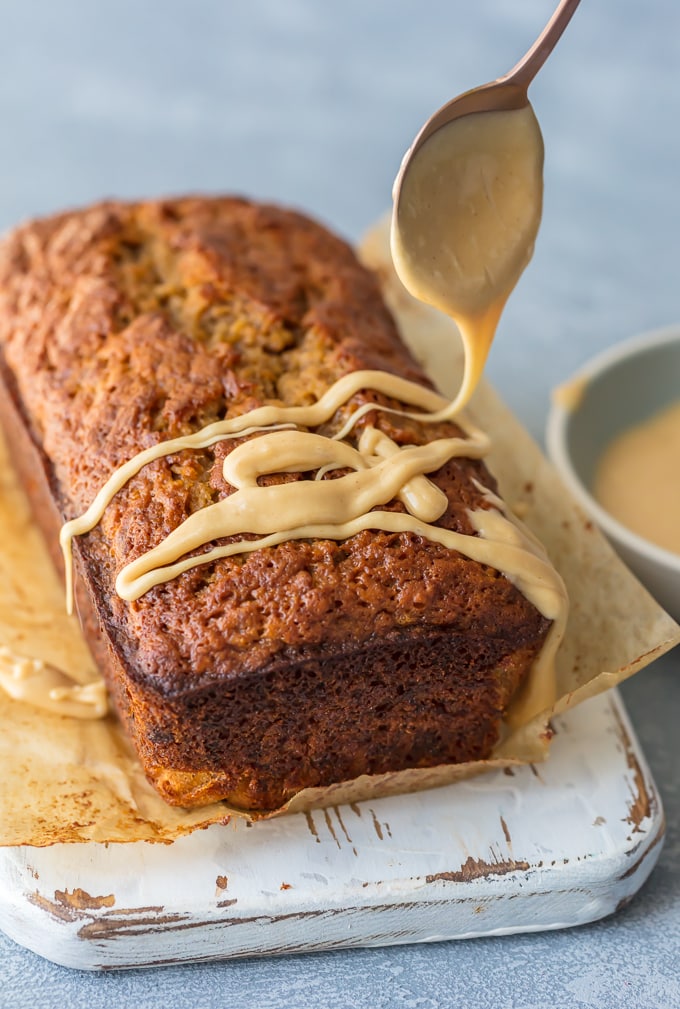 How to Make Banana Bread
This easy banana bread recipe is so simple. Be sure to check the recipe card below to get all of the ingredients, instructions, and notes! And watch the video to see the step-by-step recipe in action.
Ingredients
Bananas — get RIPE bananas. I've added a note below about finding the best bananas for this recipe.
Eggs — use large eggs and let them sit to room temp before baking.
Dark Brown Sugar — this gives it the perfectly rich flavor and texture.
Self-Rising Flour — this flour already has salt and baking powder mixed in, so do not substitute all-purpose flour for this recipe.
Vanilla extract, cinnamon, and salt create the right flavor.
Recipe Tips & Notes
Use parchment paper to line the bread pan. This will help you to easily lift the banana bread out after baking.
Use a fork or potato masher to mash up the bananas in a bowl.
Stick a toothpick into the middle of the bread while baking to check for when it's done. The toothpick should come out clean.
Let the bread rest for 5-10 minutes before removing it from the pan. Then drizzle with glaze.
You can serve this bread hot or cold, with or without the peanut butter glaze.
If you don't have self-rising flour, you can make your own. Combine 1 cup of all-purpose flour with 1½ teaspoons of baking powder and ½ teaspoon of salt. Make sure it's well-mixed.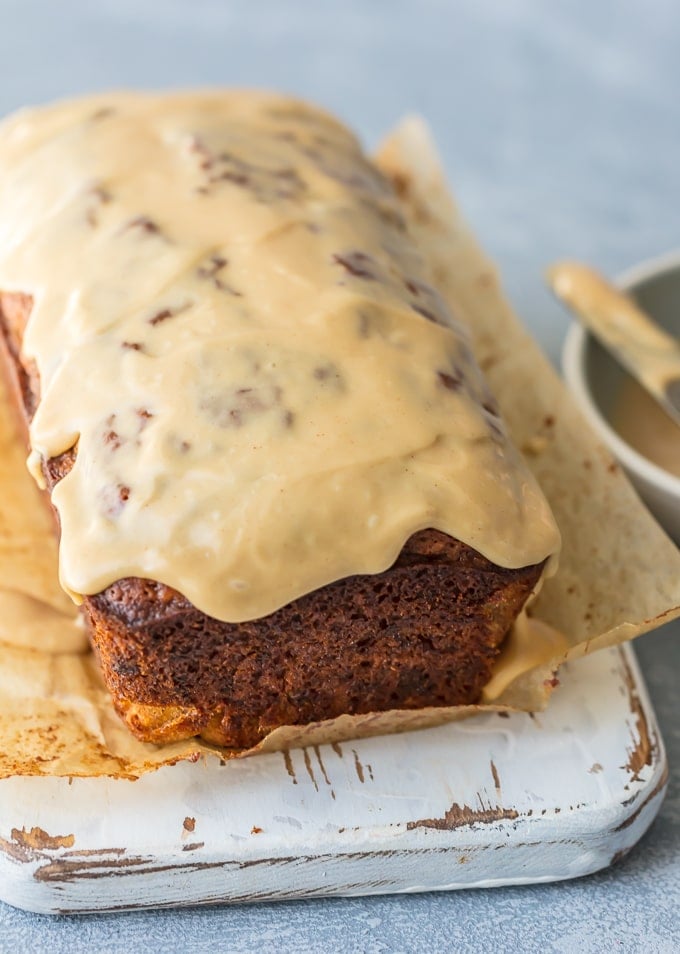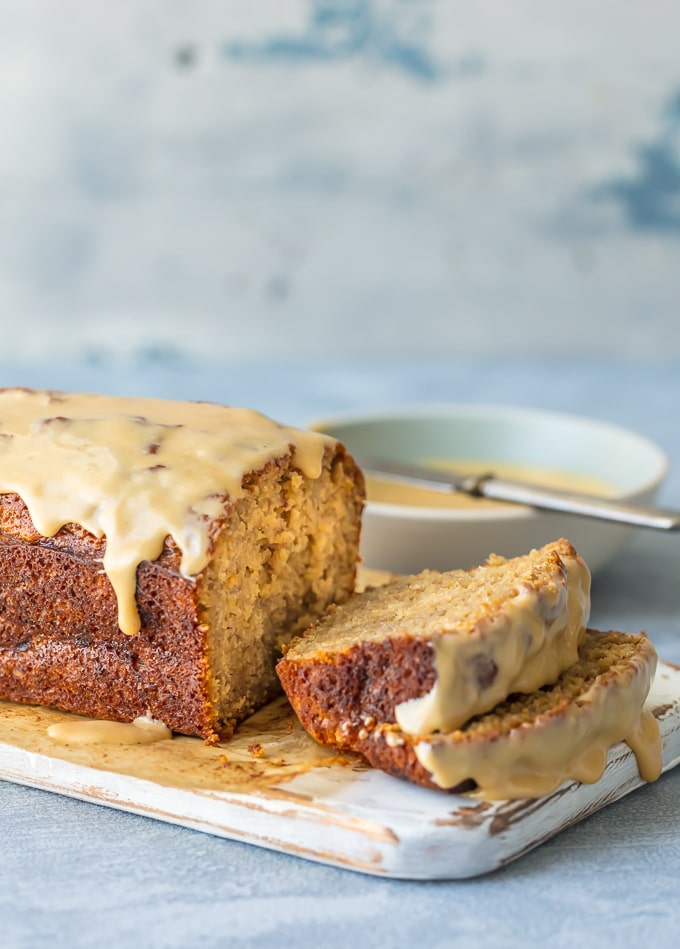 Peanut Butter Glaze (The Perfect Banana Bread Glaze)
This Peanut Butter Glaze is the stuff of legend. Just try to not eat it with a spoon–actually, no I encourage you to eat the extra with a spoon!
Now that we've discussed the bread, let's talk about that glaze for the banana bread. It's a similar texture to icing, but thin enough to be a glaze. I am IN LOVE with this peanut butter banana bread combo. There's something about peanut butter and bananas that are a match made in heaven.
The glaze is a mixture of peanut butter, milk, powdered sugar, vanilla extract, and just a bit of sea salt to balance it out.
All you have to do is combine ingredients and mix, then generously slather or pour it over the bread.
Variations
Feel free to make some changes to this recipe if needed. Here are some ideas:
Skip the peanut butter glaze if your family is allergic and just serve the bread. It's plenty delicious without it.
Add chocolate chips into the bread batter before baking!
Try another type of glaze, like lemon glaze or coffee glaze.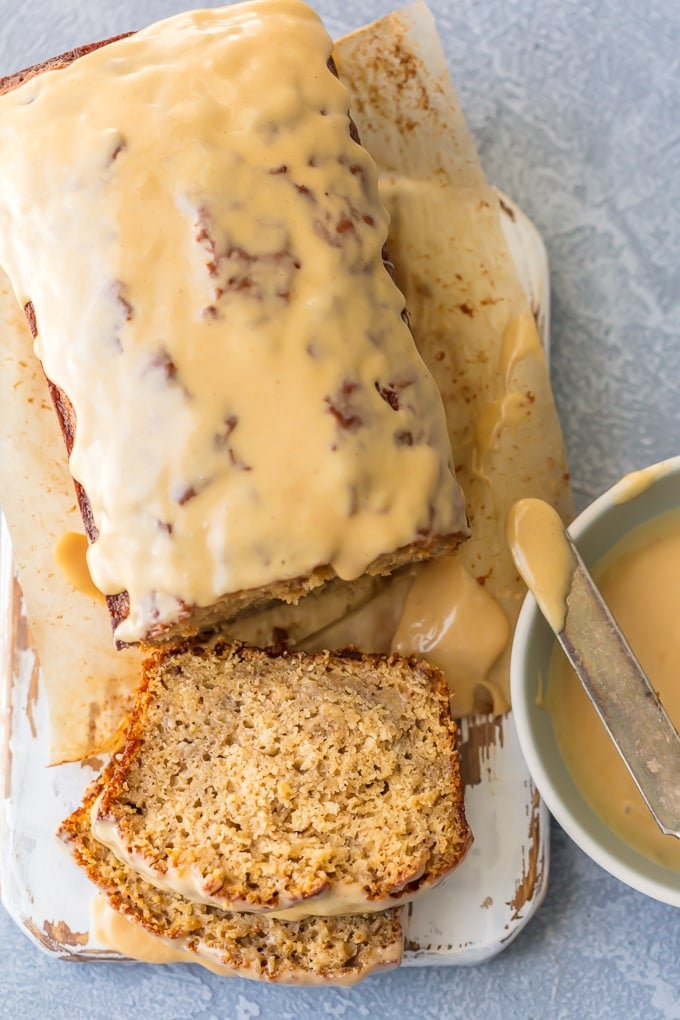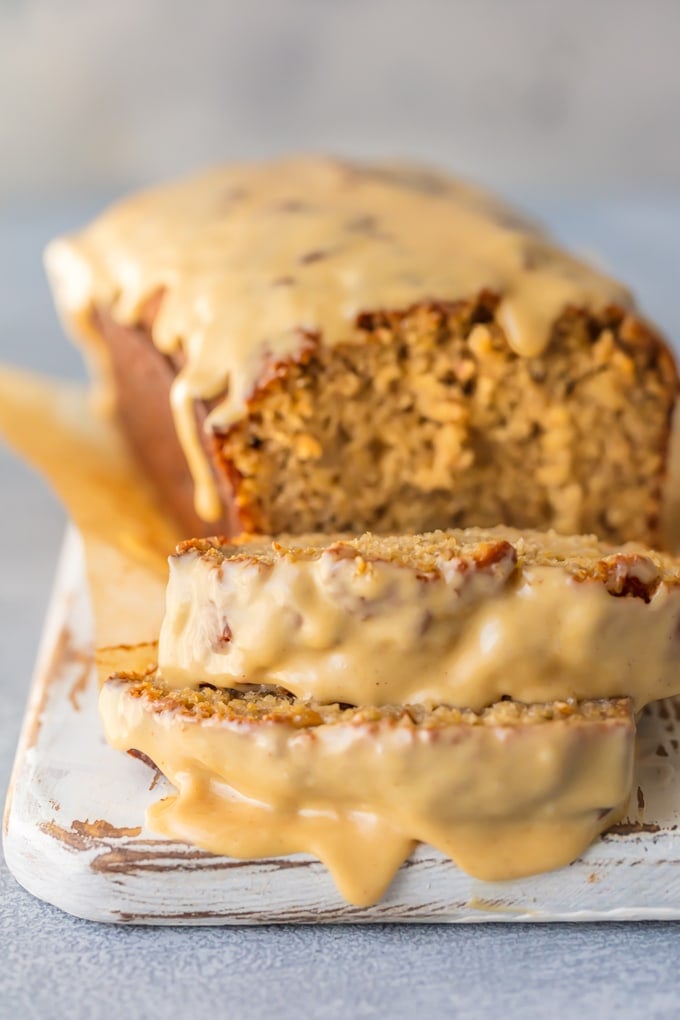 Do you have to use ripe bananas for banana bread?
The best bananas to use for this recipe are very ripe or over-ripe bananas. Look for the ones with lots of dark brown spots. The riper the better!
Ripe bananas are easier to mash (and therefore easier to quickly incorporate into a smooth batter), sweeter, and smell stronger.
This is the perfect time to use up those bananas that you might not want to eat for breakfast.
Why is my banana bread sinking in the middle?
Usually, bread recipes can rise too quickly and then sink in the middle if you're using too much baking powder. This is why baking is more of an exact science than cooking. Follow the recipe as closely as possible to avoid mishaps like this. The self-rising flour in this recipe helps with this problem.
How to Store Banana Bread
When properly stored in an airtight container, this easy banana bread recipe should last 1-2 days on your counter, or up to 1 week in the fridge. You can also freeze it without the glaze. To freeze, double wrap it tightly in plastic wrap.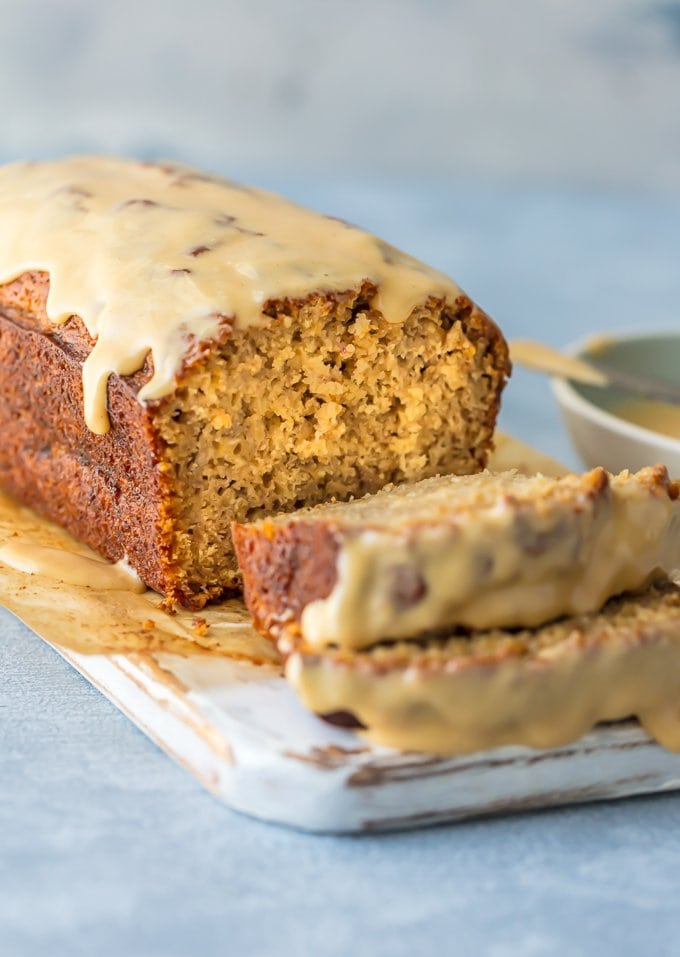 Now go and make this Easy Banana Bread Recipe just to prove how simple it is, and don't forget that delicious peanut butter glaze.
Be sure to try some of our other favorite bread recipe and banana desserts: