Blueberry Pancakes just might be the most comforting breakfast ever. It's hard not to think of weekend mornings at home with the family when chowing down on pancakes, and that's exactly what this recipe is for! If you want to know how to make blueberry pancakes, it's simple. This is a classic blueberry pancake recipe; light, fluffy, and fruity. And to top it all off, there's a tasty homemade Lemon Sauce to pour on top!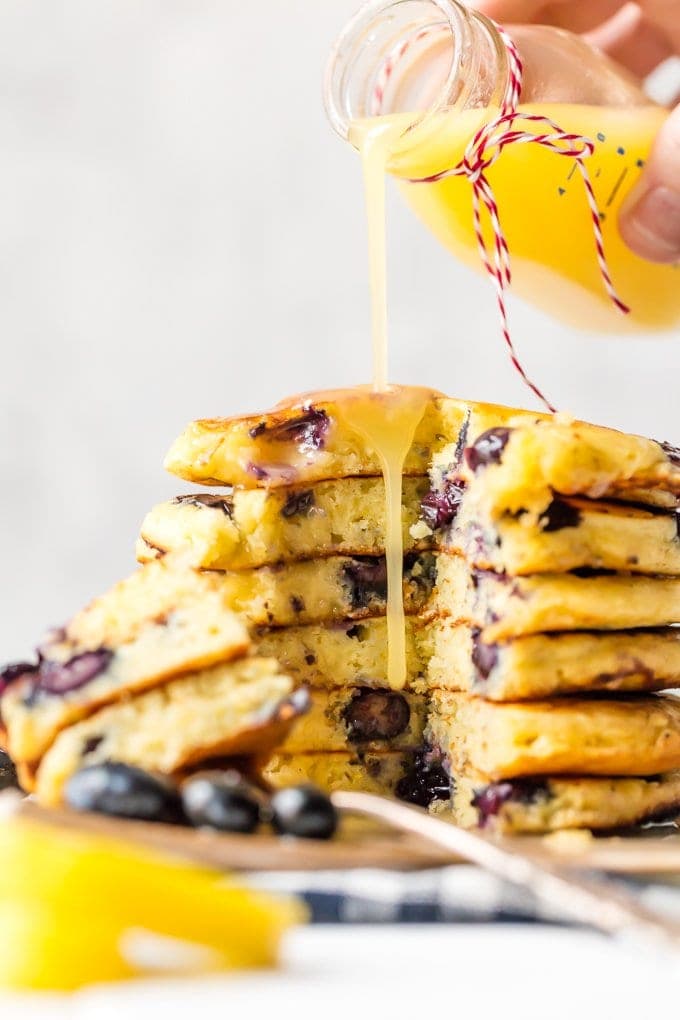 Blueberry Pancakes
Blueberry pancakes are such a classic family breakfast. This blueberry pancake recipe is so fluffy and delicious, especially with the homemade lemon sauce on top!
Blueberry Pancakes are one of my favorite family breakfasts. Pancakes are such a classic and they never fail to please. I love how light and fluffy these pancakes are, and the fresh blueberries really burst with flavor. This blueberry pancake recipe is simple and straightforward. You'll be making these pancakes every weekend!
It's so nice to get the family together in the mornings for a tasty breakfast to start the day. Whip up some fresh blueberry pancakes, make some bacon, and don't forget the homemade lemon sauce to finish it off!
This Blueberry Pancake Recipe is such a classic family breakfast. Learn how to make Blueberry Pancakes for the whole family!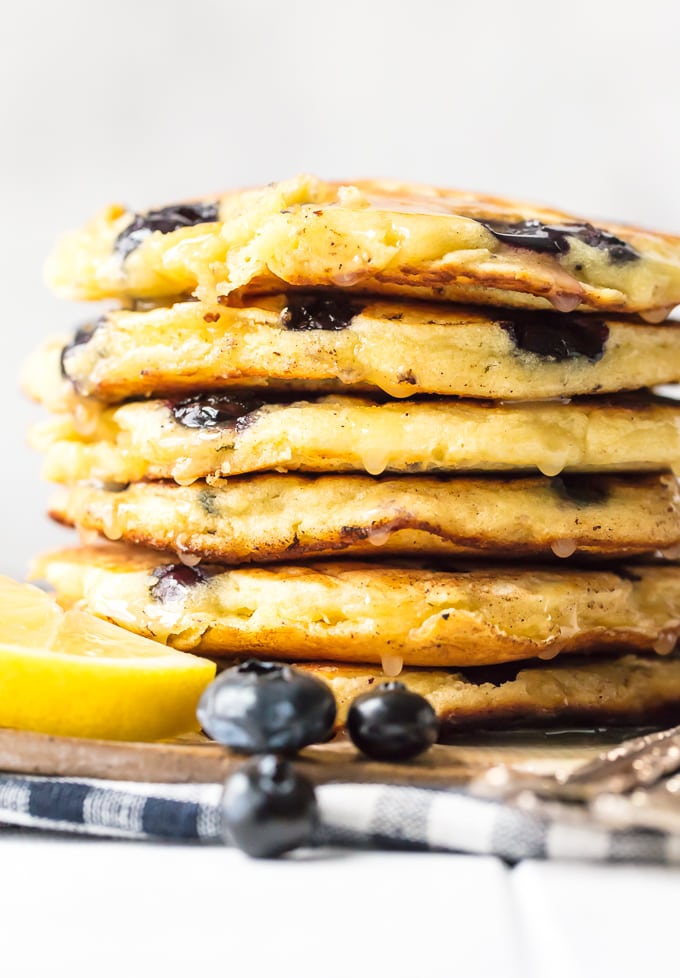 The Best Blueberry Pancake Recipe
There's something about blueberry pancakes that feels even more classic than a regular, plain pancake. It's hard not to get a little nostalgic when eating these, but I love that feeling of comfort.
This is the best blueberry pancake recipe, and it's definitely my go-to for breakfast time. These are filled with fresh blueberries, so the juices really come out as you bite into them. These pancakes are literally BURSTING with flavor. And instead of using basic maple syrup, I amped things up with a Homemade Lemon Sauce! The mix of blueberry and lemon creates the most AMAZING flavor combination. It's so fresh and a little bit summery.
I could eat these blueberry pancakes just about every morning, but I love the idea of saving them for weekends to create a family tradition. Or make them for Christmas Breakfast or Easter Breakfast for a simple holiday treat.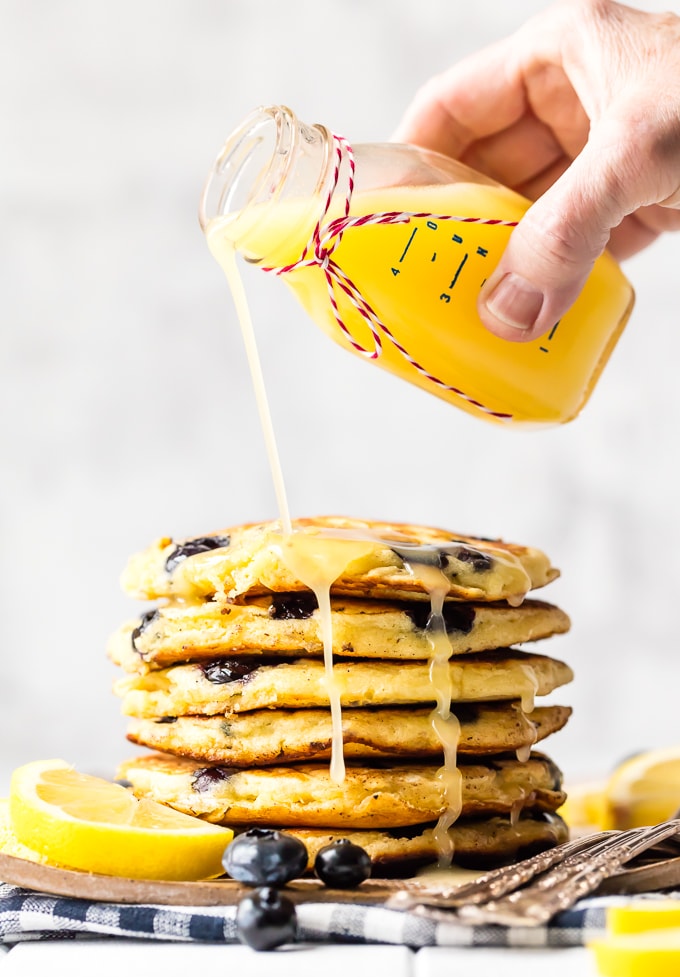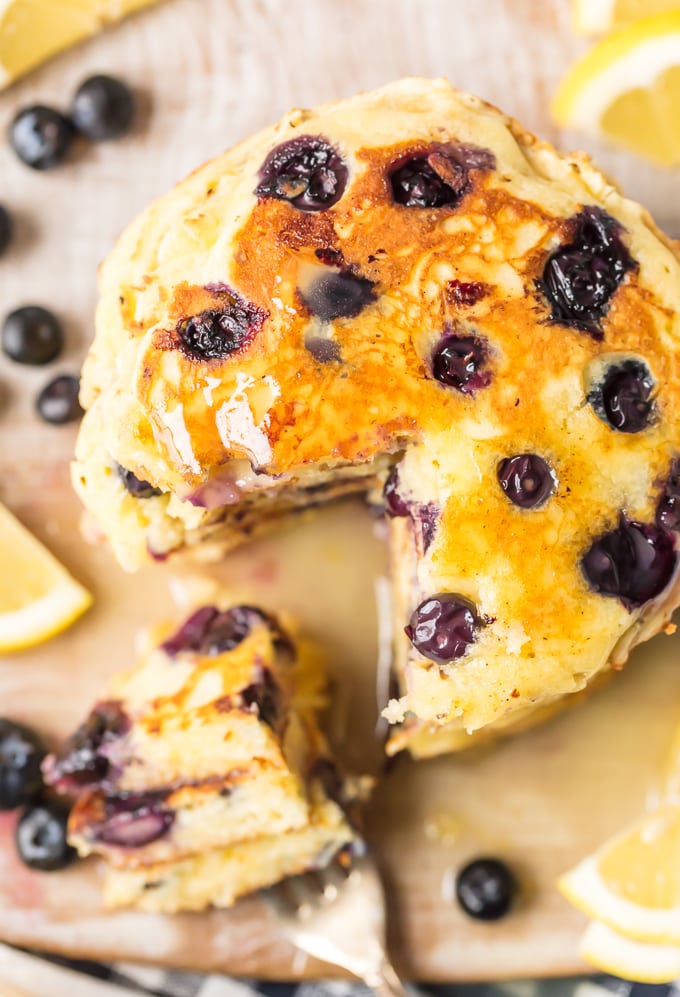 How to Make Blueberry Pancakes
Blueberry pancakes are one of those breakfast recipes everyone should have up their sleeve. So I'm going to teach you how to make blueberry pancakes so that you can enjoy them and share them with your family too. This recipe is fluffy, delicious, and pretty easy.
Tips for how to make blueberry pancakes:
When you make larger batches of pancakes, it takes a while to cook them all up. Keep your pancakes warm in the oven (set to 200°F) while you finish making the rest.
Separate the egg whites from the egg yolks. You'll use both parts, but they'll be mixed separately.
After mixing the other ingredients together, you'll fold in the egg whites, but not until smooth. Your batter should be just a bit lumpy.
Use 2 tablespoons of batter per pancake.
When the top of the pancakes start to bubble, it's time to flip.
Follow these tips when making your blueberry pancakes and they'll turn out perfectly!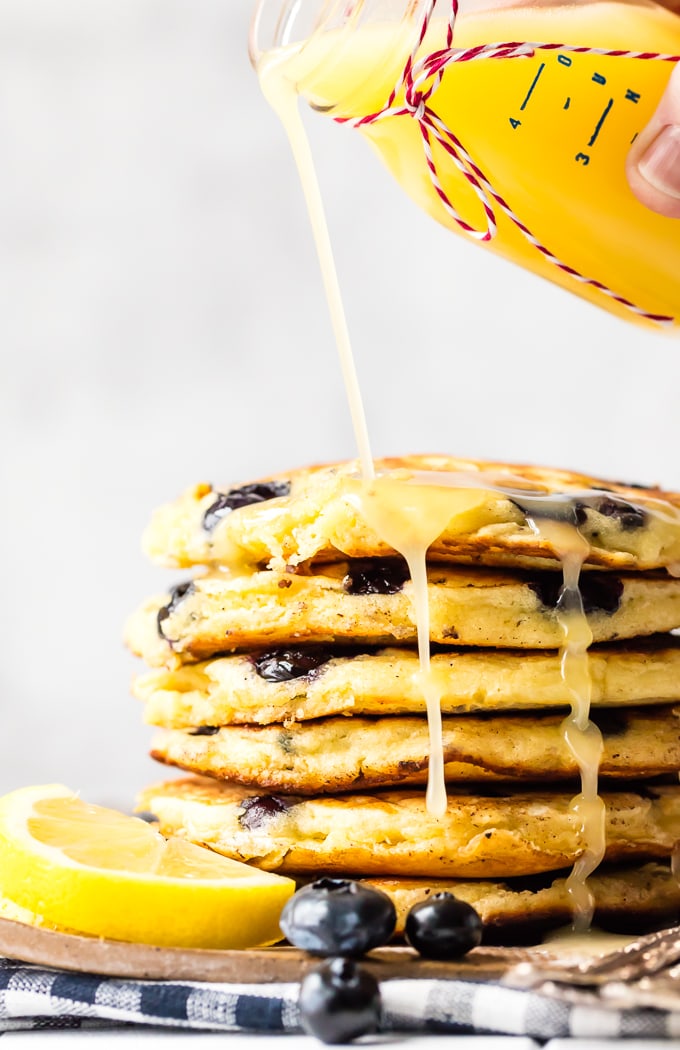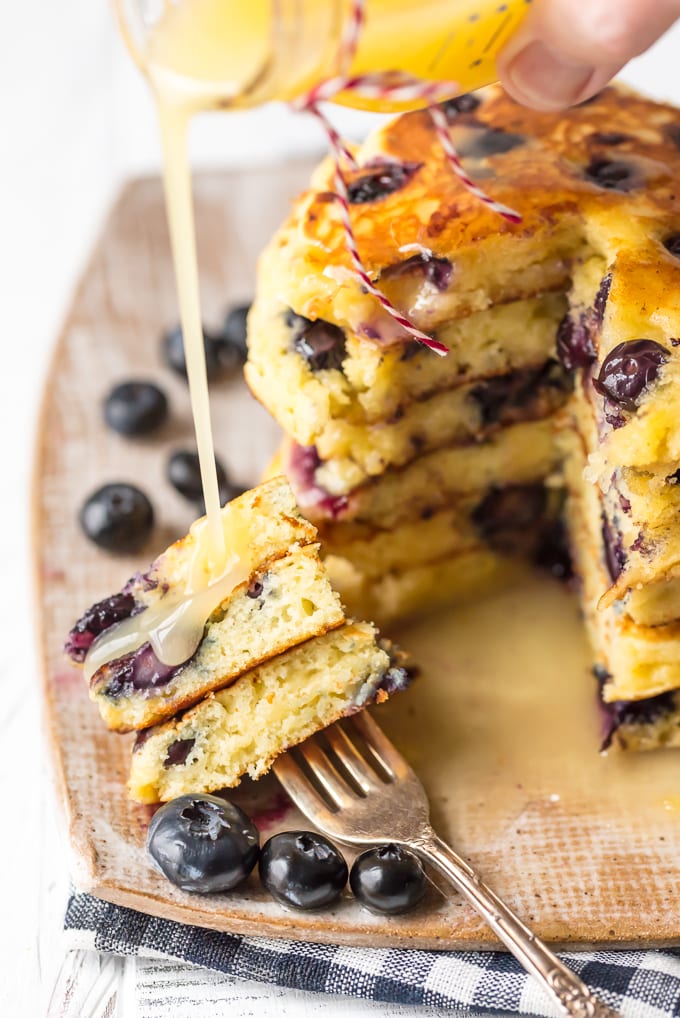 Can you use frozen blueberries in pancakes?
We're using FRESH blueberries for this blueberry pancake recipe, but you can definitely use frozen blueberries if that's all you have. Frozen berries are a great thing to have on hand for baking, so when you don't have fresh, use frozen. Just let them thaw a while before adding them into the pancakes for best results.
What can you put on top of pancakes?
One of the most fun things about pancakes is that you can be creative and put whatever you want in them or on them. Use whatever fruit you like, add nuts, and drizzle them in any flavor of syrup! For these delicious blueberry pancakes, you'll definitely want to add a few more fresh blueberries or blueberry compote on top for an extra burst of flavor. And the best part, of course, is the creamy lemon syrup!
What makes pancakes fluffy?
Everyone loves a nice, fluffy pancake! The best pancakes are light and airy, but how do you make sure they turn out fluffy instead of flat and dense and chewy? The secret to this blueberry pancake recipe is what makes them so fluffy…it's the eggs!
Instead of mixing in the full egg like most pancake recipes call for, you separate the egg whites from the egg yolks. Mix the egg yolks into the batter like normal, but simply fold the egg whites in at the end (after they've been fluffed up) without overmixing.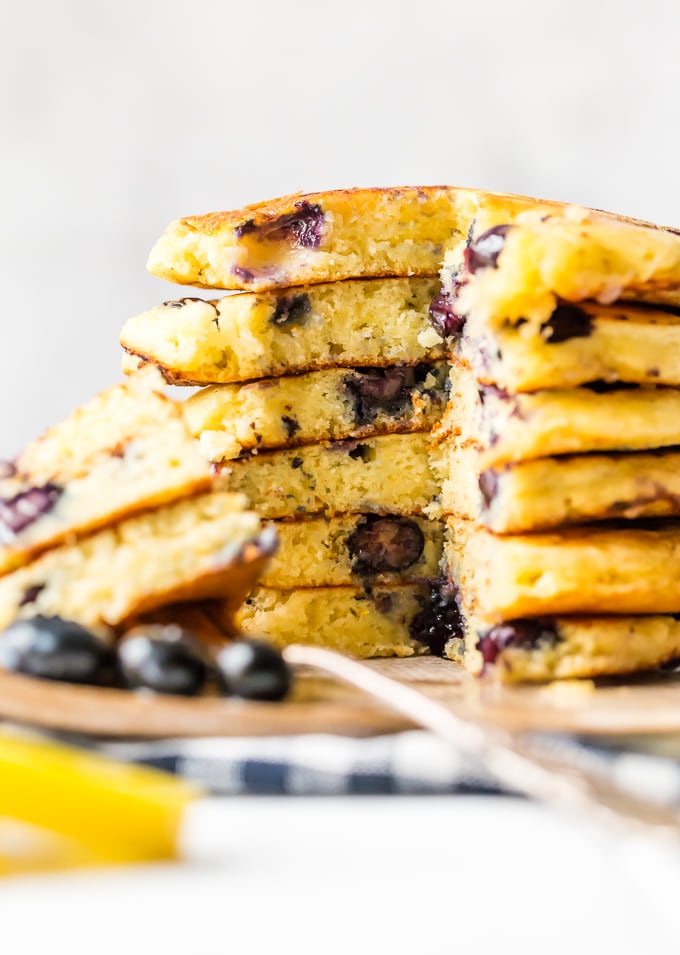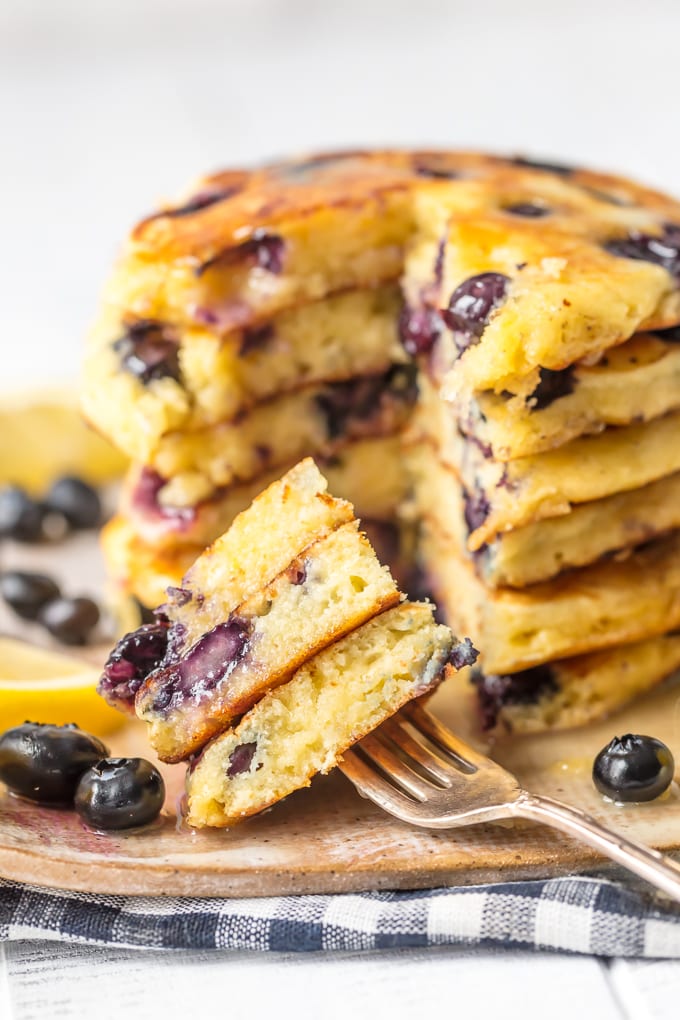 Whip up these delicious Blueberry Pancakes for you and your family this weekend! I know you all will love them as much as we do. Both kids and adults LOVE this simple recipe with so much fluffy flavor. The lemon sauce really takes things to a new level!
See the recipe card below for details on how to make Blueberry Pancakes with Lemon Sauce. Enjoy!
If you enjoyed this blueberry pancake recipe, try these other breakfast recipes: