Mango Cheesecake is the perfect treat for a warm summer day when you don't want to turn on the oven. Creamy, fruity, and refreshing, this no-bake cheesecake recipe is easy to make with a few tasty ingredients, making it a simple and delicious dessert option for any occasion.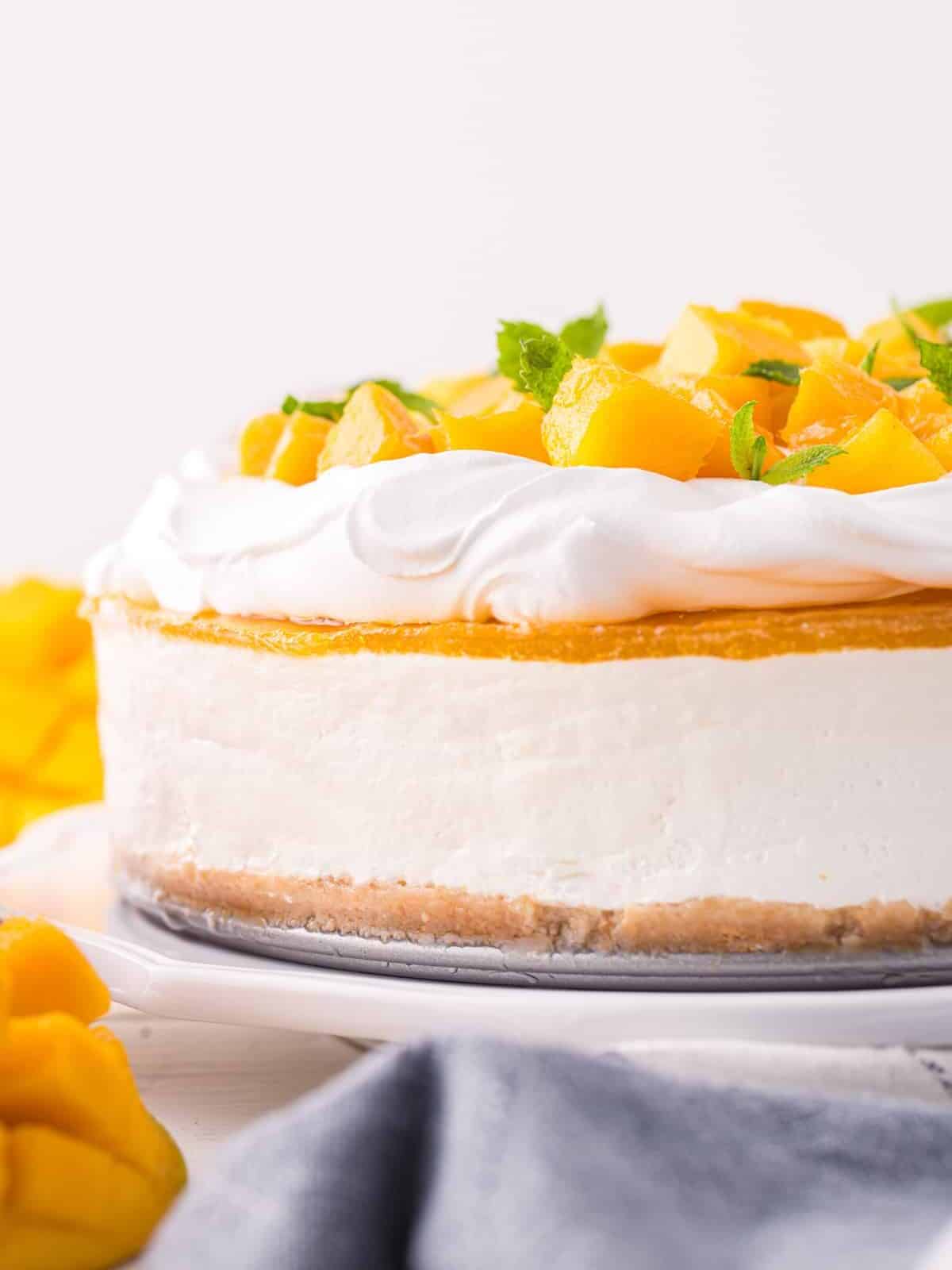 What's in this Mango Cheesecake Recipe?
While no bake cheesecake is easy to make, don't forget the time it needs in the refrigerator to set before serving. With a buttery sweet cookie crust, a heavenly cream cheese filling, and a delicious jam topping, I promise this mango cheesecake will be worth the wait!
Vanilla Wafers: This is the base of our crust. Feel free to switch these out to make a graham cracker crust. To try something a little different, you can use Golden Oreos.
Mango Jam: Switch this out for another flavor of jam if you prefer a different taste.
Salted Butter: If you decide to use unsalted butter, make sure you add an extra pinch of salt to help cut through some of the sweetness.
Granulated Sugar: Brown sugar is an acceptable substitute here, though it will be slightly richer and deeper.
Cream Cheese: It's the base of this cheesecake. Use full-fat, brick-style cream cheese for the best results.
Powdered Sugar: Sweetens the filling without making it gritty.
Sour Cream: You can also use plain Greek yogurt.
Whipped Topping: Make your own homemade whipped topping with cold heavy cream and powdered sugar.
Mango: Add fresh mango to the top for a beautiful, fruity finish.
How to Make a Vegan No Bake Mango Cheesecake
If you are vegan and looking for a non-dairy version of this no-bake cheesecake recipe, many supermarkets now carry an array of plant-based cream cheese, yogurt, and heavy whipping cream options for you to try.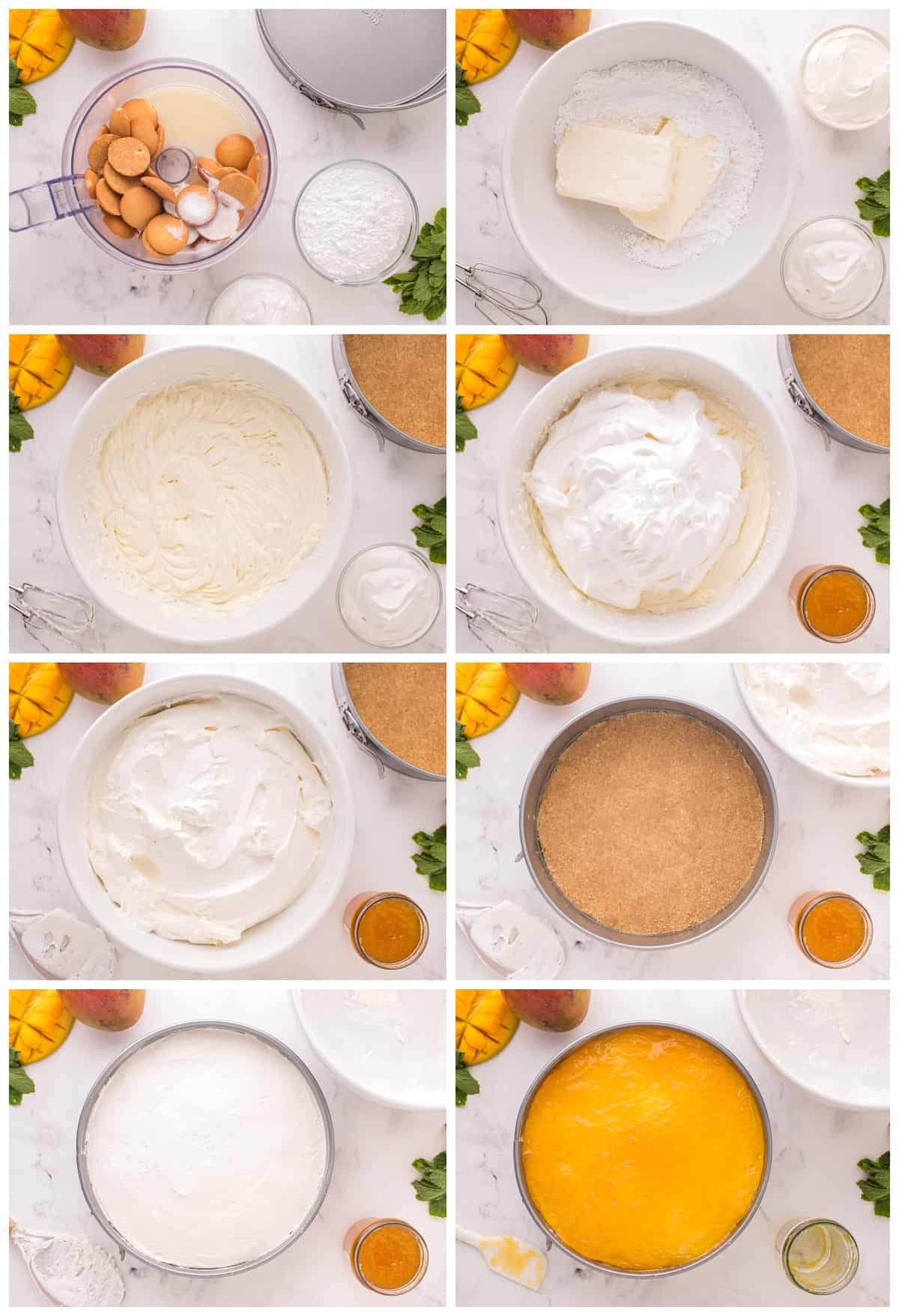 Can I make mango cheesecake without a springform pan?
Yes! While I recommend investing in a springform pan if you make a lot of cheesecake, you can use a standard 9-inch cake pan lined with parchment paper. Leave enough overhang so that you can use the parchment paper to lift the cheesecake out of the pan once it has set.
Can I make mango cheesecake with graham cracker crust instead of vanilla wafers?
Yes, you can! I like the more subtle taste of vanilla wafers, but you can definitely use graham crackers.
Why didn't my mango cheesecake set?
This no-bake cheesecake can end up runny if you use low-fat cream cheese. Cream cheese has a pretty high moisture content, but using full-fat cream cheese can help counteract some of that moisture and add structure. Low-fat cream cheese lacks the binding fat, so that could be one reason why your cheesecake is runny.
Why is my no bake cheesecake lumpy?
For the creamiest cheesecake, make sure your ingredients (especially the cream cheese) are at room temperature before combining. Cold cream cheese will lead to lumpy cheesecake.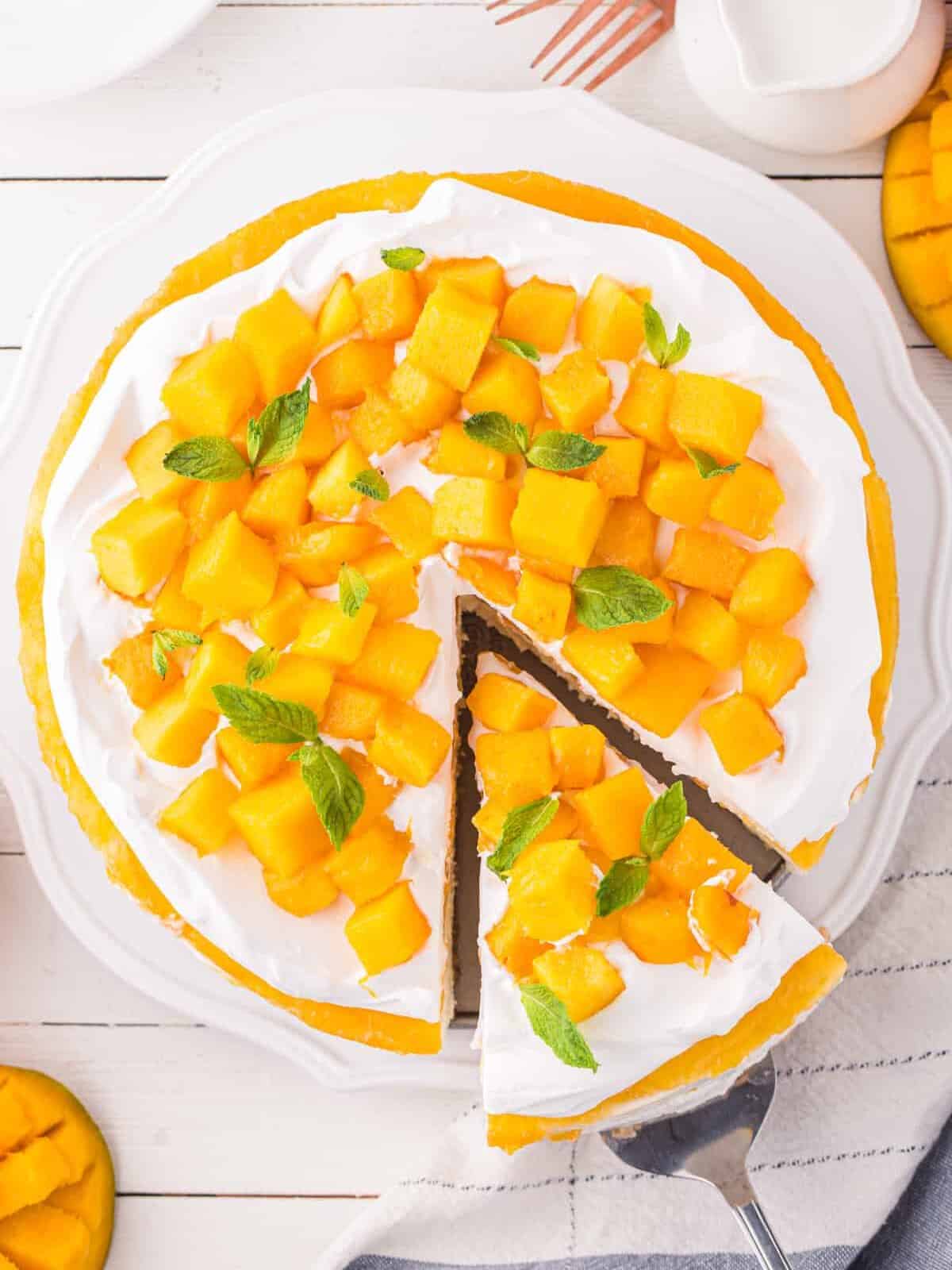 How to Make Ahead and Store No-Bake Mango Cheesecake
Mango cheesecake can be made up to 5 days in advance of when you plan to serve it. Store the cheesecake tightly wrapped in the refrigerator until ready to serve.
Store leftovers in an airtight container in the refrigerator for up to 1 week. Enjoy cold.
How to Freeze Cheesecake with Mango Topping
Freeze mango cheesecake, whole or in slices, tightly wrapped in plastic wrap for up to 3 months. Let thaw in the refrigerator overnight before enjoying.
What to Serve with Eggless Mango Cheesecake
Before slicing the mango cheesecake for serving, for a beautiful presentation and an additional burst of delicious flavor, top it with fresh mango slices and mint leaves.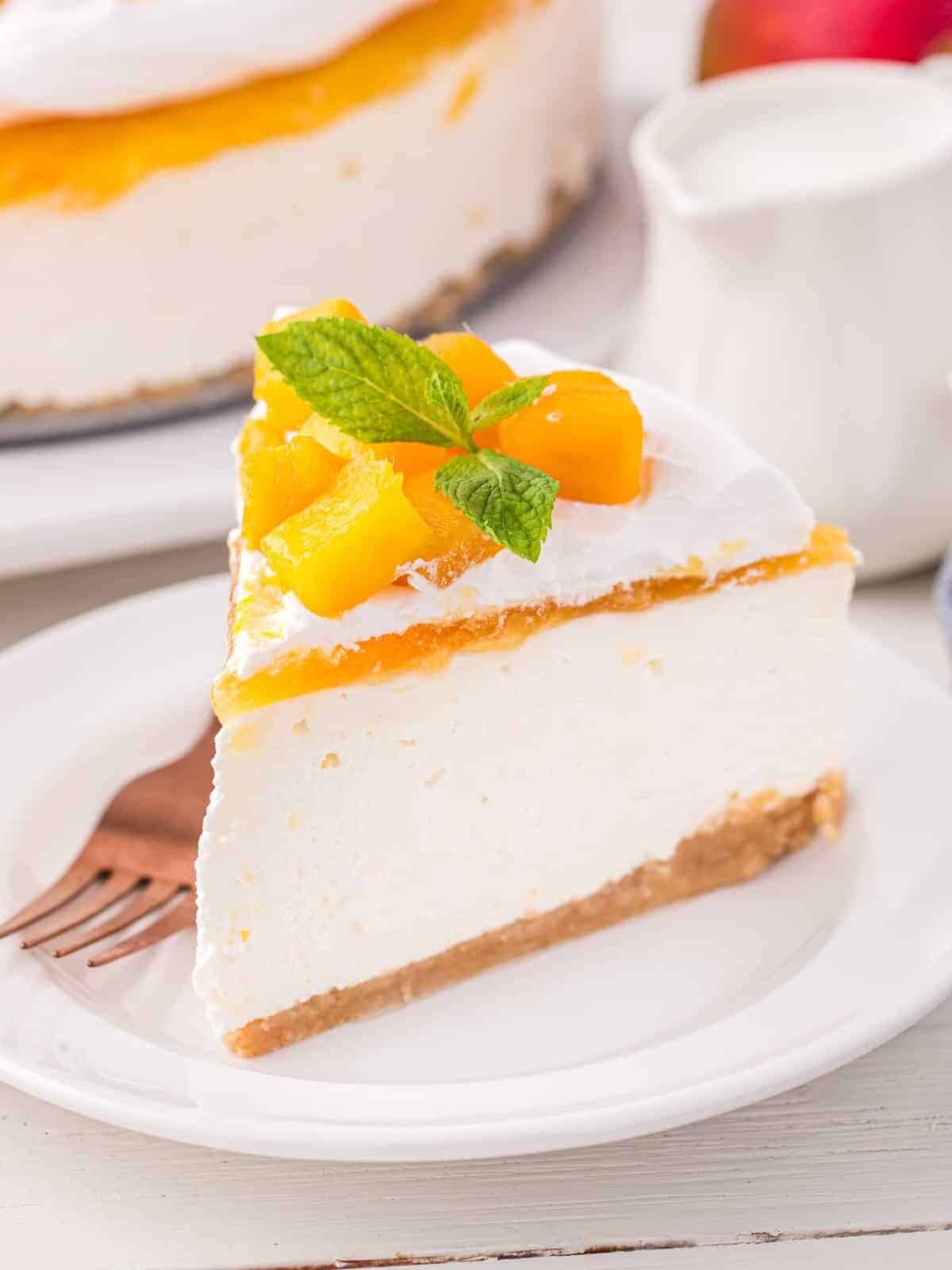 More No Bake Cheesecake Recipes We Love