This Salted Caramel No Bake Cheesecake is rich and decadent with that perfect mix of salt and sweety flavors. The creamy cheesecake is topped with caramel sauce for a truly indulgent and delicious dessert.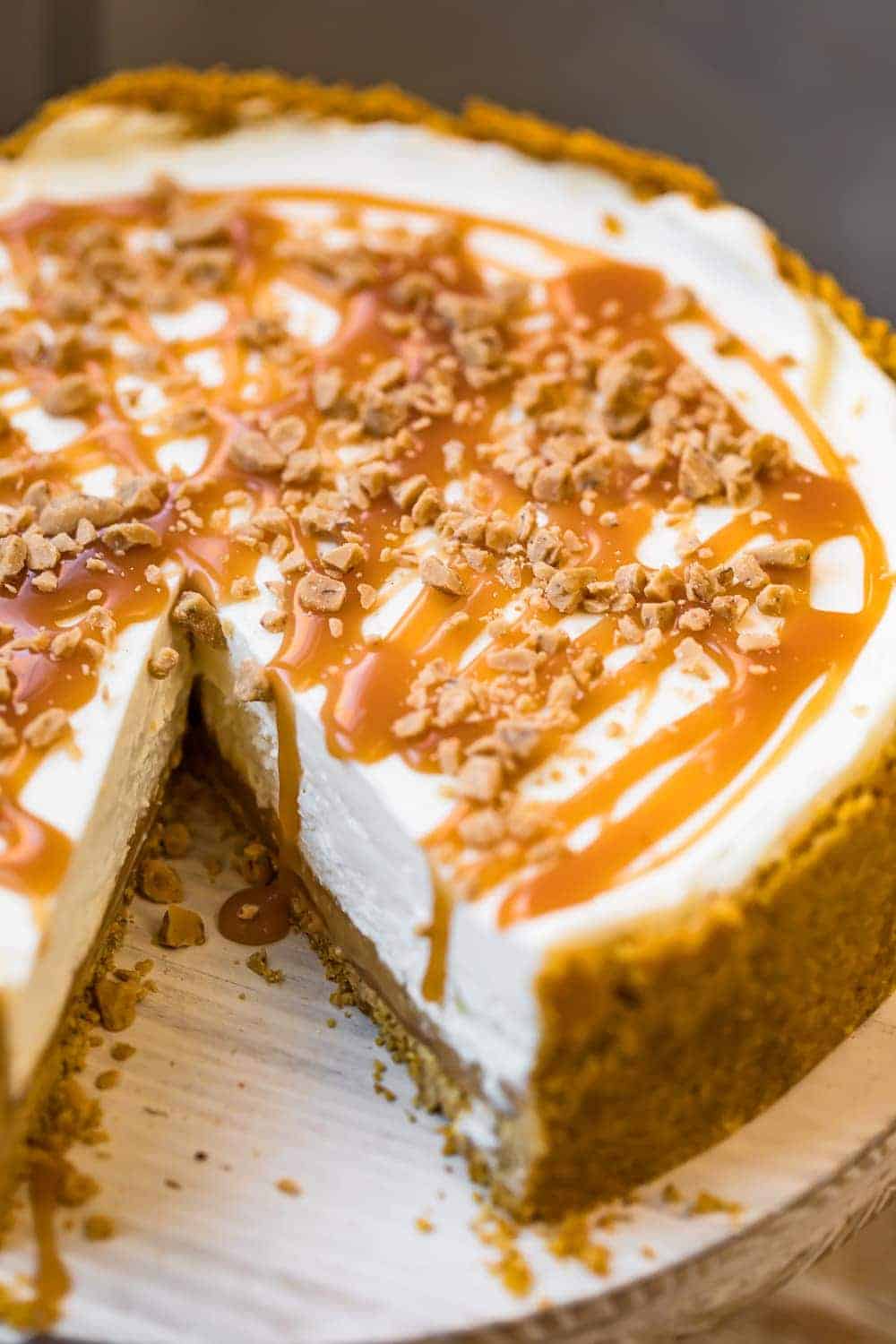 Cheesecakes are one of my favorite desserts (especially no bake cheesecakes), creamy and rich and I love all of the different variations you can make. This salted caramel cheesecake is totally next level, I just know you guys are going to love it!
How to Make Salted Caramel No Bake Cheesecake
Be sure to see the recipe card below for full ingredients & instructions!
Carmel Layer: Add the condensed milk and salt to a baking dish, cover and cover with foil. Place in a baking dish filled with water and bake in a preheated oven until it is dark and thick. Set to one side to cool.
Crust: Add the graham cracker crumbs, granulated sugar, brown sugar and salt to a bowl and combine. Pour over melted butter and place the crust in a springform pan and press it in. Freeze.
Cheesecake Layer: Whisk the cream in a stand mixer until stiff and set aside and then beat together the cream cheese, sugars, sour cream and lemon juice. Add the whipped cream and fold the mixture together
Assemble: Pour the caramel over the crust and refrigerate before adding the cheesecake mixture. Chill until set and drizzle with caramel sauce and toffee bits to serve.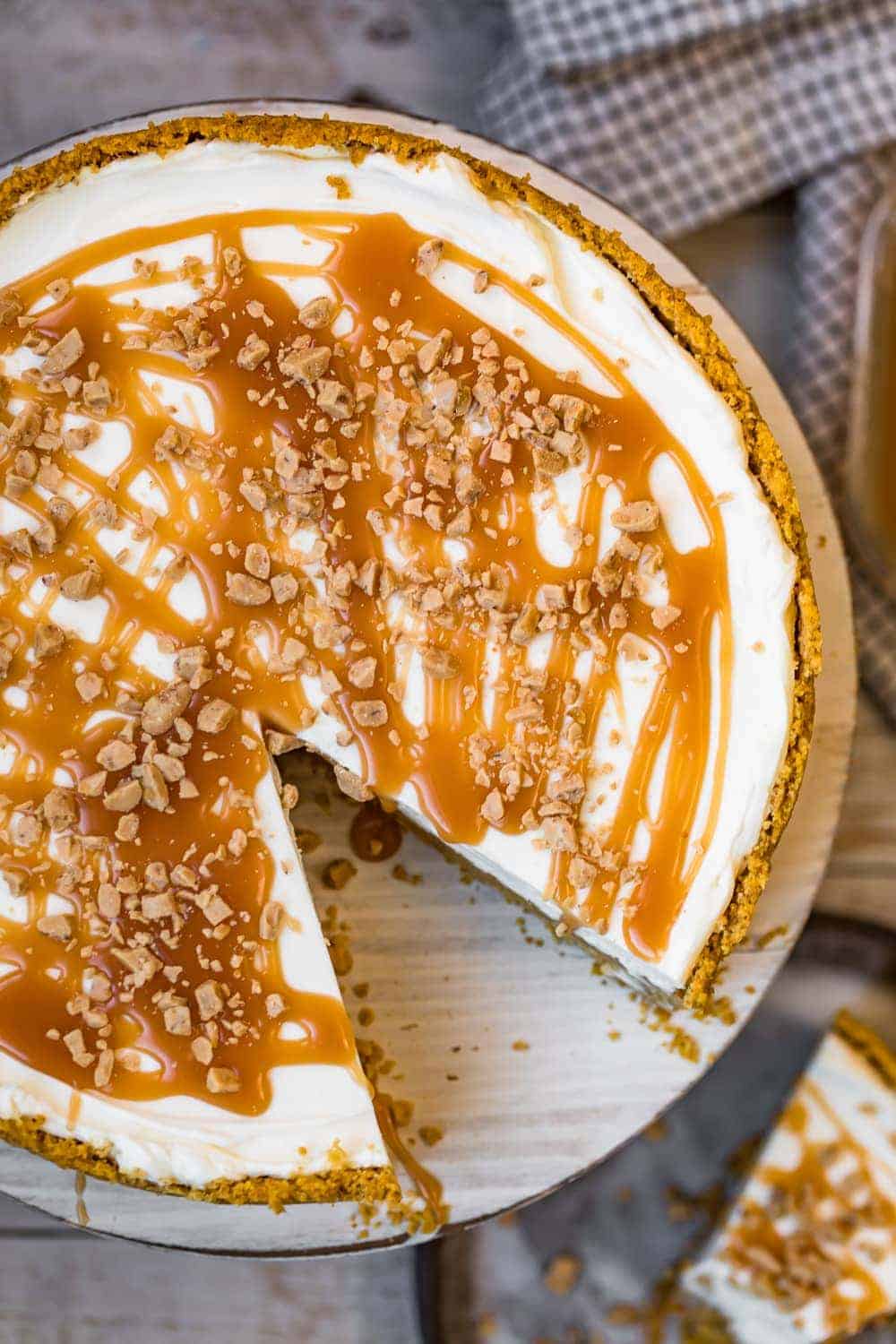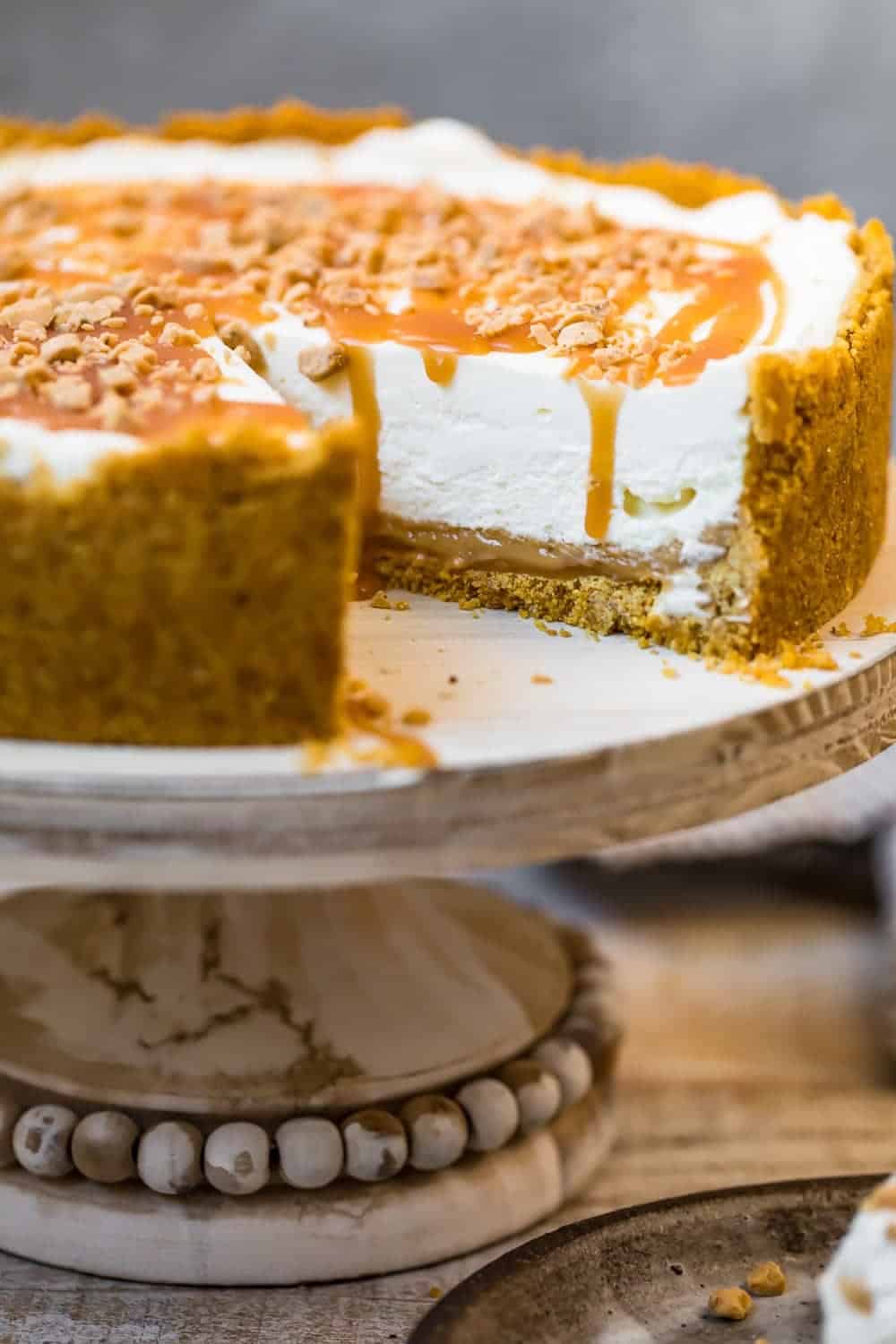 Can you make this salted caramel cheesecake ahead of time?
This cheesecake can be made up to 48 hours ahead of time, making it a great dessert to serve at a dinner party or special occasion. The cheesecake can also be frozen for up to 3 months. Build the cheesecake and then freeze it in the springform pan. Once frozen, place in a freezer bag. Defrost in the fridge overnight before serving.
What's the difference between a baked and no bake cheesecake?
A no bake cheesecake doesn't contain eggs, and therefore it doesn't have to be baked. It is still deliciously smooth and creamy, but it means that you don't need to be watching the oven.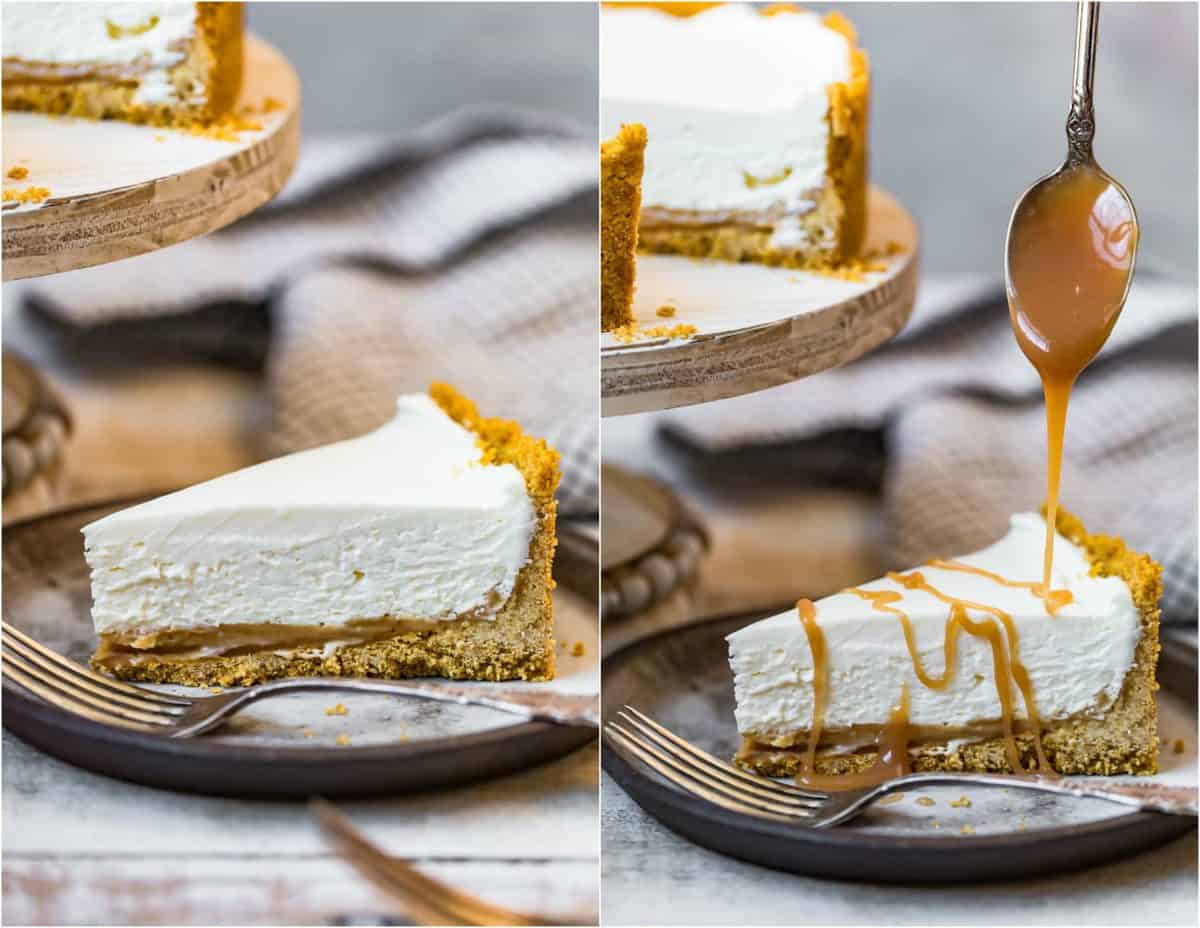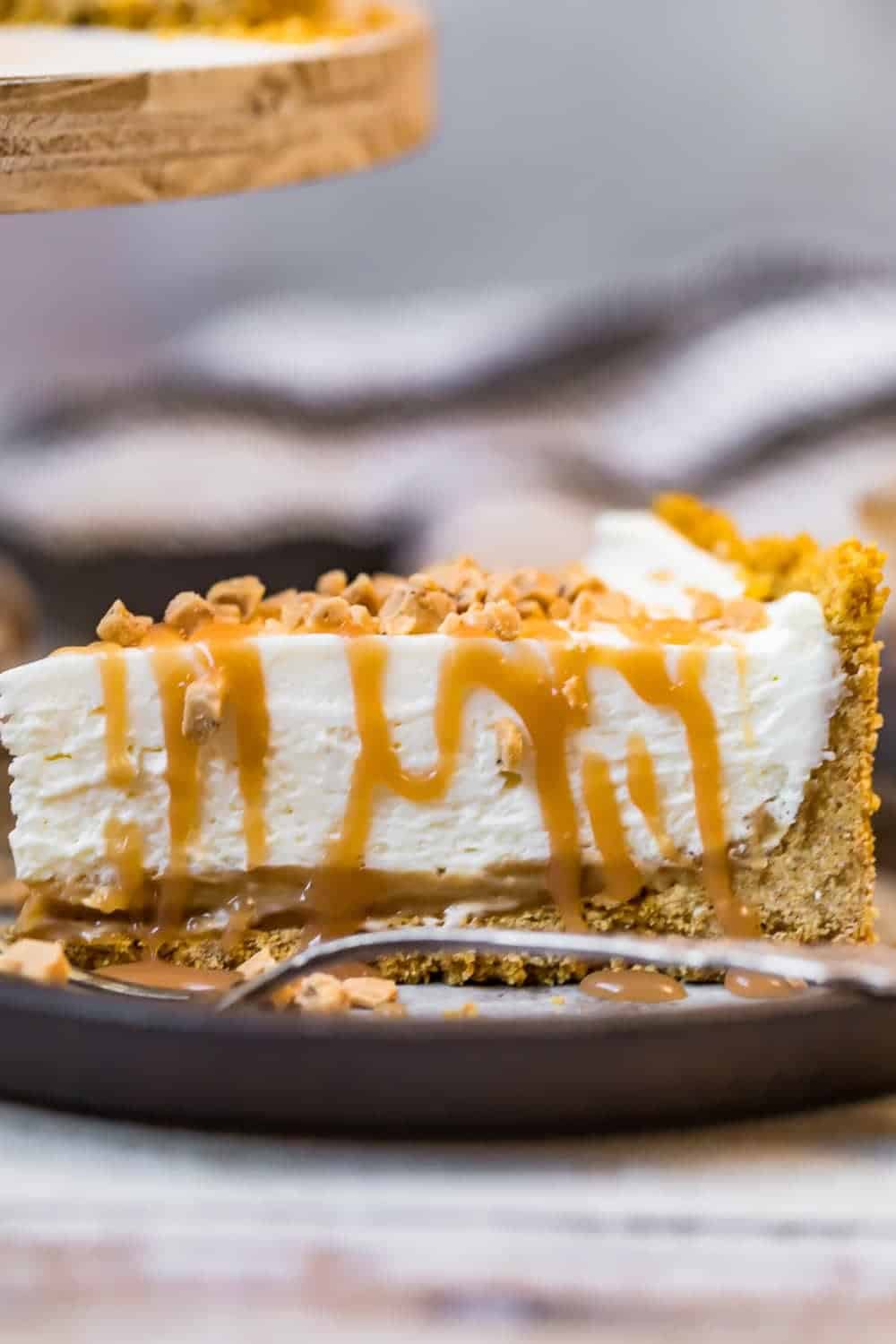 How long does it take to make a salted caramel no bake cheesecake?
This is a recipe that takes about 4 hours to make with an additional refrigeration time of (at least) 8 hours. BUT…it is worth the time and effort, and a lot of that time is hands off. The crust can be made up to two days ahead if covered and kept refrigerated.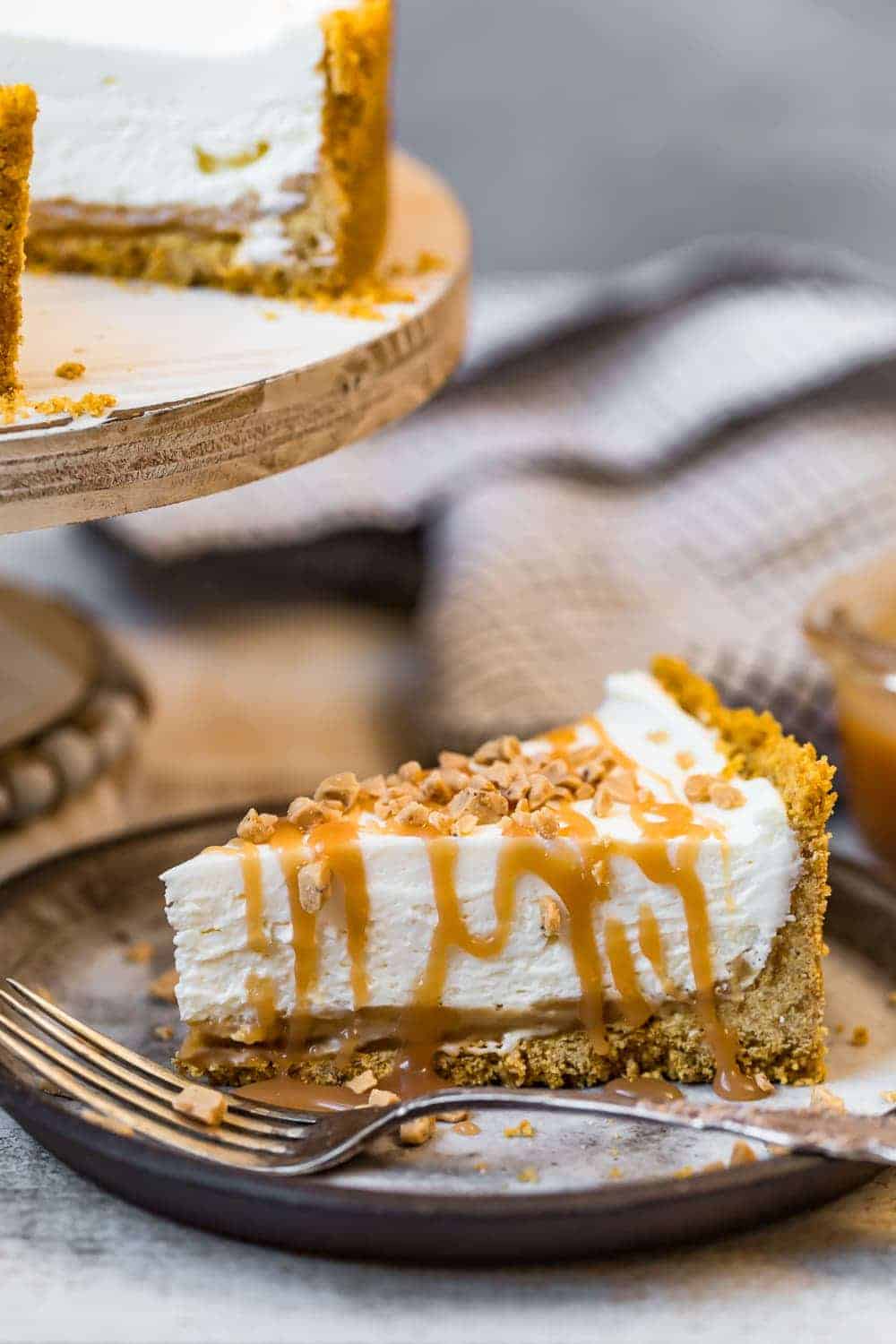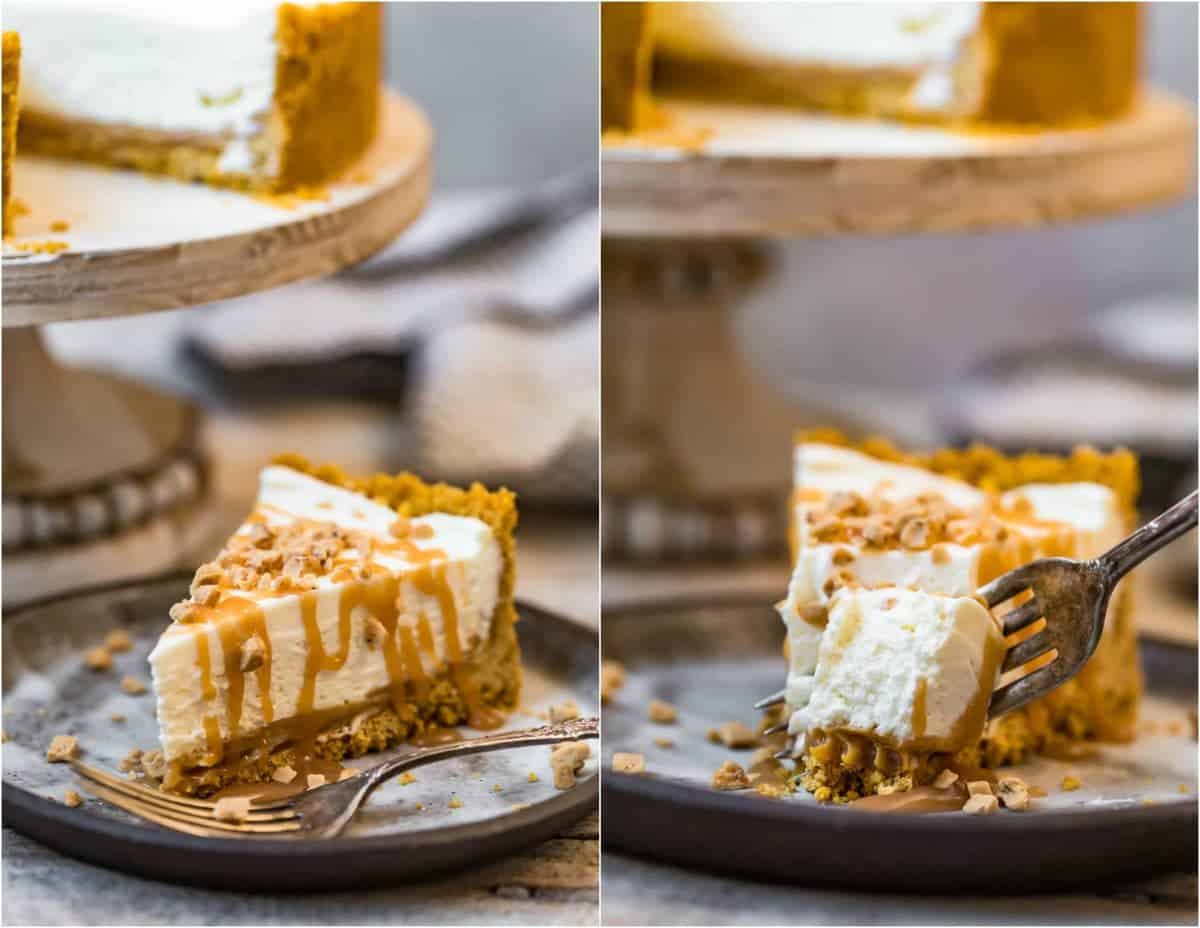 Top Tips To Make Salted Caramel No Bake Cheesecake
When making the caramel, be sure to stir the cream every thirty minutes to help it bake evenly.
If you don't have a stand mixer, you can whip the cream and mix the ingredients together by hand. It will take longer to whip the cream and ensure that everything is well combined.
Allow enough time to make this recipe, the cheesecake will need about 8 hours to set in the fridge.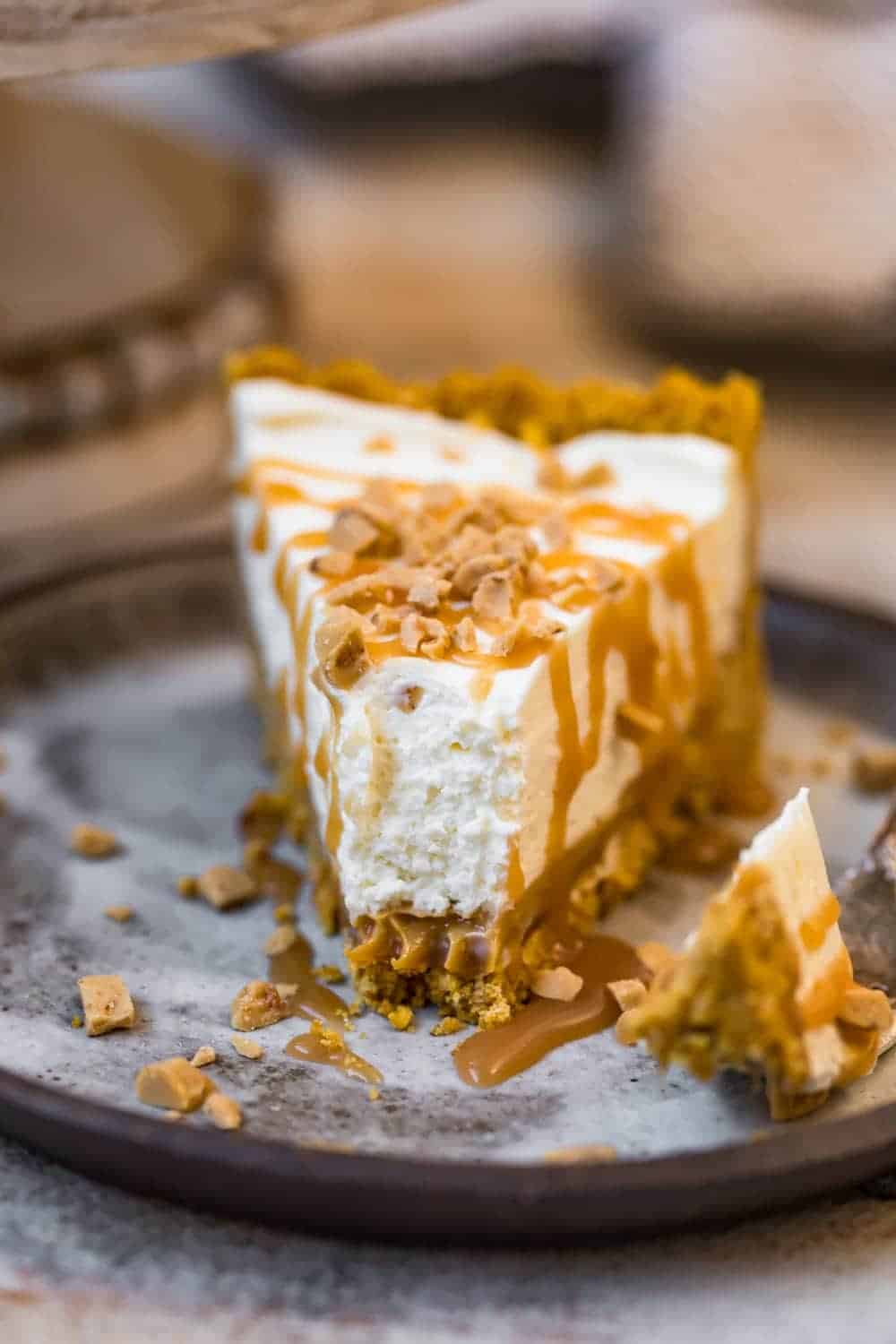 For more cheesecake recipes:
If you make this recipe be sure to upload a photo in the comment section below or leave a rating. Enjoy!