No Bake Cheesecake Cups are such an easy treat. These little no bake individual-sized cheesecakes are made with yogurt to make them extra healthy and yummy! Both kids and adults will love this good-for-you yet decadent dessert.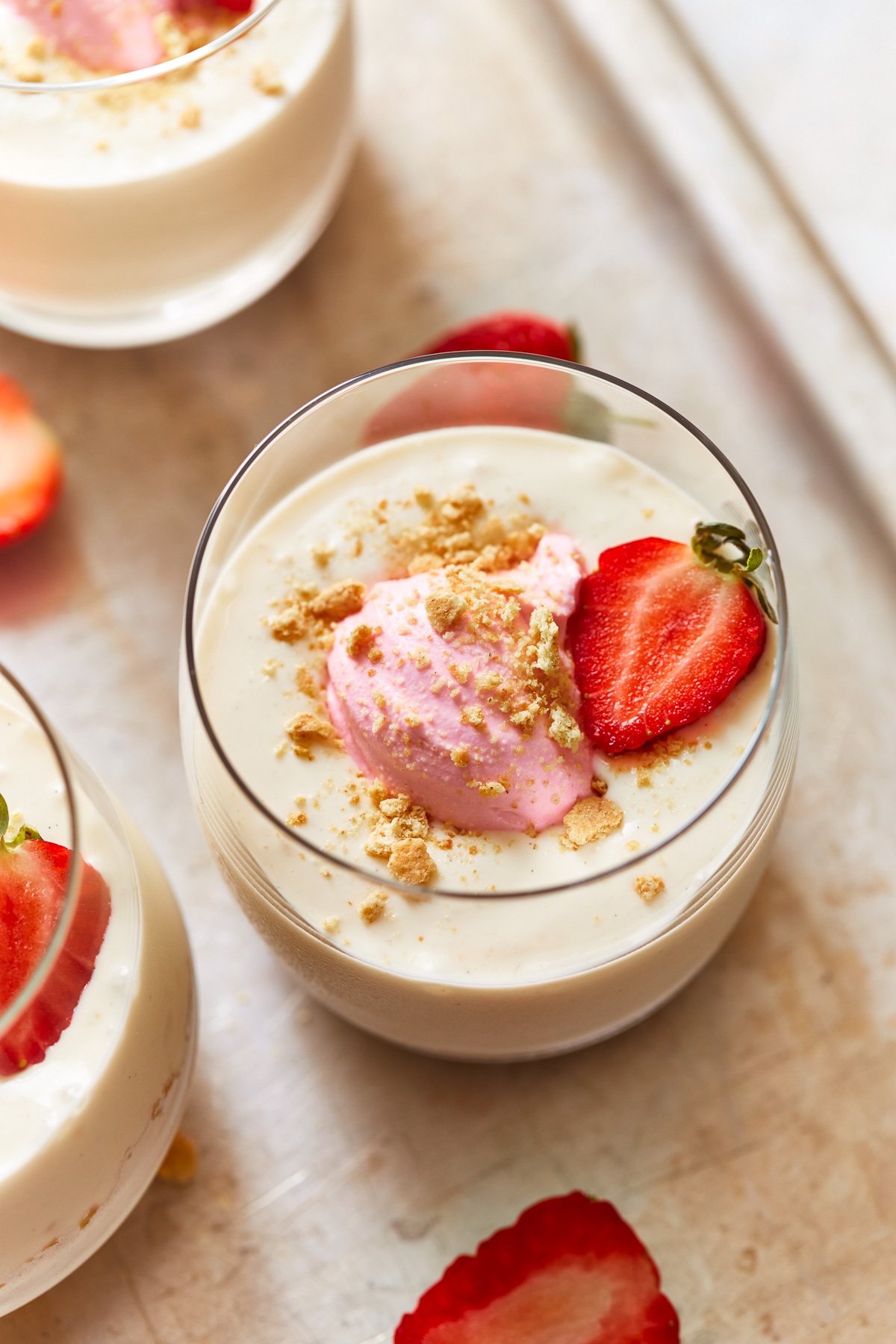 What's in No Bake Cheesecake in a Cup?
Do you love cheesecake, but can't be bothered with the crust and the baking? Well, then these No-Bake Cheesecake Cups are for you! It's a super easy version, with amazing flavor, and individual servings are perfect for parties or after-dinner treats.
Yogurt: You can make it with thick Greek yogurt, or with custard-style yogurt. I love the way it tastes with custard yogurt because it's sweeter and just as creamy. Whatever you have on hand will work.
Cream Cheese: Low-fat cream cheese makes these cheesecake cups lighter and healthier than your average no bake cheesecake recipe.
Honey: Adds a bit of sweetness and floral flavor to these cups. You could also use maple syrup or agave syrup.
Lemon Juice: Adds a bit of acidity to balance the sweetness and give them that signature cheesecake tang.
Vanilla: Pure vanilla extract gives these cheesecake cups a rich vanilla flavor. I do not recommend using artificial vanilla, but you can use vanilla bean paste!
Salt: Enhances the flavors of this cheesecake.
Graham Crackers: Add the taste of a traditional cheesecake crust to these cups.
Pro Tip: Garnish the cups with different types of berries for a fresh taste.
Decorative Variations
I love these no-bake cheesecake cups as you see in the photos for festive parties and holidays (I made them for Valentine's Day). But it's so easy to switch things up and make these for any occasion. Here are some ideas.
We topped ours with some cool whip that we dyed pink, more graham cracker crumbs, and a strawberry. You could use mini chocolate chips or fresh whipped cream.
You could turn this into more of a parfait with alternating layers of crushed graham crackers, cheesecake mixture, and fresh strawberries and whipped cream.
Serve them in mason jars, champagne flutes, or any kind of container you have.
Garnish with different types of berries, use macerated strawberries for a syrupy topping, or use food coloring to dye whipped cream any color you want.
You could also let everyone at the party decorate their own cheesecake cups however they desire! It makes for a fun activity.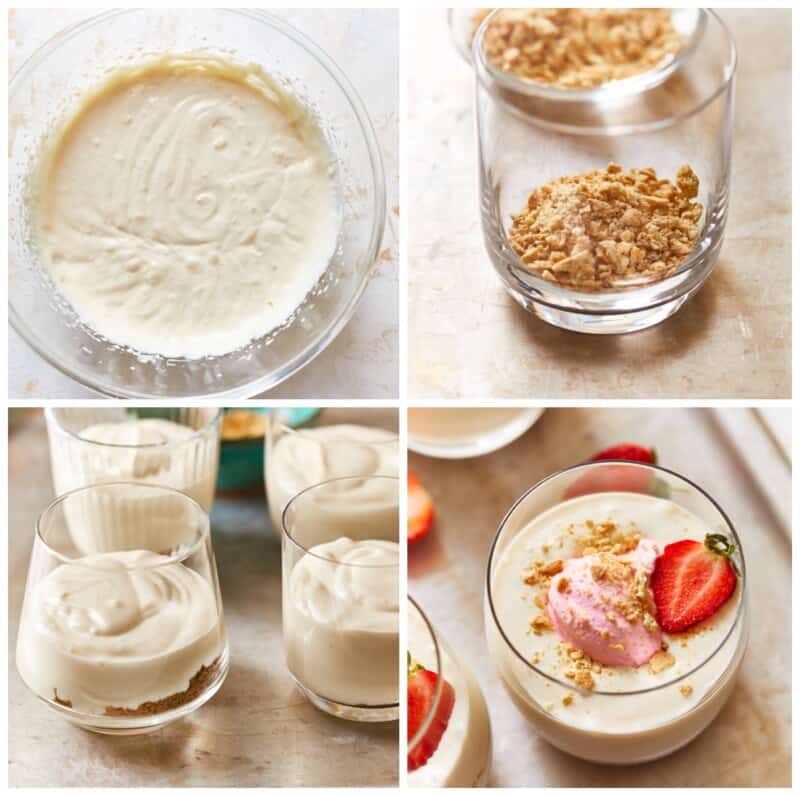 Is no bake cheesecake better than baked cheesecake?
That's tough to say! Traditional cheesecake has a much denser and fluffier texture, while no bake cheesecake is creamier and softer. It's really up to your own personal preferences as to which one is better!
What's the best yogurt for no bake cheesecake cups?
I love custard-style yogurt because it is sweet, thick, and indulgent! Greek yogurt will also work, but the texture and taste will be slightly different.
Can I make these cups ahead of time?
Yes! I recommend letting the cheesecake mixture set in the refrigerator for 2-3 hours, so you can easily make these hours ahead of time. You can also make the mixture the day before and let it sit in the refrigerator, then portion it out into cups before serving.
Can I freeze no bake cheesecake cups?
Absolutely! I recommend chilling the cheesecake cups for at least 2 hours in the refrigerator before transferring them to the freezer. Wrap the cheesecake cups tightly in plastic wrap and aluminum foil to keep them from getting freezer burnt.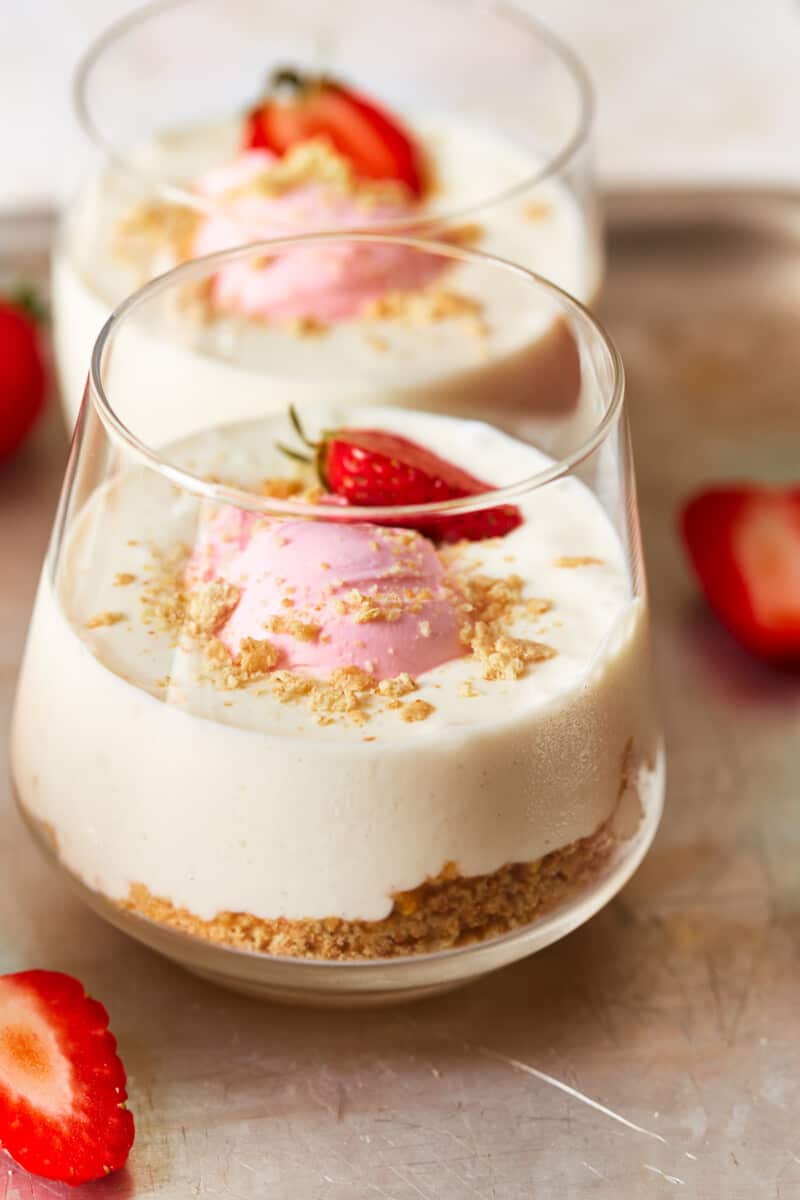 How to Make Ahead and Store Mini No Bake Cheesecake Cups
Store leftover no bake cheesecake cups in an airtight container in the refrigerator for up to 1 day. Enjoy chilled.
How to Freeze Cheesecake Yogurt Cups
Freeze no bake cheesecake cups in an airtight container for up to 1 week. Let thaw overnight in the refrigerator before enjoying.
What to Serve with Easy No Bake Cheesecake Cups
These no bake cheesecake cups are such a fun dessert! Top them with colored cool whip, fresh fruit, caramel sauce, or lemon curd. Or serve them as part of a Valentine's Day spread alongside strawberry cake, red velvet cupcakes, strawberry fudge, chocolate truffles, or brownie cookies.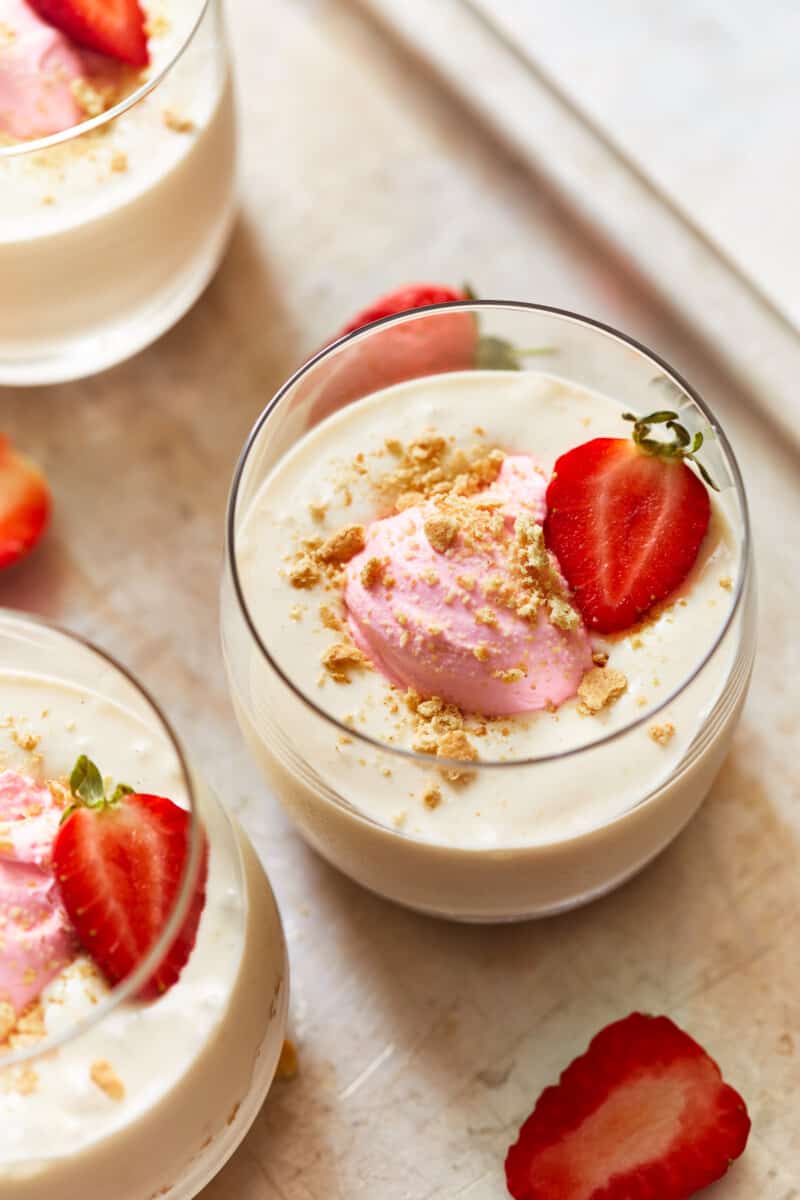 More No Bake Cheesecake Recipes We Love