When summertime is in full swing, and you'd rather leave the hot oven off before your special dinner or party, this No Bake Cheesecake is the best dessert recipe to make. Smooth, creamy, and perfectly sweet this dreamy cheesecake with a classic graham cracker crust sets up beautifully in the refrigerator. It is so delicious, get ready for non-stop compliments and recipe requests!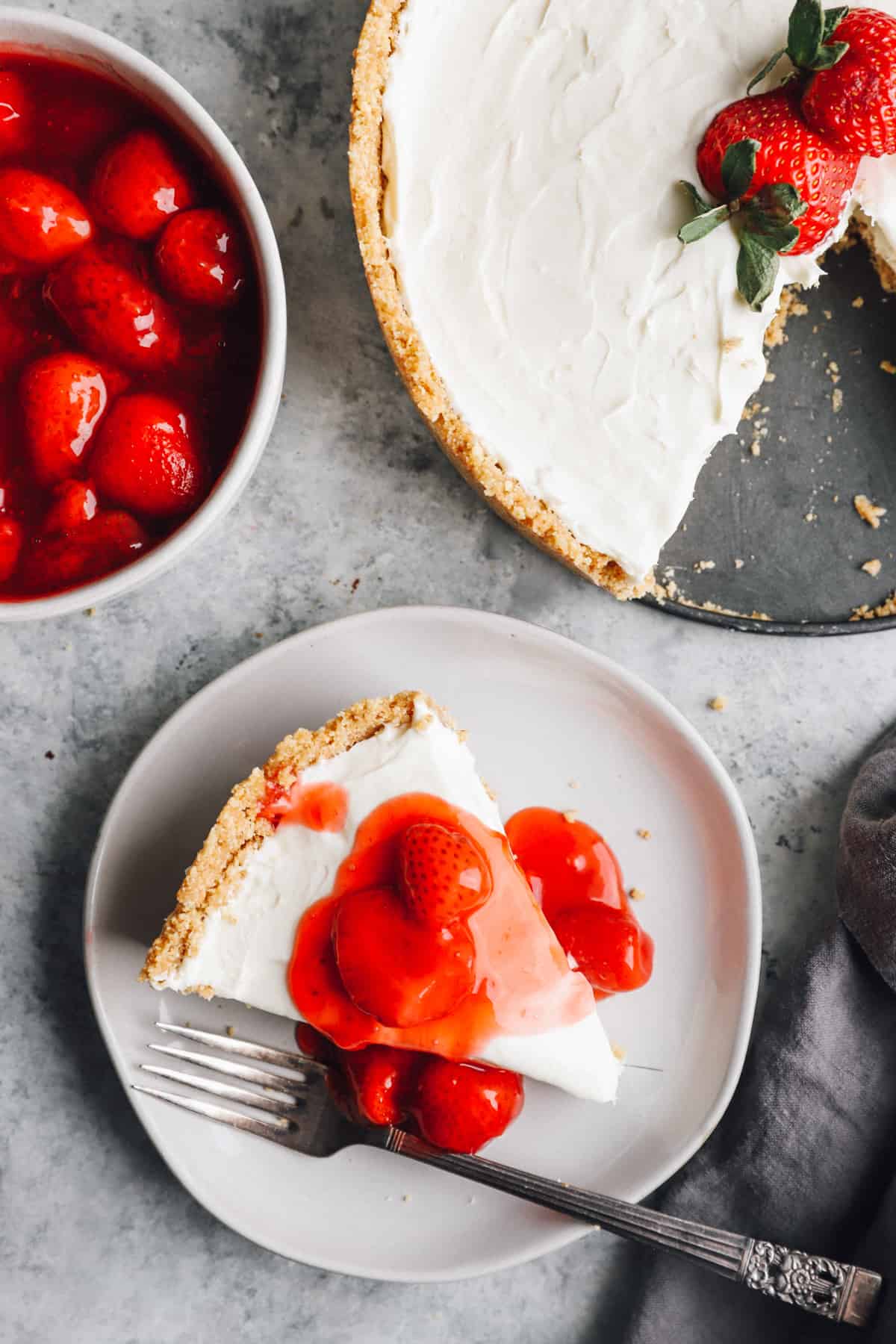 What's in this No Bake Cheesecake Recipe?
After a trip to the dairy section of your favorite supermarket, you can pull this easy-to-follow recipe together fast.
Graham Crackers: Graham crackers are a match made in heaven for any cheesecake recipe.
Sugar: Sugar adds sweetness as well as structure to the crust and the cream cheese mixture.
Butter: The melted butter keeps the graham cracker crumbs together and also adds more depth to the flavor.
Cream Cheese: Classic Philadelphia Cream Cheese is my personal favorite when it comes to cream cheese brands but you can also use alternatives. For a lower-fat opton, use Neufchatel cheese.
Heavy Cream: The heavy cream can be replaced by lower-fat half and half, but the cheesecake will taste best with all the fat from the cream.
Sour Cream: The sour cream adds more creaminess and the perfect touch of acidity to the cheesecake. Alternatively, you can use plain, full-fat Greek yogurt.
Vanilla: A little vanilla extract from the aromatic vanilla bean adds the perfect flavor to the cheesecake.
Variations on Easy No Bake Cheesecake
This cheesecake recipe is a great base for a ton of different flavors. I like to serve mine with strawberry pie filling, but you could also turn this into a cherry cheesecake by adding cherry pie filling, a lemon cheesecake by topping it with lemon curd, or a blueberry cheesecake by adding blueberry pie filling. You could also switch up the crust for a crust made from Oreos, golden Oreos, Biscoff cookies, or other biscuits. You could even use a traditional pie crust if you like.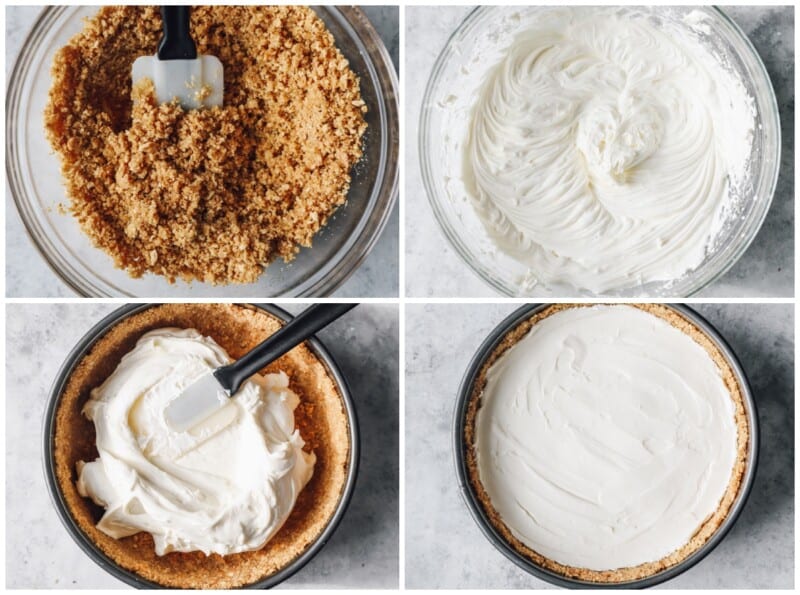 Is no bake cheesecake better than baked cheesecake?
That's tough to say! Traditional cheesecake has a much denser and fluffier texture than no bake cheesecake, but no bake cheesecake is creamier and softer. It's really up to your own personal preferences as to which one is better!
How do you keep a no bake cheesecake firm?
To get your cheesecake firm, it really needs to set in the refrigerator for at least 4 hours. The longer it has to set, the better. If you skip the chill, the texture of the cheesecake will be more like a mousse.
Can I make mini no bake cheesecakes?
You sure can! I like to use a cupcake tin to make mini cheesecakes, but you could also use ramekins. Simply press some of the crust mixture into each cupcake well or ramekin, then spoon over some of the cheesecake mixture and let them set in the refrigerator.
Why didn't my no bake cheesecake set?
There are a few reasons why your cheesecake may not have set. First, make sure you have chilled it for at least 4 hours. It may need up to overnight to properly set. If it still hasn't set, look at your ingredients. Make sure you used full-fat brick-style cream cheese and not the kind in a tub.
Can I freeze no bake cheesecake?
Absolutely! I recommend chilling the cheesecake for at least 4 hours in the refrigerator before transferring it to the freezer. Wrap the cheesecake tightly in plastic wrap and aluminum foil to keep it from getting freezer burnt. You can enjoy no bake cheesecake straight from the freezer for a firmer texture or let it thaw in the refrigerator.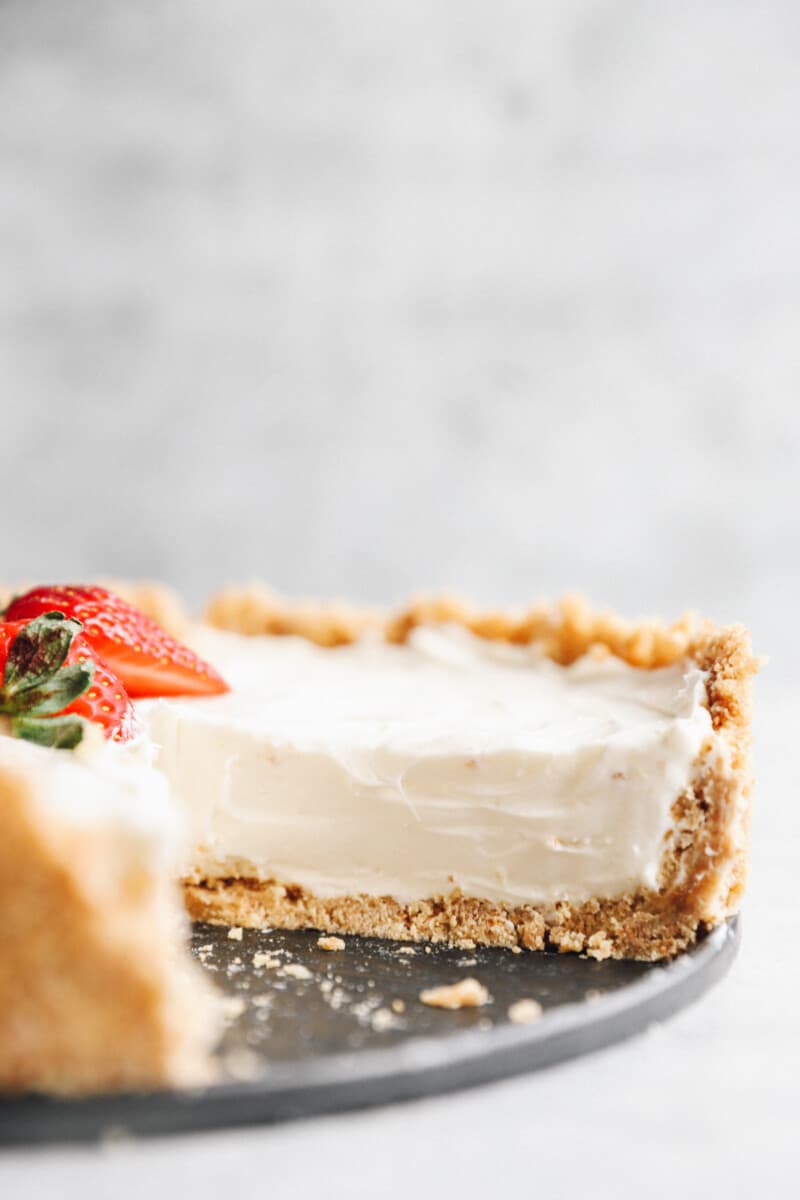 How to Make Ahead and Store No Bake Strawberry Cheesecake
This cheesecake can be made up to 4 days in advance of when you plan to serve it. Store it in the refrigerator until ready to serve.
Store leftover cheesecake in an airtight container in the refrigerator for up to 5 days. Serve cold.
How to Freeze Homemade No Bake Cheesecake
Freeze the cheesecake tightly wrapped in 2 layers of plastic wrap and 1 layer of aluminum foil for up to 1 month. Enjoy straight from the freezer for a firmer texture or let thaw in the refrigerator.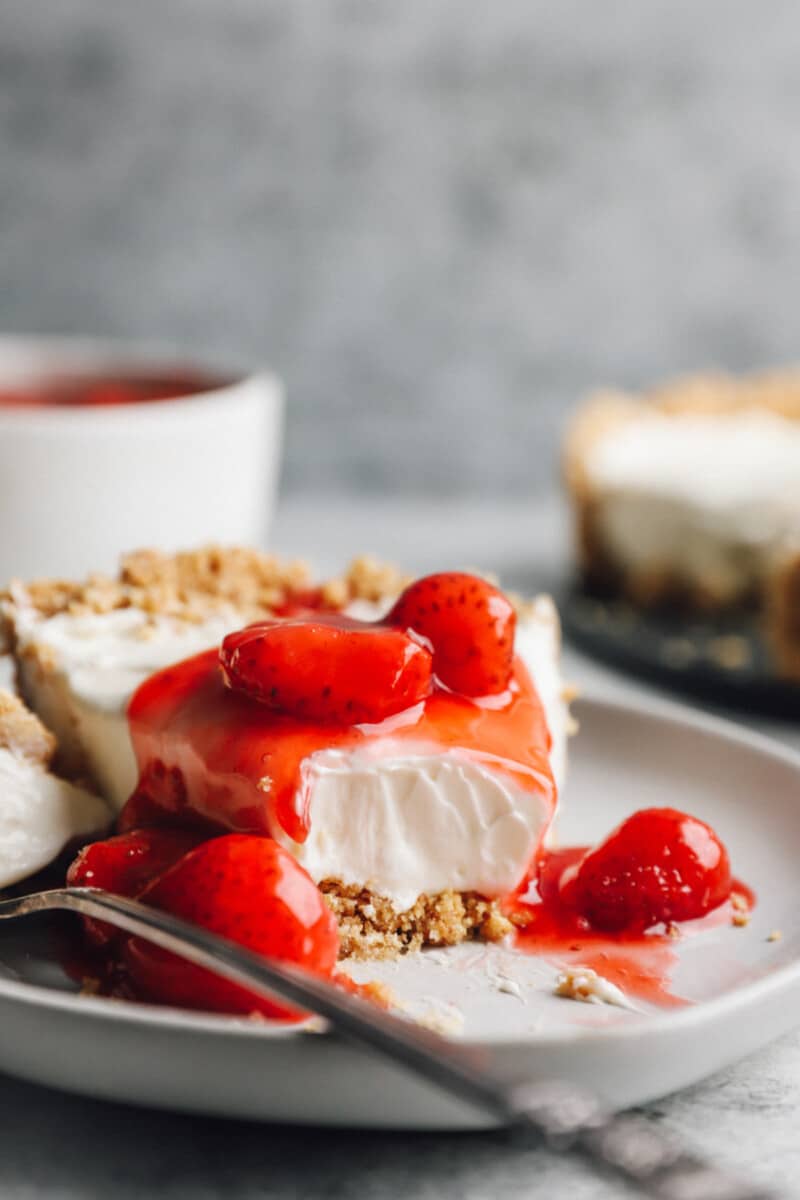 More No Bake Cheesecake Recipes We Love