There is nothing better on a hot summer day than a refreshing margarita. These Margarita Popsicles are even more refreshing! Cocktail popsicles are the perfect way to enjoy the summer sun. These homemade ice pops have three flavors in one, strawberry, peach and lime – perfect for Cinco de Mayo!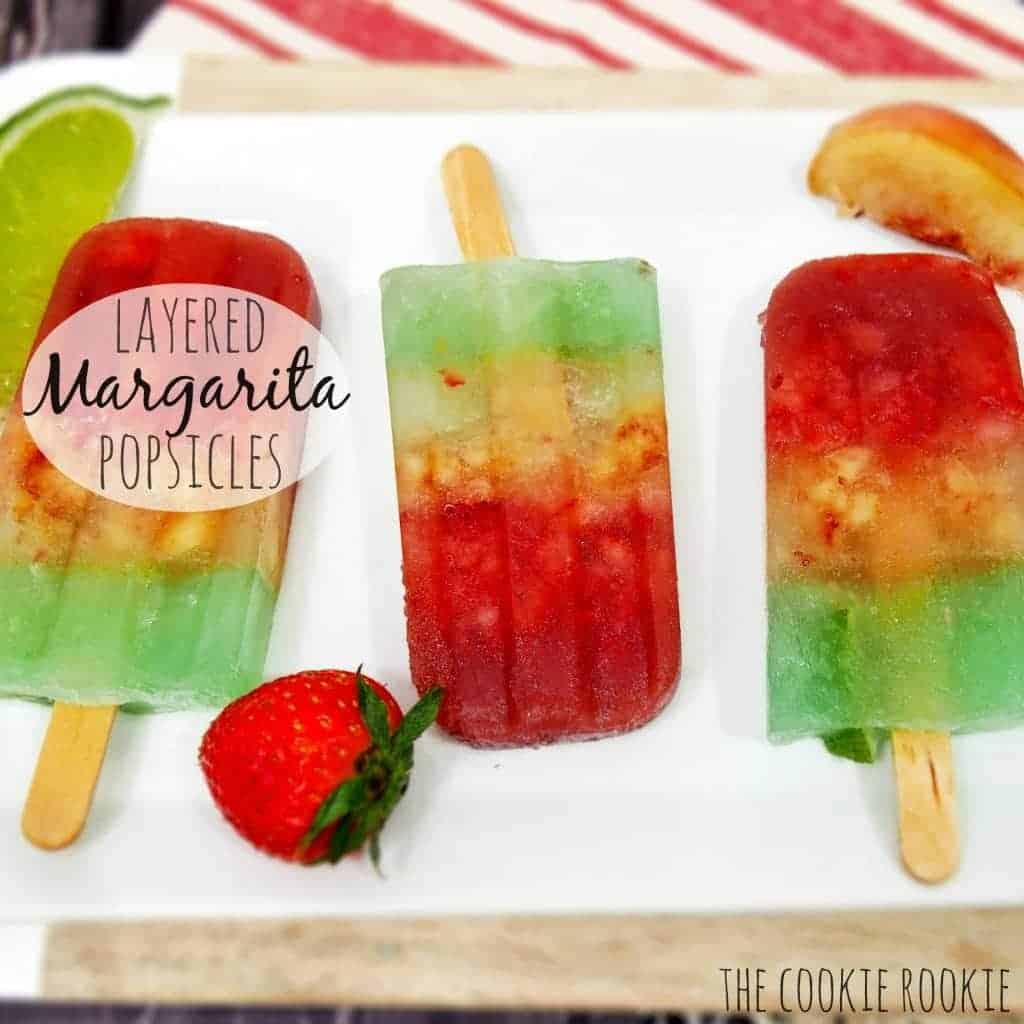 These beautifully layered Margarita Popsicles are the perfect cocktail alternative for the summer, especially Cinco de Mayo. I made three flavors in one, representing the colors of the Mexican flag. Strawberry Margarita for red, White Peach Margarita for White, and Lime Margarita for green. Each section is made with simple ingredients to make the entire process easy, fun, and refreshing. Each is sweetened with agave nectar and the White Peach is made with diet soda to make them (slightly) better-for-you!
Why these Margarita Popsicles are so good
3 delicious flavors in one!
Easy to make and colorful – perfect for summer BBQ's and parties.
Deliciously fruity with a tequilla kick.
Love out the alcohol for mocktail popsicles (or just popsicles). Still delicious.
Ingredients
Fruit – strawberries and white peach. Blended in a food processor so the pieces are small.
Fruit Juice – lime (freshly squeezed). Strawberry blend (I used Naked Berry Blast).
Soda – lemon/lime soda, lime diet Sierra Mist.
Limeade – concentrate.
Tequila – choose a good tequila for a smooth flavor. I love Camarena Tequila.
Agave Nectar.
How to make these Margarita Popsicles
Mix each section in separate cups. Pour in the strawberry mixture and add strawberry pieces into mold first and allow to freeze (about 2 hours). Then repeat the steps with the peach mix and peach pieces and finally the lime mix.
Enjoy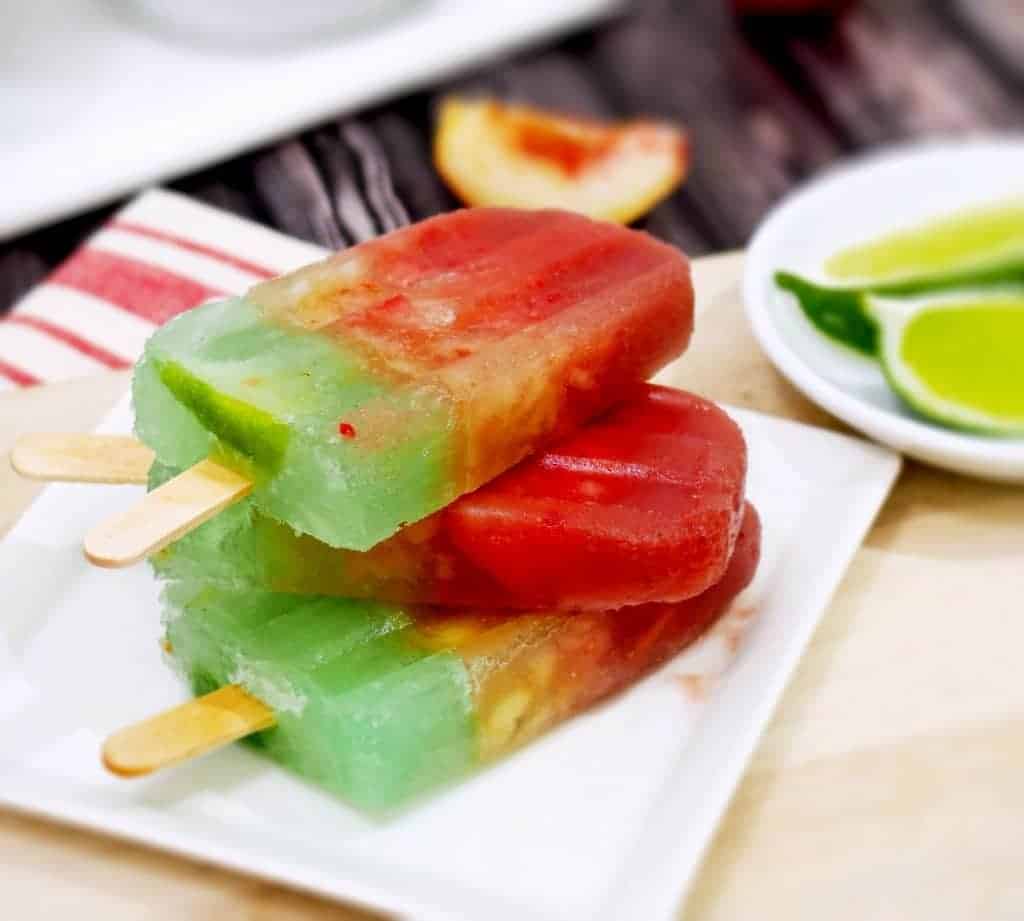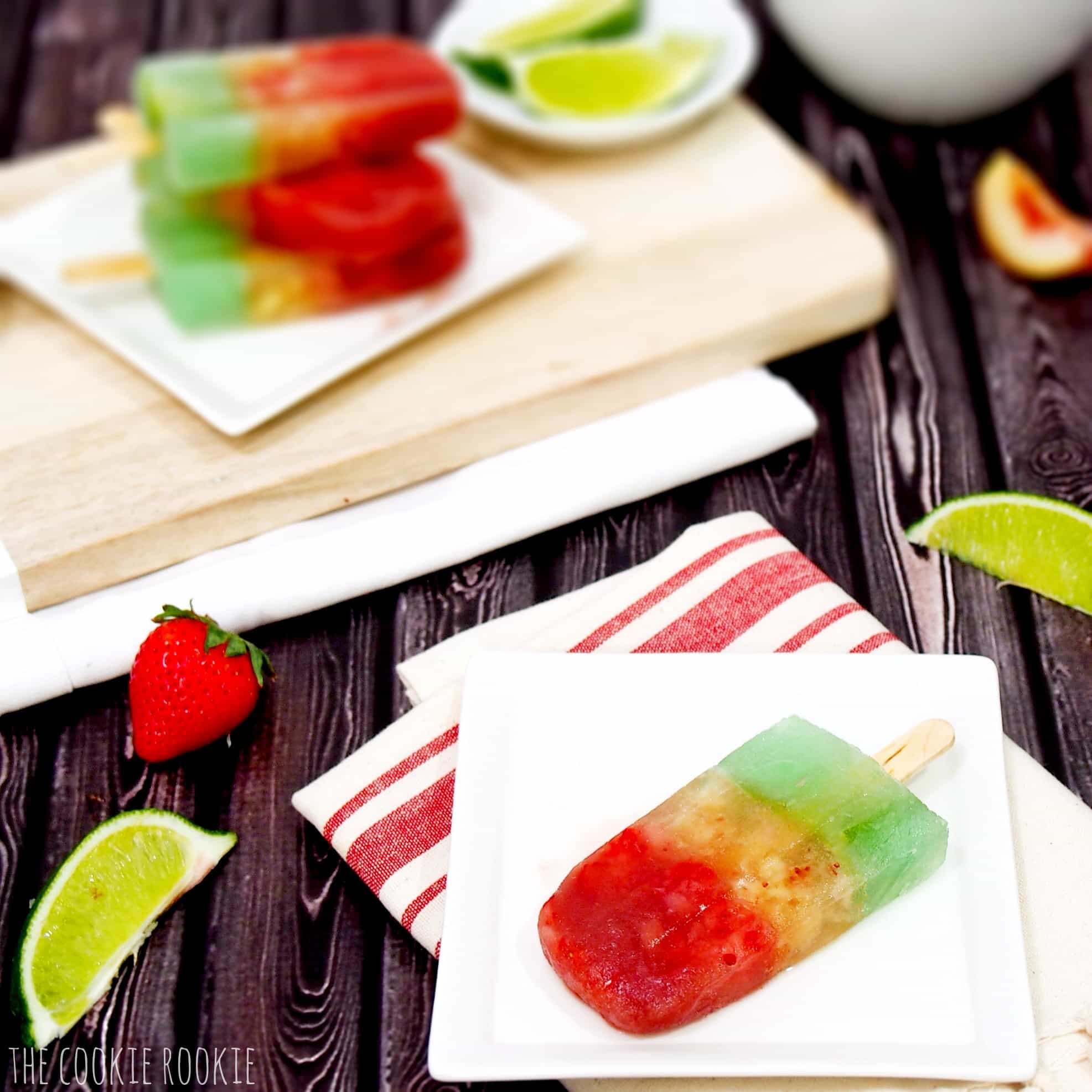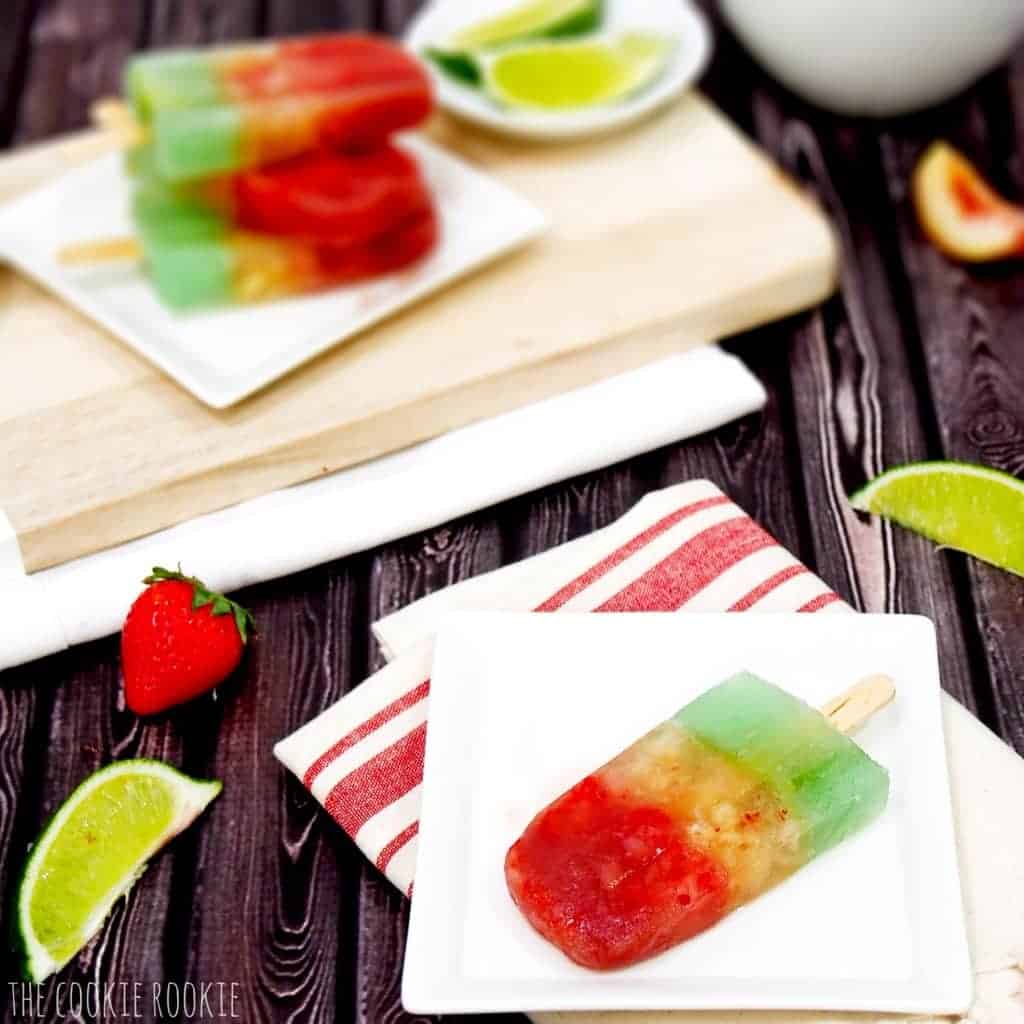 Can I make these without alcohol?
Absolutely! These were so fun, and you could easily leave out the tequila to make them non-alcoholic and kid friendly. Each section is super fruity. I'm ready for the hot weather! C'mon summer!
How to serve these Margarita Popsicles
If the mold doesn't have a built-in stick holder, freeze the pops for about an hour before inserting the sticks. This will help the stick stand up straight. Another trick is to place foil over the mold and use it as a support for the sticks.
Booze-filled ice pops have a softer texture than nonalcoholic ice pops. This is also due to the alcohol's freezing point, so it's best to keep them in the freezer until the very last minute.
As an alternative to molds, use disposable paper cups. Once frozen, tear away the cup and enjoy the pop.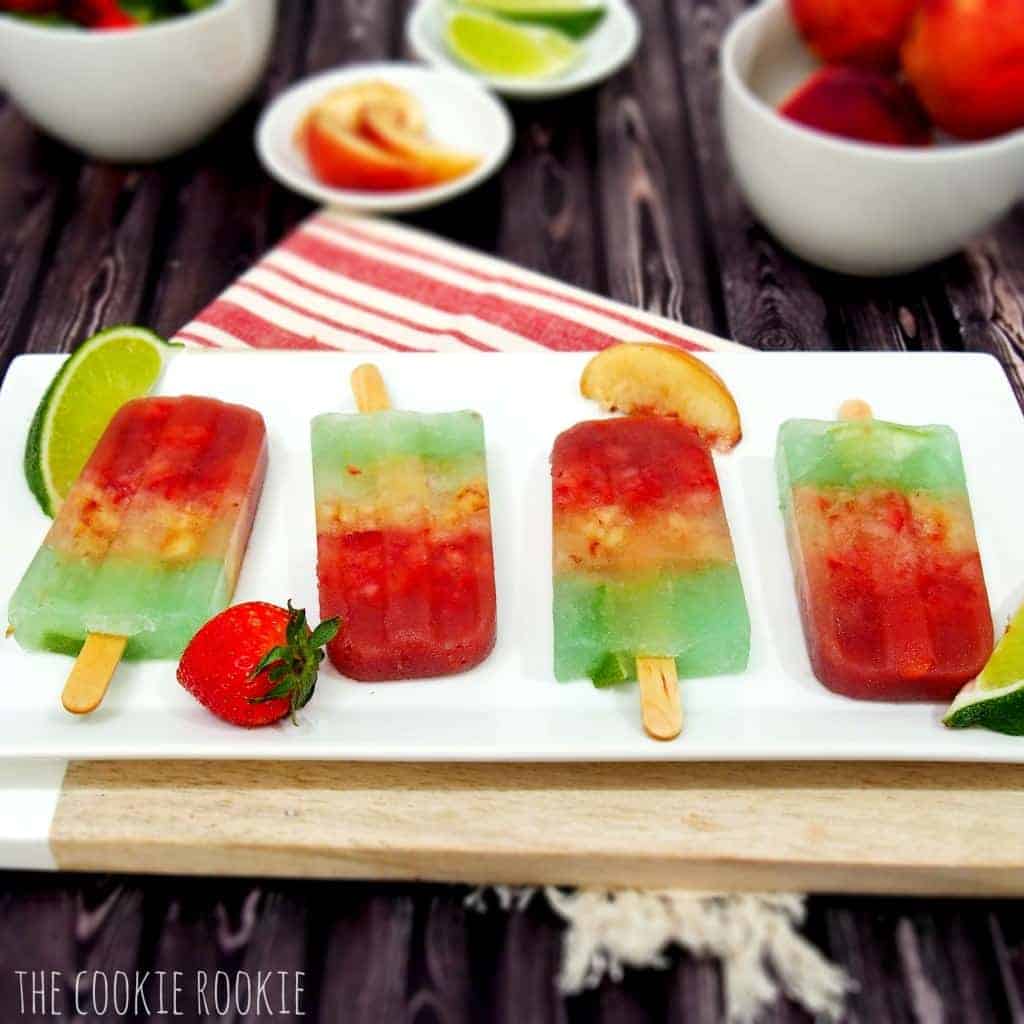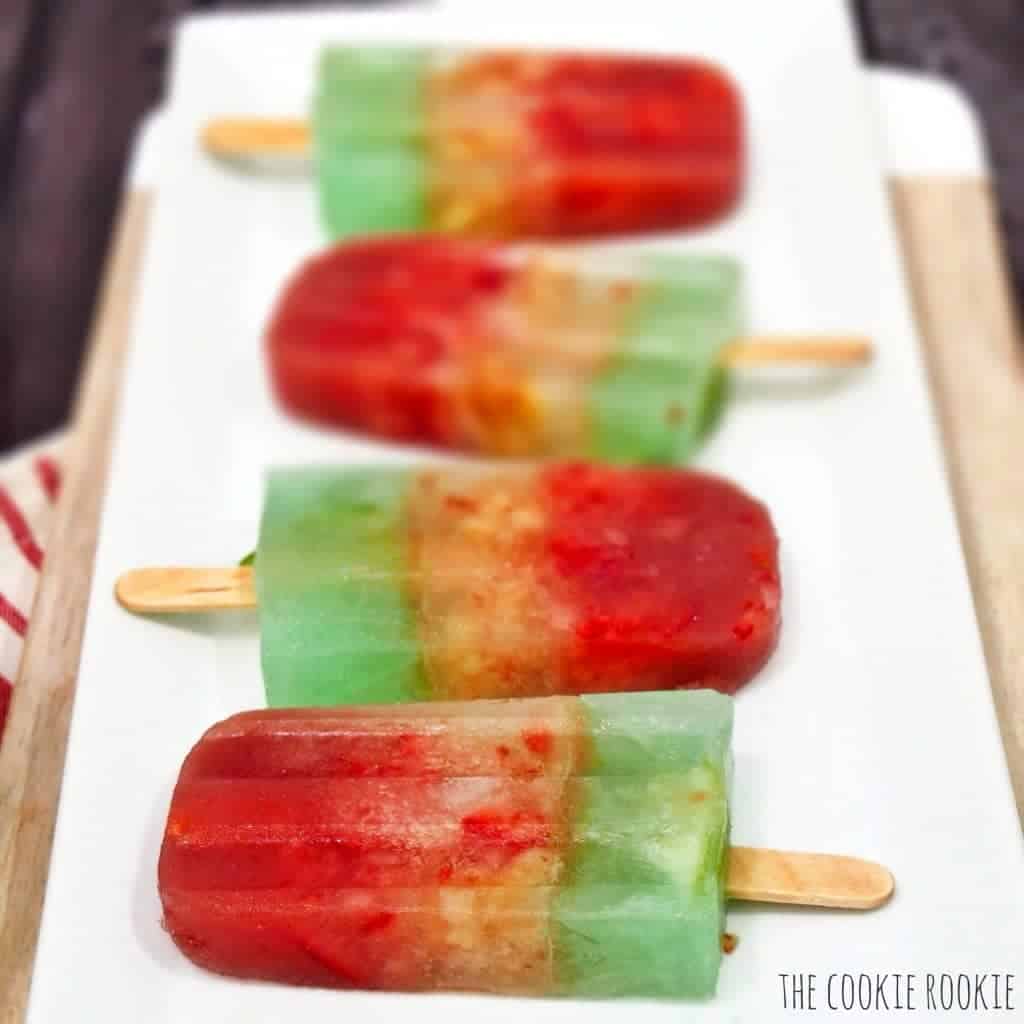 The Guide to making Ultimate Margaritas Every Time
If you are after more things to do in Margaritaville – we have compiled all of our fave Margarita Recipes in a guide! Be sure to check it out for all our best tips, tricks, barware, variations, and more!
Top Tips
An ice pop mold is the easiest way to make popsicles and they are inexpensive. Molds typically make between six and 10 three-ounce ice pops. Some include the stick holder, which is very convenient.
Give yourself extra time if you want to create layered ice pops. For a well-defined line, each layer needs to set completely before adding the next layer. If you want softer lines, add the second layer when the first is only partially frozen. Keep the ingredients chilled in between layers for a faster freeze.
Once completely frozen, submerge the mold halfway in lukewarm water for about 30 seconds to release the pops.
Stick to a tsp of alcohol. If you use more than a teaspoon of booze per pop, it simply won't freeze, the stick will slide right out and you'll have to dig all that good stuff out with a spoon.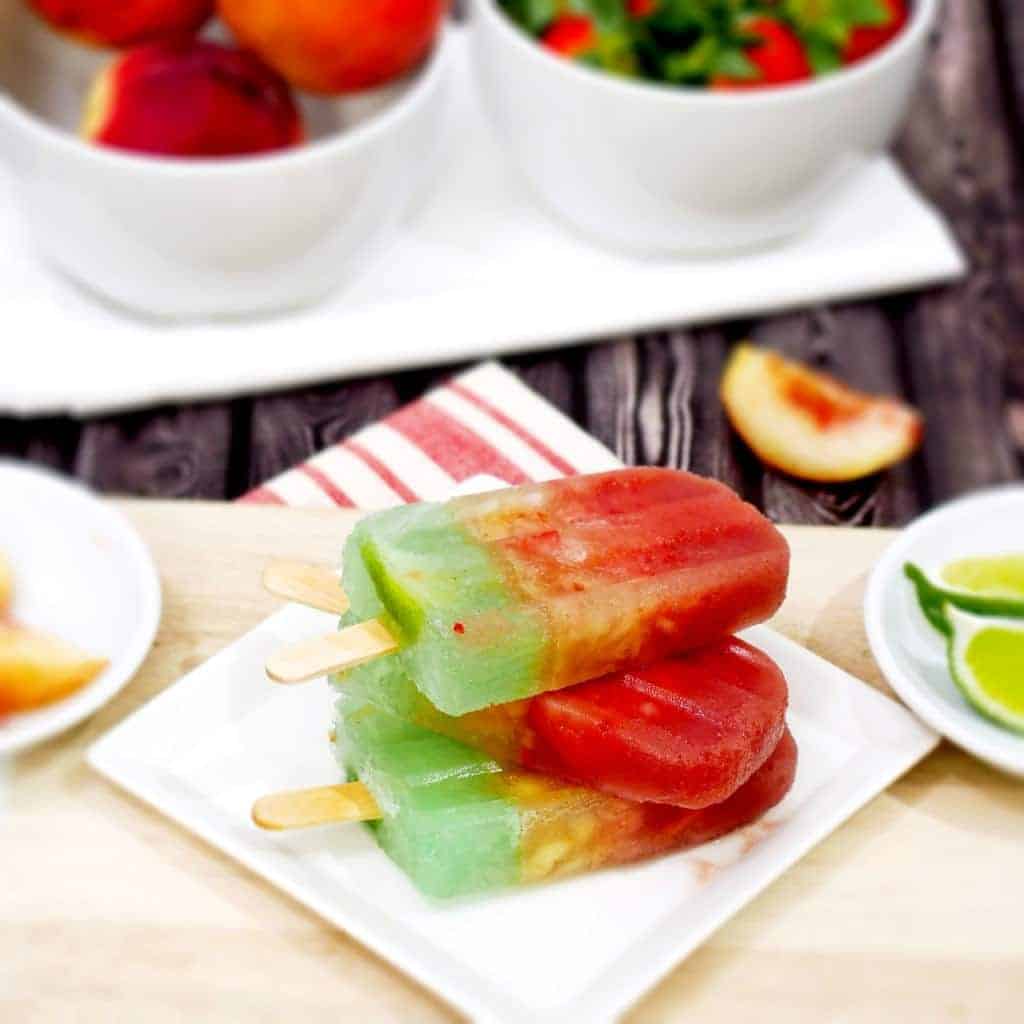 Check out these refreshing cocktails
Have you tried these Margarita Popsicles? Feel free to leave a star rating and I"d love to hear from you in the comments below!