There's nothing more refreshing on a hot summer day than a fruity margarita–except maybe Layered Margarita Popsicles! These even-more-refreshing cocktail popsicles are the perfect way to enjoy the summer sun. My homemade ice pops combine three flavors: strawberry, peach, and lime. They're perfect for Cinco de Mayo!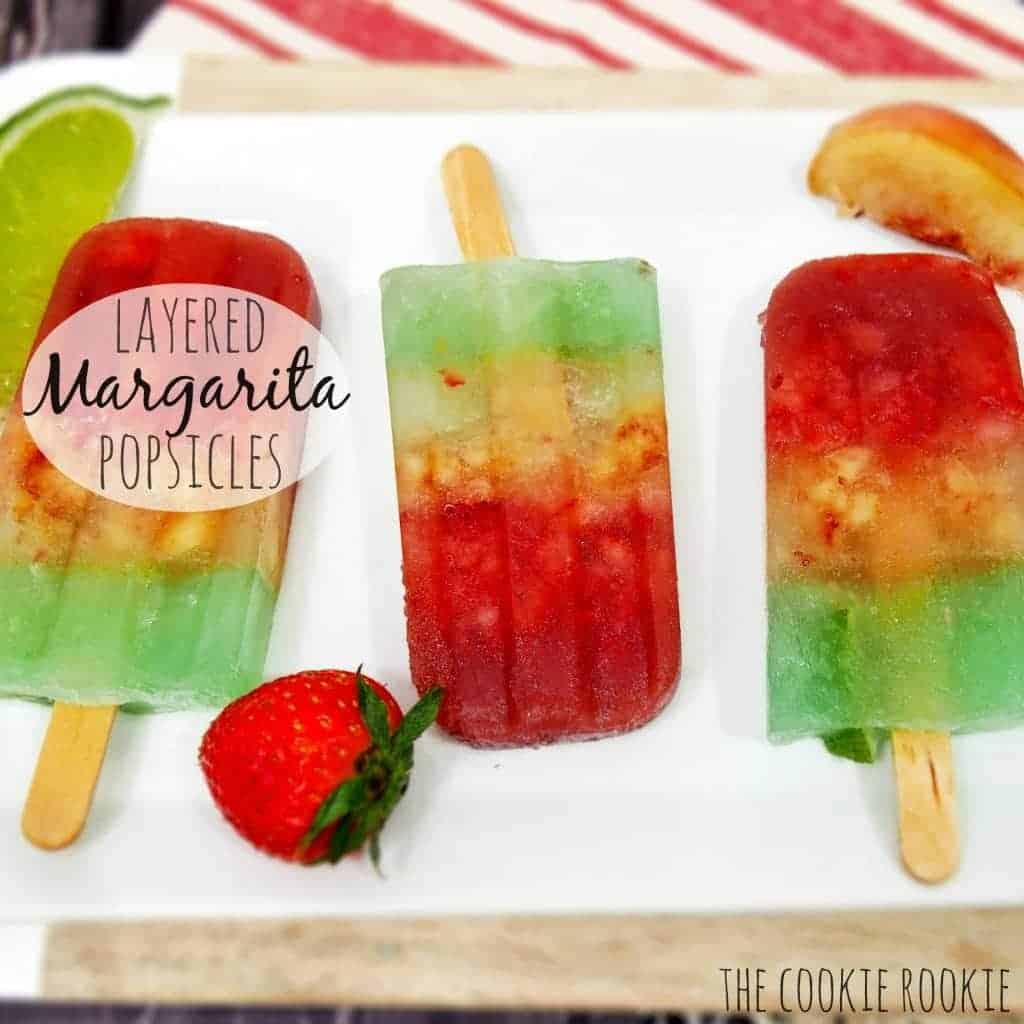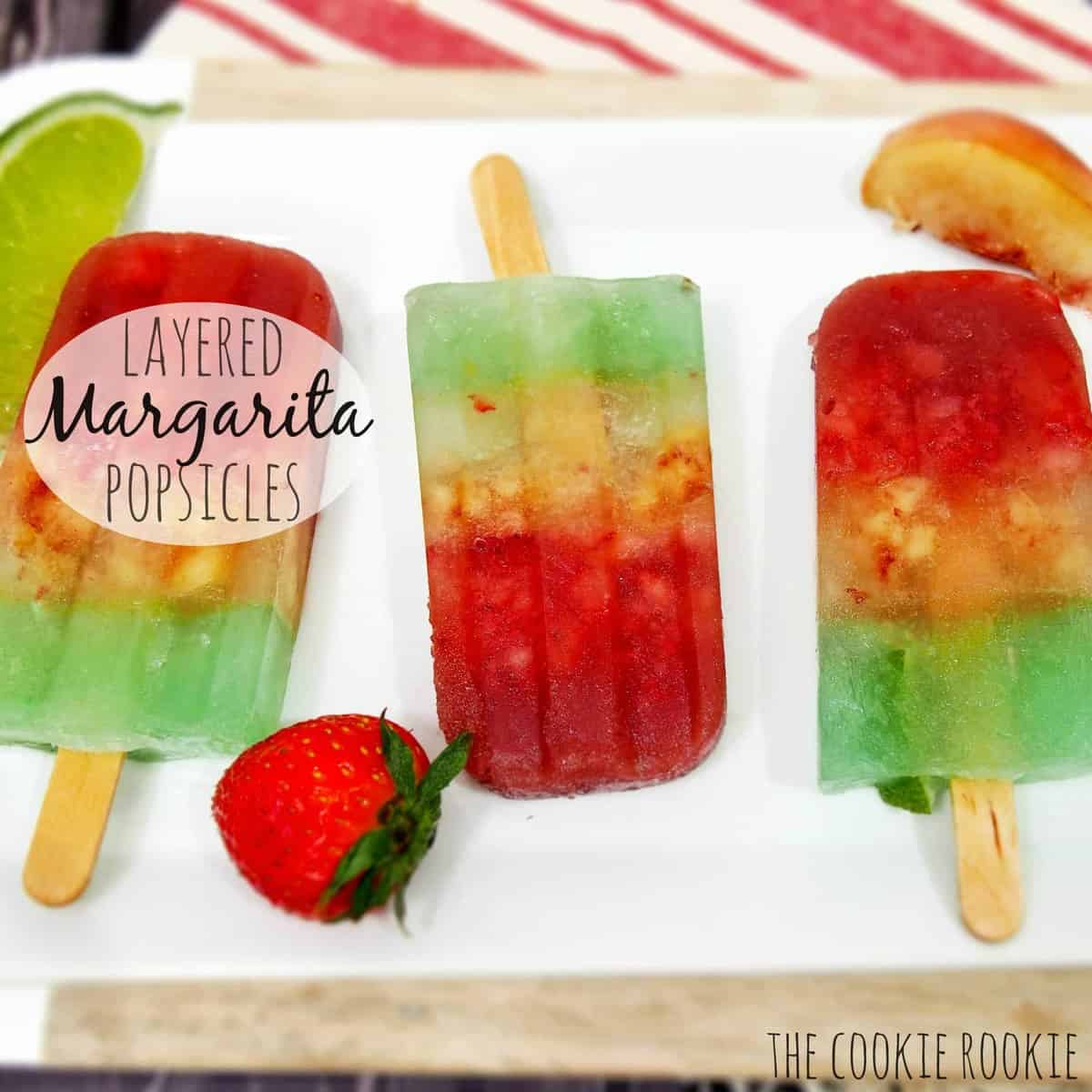 Layered Margarita Popsicle Recipe
Layered Margarita Popsicles are the perfect cocktail alternative for the summer, especially Cinco de Mayo. I made three flavors in one, which just so happen to represent the colors of the Mexican flag.
I use strawberry margarita for the red layer, white peach margarita for white, and a lime margarita for green. Each section is made with simple ingredients to make the entire process easy, fun, and refreshing.
They're sweetened with agave nectar and the white peach layer is made with diet soda to keep them all light and (slightly) better-for-you!
Why You'll Love Layered Margarita Popsicles
Three delicious flavors in one– Strawberry, white peach, and lime make a delicious combo.
Easy to make and colorful–These frozen treats are perfect for summer BBQs and parties.
Deliciously fruity with a tequila kick– Skip the alcohol for mocktail popsicles. Still delicious!
Ingredients
Fruit – Strawberries and white peach are blended in a food processor so the pieces are small.
Fruit Juice – Lime (freshly squeezed), and strawberry (I used Naked Berry Blast) are vibrant and full of flavor.
Soda – Use a lemon/lime soda, such as Lime Diet Sierra Mist.
Limeade – I used a frozen concentrate.
Tequila – Choose a good tequila for a smooth flavor. I love Camarena Tequila.
Agave Nectar– This is a natural, liquid sweetener that is widely available at grocery stores.
Trademark note: In the spirit of transparency, I want to note that some of these ingredients are trademarked products. Popsicles, Naked, Camarena and Sierra Mist are proprietary brands that I want to acknowledge and give credit to.
How to Make Margarita Popsicles
Be sure to see the recipe card below for full ingredients & instructions!
In three separate cups, mix each of the layers.
Fill ice pop molds 1/3 full with strawberry layer and freeze for at least 2 hours.
Repeat with the other two layers, allowing 2 hours between each addition.
Enjoy!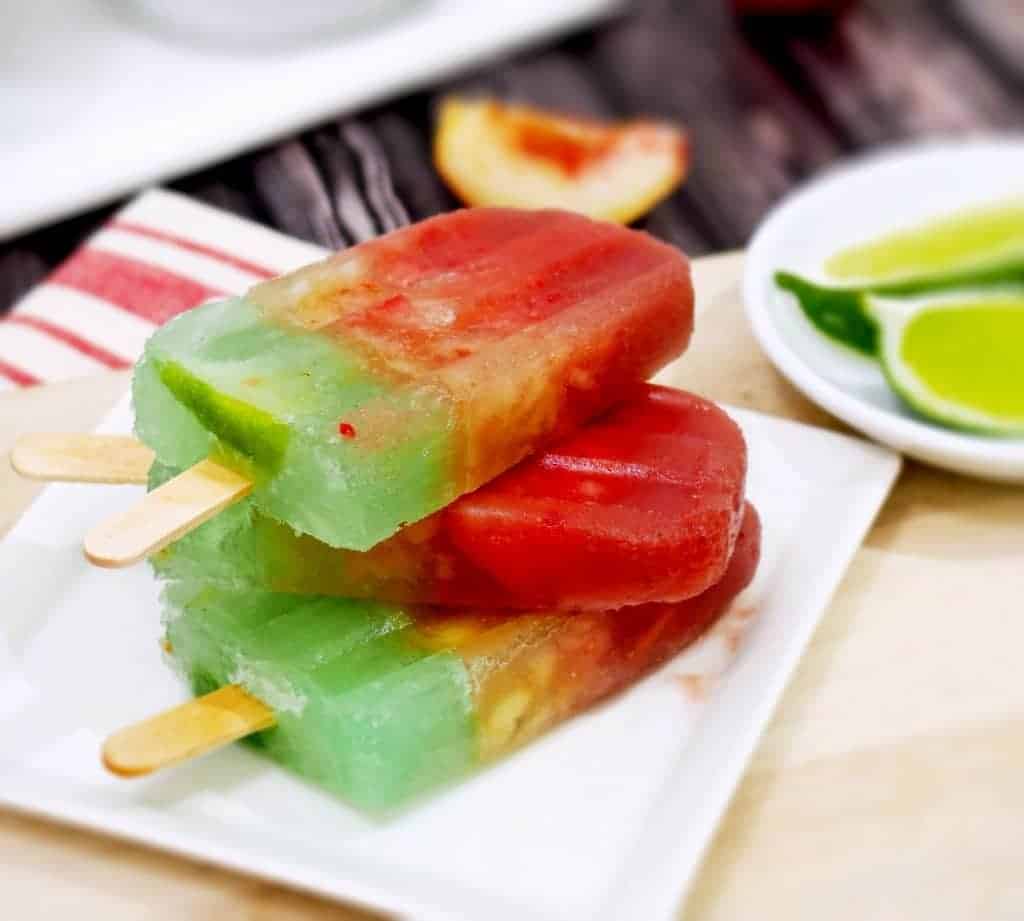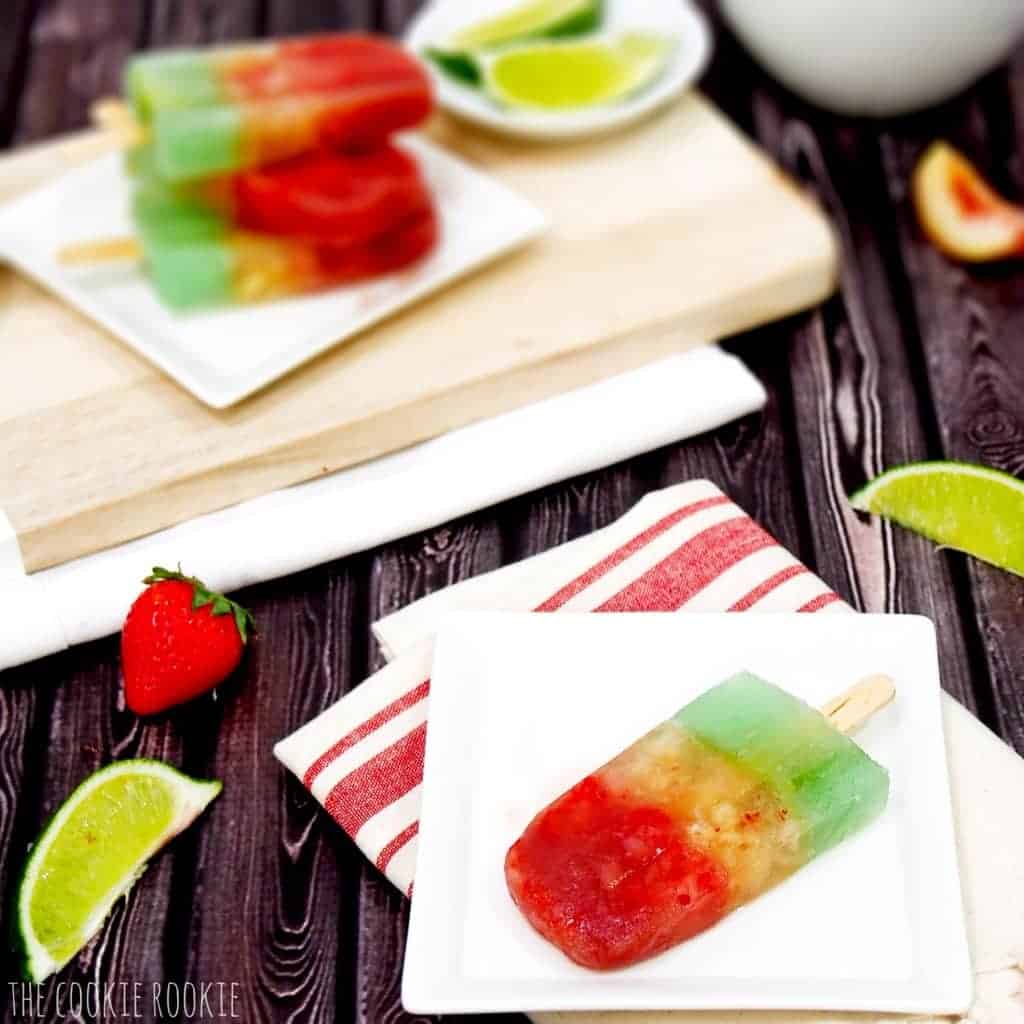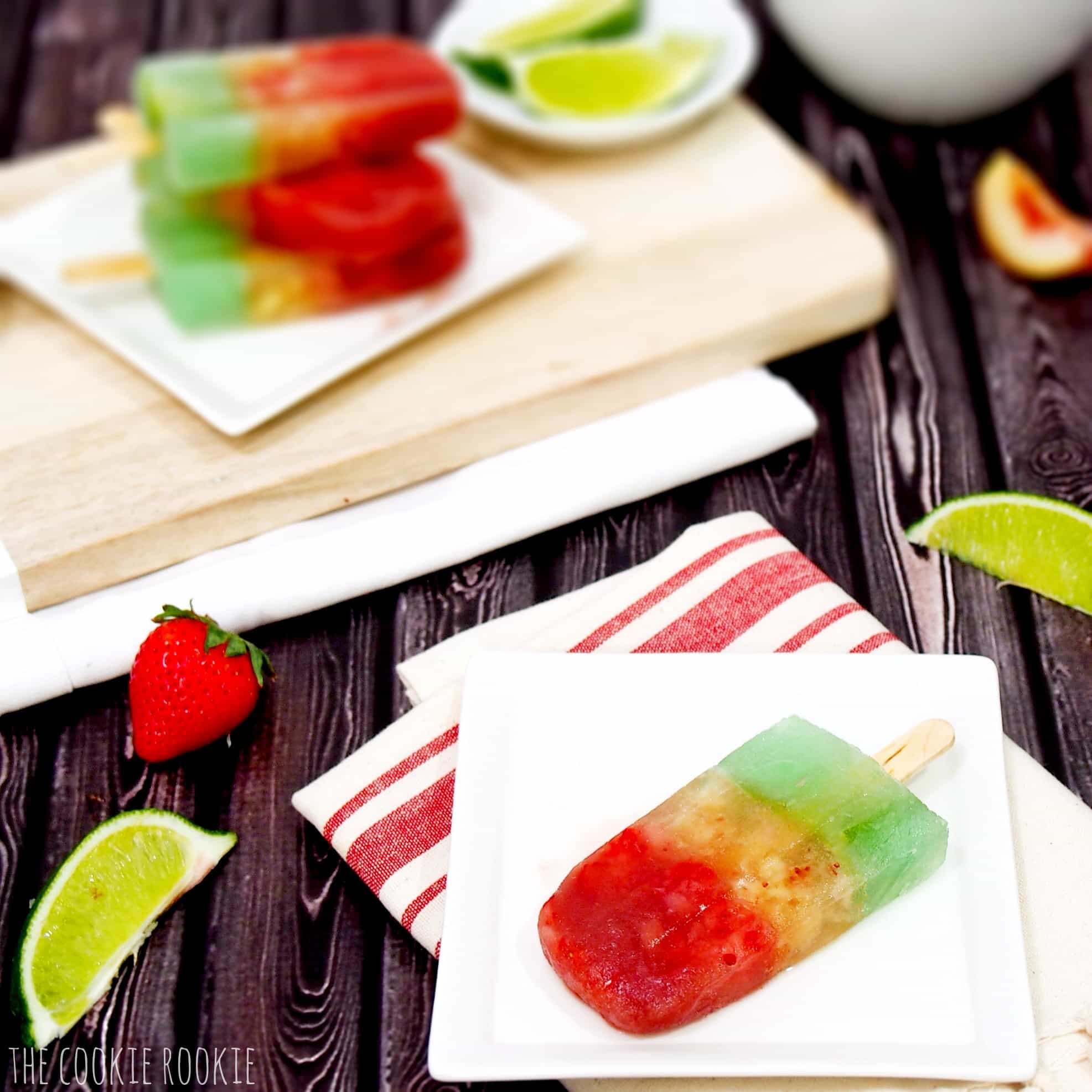 Can I Make These Without Alcohol?
Absolutely! These are so fun, and you could easily leave out the tequila to make them non-alcoholic and kid friendly. Each section is super fruity. I'm ready for the hot weather! C'mon summer!
How Do I Serve These Margarita Popsicles?
If the mold doesn't have a built-in stick handle, freeze the pops for about an hour before inserting your own sticks. This will help them stand up straight. Another trick is to place foil over the mold and poke the sticks through. The foil supports the sticks and keeps them upright.
As an alternative to molds, use disposable paper cups, adding sticks as mentioned above. Once frozen, tear away the cup and enjoy the pop.
Why is My Popsicle Slushy?
Booze-filled ice pops have a softer texture than nonalcoholic ice pops, due to the alcohol's freezing point. Make sure to add only the amount of alcohol stated in the recipe–the more you add, the slushier they will become.
While margarita slushes might be a great idea, that's not what we're after in this recipe. Because of this, it's best to keep them in the freezer until the very last minute.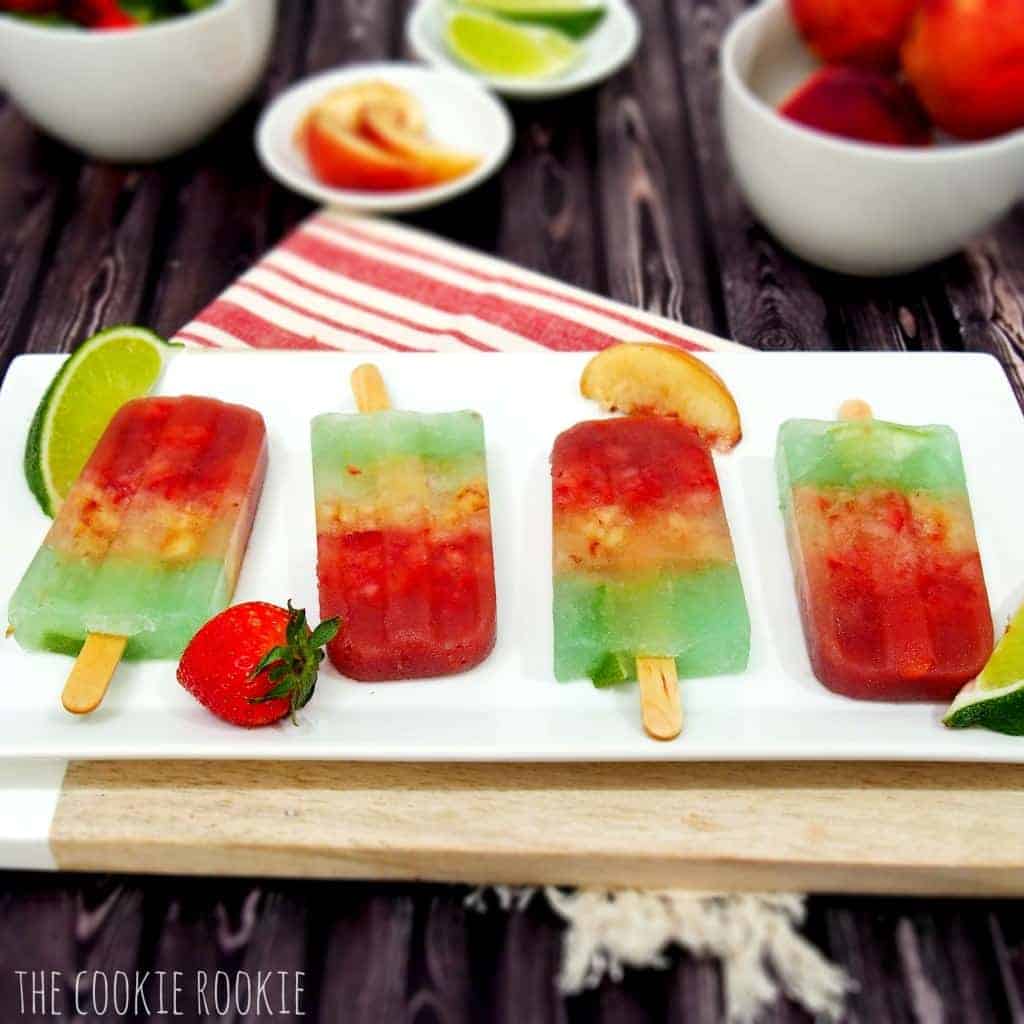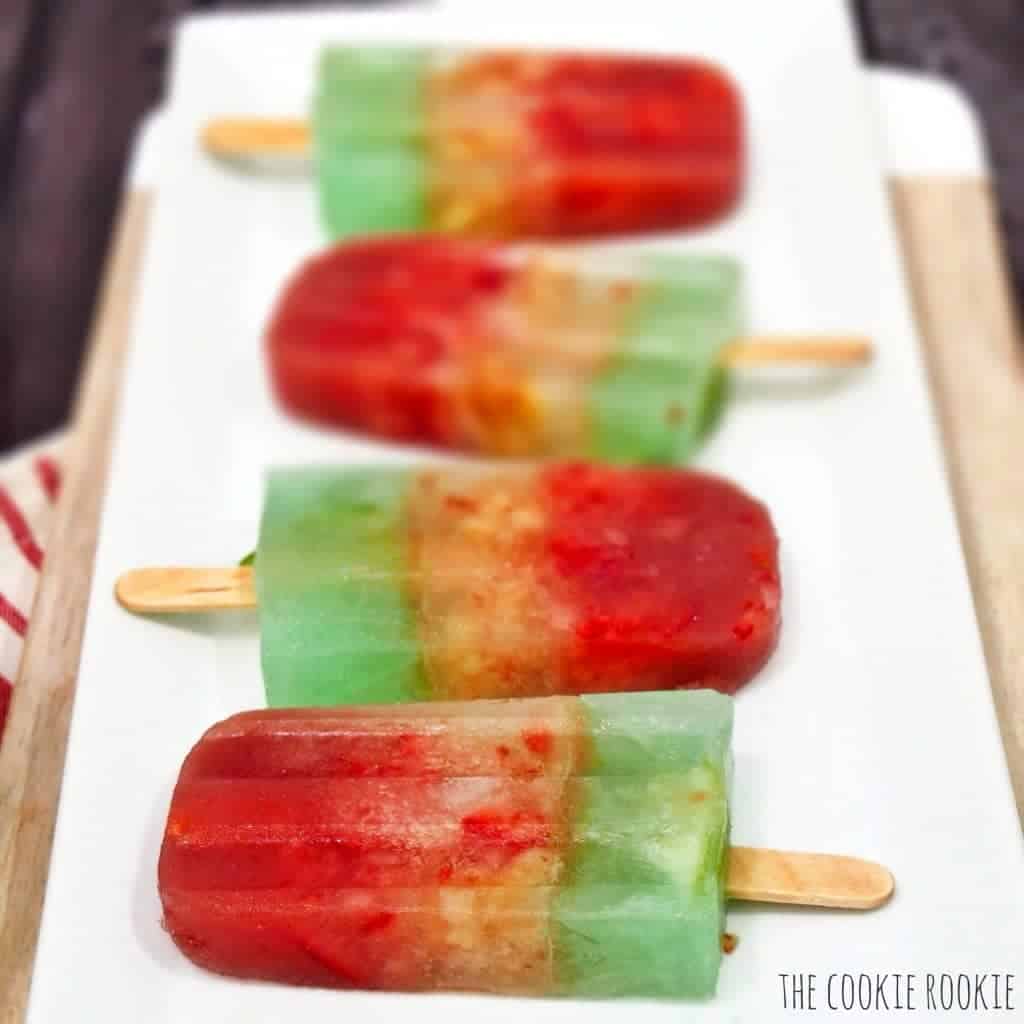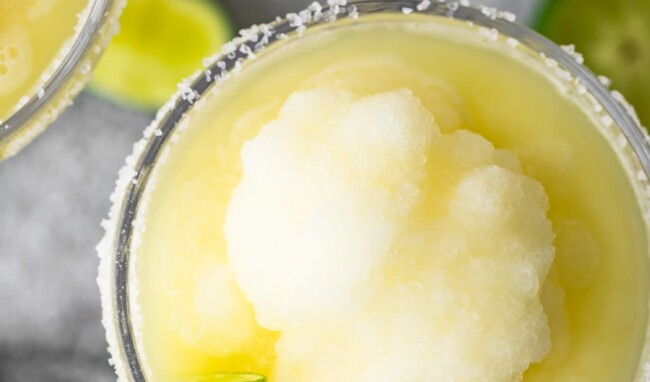 Cheers my Dears
20 Best Margarita Recipes
See our guide for How to Make Margaritas including all our fave go-to recipes.
See Guide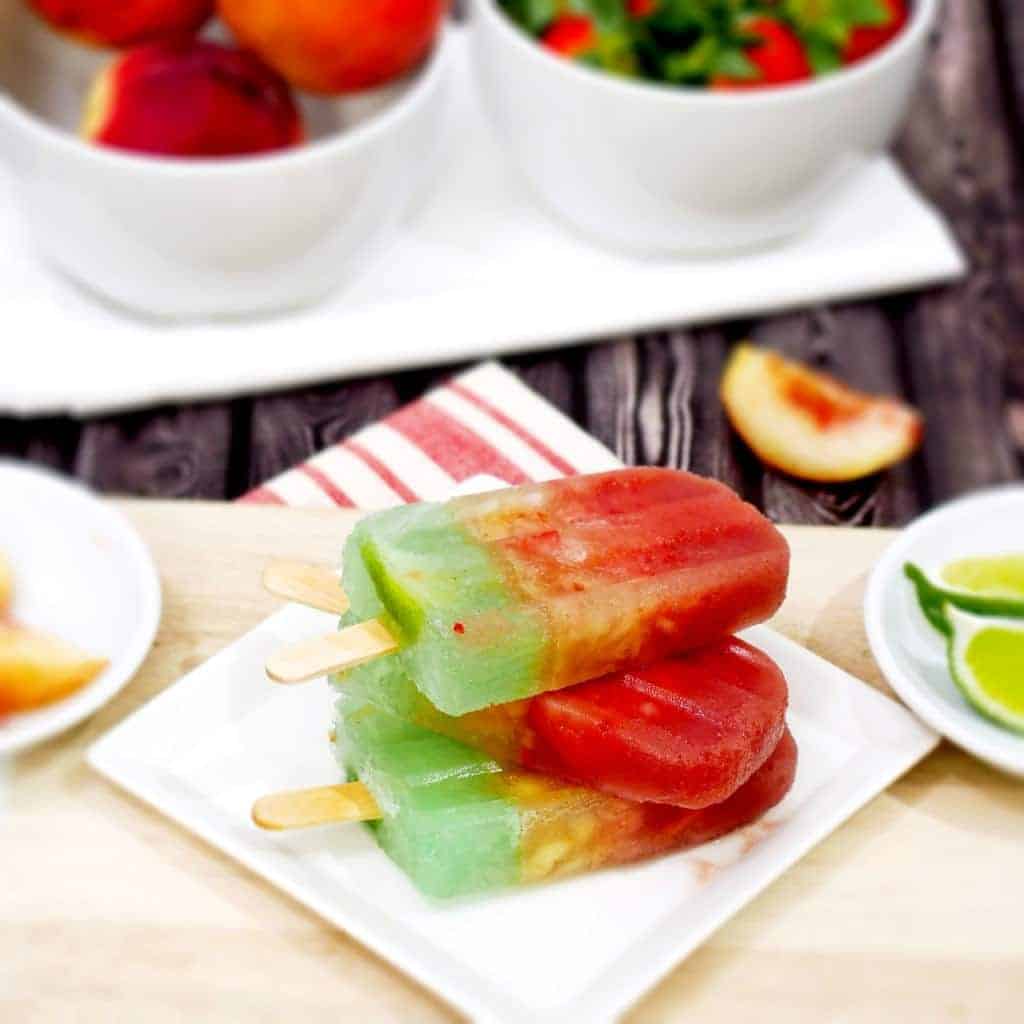 Check Out These Refreshing Cocktails
If you make this recipe be sure to upload a photo in the comment section below or leave a rating. Enjoy!