Red White and Blue Popsicles are the perfect cute, festive, sweet treat for the 4th of July! These fun and tasty treats are so cute and easy to make. These colorful Smoothie Pops are healthy too! I used Greek Yogurt, fresh fruit, and raw organic sugar to keep them fresh and light, while still being super yummy. Healthy Homemade popsicles are so much fun for summer!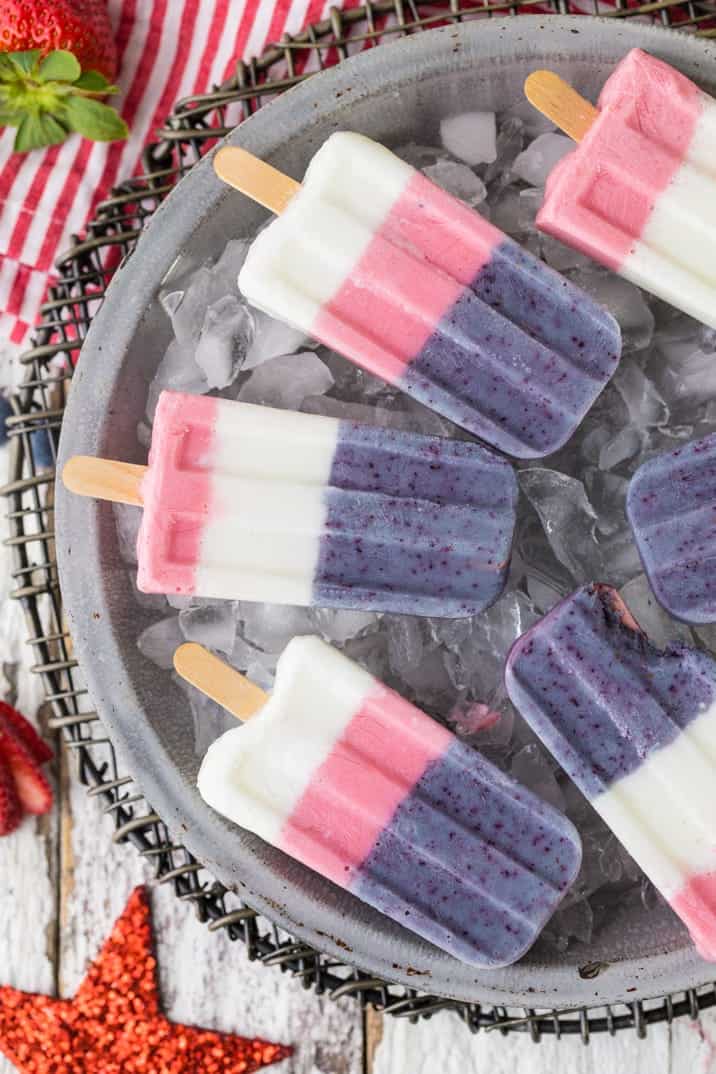 Red White and Blue Popsicles
Red white and blue popsicles are the best 4th of July recipe, and these homemade popsicles are healthy too!
I'm a total sucker for cute popsicles, and these Red White and Blue Popsicles are my absolute favorite. I love that they're fun, festive, EASY, and also pretty healthy. The best of all worlds coming together just in time for the 4th of July! Yay!
Homemade popsicles are such a fun treat to prepare all summer long, not just for holidays. And they're easier to make than you might think. This healthy homemade popsicle recipe is filled with good ingredients that taste delicious, plus they're actually good for you too. Greek yogurt, fresh fruit, and organic sugar make for a simple, sweet, and healthy treat!
Learn how to make homemade popsicles and make them all summer long for any party, celebration, or just because! There's never a bad time for a little treat.
Red White and Blue Popsicles are the ultimate 4th of July party treat! These Healthy Homemade Popsicles are so pretty, and they make the perfect snack all summer long.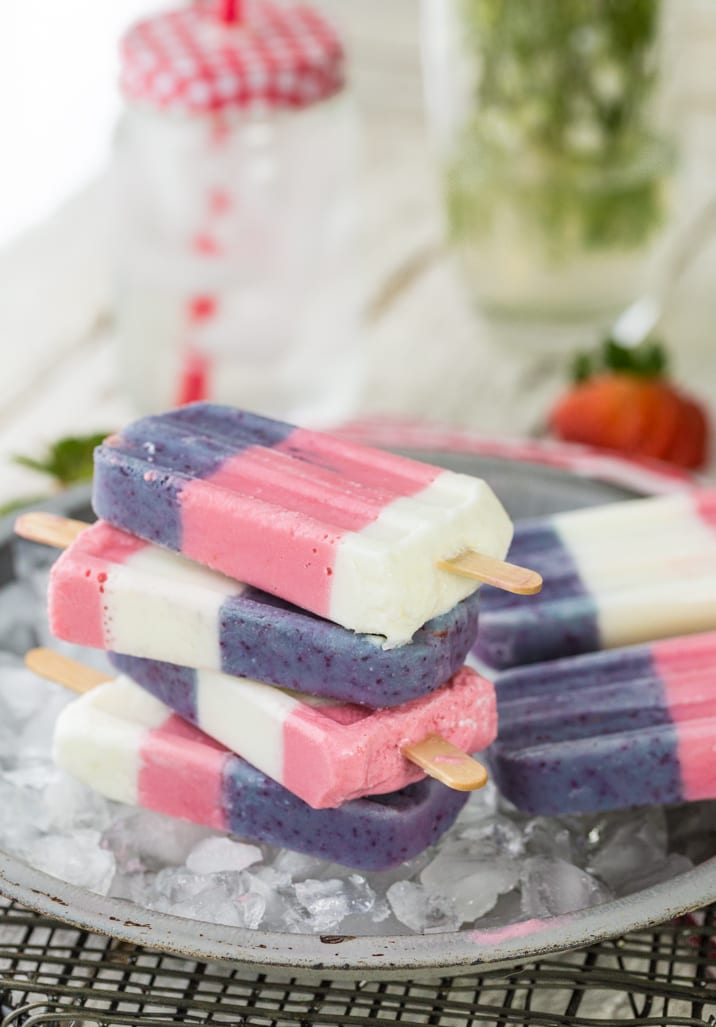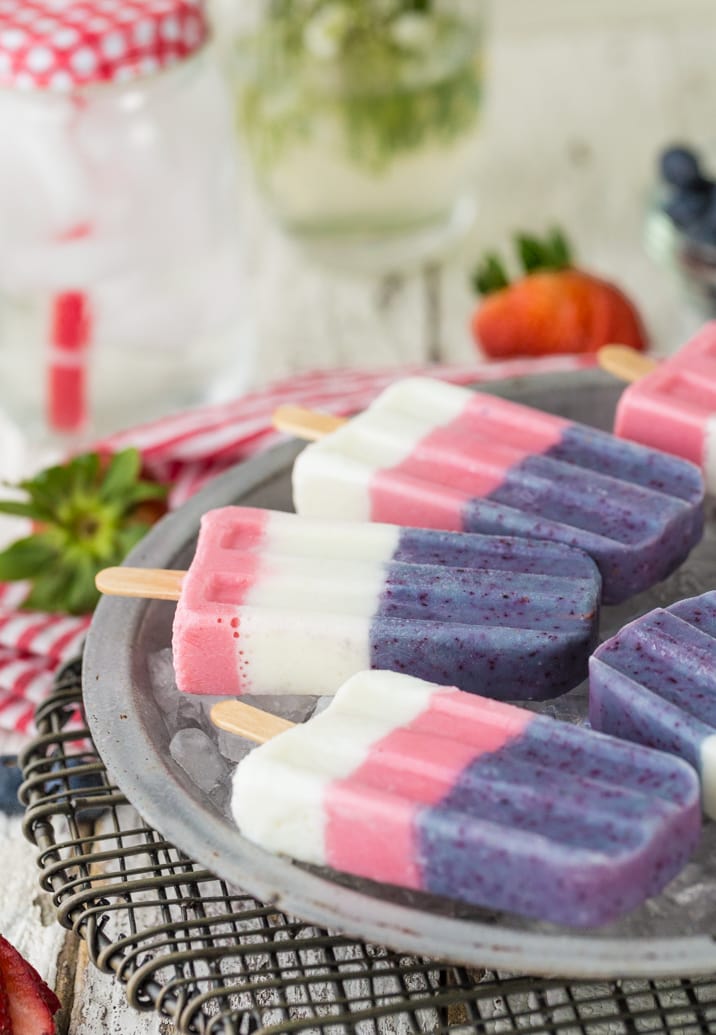 Healthy Homemade Popsicles Recipe
I made these healthy homemade popsicles using fresh and simple ingredients, and that's why they taste so good! There's nothing quite as refreshing as fresh fruit on a summer day.
Here's all the ingredients you need to make these Red White and Blue Popsicles:
Greek Yogurt
Fresh Strawberries
Fresh Blueberries
1 Banana
Sugar
You'll also need some popsicle sticks and popsicle molds to make these smoothie pops, and if you want to create brighter colors, you can add in some food coloring too (but it's not necessary).
I've mentioned In the Raw before. It's one of my very favorite and most used brands, and I'm so honored to be partnering with them this year to bring you healthier twists on some of my favorite recipes. I used their Monk Fruit In the Raw for my Chocolate Covered Strawberry Frozen Yogurt, and their Agave In the Raw for my Strawberry Jalapeño Margaritas.
For these sweet pops I used Sugar In the Raw Organic White. It might just be my favorite product in their line. It's organic, non-GMO certified, and 100% unbleached. It's the perfect substitution for any recipe that calls for sugar. Literally perfect for so many occasions.
Red White and Blue Popsicles for the 4th of July!
These Red White and Blue Popsicles are so perfect for the 4th of July or Memorial Day. I love serving colorful, red white and blue foods during these holidays, so these homemade popsicles are a great addition.They look so nice along with fresh fruit bowls, holiday punch recipes, and other icy treats.
The best part about these healthy homemade popsicles is that you can feel good about serving them to your loved ones. They're filled with light, fresh, healthy ingredients that everyone will love. No guilty pleasure dessert here! It's all made with love and so good to eat. I hope you love them as much as we do!
If you're looking for another red, white, and blue treat, try these Margarita Slushies.
How to Make Homemade Popsicles
If you're just learning how to make homemade popsicles, here are a few tips to keep in mind while making these Red White and Blue Popsicles:
Make sure you have all your ingredients at hand, as well as a popsicle mold
You will need to freeze each layer (color) for about 2 hours before moving on to the next one
So, you'll want to add in your first layer to each popsicle mold, freeze, then come back and add each 2nd layer, and so on
Make sure your homemade popsicles are fully frozen before serving
Serve them on a tray or bowl of ice to keep them cool throughout the party
Add a bit of food coloring to brighten the colors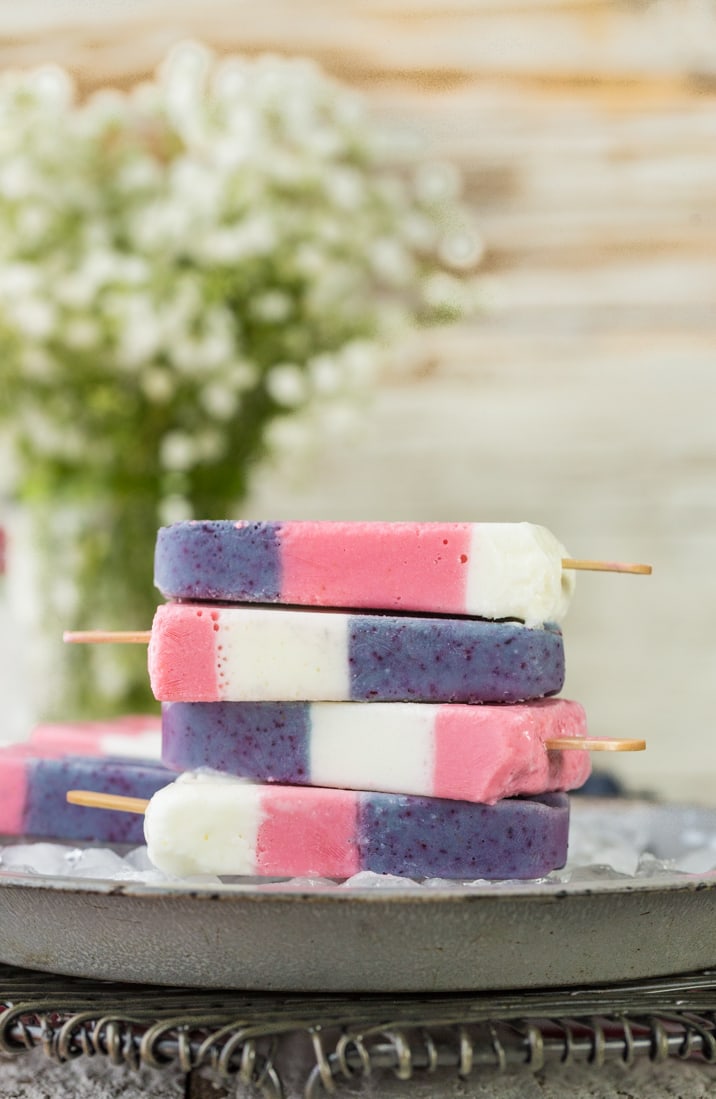 Aren't these Red White and Blue Popsicles just the cutest! I first made them back in 2015 and I can't wait to make them again this year now that Henry is old enough to enjoy them. He's going to love the colors, love the healthy flavors, and love helping in the kitchen.
If it's EASY popsicles or ice cream treats you crave, check out these favorites: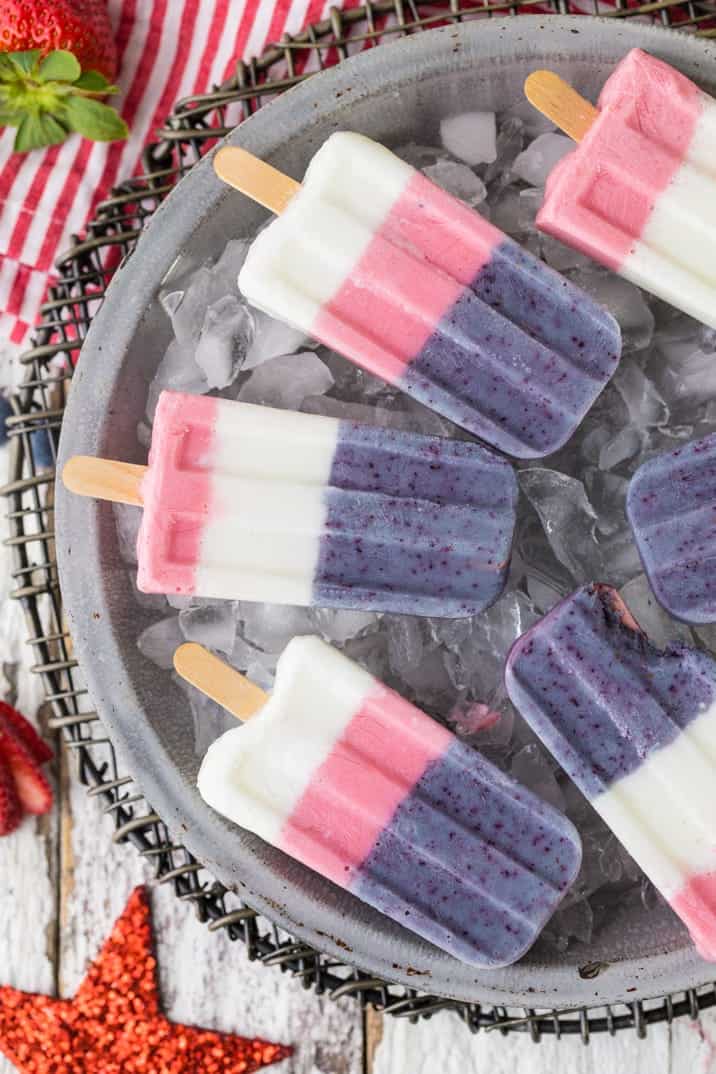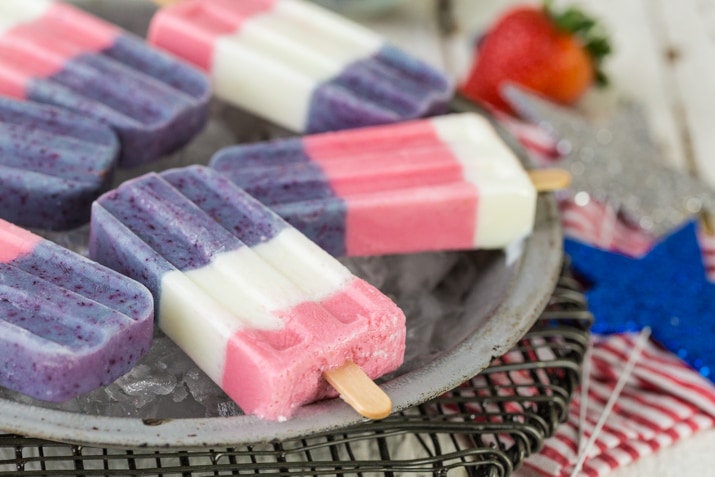 You definitely need to make these festive Red White and Blue Popsicles for your 4th of July celebrations this summer! It's such a cute, fun, healthy treat to serve. These healthy homemade popsicles are just so tasty and refreshing!
See the recipe card below for details on how to make Red White and Blue Popsicles. Enjoy!
If you're looking for more healthy snacks & desserts, try out these recipes: