Make deliciously fruity Frozen Strawberry Margaritas from home with the quick and easy blender margarita recipe!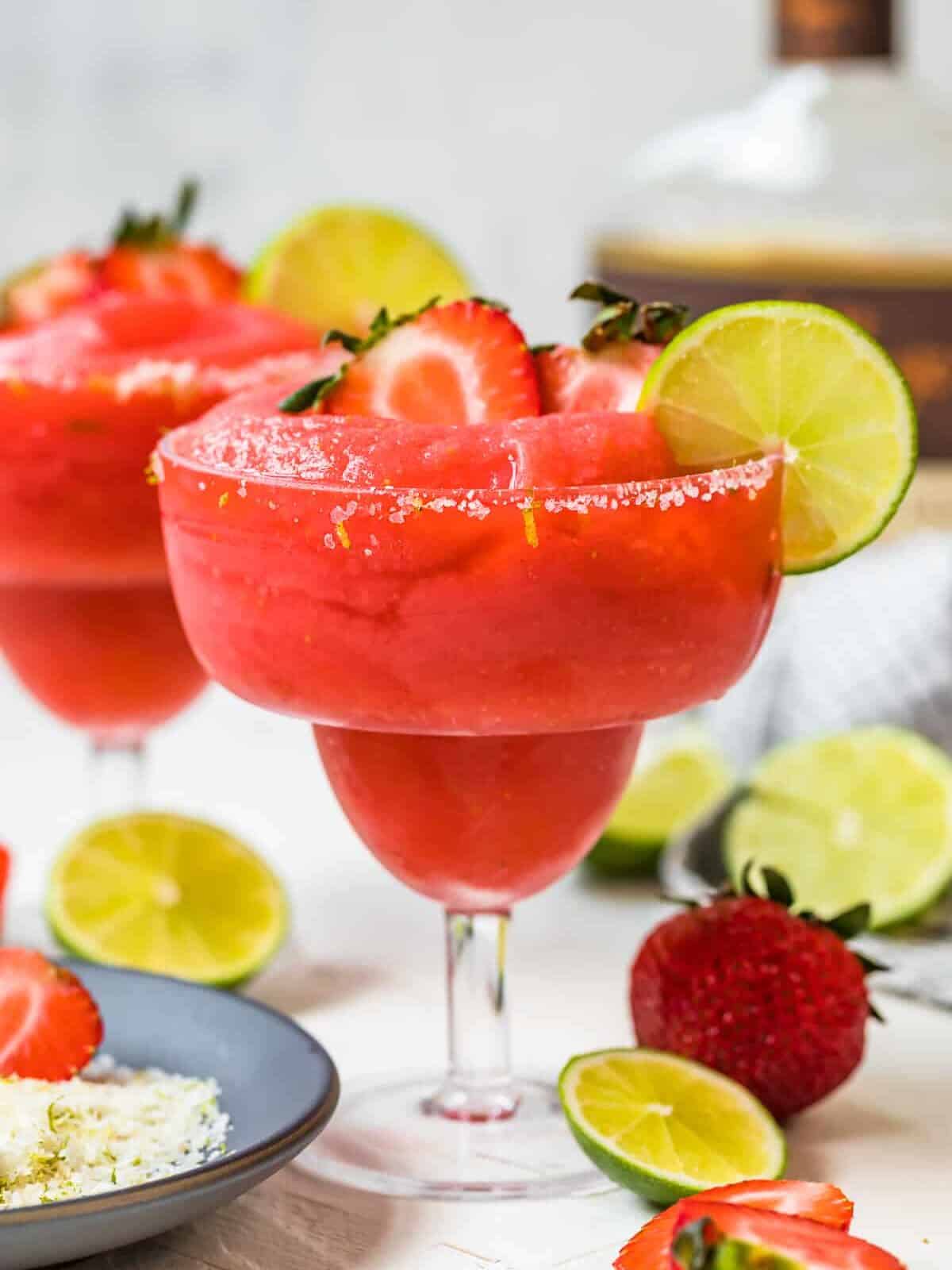 What's in this Frozen Strawberry Margarita Recipe?
It's time to chillax in the sun with a smooth and refreshing Frozen Strawberry Margarita! Only a handful of ingredients and minimal prep make these fruity and summery frozen margaritas a favorite for any BBQ, party, or balmy summer eve!
Frozen Strawberries: Give these frozen margaritas their strawberry flavor.
Cointreau: This orange liqueur is a staple in margaritas. I prefer Cointreau over triple sec, but either will work.
Lime Juice: Freshly-squeezed lime juice is the key to a delicious margarita. Don't use bottled lime juice; it just won't taste the same!
Tequila: Choose a good-quality Reposado tequila for the smoothest, best-tasting margaritas.
Agave Syrup: Agave nectar is a great all-natural sweetener. Use more or less depending on your tastes.
Kosher Salt: Enhances the strawberry flavor. Just a pinch is more than enough; we don't want our drink to taste salty!
Ice: Blend these margs with a good bit of ice for a slushy, thirst-quenching drink!
Pro Tip: I do not recommend using fresh strawberries, as they will water down your frozen margarita.
Variations on Frozen Strawberry Margaritas
This recipe is perfect for just about any kind of frozen berry you could imagine. Try it with blueberries, raspberries, blackberries, or pitted cherries!
What's the difference between a strawberry daiquiri and a strawberry margarita?
The main difference between a daiquiri and a margarita is the alcohol used. Margaritas use tequila, while daiquiris use rum. Strawberry margaritas also have the addition of Cointreau, an orange-flavored liqueur.
Can I make these ahead of time?
Absolutely! Whip up this margarita mix a day ahead of time and keep it in the freezer. The alcohol keeps the margarita from freezing completely, it stays more in that satisfying slushy form. Just give the mix a quick blitz in the blender to liven it up just before serving.
What kind of tequila is best for strawberry margaritas?
When making margaritas, I always opt for one that isn't the most expensive and isn't the cheapest. You want a quality tequila that is smooth and well made, but there's no reason to break the bank when you're not sipping it straight. I recommend using a Reposado Tequila which is typically smoother than a Blanco or Anejo Tequila.
Can I add other flavors?
Strawberry on its own works beautifully, but you can totally add in other fruit too. Mango is great, as is raspberry – have fun with your favorite fruity flavors!
Do I have to use sugar?
No, you can leave out the sugar and use agave nectar. Sugar obviously adds a sweetness to proceedings but by no means is it essential. Without the sugar you get more of a tarty punch, which is lovely too!
How do you make frozen margaritas thicker?
To make these margaritas thicker, simply add more ice and continue to blend until they reach your desired consistency!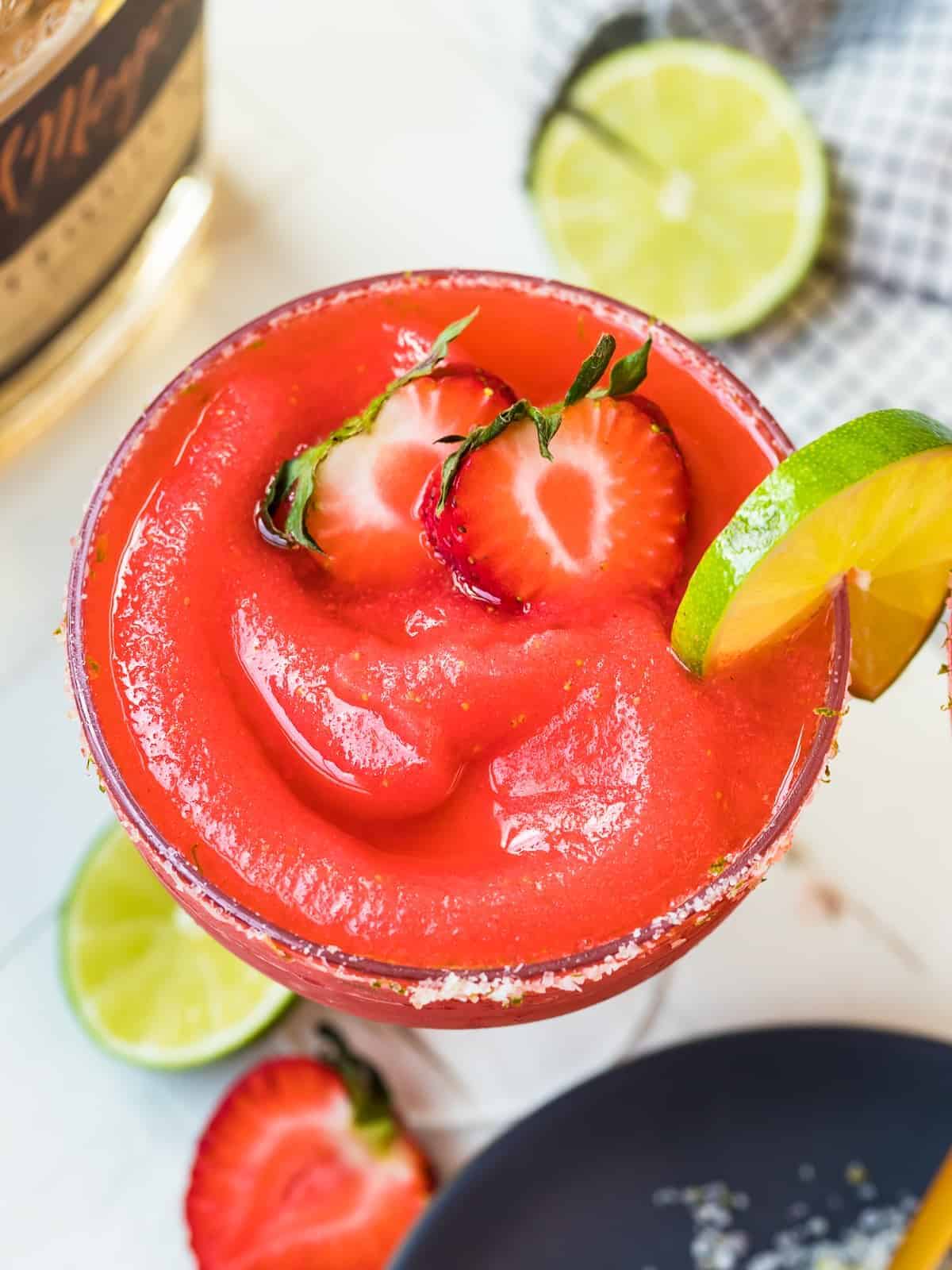 How to Store
Store leftover strawberry margaritas in sealed glass jars in the freezer for up to 2 weeks. Enjoy straight from the freezer, or blend them in a blender to refresh before serving.
Serving Suggestions
These fruity frozen margaritas pair so well with Mexican food. Try them with Baked Chicken Tacos, White Queso, Mexican Grilled Corn, Queso Smothered Chicken Fajitas, Enchilada Stuffed Peppers, Avocado Egg Rolls, Foil Packet Nachos, Salsa Verde Chicken Enchiladas, Beef Enchiladas, or Skillet Chicken con Queso.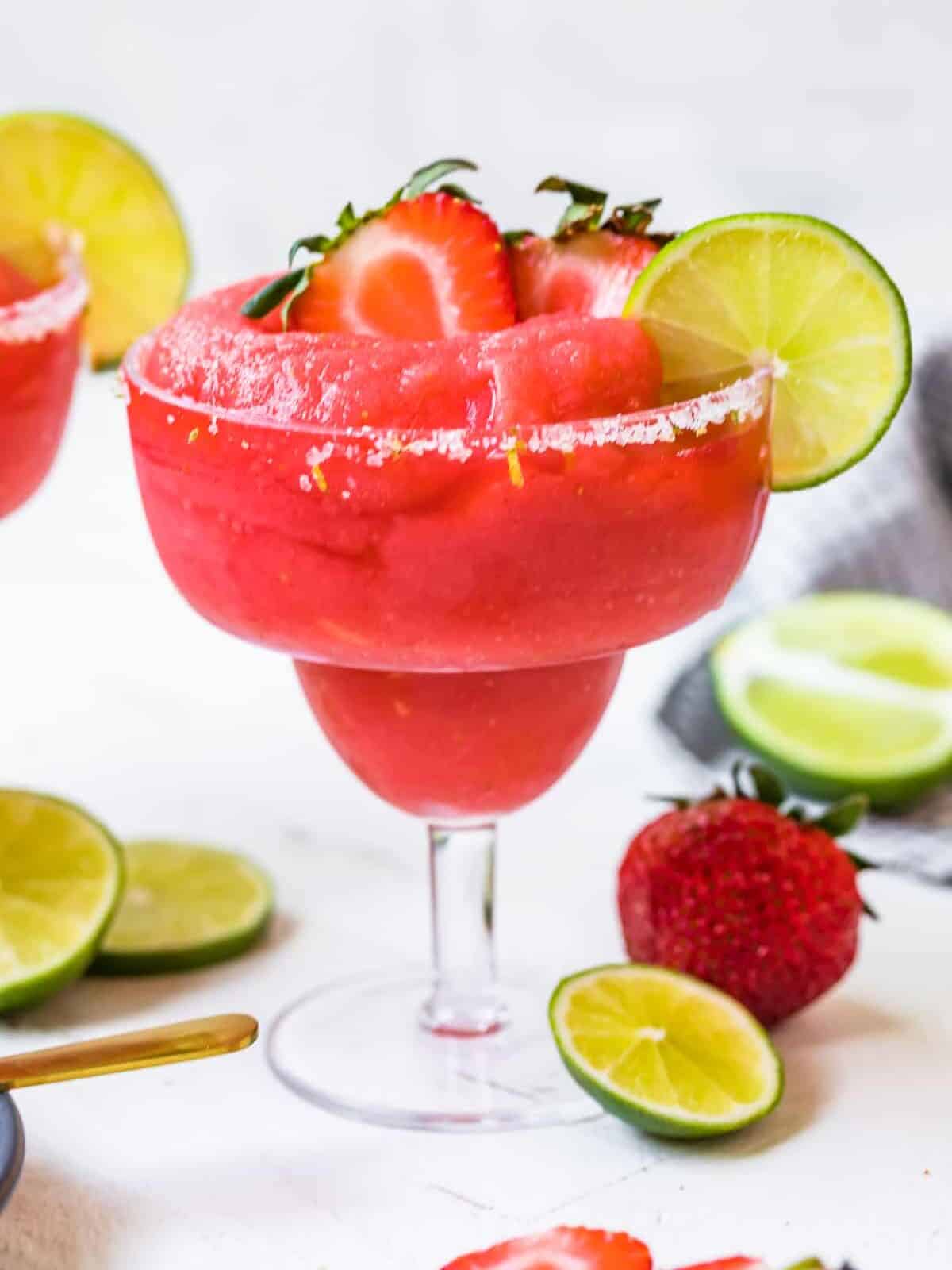 More Frozen Margarita Recipes We Love