Pink Champagne Sangria is the perfect New Years Eve cocktail! Ring in the new year with style and lots of pink bubbly. This fun sangria recipe is Pink Moscato Champagne mixed with grapefruit juice, pomegranate juice, and mint simple syrup. It's seriously delicious!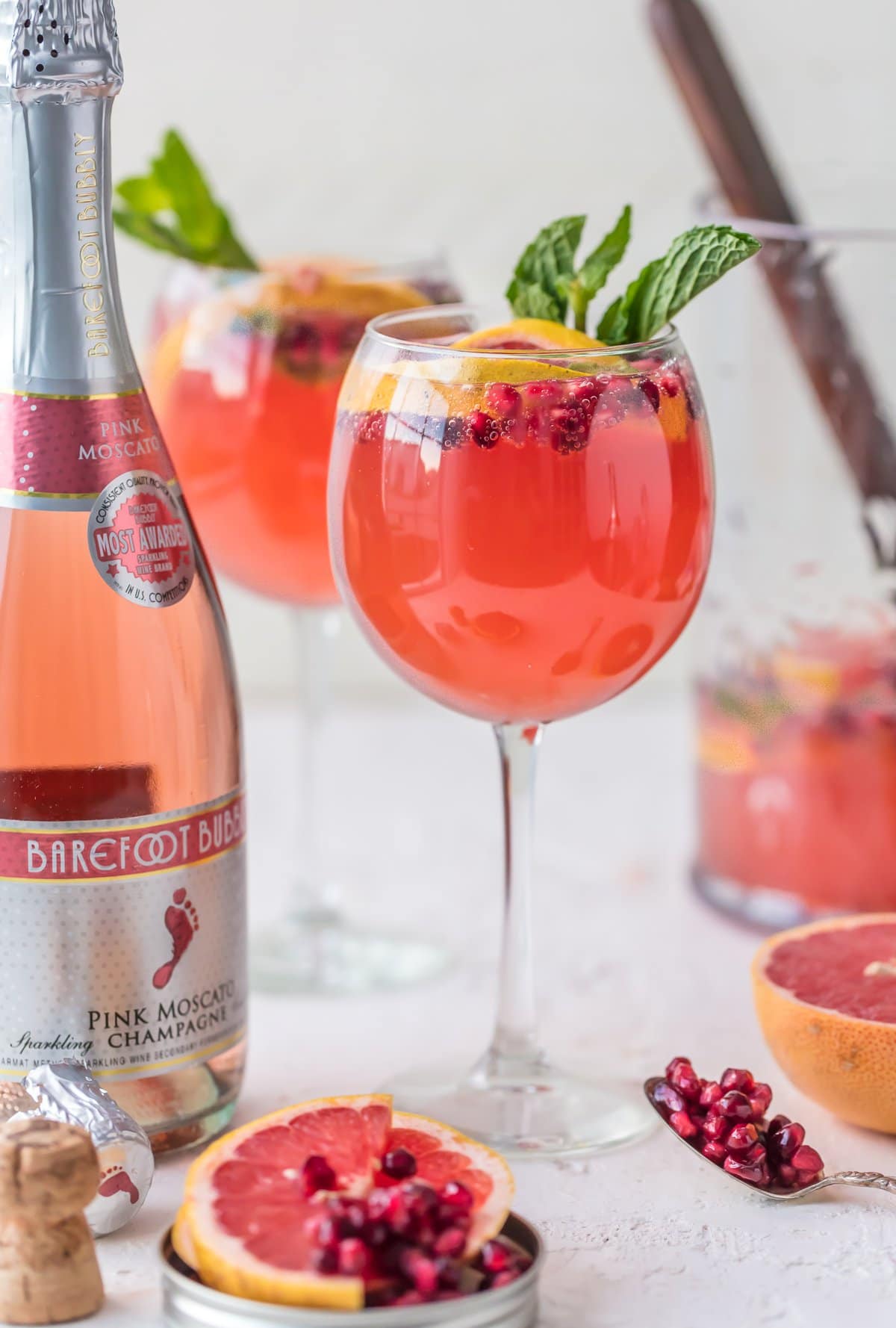 Champagne Sangria Recipe
Pink Champagne Sangria is a fun and festive sangria recipe perfect for New Year's Eve. Combine two of the best drinks to make one delicious holiday cocktail!
What would New Year's Eve be without a little bubbly? It would be dressing to the nines, wearing silly hats, glasses, and a kiss at midnight, but still not nearly the same!
Champagne is an absolute must as we ring in the New Year every year, but today I thought we would dress it up a bit and make it extra special.
This PINK CHAMPAGNE SANGRIA is utterly perfect for New Year's, but also awesome for Valentine's Day, wedding showers, and every day in between.
It's a great pairing of sweet from the Barefoot Bubbly Pink Moscato Champagne, and tart from the Grapefruit juice, with some pomegranate juice tossed in to keep us on our toes. The secret ingredient is an easy Mint Simple Syrup, because we want things to be classy when we celebrate!
I'm really proud of this delicious champagne sangria, and it's just so pretty too! I hope this holiday cocktail makes your New Year's Eve festivities all the more festive!
Brighten up your holiday with Pink Champagne Sangria. It's perfect for New Year's Eve, Valentine's Day, and any romantic occasion that comes along!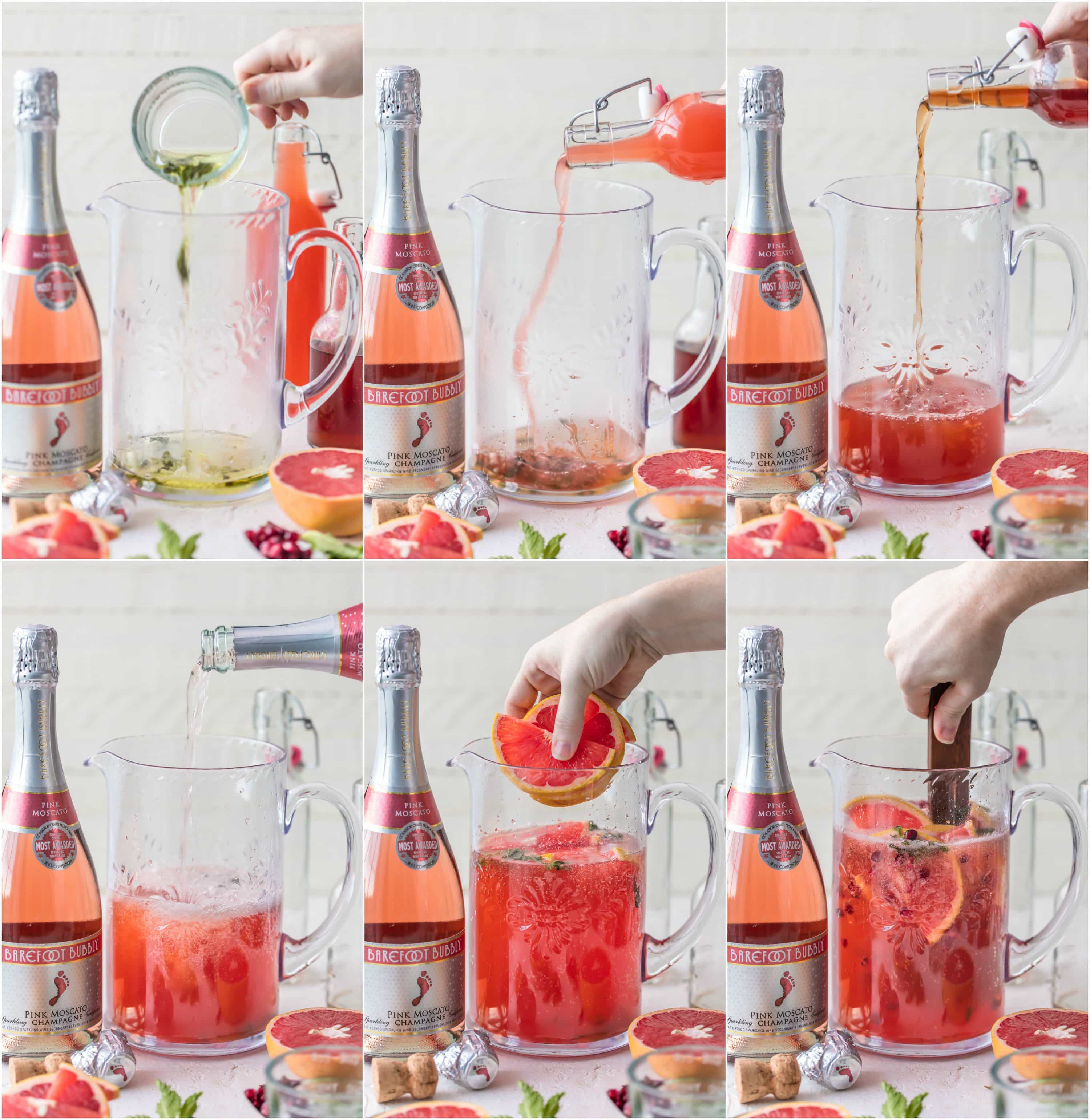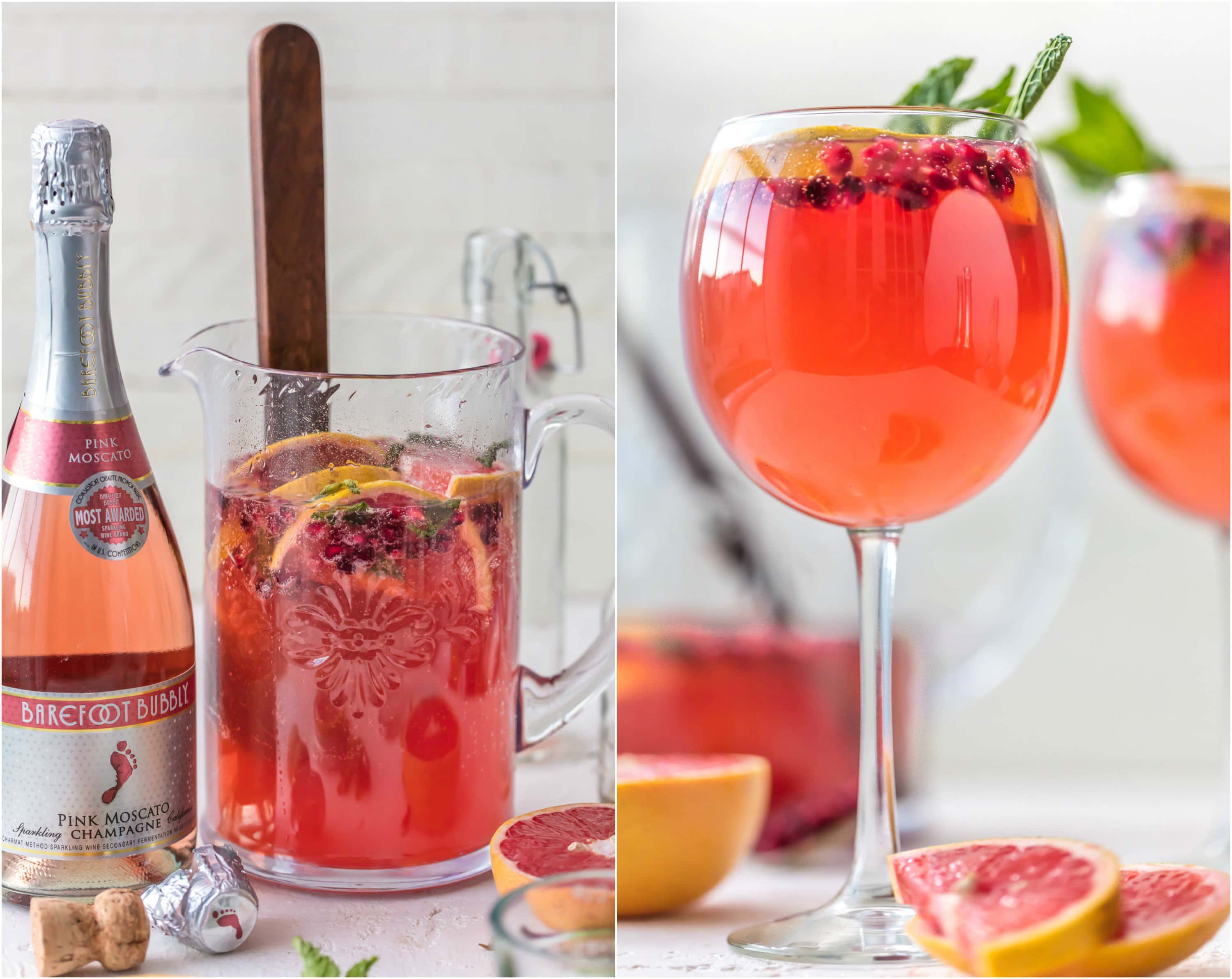 Pink Moscato Champagne
This Pink Champagne Sangria wouldn't be pink, bubbly, or perfect without Barefoot Bubbly Pink Moscato Champagne. You can see right there on the neck of the bottle…"Most Awarded Sparkling Wine Brand in US Competitors". And for good reason.
It's got an amazing price point, a crisp and delicious flavor, and all the bubbles. Barefoot has an incredible line of Bubbly wines and I'm completely obsessed. So many colors and flavors, and all top quality.
I love that their wines are available almost everywhere you go, too. To say I'm hooked is an understatement! Barefoot Bubbly is a must for holiday entertaining!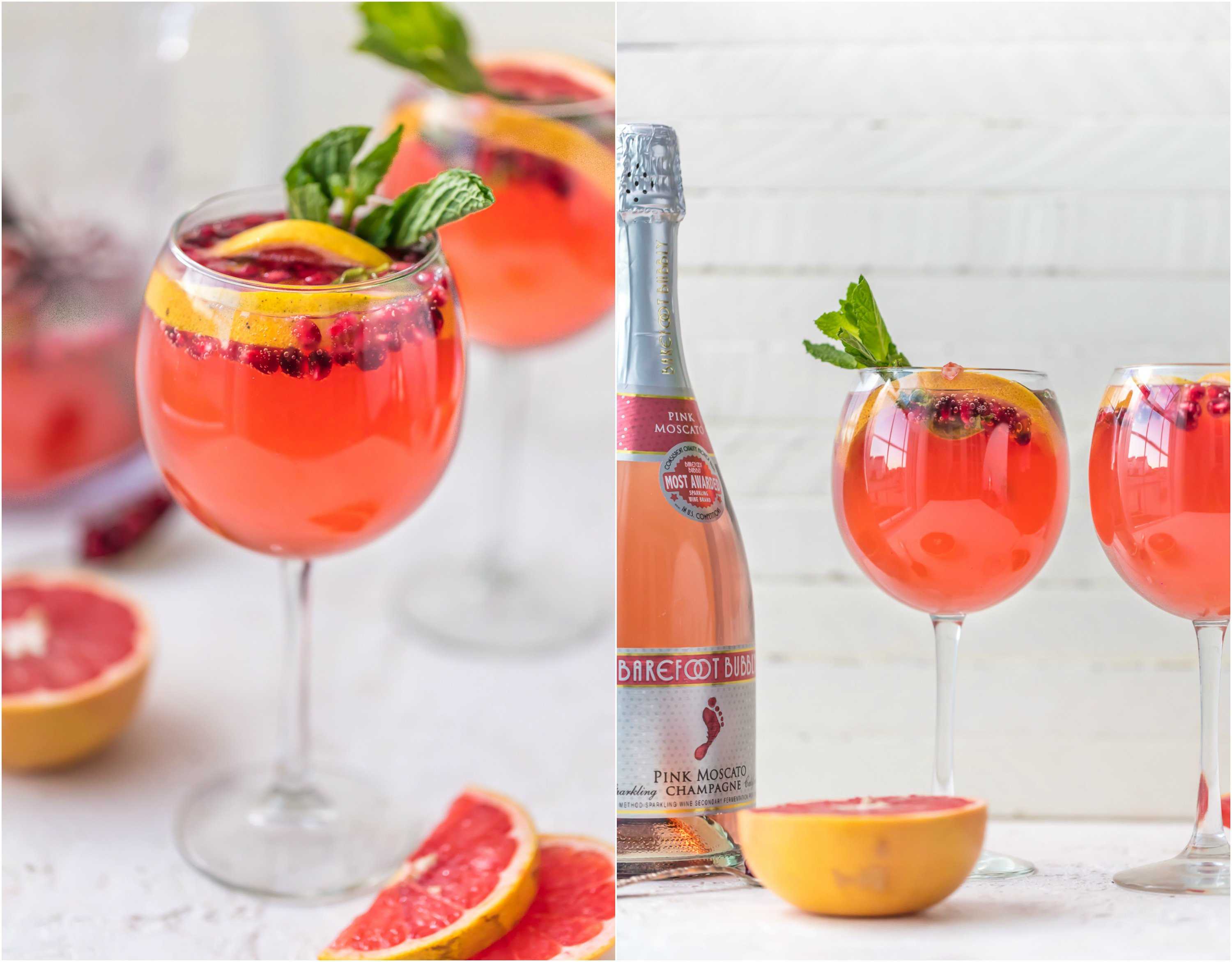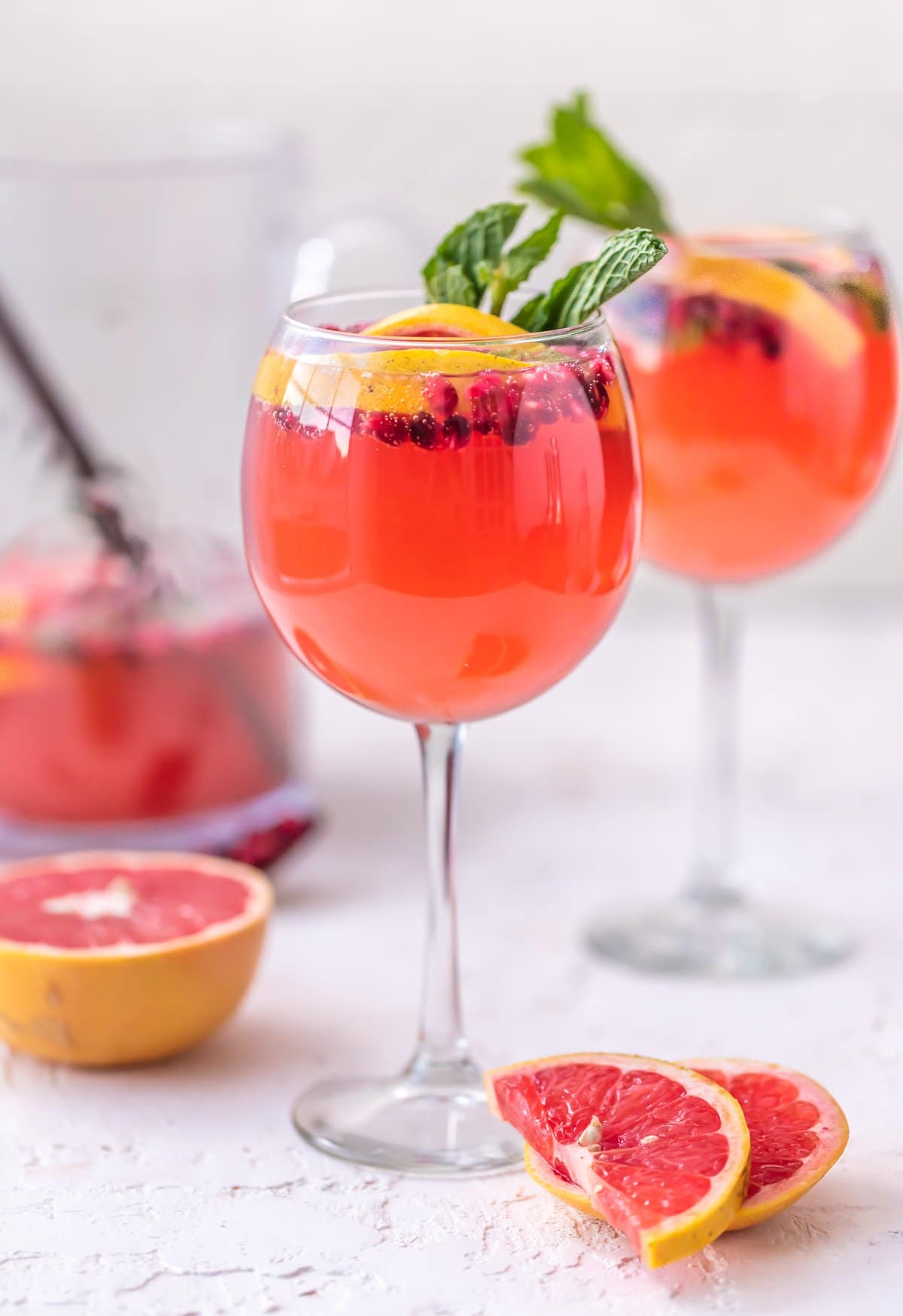 How to Make Pink Champagne Sangria
The combination of mint, grapefruit, and pomegranate in this Pink Champagne Sangria is such a treat, and it just screams celebration. I absolutely love the beautiful colors of this cocktail.
A beautiful drink is an easy way to take your holiday parties from fun to fabulous. You can do it!
How to Make Champagne Sangria:
Make the mint simple syrup: heat water, sugar, & chopped mint in a sauce pan; bring to a boil, then reduce to a simmer for 10 minutes, stirring occasionally.
Mix mint simple syrup, grapefruit juice, pomegranate juice, and the full bottle of pink moscato champagne in a pitcher.
Add grapefruit and pomegranate directly into the pitcher.
Let the champagne sangria chill in the refrigerator for at least 2 hours before serving.
This is the perfect New Year's Eve cocktail to serve right before the ball drops. It's bubbly, it's delicious, and it's so much fun!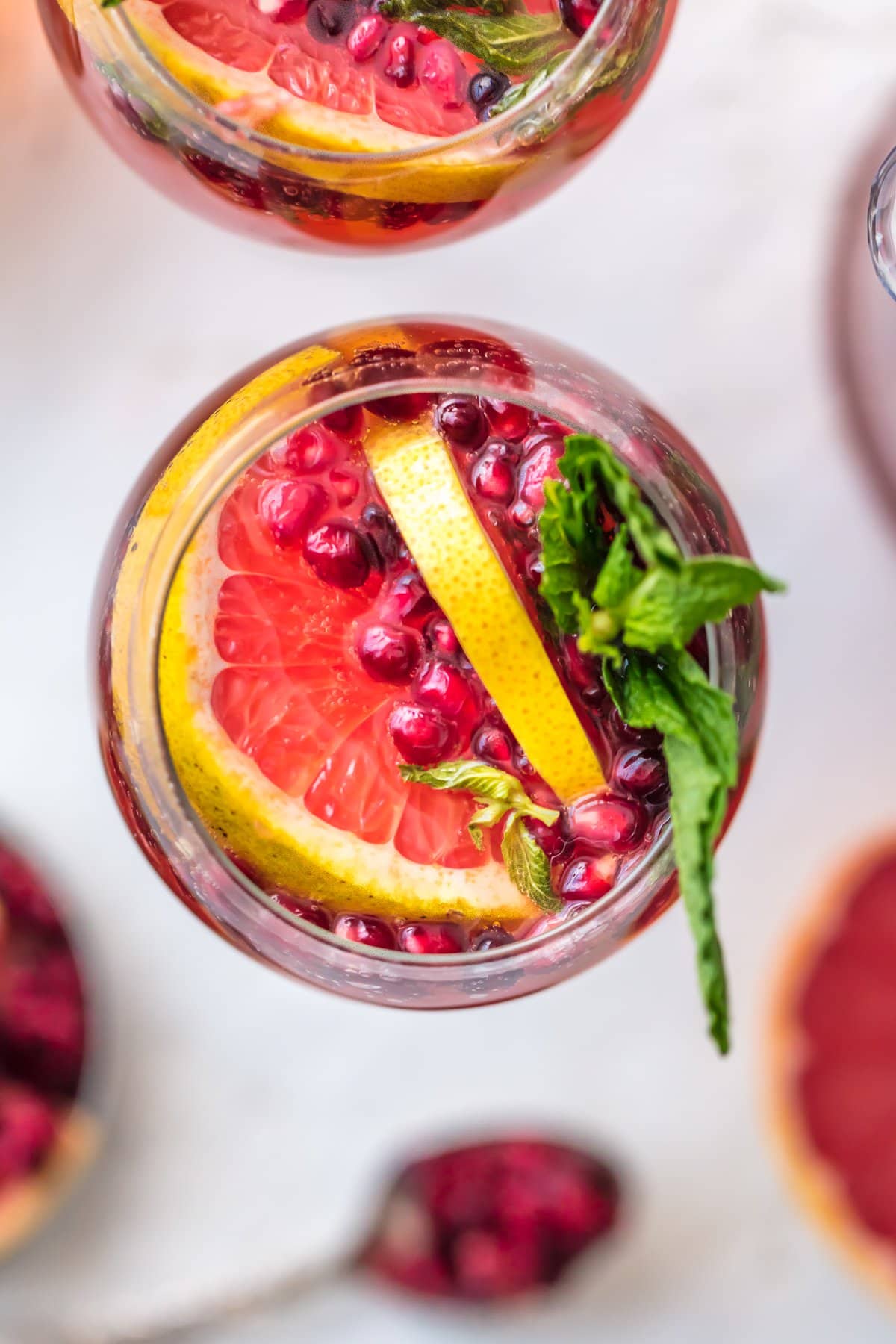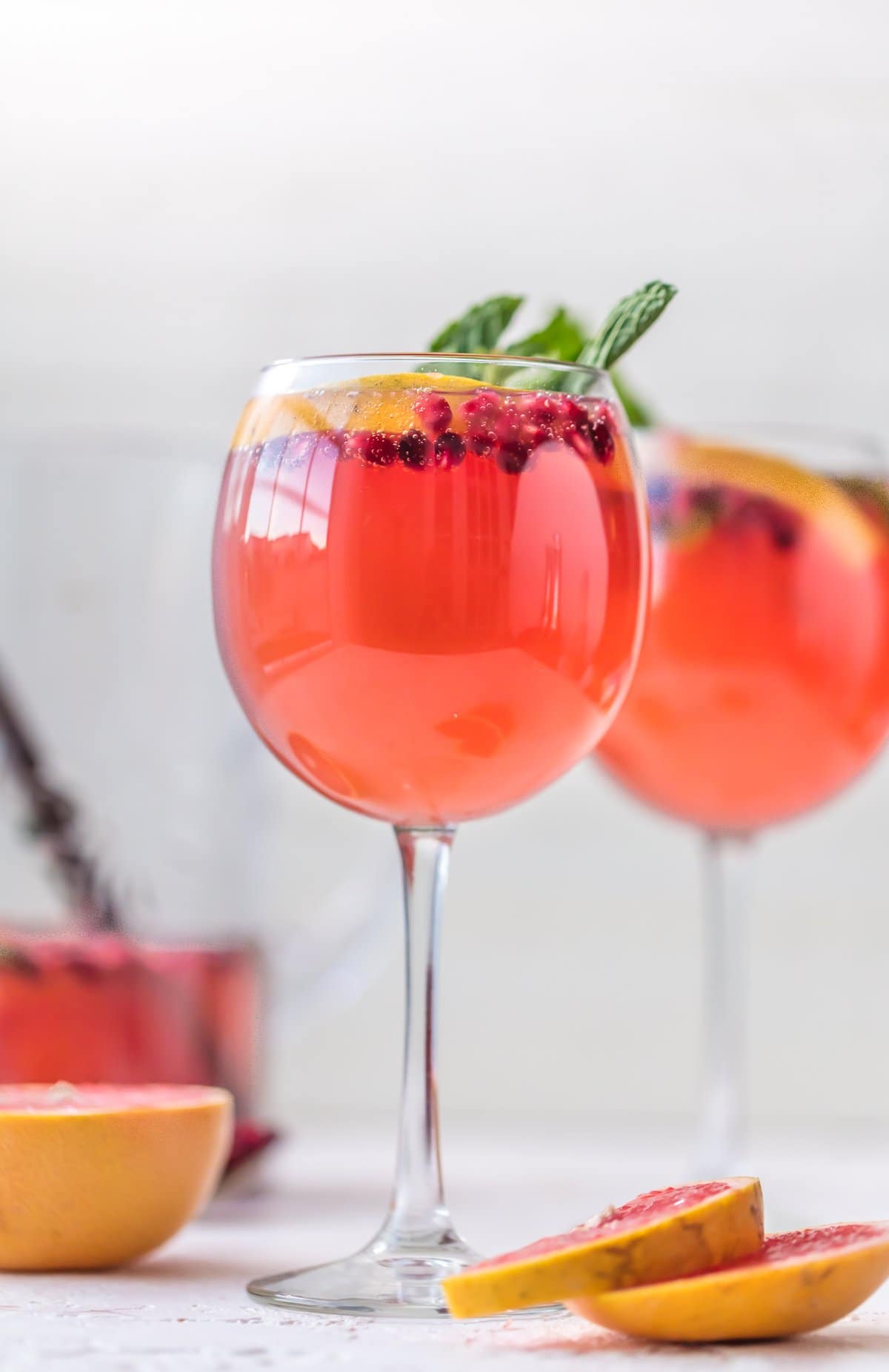 Fun Champagne Recipes
Champagne is such a classic, especially on New Year's Eve or for any special celebration. A glass of bubbly will do the trick, but sometimes it's nice to make fun champagne recipes to mix things up.
This Pink Champagne Sangria definitely does the trick! I like using champagne in a lot of cocktails, and sometimes even in other dishes. It just inspires me to get creative.
Here are some more fun champagne recipes to try out: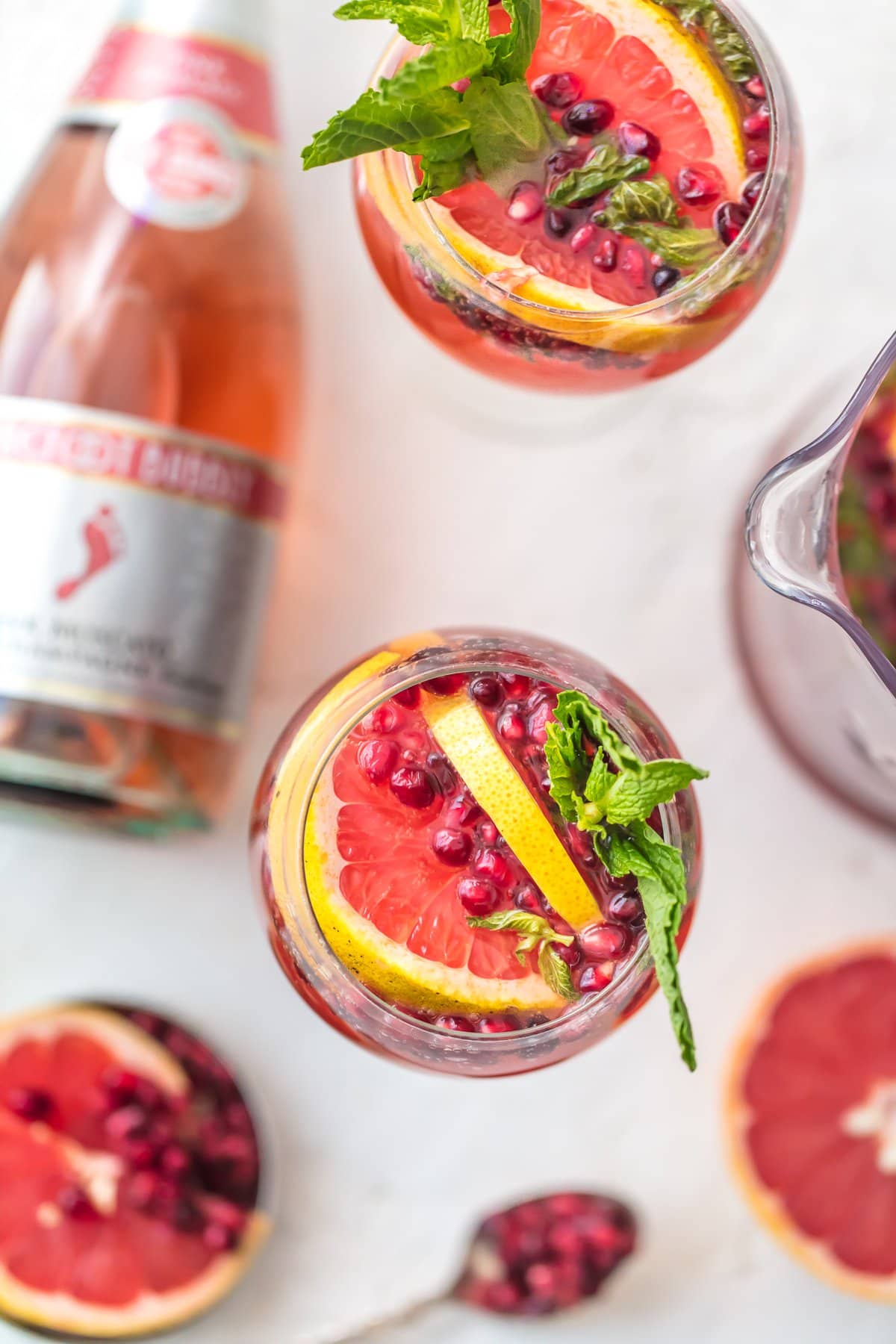 I hope you love this Pink Champagne Sangria as much as I do! Be sure to click HERE to see where you can find Barefoot Bubbly, and check out my other favorite holiday cocktails HERE.
You better have a safe, festive, and amazing New Years Eve. Cheers friends, I'm so grateful for you all!
If you like this Pink Champagne Sangria, try some more favorite sangria recipes:
If you make this recipe be sure to upload a photo in the comment section below or leave a rating. Enjoy! You can also jump to recipe.