Kick off your 4th of July celebrations with these vibrant and refreshing Red, White and Blue Margarita Slushies!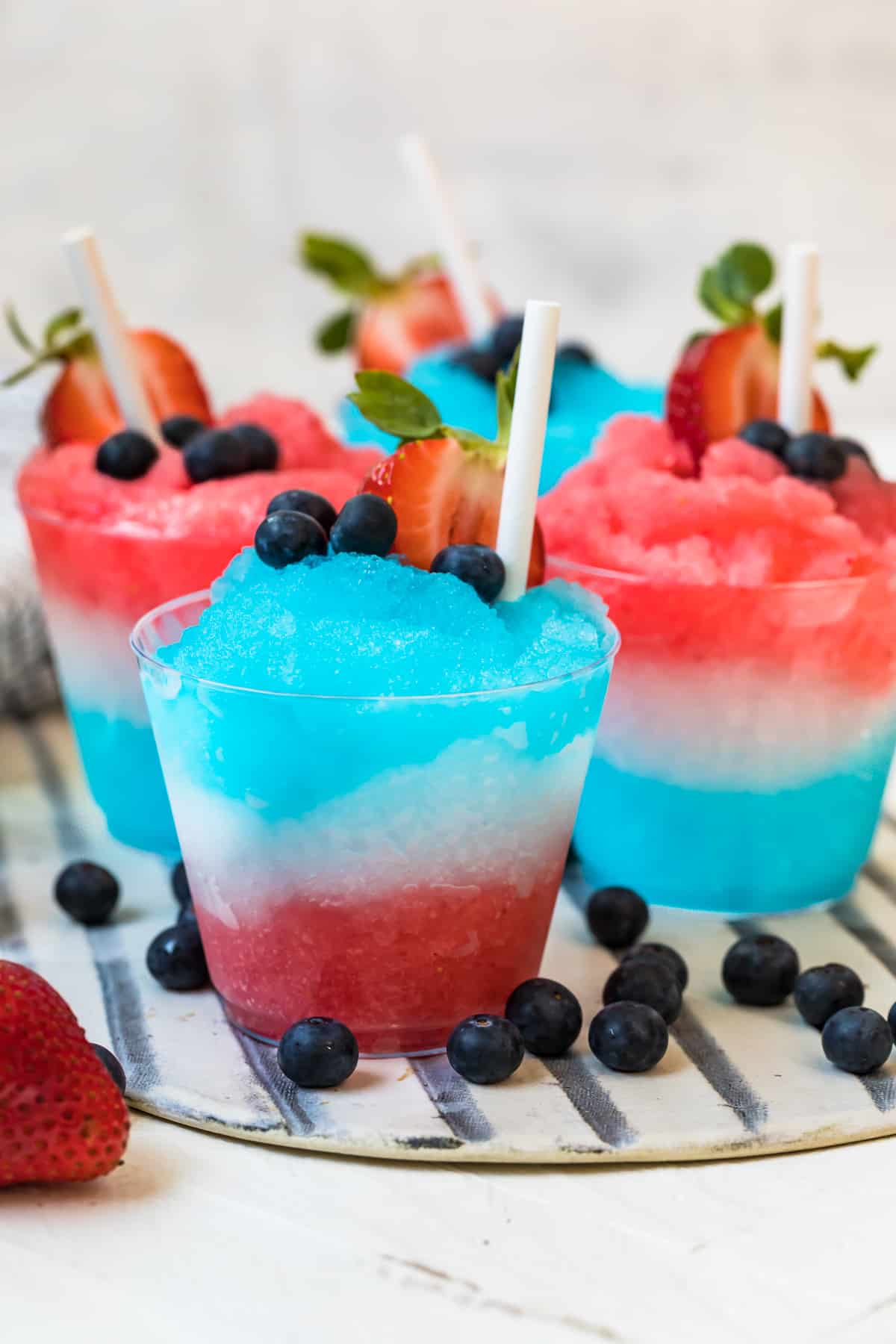 4th of July Margaritas Recipe
Tequila, lime, cointreau and a host of other goodies are blended together to turn these frozen margarita cocktails into a flavor fiesta!
Easy to make and perfect for July 4th partying, you can whip up these Margarita Slushies in no time and enjoy those fireworks!
Why you'll love these Margarita Slushies
The best tequila. El Mayor is my go-to Tequila brand and is simply the best. Great tequila only adds to the delicious taste of your favorite Summer margarita.
The perfect 4th of July Cocktail. Refreshing, boozy and of course red, white and blue! These colorful frozen margaritas are a showstopper.
Easy to make. A quick blend for each layer and you're done!
Frosty and packed with flavor. This summer cocktail has many layers of flavor (3 actually), as you sup through each color coded level you'll have a different flavor hit – and it's all brought together by that smooth El Mayor Tequila! The frozen fruit adds an extra kick!
How to make these Margarita Slushies
You can jump to the recipe card for full ingredients & instructions!
Make the layers. Make each layer of margarita separately by blending all ingredients in a high powered blender (rinsing in between layers).
Layer your glasses. After making each layer, pour into glasses. This will create the red white and blue separated layers.
Garnish and enjoy!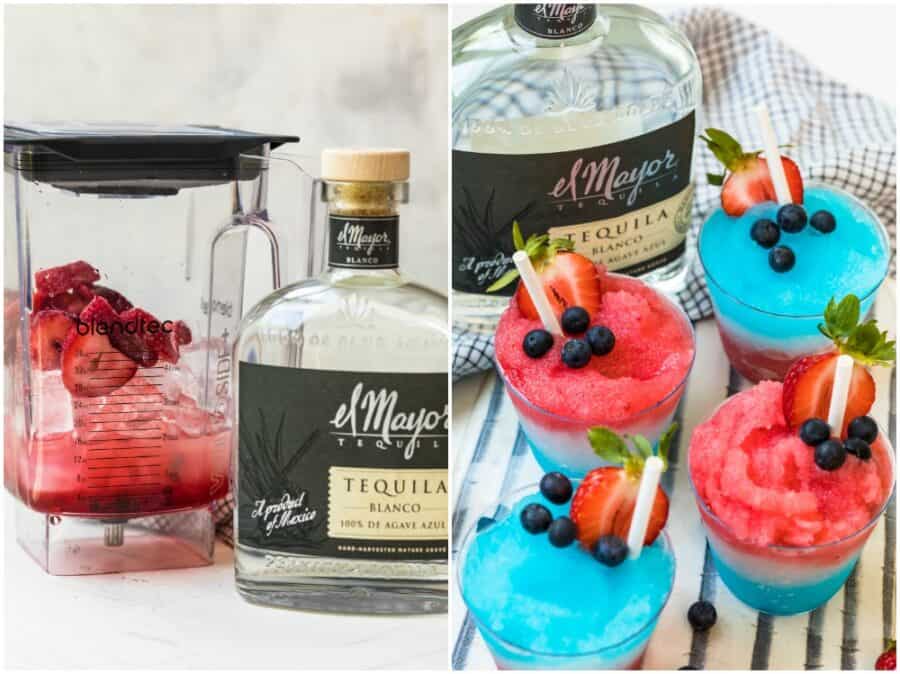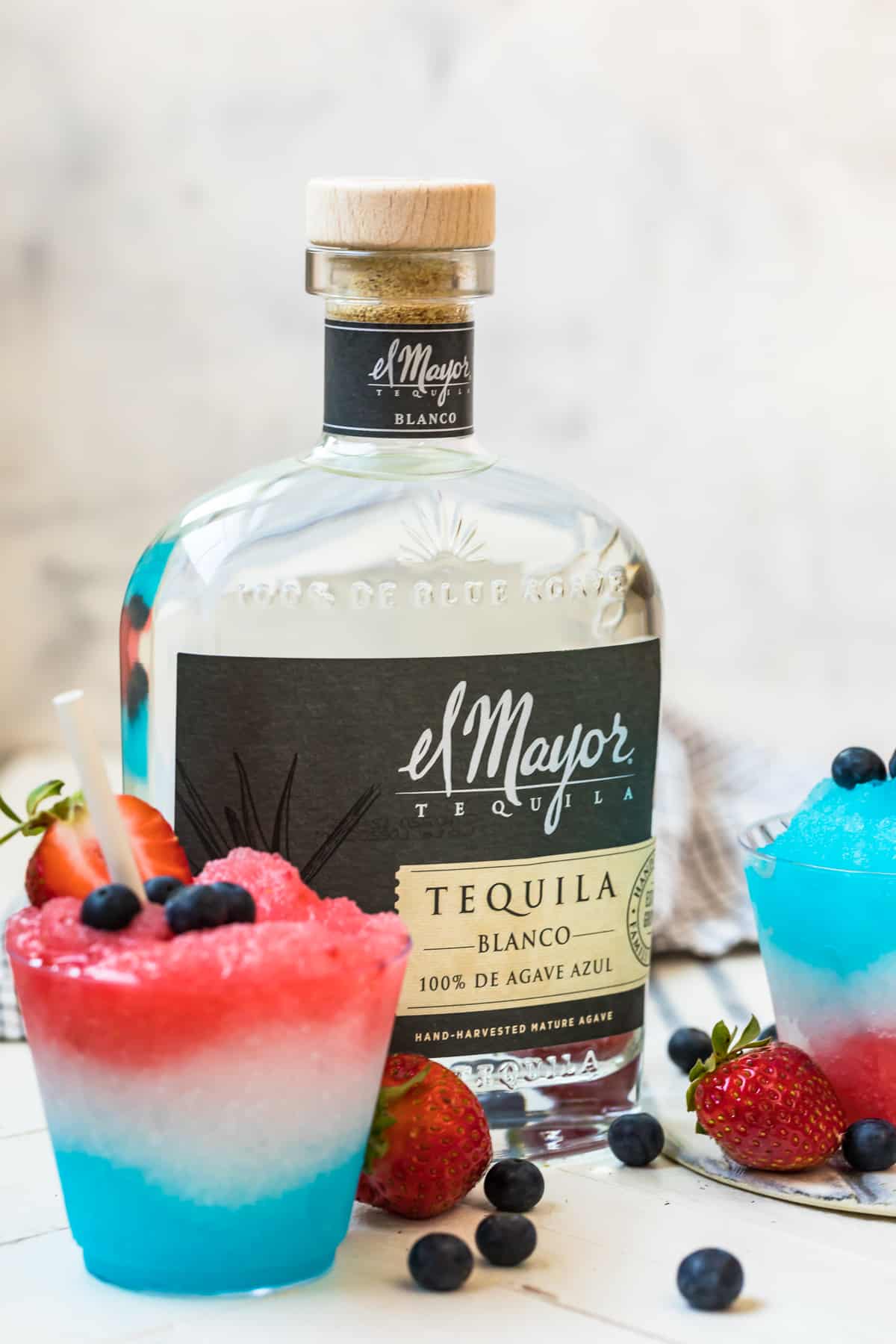 Quality Tequila
There is nothing more important when it comes to the perfect Summer Margarita than quality tequila. You might think you're not a fan of tequila, and if that's the case I bet its because you haven't tasted the good stuff!
I'm so excited to be partnering with El Mayor Tequila. It's made with only the most quality ingredients and comes in several types. For this recipe, we used their Blanco Tequila.
El Mayor Blanco Tequila is made with 100% Blue Agave. It delivers a crisp, light body, with a hint of pepper and a bevy of accolades to match.
It's great in this recipe for its crisp flavor but also its clear nature! We want our Red, White and Blue layers to be as vibrant as possible, so using Blanco tequila is a no brainer.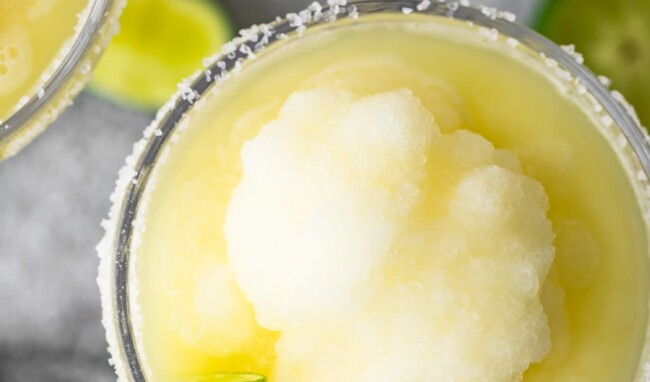 Cheers my Dears
20 Best Margarita Recipes
See our guide for How to Make Margaritas including all our fave go-to recipes.
See Guide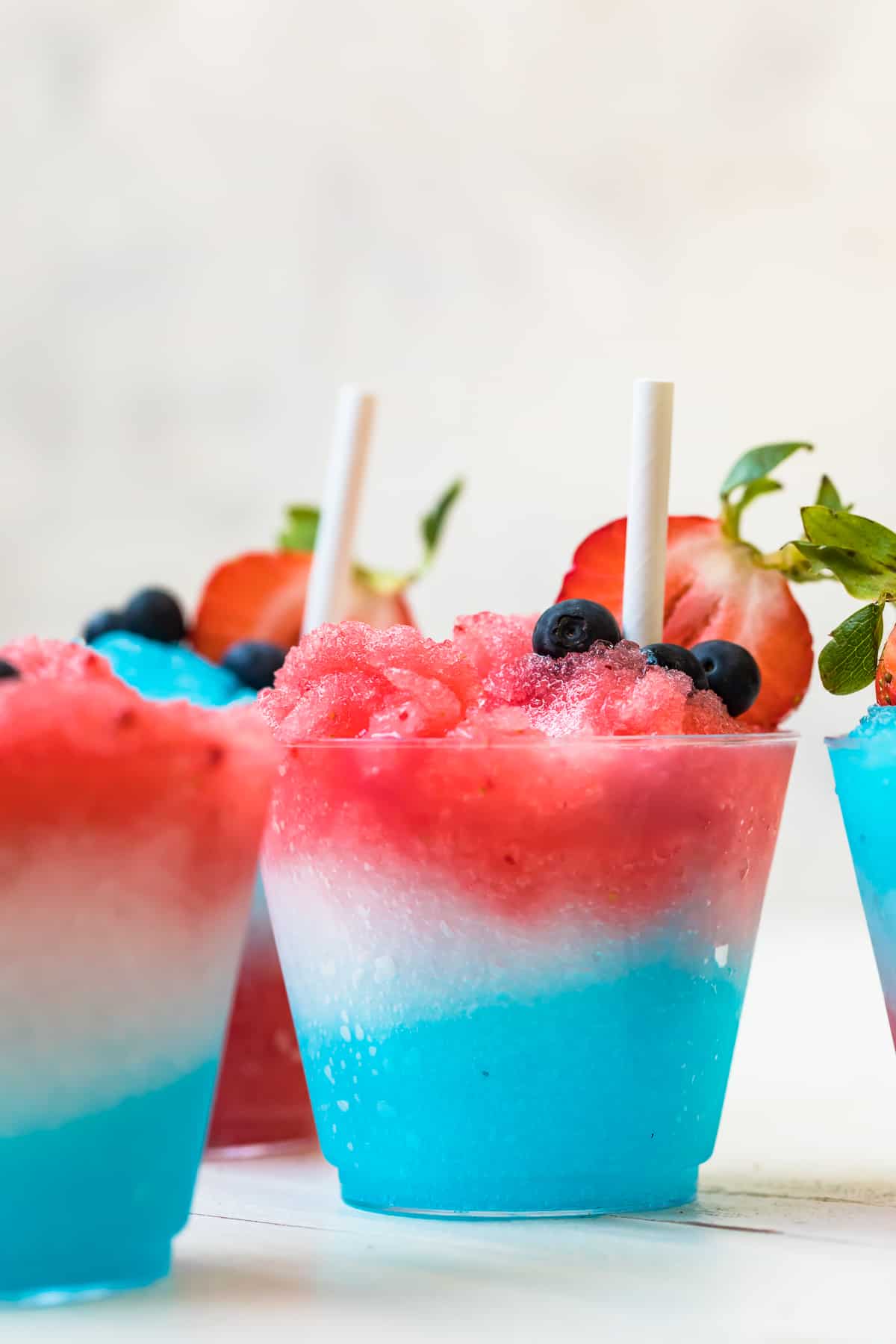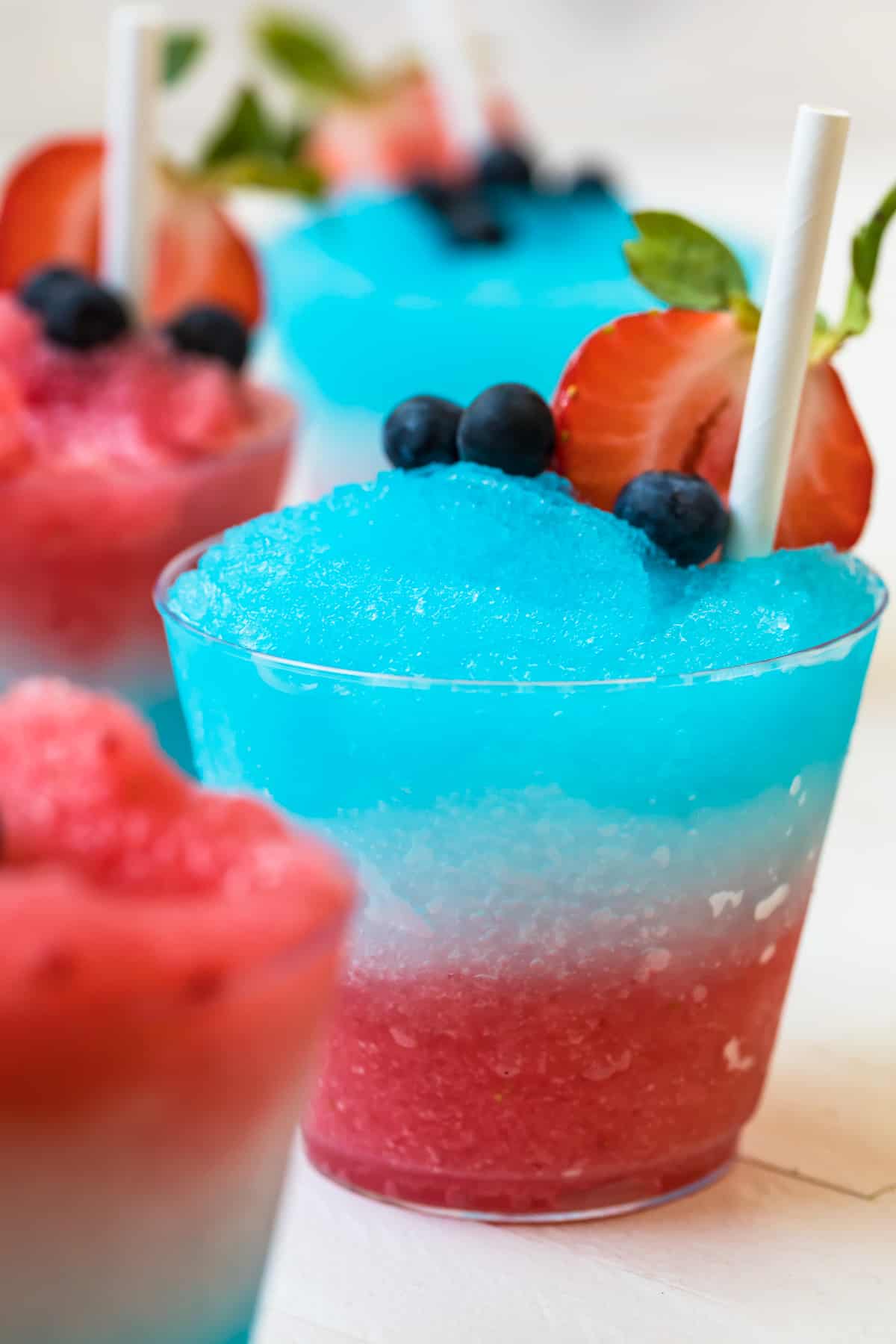 Can you make these Margarita Slushies ahead of time?
You can get your ingredients out and prepped in advance but the Margarita Slushies will be better blended right before serving. if you make them too far ahead of time, the ice will melt and dilute the drink.
How to salt a rim
To finish off these frozen margaritas recipe you can salt the rim of the glass before pouring in your margarita slushy mix. A salty rim works great with the tequila and balances the sweetness of the cocktail perfectly. All you need is lime juice and some coarse sea salt.
Moisten the rim of the glass with a lime wedge, then dip the rim onto a small plate of coarse sea salt and twist. The lime juice will allow the sea salt to stick to the glass.
How strong are Margarita Slushies?
Understandably it depends how much alcohol is used in your frozen margarita recipe. Typically though, margaritas on the rocks taste a little bit stronger because it is not blended with ice. Margarita Slushies have a smoother taste. You can always make your frozen margarita stronger or weaker by adding a splash more or a bit less of tequila.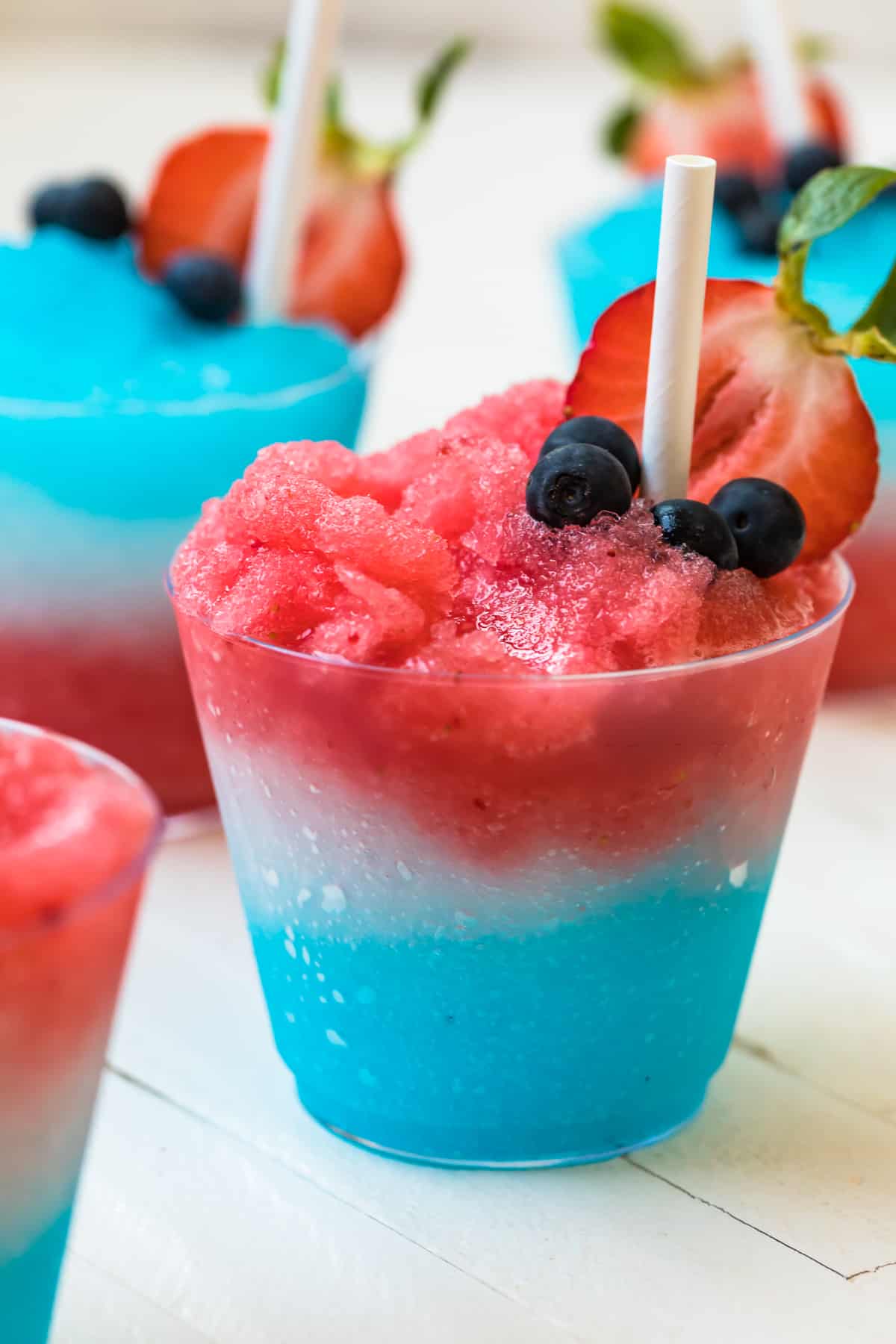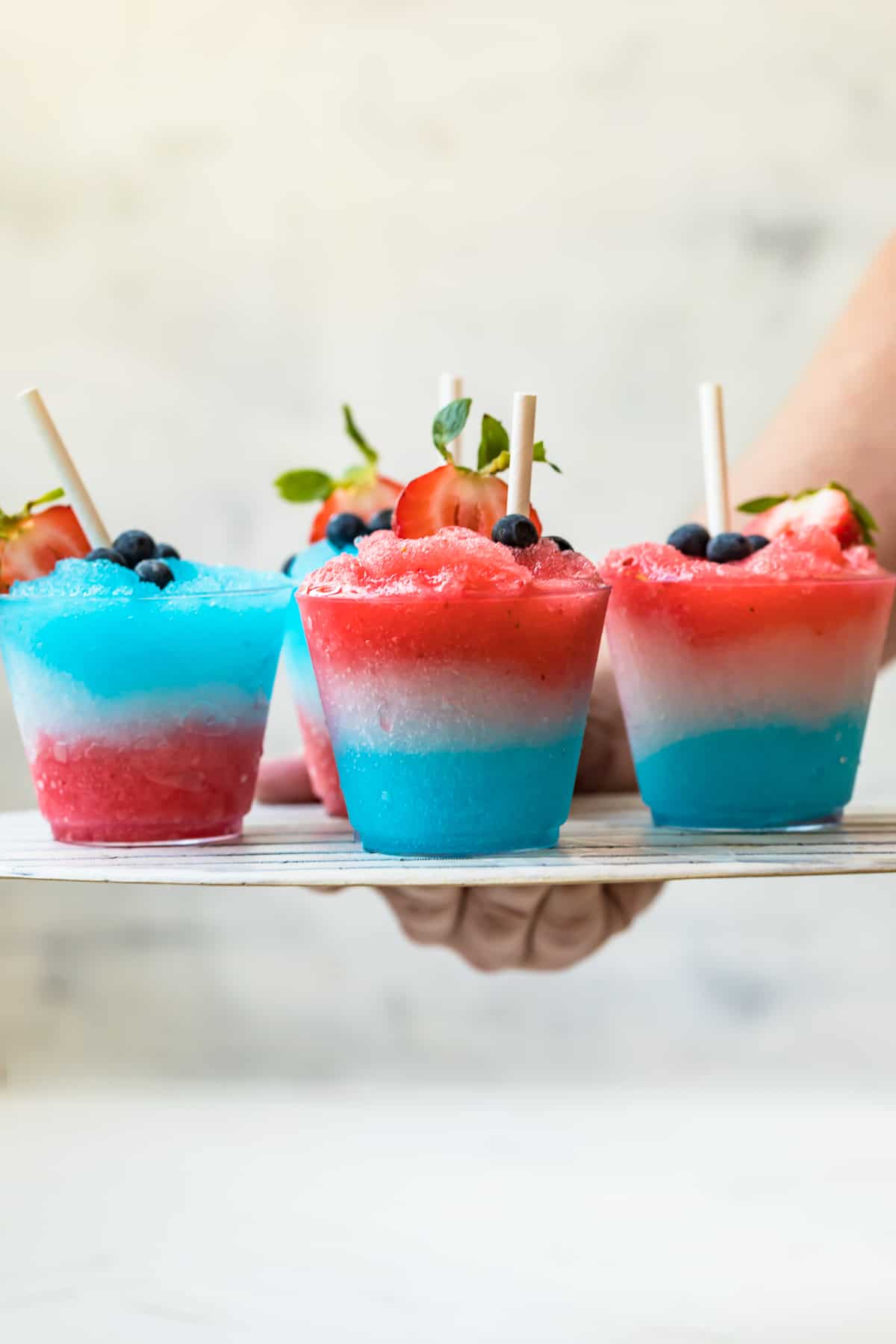 Tips!
Use chilled ingredients. Warm – or even room temp – ingredients will melt your ice quicker, and you'll need to add more ice to get that nice, thick, slushy consistency. This will dilute the flavor. So chill your other ingredients where possible.
Adjust these Margarita Slushies to your tastes. You may want more lime or a it less alcohol etc. depending on you and your guests preferences. Have a taste of ech layer as you blend it, so you can adjust accordingly for the perfect frozen cocktail!
You can adjust the quantity. This recipe serves two but you can multiply the ingredient amounts to serve a bigger crowd.
Used crushed ice. Make your blender's job a bit easier by making your frozen drink with crushed or cracked ice instead of whole cubes. This is especially useful if you have an older, less powerful blender.
Don't overblend. If you leave the blender running for too long you'll end up with a drink that is too thin and runny.
Blend and serve! These cocktails are best served right away, you can prep your glasses ahead of time.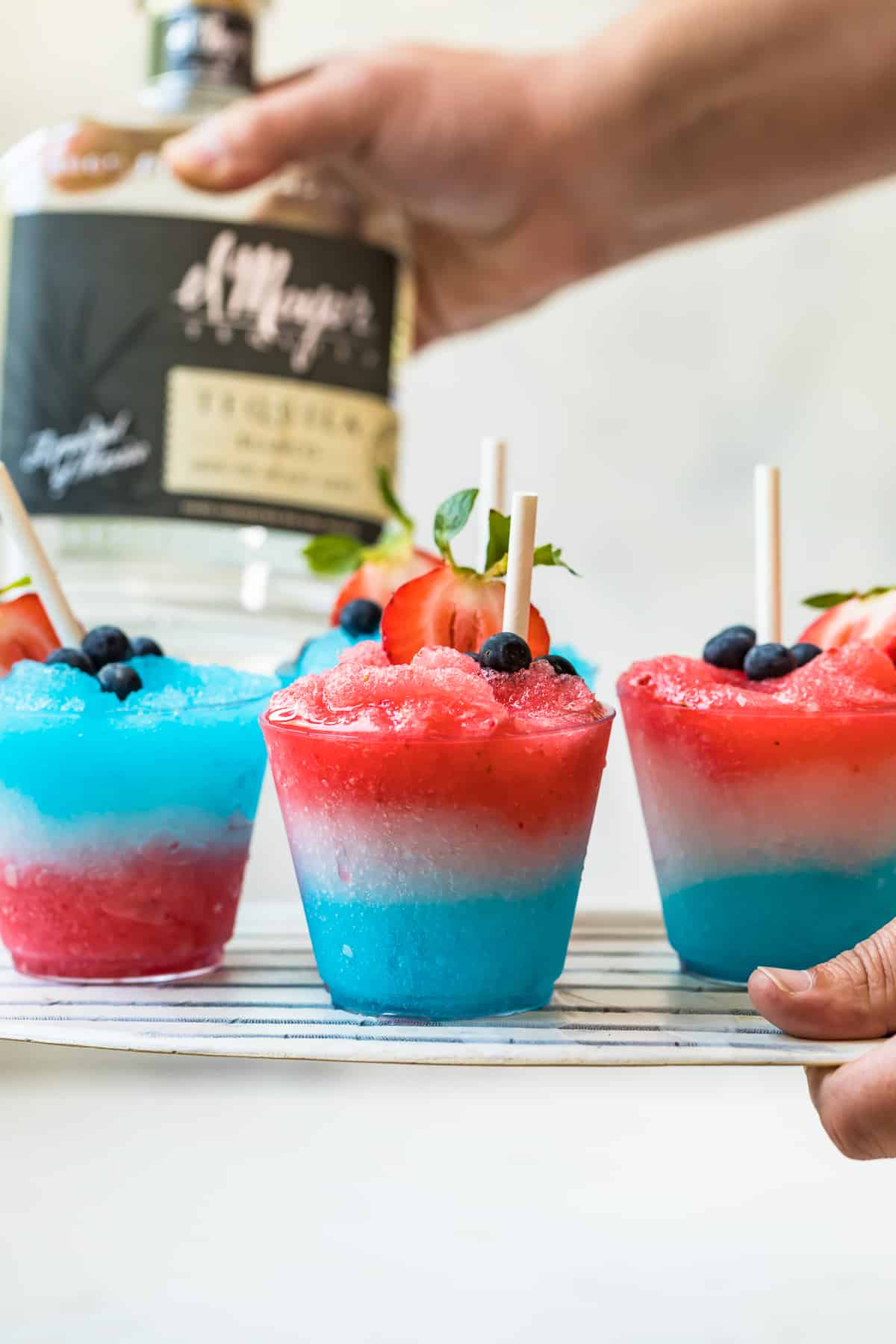 Other refreshing margarita recipes
Have you tried these Margarita Slushies? Feel free to leave a star rating and I'd love to hear from you in the comments below! And try these summer wine slushies for another cool treat.