This light and satisfying Watermelon Salad is perfect for BBQs and hot summer days! Packed with goodies like blueberries, mint, and feta and topped with an easy homemade dressing – divinely delicious!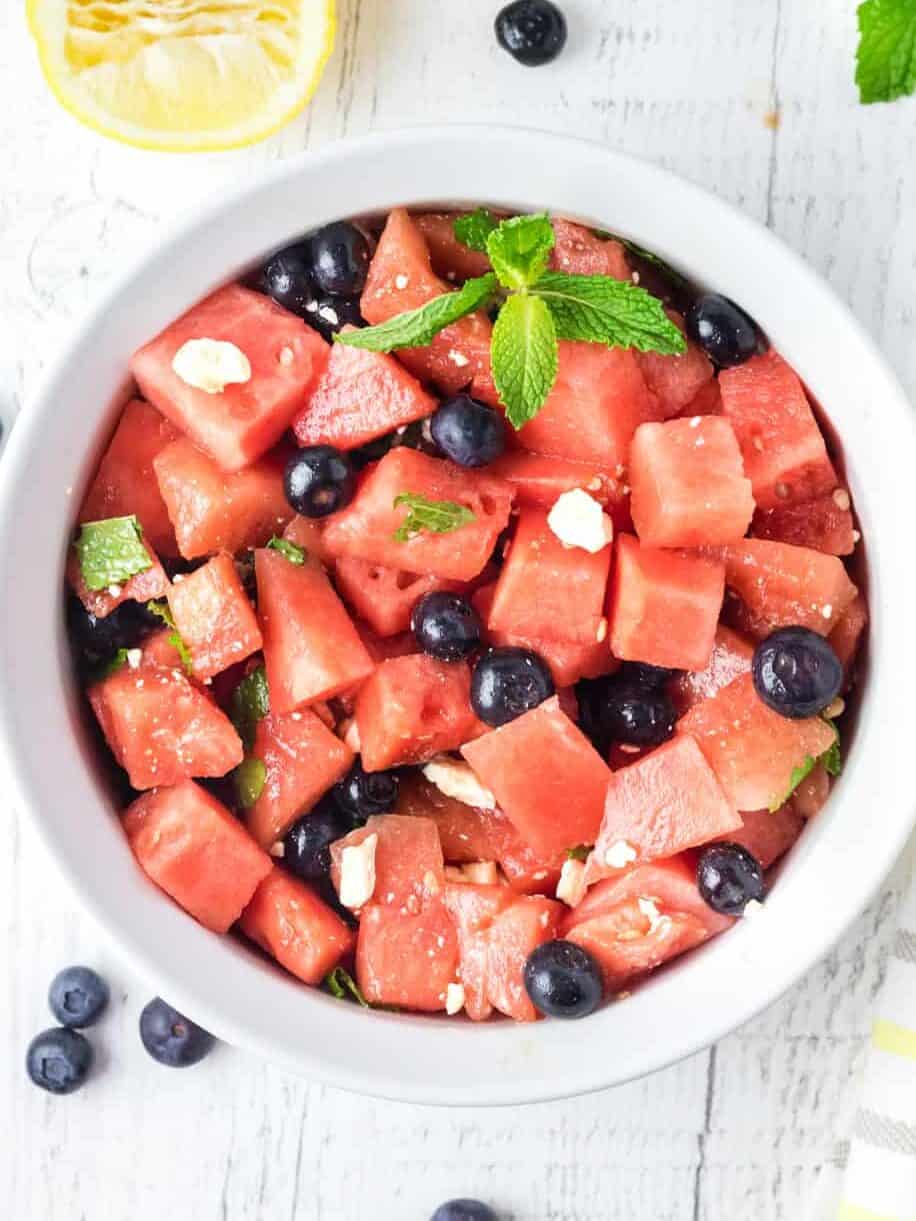 What's in Watermelon Feta Salad?
With its sweet and savory flavors, this watermelon salad is pure joy for the taste buds! Salty feta combines with sweet watermelon, tart blueberries, and refreshing mint to create a gorgeous salad that's an awesome side or lighter main.
Fresh Watermelon: This is the backbone of the salad
Fresh Blueberries: Bursting with sweet, fruity, sour taste
Feta Cheese: A creamy, mild addition that balances out the brightness of the fruit
Fresh Mint: Ripped into small pieces to explode with freshness throughout the dish
Olive Oil: Extra virgin preferred
Balsamic Vinegar: Gives a punch of acidic taste that brings out the watermelon and blueberries
Lemon Juice: Fresh-squeezed is the best option for a light, citrusy flavor!
Watermelon Salad Variations
There are so many easy ways to change up this summer salad to suit your tastes. Try swapping the mint for basil and the feta for mozzarella pearls for a caprese watermelon salad.
You could also swap the blueberries for a different berry, such as raspberries, cut strawberries, or pomegranate seeds. Add a pinch of salt to the cubed watermelon before adding it to the salad to amp up its natural sweetness!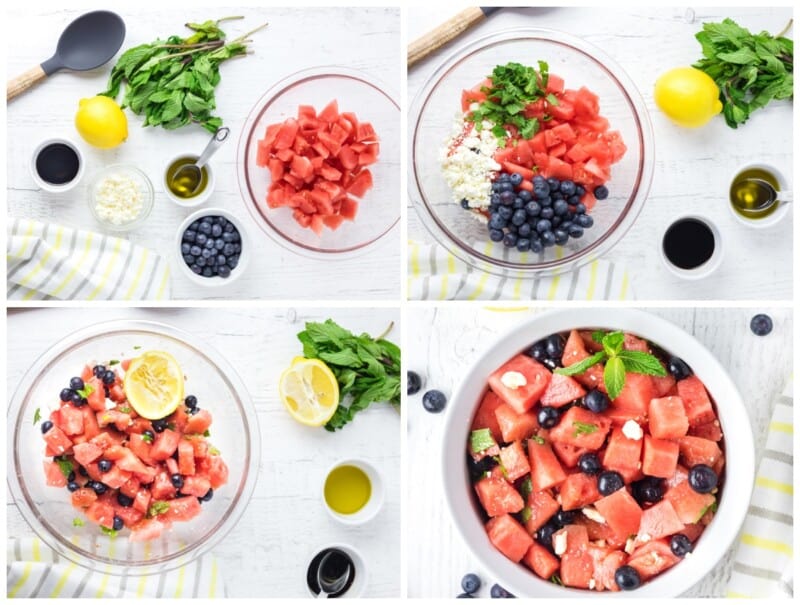 Is watermelon salad still good without the dressing?
This watermelon salad is delicious with or without the dressing, but I really feel that the dressing ties all the flavors together!
What type of cheese pairs best with watermelon salad?
Feta is most commonly paired with watermelon due to its salty, briny taste. This is a nice contrast to the sweetness of the watermelon. You could also use goat cheese or cotija. For a milder pairing, try using fresh mozzarella pearls.
What can I use instead of mint in watermelon salad?
If you're not a fan of mint, I think basil is the next best herb for watermelon salad.
What should I do if my watermelon is flavorless?
It happens to all of us — you bite into a slice of watermelon and it tastes like… water. The good news is, you don't have to toss that tasteless watermelon. You can easily enhance the flavor by adding a little bit of salt and/or fresh lime juice. For a spicy kick, try adding some chili lime seasoning!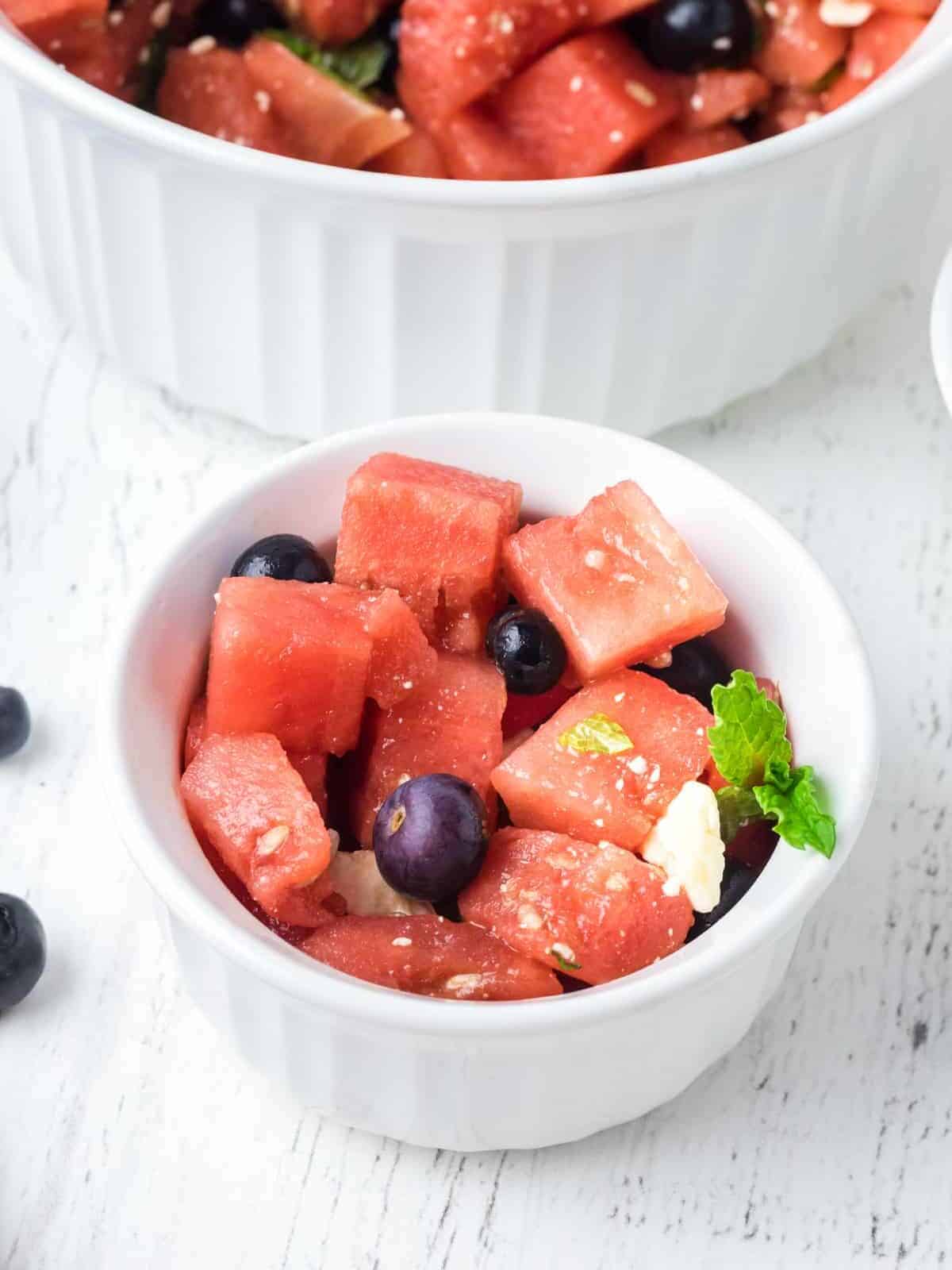 Can I make watermelon salad ahead of time?
You can make this salad up to 2 days in advance of serving. See below on how to store it properly to ensure you will have the best flavor!
How to Store Watermelon Salad
If you make this watermelon feta salad ahead of time or have leftovers, you can store it in an airtight container in the fridge. For maximum freshness, I recommend waiting to add the mint and feta until right before serving.
What to Serve with Watermelon Feta Salad
Great as a summer side, you can pair this delicious salad with a whole host of mains, including crockpot Buffalo wings, crockpot ribs, grilled flank steak with cilantro lime butter, or baked BBQ chicken. Such a refreshing salad, it's great as a light side to cut through the richness of your classic BBQ dishes.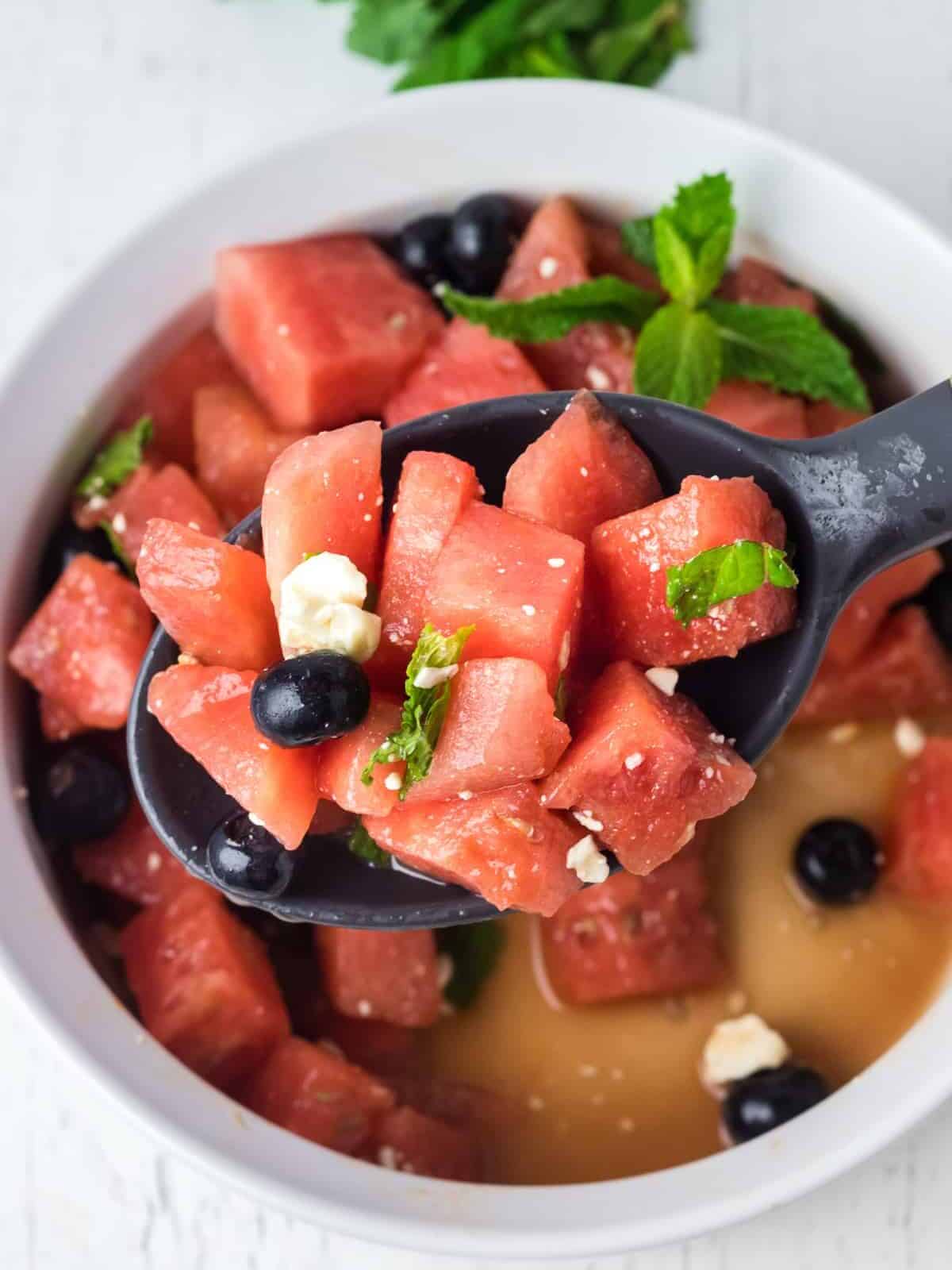 This watermelon salad is not only super refreshing but utterly delicious! A simple homemade balsamic dressing anoints the salad, giving this easy salad a perfectly balanced sweet and savory flavor. It's a healthy side that's also gluten-free, perfect for summer gatherings!