What better way to celebrate Independence Day than with an adorable and portable Mason Jar Salad? This 4th of July Salad with strawberries, blueberries, and feta is a fun way to celebrate Summer while staying healthy.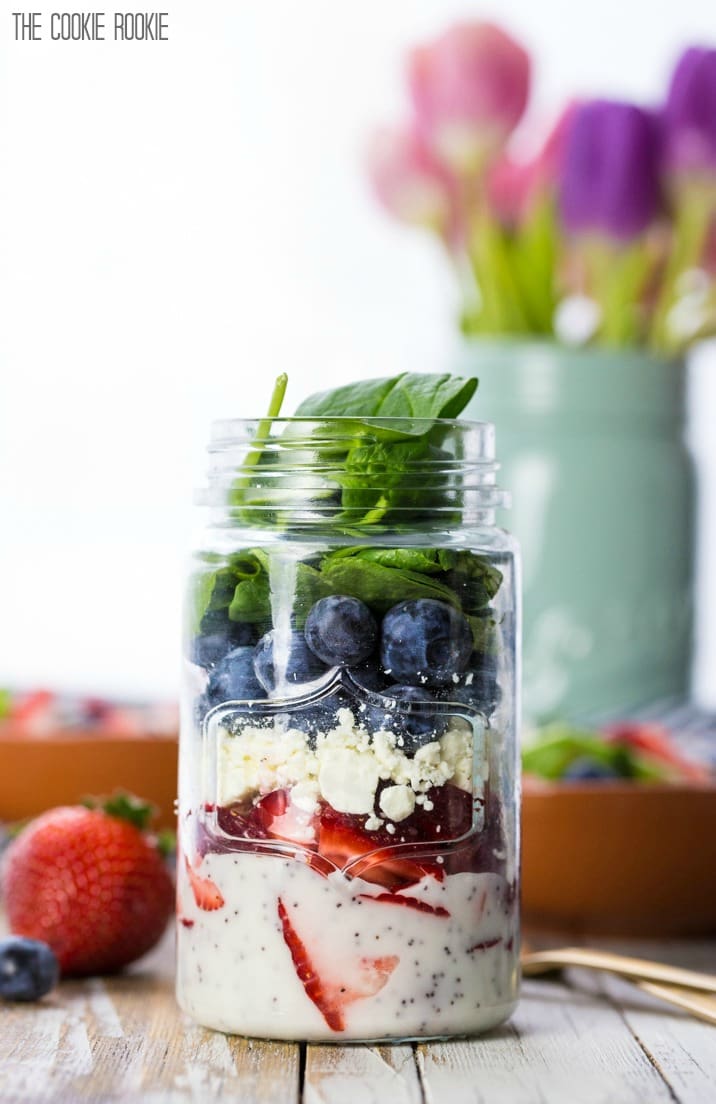 What's in this Mason Jar Salad Recipe?
When someone (who is clearly a genius) came up with mason jar salads, I bet they were pretty pleased with themselves. Portable, adorable, and delicious– I think I'm in love! This fun and festive 4th of July salad is the perfect appetizer for your celebration!
Poppy Seed Dressing: This is my favorite dressing for this type of salad!
Strawberries: Add a festive red element and a wonderful fruity flavor to this salad.
Feta Cheese: The perfect white element that's creamy and tangy to offset all that wonderful sweet fruit.
Blueberries: These give us the blue element for this salad.
Spring Mix Lettuce: I love a good mix of greens in my salads, but feel free to choose your favorite blend!
Pro Tip: Make sure the salad dressing goes on the bottom so your lettuce doesn't get soggy!
Variations on Salad in a Mason Jar
This method for making salads is so fun, easy, and endlessly adaptable. So start with your favorite dressing (ranch is calling my name!), stack up your favorite toppings (fresh veggies, grilled chicken, cheese, candied nuts… go crazy!), and enjoy!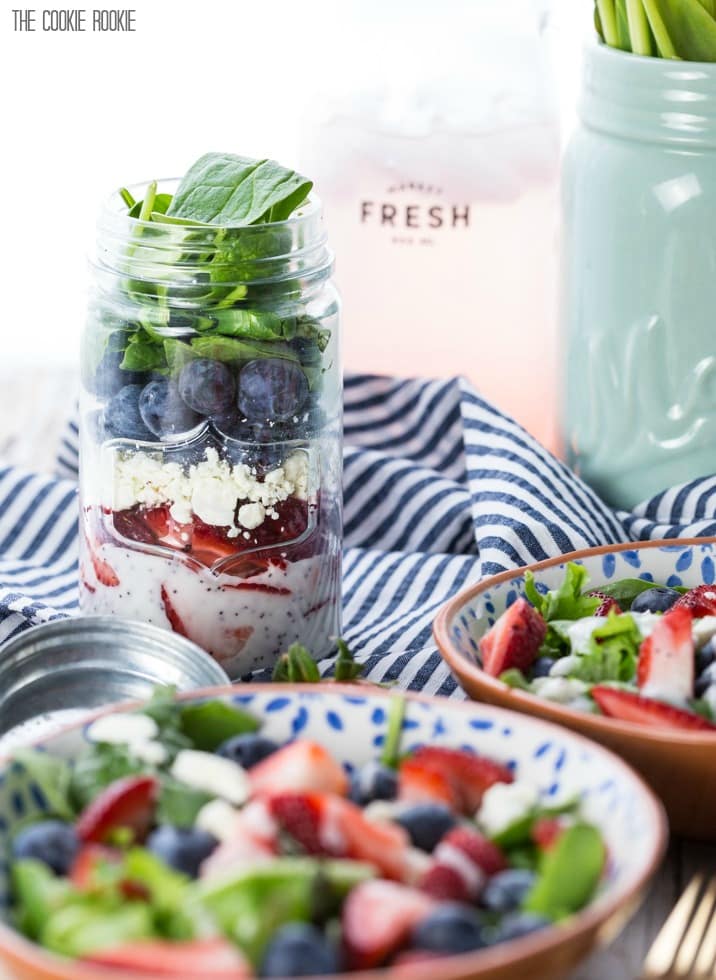 How do you seal a Mason jar salad?
The best thing about this salad is that it's easy to seal and save! Just screw on the lid and pop it in the fridge! If you don't have a lid handy, you can also place some plastic wrap on top and secure it with a rubber band.
Does salad last longer in glass jars?
When layered like this, it does! Separating the dressing from the greens especially helps to preserve their freshness!
How do you eat a mason jar salad?
Simply shake up the salad (with the lid on, of course!) and eat it right from the jar or dump it into a bowl.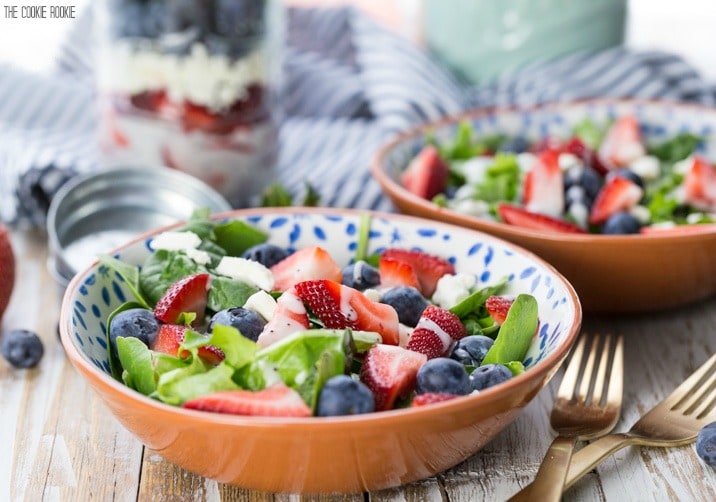 How to Store
Store leftover mason jar salad in the original (unshaken) jar in the refrigerator for up to 5 days. Shake well before enjoying.
Serving Suggestions
Serve this fun and festive 4th of July salad at your BBQ alongside classics, like grilled hot dogs, juicy grilled burgers, grilled corn on the cob, and macaroni salad. Finish the night with some red, white, and blue popsicles, triple berry tiramisu, or double berry crisp!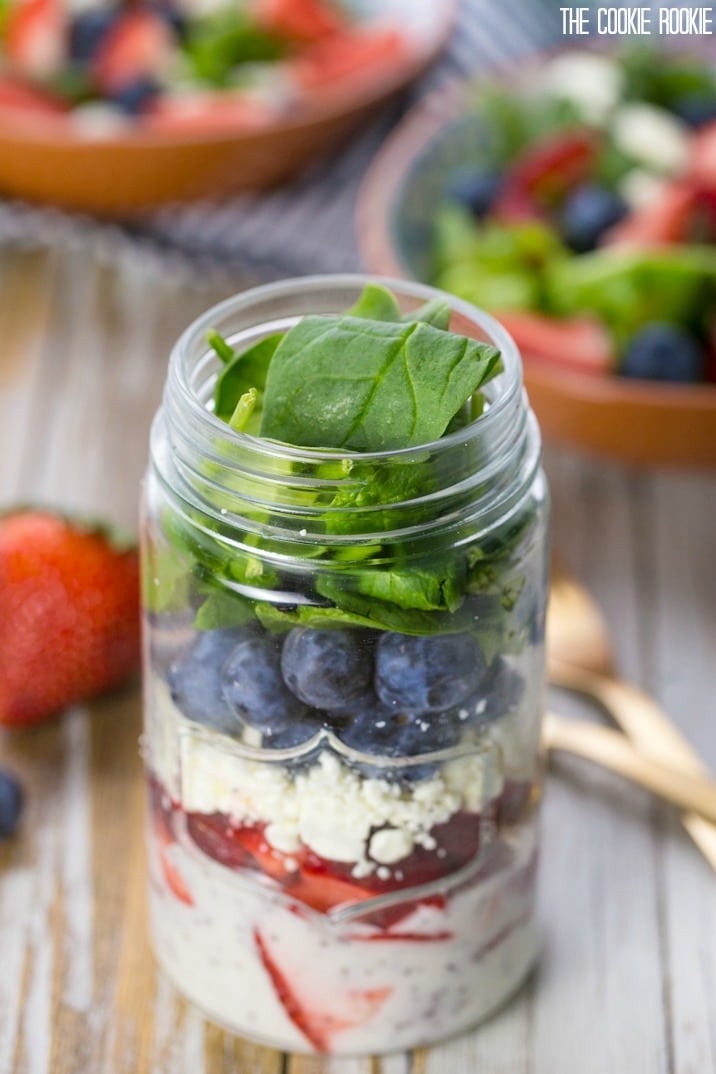 5-Star Review
"I love the taste of the strawberries and blueberries with the poppy seed dressing!" – Victoria
More Fruity Salad Recipes We Love