NUTELLA STUFFED SNOWBALL COOKIES take a classic pecan snowball cookie and kick it up a notch. You better make a double batch of this snowball cookies recipe, because this favorite Christmas cookie disappears quickly.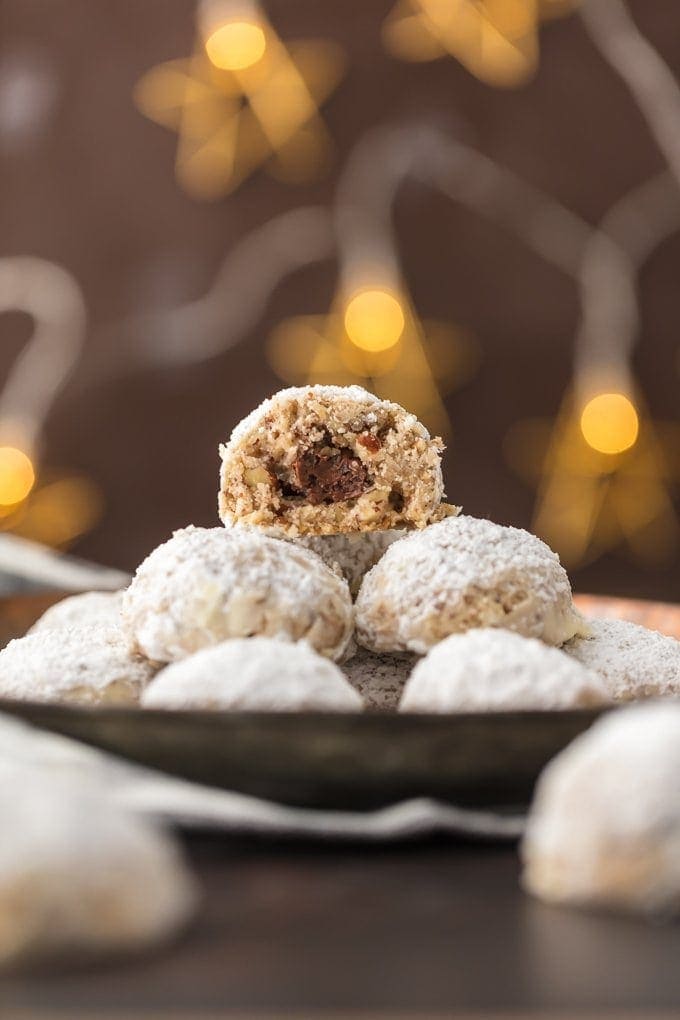 Christmas baking season for us started yesterday when I posted our Chocolate Gooey Butter Cake Cookies recipe! We have so much more in store for you, and I cannot wait to post them all. These NUTELLA STUFFED SNOWBALL COOKIES are at the top of our list this year, and for good reason.
Pecan Snowballs are a serious holiday favorite, every family has a tried and true recipe up their sleeve. We kicked things up a notch by adding a dollop of Nutella right to the middle, and in my opinion, these are extra crave worthy because of it. 
Baking Nutella Stuffed Snowball Cookies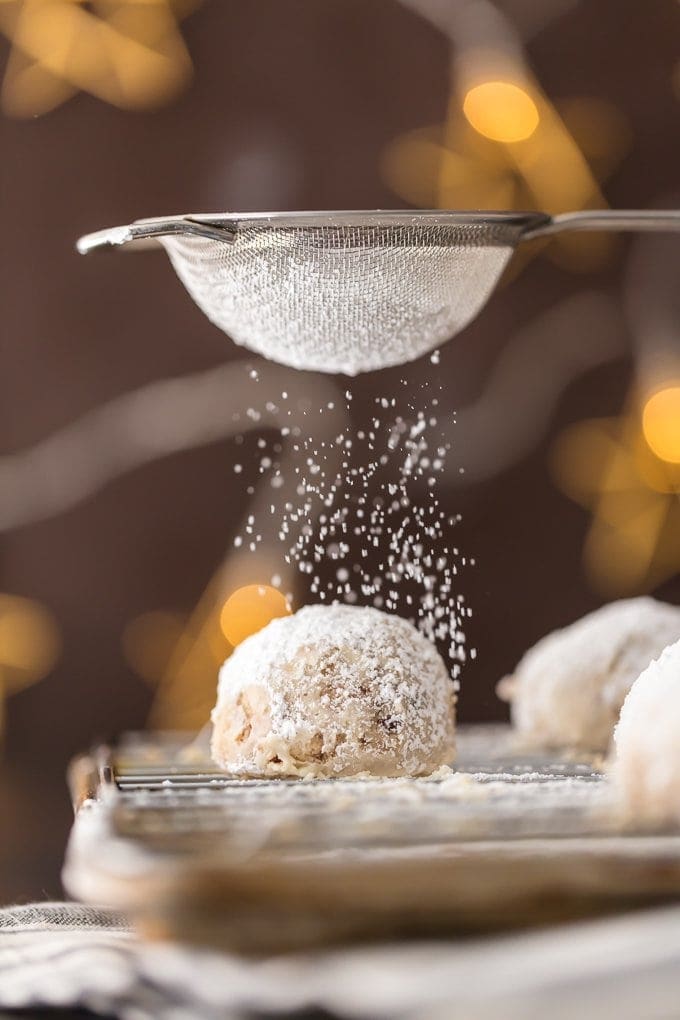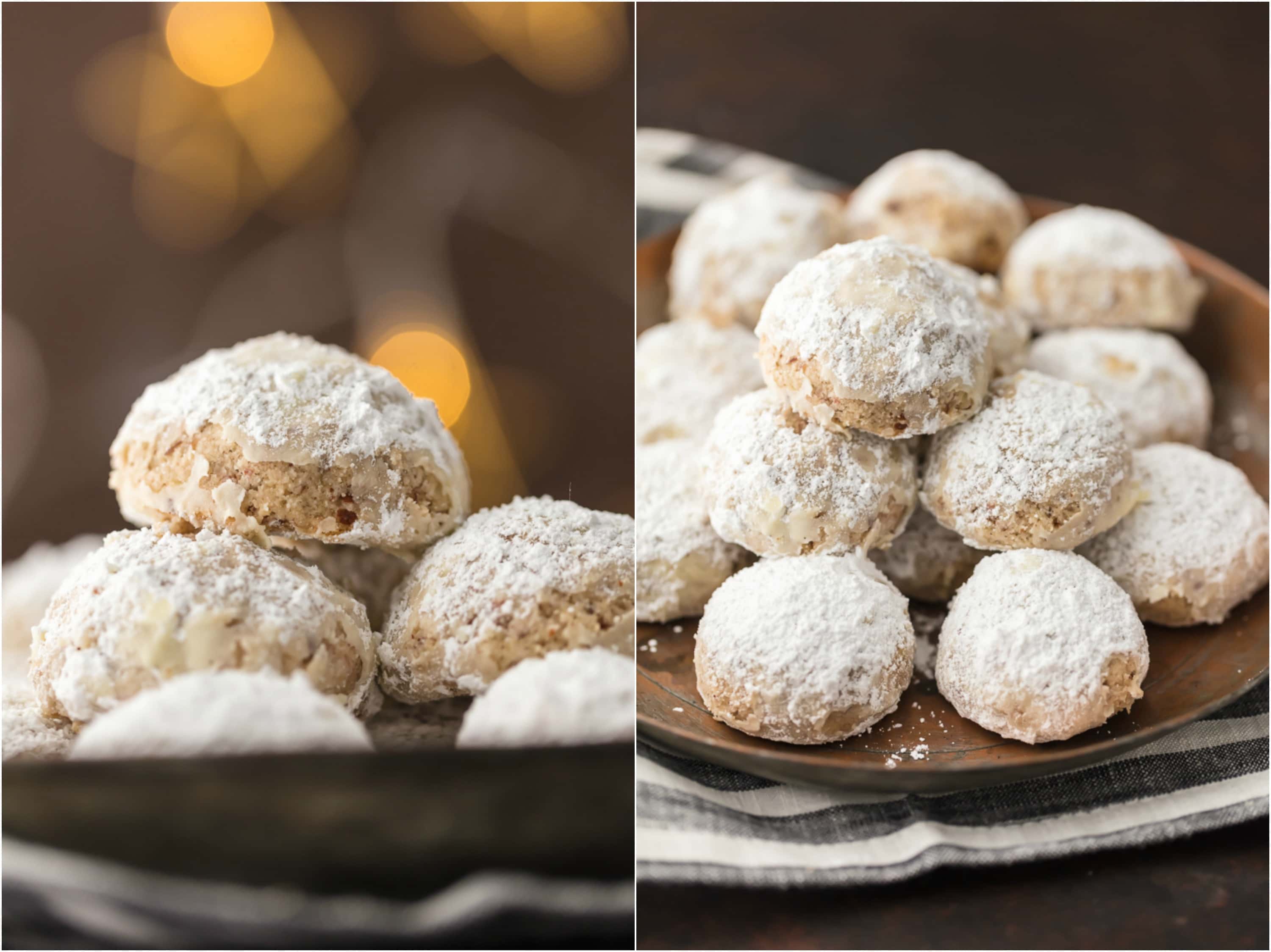 I had a pretty hard time making these snowball cookies, because I was so tempted to just eat the Nutella as we went. When you're making them, you freeze little drops of the chocolatey good stuff and it's so hard not to pop them like candy. BUT PUSH THROUGH! It will be worth it when these are hot and toasty out of the oven. These snowball cookies are sure to be a total hit at any Christmas cookie exchange. But don't expect to take any home, they will all be gone in minutes. That's what happens when you add Nutella to pecan snowballs cookies.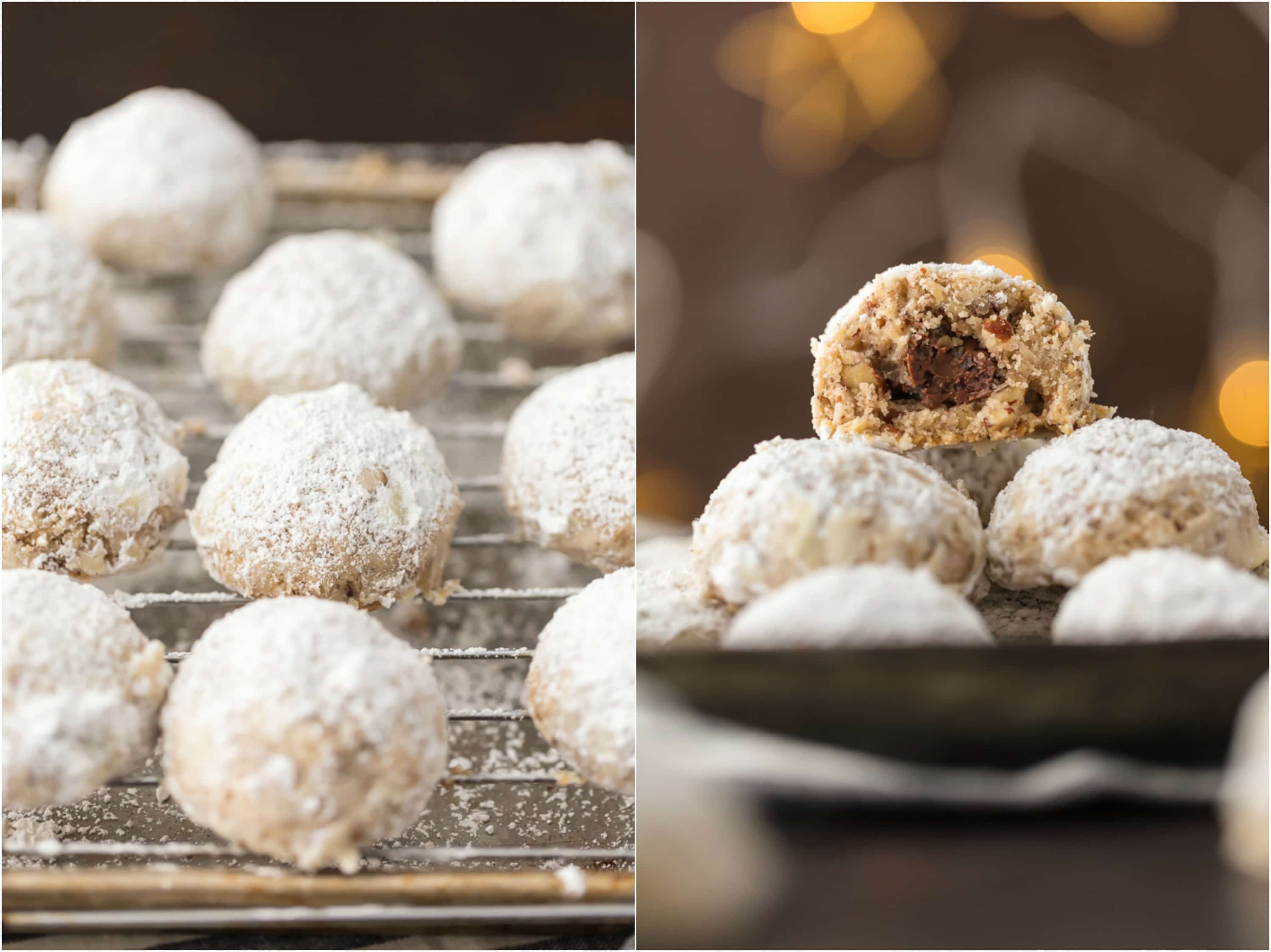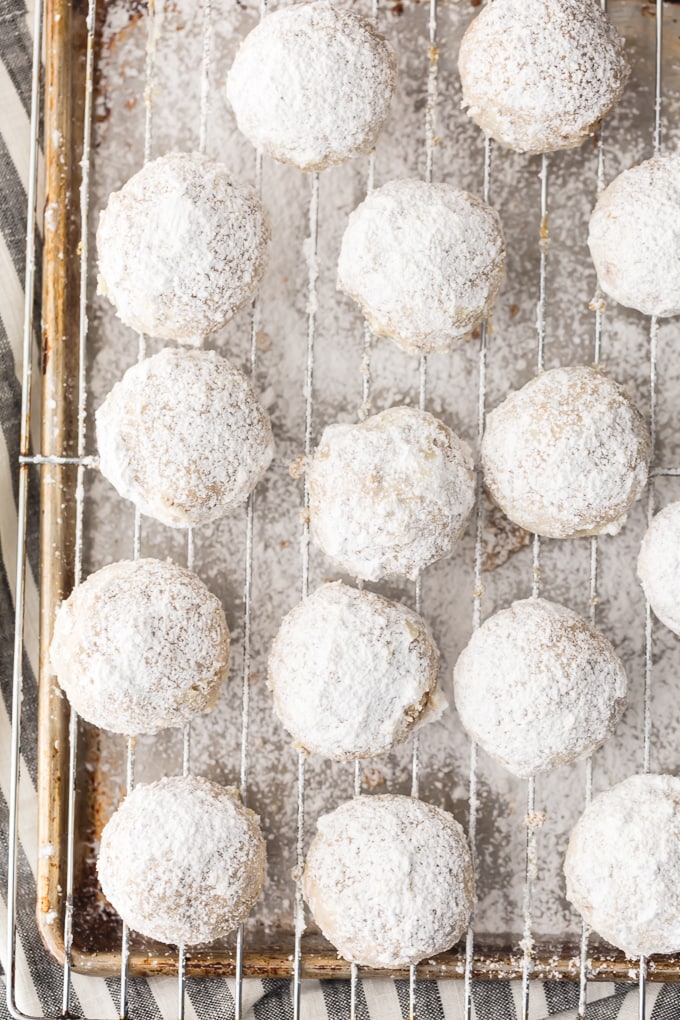 We have a lot of favorite cookie recipes for Christmas, but these are quickly racing to the top of our list. They're just too cute and unique to leave off your baking calendar. Plus if you make them small enough, you can eat a bunch and not feel as bad. No, just me?! The holiday as not a time to count calories. Just enjoy yourself and worry about it all in January. No harm no foul!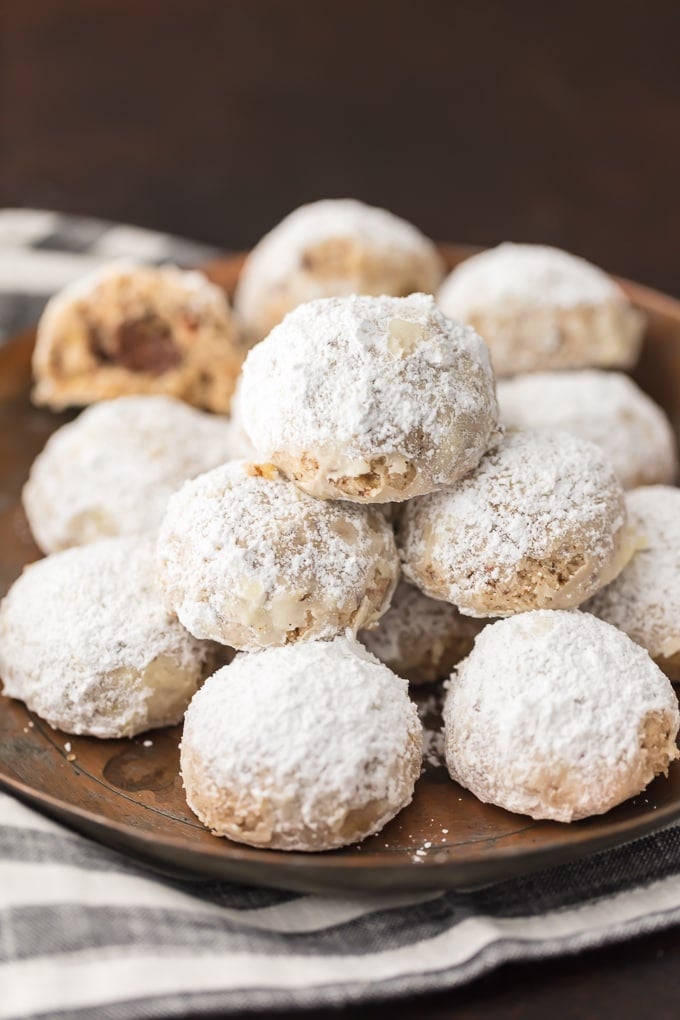 Merry Christmas!!!
Enjoy :)
Nutella Stuffed Snowball Cookies Recipe:
Nutella Stuffed Snowball Cookies
1 hrPrep Time
12 minCook Time
1 hr, 12 Total Time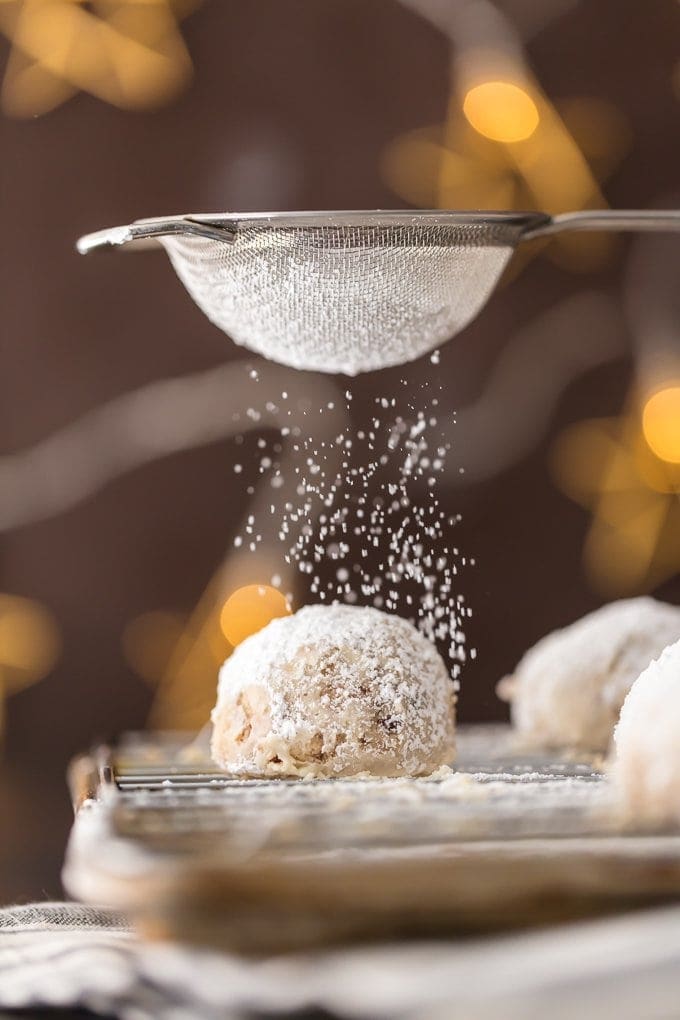 5 based on 1 review(s)
Ingredients
¼-½ cup Nutella, frozen into ½ teaspoon portions
¾ cup very finely chopped or ground pecans
8½ tablespoons unsalted butter, room temperature, cubed
1½ cup powdered sugar, divided into ½ cup and 1 cup portions
½ teaspoon vanilla extract
¼ teaspoon salt
1¼ cups all-purpose flour
Instructions
Line two baking sheets with parchment paper.
Spray another baking tray or dish with nonstick spray. Divide the Nutella into ½ teaspoon-sized balls and place the balls on the prepared baking tray/dish. Be sure they aren't touching. Freeze at least 30 minutes.
If available, process the pecans in a food processor until fine. Don't process too much or the nuts will turn oily. Set aside. (If a food processor isn't available, place the pecans in a resealable bag and roll or pound until the nuts are finely chopped.)
In the bowl of an electric mixer, place the butter and ½ cup powdered sugar. Beat on medium-high speed until the mixture is light. Add in the vanilla extract, salt and ground pecans.
Add the flour and mix on low speed until the flour has been incorporated. Roll the dough onto a clean work surface and knead gently for 30 seconds. Form the dough into a ball, cover loosely with plastic wrap, press gently to flatten into a disk and place in the fridge for 30 minutes to firm up.
Preheat oven to 375°F.
Remove the Nutella balls and cookie dough from the fridge. (If the Nutella balls start to soften, place them in the freezer for a few minutes.) Pinch off a 2" piece of the dough and divide it in half. Slightly flatten one half in the palm of your hand and place a nutella ball in the middle of the dough. Top it with the other dough half and wrap the two sides together around the Nutella ball. Gently roll the cookie in your hands to seal the edges and to form a ball. Place the cookie ball on a parchment-lined cookie sheet, 2-inches apart, and repeat until all cookies are made.
Place the trays of cookies in the fridge for 30 minutes.
After 30 minutes, place the cookies in the hot oven and bake 14-16 minutes or until they are light golden brown and firm to the touch. Remove from the oven and let rest 3 minutes on the baking sheet.
Place ½ cup powdered sugar in a bowl and roll the warm cookies, one-at-a-time, in the sugar. Return them to the still-hot baking sheet to cool another 5 minutes. Roll the cookies with a second coating of powdered sugar. Allow to completely dry.
If a third coat of powdered sugar is desired, place powdered sugar in a small wire sieve and sprinkle it over the cookies.
Enjoy!
Note: These keep well up to 7 days in an airtight container. They also freeze well up to one month (after baking). Another coating of powdered sugar might be needed for appearance. They are also delicious eaten frozen.
7.6.7
2491
https://www.thecookierookie.com/nutella-stuffed-snowball-cookies/