These EASY Christmas Cookies are so much fun to bake! I've gathered some of my best Christmas Cookie ideas to help you celebrate the season. So pick your favorite Holiday Cookie Recipes, gather your ingredients, and enjoy these holiday cookies!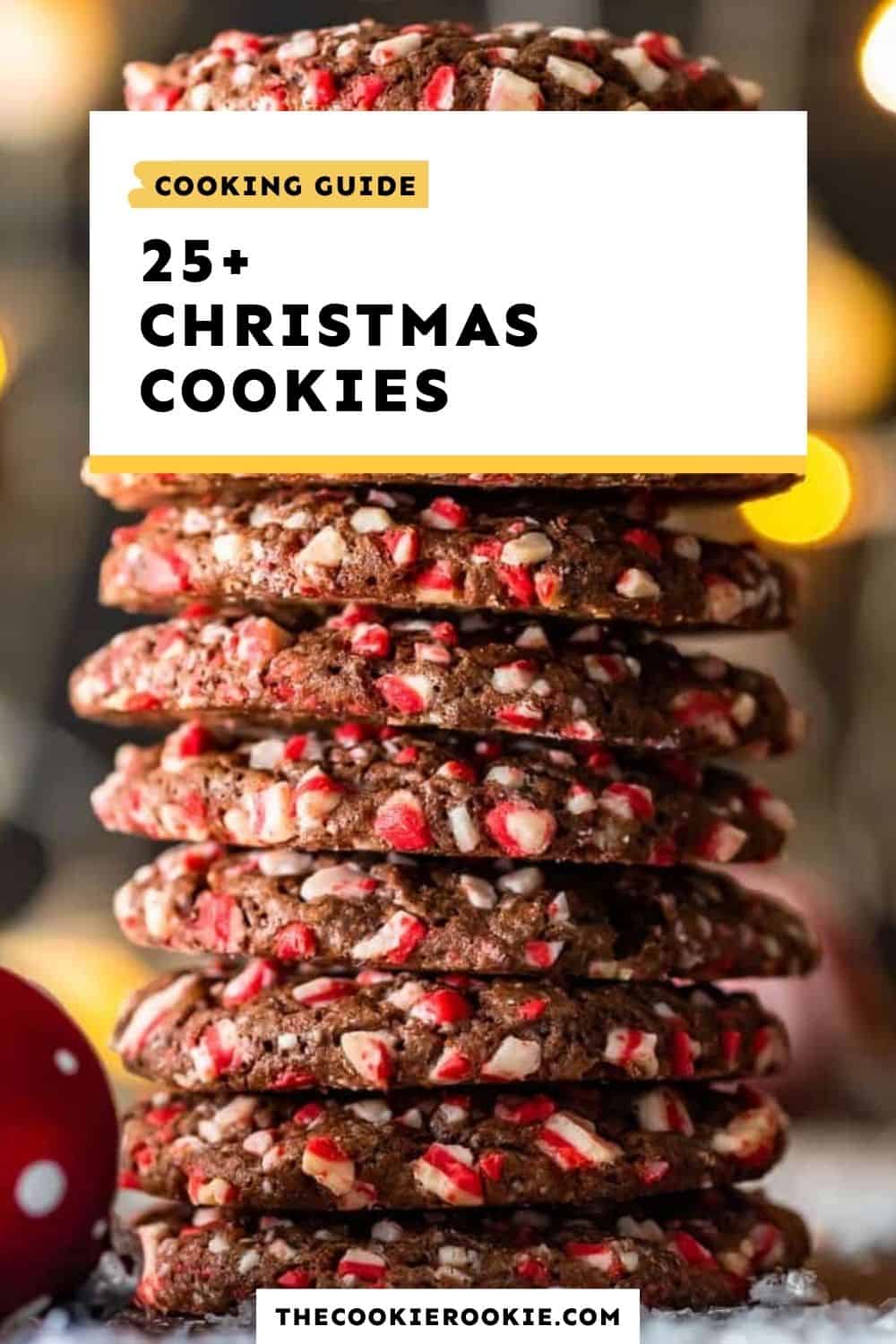 Christmas Cookies
I can't believe Christmas is already on its way! It always seems to sneak up on me, even though I'm planning for it months in advance. There are a lot of great things about this holiday, but if I'm honest, Christmas Cookies might be my FAVORITE part. It's so much fun to bake with the family this time of year…and it's even more fun to indulge in the holiday cookies once they're done!
Whether you're baking some cookies for a Christmas party, for Christmas gifts, for a holiday cookie exchange, for Santa, or for you and your family to enjoy as a Christmas dessert, everyone needs an easy Christmas cookie recipe (or two or three).
Best Holiday Cookie Recipes
I'm rounding up ALL of the easy Christmas cookies I've made over the past few years. Yes, EASY. Because baking is only fun as long as it's simple, right?
From the more traditional Christmas cookies to the more unique ones, I've got them all.
You'll find chocolate cookies, sugar cookies, snowball cookies, and even some gluten-free cookies.
With 25 of the best Christmas cookie ideas, you're sure to find at least a few that you love. So pick your favorite recipe, gather the family, and start baking!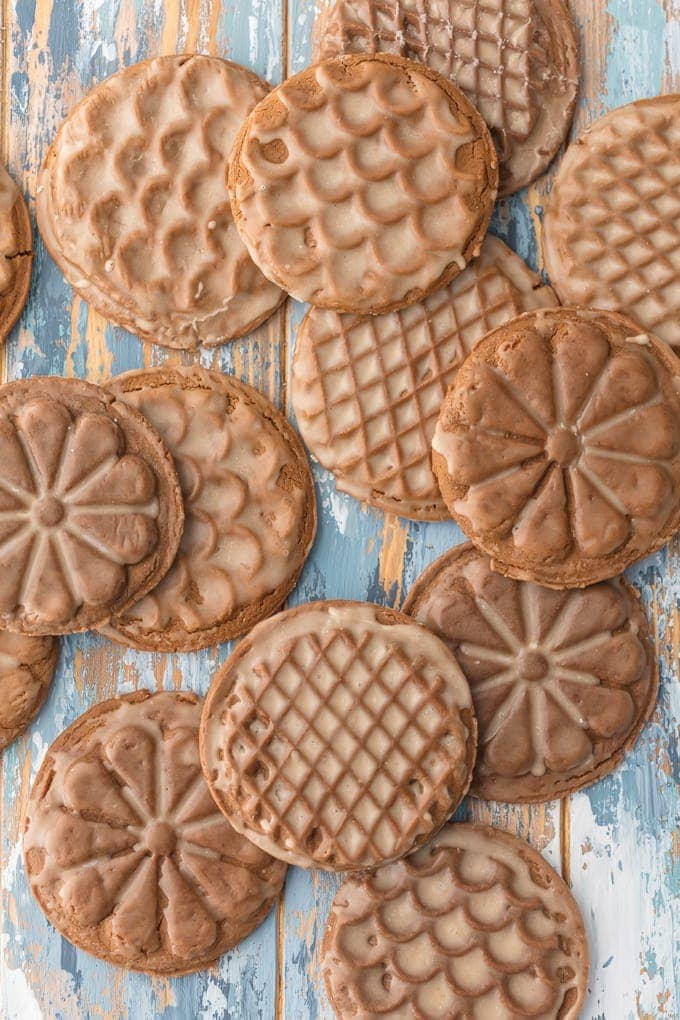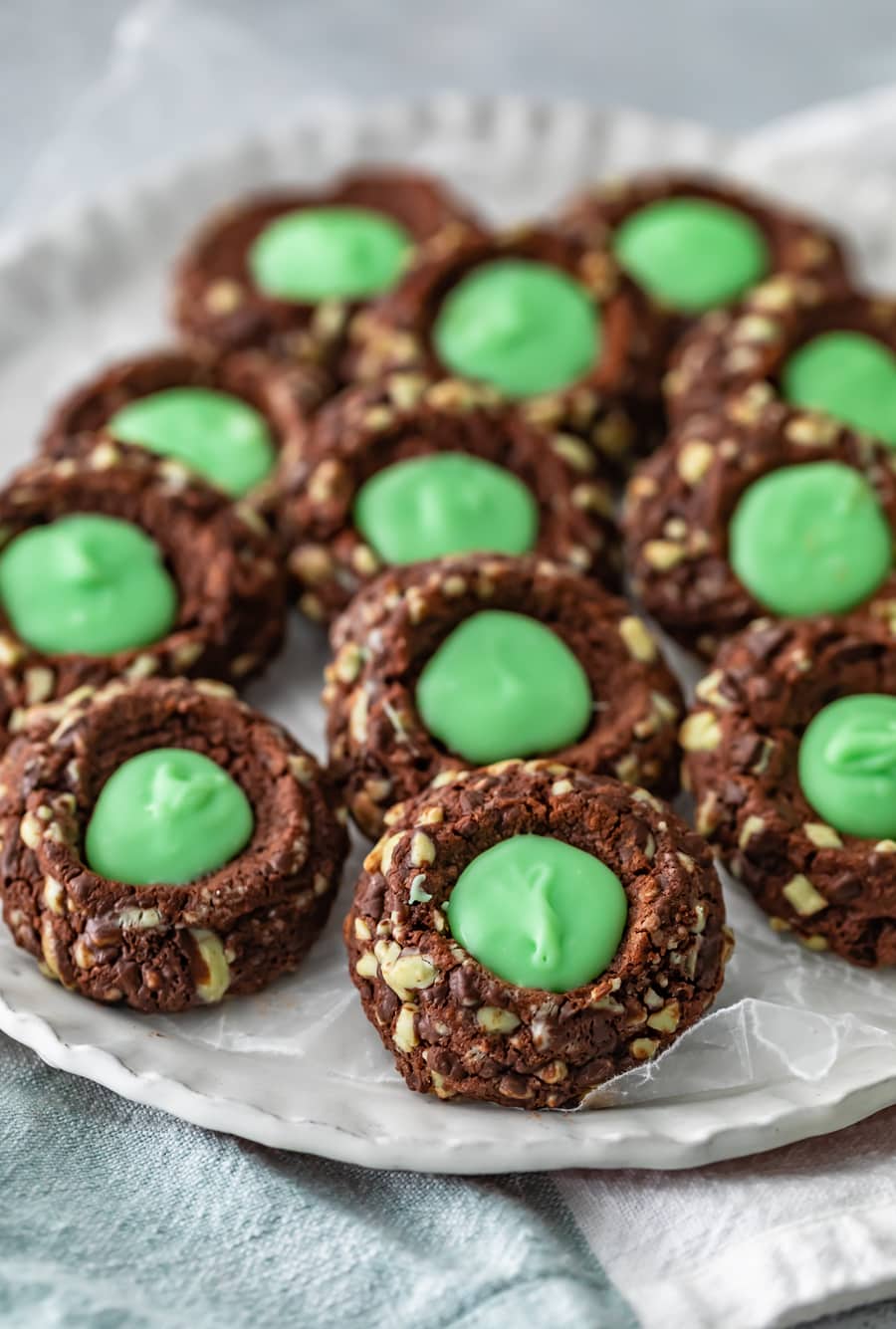 Kitchen Tools
If you're going to make cookies, you're definitely going to need these basic kitchen tools and equipment.
Ingredients for Christmas Cookies
These are just some of the typical ingredients you'll need to make holiday cookies. If you're planning to do a lot of baking, stock up on all this stuff so that you have plenty.
Flour

Eggs

Granulated Sugar

Brown Sugar

Confectioner's Sugar

Baking Soda

Baking Powder

Chocolate Chips

Vanilla Extract

Butter

Milk
Christmas Cookie Baking Tips
Baking can be tedious, but these EASY Christmas cookies are simple enough to make any time.
One of the most difficult things about baking is measuring ingredients and converting measurements for different recipes.
If that's something you struggle with, be sure to download my FREE Kitchen Measurements Chart to help you out in the kitchen. Plus the whole Baking Measurements post is filled with info and resources to clarify any questions you have.
And check here if you need to cut a recipe in half!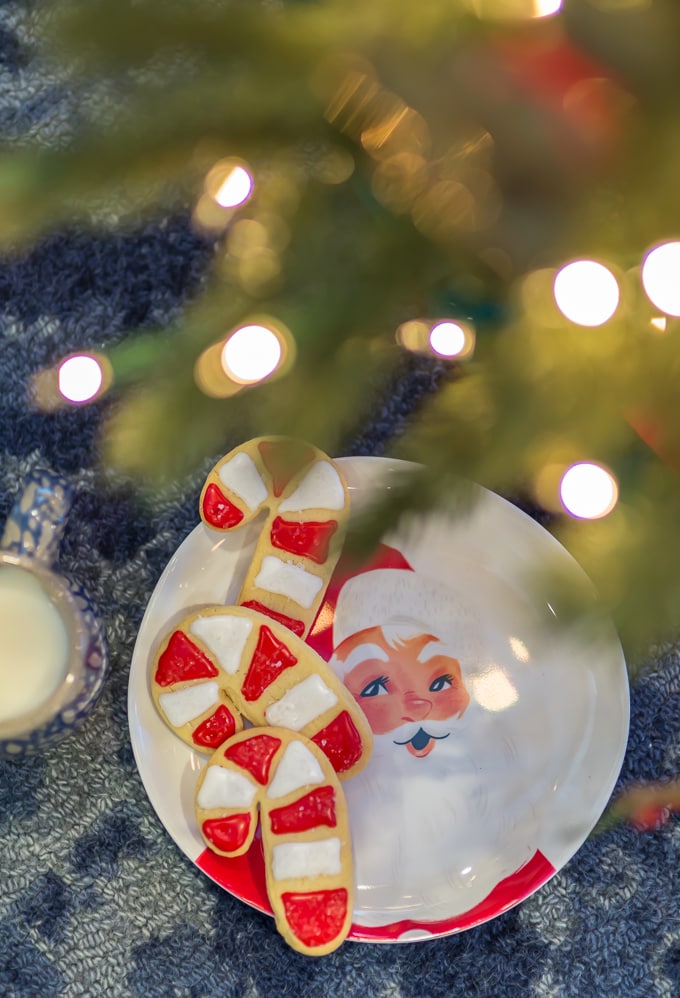 Christmas Sugar Cookie Recipe
A classic Christmas Sugar Cookie recipe is a must for the holiday season. It's simple, it's delicious, and I've heard it's Santa's favorite cookie…You can make any shapes you like (candy canes, snowmen, Christmas trees), and decorate them however you like. These Christmas sugar cookies are just perfect!
Keep scrolling to see the rest of our easy Christmas cookie recipes!
32+ Christmas Cookie Recipes
Easy, delicious, and so much fun to make! These cookies are perfect for the holiday season.
Traditional Christmas Cookies
These are the true classics that you need to bake every holiday season!
Chocolate Christmas Cookies
If you love chocolate, these are the cookies to bake this Christmas.
Unique Christmas Cookies
If you want to try something different this holiday season, try one of these easy cookie recipes.
Chocolate Chip Cookies
There's nothing quite as good as the perfect chocolate chip cookie for Christmas.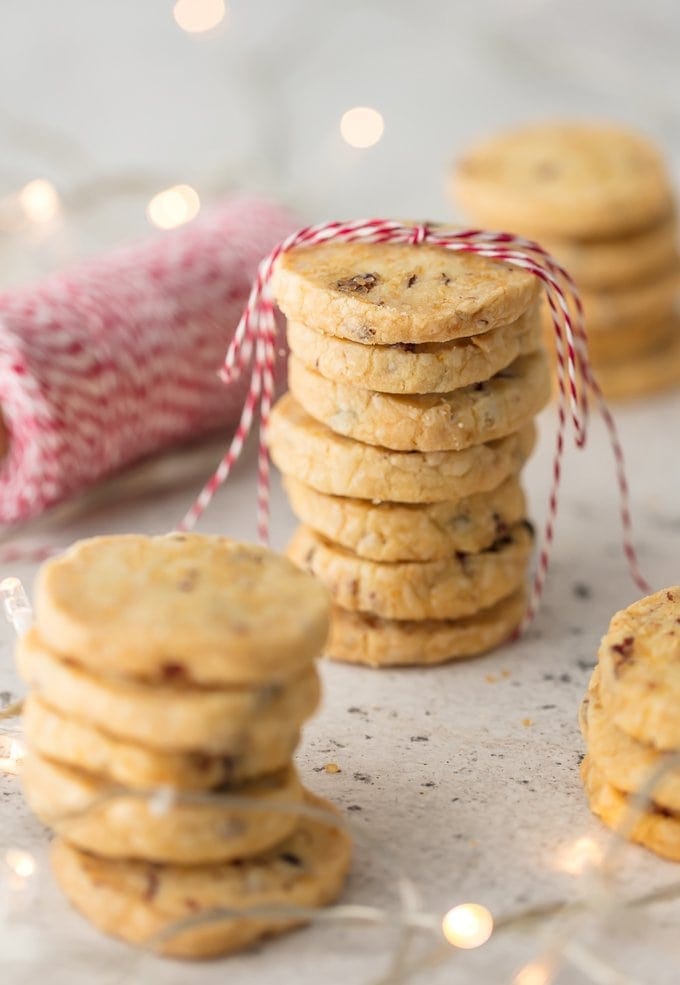 How to Store Christmas Cookies
The best way to store Christmas cookies really depends on the cookie. You can find specific information about storing each of the holiday cookies in the individual recipe posts. However, most of these cookies can be stored similarly in order to make them last.
Tips for Storing Cookies:
Homemade Christmas cookies should be stored in an airtight container or resealable bag in order to keep them fresh.
At room temperature, most of these cookies will keep anywhere from 1-3 weeks.
Soft cookies will become stale much faster, while hard cookies will keep longer.
Let cookies cool completely before storing them.
Can I make these holiday cookies ahead of time?
If you want to make cookies ahead of time and store cookies for a longer period of time, you can freeze them instead.
To Freeze Cookies:
Place cookies in a freezer safe container/bag in a single layer.
Place a layer of parchment paper between each layer of cookies to keep them from sticking together.
In the freezer, cookies can last up to a few months.
Again, check individual recipe posts for specific storage instructions.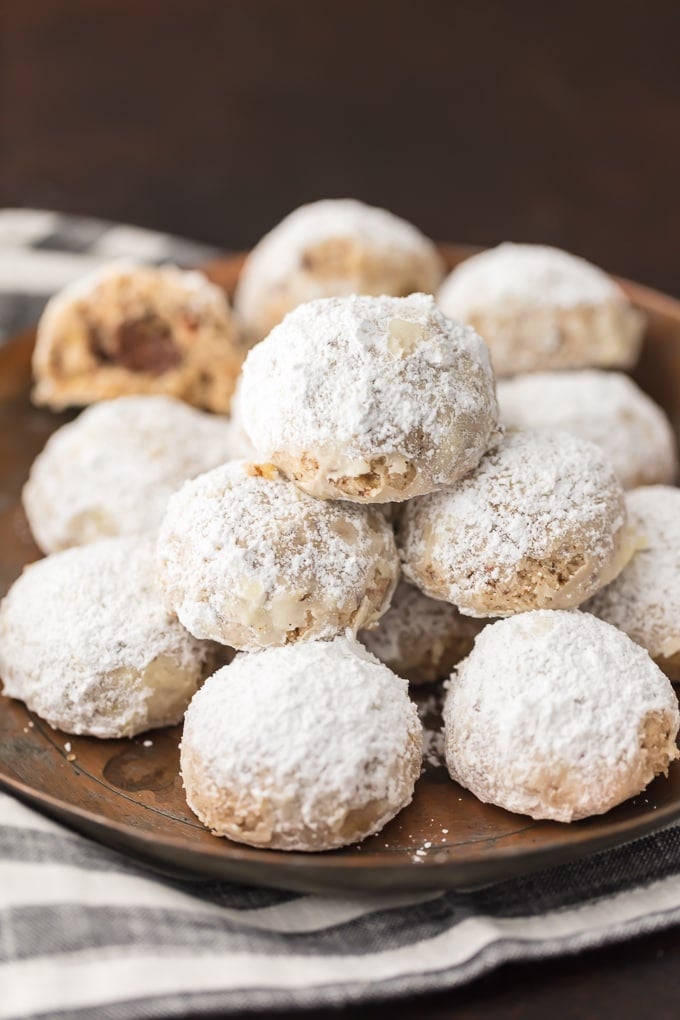 Homemade Holiday Cookies as Gifts
Cookies make a great homemade Christmas gift for family, friends, neighbors, co-workers, teachers, etc. Basically, anyone in your life would appreciate getting some fresh-baked cookies!
If you have a long list of people on your gift list, here's some tips:
Make a big batch of cookies (I usually choose one kind of cookie and triple the recipe when I'm preparing tons of cookies).
You can make these cookies ahead of time, so they're ready to wrap and give when you see the people on your list. You could even just make the dough to freeze, then bake and wrap a batch right before gifting them.
Get creative with your cookie gift wrapping (here's some fun ideas from Martha Stewart), or keep it simple with mini bags, some ribbon, and a gift tag.
I hope you guys found the perfect holiday cookies to make this year. I'd love to hear which easy Christmas cookie recipe you chose to make and how you liked them. Merry Christmas and Happy Holidays!