Copycat Trader Joe's Cookies and Cream Cookie Butter…mind blown! I had this once and knew I had to come up with a recipe to recreate it. Such a fun sweet treat for snacking.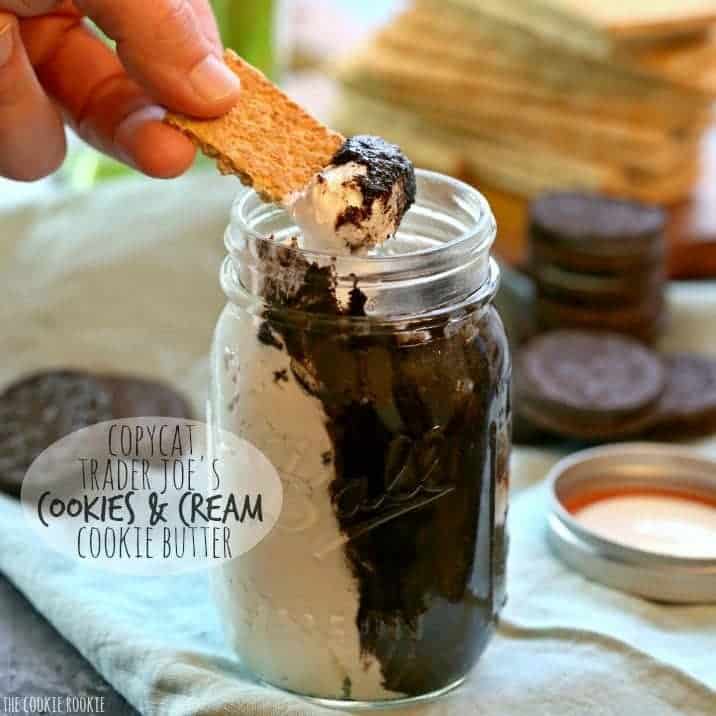 Any self-respecting Trader Joe's addict has seen and tried their Cookies and Cream Cookie butter. When I first saw it on the shelves…I knew I was hooked before even trying it. I had heard about it and how awesome it was, and I know I would be addicted! Lucky for all of us that are too lazy to drive to Trader Joe's with every craving, this easy DIY recipe will let you make it at home!! Mind…blown. Life…changed. Waist line…doubled.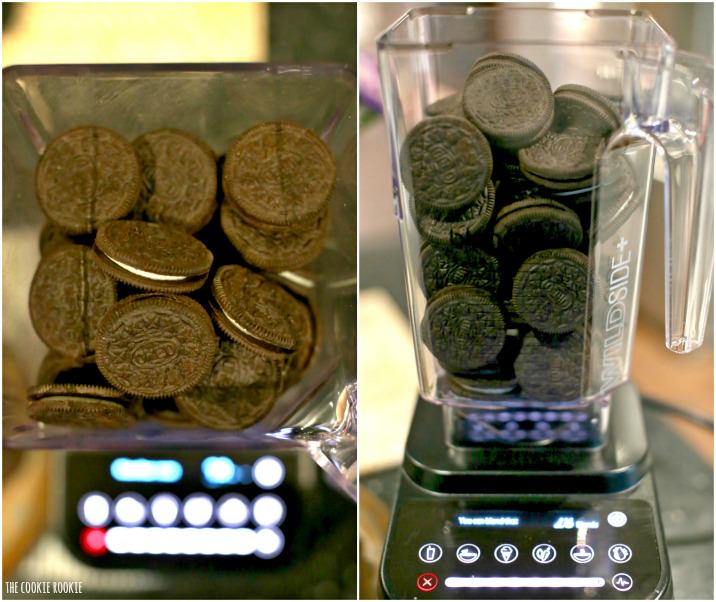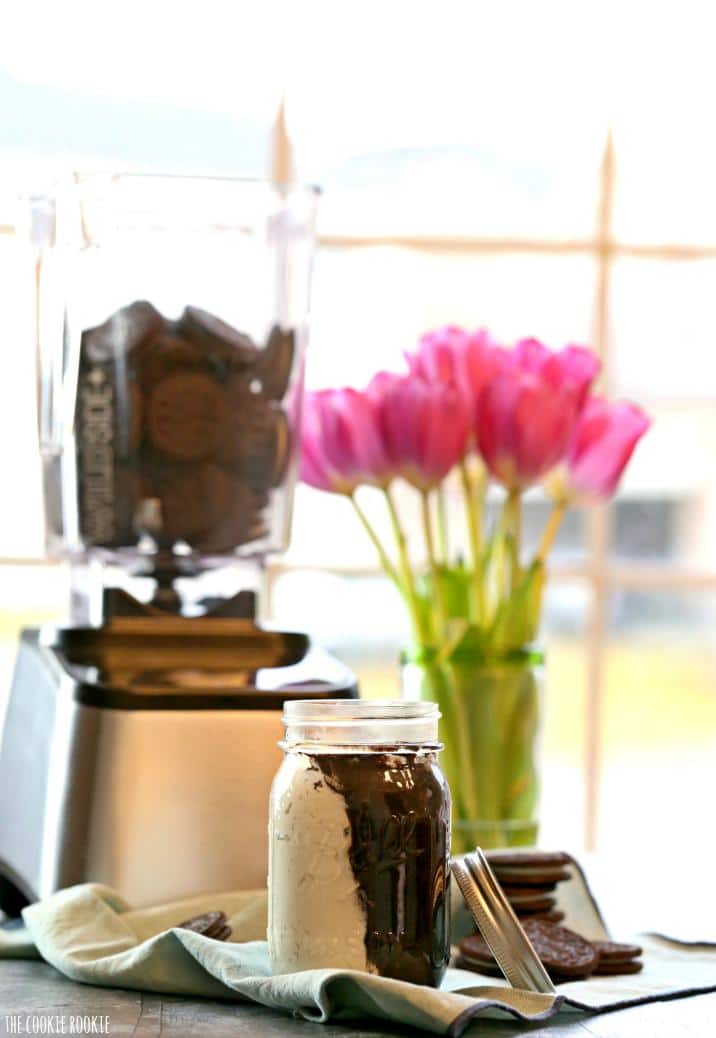 I sent these pictures to my mom, who lives about 3 hours from a Trader Joe's. I know…how does she cope? Must be hard. But anyway, I sent her these pics and she started asking me a million non-Trader Joe's addict questions. "What does it taste like??" "What do you eat it with?" "Is it like peanut butter??". WELLLLL…it tastes like awesome (it tastes like oreos), you can literally dip anything in it (I like graham crackers, fruit, bread, cookies, my fingers???), and no it's not really like peanut butter. Kind of the consistency of peanut butter, but more like the crushed up cookies and cream that it is. And it's SO DELICIOUS.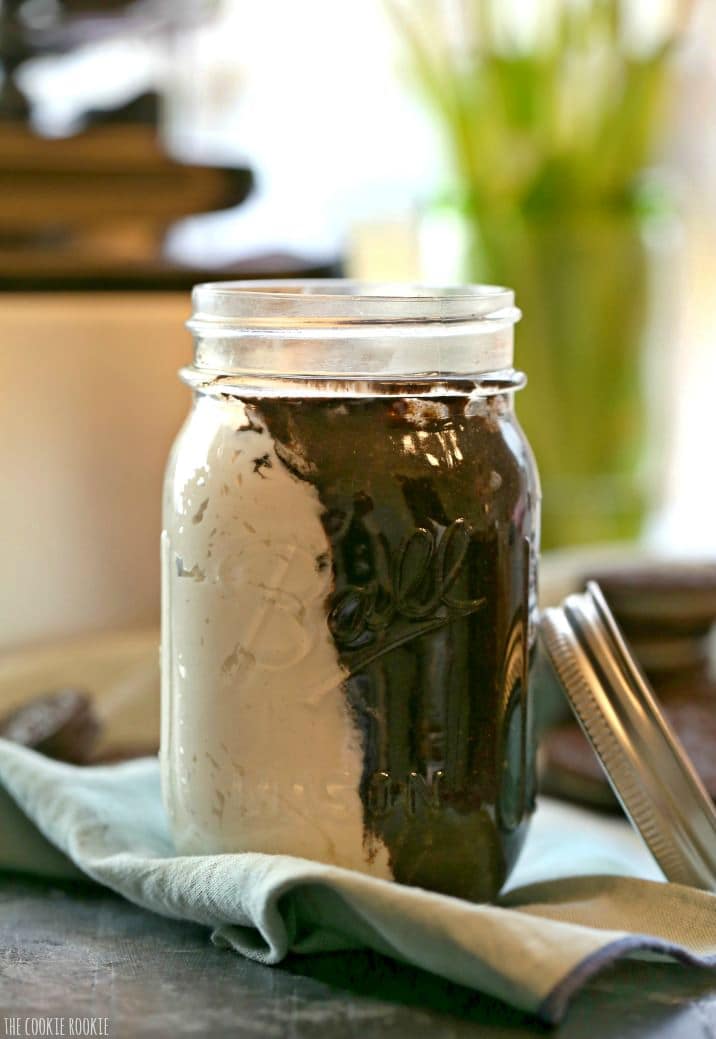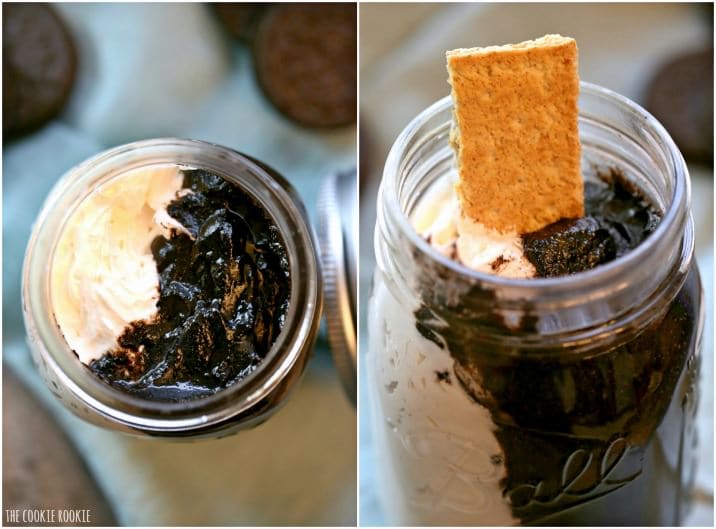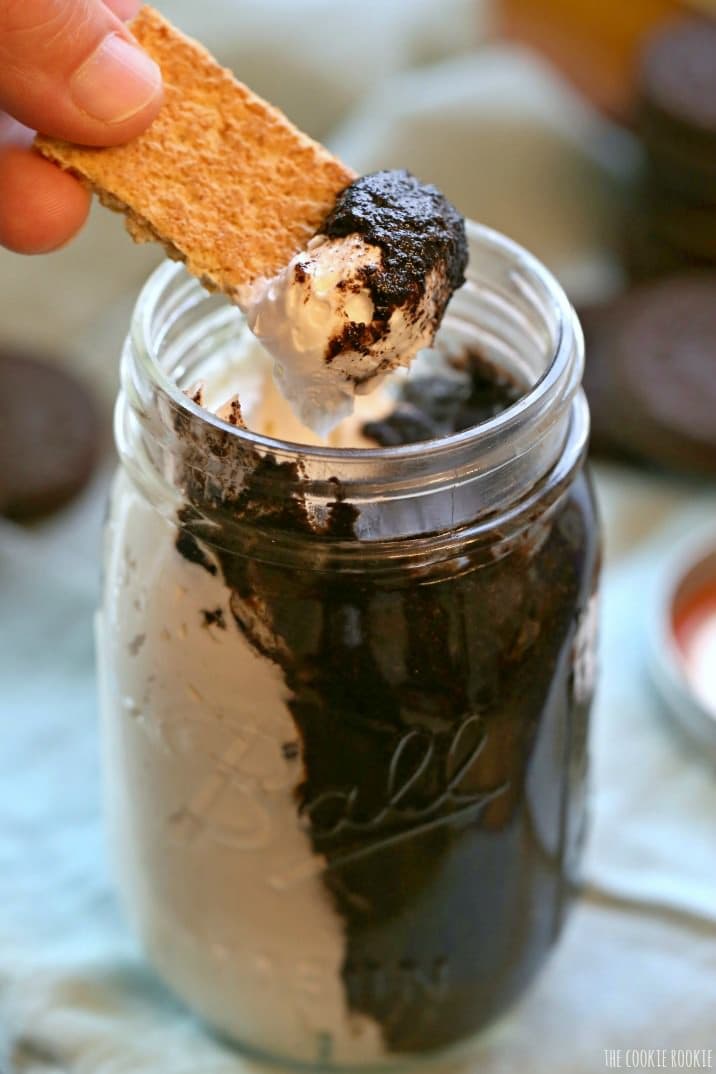 One of the greatest thing about this addicting recipe is just how easy it was to make!! As simple as putting the ingredients into my Blendtec, and blending them together! If I'm addicted to cookie butter, I'm DEFINITELY addicted to my Blendtec. I have never had a blender anything like it, and I'm confident that I'll never find another like it in the future. It does EVERYTHING. It makes soups. It chops dry almonds. It makes smoothies and milkshakes. It chops ice like I imagine the Incredible Hulk might chop ice. It makes DOUGHS. It has a self-cleaning feature. Um okay. Now you sold me! You guys…it's ridiculous. It's my absolute favorite appliance…and today…I GET TO GIVE ONE AWAY!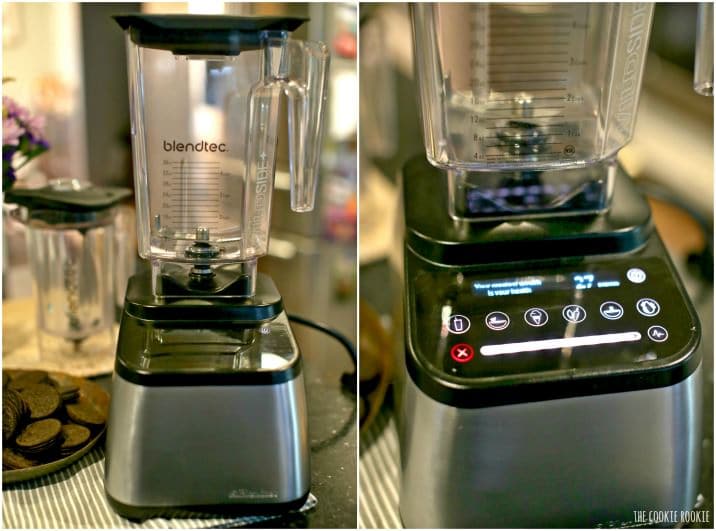 It's got a computer that tracks your blends and keeps you encouraged (I need that!). It's so easy to operate and have both a huge main jar with measurements right on the side (and a convenient pour top). I could gush on and on and on about everything it does, but I would rather you see for yourself. I would rather you check it out by making Cookies and Cream Cookie Butter for yourself. This giveaway is serious , folks (almost an $800 valnue!)…I can't wait for one of you to win!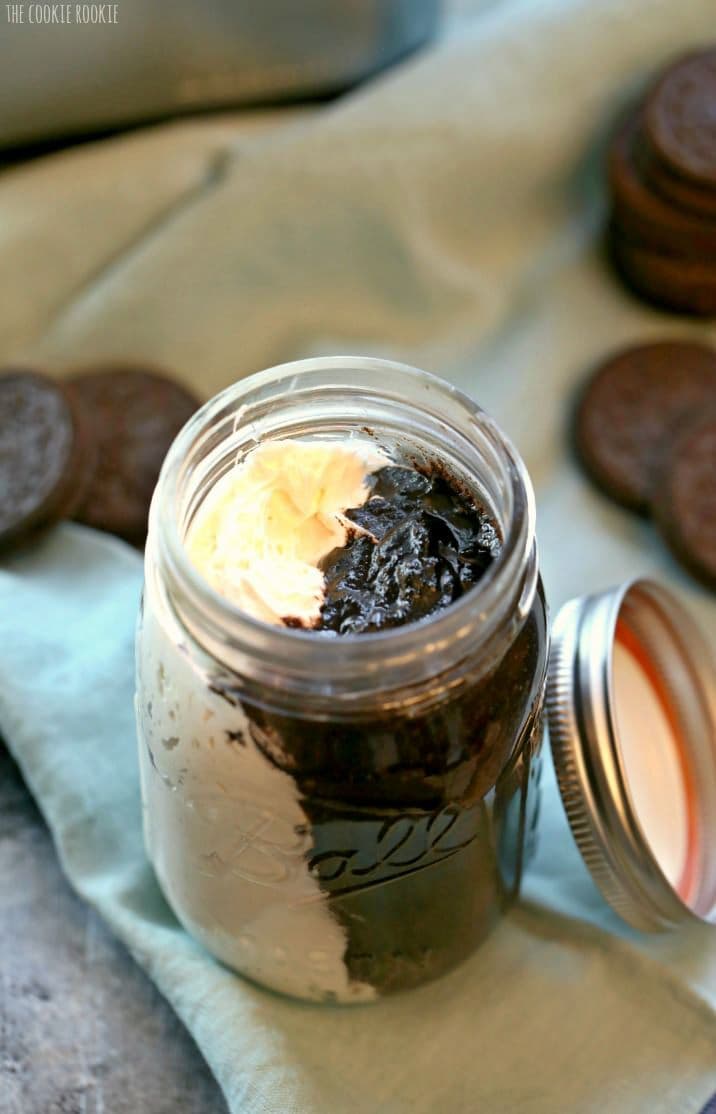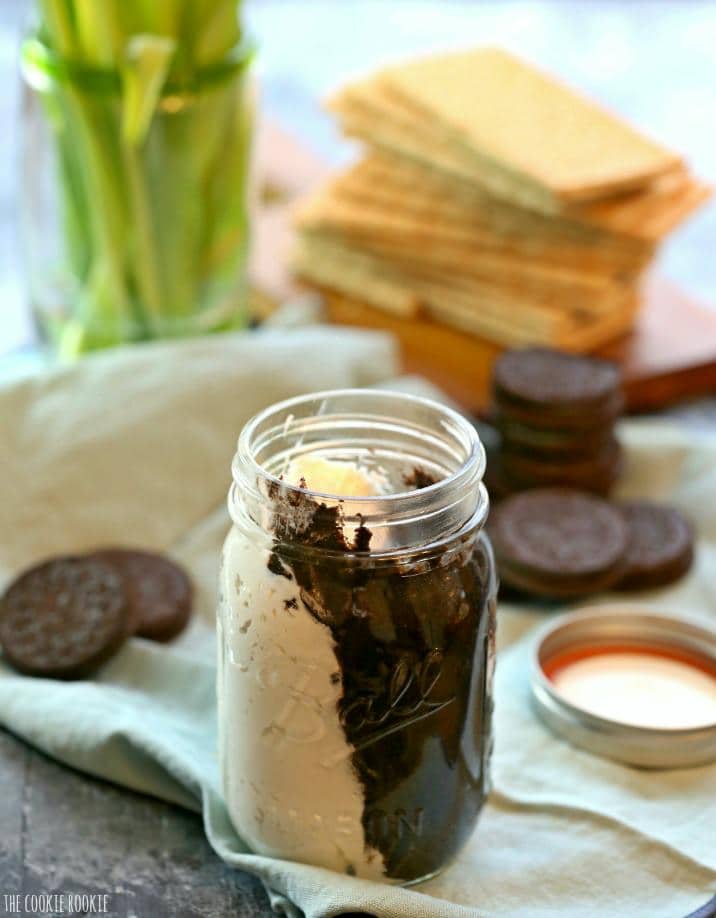 I can think of nothing better than basking in the glow of your new Blendtec while dipping everything under the sun into your homemade Copycat Trader Joe's Cookies and Cream Cookie Butter.
Loosen those pants people!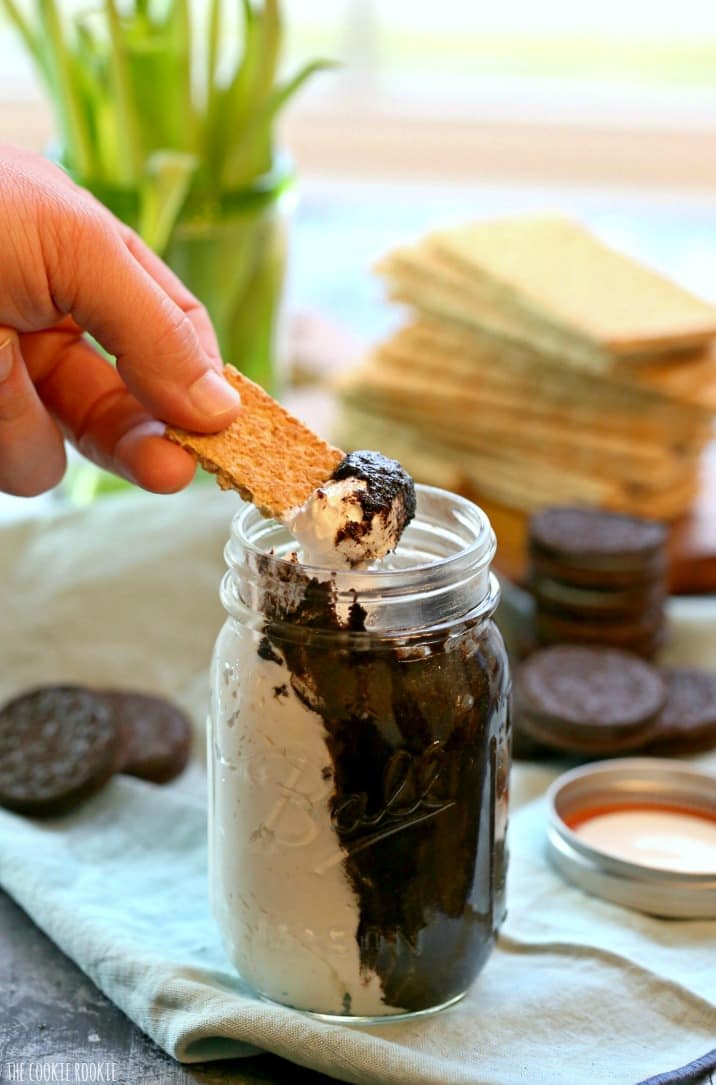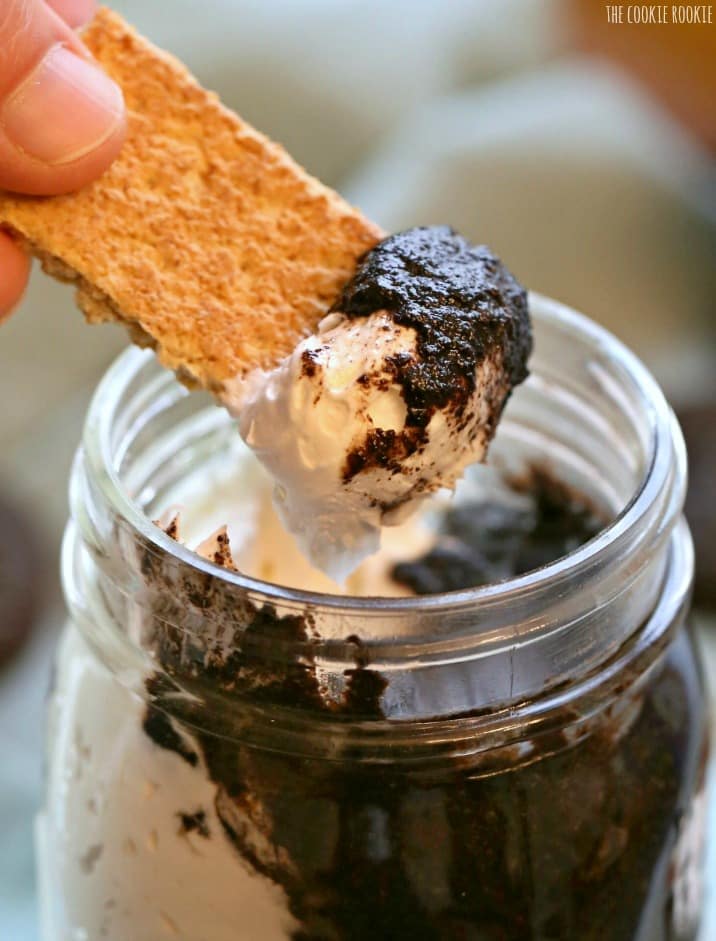 **This giveaway is now closed**
Copycat Trader Joe's Cookies and Cream Cookie Butter (Plus a BLENDTEC GIVEAWAY!)
15 minPrep Time
15 minTotal Time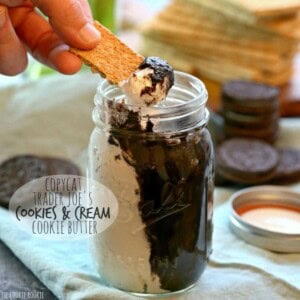 Ingredients
FOR THE COOKIE SIDE:

15 oreos
1/4 cup heavy cream
2 tablespoons vegetable oil

FOR THE CREAM SIDE:

1/4 cup unsalted butter, softened
1/4 cup vegetable shortening=
1 and 3/4 cups powdered sugar
1 teaspoon pure vanilla extract
Instructions
FOR THE COOKIE SIDE:

Place the cookies in your Blendtec blender and mix on "chop" for about 10 seconds or until completely chopped and fine. (**I used the Twister Jar for making this cookie butter. It is so nice to use the twister lid to get the cookies back into the middle while mixing. LOVE!)
Pour the vegetable oil and cream into the jar and blend on "mix" or medium-high until a batter like consistency forms. Set aside.

FOR THE CREAM SIDE:

In a small bowl using a handheld or stand mixer beat the butter and shortening together on high until creamy using the paddle attachement, about 1 minute.
Turn off the mixer and add the sugar and vanilla. Beat on low-medium for about one minute until well combined and super creamy. It will be pretty thick.

TO COMBINE:

In a jar or bowl, fill the cream side first. Since it's thicker, its easier to do this side first. When I put the cream into the mason jar, I used a spoon and stuck the cream to the side of the jar until one side was filled.
Next, pour or spoon the cookie filling into the other side.
Store in an airtight container for up to a week in the fridge. Enjoy!
7.8.1.2
1973
https://www.thecookierookie.com/cookies-and-cream-cookie-butter/