This Brussels Sprouts Recipe with Pears, Blue Cheese, and Walnuts is our favorite way to dress up a healthy side dish. These sauteed Brussels Sprouts are unique and so full of flavor. The pear pairs beautifully with the blue cheese and toasted walnuts, making sure even the pickiest eater want to eat their greens. Such a great holiday side dish!
Sauteed Brussels Sprouts Recipe
It's about time I found a Brussels Sprouts recipe I truly truly love. I fought against trying them for so long because of this idea that "nobody likes brussels sprouts". I was never even forced to eat them as a child! But as I delve more and more into the food blogging world, these healthy little beauties are hard to ignore. People just rave about them, so I had to give them a try.
Of course, if I'm going to try something, then I'm going to add cheese. That's a given! Trying Brussels Sprouts for me meant mixing in blue cheese crumbles, freshly sliced pear, and toasted walnuts. I couldn't just try them with salt and pepper. I needed to dress them up, and I was NOT disappointed.
This Sauteed Brussels Sprouts Recipe has quickly become one of our favorite holiday side dishes for Thanksgiving, Christmas, and Easter! It's so good, I promise it will change your mind about this vegetable.
Stop avoiding brussels sprouts and start adding this amazing vegetable to your dinner table. This recipe is filled with cheese, pears, walnuts, and and my new favorite veggie!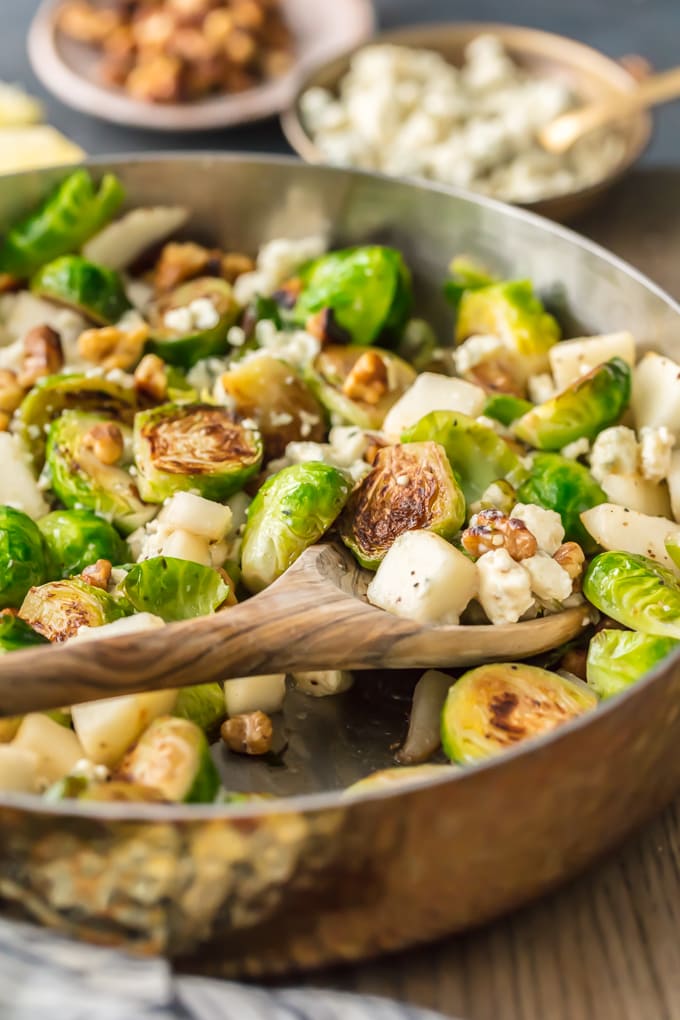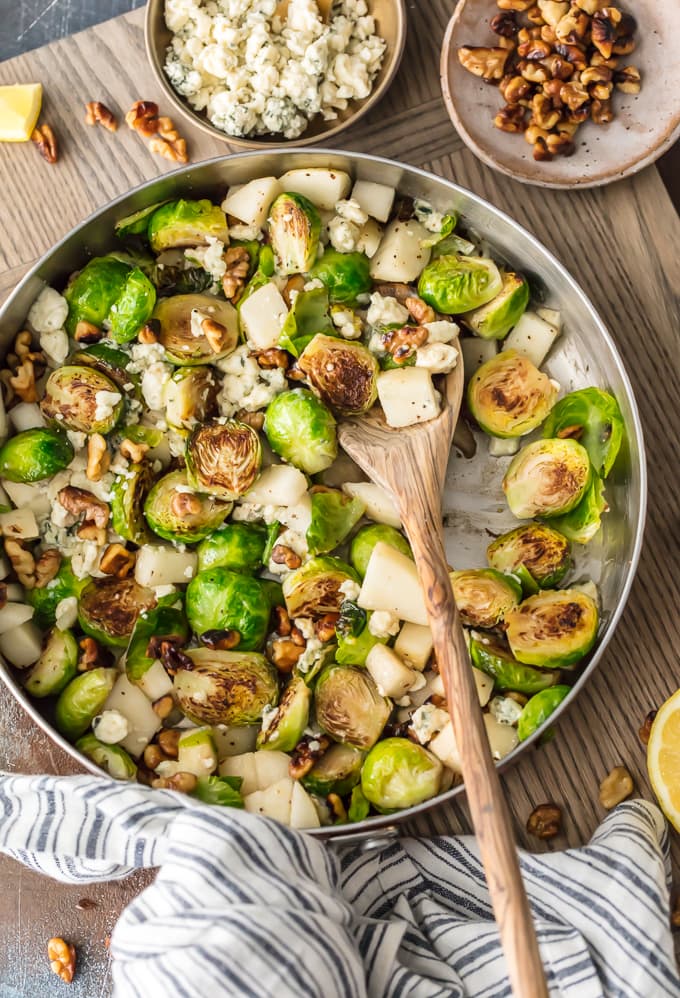 What's the best way to cook Brussels Sprouts?
There are so many ways to cook this veggie, but I think sauteed brussels sprouts might be my favorite! You can roast them in the oven, fry them, steam them, or even boil them. You can even get shaved brussels sprouts and eat them raw. But for me, the stove is the best way to cook them.
They're quick, easy, and SO delicious. I especially love the flavor combination in this simple side dish recipe. The crunch from the toasted walnuts pairs beautifully with the creamy blue cheese and bright fresh pear.
How to Saute Brussels Sprouts
This brussels sprouts recipe is so easy! You can prep, saute, and have them ready in just about 15 minutes. That makes it an awesome side dish for any meal.
Start by toasting the walnuts in the skillet over medium heat, then set them aside.
Heat oil in that same skillet, then add the brussels sprouts and season with salt and pepper. Cover the skillet and let them cook for 7 minutes.
Next, add the walnuts, pears, and lemon juice, and cook uncovered for about 3 minutes.
Now remove them from the heat, add the blue cheese crumbles, and serve while they're still warm. Simple as that!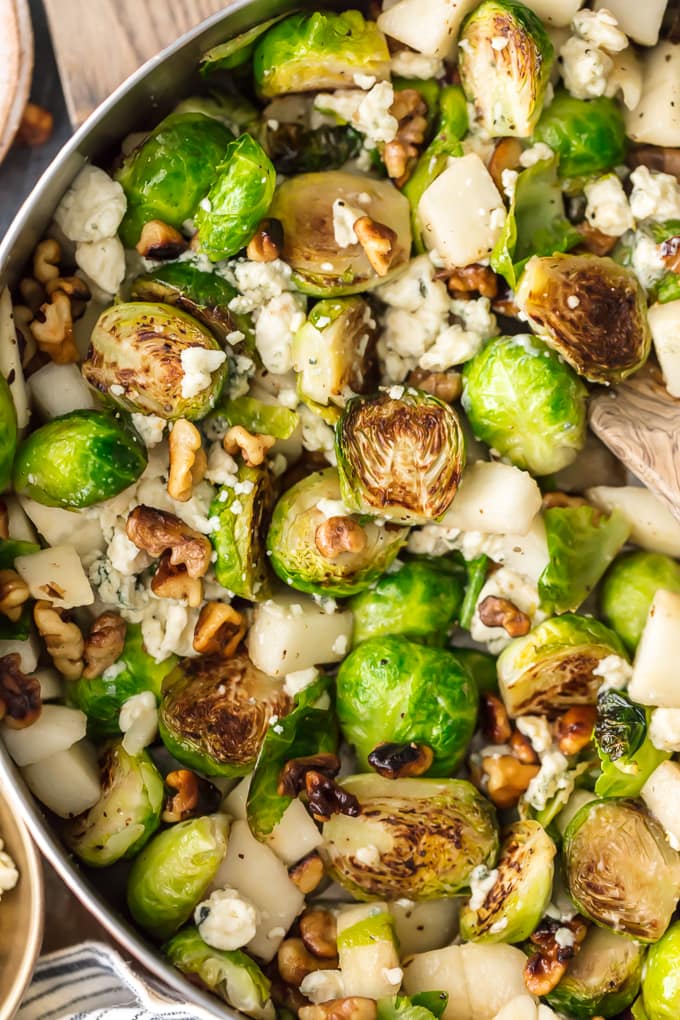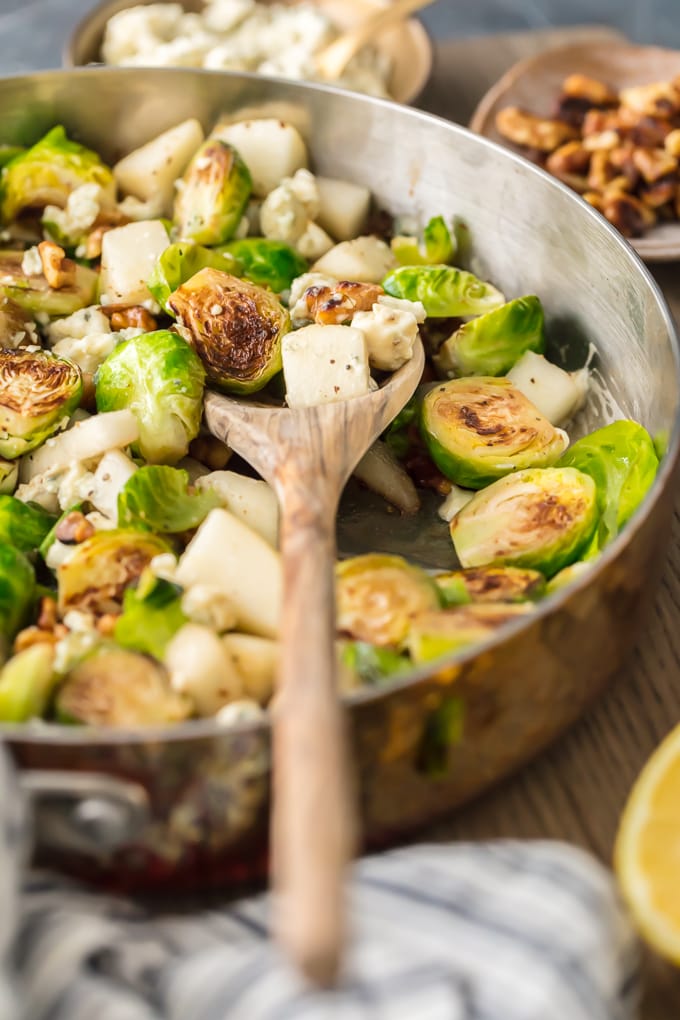 Brussels Sprouts with Blue Cheese, Pear, and Toasted Walnuts
There is so much to love about this sauteed brussels sprouts recipe. For one, this is quite possibly the easiest side dish I have ever made. I LOVE easy recipes. It's kind of my thing. I couldn't believe that making these literally meant cutting them in half and putting them in a pan. That's IT. I mean…really? Well I guess you do have to chop up the pears and toast the walnuts…but those are simple steps as well. If I can make this recipe, you can too!
They're also healthy. It's never a bad thing when a delicious and easy recipe also just so happens to be good for you. Brussels Sprouts for the win! Who knew? I have a feeling you're going to be making this often once you give it a try.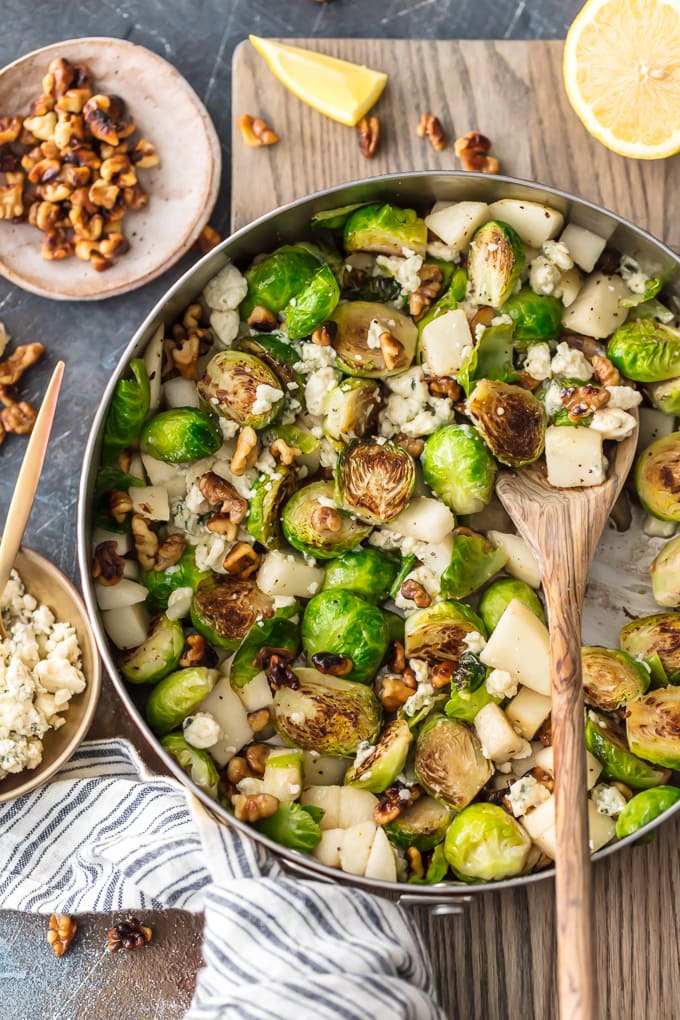 Thanks for giving everyone's most hated green a try with this sauteed Brussels Sprouts Recipe. Let's give brussels a new reputation! There's so much to love about them!
See the recipe card below for details on How to Make Brussels Sprouts with Pear, Blue Cheese, and Walnuts. Enjoy!
You'll love these other brussels sprouts recipes!
AROUND THE WEB: Looking for more healthy Easter side dishes? Our blogger friends have the right idea with these recipes; Vegan Green Bean Casserole, Broccoli Cheddar Quinoa Bites, and Spiralized Sweet Potato Fries!