These CRUNCHY BACON PECAN BALSAMIC BRUSSELS SPROUTS are the ultimate way to eat veggies this Thanksgiving. Everyone (even the kids) loves brussels sprouts when they're cooked with this much flavor.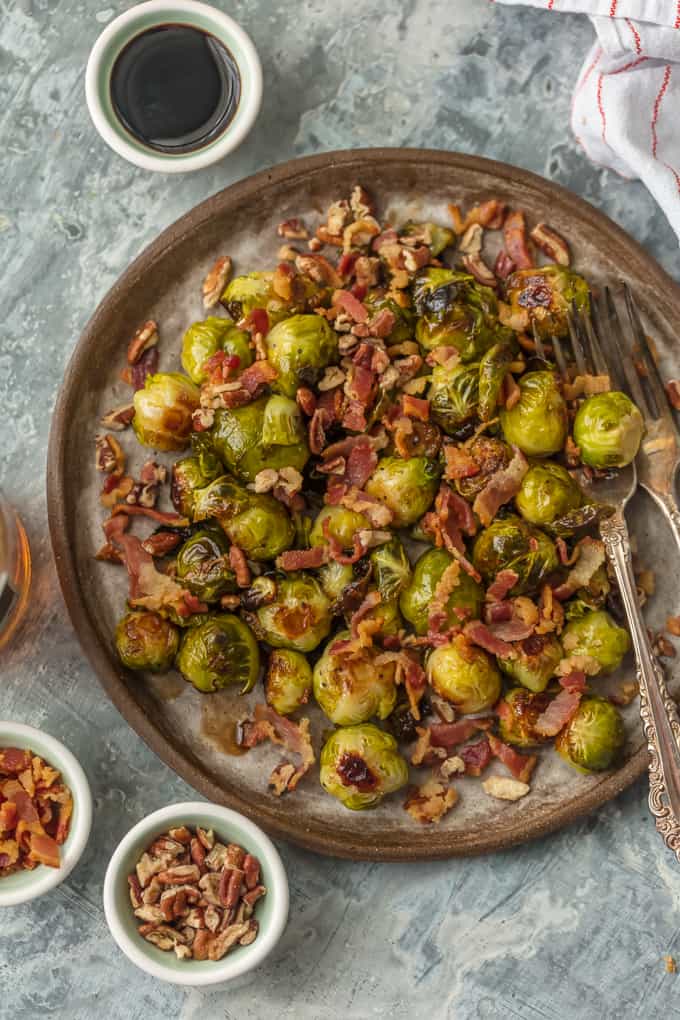 I've got Thanksgiving on the brain 24/7 right now. By time it gets here I'm going to want nothing to do with it. Plus I'll have already tested and eaten enough recipes for probably 10 holiday feasts. There is A LOT of food being cooked around here these days, and I'm not upset about it…but it's definitely making losing this baby weight a struggle!
So I thought I'd cook some veggies. Something healthy. BRUSSELS SPROUTS! Don't start with me about adding bacon and balsamic and all that jazz. I made vegetables. And they're delicious. A little bacon just adds a little flair. And makes the kids want to dig in too!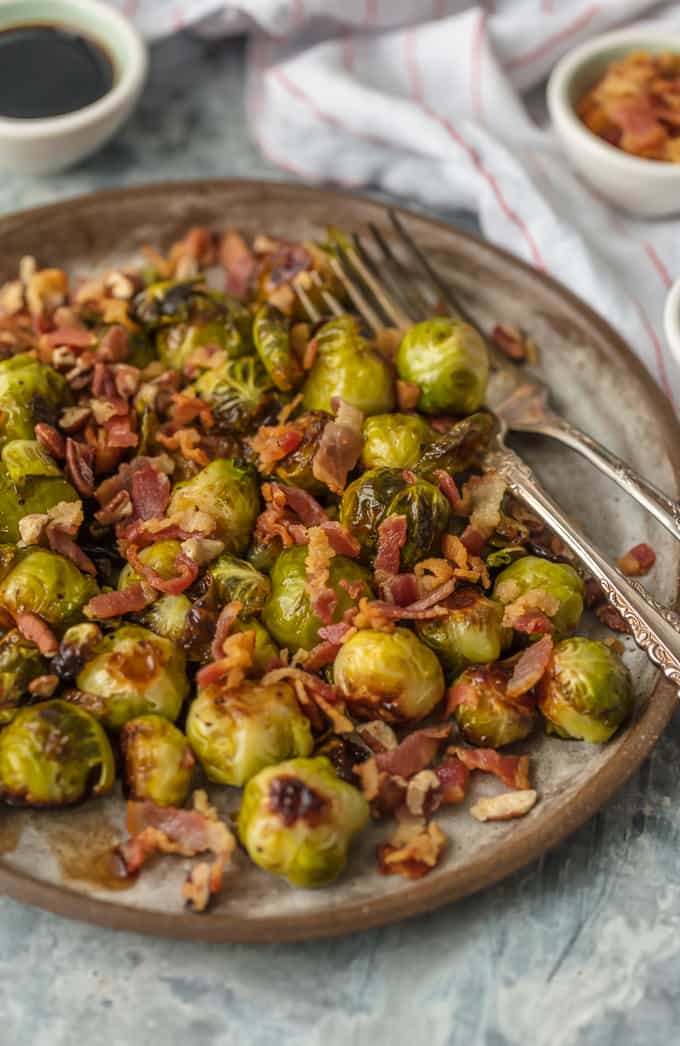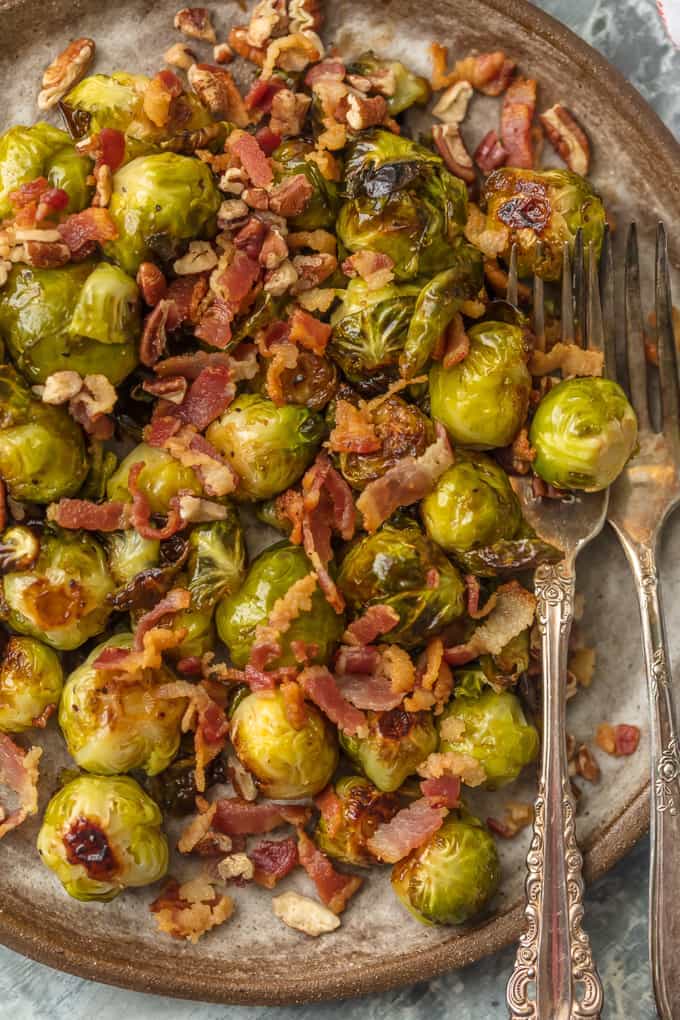 These brussels are just begggggging to be on your Thanksgiving menu. If you already love brussels sprouts, these Crispy Bacon Pecan Balsamic Brussels Sprouts (actually MAPLE Balsamic) are going to be your dream come true. If you're not sure if you're a fan, these are the perfect gateway brussels.
Next thing you know you'll be eating them fried, raw, broiled, you name it! But these have so much flavor you don't even realize what you're eating. Kids can like their greens when you make them like this!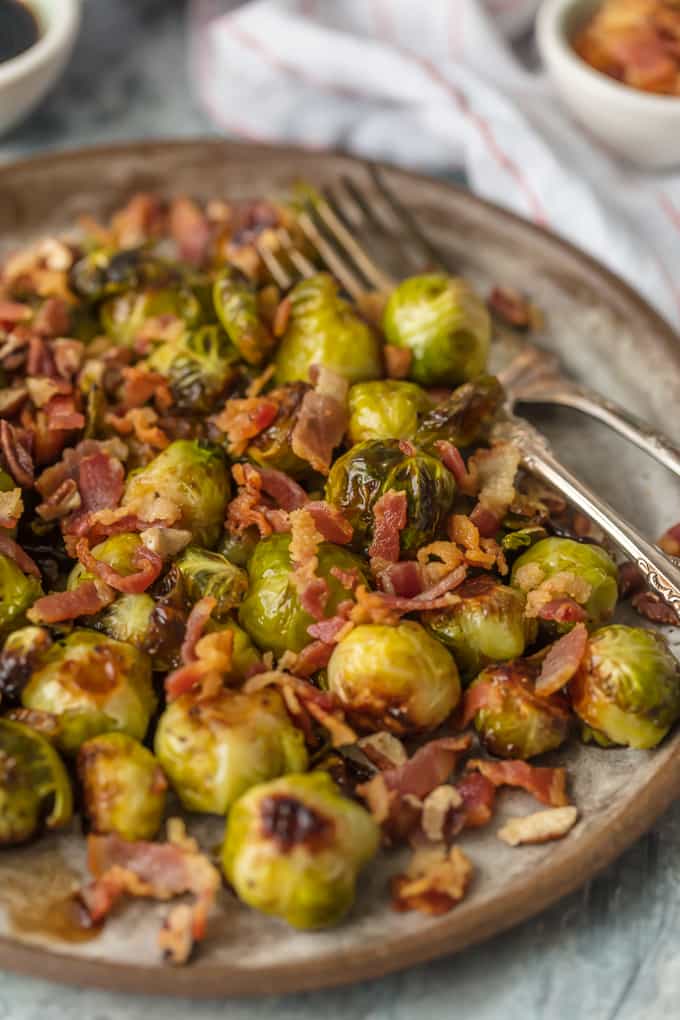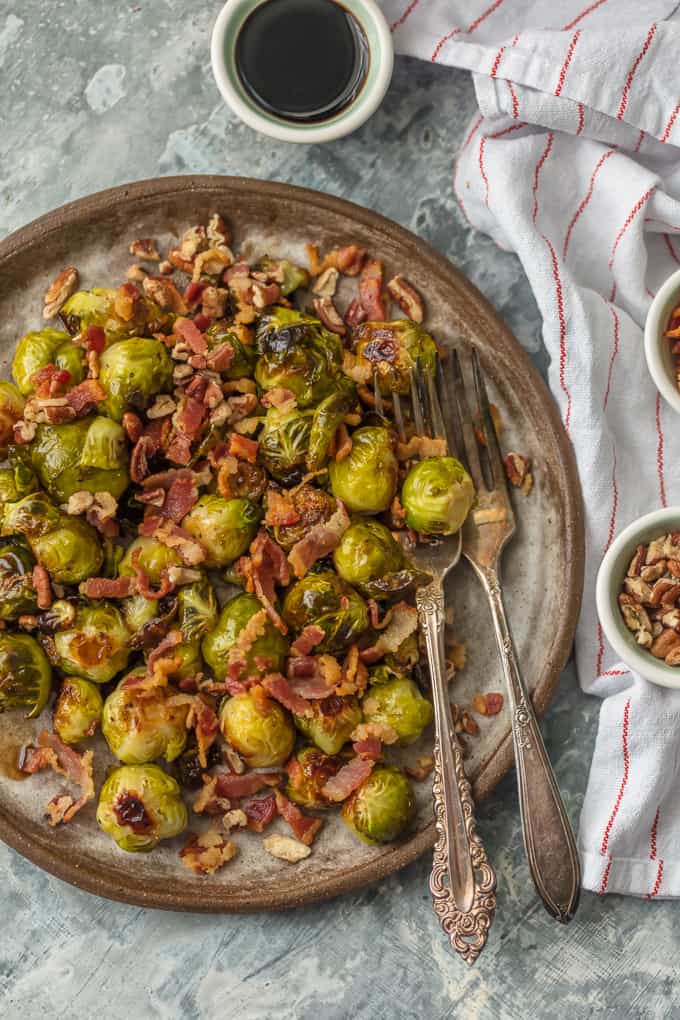 Please tell me you have room in your holiday menu for these beauties. A little bit salty, a little bit sweet, a whole lotta delish. With all these recipes we are testing these days, this is a shining favorite. I just love the texture, the flavor combo, and that I'm choosing to believe they're healthy for me. Healthier than Garlic Butter Mashed Potatoes at least…right? I'll be eating plenty of those too, don't you worry.
Enjoy!
Bacon Pecan Balsamic Brussels Sprouts
30 minCook Time
30 minTotal Time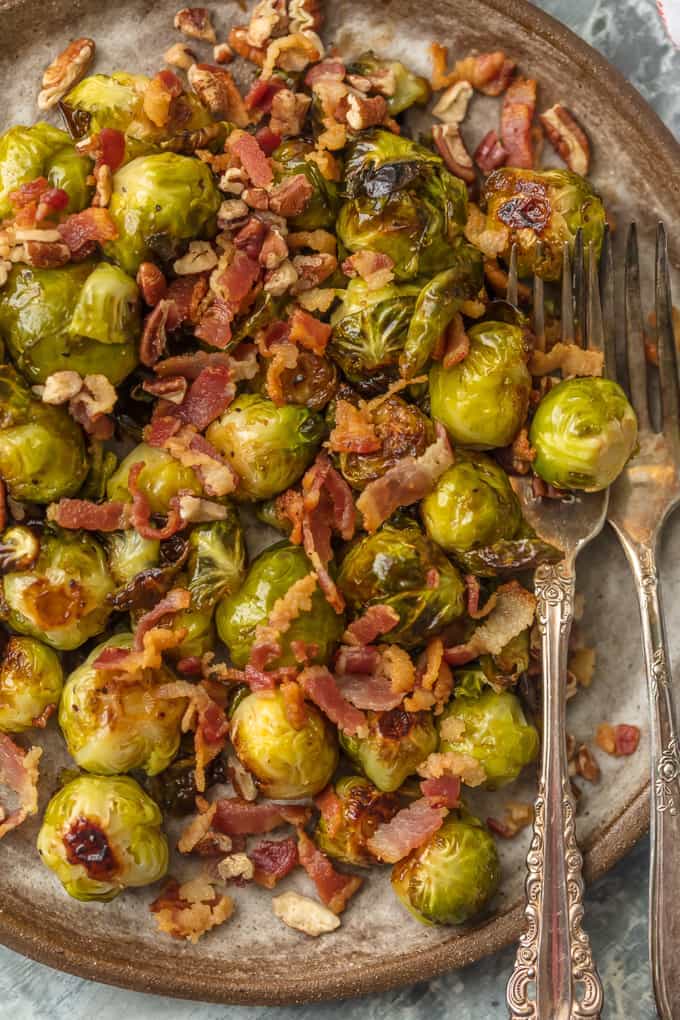 5 based on 2 review(s)
Ingredients
¼ cup pecans
4 slices bacon, cut into ¼" small strips
1 pound Brussels sprouts; stems & outer loose leaves removed.
2 tablespoons extra virgin olive oil
1/4 teaspoon kosher salt
¼ teaspoon freshly ground black pepper
1/8 teaspoon red pepper flakes, optional
1 tablespoon balsamic vinegar
1 tablespoon maple syrup
Instructions
Heat oven to 350°F and line a baking sheet with foil.
Place pecans on prepared baking sheet and bake until fragrant and a little darker in color, approximately 3-5 minutes. Watch closely so they don't burn. When done, transfer pecans to a heat-resistant bowl to cool and increase oven temperature to 425°F.
While pecans are toasting, cook the bacon pieces, over medium heat, in a medium-size skillet. Fry the bacon until crisp, then transfer bacon pieces to a bowl. Keep the bacon fat/drippings.
In a medium mixing bowl, combine Brussels sprouts, bacon fat, olive oil, salt, pepper and red pepper flakes. Spread the Brussels sprouts onto the same foil-lined baking sheet used for the pecans. Roast the sprouts 10 minutes or just until tender.
In a small bowl, whisk together the balsamic vinegar and maple syrup and pour the mixture over the Brussels sprouts. Toss lightly to coat the sprouts evenly, and place back in the oven for 5-8 minutes until caramelized. Do not allow the sprouts to burn.
Transfer baking sheet to a cooling rack, season to taste (if needed). When ready to serve, sprinkle the sprouts with toasted pecans and crispy bacon.
This dish is delicious hot or room temperature.
Enjoy!
7.6.7
2463
https://www.thecookierookie.com/bacon-pecan-balsamic-brussels-sprouts/