This maple bacon Brussels sprouts recipe will have even the veggie skeptics asking for seconds! Perfectly sweet and salty, they are easy to prep and are a must for any holiday table!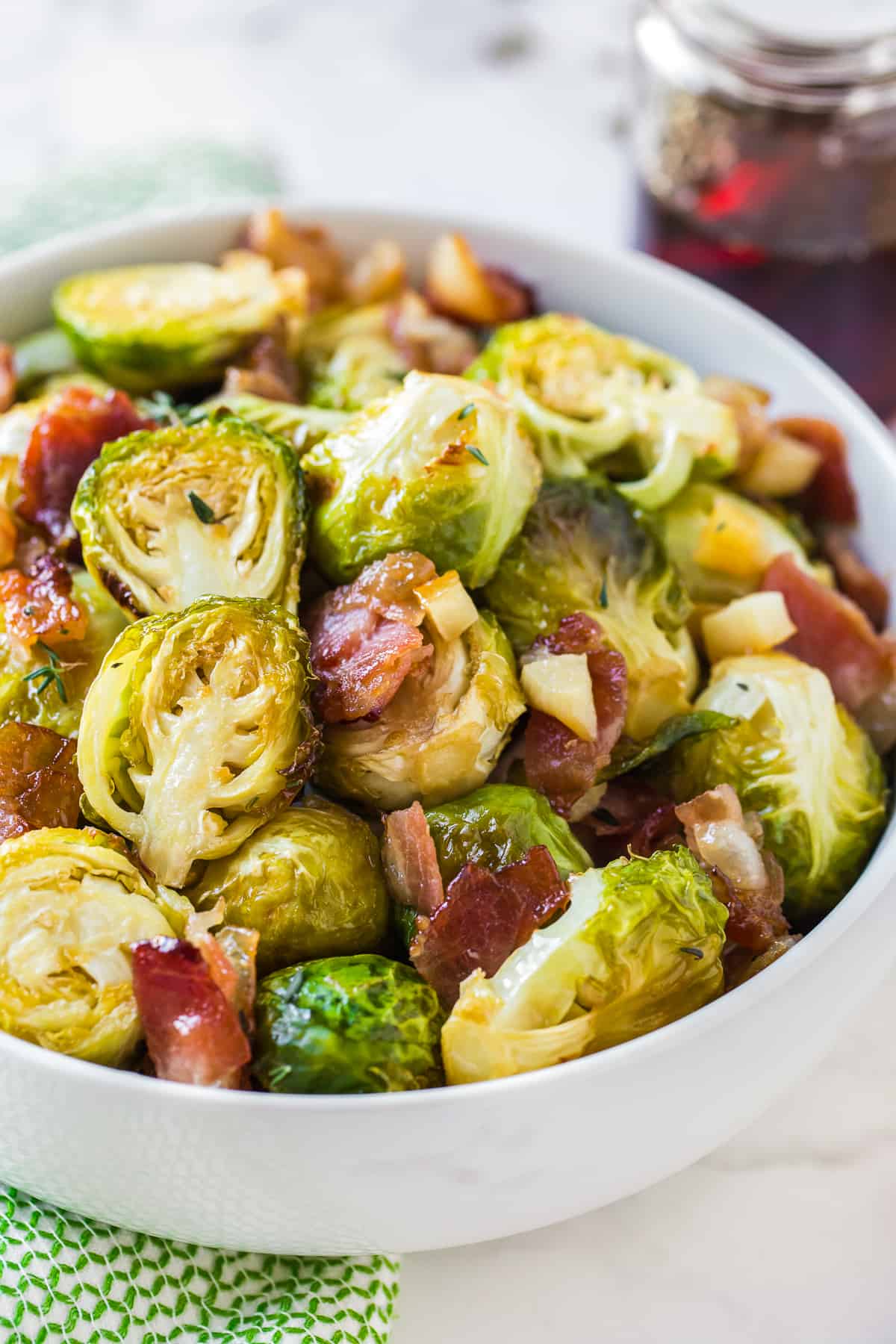 This sweet and savory take on roasted Brussels sprouts is the perfect side dish for holidays! They're cooked with bacon and drizzled with maple syrup for a real taste explosion.
This side dish is easy to prep and the cooking is hands off. The sprouts are tender without being too soft, and the sweet and salty flavors are to die for!
Why these maple bacon Brussels sprouts are so good!
This dish is made with simple ingredients, most of which you will already have in your cupboard.
Everything is roasted on one sheet pan making clean up a breeze!
The sprouts are roasted rather than boiled, so their natural flavors really come alive and they are perfectly crispy!
How to make maple bacon Brussels sprouts
Be sure to scroll down for the full recipe!
Prep – Pre heat the oven and cut the spouts in half and chop the garlic.
Combine – Toss together the sprouts, bacon, maple and olive oil. Lay on a baking sheet and season.
Cook – Roast until the bacon is crispy and the sprouts are tender.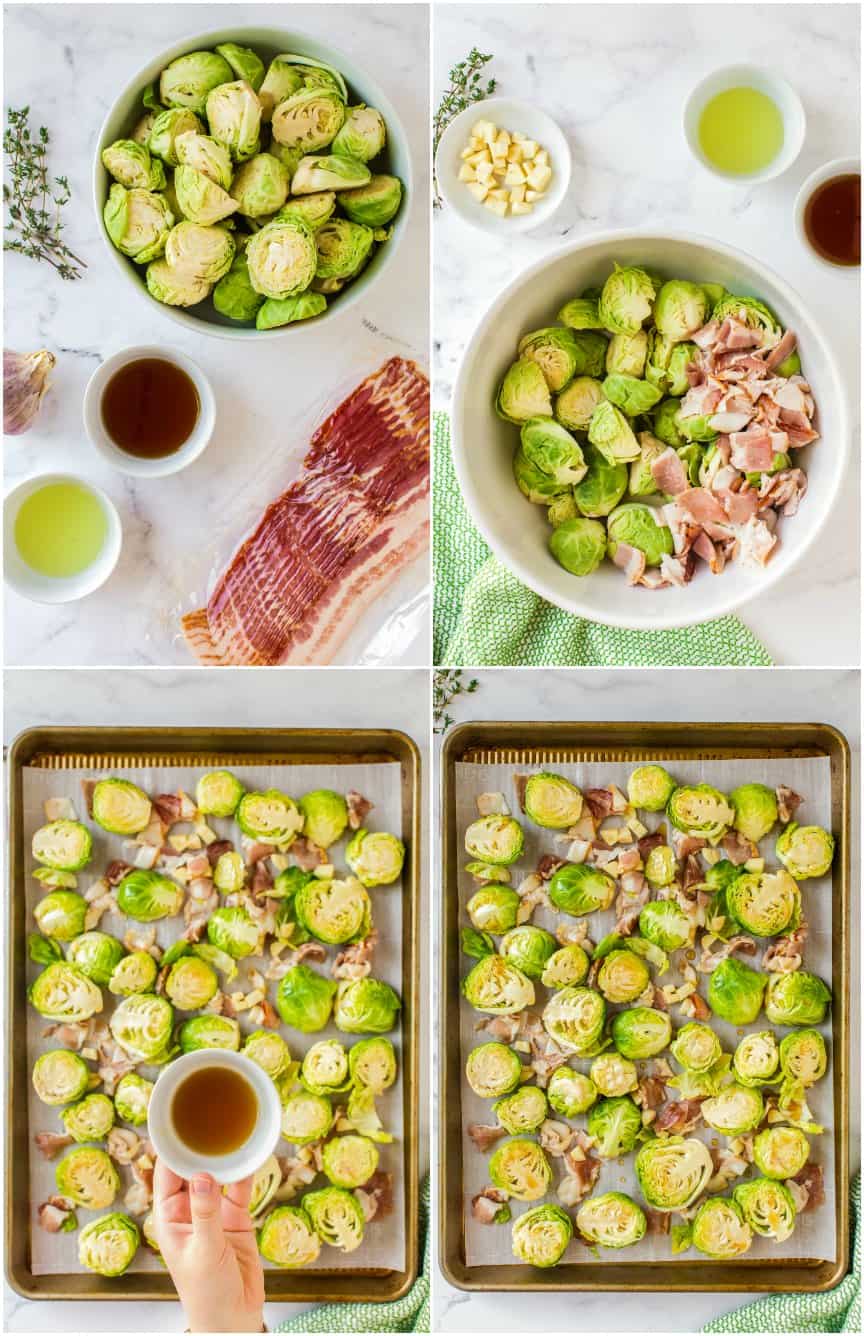 Can you make these ahead of time?
Once cooked, these Brussels sprouts will likely lose their crunch after the first day of making them., so it's best not to make them more than a day ahead.
You can store the leftovers in the refrigerator for an additional 2-3 days in an airtight container. You can gently reheat them in the oven or in a skillet to serve.
How to chop the garlic for this recipe
The size that you cut the garlic cloves matters. Roasted garlic turns sweet and soft when roasted, but in order to avoid burning under the high heat, the garlic cloves need to be fresh and cut into thick chunks.
I normally like to quarter my fresh garlic. If you only have the pre minced garlic, I recommend omitting it from this recipe because it will likely burn during the roasting process.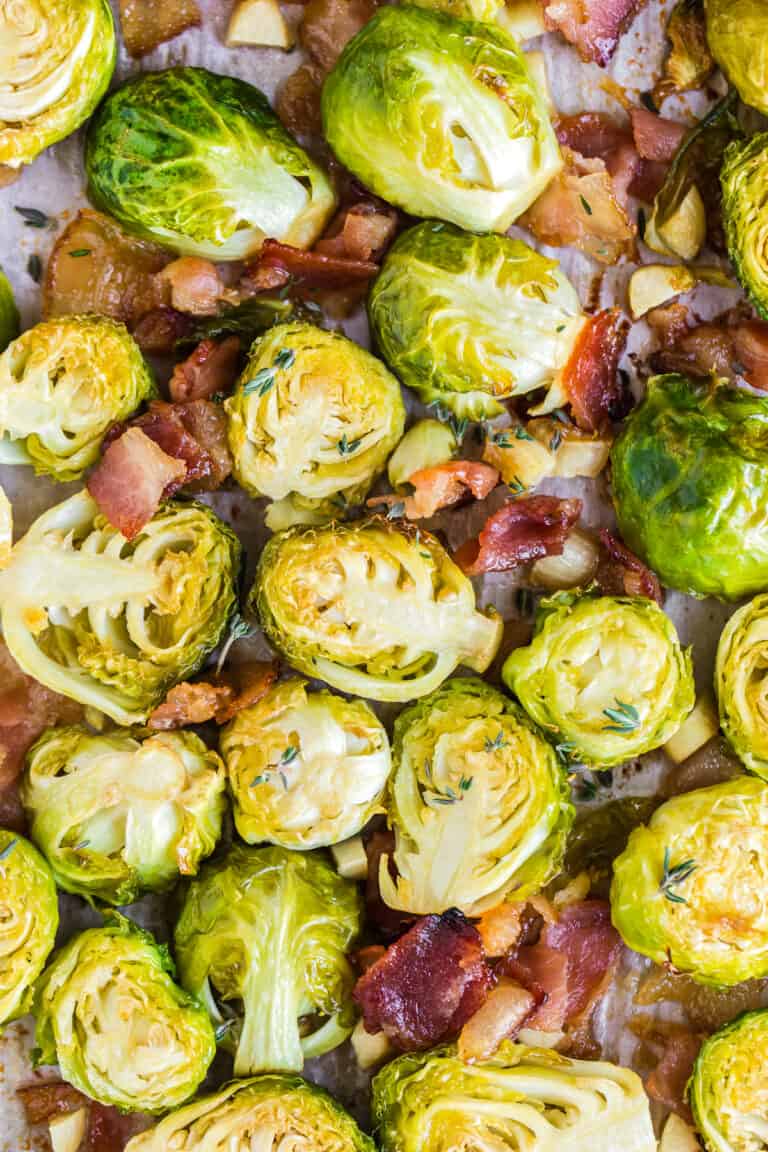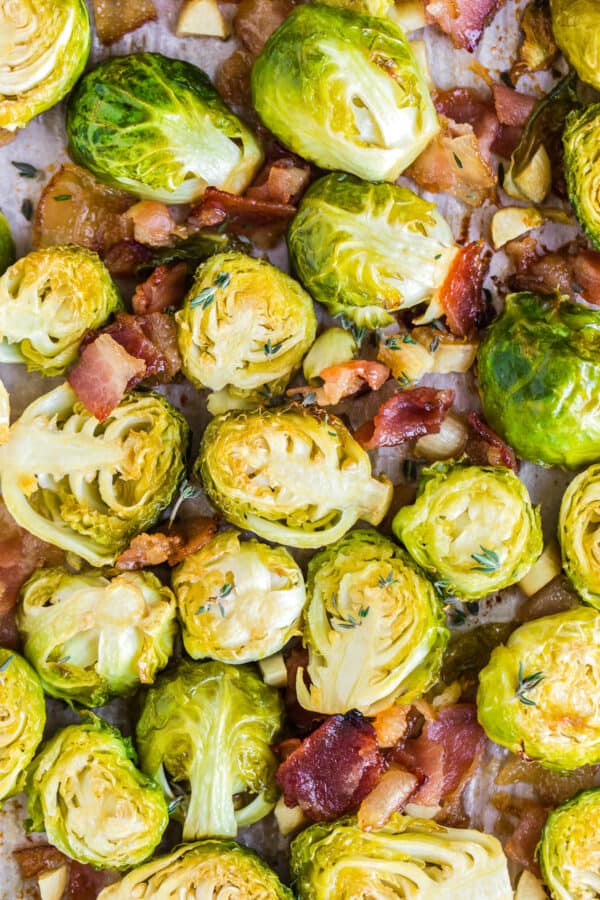 What do you serve with Brussels sprouts?
This classic dish is perfect to serve with roasted meats like chicken, turkey, beef and pork, and of course, serve it alongside all your usual sides like roasted potatoes and honey glazed carrots. If you are looking for inspiration for your main dish, be sure to check out: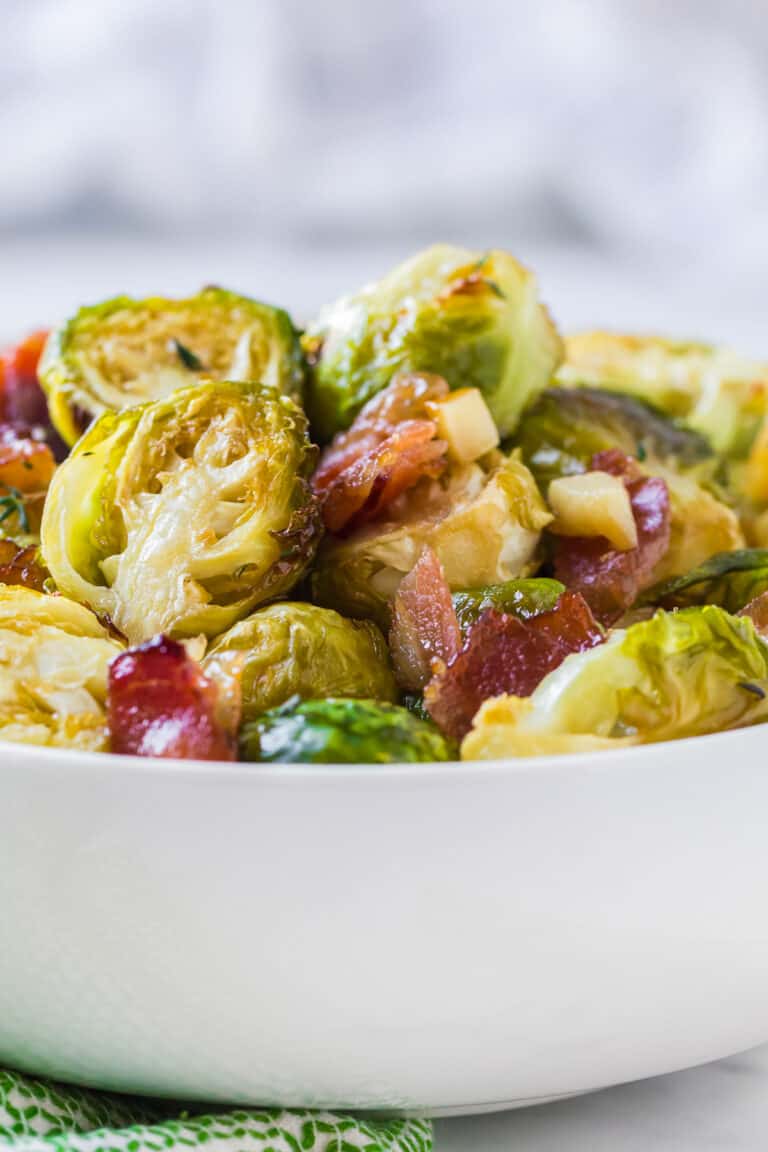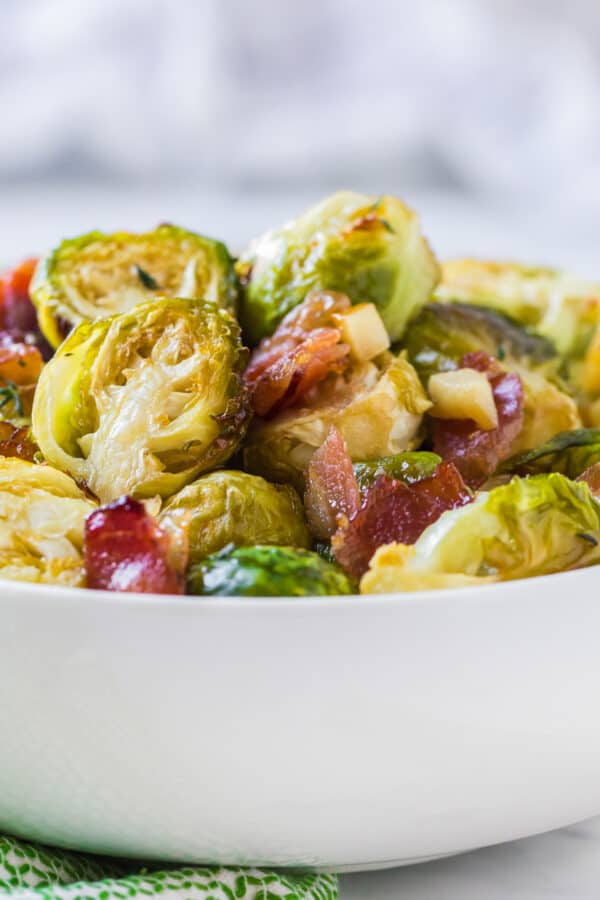 Recipe notes and tips
Don't cut the garlic too finely or it will burn.
I have only tested this recipe using maple syrup, but you may be able to also use agave or table syrup. If you try another sweetener, be sure to let me know in the comments section below.
Fresh thyme adds a certain flair to the sweet Brussels sprouts and bacon. It's an optional addition and if you don't have fresh thyme you can omit this ingredient.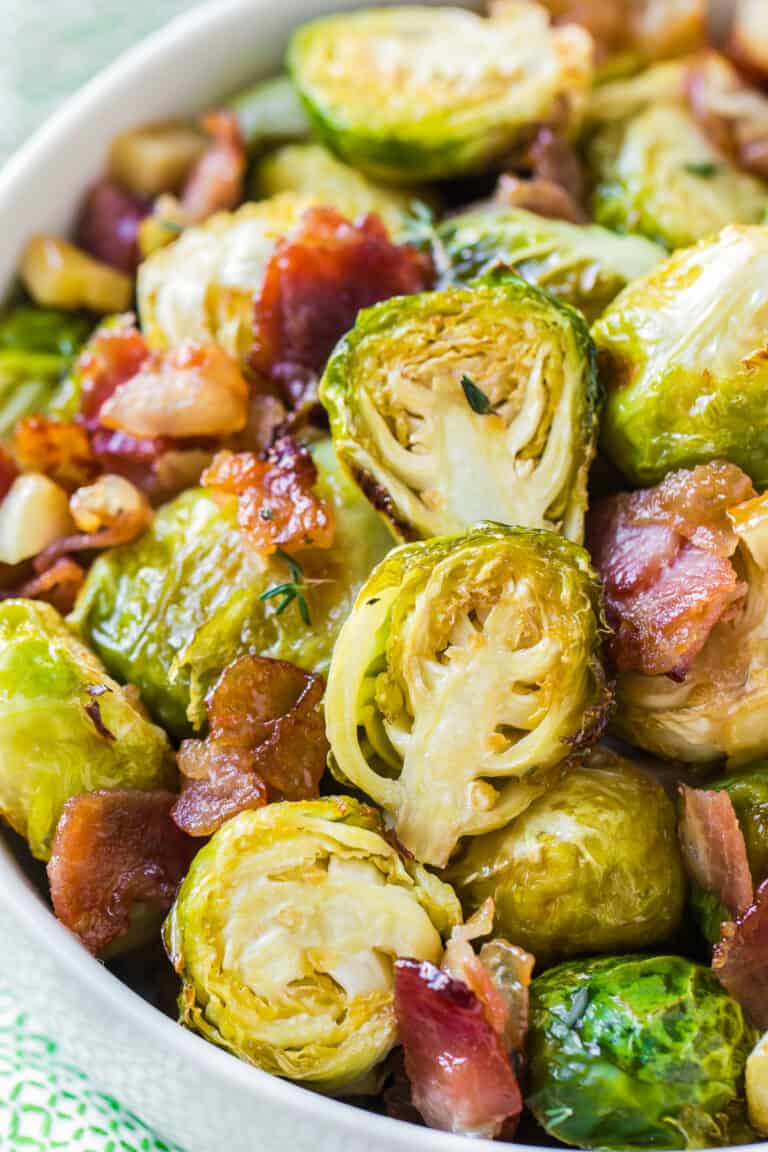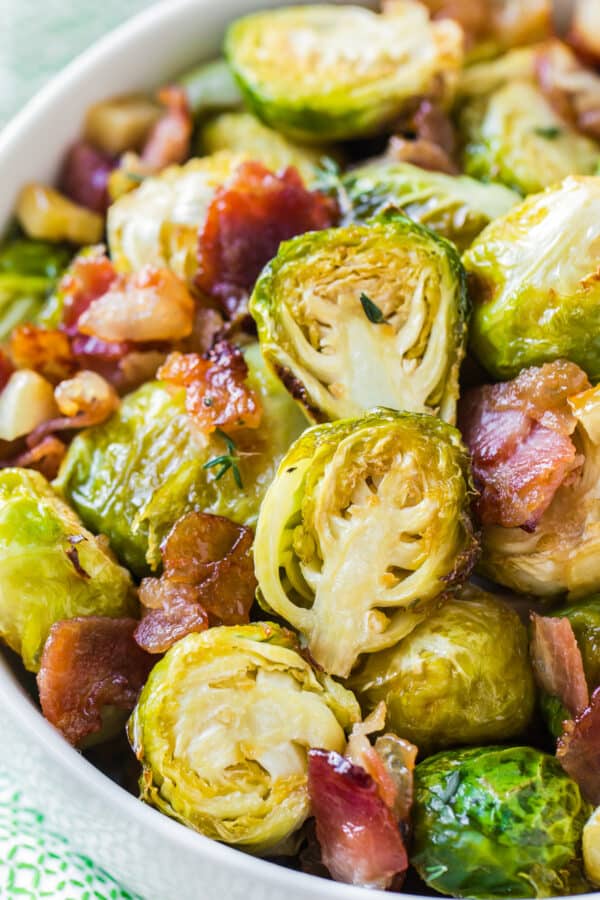 More Easy Side Dishes