BRUSSELS SPROUTS GRATIN with bacon is the ultimate holiday side dish! Who can resist bacon brussels sprouts when sprinkled with SO MUCH CHEESE? The creamy sauce inside of this brussels sprouts au gratin is so easy and delicious, making this a Thanksgiving favorite for our family.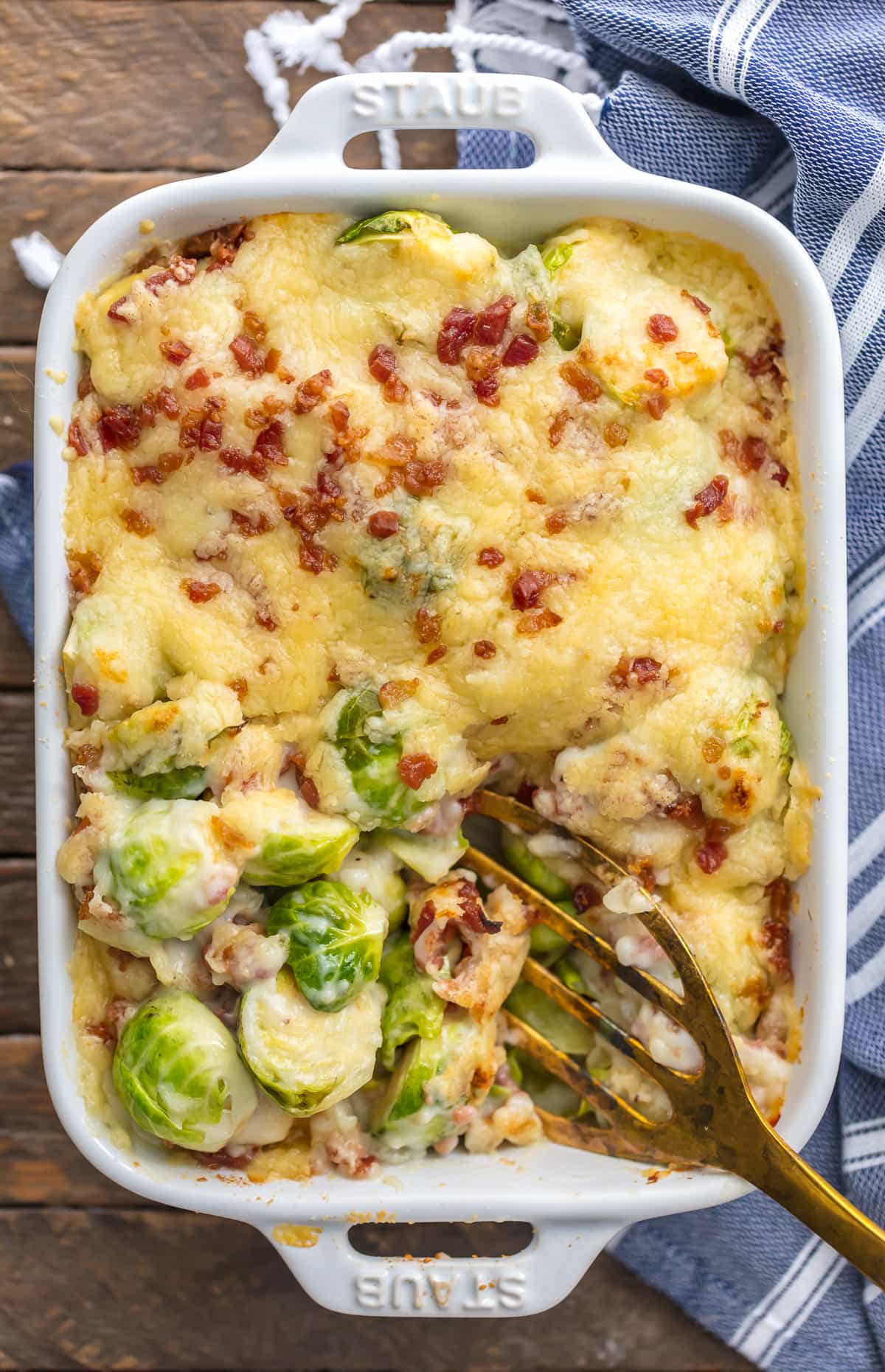 Brussels Sprouts Gratin
Brussels Sprouts Gratin is a cheesy, creamy dream of a holiday side dish! This Bacon Brussels Sprouts Au Gratin recipe is sure to be a family favorite!
I've been posting a lot of favorite Thanksgiving recipes in the past couple weeks, but I've saved the best for last! This SUPER EASY Bacon Brussels Sprouts Gratin is one of my all-time favorite side dishes. It's the ultimate way to eat your greens! Who can resist brussels sprouts when they are tossed in a creamy white sauce, sprinkled with tons of bacon, and topped with loads of white cheddar? I know I can't!
Brussels Sprouts Gratin is the perfect Thanksgiving side dish. Vegetables, BACON, cheese, and a creamy sauce. What more could you want?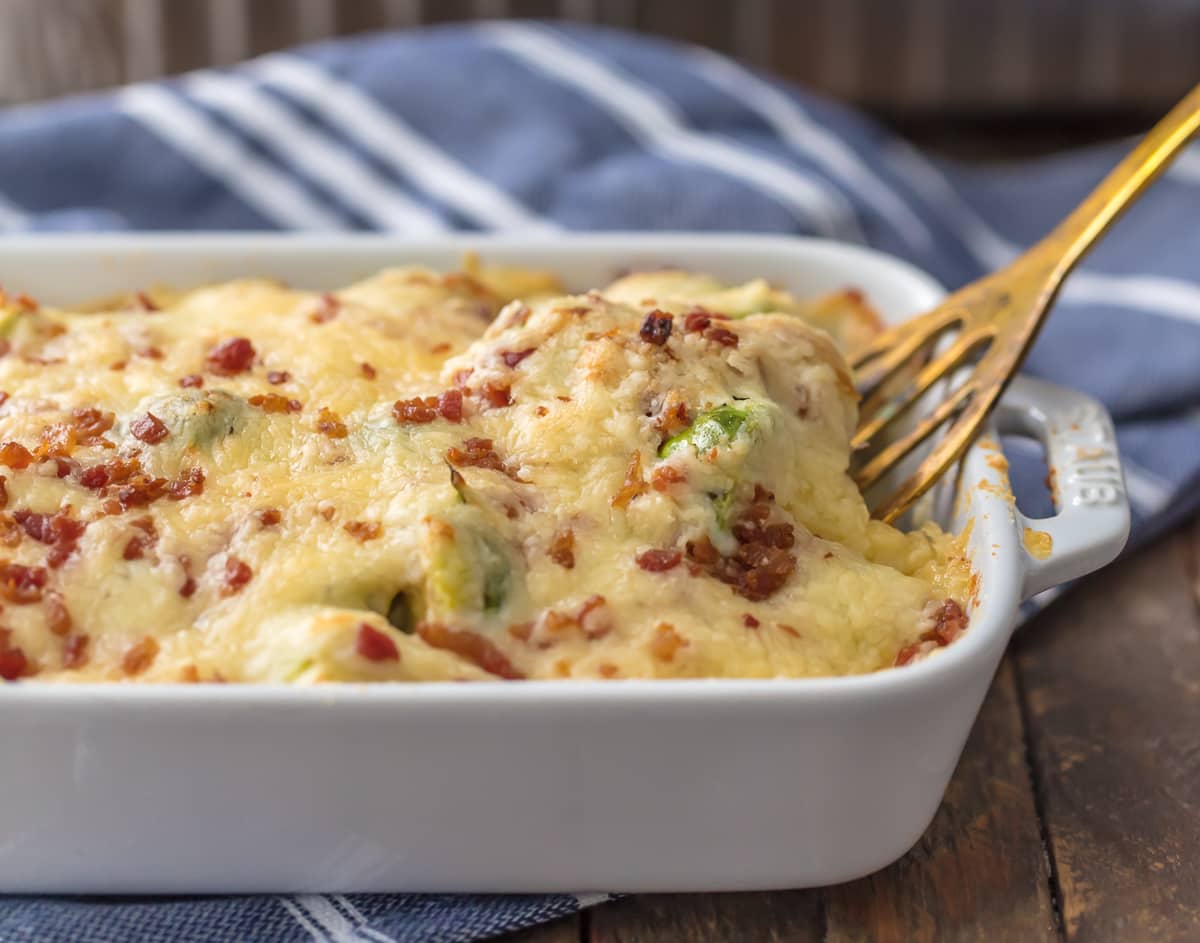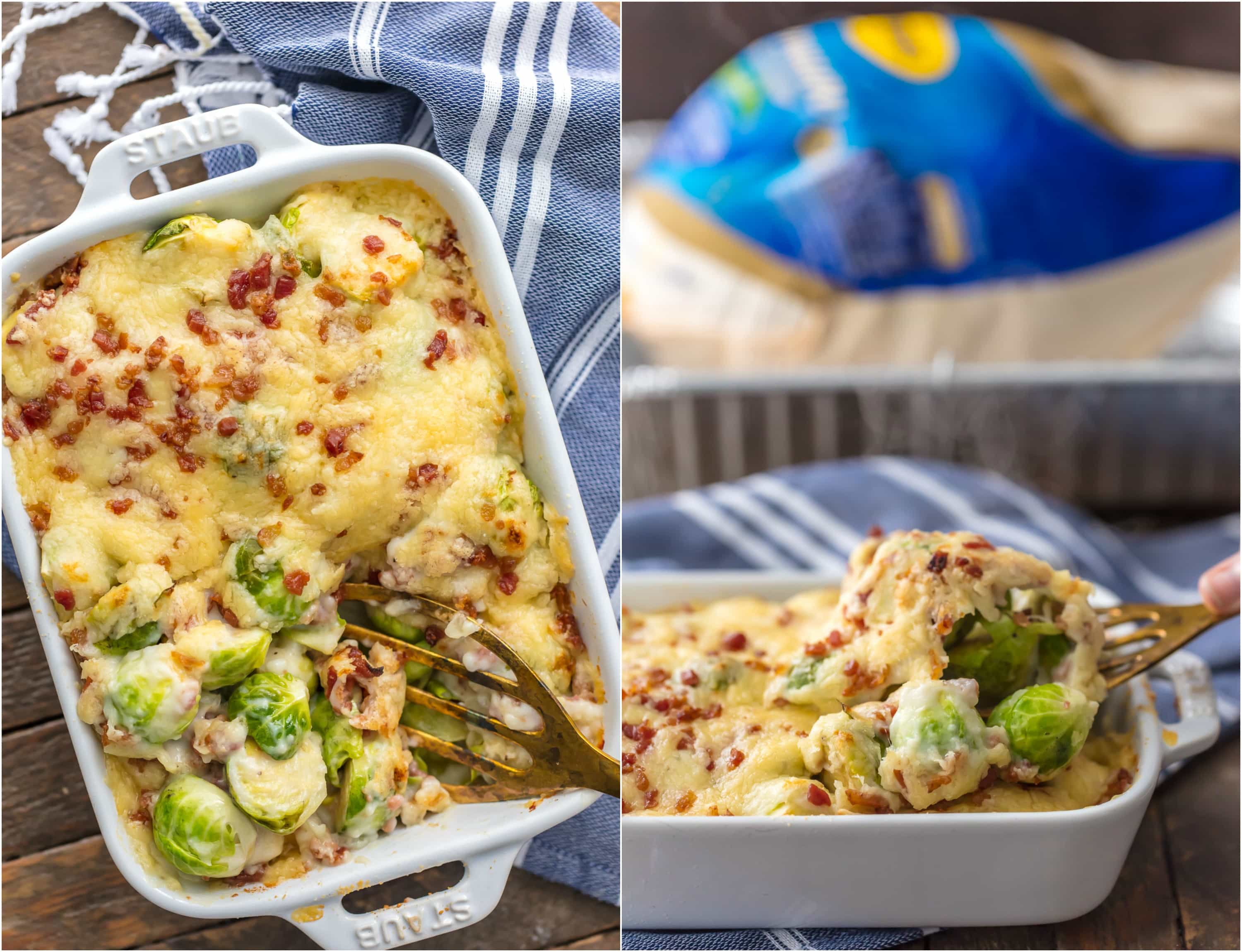 Bacon Brussels Sprouts Au Gratin
A lot of people seem to fear brussels sprouts, but that's just silly! If you've never been a fan of this veggie before, you will be now. Brussels Sprouts Gratin is filled with bacon and cheese, so it's definitely full of flavor. I mean, how can you resist cheesy, bacon brussels sprouts? Trust me on this one, you're going to want to make this dish for every holiday!
Thanksgiving Side Dish
Every family needs that perfect side dish to pair with the star of the show on Thanksgiving, THE TURKEY! I can make sides for days, no problem, but when it comes to the turkey, I still look to the professionals. And by the professionals, I mean BUTTERBALL of course! Is there any more trusted name in Turkey? They've always been there for home cooks on Thanksgiving, making sure every one of their turkeys comes out just the way you want it.
How to Make Brussels Sprouts Gratin
This cheesy Bacon Brussels Sprouts Gratin is super simple. There's no hassle with this easy Thanksgiving side dish, so no worries here. Just follow a few basic steps and you've got a creamy, cheesy side dish dish.
Boil the brussels sprouts
Make the creamy sauce
Layer up all the ingredients in a baking dish
And bake the brussels sprouts gratin for 10-15 minutes
This recipe couldn't be simpler, which automatically makes it the perfect holiday side dish. Bacon brussels sprouts au gratin are just so good, you gotta try them. Check the recipe card below for detailed instructions.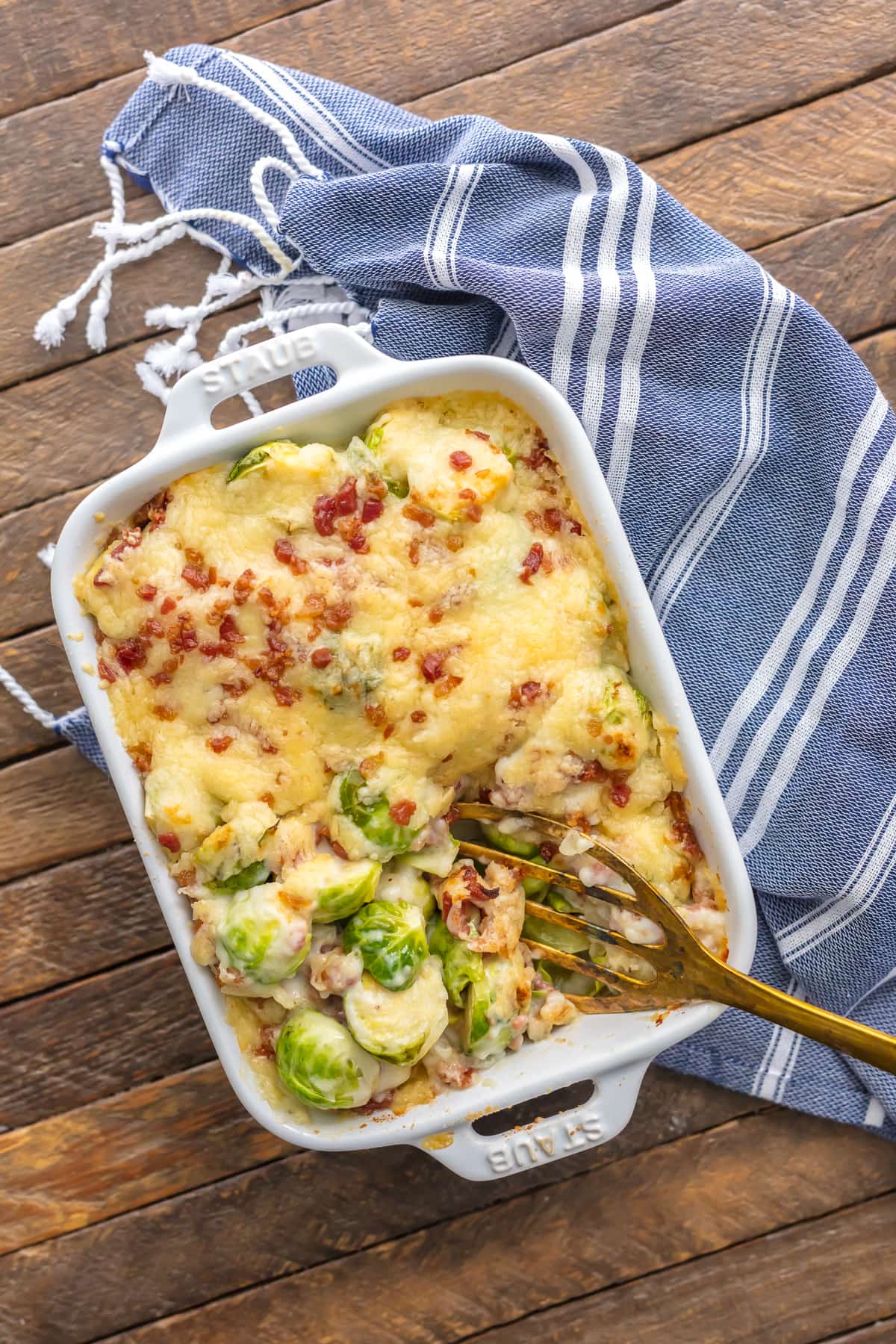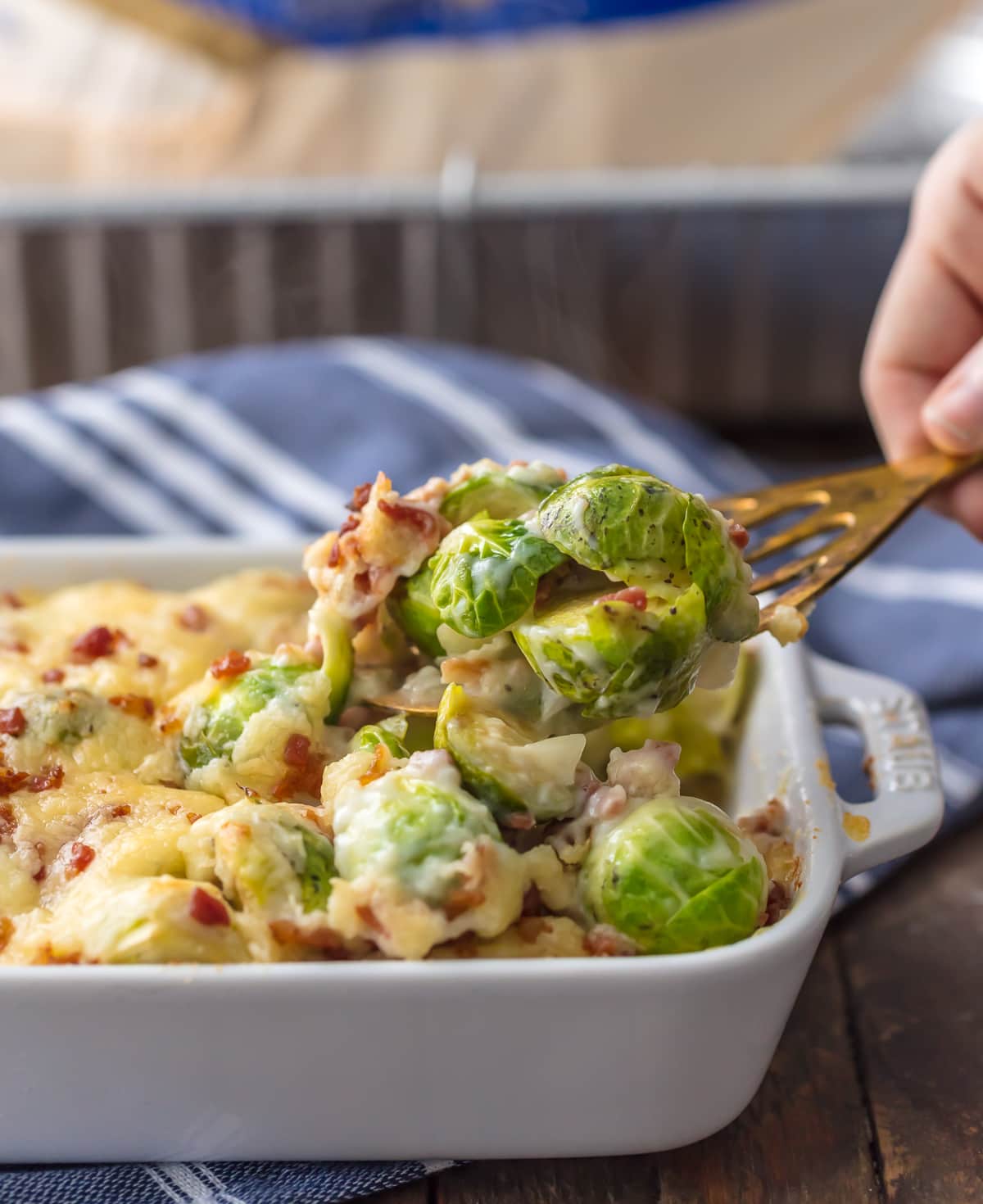 See the recipe card below for details on how to make Brussels Sprouts Gratin. Enjoy!
If you like this recipe, try these other tasty holiday side dish recipes: