Shaved Brussels Sprout Salad is a simple side dish to serve with any meal. Brussels Sprouts, toasted almonds, and cheese are tossed with a Honey Lemon Dijon Vinaigrette for a light and delicious flavor. This shaved Brussels Sprouts recipe is so easy and can be made in no time!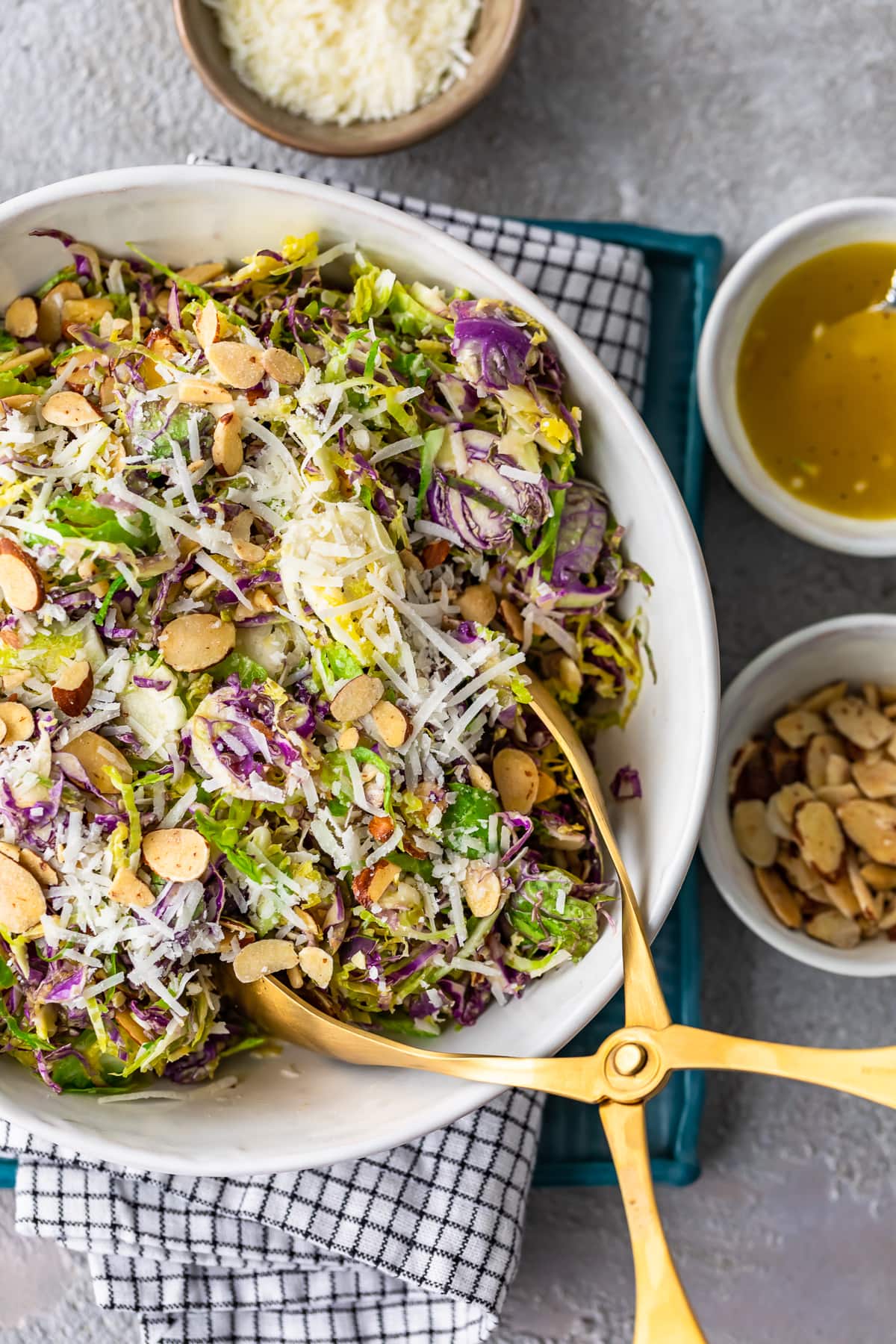 Shaved Brussels Sprout Salad
This shaved brussels sprout salad recipe is just perfect for simple spring time meals or special holidays and occasions.
Brussels Sprouts are one of those vegetables that you think you're supposed to hate, but are actually SO good. They're easy to work with and they're extra tasty!
This Shaved Brussels Sprout Salad recipe is proof of how good they can be, even without cooking! Just shave them up into pieces, toss them with a honey lemon dijon vinaigrette dressing, add in some toasted almonds and cheese, and you've got a simple salad filled with flavor.
You can make this easy shaved Brussels Sprouts recipe for Easter, for Mother's Day, for a spring time lunch, or any time you need a simple side dish.
This Shaved Brussels Sprouts Salad recipe is the perfect simple salad for both special occasions and every day meals.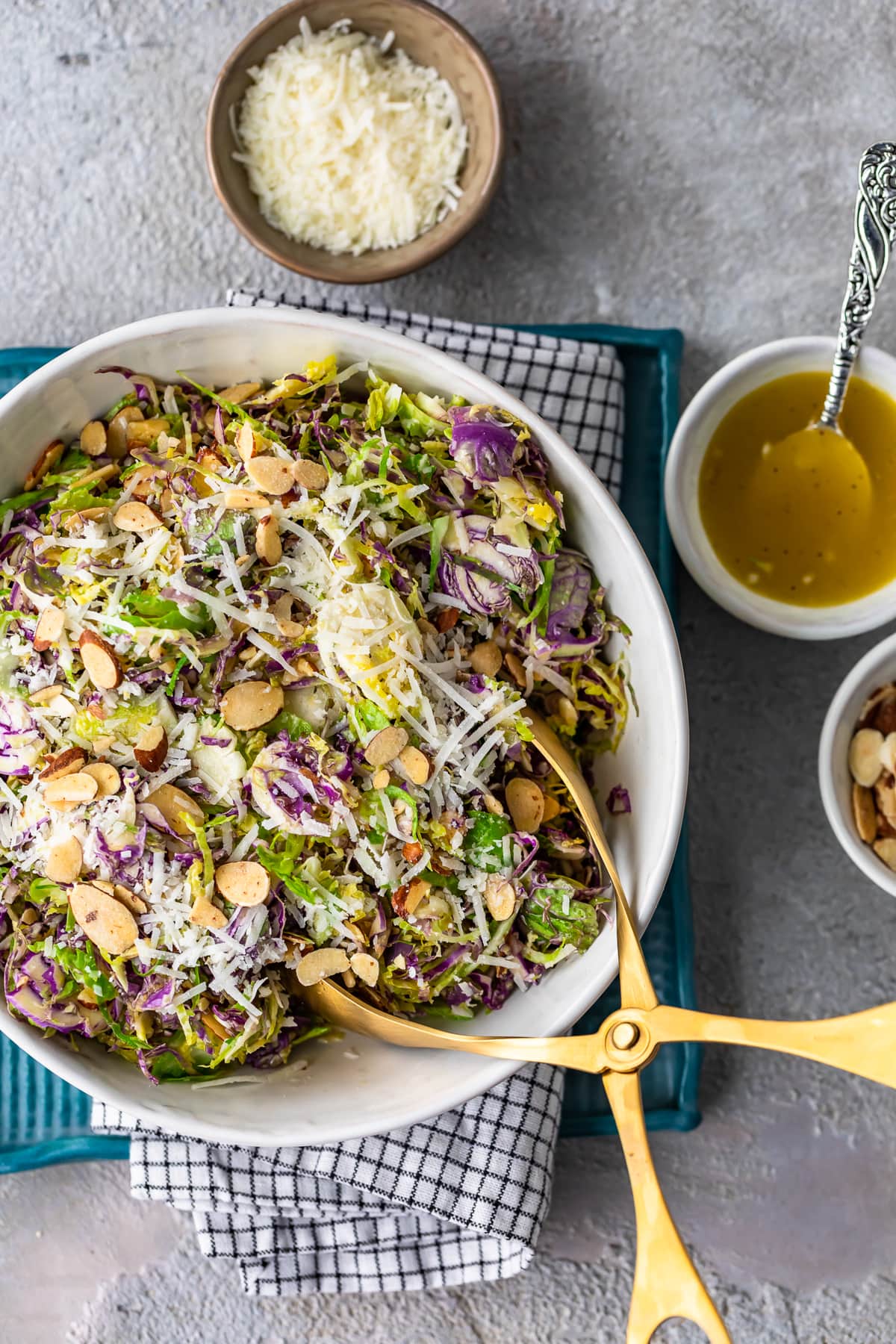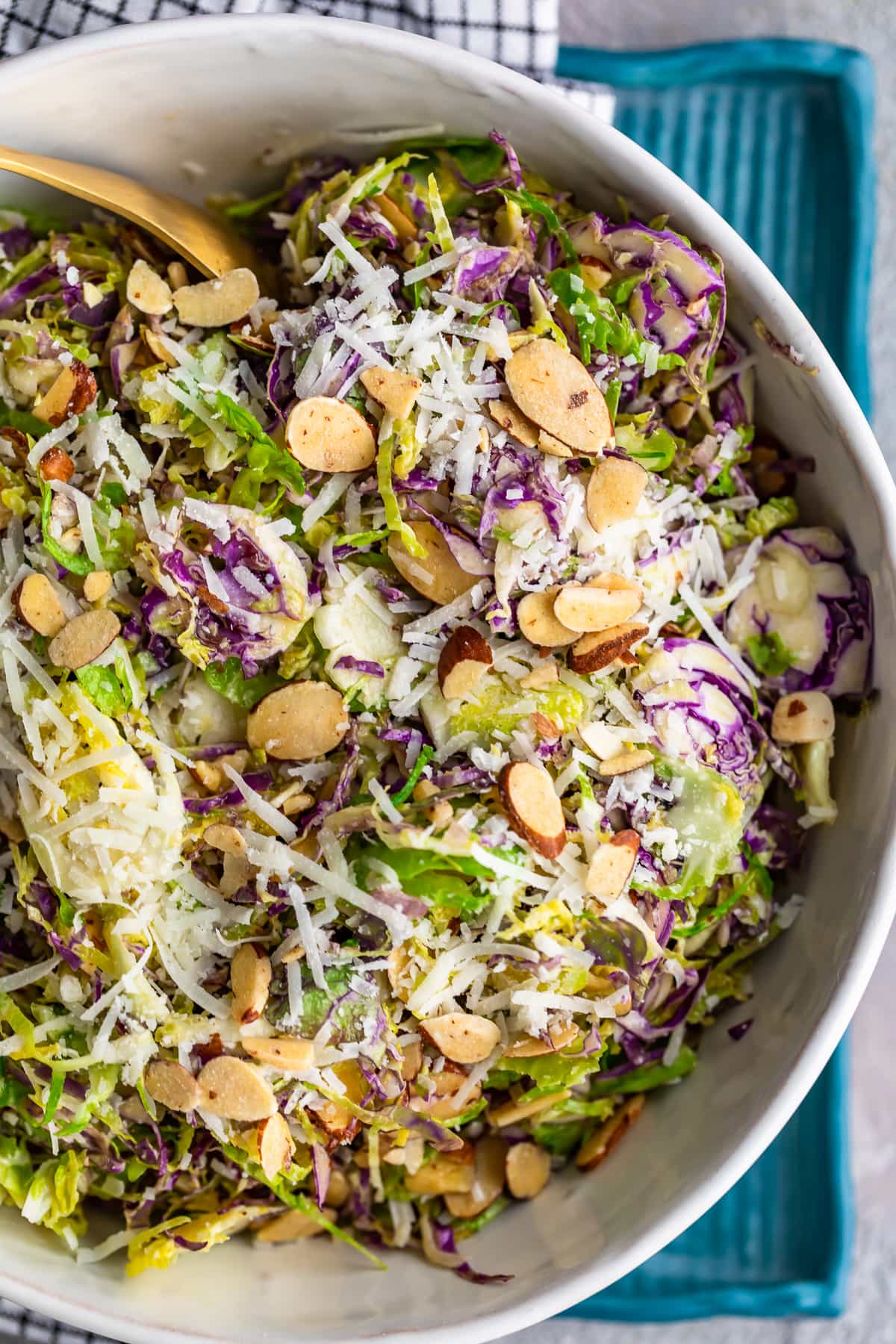 Brussels Sprout Salad Recipe
This tasty Brussels Sprout Salad is simple. It's made up mostly of Brussels Sprouts, with some toasted almonds and Pecorino Romano cheese tossed in. It's then finished off with the amazing Honey Lemon Dijon Vinaigrette salad dressing, which we're making ourselves as well.
I'm loving this shaved Brussels spouts recipe, and it's becoming a new favorite way to eat this vegetable!
Honey Lemon Dijon Vinaigrette
The honey lemon dijon vinaigrette is an important part of this recipe. The mix of sweet, citrus, and savory flavors combines perfectly into a tasty salad dressing that goes so well with the brussels sprouts. And all you have to do to make it is whisk the ingredients together! So easy. I think I'll be making this to pair with other salads in the future as well.
Honey Lemon Dijon Vinaigrette Ingredients:
Fresh Lemon Juice
Honey
Dijon Mustard
Garlic
Shallots
Olive Oil
Sea Salt
Pepper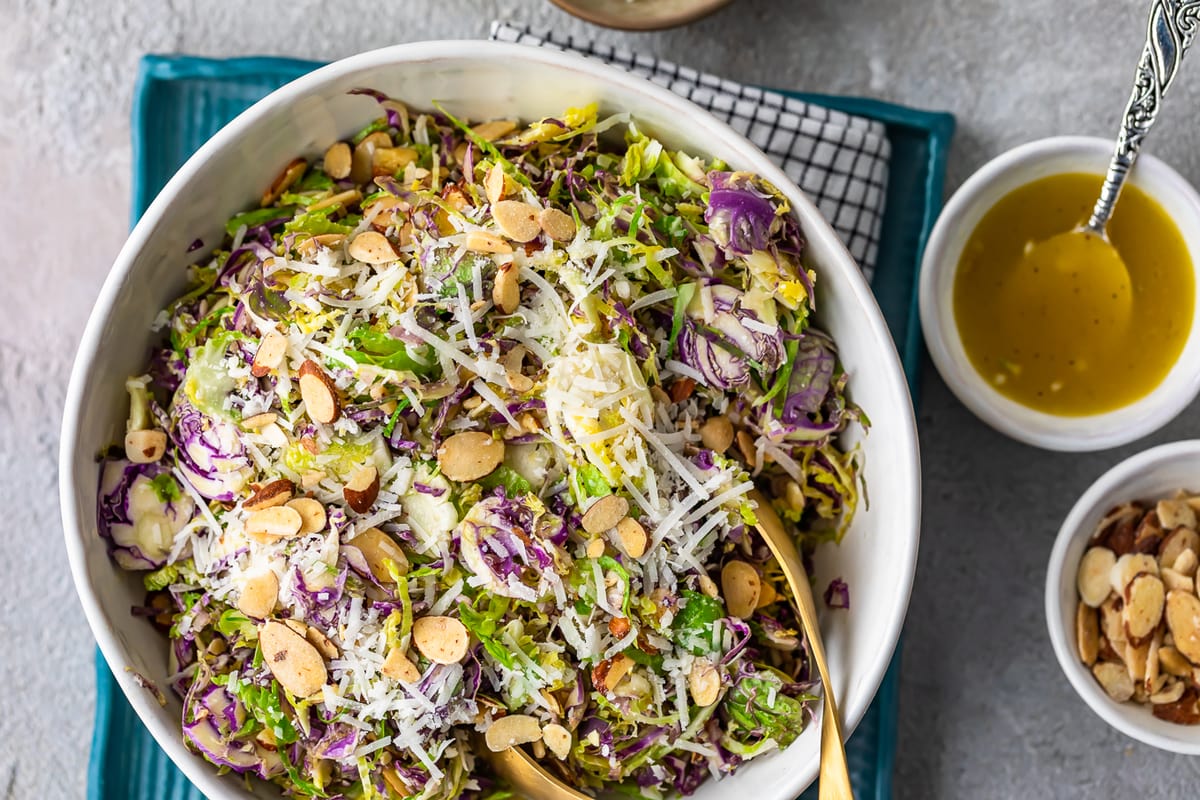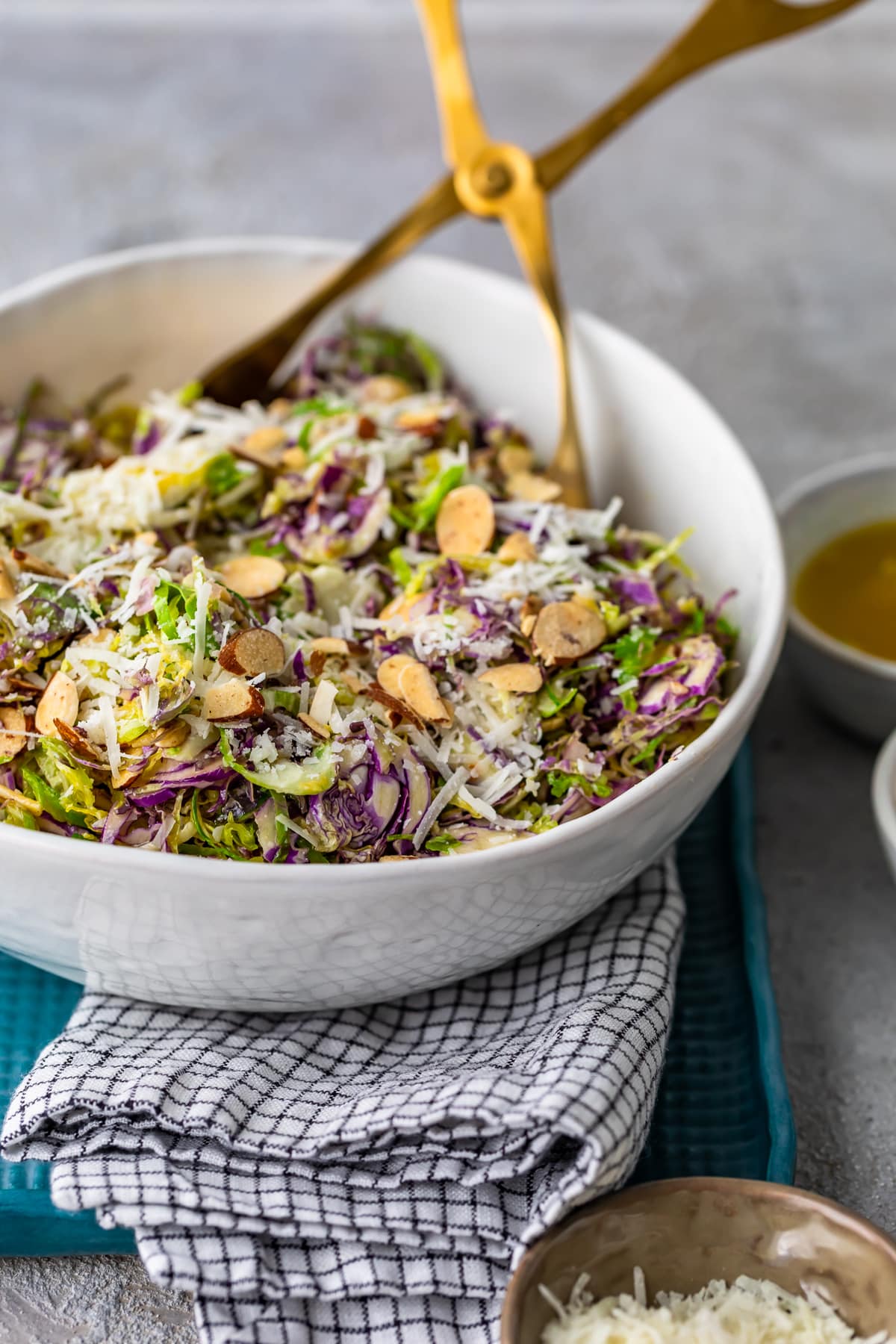 How to Make Shaved Brussels Sprout Salad
One thing salads have going for them is that they don't take long to make. Also that they're healthy, and simple, and let's face it, salads like this one are DELICIOUS. The vinaigrette dressing really adds so much flavor, and of course a little bit of cheese makes all the difference!
A few simple steps, a few minutes to prep, and then just let this shaved brussels sprouts recipe sit in the refrigerator until you're ready to serve.
How to Make Shaved Brussels Sprout Salad:
Start by making the dressing so it's ready to use. Just combine all of the vinaigrette ingredients in a bowl, and whisk until emulsified.
Now use a food processor to shave up the brussels sprouts, then transfer them to a large bowl.
Drizzle the lemon dijon vinaigrette over the shaved Brussels sprouts, and toss until they're fully coated.
Let the salad sit in the refrigerator for at least 30 minutes, or up to 2 hours.
Before serving, toss in the toasted almonds and cheese. Add a bit of salt and pepper if desired.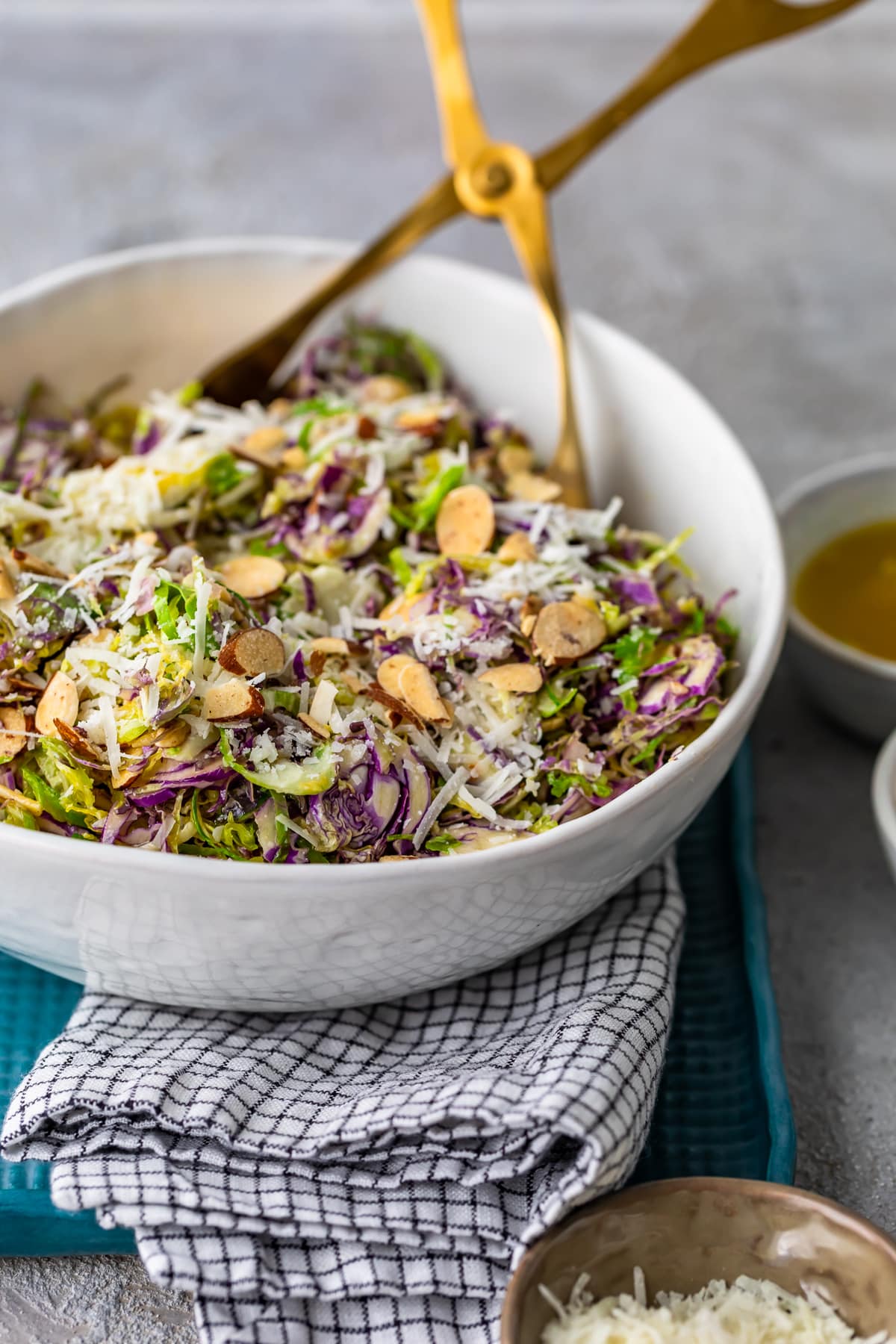 Can you shave brussels sprouts in a food processor?
Yes! Using a food processor to shave brussels sprouts is such an easy way to do it. Use the slicing blade in the food processor and set it to the thinnest setting. This will slice them up into the perfect size and texture for this shaved brussels sprout salad recipe.
What to serve with this Shaved Brussels Sprout Salad
Here are some ideas for great main courses to pair with this healthy salad!
Brussels Sprouts Side Dish Recipes
I've really learned to love Brussels Sprouts over the years, and it's recipes like this that have changed my mind. You can roast them, grill them, saute them, or (in this case) just shave them up and eat them raw in a salad. It makes a great side dish for holidays and Sunday lunches!
Try these other Brussels Sprouts Side Dishes: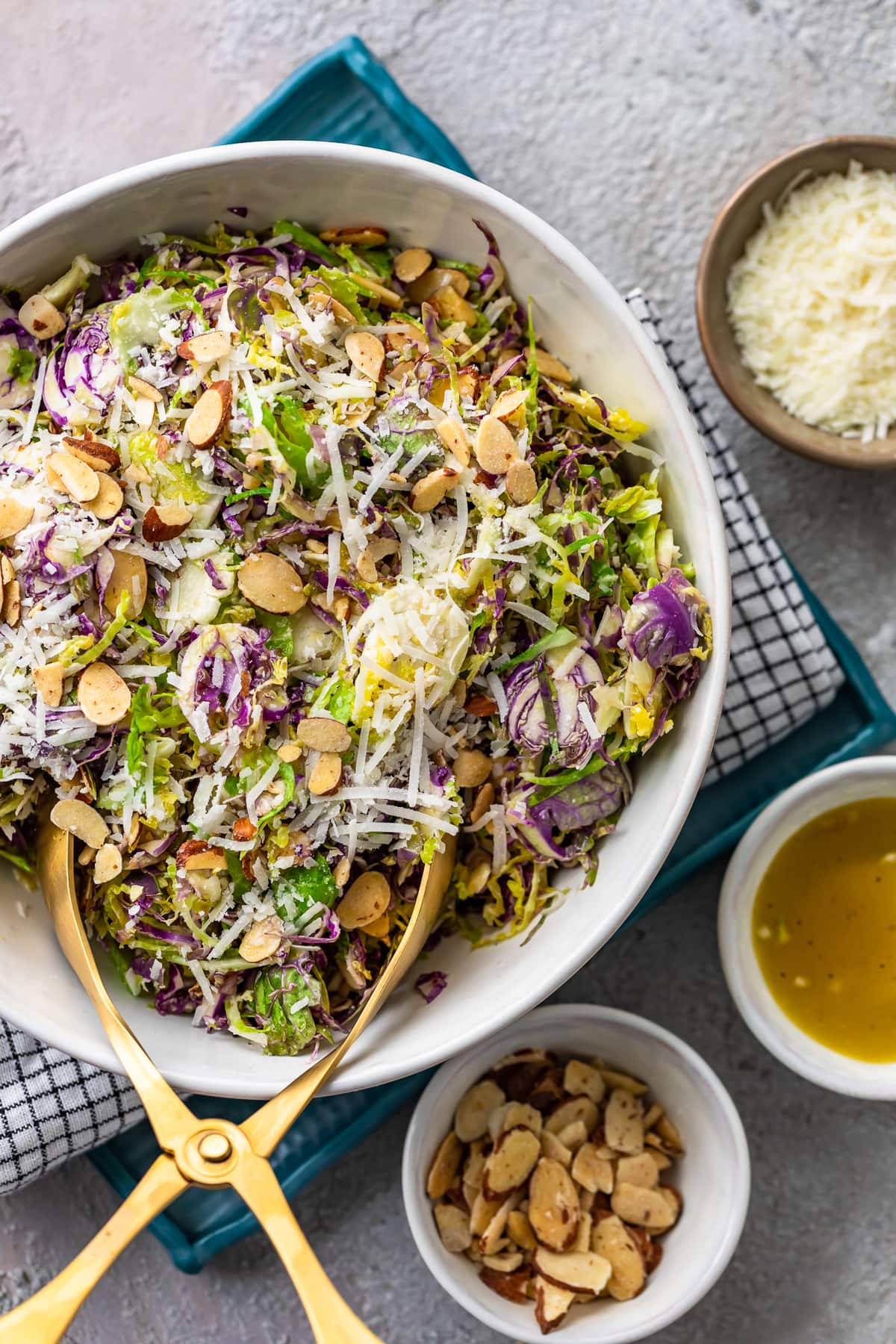 I hope you all love this simply delicious Shaved Brussels Sprouts Salad recipe as much as I do!
See the recipe card for details on how to make Shaved Brussels Sprout Salad. Enjoy!
If you like this shaved brussels sprouts recipe, try these other simple salads: