This easy Roasted Brussels Sprouts recipe leaves you with crispy, golden brown edges, a tender interior, and simple yet tantalizing flavor! This is the recipe that will turn a healthy vegetable into something even picky eaters will devour, with just a handful of basic ingredients. Pop these in the oven to bake, and add a few extra toppings like bacon or cheese to make them your own!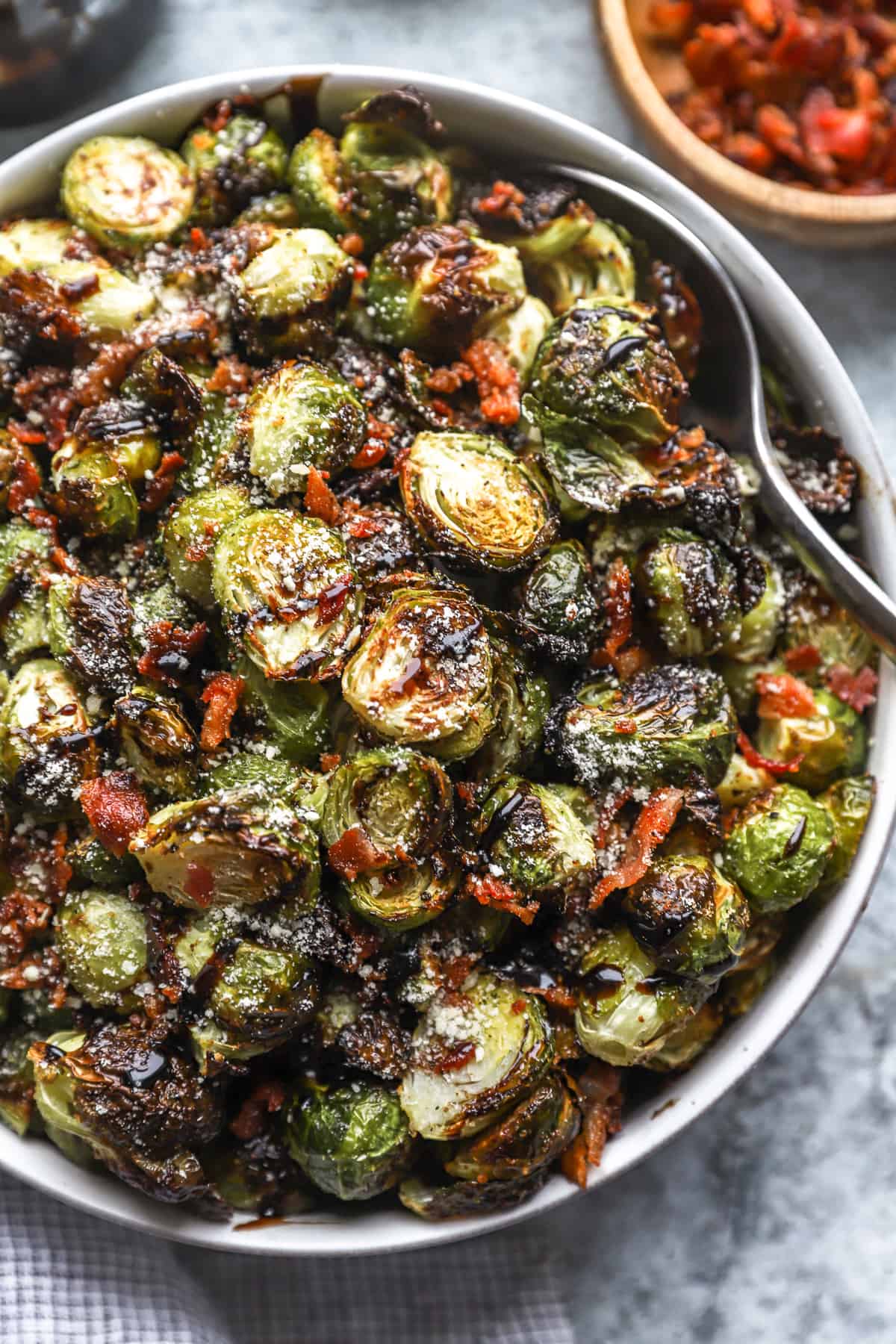 What's in Oven Roasted Brussels Sprouts?
All you need is olive oil and a few seasonings to make these simple roasted Brussels sprouts! It's the perfect side dish for any dinner.
Brussels Sprouts: Start with fresh Brussels sprouts for the best results. I don't recommend using frozen because they will have too much moisture, which leads to a soggy result.
Oil: Olive oil works best here, but you can use any cooking oil you prefer.
Seasonings: Salt, onion powder, garlic powder, and ground black pepper are all you need.
Pro Tip: When halving your Brussel sprouts, try to make them all the same size, so they roast evenly in the oven.
Spice Up Your Crispy Roasted Brussels Sprouts!
What goes better with crispy, crunchy baked Brussels sprouts than bacon? Not much! My favorite way to spice these up is with a generous helping of freshly grated Parmesan cheese, a drizzle of balsamic vinegar glaze, and freshly cooked bacon crumbles!
For another variation, slivered almonds add a satisfying crunch, while a sprinkle of feta adds a sharp tang and creaminess to an earthy dish. Or you can fry thinly sliced garlic in olive oil for an extra punch of flavor.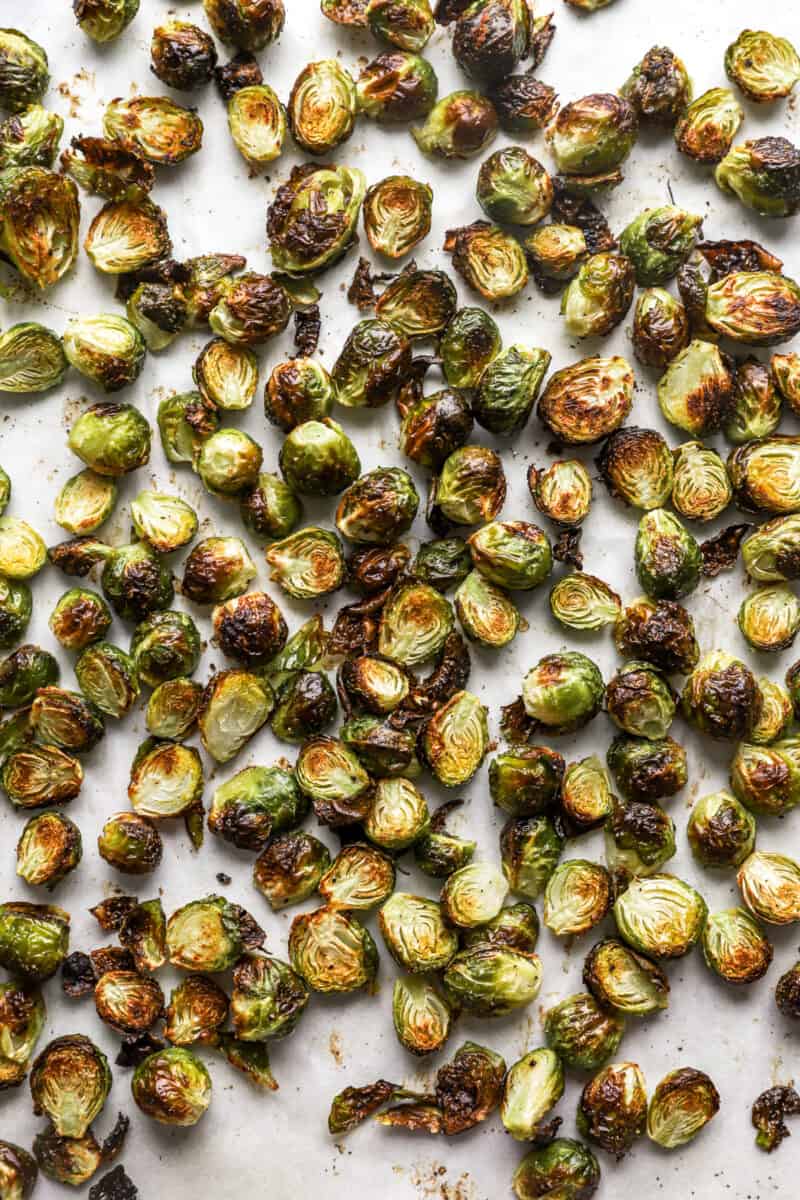 How do I trim Brussels sprouts?
The best way to trim Brussels sprouts is to begin by removing the outer leaves. Once any discolored leaves have been removed, cut off the thick part of the root. Finally, cut the sprouts in half vertically from root to end.
Should I soak or boil my Brussels sprouts before roasting?
There's really no need to soak or parboil Brussels sprouts before roasting them. We are halving them, so they should roast through just fine. If you'd like to keep yours whole, you may want to parboil them to ensure that they fully cook through.
Why are my Brussels sprouts not crispy?
If your Brussels sprouts aren't turning out crispy, it is either because they are too crowded on the baking sheet or the oven temperature is not high enough. Make sure to spread out the Brussels sprouts so that they have room between them.
If they seem too crowded on one baking sheet, you may need a second one. Be sure to check your oven temperature as well, as ovens can often be up to 25°F hotter or cooler than the registered temperature.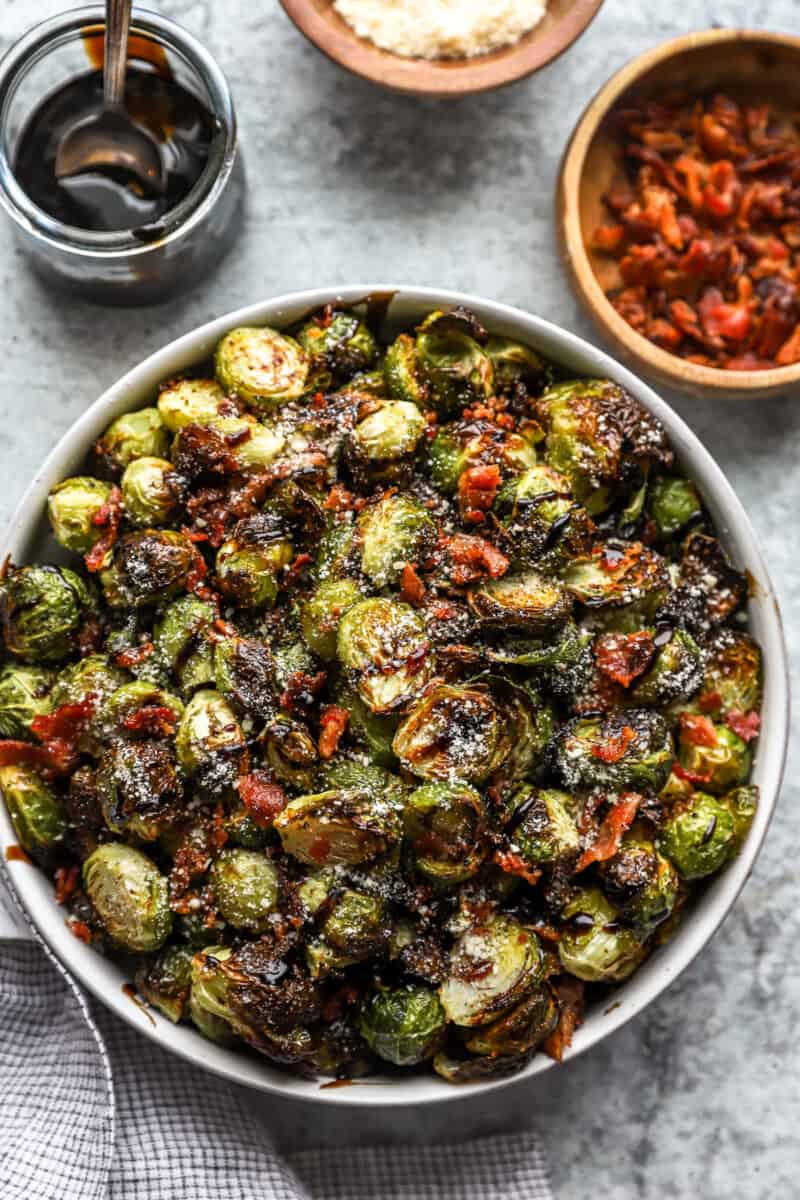 How to Store and Reheat
Store leftover oven-roasted Brussels sprouts in an airtight container in the refrigerator for up to 4 days. Reheat in a 350°F oven for 5 minutes.
How to Freeze
Freeze baked Brussels sprouts in a single layer on a lined baking sheet until solid, about 1-2 hours. Transfer to an airtight container or Ziplock bag to store for up to 2 months. Let thaw overnight in the refrigerator before reheating.
What to Serve with Easy Roasted Brussels Sprouts
A great side dish deserves a stunning main course. I love pairing these crispy Brussels sprouts bites with the decadent texture and flavor of my Crock Pot Ribs or Smothered Pork Chops.
For lighter fare with a healthy focus, I recommend pairing it with the earthy, smoky flavors of Air Fryer Salmon or throwing them into a classic Buddha Bowl to add more texture!
They pair so well with any dish you can imagine, so give them a try with your favorite salmon dinners, burger recipes, or pasta dishes.
More Brussels Sprouts Recipes We Love