This smoky port wine cheese log is the perfect addition to and holiday cheeseboard. Simple to make, this cheese log is rolled in nuts and is a real crowd pleaser that is full of flavor and texture.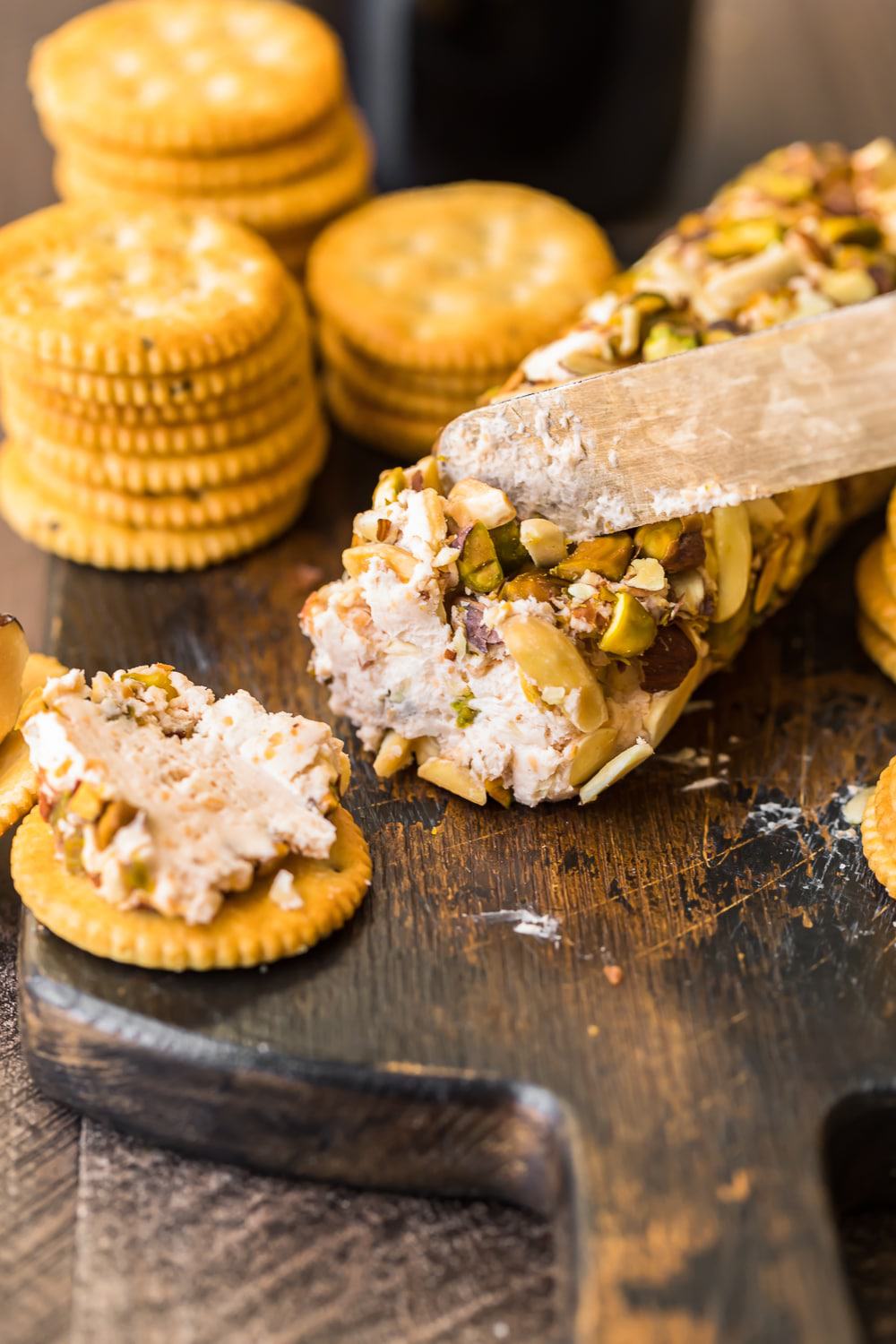 I love serving a large cheeseboard over the holidays, there's just something so festive about it! Rather than just serve up store bought cheeses, I like to add something unique like my Bacon Ranch Cheese Ball Recipe or this delicious port wine cheese log. So easy to make and so impressive!
How to make this Smoky Port Wine Cheese Log Recipe
Add all of the cheeses to the bowl of an electric mixer and mix until combined. Add in the Worcestershire, port wine and Captain Rodney's and mix until combined. Cover and place in the fridge for 4 hours.
After rested, place half the mixture on plastic wrap and roll into a log, then roll in the nuts until covered. Cover with the wrap and twist the ends and place in the fridge until ready to serve.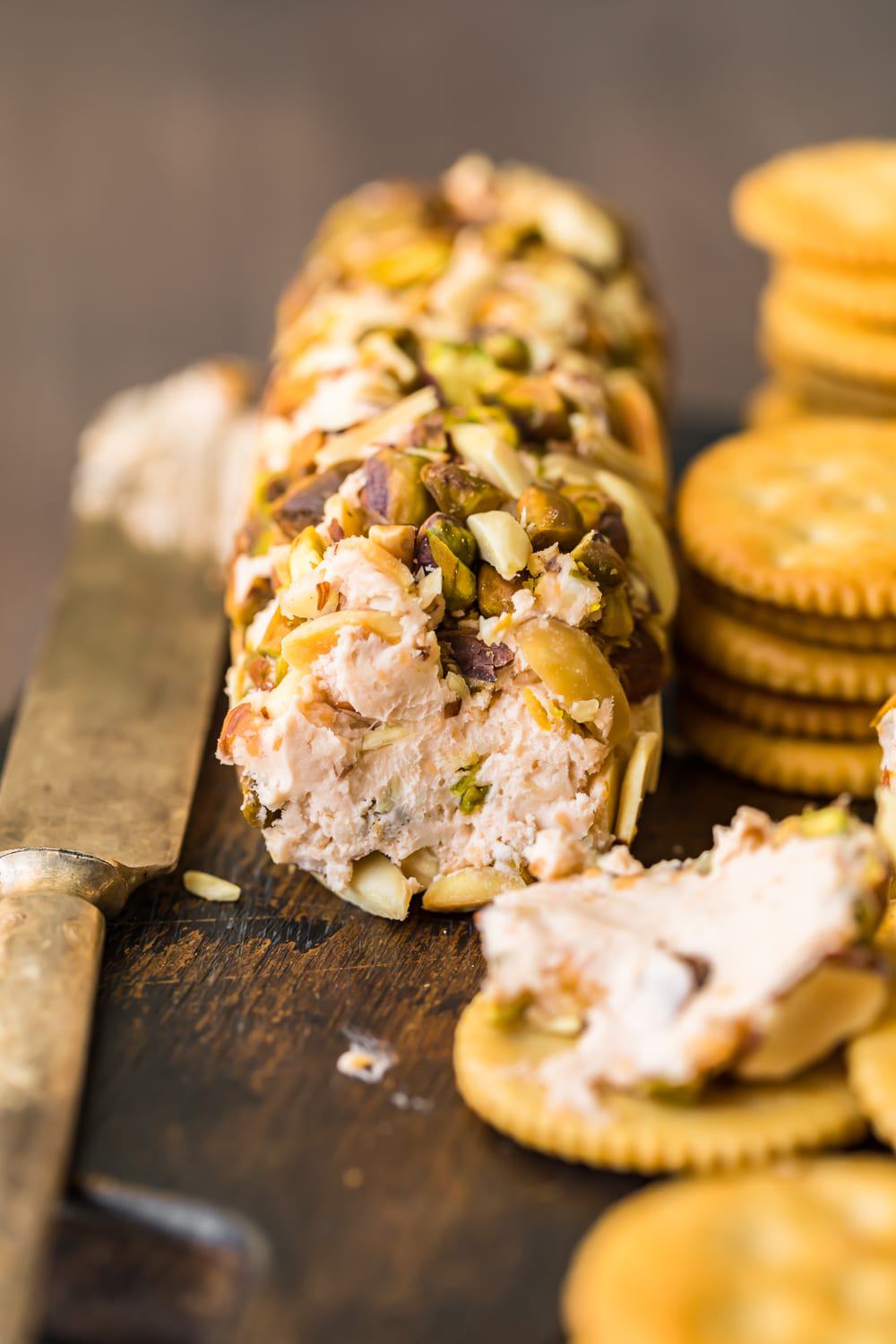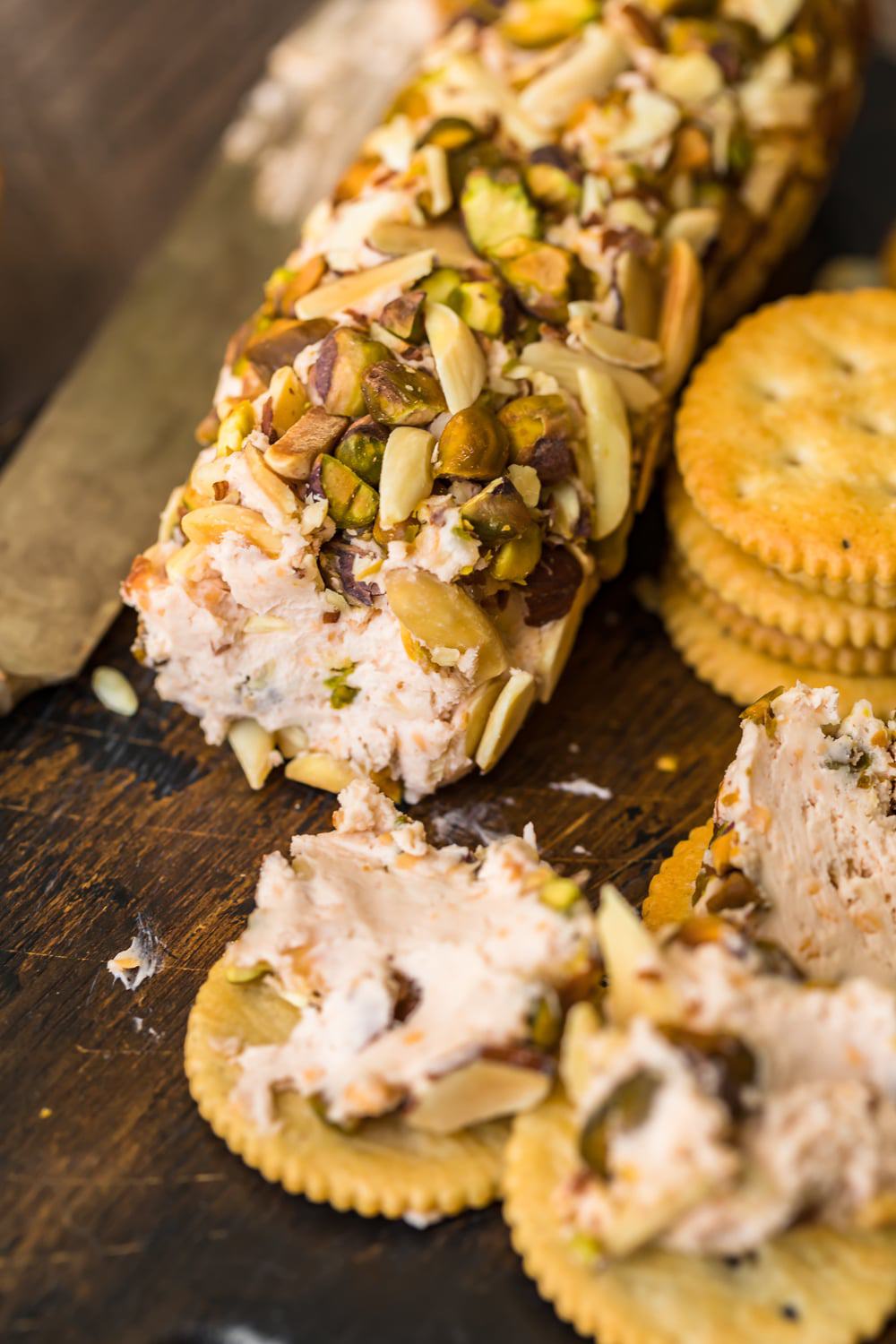 How far in advance can you make a cheese log?
The cheese log will need time to set, so be sure to allow time for this. The good news is, is that the rolled log will last up to two weeks in the fridge, securely wrapped in plastic wrap. It's a great recipe to make before guests arrive and then pull out whenever you are ready.
The cheese log also freezes well. Wrap the plastic wrapped cheese in foil and it will keep in the freezer for up to 4 months. Thaw it overnight in the fridge before serving.
What are the ingredients in a port wine cheese log?
This cheese log is so full of flavor and the crunchy nuts really finish it off and add great texture. The cheese log is richa and smoky with a little touch of spice. The ingredients are:
3 cheeses: Cream cheese, smoked cheddar cheese and swiss cheese
Port wine
Worcestershire sauce
Captain Rodney's Boucan: You can also use sweet chili sauce
Nuts: I used pistachios and almonds, but walnuts would work really well too.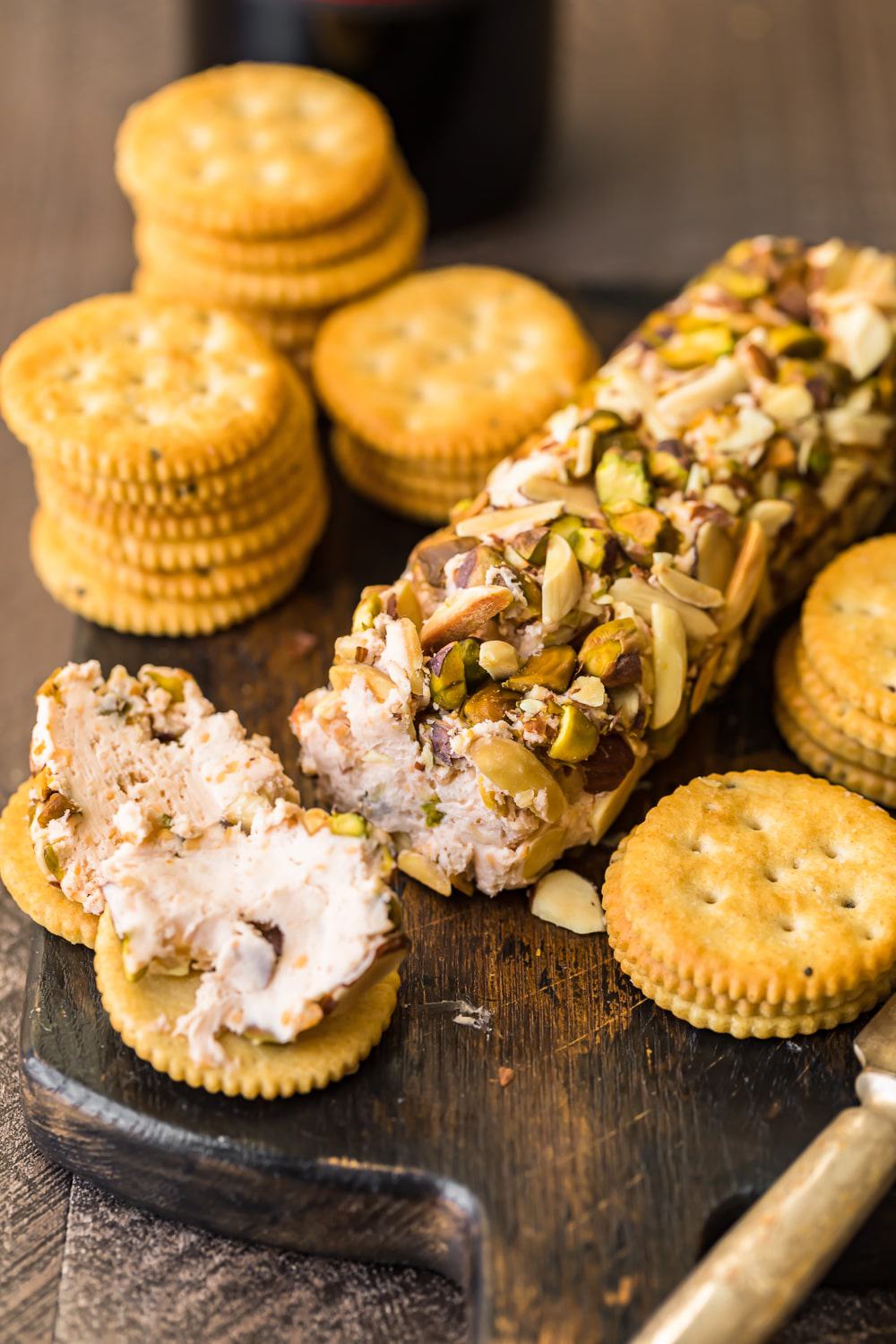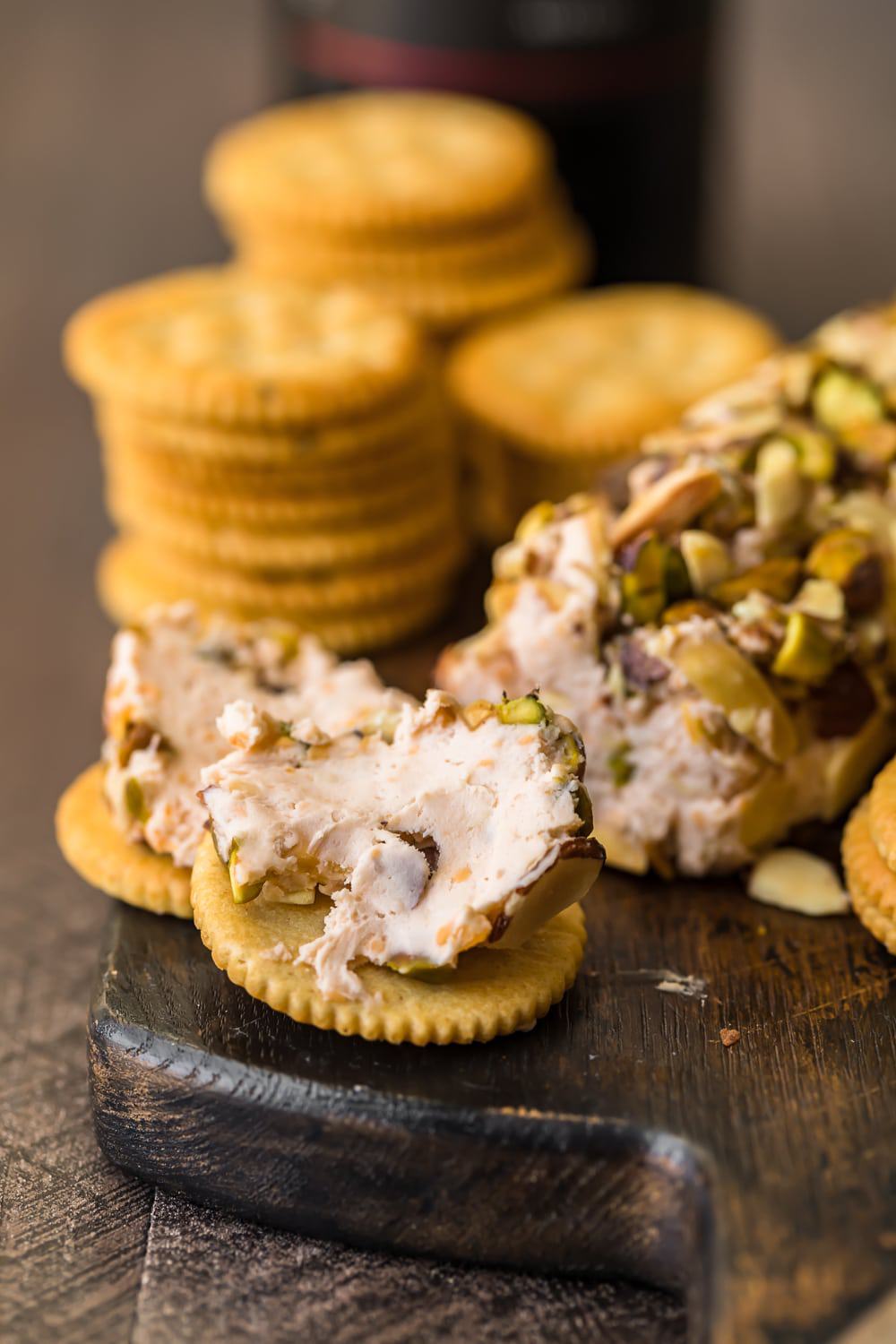 What do you serve with port wine cheese log?
I love serving this log alongside my Mini Cheese Ball Bites and a selection of other cheeses, fruits and nuts for a real crowd pleasing cheeseboard. I Serve it alongside 4 or 5 types of different crackers, including my Mexican Spice Cheese Crackers, for variety, and let everyone dig in!
If you're hosting a lot of people I also like to add sliced Italian meats, crudite and olives.
Top tips to make this port wine cheese log recipe
Allow 6 hours in total for the cheese log to set.
If you don't have an electric stand mixer, you can mix the cheese by hand. It will take a bit longer and ensure that everything is well combined.
Ensure that the log is full wrapped in plastic wrap and that the ends are secure before placing in the fridge.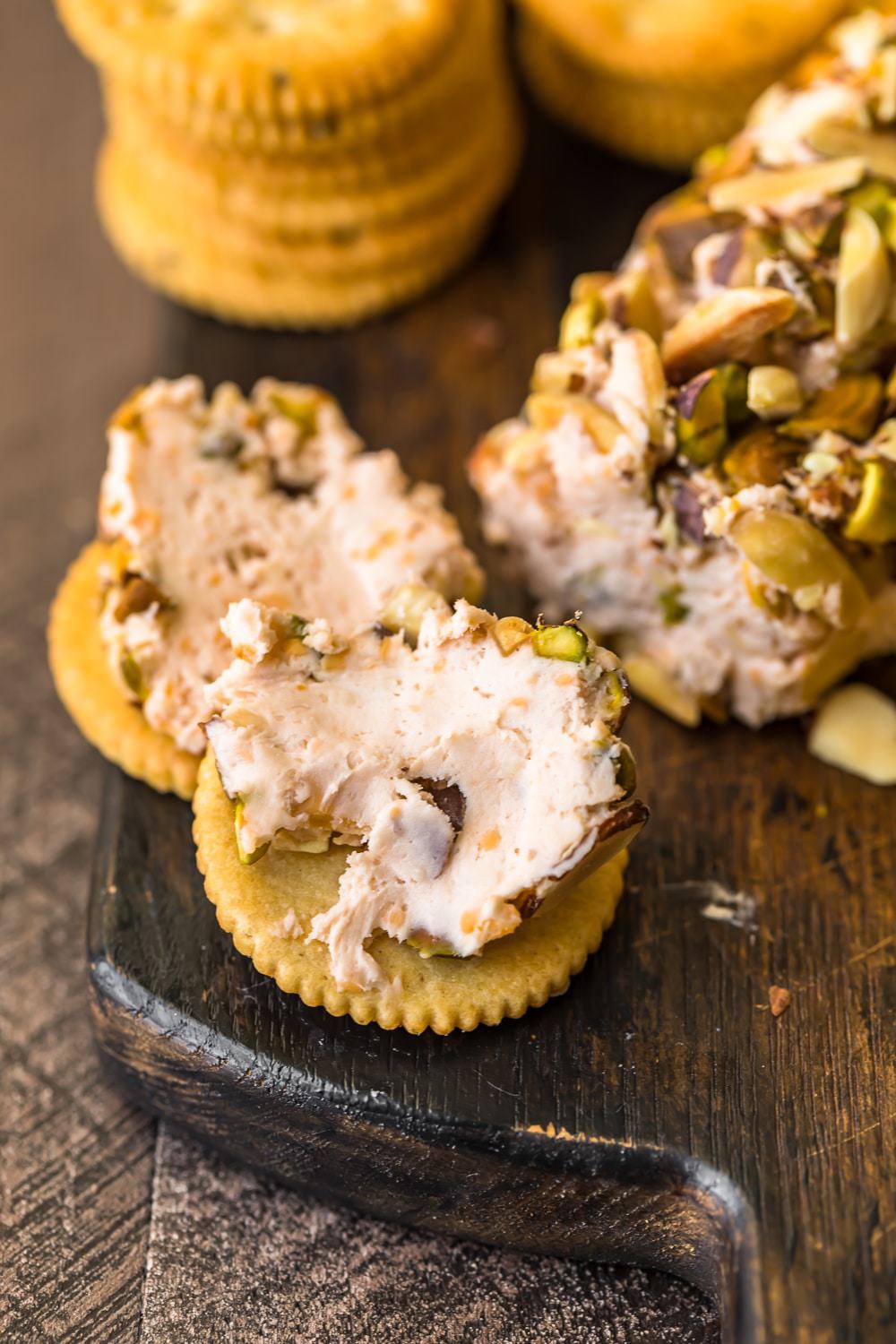 For more holiday appetizer recipes: