Marinated Mozzarella Balls are the perfect appetizer for cocktail hour, holiday parties, or any time you need something simple. This delicious herb and olive oil marinated mozzarella is so easy to make and serve. It's sure to be a crowd pleaser!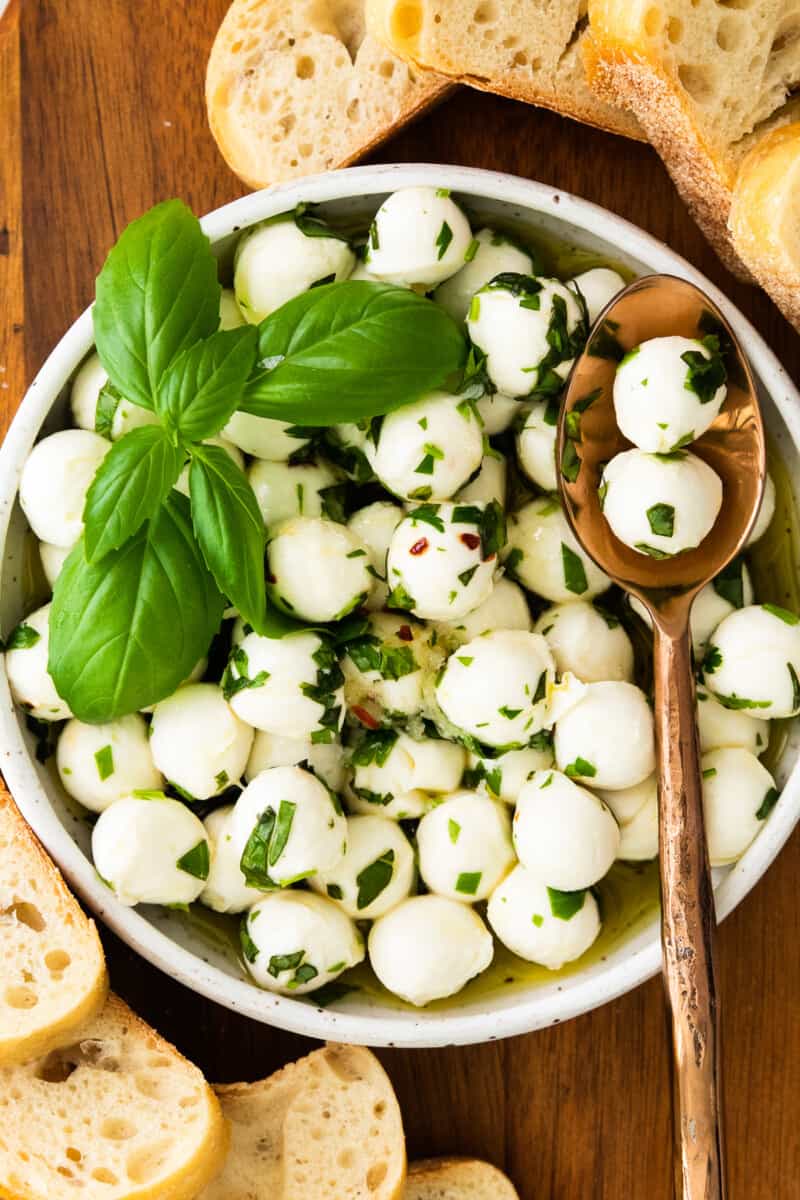 Marinated Mozzarella
This marinated mozzarella recipe is so simple to make, and so flavorful, it's sure to be a new favorite appetizer!
Making herb marinated mozzarella balls only requires a few ingredients: olive oil, cheese, and herbs. The mozzarella soaks in the olive oil, mixed with some seasonings, and you end up with the tastiest little snack.
These mozzarella balls are the perfect thing to serve with your favorite cocktails at happy hour. They make a great addition to cheese plates, mezze platters, and charcuterie boards. And they're a great app to serve before your favorite pasta dinner.
Why You'll Love this Marinated Mozzarella Balls Recipe:
EASY APPETIZER: This is one of the easiest appetizers you could make. You only need a few things, and there's no cooking involved!
CROWD PLEASER: This little bite-sized cheese appetizer will be gone in a flash. Your guests will love these, no matter the occasion.
FLAVORFUL: This olive oil marinated mozzarella is so flavorful. You can use your favorite herbs and spices to make it taste however you like!
These mozzarella balls are great for holiday parties, like New Year's Eve or Christmas. But they are really perfect for any occasion. You can also make this recipe using mozzarella cubes or slices instead. Either way, this cheese is going to taste amazing!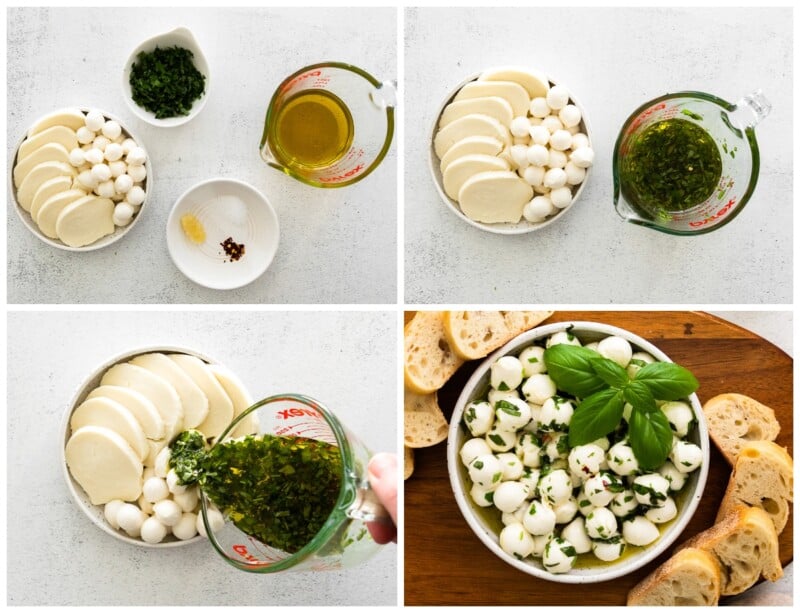 How to Make Herb Marinated Mozzarella Balls
You can jump to the recipe card for full ingredients & instructions!
Add all ingredients, except for the cheese, into a jar. Shake to mix everything together.
Add the mozzarella balls into the jar and fully coat them in the olive oil mixture.
Cover the jar and refrigerate for at least one hour before serving.
Marinated Mozzarella Ingredient Notes
Olive Oil: Make sure to use a good quality, robust olive oil! My favorite brand to use in this recipe is Olio Santo.
Garlic: Grating the garlic helps it evenly distribute but it does create a strong garlic flavor. If you don't want quite so much garlic flavor, smash the clove and add it whole to the marinade.
Herbs: Use your favorites! For this recipe, I used 2 tablespoons fresh basil, 1 ½ tablespoons fresh parsley, and 1 teaspoon fresh thyme.
Salt: Sea salt is a little more mild than kosher or table salt and won't overpower the mozzarella.
Spice: For a little something extra, red pepper flakes are great spicy addition! Instead of red pepper flakes, you could also use ¼ teaspoon of Calabrian chili.
Mozzarella: Both mozzarella pearls or sliced fresh mozzarella work wonderfully. When serving as a stand-alone appetizer or a mezze platter, I use pearls. When serving with crostini or crackers, I use sliced!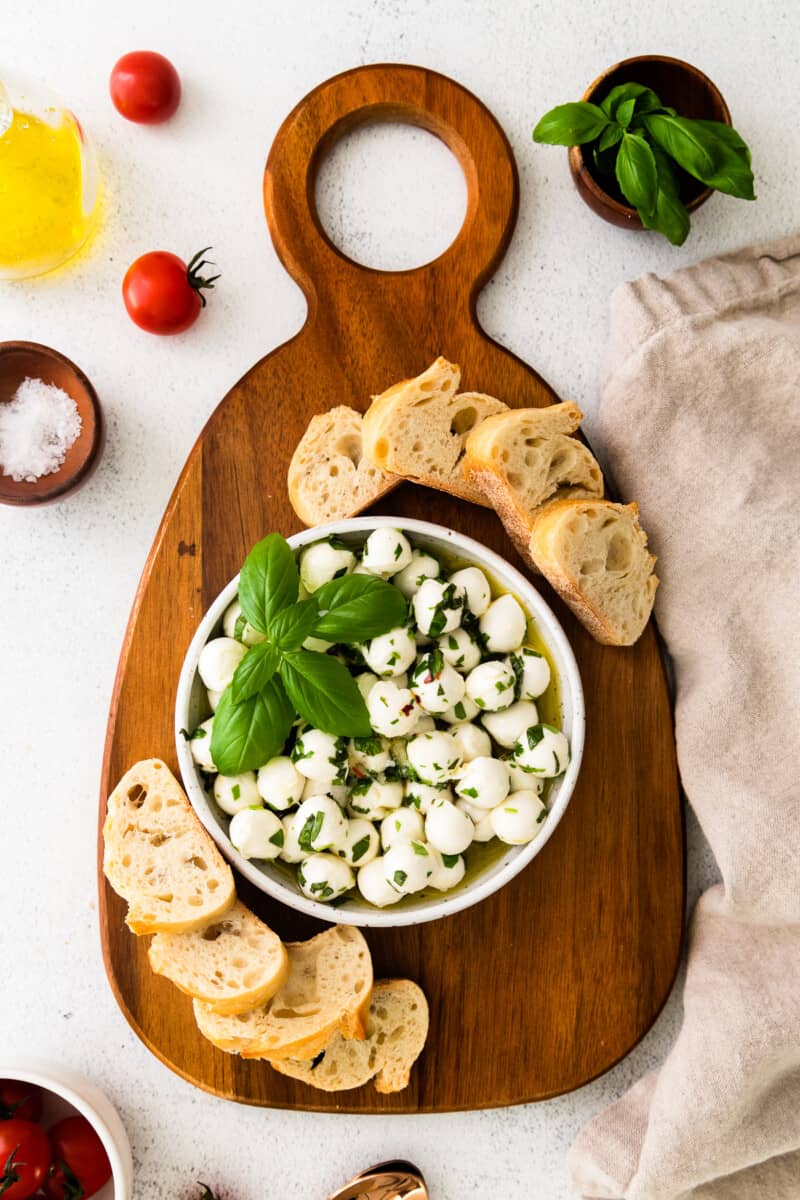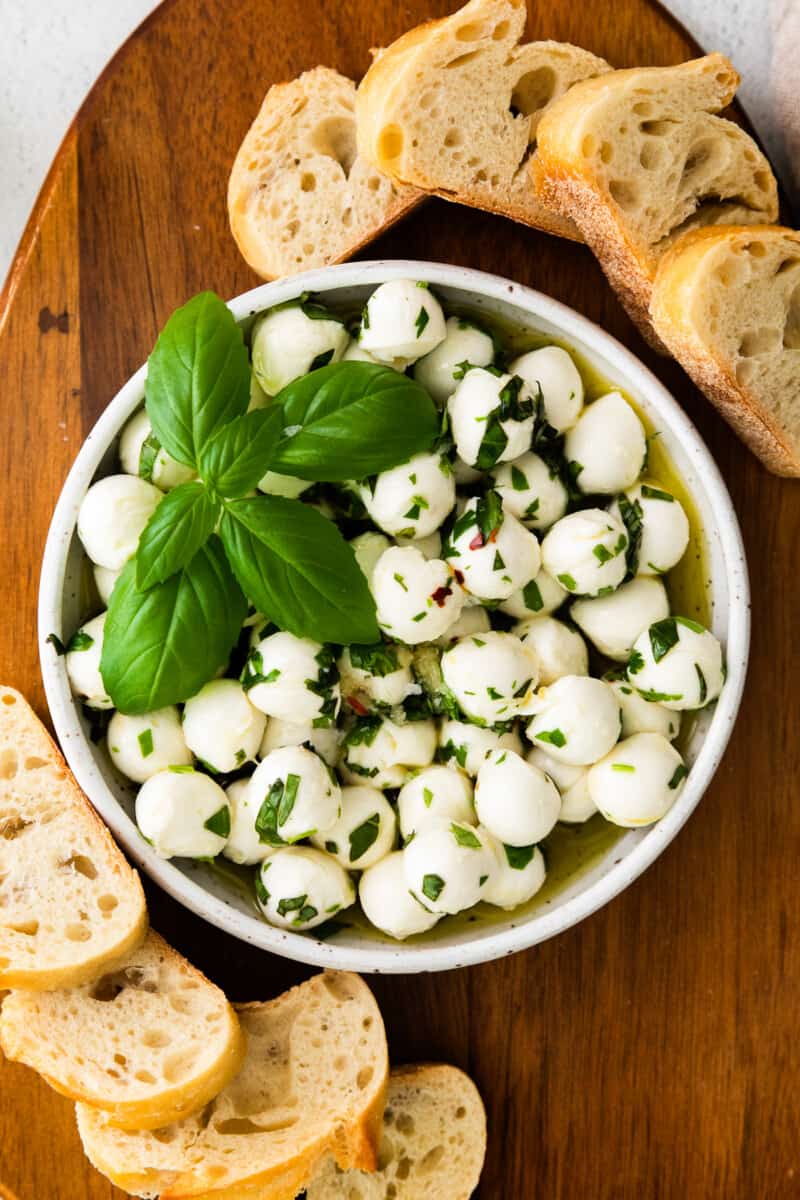 What type of mozzarella is best for marinated mozzarella?
I recommend you use mozzarella balls or pearls for this recipe, like Perline or Bocconcini. You could also use fresh mozzarella cut into slices or cubes.
Can I use goat cheese instead?
Yes, you can follow this recipe and make marinated goat cheese instead!
How long does marinated mozzarella keep in the refrigerator?
For the best flavor, I recommend eating it within about 3-4 days. After that, the flavor will change quite a bit, and the mozzarella will start to sour.
How should I serve marinated mozzarella?
This recipe is so versatile. Serve them on a charcuterie board, with salads, before a delicious pasta dinner, with your favorite cocktails, or on a party tray for the holidays. See below for more ideas and serving suggestions!
Serving Suggestions
These olive oil marinated mozzarella balls are the perfect appetizer for cocktail hour. Whether it's pre- or post-dinner, these pair well with your favorite drinks. I love having other appetizers and nibbles as well.
Other Snacks to serve:
Make a plate with this mozzarella, crackers or crostinis, fresh tomatoes, kalamata olives, fresh naan, and some fresh herbs. You could even add some prosciutto to the tray and some other cheeses to make a beautiful cheese board.
You can also add these to salads or pastas to really kick them up a notch!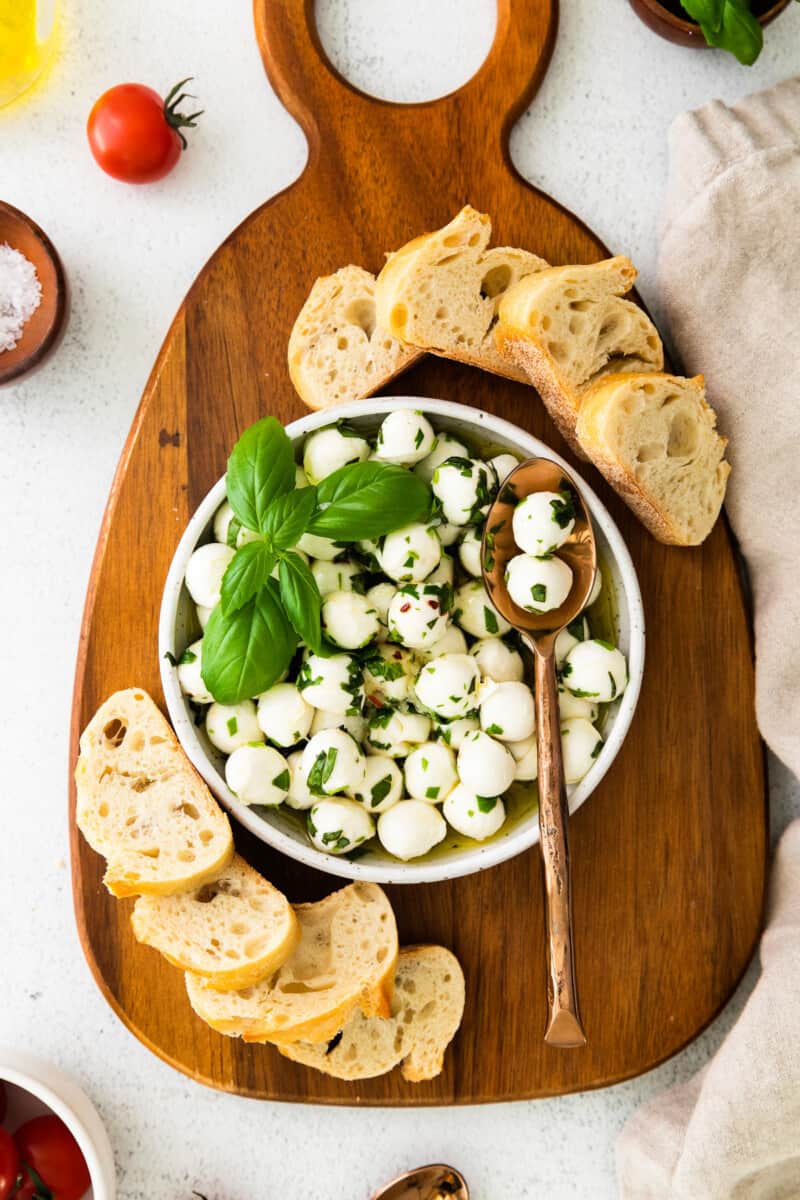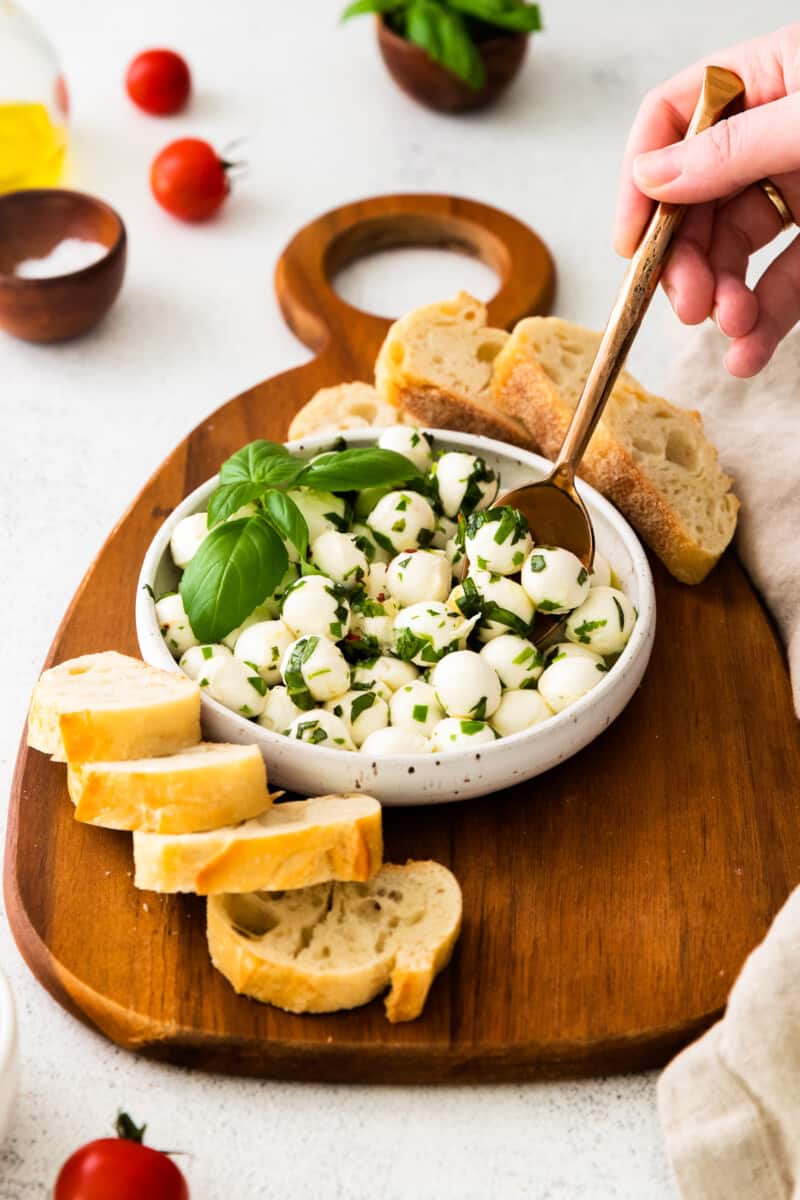 Tips!
Let the mozzarella marinate in the refrigerator for at least an hour.
You can serve them cold or at room temperature.
Use mozzarella balls, cubes, or slices for this recipe.
A good quality olive oil will give you the best results.
Use any herbs or seasonings you like for this recipe. You can easily change things up every time you make these marinated mozzarella balls.
Serve with your favorite crackers, bread, or crostinis.
Store olive oil marinated mozzarella in an airtight container in the refrigerator for up to 3 days.
What herbs should I use?
The great thing about this herb marinated mozzarella is that you can change it up and use any herbs or seasonings you want. I used basil, parsley, and thyme for a nice savory, herb-y, Italian-inspired flavor. Plus I added red pepper flakes to give it a bit of heat.
Instead, you could use rosemary, oregano, black pepper, chili spices, or any number of dried herbs or seasonings you like.
What olive oil is best for marinated mozzarella?
I recommend using an extra virgin olive oil (EVOO) for this recipe. The flavors are really going to shine through here since there's no cooking/heating. This is also a good time to use a high-quality olive oil if you have one sitting around.
You can certainly use any olive oil you have in the kitchen, but a better quality one will create the best flavor.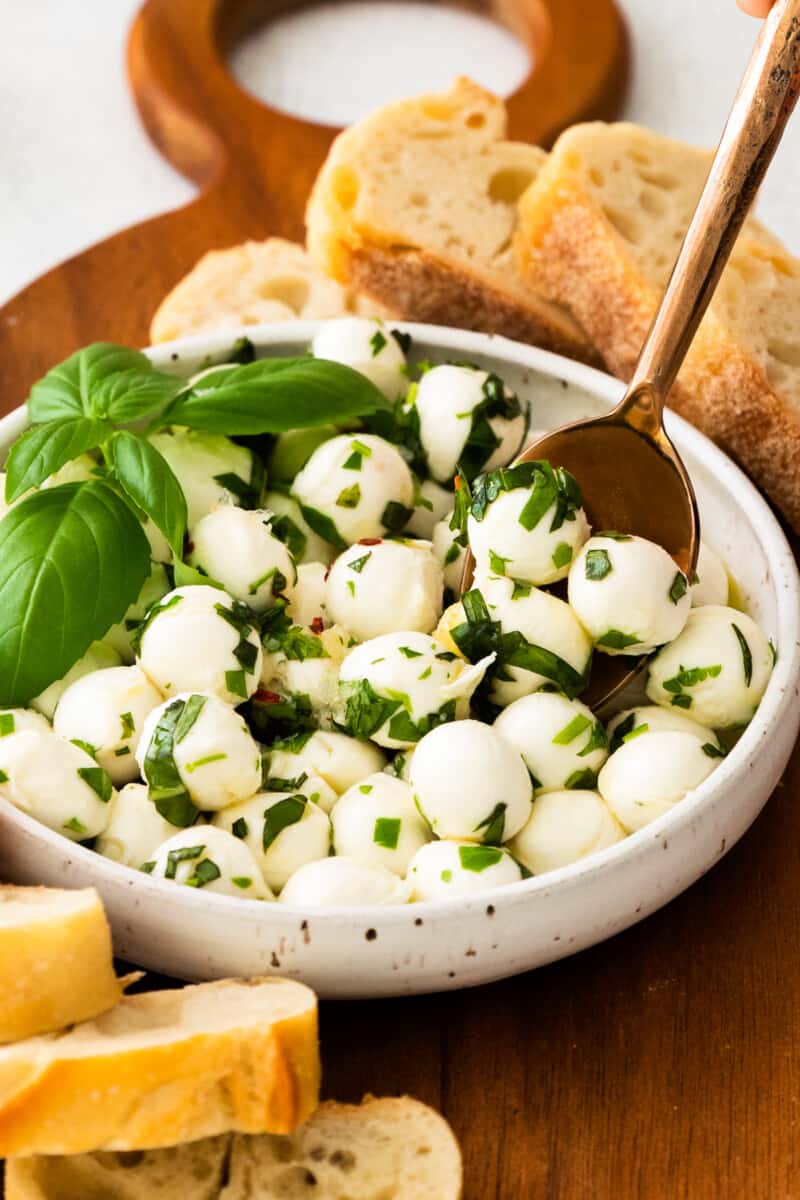 Everyone will love these herb and olive oil marinated mozzarella balls! Serve them on holidays, at your next party, or before dinner. Cheesy, herby, bite-sized, and delicious!
If you make this recipe be sure to upload a photo in the comment section below or leave a rating. Enjoy! You can also jump to recipe.