These Shrimp and Grits Appetizer Cups are so cute, delicious, EASY, and fun. I love the creamy cheese grits topped with the most flavorful Garlic Butter Shrimp. This is the best EASY Shrimp and Grits Recipe that you can make for a main course, or split into individual small cups for deceptively simple yet elevated appetizer.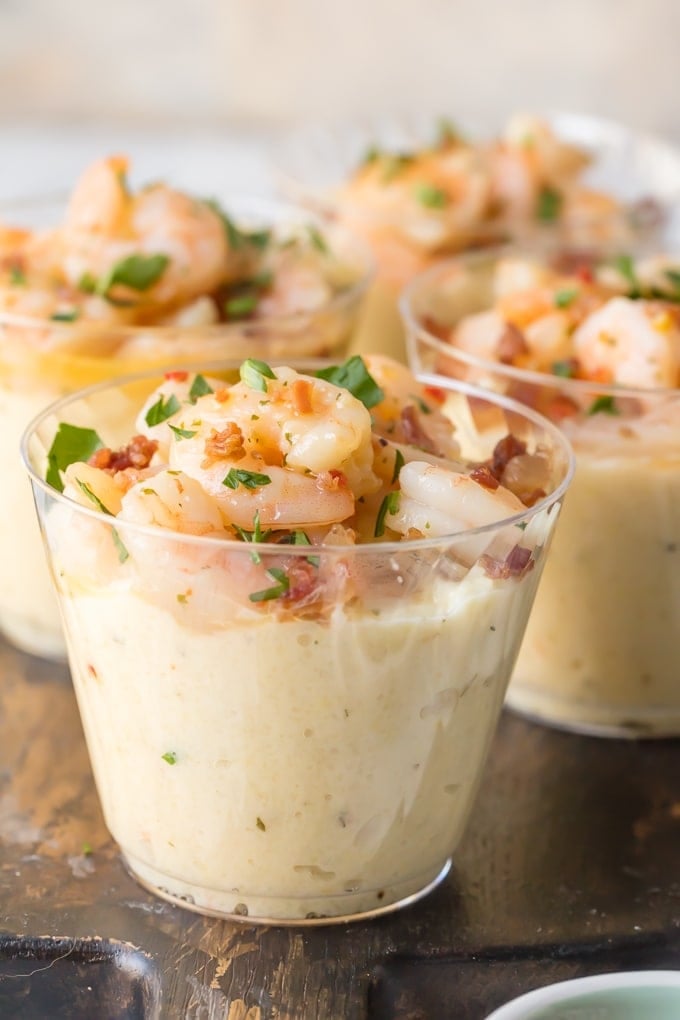 Shrimp and Grits Appetizer Recipe
These Shrimp and Grits Appetizer Cups will blow your mind with their cuteness, tastiness, and ease!
I'm always on the hunt for new delicious, EASY appetizer recipes. These Cheese Grits topped with THE BEST Garlic Butter Shrimp are all I need when entertaining. When you're throwing a party it's imperative that you find the perfect food and drinks to serve to your guests. You want your snacks and sips to be unique, creative, tasty, but most importantly super simple to prepare. There's nothing worse than being stuck in the kitchen preparing food, when all you want to do is socialize.
This Garlic Butter Shrimp and Grits Recipe is so easy to prepare (think INSTANT Grits and Frozen Shrimp just waiting to be fixed up) but has the appearance of taking all day. The fact that this cute individual appetizer recipe is super easy and quick can be our little secret. You can let your guests think you slaved away all day.
Shrimp and Grits Appetizer Cups are amazingly flavorful, fool-proof, and oh so cute to boot. Don't you want to just dig right in??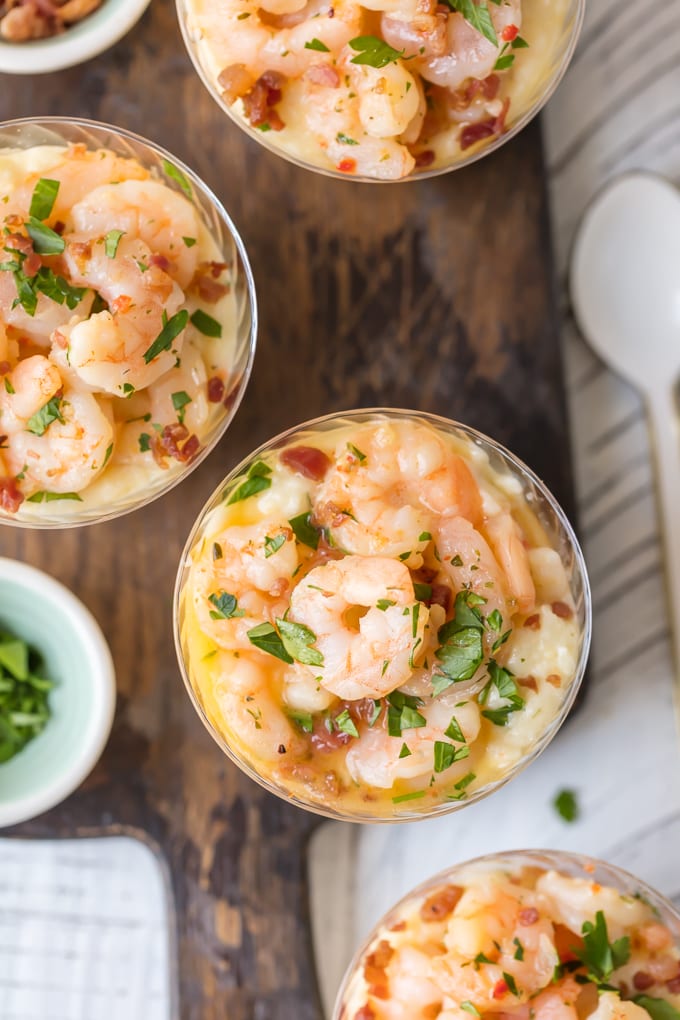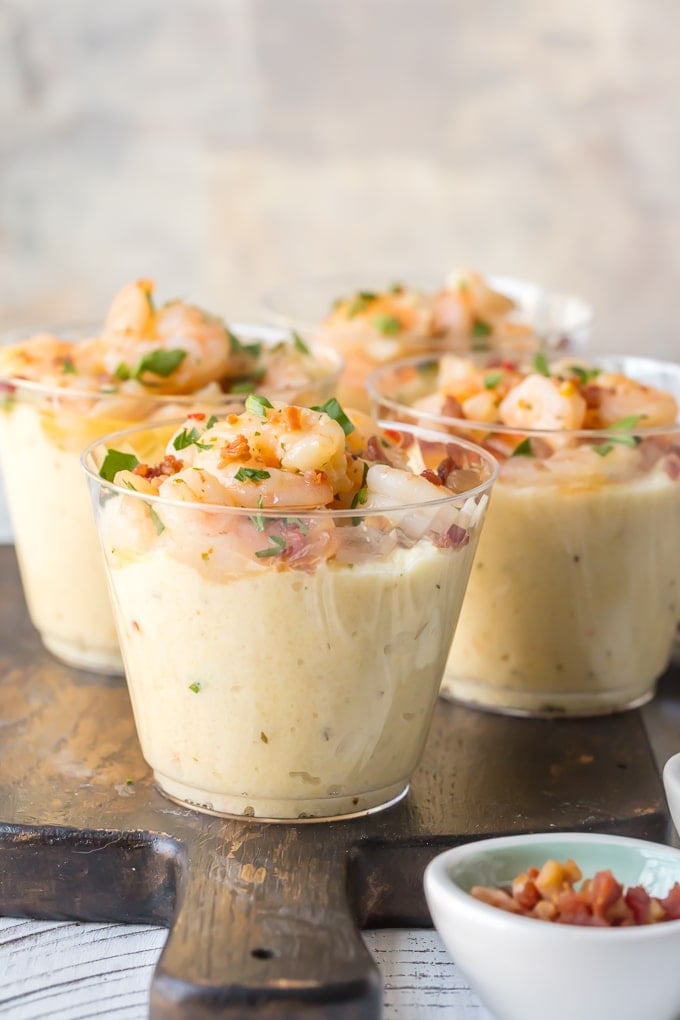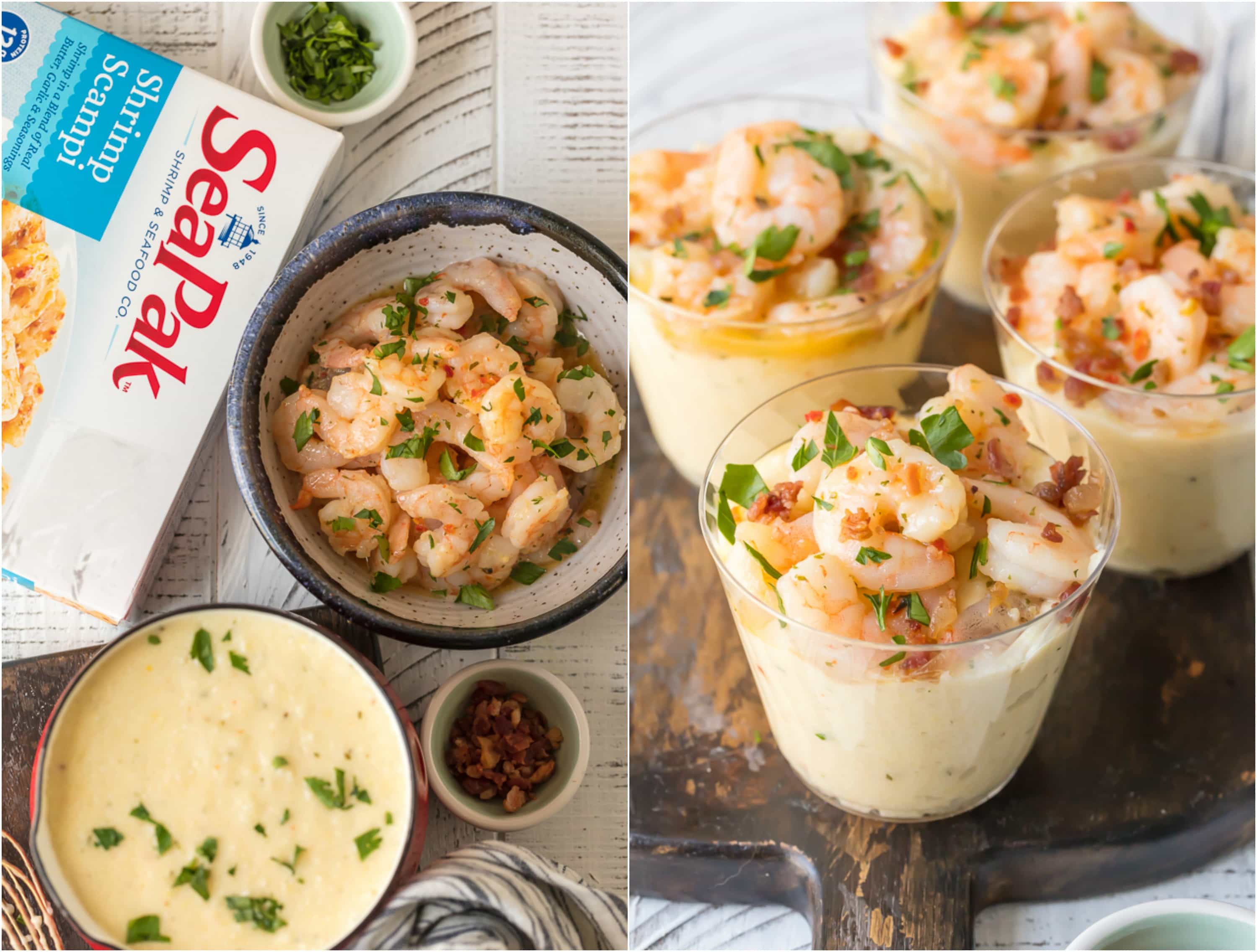 Tips for Making Easy Shrimp and Grits
You guys. You already know I'm obsessed with SeaPak Shrimp and Seafood Company. You might remember my Buffalo Shrimp Taco Recipe I recently posted…and ever since Pat has been requesting them again and again. I love that SeaPak has incredibly tasty and quality products with none of the fuss. YOU'VE GOT THIS! They're out there making it possible for us to look like the ultimate hosts, with none of the work behind the scenes.
Handling raw shrimp has never been my very favorite thing, so their Frozen Shrimp Scampi is right up my alley. When I say the sauce on this shrimp scampi is incredible…I mean it is…INCREDIBLE. What starts out frozen in a bowl turns into the MOST amazing garlic butter shrimp scampi with just 4.5 minutes in the microwave. Be still my heart? You can read more about it and find out where to buy HERE.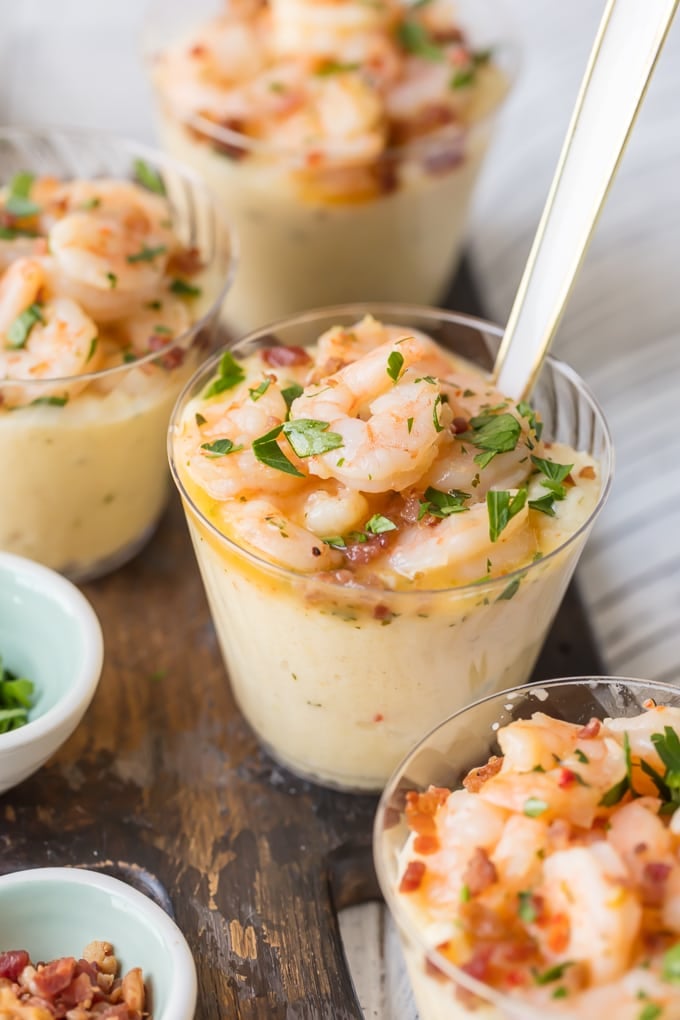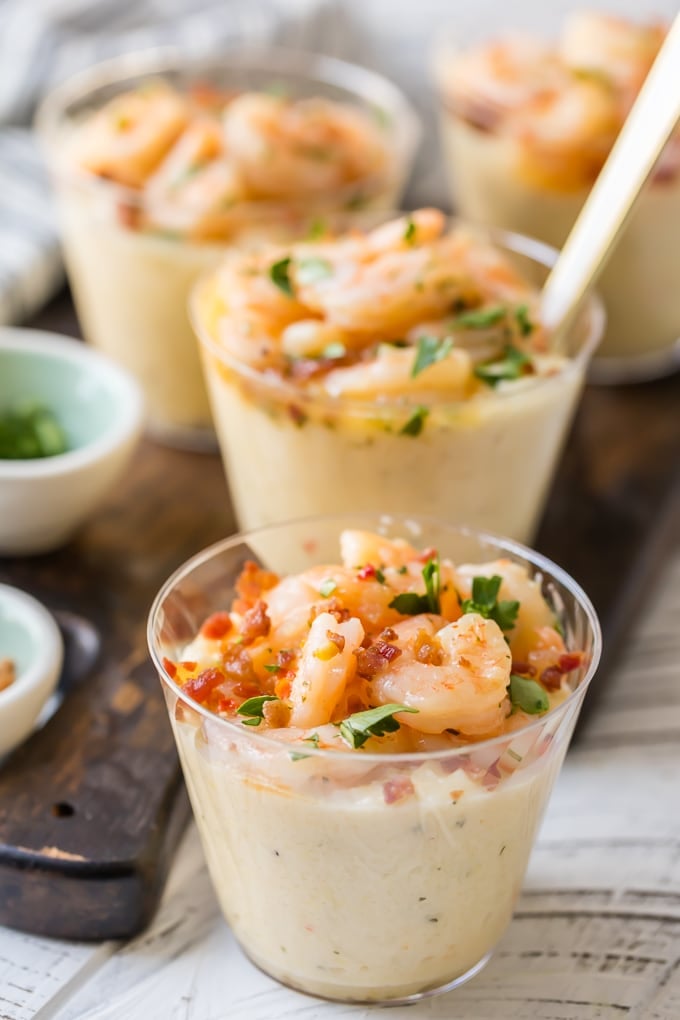 How to serve these Shrimp and Grits as an appetizer:
These Shrimp and Grits with Garlic Butter Shrimp and Cheese Grits can be split into 8 individual appetizer cups, or you can serve it as 4 meals. We LOVE it as an appetizer, but there are also nights where having Shrimp and Grits for dinner just sounds perfect. It's so easy to throw together that we regularly make it as both!
Other ways to serve Garlic Butter Shrimp Scampi:
If grits aren't your thing, you can eat this AMAZING Shrimp Scampi so many ways. You can toss it in pasta, serve it on pizza (THIS HEALTHY SHRIMP PIZZA IS CALLING MY NAME), lay it over a simple salad, or even eat it on its own. When I say I'm obsessed…that's the understatement of the year. I don't even want to admit how many times we have eaten this shrimp in the last month. It's SO DELICIOUS.
Great side dishes for this Shrimp and Grits Recipe:
We love to serve these Cheese Grits with Garlic Butter Shrimp with bread sides such as Garlic Butter Hawaiian Rolls, Homemade Garlic Bread, or Beer Bread Muffins, and love to serve it alongside sides such as Mandarin Orange Salad, Mexican Grilled Corn, and Lemon Butter Asparagus.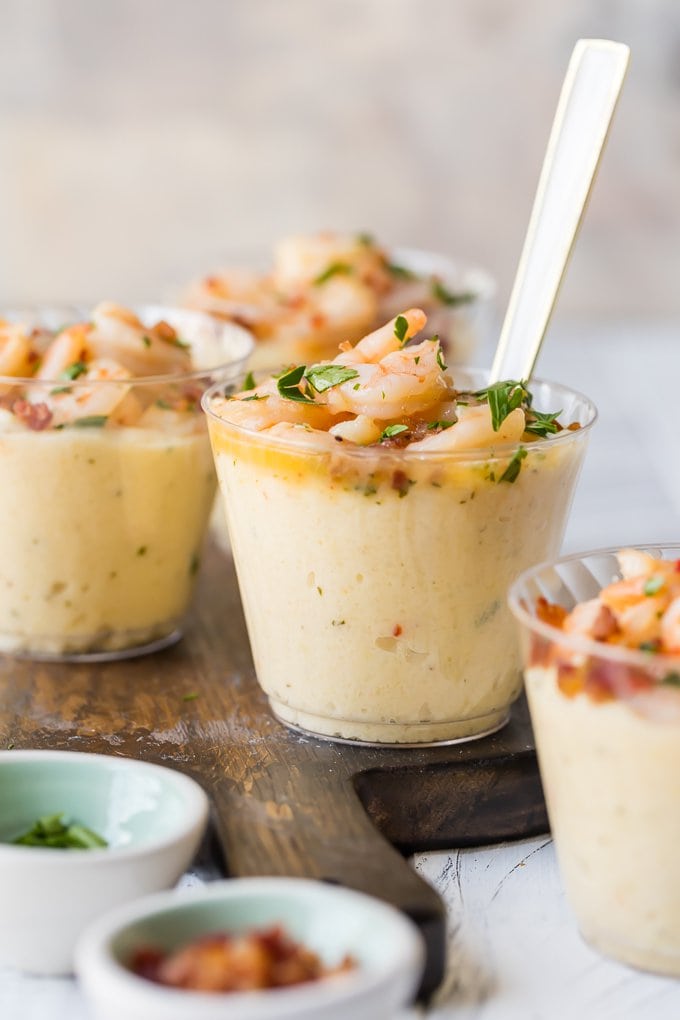 How to make Cheese Grits:
These are the BEST Easy Cheese Grits in the history of the world, and I stand by that! You're going to be so blown away. I love to make these Cheese Grits with easy recipes as grilled salmon or parmesan tilapia. There's just something delicious about seafood and grits. They just go together.
To make the BEST Cheese Grits:
Bring milk or cream to a boil in a medium saucepan. (and in this recipe, some of the amazing sauce that comes with the frozen shrimp scampi!)
Stir in a LOT of butter, some shredded cheese, and simple salt and pepper.
Continue stirring over low heat until they're creamy to your liking, about 2-3 minutes.
YUMMMMM!
See the recipe card below for the full recipe!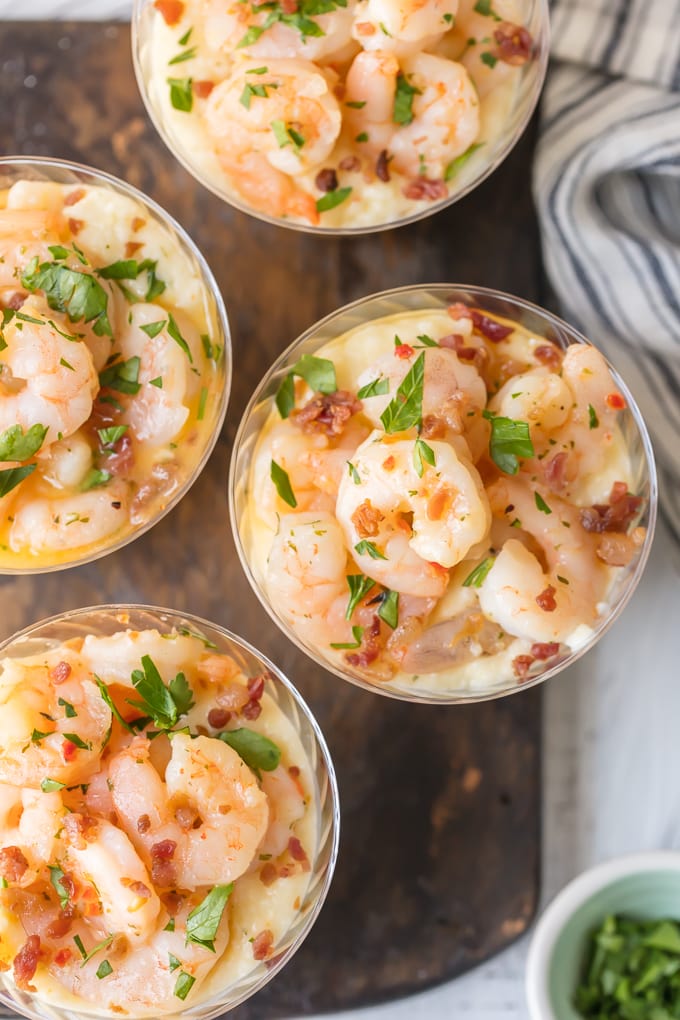 I topped my Shrimp and Grits Appetizer Cups with chopped fresh parsley and some crispy bacon. Simple is sometimes best, especially in this case. The flavor combination is just delicious! I cannot wait for you to try it and report back how you like them. Serve them for a cute starter at your next dinner party, on a platter for your Super Bowl Party, or just as a simple romantic dinner at home.
Be sure to check out other seafood recipes we love:
See the recipe card below for how to make Shrimp and Grits Appetizer Cups. Enjoy!