Bacon Wrapped Crackers are a simple idea that can't be beat. Any bacon wrapped appetizers will be a hit on game day or holidays, so these are a true winner. These tasty bacon crackers won't disappoint!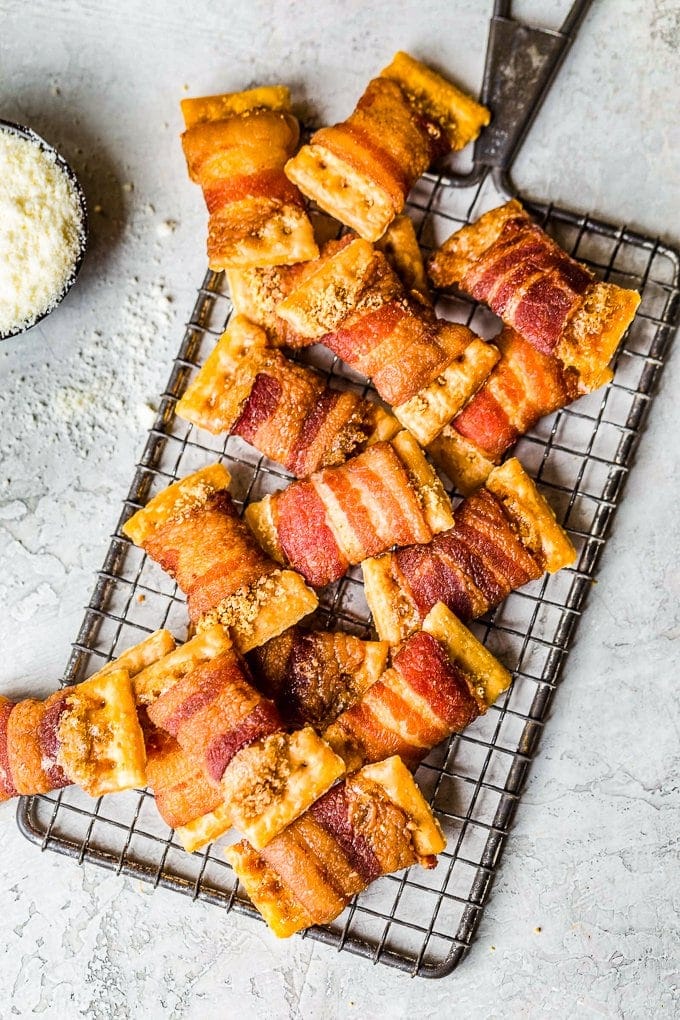 Bacon Wrapped Crackers
Bacon Wrapped Crackers will satisfy every guest. These tasty bacon crackers are the perfect appetizer for game day and holidays!
I thought long and hard about what to call these tasty treats. I brainstormed many names, but none of them really fit. So I went with the most direct name and settled on Bacon Wrapped Crackers. It's not the most creative option, but sometimes simple works best. We're all just here for the bacon, so let's not make it complicated!
Yup, this easy appetizer is exactly what it sounds like: little crackers wrapped in bacon. We added some Parmesan cheese and brown sugar in there to give it a wonderful sweet and savory flavor. But of course the bacon is what really stands out!
These bacon crackers are so good for snacking and they're really easy to make. They're the perfect bacon wrapped appetizers to serve on game day, but I love them for New Year's Eve and Christmas too. Everyone will love these tasty crackers!
These easy Bacon Wrapped Crackers make the perfect appetizers for holiday parties and get togethers!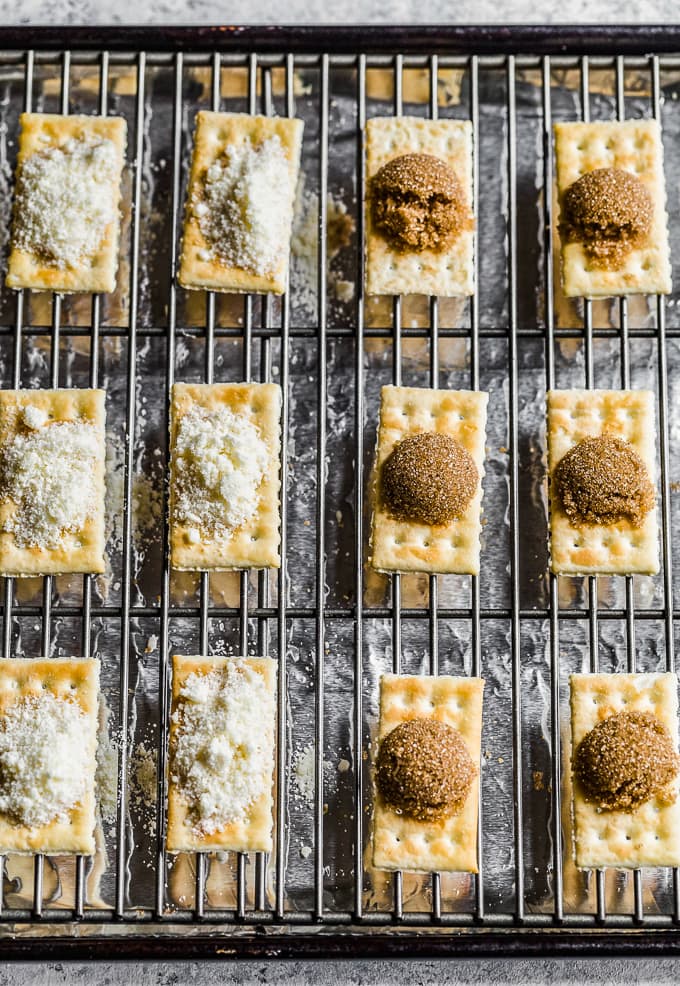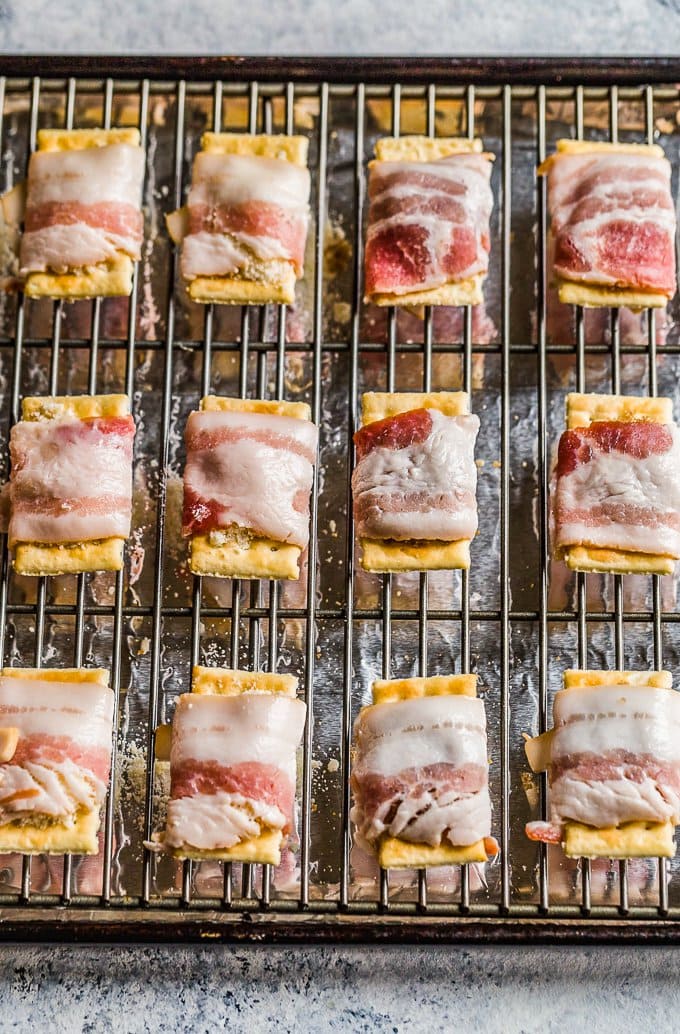 Easy Bacon Crackers
I like to keep things simple when I'm preparing appetizers for guests. Whether it's a holiday party or a big game day get together, you need LOTS of food for LOTS of people. Having a bunch of different options is awesome, but putting it all together isn't always so fun…but these little bacon crackers are super easy to make!
The idea is so simple but SO good. Spend a few minutes preparing them, then you can just set them in the oven until they're done. No hassle here!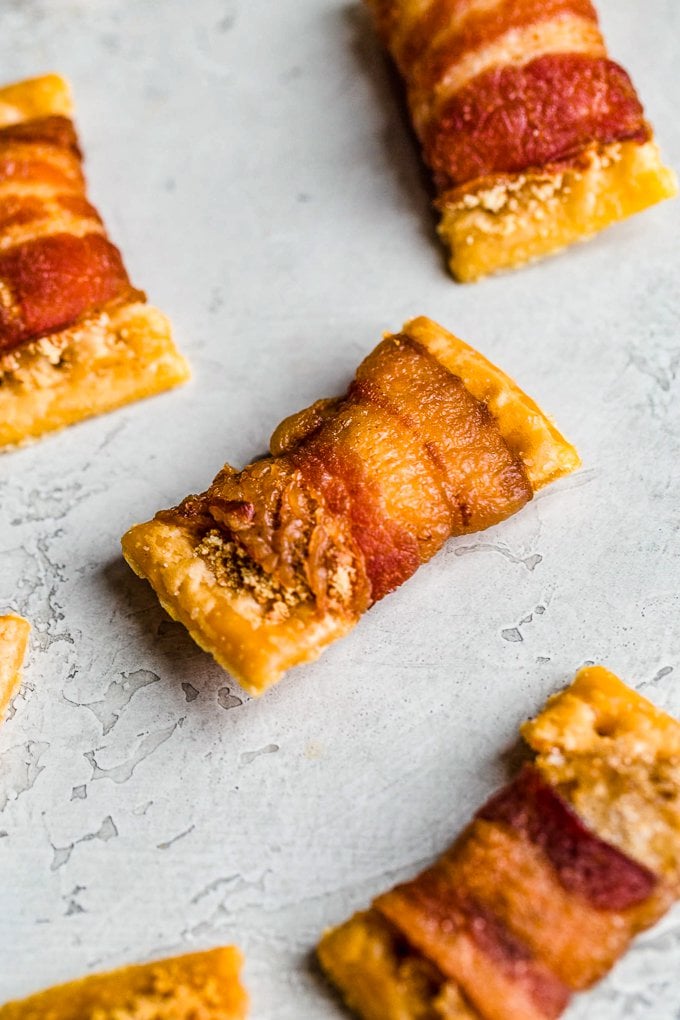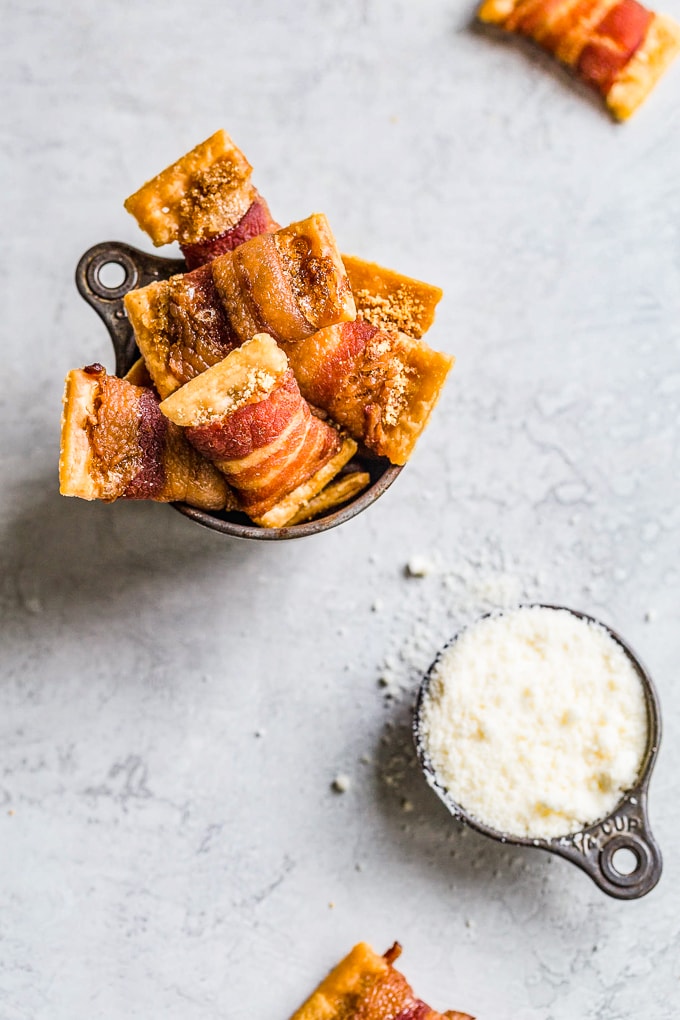 How to Make Bacon Wrapped Crackers
Like I said before, these bacon wrapped crackers are EASY. You've only got 4 ingredients to deal with: crackers, bacon, brown sugar, and parmesan cheese. They're easy to assemble, then you just let them back to perfection. Yum!
How to make bacon crackers:
Preheat oven, wrap baking sheet in aluminium foil, and place a cooling rack on top.
Cut strips of bacon in half, then lay the crackers in rows.
Place a teaspoon of parmesan cheese and brow sugar on each cracker, then carefully wrap each one in a strip of bacon. (If you're using thicker bacon strips, use a toothpick to secure it)
Put the crackers on the rack (over the baking sheet), and bake them for 2 hours at 250°F.
They'll be nice and crispy when you take them out (you can broil them for a couple of minutes to really crisp them up).
How do you reheat bacon crackers?
If you have any of these leftover…well, you probably won't because they're really delicious and so easy to eat. BUT, if you do have extras, or if you make a couple batches at once, they are easy to save. After cooking, let them cool and then throw them all in a freezer-safe bag. Freeze them for up to a month.
To reheat them: remove them from the freezer and let them thaw in the bag. Then lay them out on a baking sheet and reheat for about 15-20 minutes at 250°F. The oven does a nice job of crisping up the crackers and bacon, even after being frozen!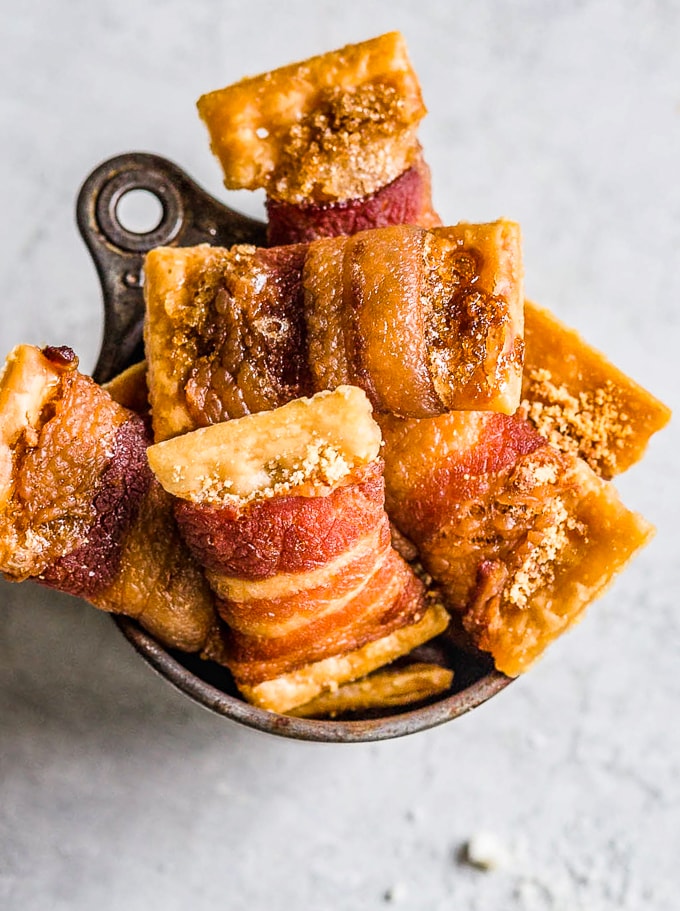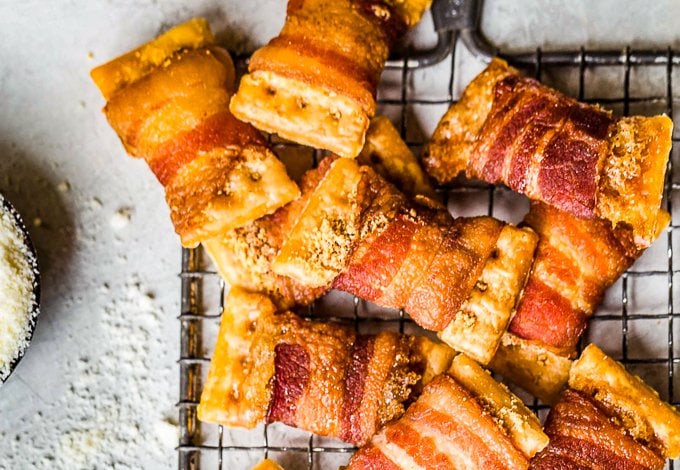 Bacon Wrapped Appetizers for the Holidays
I'm a fan of bacon wrapped anything. Seriously, think of a food, wrap it in bacon, and you've got a delicious appetizer. Some of those ideas might seem strange at first, but trust me…once it's in your mouth, you'll see just how genius it is. And everyone else will agree! This is a tried and true formula for holiday appetizers, so no need to mess with it. Just wrap in bacon and eat.
These are my other favorite bacon wrapped appetizers: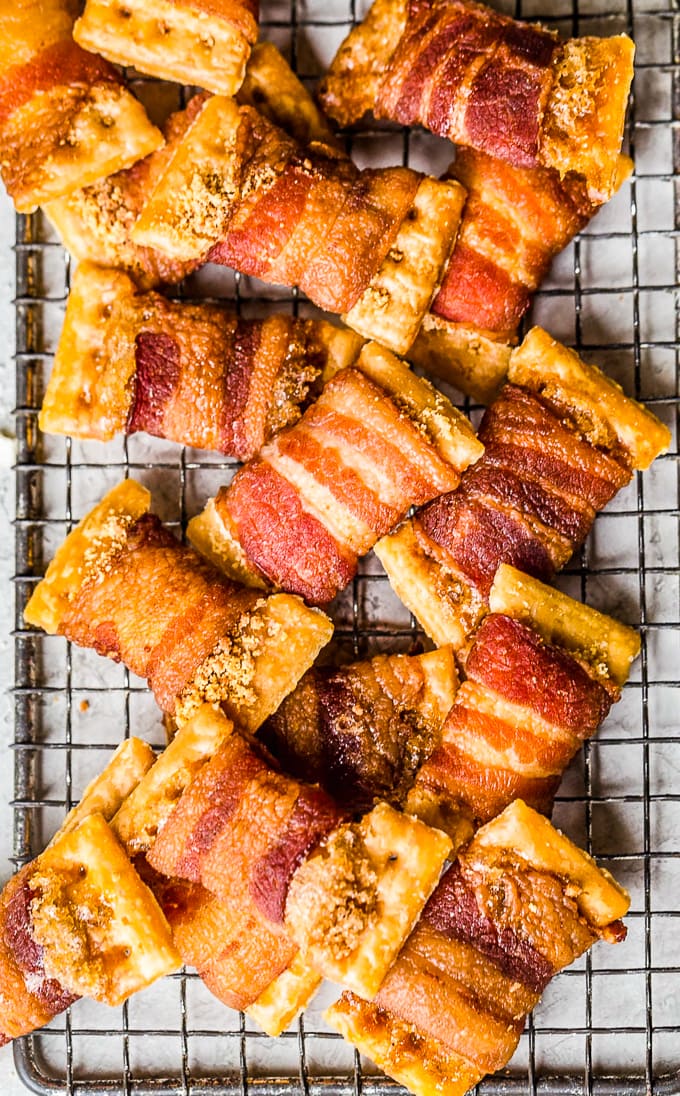 I know you're dying to make these bacon wrapped crackers, no convincing needed! It's likely you have everything you need in your kitchen already, so wrap those crackers in bacon and get them in the oven. You'll be eating these in no time!
See the recipe card below for details on how to make Bacon Wrapped Crackers. Enjoy!
If you like these bacon crackers, try some of our other favorite easy appetizers: