Thank you Ree Drummond, thank you very much!!  While watching The Pioneer Woman on The Food Network Channel a few days ago, I saw this recipe.   (click HERE to see her recipe) I love, love recipes that are simple, delicious and freeze well.  This is one of them.  I also should confess I love anything that is sweet and salty and everything made with bacon and brown sugar.  Healthy this recipe is NOT; so yummy it IS.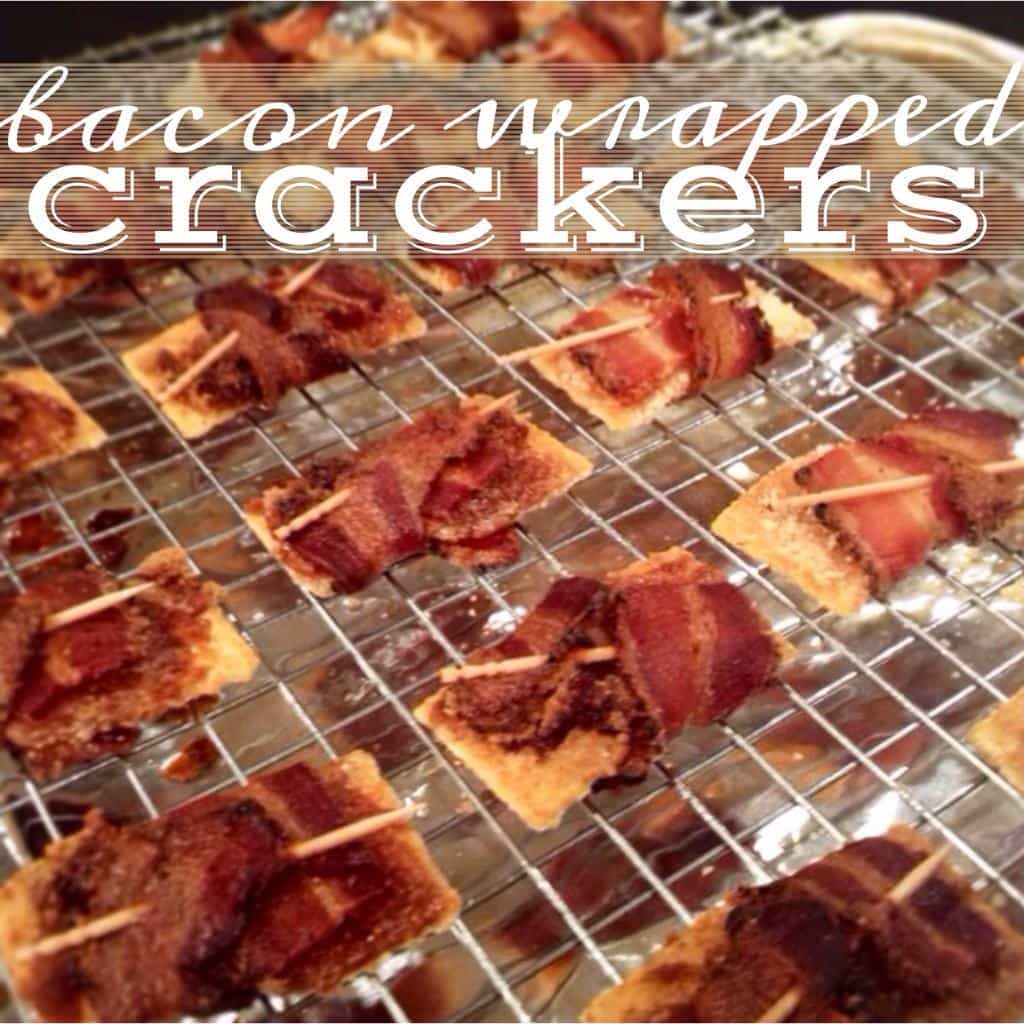 I thought long and hard what to call these tasty treats.  I brainstormed many names such as:  Sinfully Mouthwatering, You Have to Be Kidding Me, Delectable, YUM-MEE, Lip-Smacking Goodness! Holy Cow, these Are Great!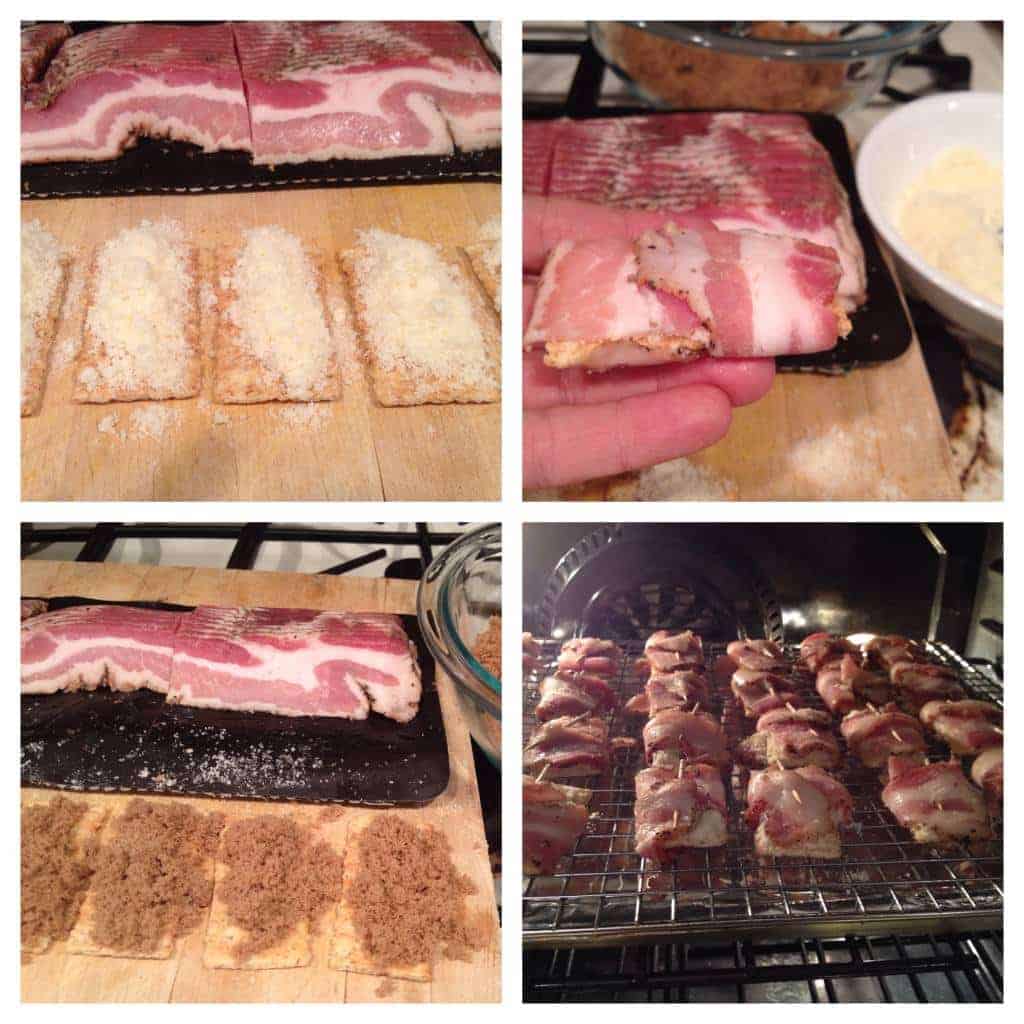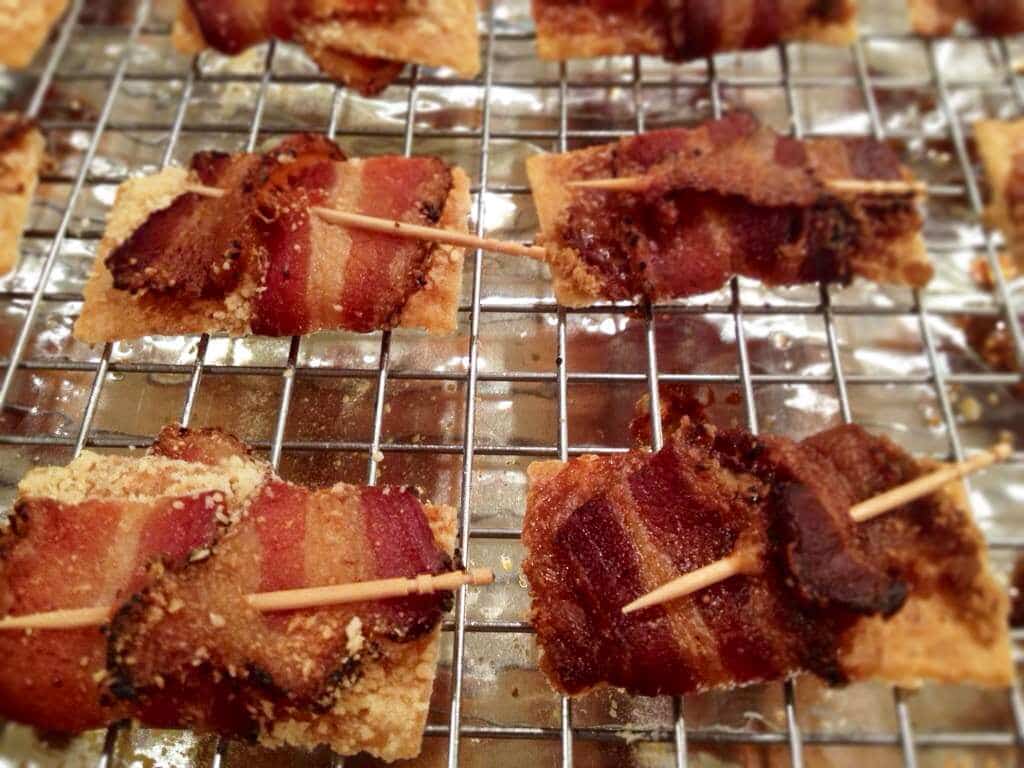 Alas, I settled on Bacon-Wrapped Crackers, the name is somewhat boring like calling a beloved dog…dog.  My son's sweet dog, Harper (now, there is a great name), loves these, too.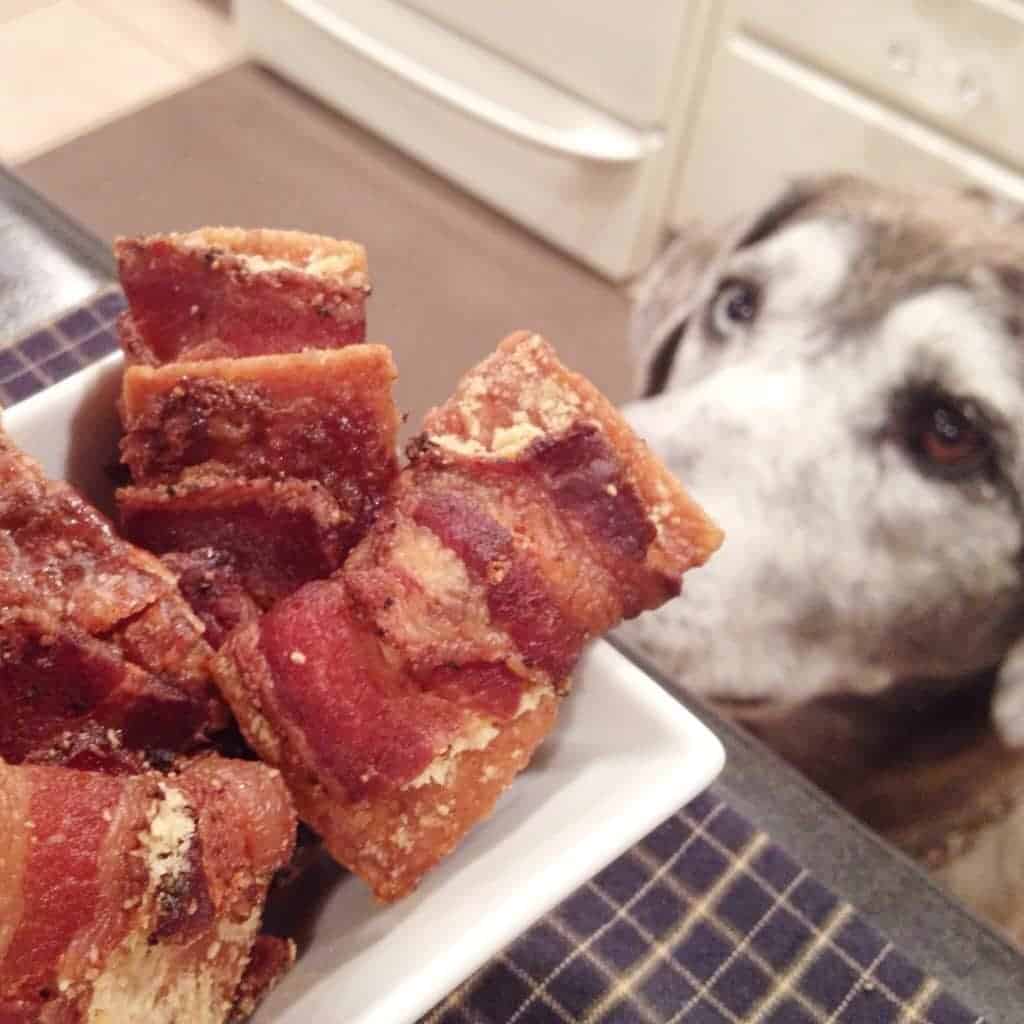 I know you will love these. Don't feel too guilty about eating them, you can feel better about the size of your thighs and get back to counting calories after the holidays.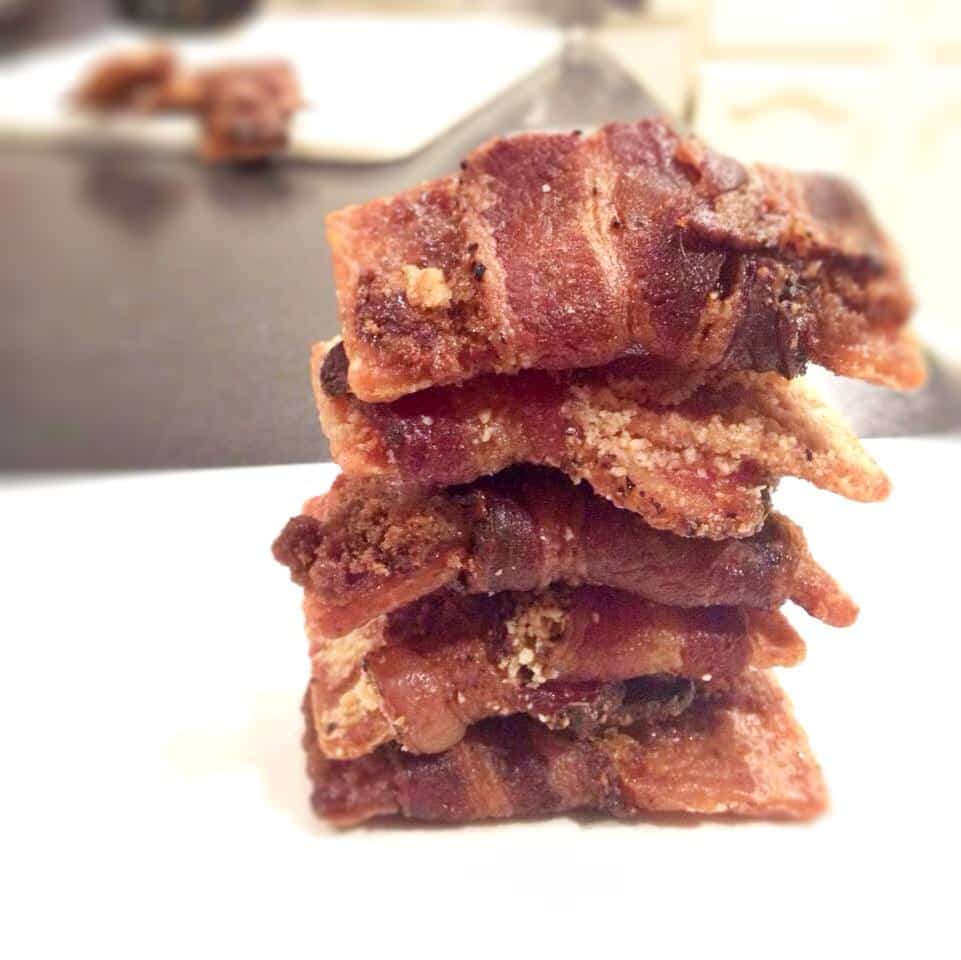 Now…go ahead and make a double-batch of these Sinfully Mouthwatering, You-Have-to-Be-Kidding Me, Delectable, YUM-MEE, Lip-Smacking Goodness!, Holy Cow, these are Great!, Bacon-Wrapped Crackers.  Freeze one batch, and ENJOY the other!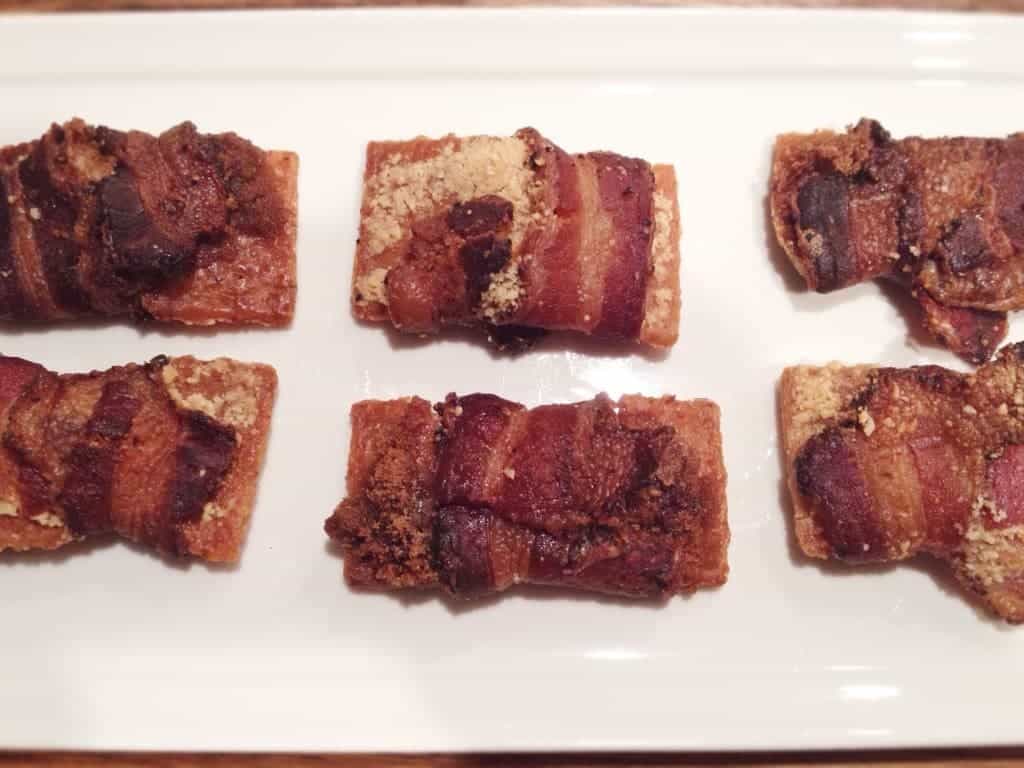 Merry Christmas!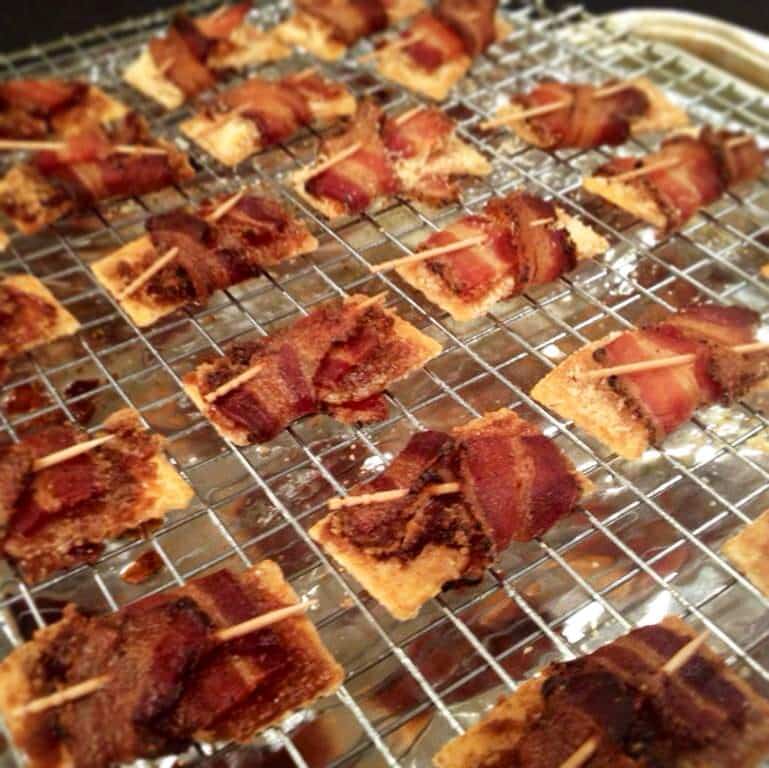 bacon wrapped crackers
these bacon holiday appetizers are AMAZING. Makes 24 crackers (more if using thin-sliced bacon) Adapted from The Pioneer Womanâ??s Holiday Bacon Appetizers
Ingredients
1 sleeve (or more) Club Crackers I used Multi-Grain
1 lb. Pepper Bacon thin sliced is best
1 c Dark Brown Sugar (my personal favorite)
1 c Parmesan Cheese grated (other grated cheese would be good, too)
Instructions
Preheat oven to 250 degrees.
Cover a cookie sheet with aluminum foil.
Place a cooling rack on top and spray the rack with cooking spray.
Cut the bacon in half.
Lay the crackers flat in rows on the cooling rack.
Place 1 t. cheese and/or brown sugar on each cracker.
Carefully wrap 1/2 slice of bacon around each cheese or sugar-covered cracker.
(Be careful not to let the cheese or sugar fall off.)
(If using thicker-cut bacon like I did, stick a toothpick through the bacon on the top side of the cracker just to hold it together. If using thin bacon, I don't think this would be necessary. I loved the pepper-flavored bacon and could not find thin-cut pepper bacon. The pepper bacon added just the right touch of heat.)
Place the bacon-wrapped crackers on the rack over the cookie sheet.
Place the cookie sheet with the crackers in the oven.
Bake at 250 degrees for 2 hours.
If needed, broil the crackers for just 1-2 minutes at the very end to crisp and caramelize the bacon. Watch closely or the sugar will burn quickly.
Take out of the oven and cool long enough to eat.
Enjoy!!
These crackers freeze beautifully. Cool completely, then place in a freezer bag. When ready to eat, take out of the freezer and let thaw in the bag. Preheat the oven to 250 degrees and bake for 15-20 minutes or until the bacon is hot and sizzling.
7.8.1.2
1984
https://www.thecookierookie.com/bacon-wrapped-crackers/