with New Years Eve coming up, i've been thinking a lot about fun appetizers.  there are lots of good appetizers out there to choose from…but my favorites all have one thing in common.  cheese.  if you have followed this blog for any amount of time, that probably won't surprise you :)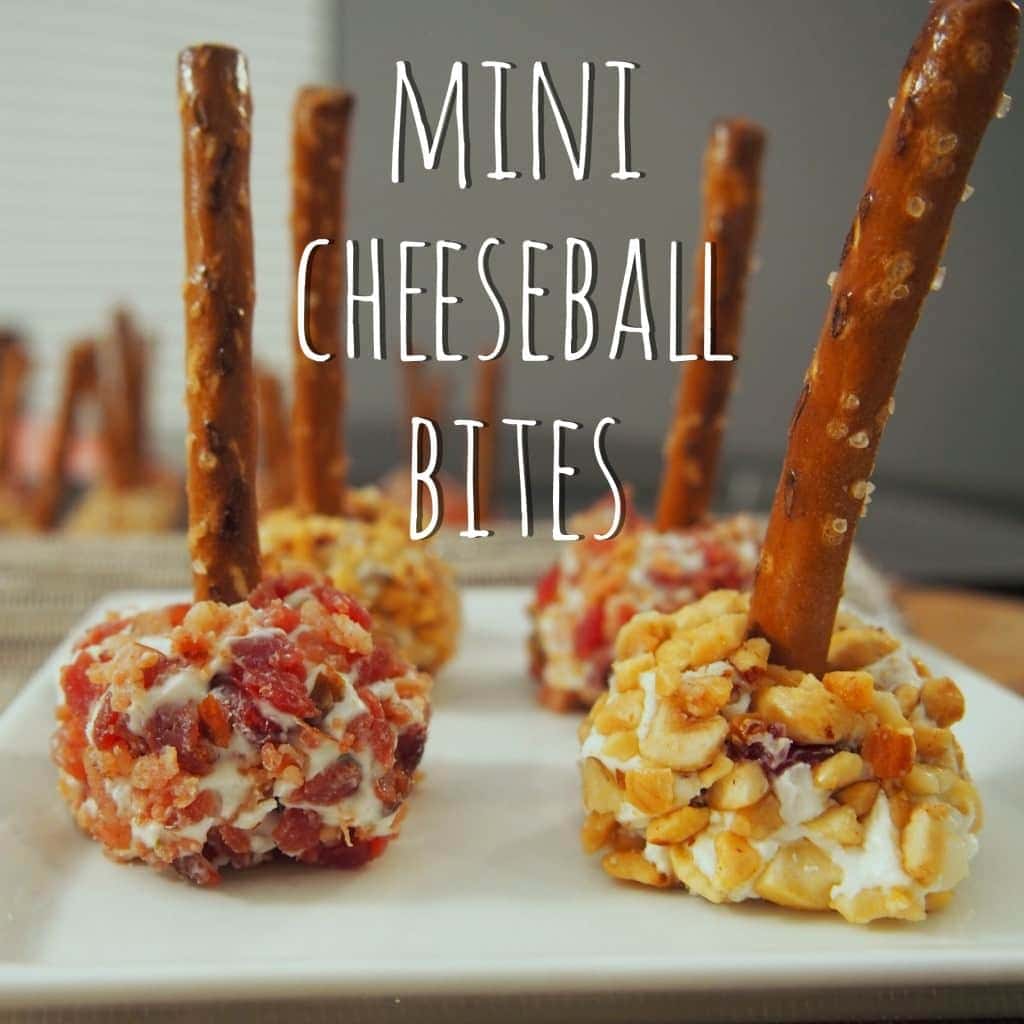 i have always loved cheeseballs at the holidays, and these are great because they're bite-sized.  that way you can try the different kinds and not feel too guilty…at least that's what i tell myself!
these are very easy and quick to make.  they need to chill a couple hours before serving…but otherwise they're done in about 10 minutes.  perfect!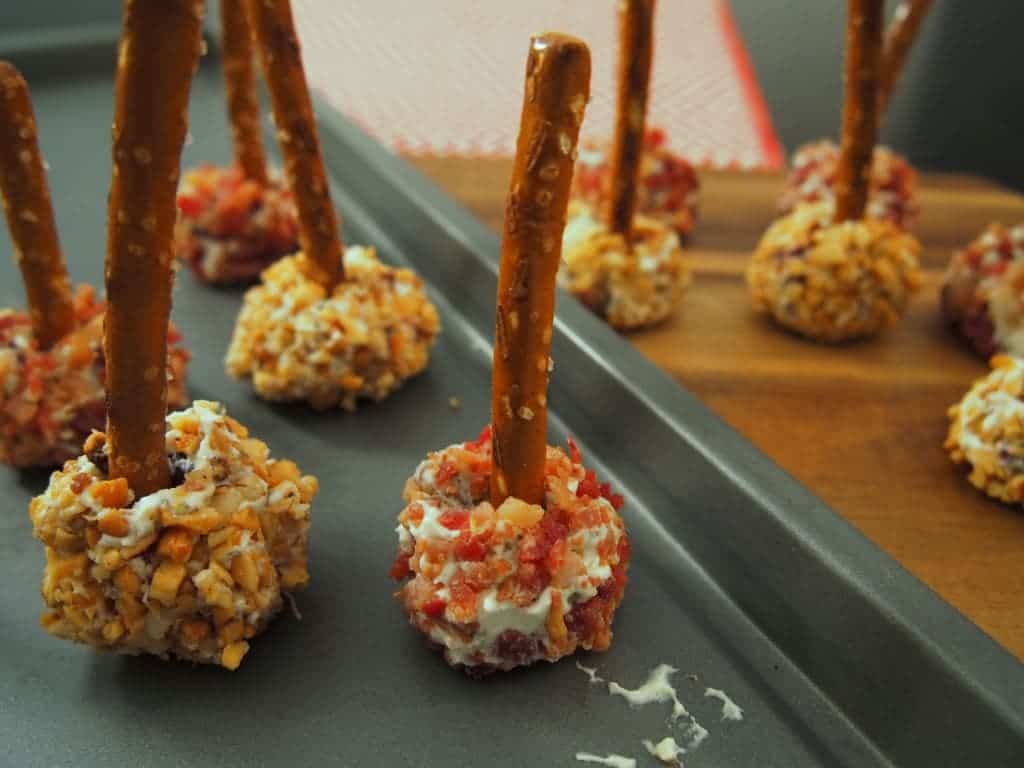 i kept seeing pictures of these on pinterest with links that didn't work.  after some digging, i found a great recipe.  click HERE to see the inspiration.  she used blue cheese and cranberries, i changed that up a bit but you could use any ingredients you want.  keep the base the same, but play with the flavors.  very fun!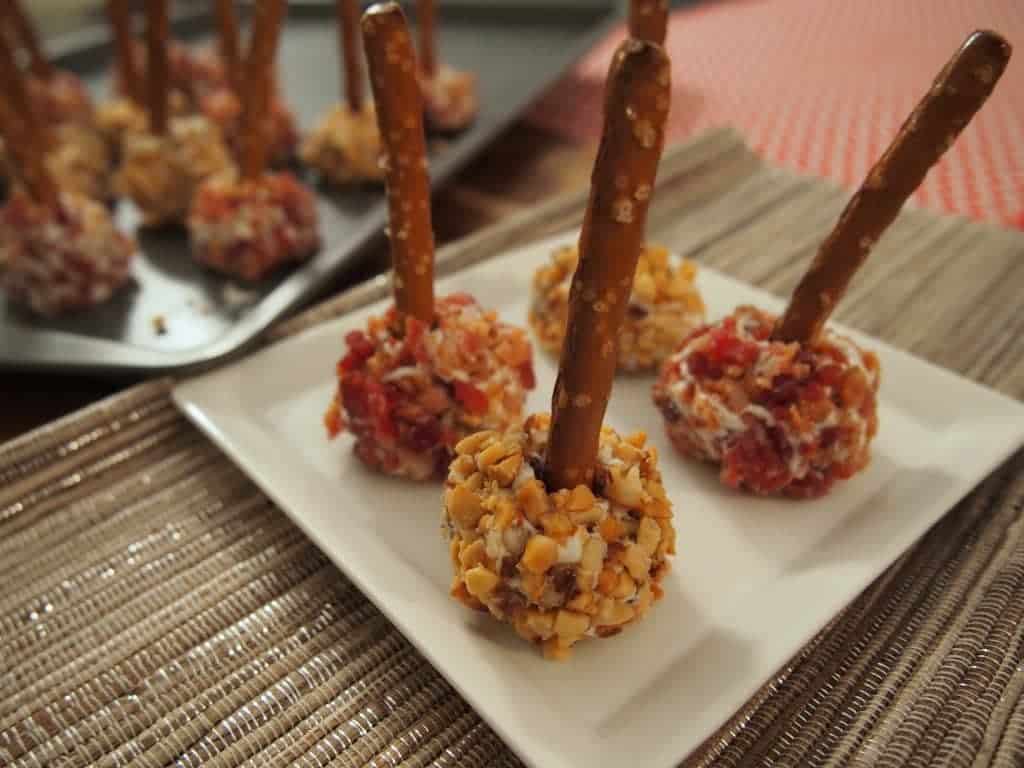 i made all of the cheeseballs the same on the inside, but used two different toppings to roll on the outside.  bacon crumbles and a mixed nut mix.  again, you could use whatever you like.  pistachios, almonds, dried cherries, all would make tasty additions.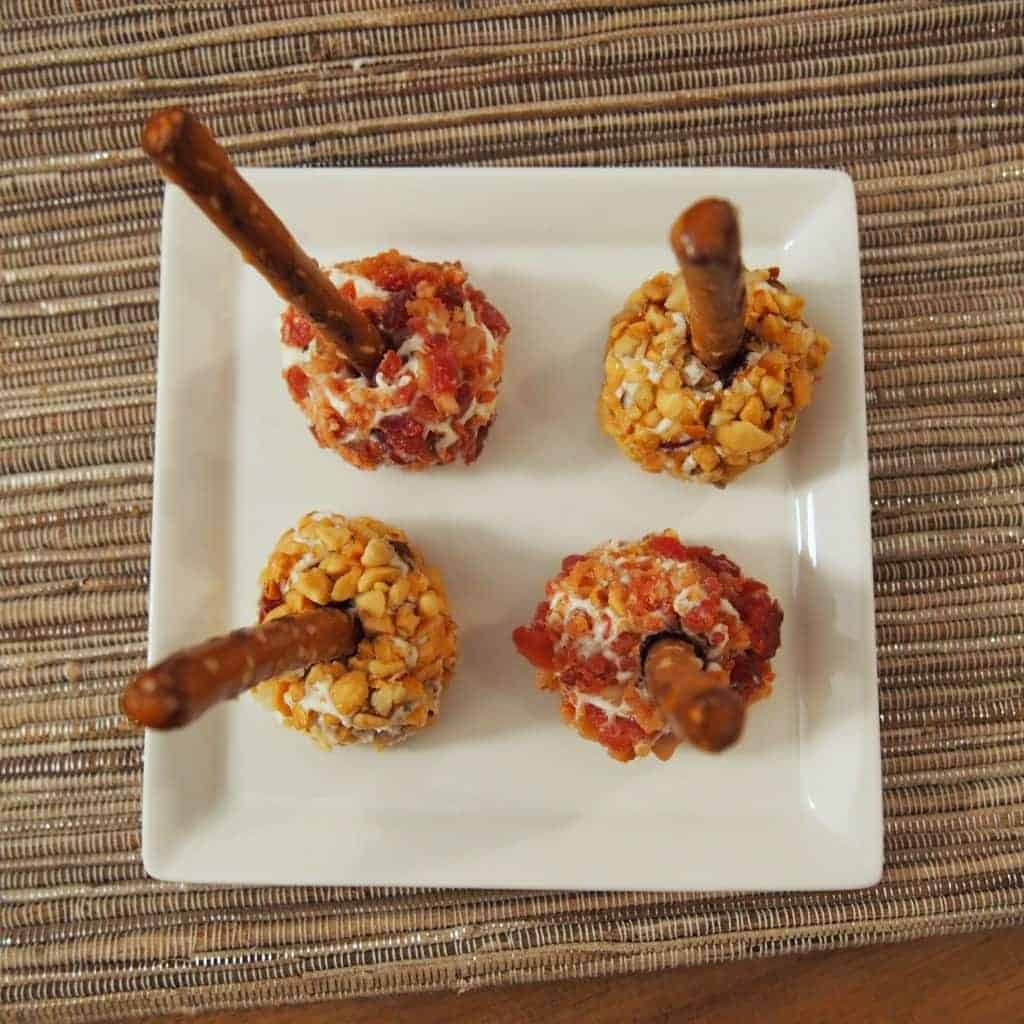 aren't they so cute?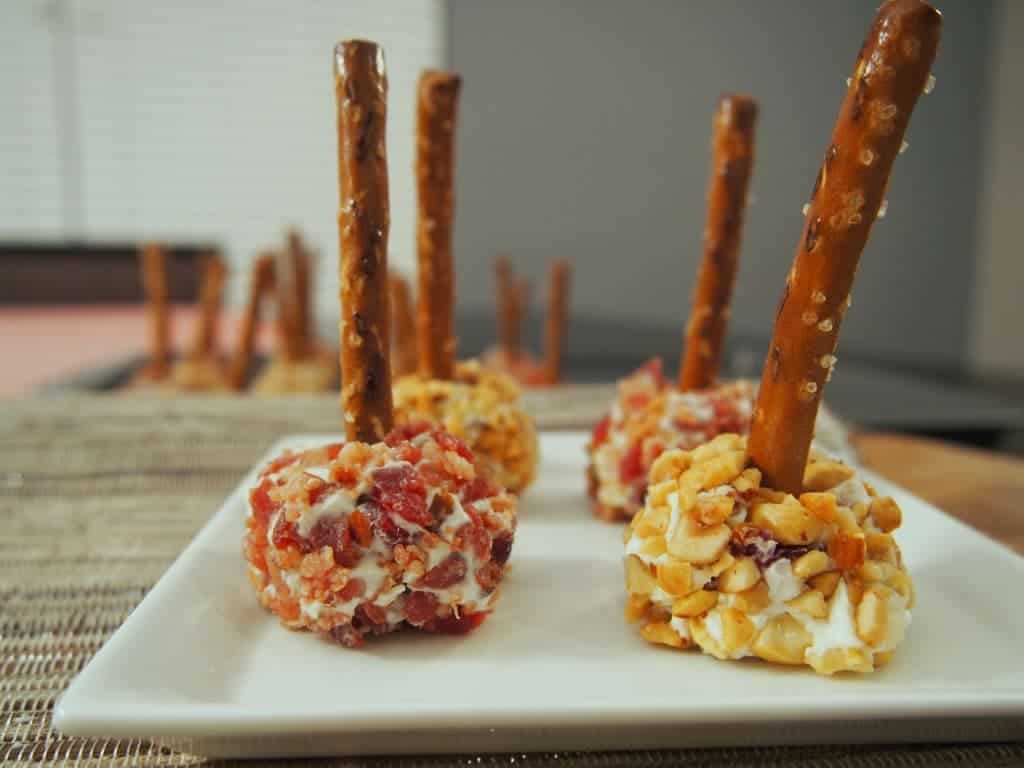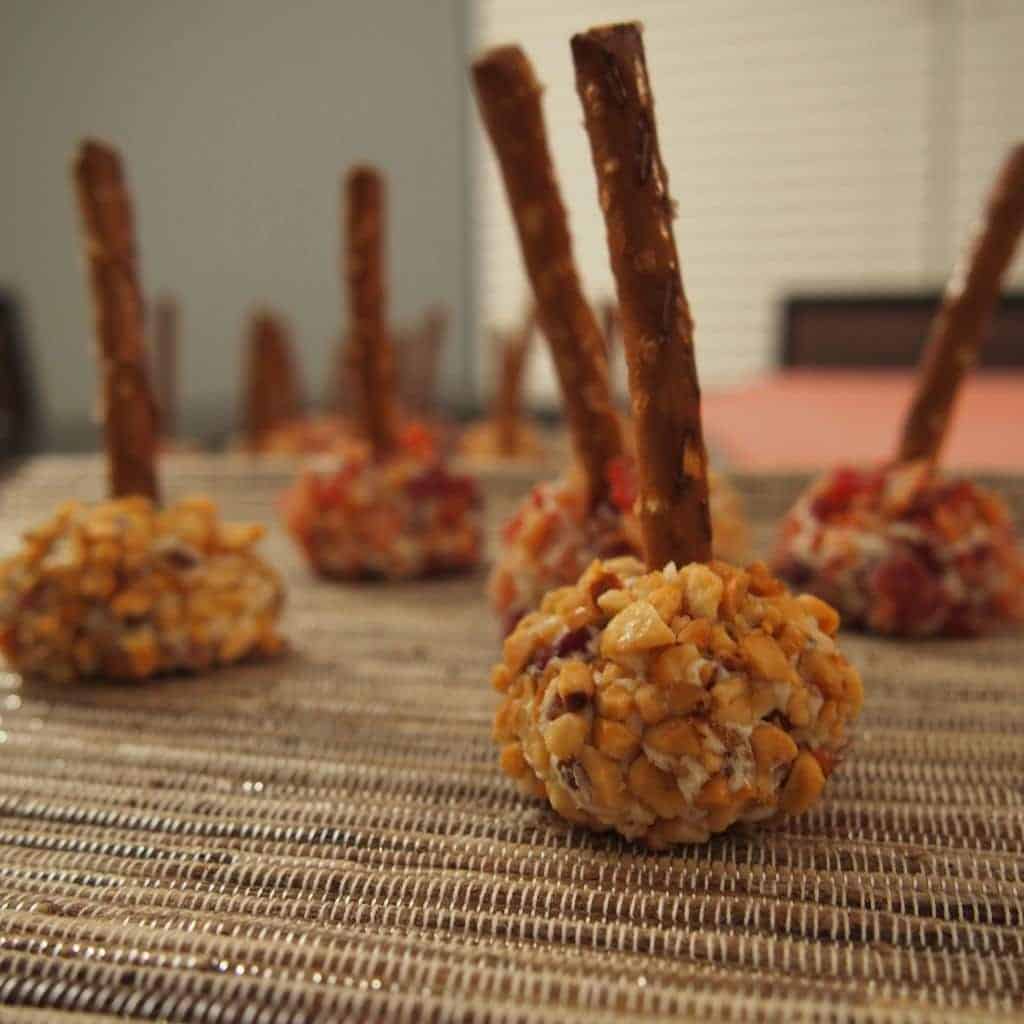 you need to try these.  let me know what toppings you use! i would love to hear your favorite combinations.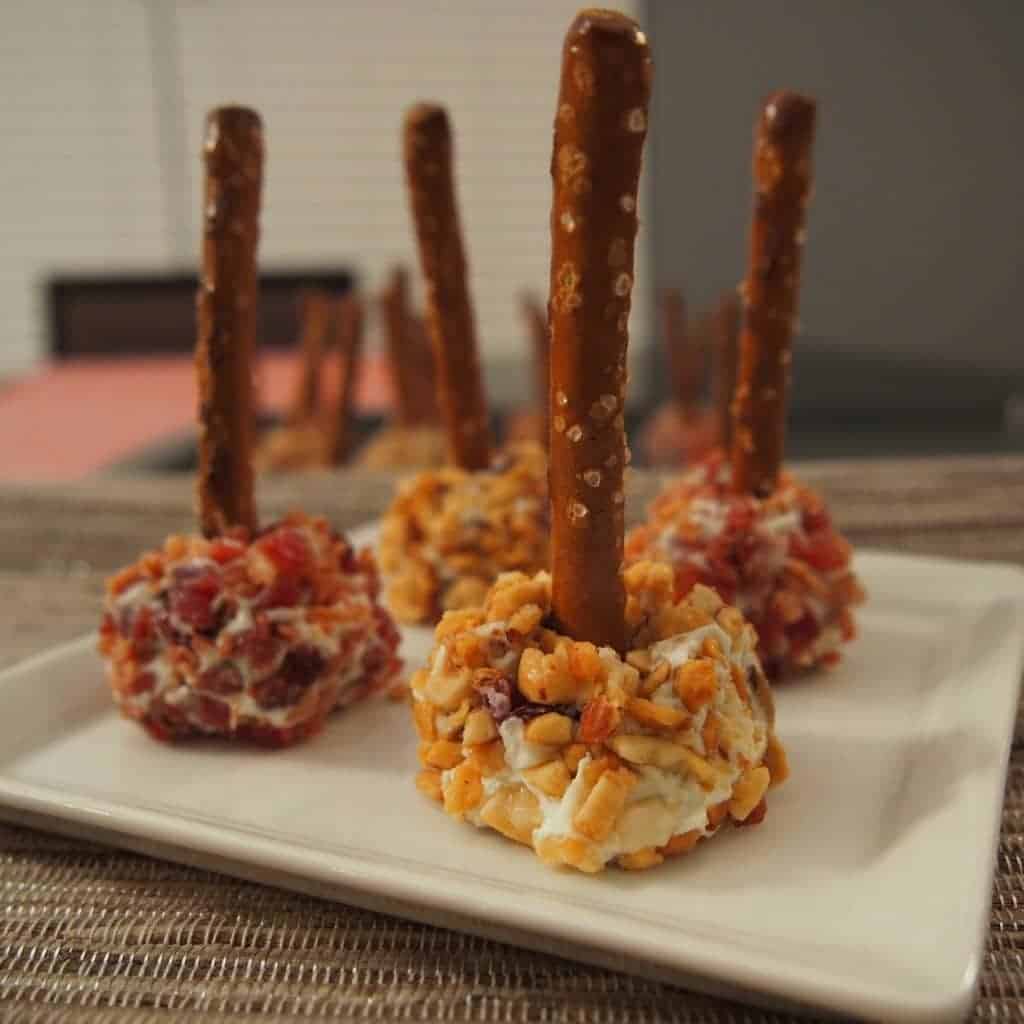 i tried to take more pictures, but these kept disappearing pretty quick.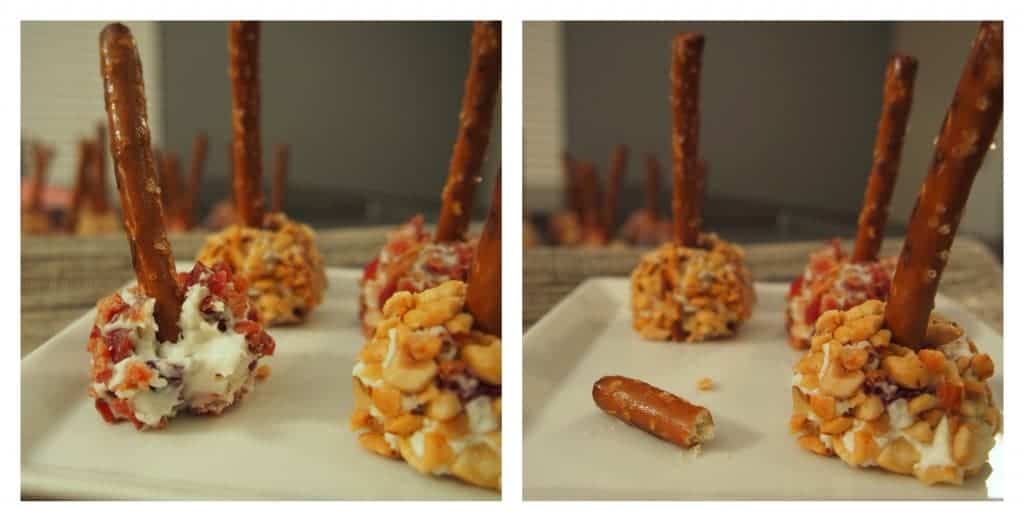 enjoy! (and Happy New Year!)
Ingredients
8 ounces cream cheese (room temperature or softened)
3/4 cup white cheddar
3/4 cup dried fruit (i used a mix of dried apricots, cherrys, and cranberries. you could use all three or use them individually)
1 1/2 cup mixed nuts, finely chopped
1 1/2 cup bacon crumbles
medium sized pretzel sticks
1 - 1 1/2 T italian seasoning
Instructions
beat together cream cheese, cheddar, fruit, and herbs until smooth
form into tablespoon sized balls and place on baking sheet. let chill in refrigerator for at least two hours.
roll each cheese ball in either bacon or nuts (or both!), pressing them lightly into the cheese so that they stick.
keep covered in fridge until you're ready to serve (i think the are best served very cold. I would recommend keeping in the fridge overnight before serving)
just before serving, skewer with pretzel. enjoy!
7.6.4
1601
https://www.thecookierookie.com/cheeseball-bites/


JOIN OUR MAILING LIST
TO GET COOKING!
Subscibe to recieve all the latest, greatest, and EASIEST recipes sent straight to your email inbox. If we post something yummy, you'll be the first to know.