Mini Cheese Ball Bites are the perfect easy appetizer to serve at holiday parties. These tasty little cheese balls are made with dried fruit and cream cheese, rolled in bacon or nuts, and finished off with a pretzel stick. Make these Mini Cheese Ball Bites for a New Year's Eve appetizer or any simple gathering!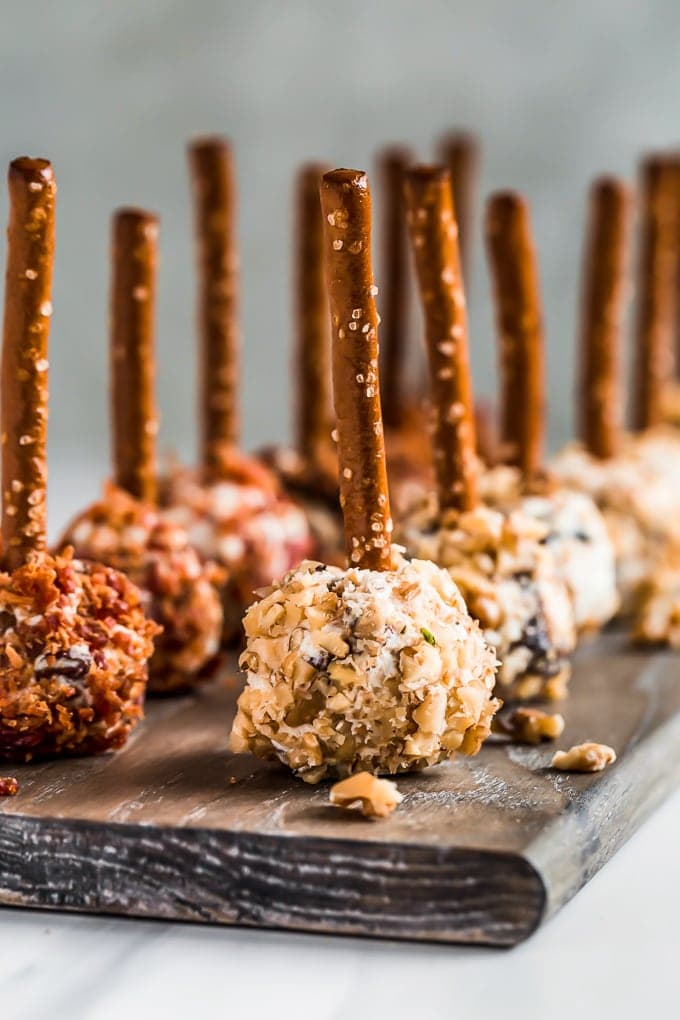 Cheese Ball Bites
Cheese Ball Bites are the perfect New Year's Eve appetizer. Make these mini cheese balls on pretzel sticks to celebrate the holiday!
New Year's Eve is coming up, so I've been thinking a lot about fun appetizers to serve at holiday parties. There are a lot of good appetizers out there to choose from, but my favorites all have one thing in common: Cheese. If you have followed this blog for any amount of time, that fact probably doesn't surprise you.
These Mini Cheese Ball Bites are my new favorite New Year's Eve appetizer. They are so cute, so fun, so easy to make, and SO delicious. Mini cheese balls covered in nuts, dried fruit, and BACON, on a pretzel stick…How genius? I love a good traditional Cheese Ball recipe for the holidays, but having a ball of cheese in bite-sized form might be even better!
Cheese Ball Bites are so fun to make and so fun to eat. You can make them all the same, or make each one a little different with the toppings. Roll them in nuts or bacon, or both! You could even use more dried fruit on the outside. No matter how you present them, your guests will love to eat them right up!
These Mini Cheese Ball Bites are the perfect New Year's Eve appetizer to serve at your party!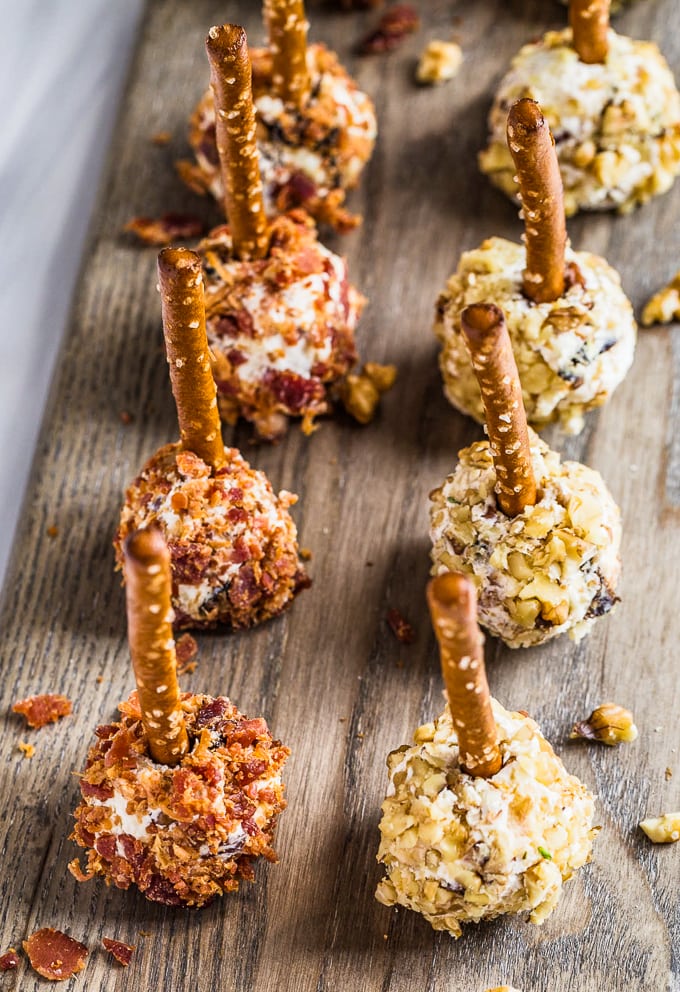 Mini Cheese Balls
I have always loved cheese balls during the holidays. It's such a classic party appetizer that is perfect for New Year's Eve, Christmas, or any holiday party, and it is always a hit with guests. Cheese balls are always a hit with ME, because what's not to love about a ball of cheese? Dip your crackers in it and get the most delicious bite of your life! Everyone knows it's the holiday appetizer to keep your eye on.
So of course these Mini Cheese Balls are a dream! It's a classic cheeseball, but bite-sized…You can literally just pick it up and stuff the whole thing in your mouth at once. No need for crackers, no need to share, no need to stop yourself from eating the whole entire thing. It's just the perfect little New Year's Eve appetizer, and they are so darn cute too!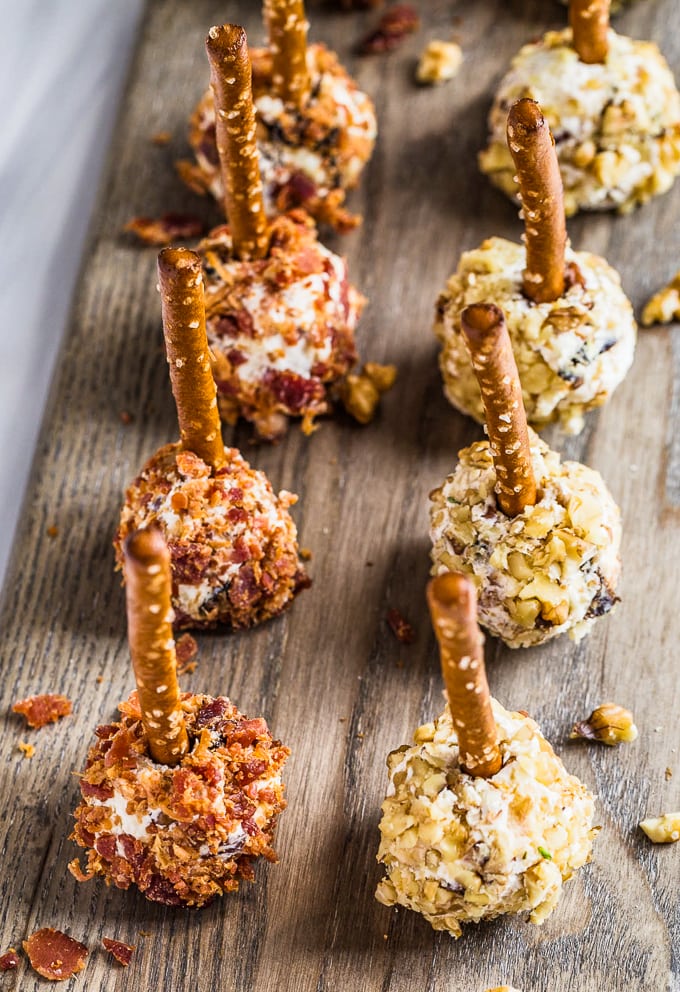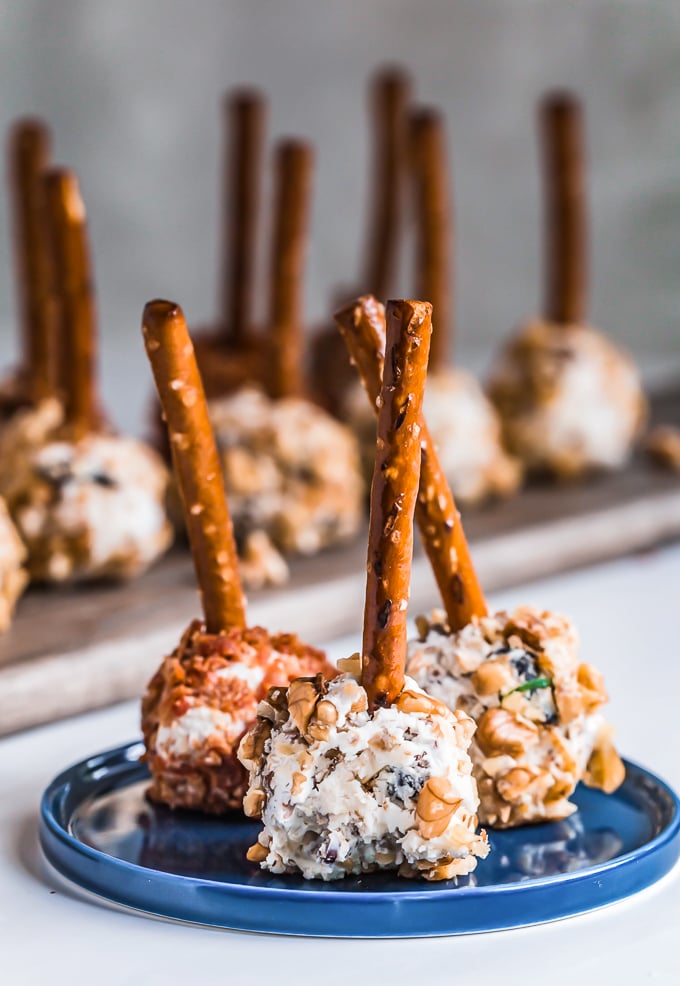 How to Make Cheese Ball Bites
These mini cheese ball bites are very easy and quick to make. They need to chill in the refrigerator for a couple of hours before serving, but other than that, they are done in about 10 minutes. Talk about an easy party appetizer!
I made all of the mini cheese balls the same on the inside (with cream cheese, cheddar, herbs and dried fruit), but used two different toppings (bacon crumbles and a nut mix) to roll on the outside. The great thing about these recipe is that you can use whatever you like. Get creative, use your favorites, try pistachios, almonds, dried cherries, or anything else you want. They would all be delicious additions!
Mix cream cheese, cheddar, dried fruit, & herbs
Form mixture into tablespoon sized balls
Place cheese balls on a baking sheet and let them set in the refrigerator for at least 2 hours
Roll each cheese ball in your preferred toppings (bacon, nuts, etc)
Store them in the refrigerator, and place a pretzel stick in each one just before serving
I think they taste best when they are still cold, so I recommend making them the night before, letting them sit, and serving them straight out of the fridge.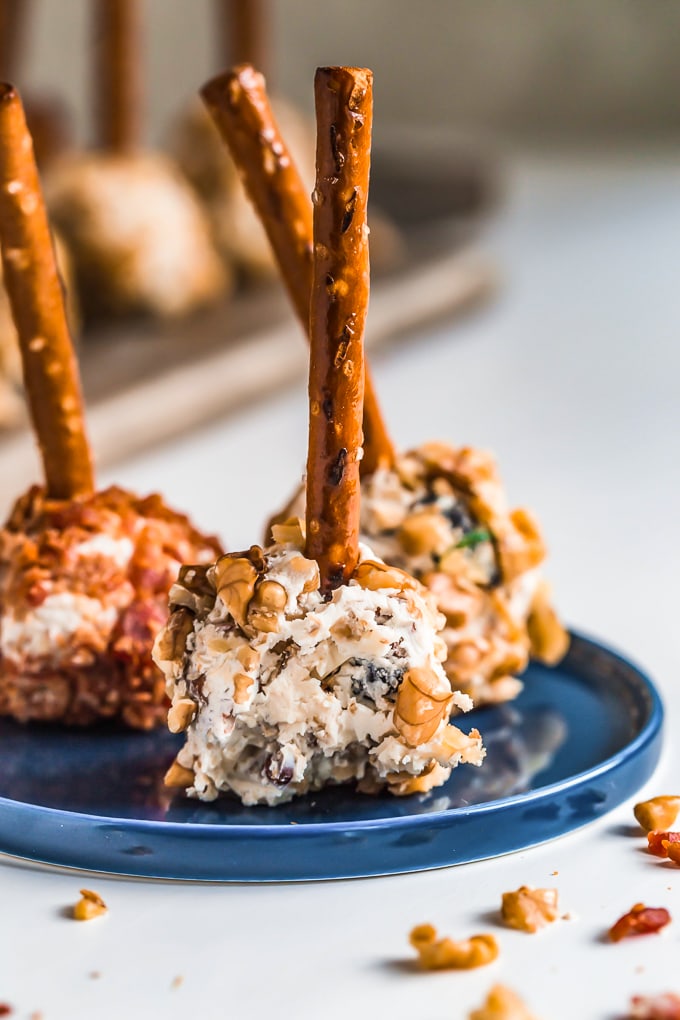 Easy New Year's Eve Appetizers
These Mini Cheese Balls are the ultimate New Year's Eve appetizer. Not only are they delicious, festive, and super cute (sometimes it's all about presentation), but they are so easy to make too. It won't take more than 10 minutes to prep these and get them in the refrigerator to set. And once they're ready to serve, take them out, place the pretzel sticks, and set them up on a plate or serving platter. Absolutely hassle free!
I'm all about the food when I'm at a party. So as amazing as these cheese ball bites are, you gotta have a few more options to serve, especially since these cheese balls will disappear quickly!
Here are some other easy appetizers to serve:
These Cheese Ball Bites are a MUST for your New Year's Eve festivities. Whether you're throwing a party, bringing an appetizer to your friend's, or staying in with the family, these mini cheese balls need to be part of your night. A bite of cheese filled with dried fruit and covered in bacon and nuts…YUM!
See the recipe card below for details on how to make Mini Cheese Ball Bites. Enjoy!
Try some more favorite appetizers: