Creamy Spinach Dip Crostini is such a classy and unique appetizer to serve at your next party. Cheesy Spinach Dip is loved by all, and now you don't need the chips to enjoy! Warm Spinach Parmesan Dip piled onto toasty French Bread makes the ultimate crostini appetizers. This is one of our favorite game day or holiday recipes to make in a pinch.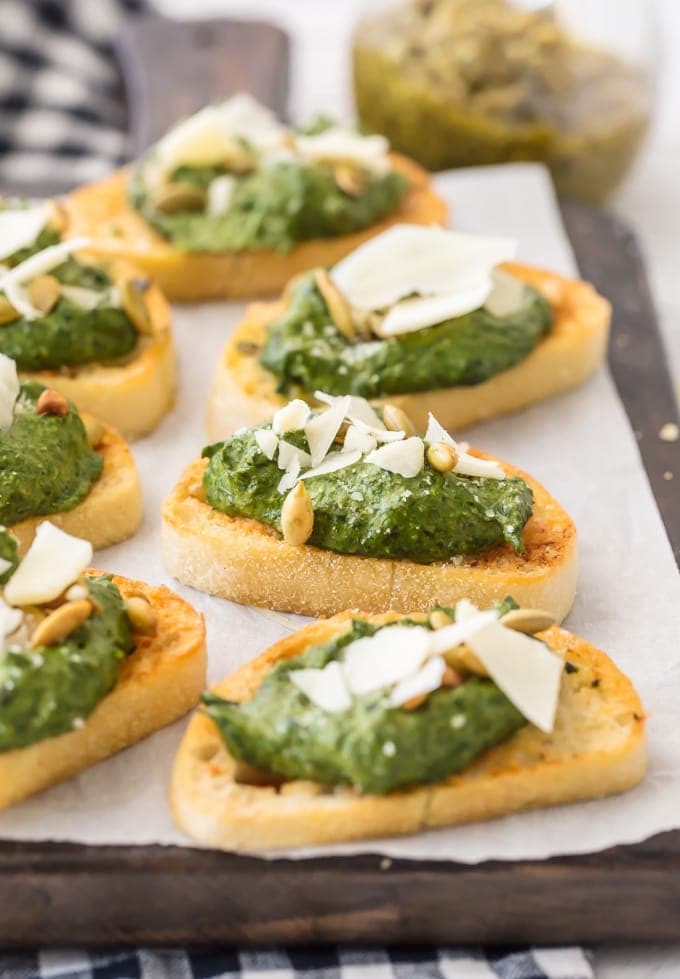 Creamy Spinach Dip Appetizer
Creamy spinach dip plus toasty crostini equals the best party appetizer! This easy spinach parmesan dip gets piled onto fresh crostini for a bit size treat.
I don't know why I've never thought of this before. I love spinach dip and I love crusty French bread; clearly the two seem like a match made in heaven. So I've combined them to create this Creamy Spinach Dip Crostini Appetizer!
A good crostini recipe is something everyone should know, because you never know when you might be heading to a potluck, holiday party, or game day celebration. Plus it's an easy appetizer you can whip up for unexpected guests.
This easy Spinach Parmesan Dip Crostini is PERFECT for sharing and such a fun and unique recipe everyone will love. I guarantee that people will be asking for this recipe when you bring a batch to your next soiree.
Make this your simple, go-to recipe for a unique and delicious appetizer. It's always a party favorite!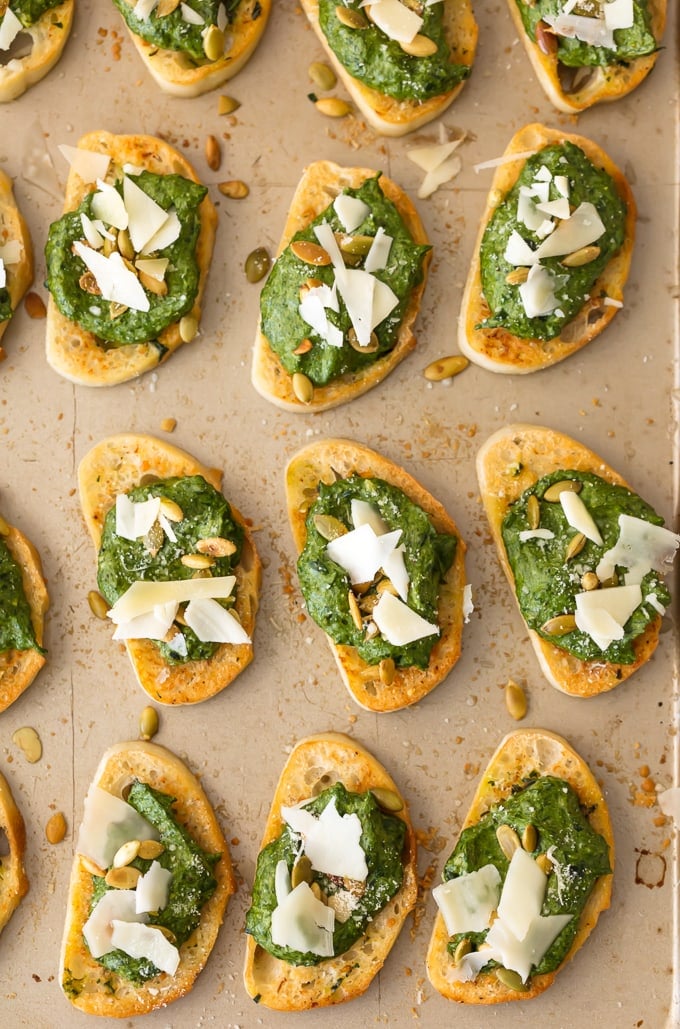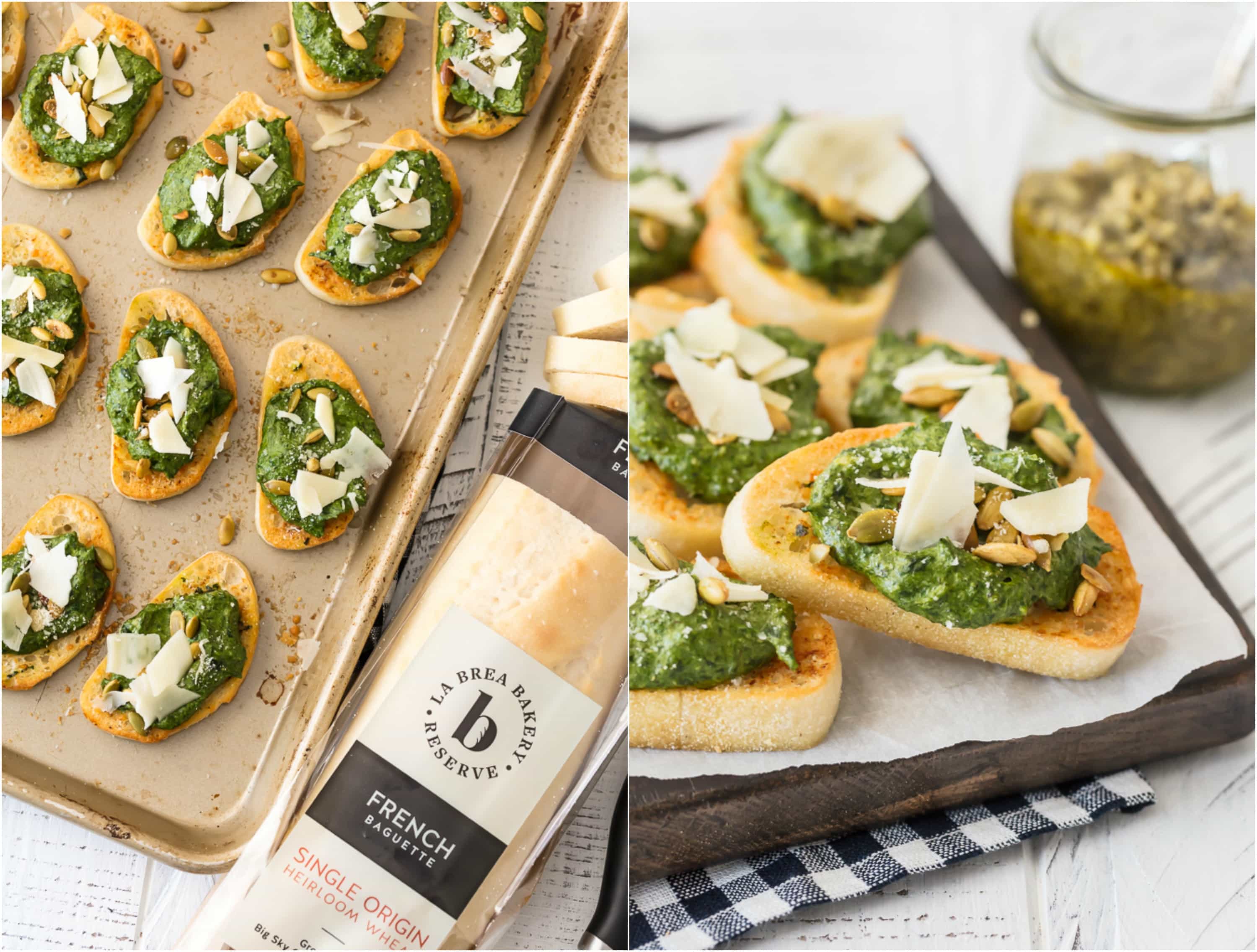 French Bread Crostini Recipe
You guys might remember me working with La Brea Bakery in the past. We have made everything from French Bread Pizza Bites to Individual French Onion Dip Bread Bowls. I say this with all sincerity, their breads are second to none and we are SO lucky to have them at our local grocery stores. La Brea Bakery recently launched their new La Brea Bakery Reserve line of Demi-Baguettes with Kroger and I could not be more excited. This French Baguette…YOU GUYS!
La Brea Bakery is proud to share the story of La Brea Bakery Reserve, artisan breads made from single origin heirloom grains. The Fortuna Wheat in these demi-baguettes was grown in the wheat fields of Big Sky Country, Montana, which is a region unlike where other wheat is grown. The result is a crisp crust and creamy crumb from the cracked wheat berries, that embrace the beauty of farming and the true taste of artisan bread.
It doesn't taste at all like the other bread at your local store. It tastes like freshly baked bread…and in my case MUCH more delicious than I could ever make myself. I'm so in love. Crispy crunchy outside, and soft delicious inside.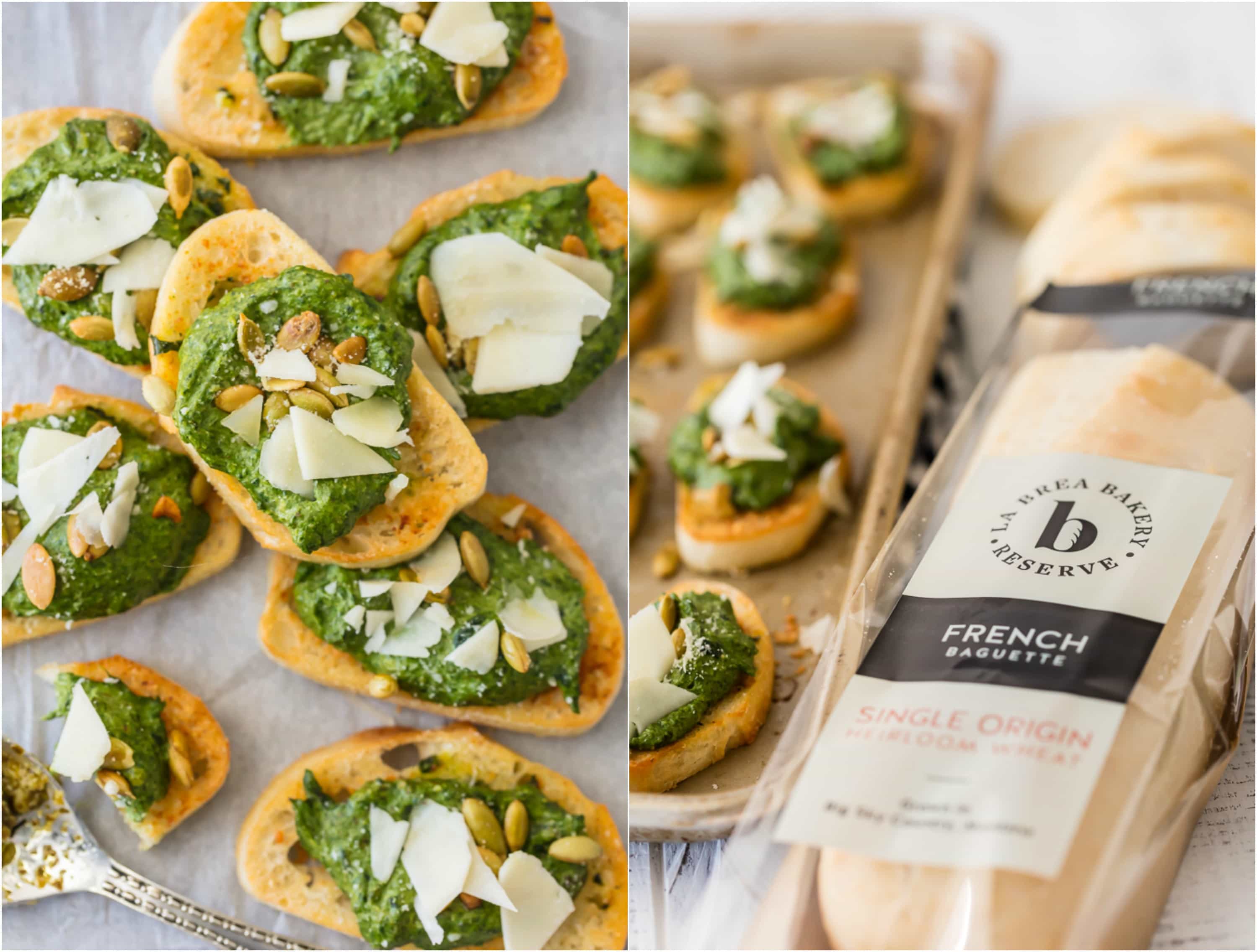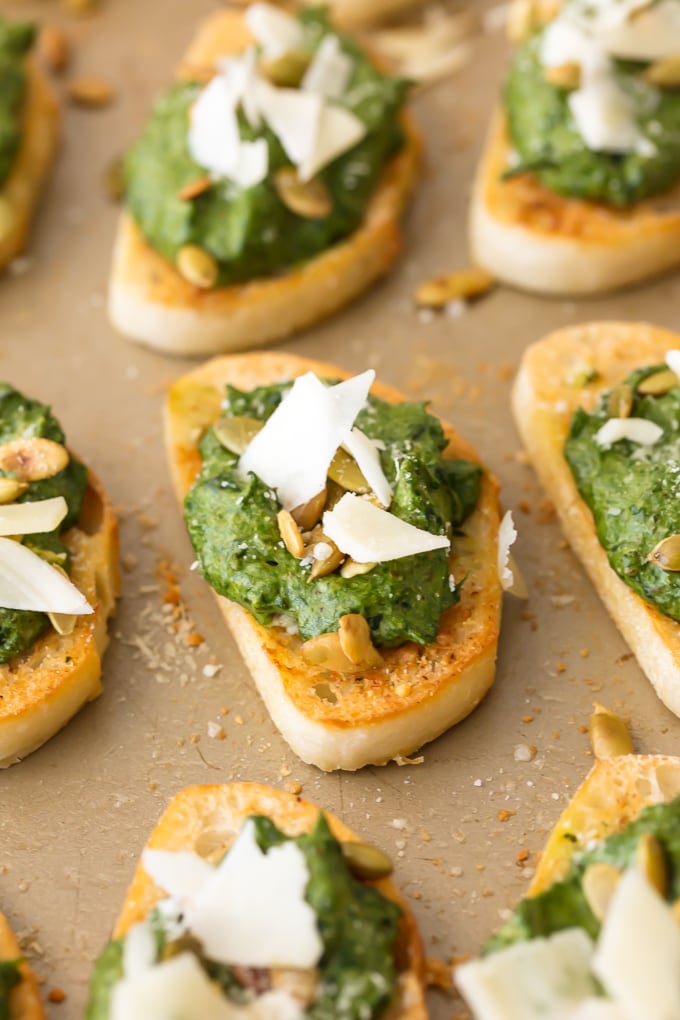 How to Make Spinach Parmesan Dip Crostini Appetizers
This crostini appetizer recipe is so simple and only takes a few minutes to make. The mix of creamy spinach dip and toasted crostini is just perfect!
I toasted the bread in a mixture of garlic, butter, parmesan and parsley. Then I topped it off with the spinach parmesan dip, made from spinach, parmesan, balsamic vinegar, and cream cheese. It's such a delicious flavor combination. Everything we love about classic spinach dip but in bruschetta form! Isn't that fun?
I can't wait for you to wow the guests at your next party with this Parmesan Spinach Dip Crostini!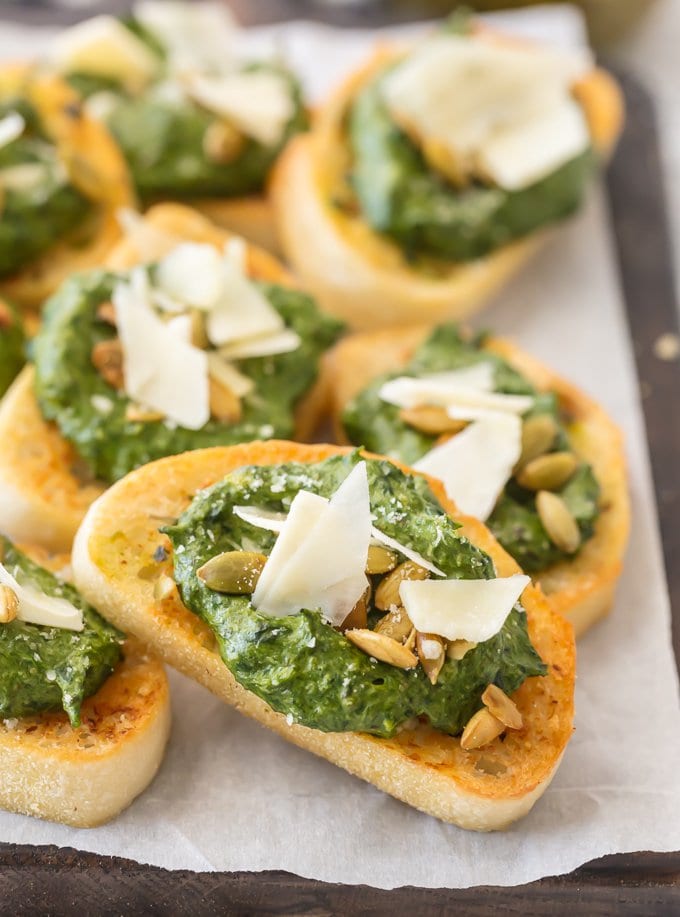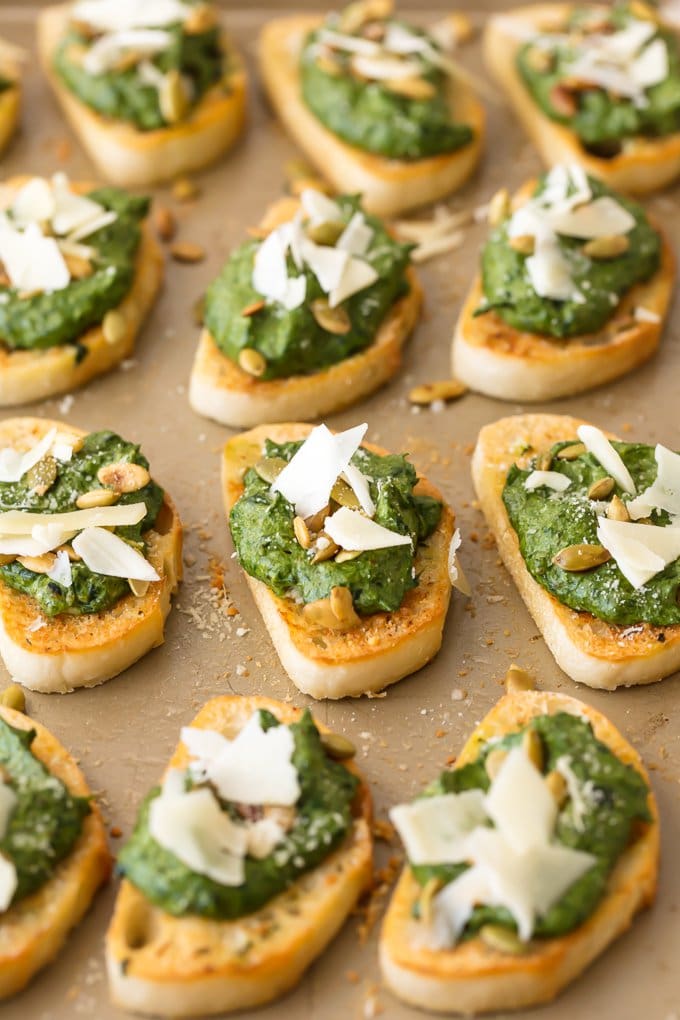 This Creamy Spinach Dip Crostini is everything you need for the perfect party. Just mix up some fun cocktails and you're in business!
Be sure to check your local Kroger for La Brea Bakery Reserve Demi-Baguettes. They can be found in the specialty cheese section. You will not regret it! Serve it with your favorite creamy chicken soup, chili recipe, or as the base for this fun Parmesan Spinach Dip Bruschetta.
See the recipe card below for details on How to Make Parmesan Spinach Dip Crostini. Enjoy!
Try these other spinach dip inspired dishes:
Vegan Spinach Artichoke Dip