Kick off football season with Crockpot Kielbasa Sausage Bites! This appetizer is a true set it and forget it Crockpot recipe that couldn't be easier to make. It's a little sweet, a little spicy, and completely addictive.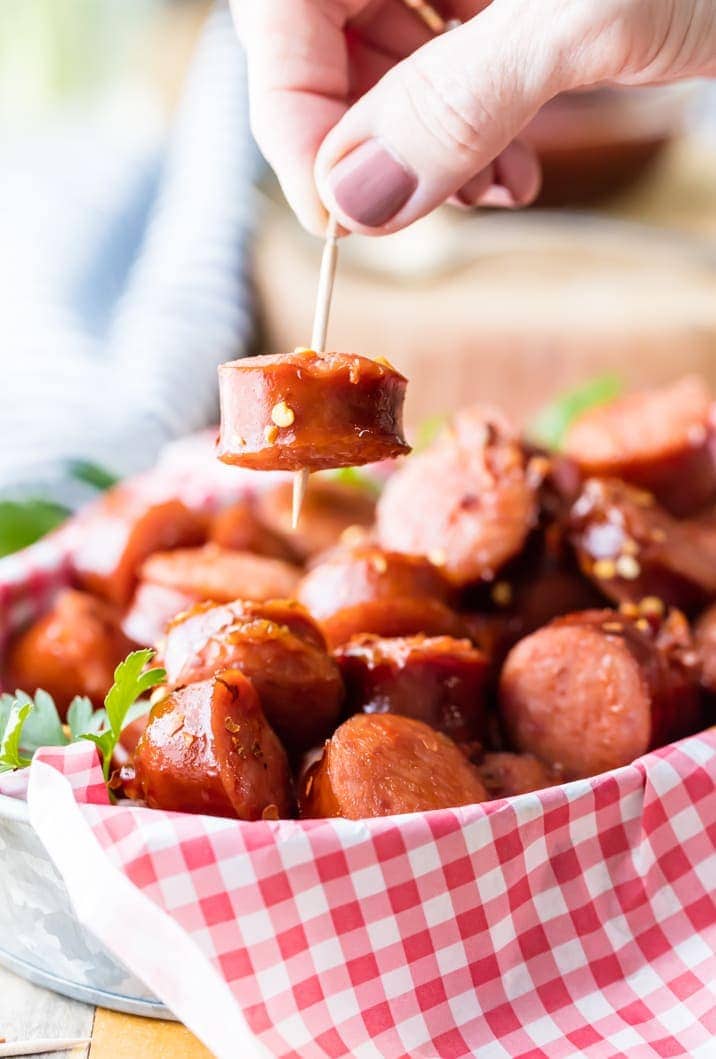 What's in this Crockpot Kielbasa Recipe
This sweet and spicy kielbasa appetizer is the perfect mix of flavors! It's just the right balance between spicy, sweet, and tangy.
Kielbasa: If you have any leftover kielbasa after making this recipe, use it to make my favorite kielbasa jalapeño popper bites!
BBQ Sauce: Use your favorite store-bought brand or go the extra mile with the best homemade BBQ sauce.
Red Pepper Jelly: This is also a staple ingredient in pepper jelly dip, another game day favorite!
Honey: This adds just the right amount of sweetness to the mix. You can always add more if you want the bites to be on the sweeter side.
Dark Brown Sugar: All out? No problem! Make your own by combining 1 cup of white granulated sugar with 1 TBSP of molasses.
Red Pepper Flakes: Add more or less to control the spice level.
PRO TIP: To keep these kielbasa bites warm for the whole game, leave the slow cooker on the "warm" setting! That way they'll be ready to eat but not too hot.
Are Crockpot kielbasa bites spicy?
The red pepper jelly and red pepper flakes both add a little kick to this appetizer recipe. However, both of those spicy ingredients are well balanced by the brown sugar, honey, and BBQ sauce. You can always add more or less red pepper flakes to best fit your needs.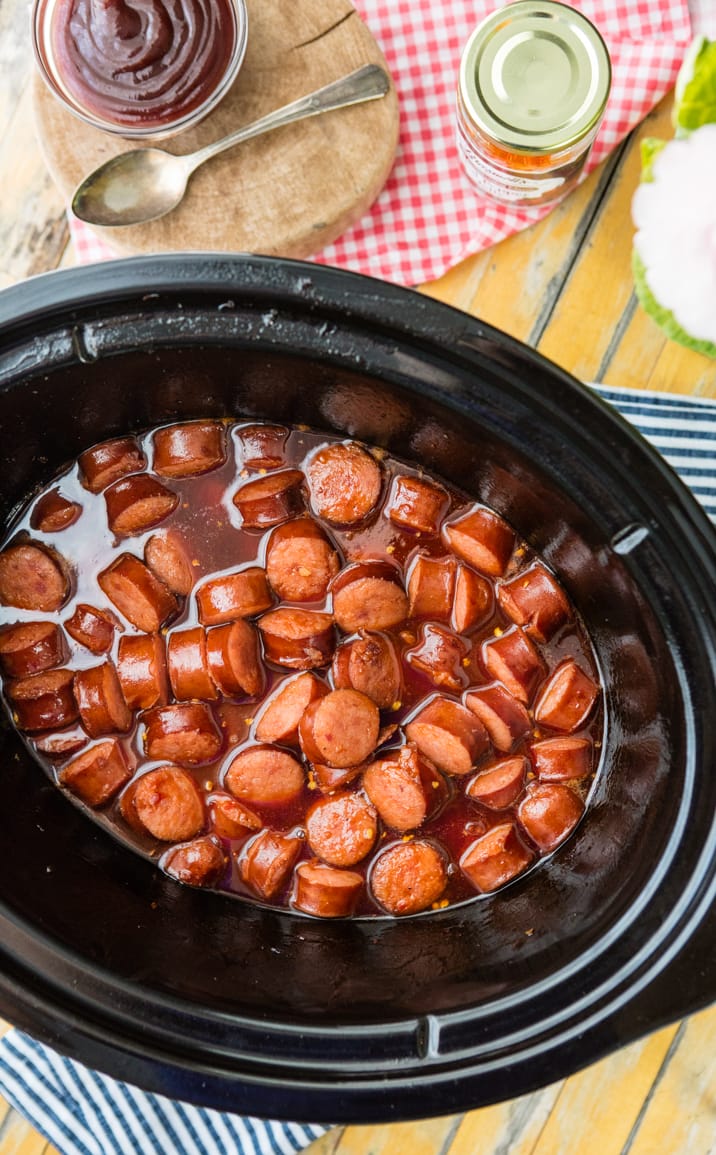 What is kielbasa?
Kielbasa is a Polish sausage that typically has a "U" shape and can be found in the sausage section of most grocery stores.
Is kielbasa already cooked?
Most kielbasa sausages that you can find at your local grocery stores are already cooked. This recipe heats them low and slow to really infuse them with the best flavor from the sauce ingredients. You do not need to cook the kielbasa before adding it to your slow cooker.
Do I need to stir the kielbasa bites?
Yes! Stir the sauce and kielbasa as it all cooks in the slow cooker every half hour or so to make sure nothing burns.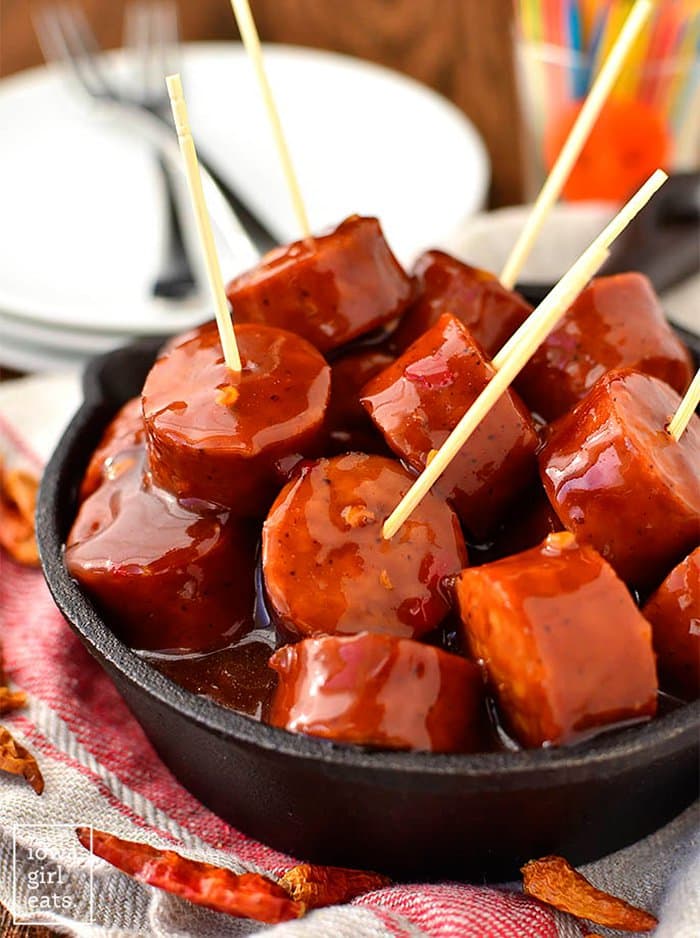 How to Store/Reheat
Once cooled to room temperature, you can store leftover kielbasa sausage bites in an airtight container in the fridge for 3-4 days. Reheat in the microwave for 30 seconds at a time until warmed through.
How to Freeze
You can freeze these kielbasa bites in an airtight container for up to 3 months. Let thaw in the fridge before reheating. Don't forget to date and label!
Serving Suggestions
These sweet and spicy kielbasa sausage bites will be hot ready to serve with ease. Put in some toothpicks for easy eating, and set out some extra BBQ sauce (or another favorite sauce) for dipping!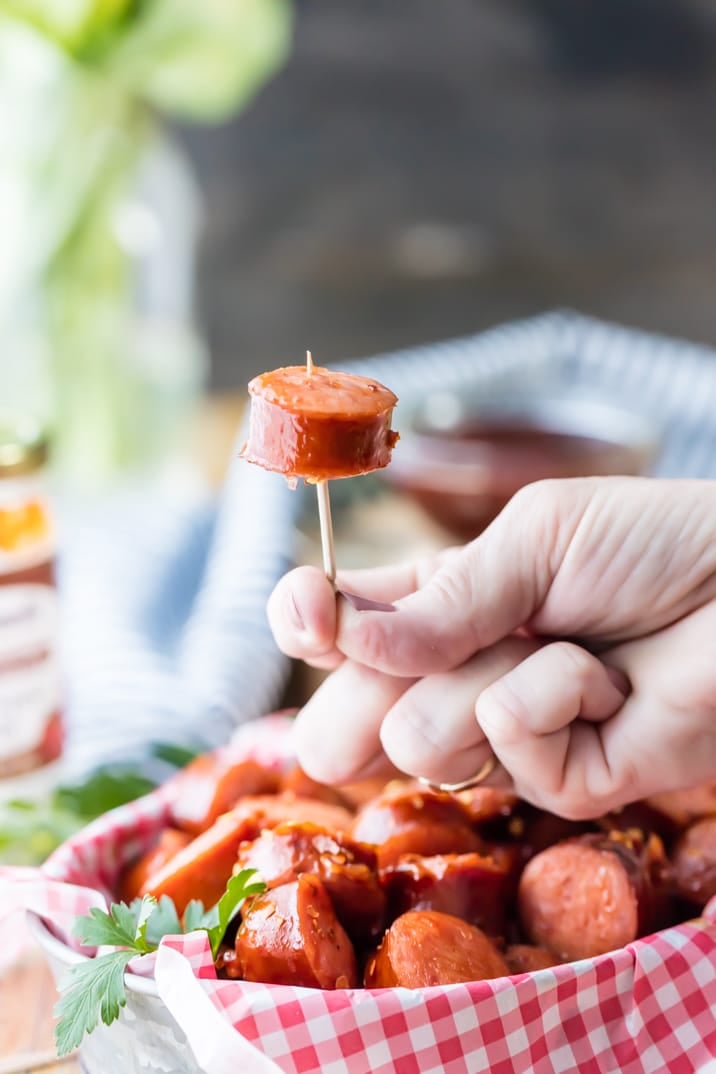 5-Star Review
"I LOVE football food that's as simple as throwing it into a slow cooker!" – Justine