Crock Pot Kielbasa Sausage Bites are a tailgating favorite! This sweet and spicy kielbasa appetizer is SO EASY to make. There's nothing better than a slow cooker kielbasa recipe to make an easy game day appetizer. They are so addicting!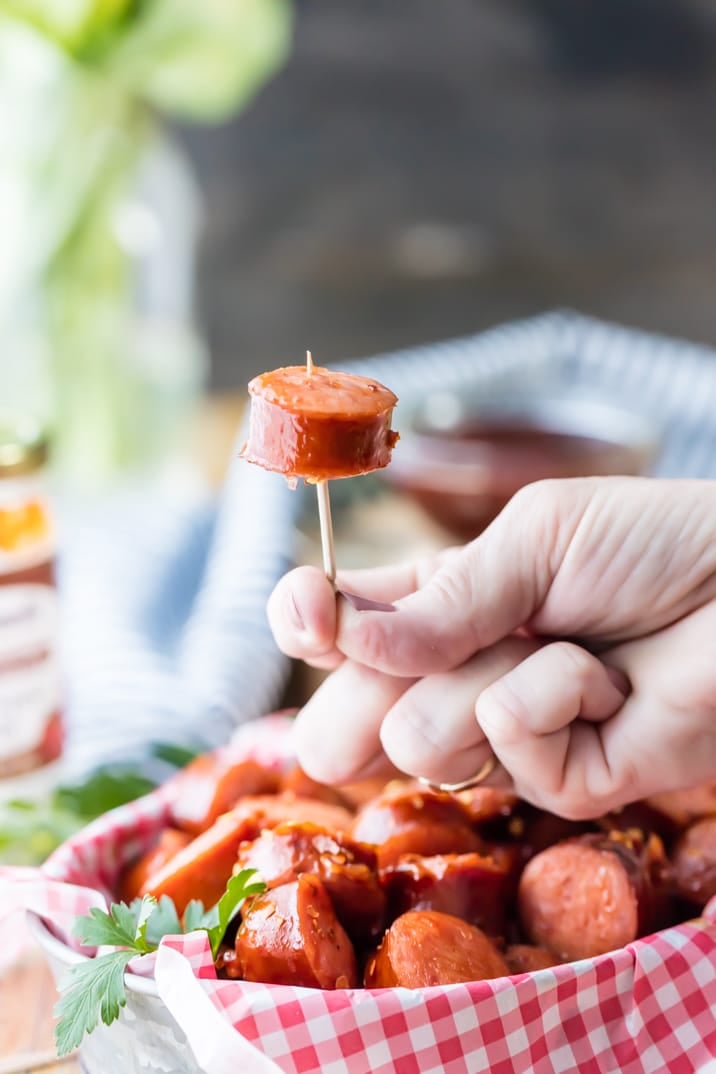 Crock Pot Kielbasa Sausage Bites
This crock pot Kielbasa recipe is so simple! I just love these sweet and spicy Kielbasa sausage bites for an easy appetizer.
Football season is my absolute favorite time of year! Other than Baseball Playoffs (LET'S GO ROYALS), there is no better time for sports than football season. Sure, the games are fun to watch, but what I really love is THE FOOD! I'm all about the game day appetizers: cheesy dips, chicken wings, and of course, these Sweet and Spicy Kielbasas Sausage Bites.
This crock pot kielbasa recipe is so easy to make. Just let the sausages cook up in a delicious sweet and spicy sauce, and then they're ready to go. No fuss, no hassle! Cut them up into little bite-sized pieces for the perfect Kielbasa appetizer. You won't be able to stop eating them!
Find out how to make Kielbasa in a slow cooker, and you'll never want to make them any other way. They are just TOO good!
Make these Crock Pot Kielbasa Sausage Bites for your next game day party!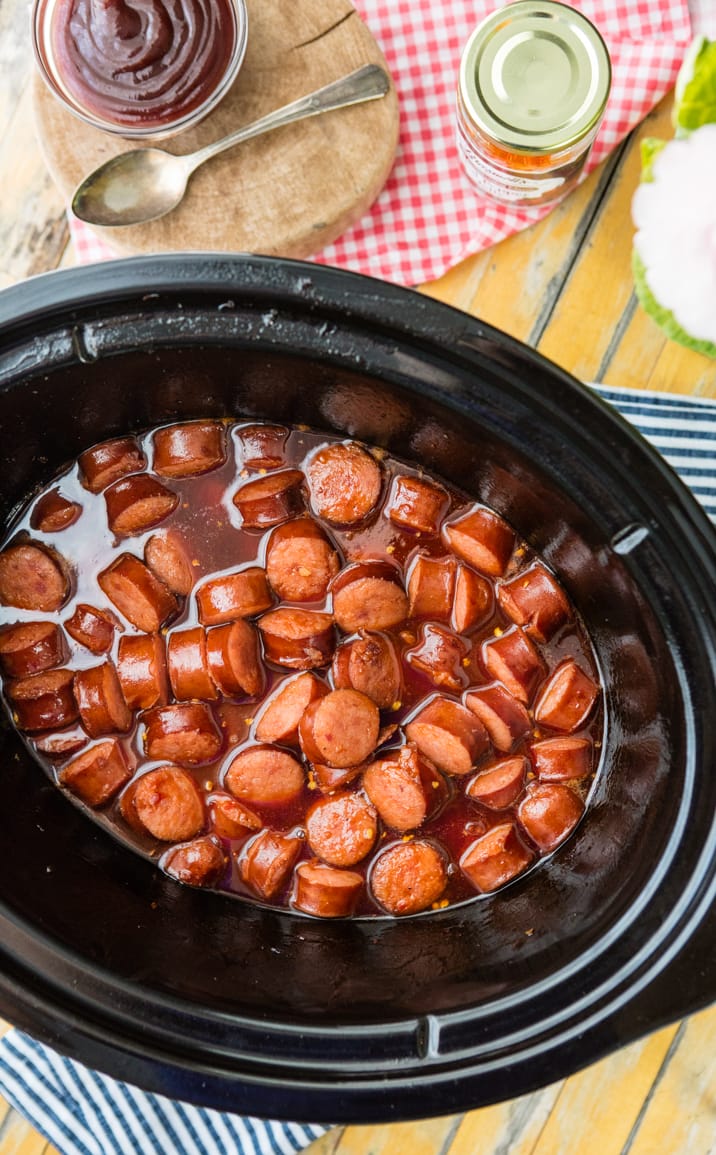 Sweet and Spicy Kielbasa Appetizer
This sweet and spicy Kielbasa appetizer is the perfect mix of flavors! It's just the right balance between spicy, sweet, and tangy. You get the spicy from the pepper jelly, the sweet from the brown sugar and honey, and the tangy from the BBQ sauce. These crock pot Kielbasa bites are SO easy and SO delicious. This is a no-fail recipe, folks! Set out some dipping sauces to add even more flavor to these babies!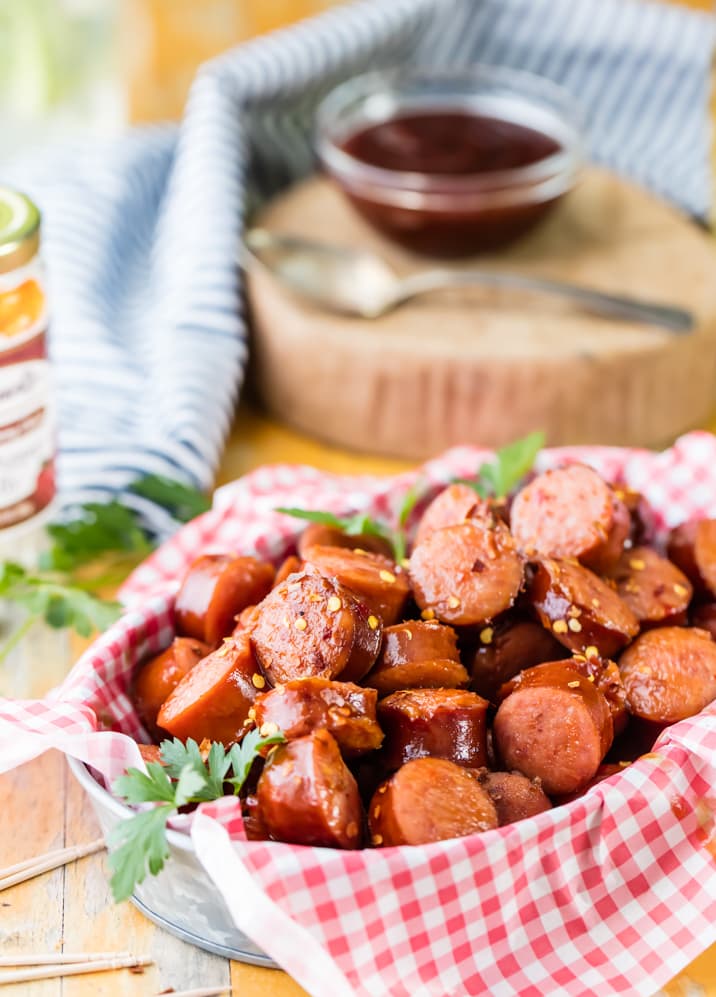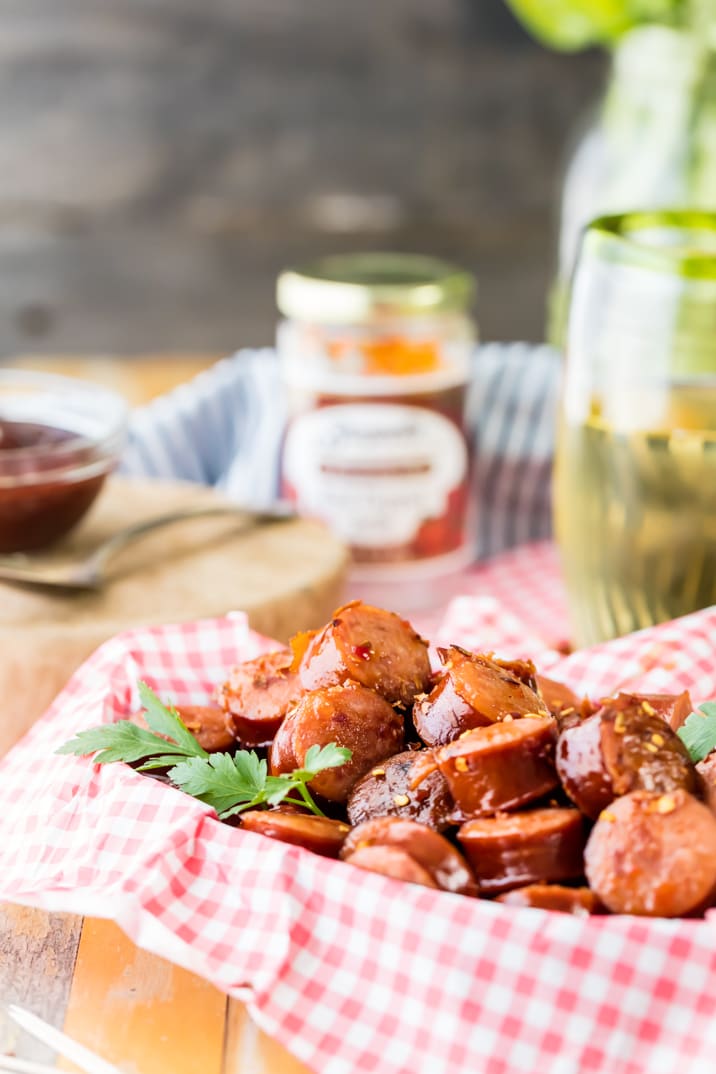 How to Cook Kielbasa in a Crockpot
Making slow cooker kielbasa sausage is so easy. All you have to do is combine everything on a crockpot and let it do all the work! Then you're left with a totally delicious crock pot kielbasa appetizer that everyone will devour, and you get to take all the credit for how good it is.
How to Cook Kielbasa in a Slow Cooker:
Combine BBQ sauce, pepper jelly, brown sugar, honey, red pepper flakes, and the kielbasa bites into a crock pot.
Cook on the low setting for 6 hours, and then increase to the high setting for the final 30 minutes of cook time.
Stir about every half an hour or so to make sure the sausage bites on the bottom don't burn.
That's all there is to it! These sweet and spicy kielbasa sausage bites will be ready to serve. Put in some toothpicks for easy eating, and set out some extra BBQ sauce (or another favorite sauce) for dipping!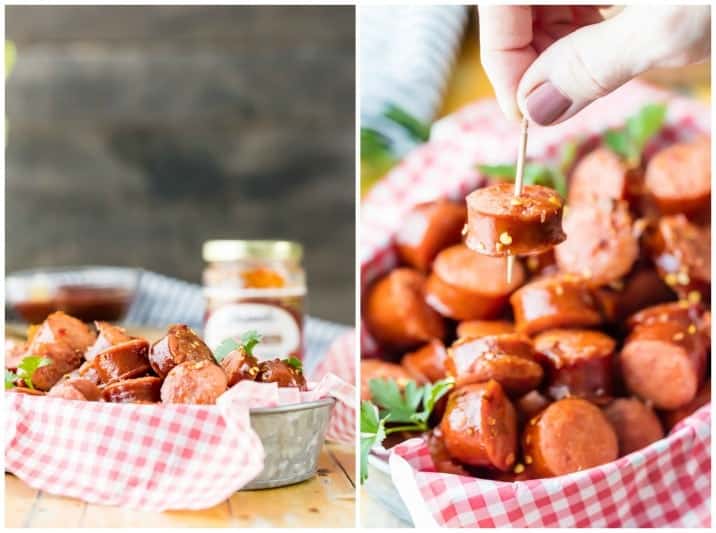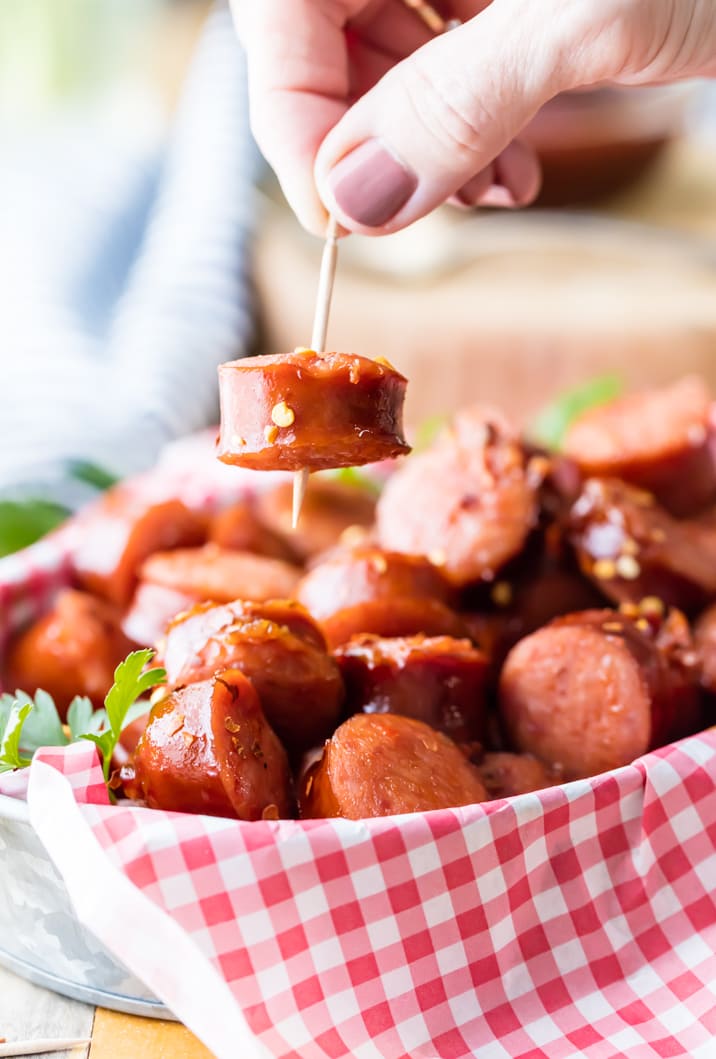 These sweet and spicy crock pot kielbasa sausage bites are exactly what your next party needs! Perfect flavor, perfect bite-sized appetizer, perfect EASY cooking.
See the recipe card below for details on how to make Kielbasa in a slow cooker. Enjoy!
If you like this crock pot kielbasa sausage recipe, try these other easy slow cooker recipes: