SAUSAGE TORTELLINI SOUP is such an easy and delicious soup to throw together on busy days! This Sweet Italian Sausage Recipe is bursting with that classic Italian flavor. I love it! Using a pre-made stuffed pasta for this Sweet Italian Sausage Tortellini Soup recipe helped make it extra simple AND extra tasty.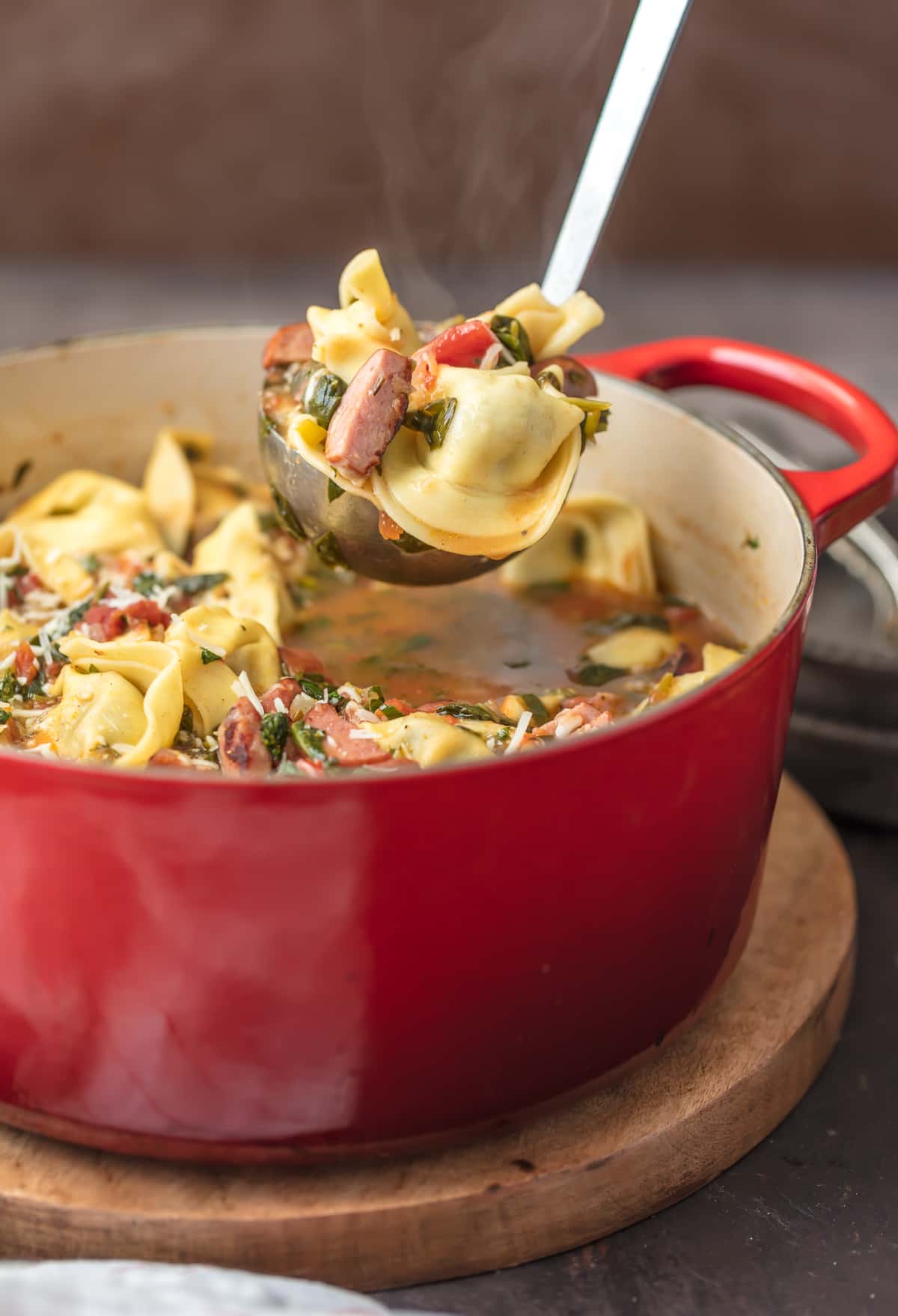 Sausage Tortellini Soup
Add sweet Italian sausage to Tortellini Soup to make this warm and delicious recipe.
Sausage Tortellini Soup is a warm and hearty soup to prepare all summer and winter long. I just cannot get enough soups when the Summer weather starts turning into Fall. A good soup is easy, delicious, hearty comfort food. This Sweet Italian Sausage Tortellini Soup is both simple and yummy, and you can feel great about feeding it to your family.
The stuffed Tortelloni mixed with the sweet Italian sausage, tomatoes, and other flavors creates a rustic and amazing flavor you won't find anywhere else. And it's so great because you can make it at home in a jiffy!
You're going to love this easy Sweet Italian Sausage Recipe so much, you'll be making it time and time again. This sausage tortellini soup will make dinner time so simple without sacrificing flavor.
This Sweet Italian Sausage Tortellini Soup will be your go-to soup all season long. It's quick to make and it's filled with SO MUCH FLAVOR!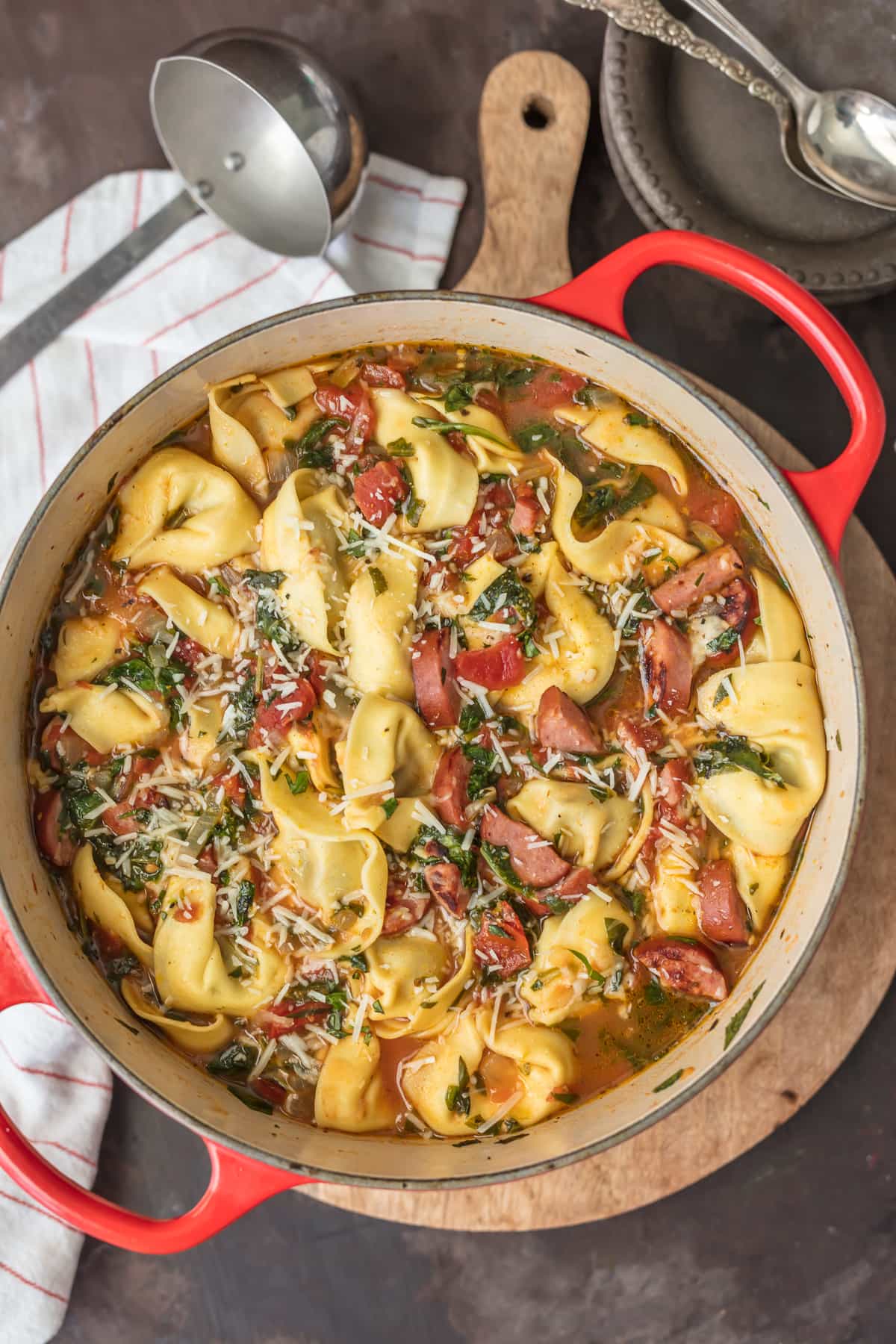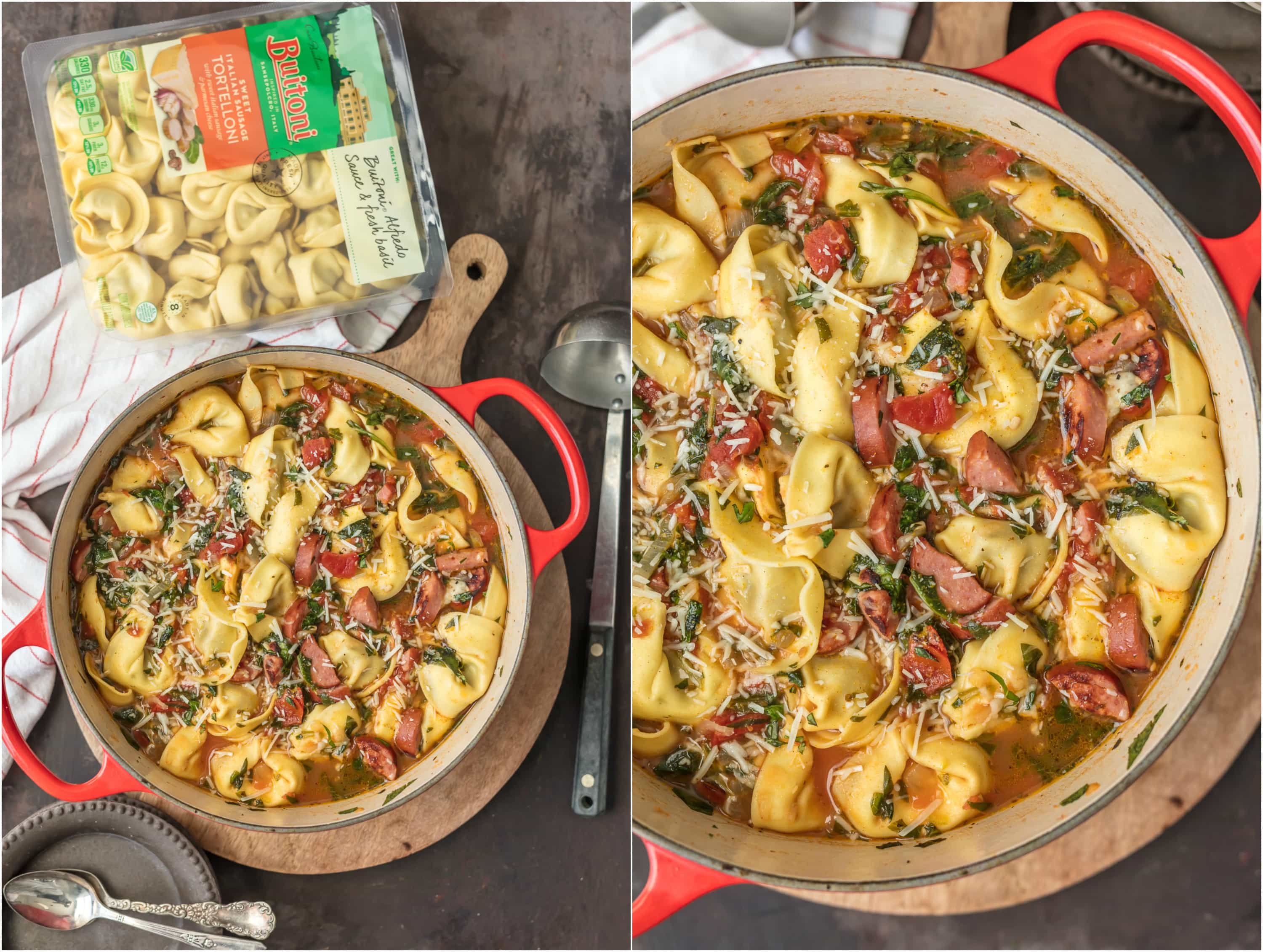 Sweet Italian Sausage Recipe
The stuffed Sausage Tortellini pasta I used in this recipe is such a delicious treat and it makes prep time so much quicker. I'm always up for a sweet Italian sausage recipe, and this sausage tortellini soup is so perfect!
When I found Buitoni at my grocery store (it's a refrigerated pasta found in either the deli section by the cheeses or in the dairy section), I just knew I had to try their Sweet Italian Sausage Tortelloni. The flavor of this stuffed pasta is INCREDIBLE and it's so nice to rest assured that Buitoni is made with no GMO ingredients and ready in minutes. I'm obsessed!
This sausage tortellini added such a flavor boost to the soup that would have taken me hours and hours to attempt myself. More time to cuddle with the little nugget is fine by me.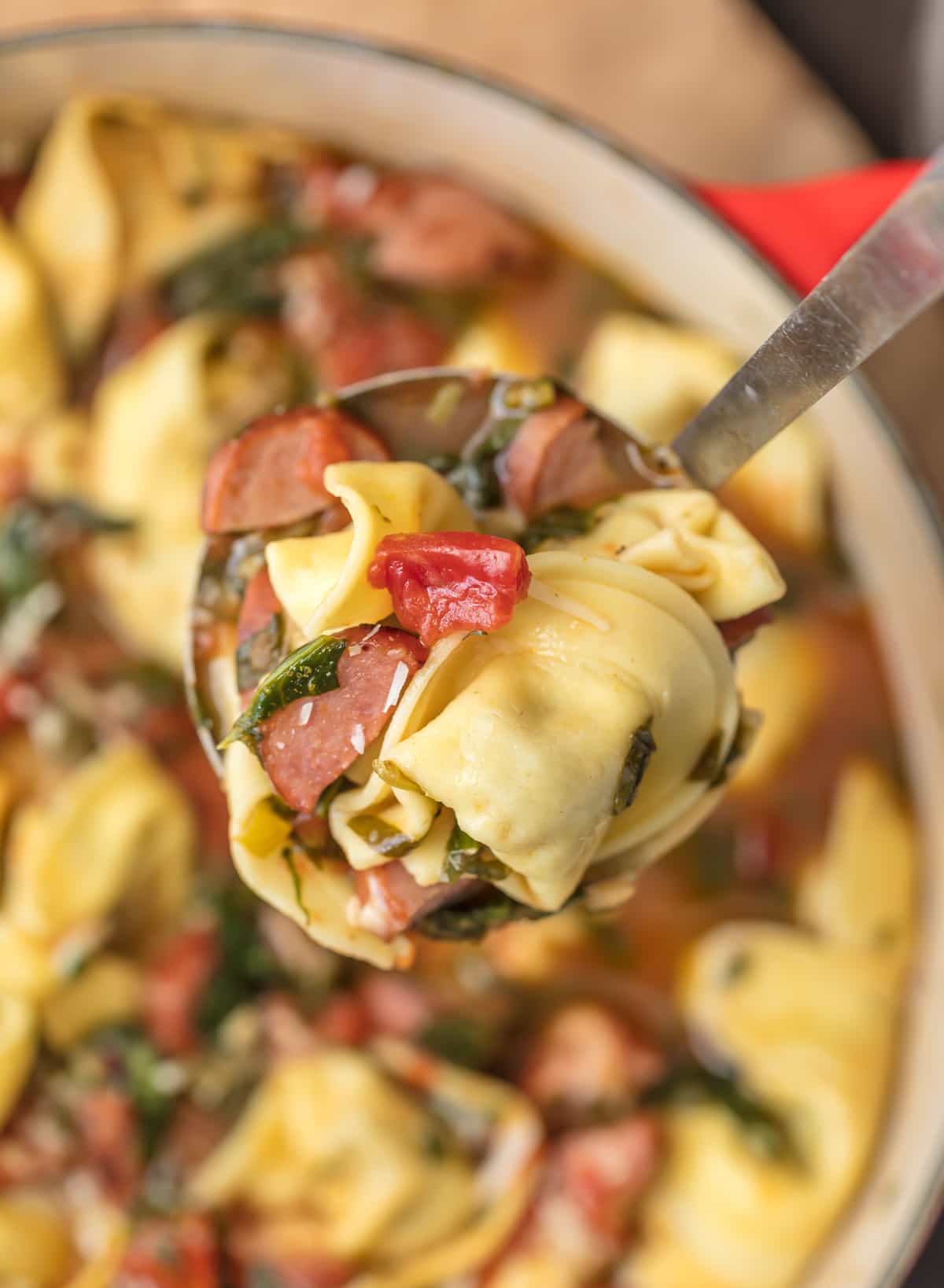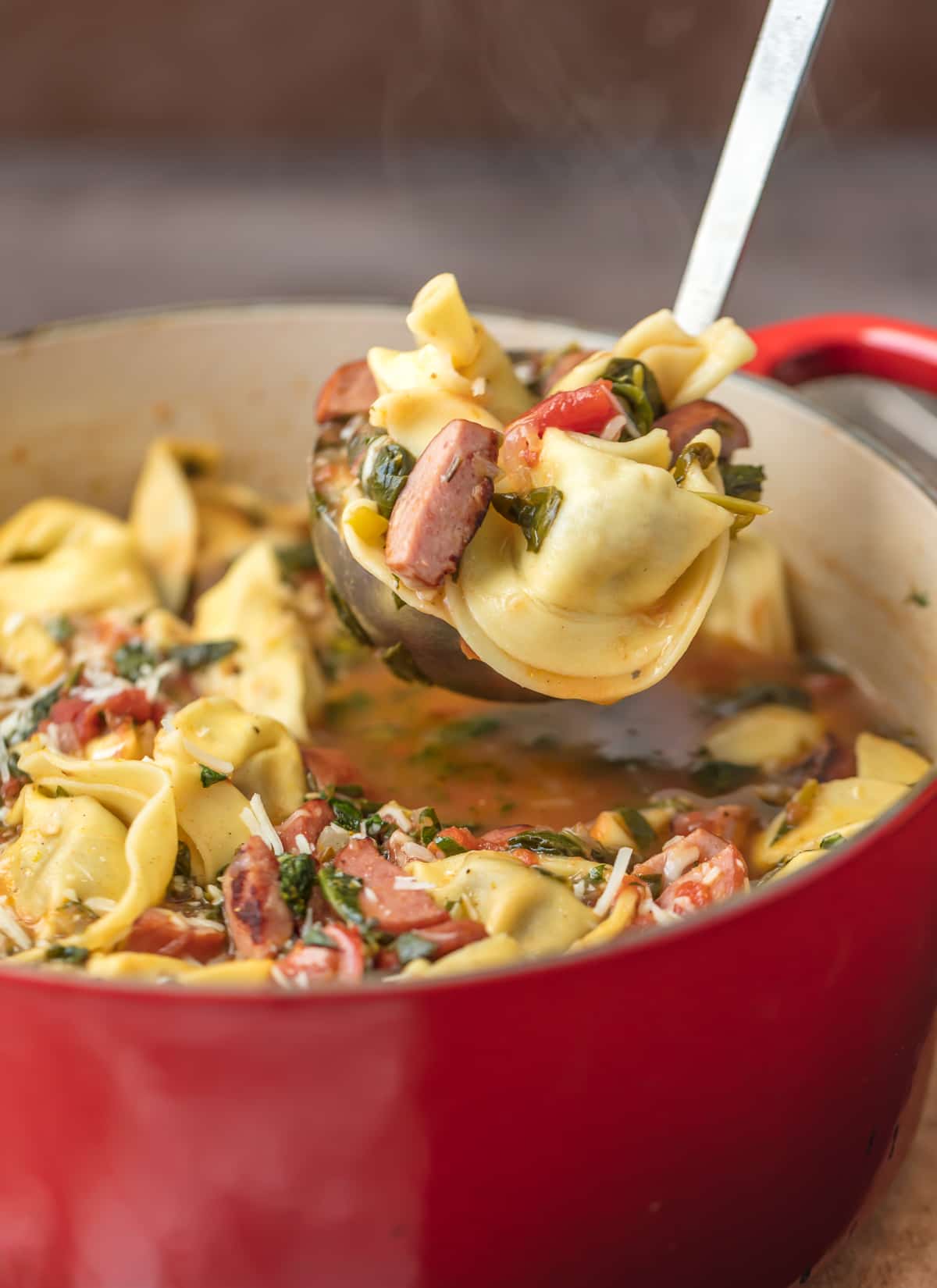 What's the difference between Tortellini and Tortelloni?
It's easy to confuse Tortellini and Tortelloni considering there's only a one-letter difference in the name, and they are essentially the same thing. Tortellini and Tortelloni are both "ring-shaped" pasta that are usually filled with some kind of ingredient, much like dumplings. They may be stuffed with meat, cheese, or other things like spinach.
The main difference between Tortellini and Tortelloni is the size. Tortelloni is larger than Tortellini. However, you may see them used interchangeably from time to time.
How do you serve Tortelloni?
Torteolloni is a simple stuffed pasta that can be served in many ways. In this recipe, I added it into a hearty soup along with Turkey sausage, garlic, chicken broth, and a few other tasty ingredients. You could also serve it more like a dumpling, and just cover it with a flavorful sauce or broth (with lots of cheese on top if you're like me).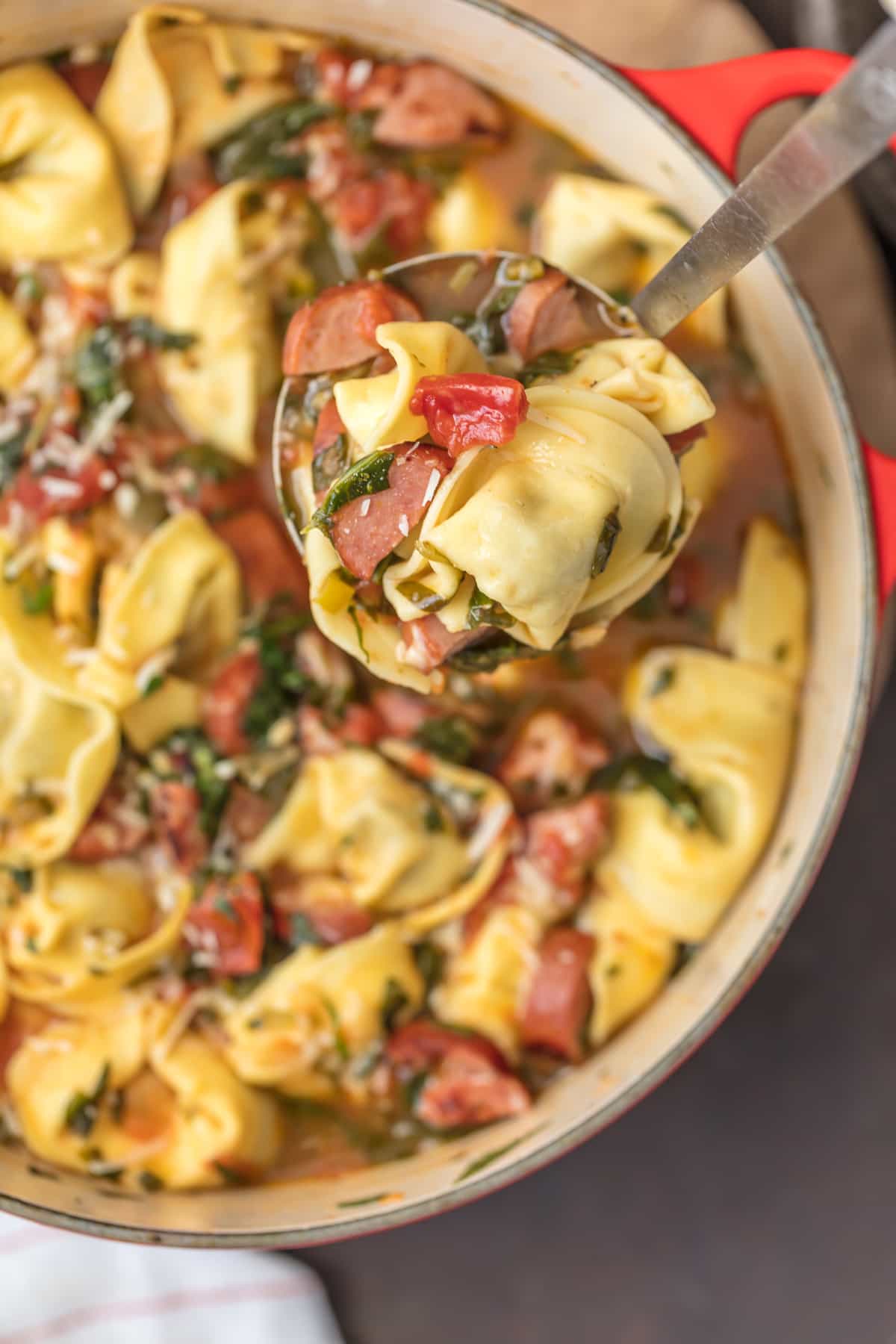 You guys are going to love this simple yet heart Sweet Italian Sausage Tortellini Soup! It's so easy to make with the pre-made stuffed sausage Tortelloni, so prep time is short. Make this tasty sweet Italian sausage recipe any night of the week and enjoy soup season!
Watch the video or see the recipe card below for details on how to make Sweet Italian Sausage Tortellini Soup. Enjoy!
If you like this Sweet Italian Sausage Tortellini Soup, try these other sausage recipes: