Tortellini Soup is a comforting and hearty dish that is perfect for a cozy night in. This easy weeknight meal is made with cheese-filled tortellini pasta, baby spinach, Italian sausage, flavorful chicken broth, heart-healthy vegetables, and savory seasonings.
What's in Sausage Tortellini Soup?
This hearty soup is delicious and easy to make, perfect for lunch or an easy weeknight dinner. With its combination of savory broth, tender vegetables, and cheesy pasta, it is sure to become a family favorite.
Tortellini: This cheese-stuffed pasta is the star of this soup!
Italian Sausage: The ground Italian sausage adds a savory and spicy flavor to the soup.
Spinach: Spinach adds a fresh green accent and vibrant flavor to the soup.
Olive Oil: The olive oil is used to sauté the onion and garlic at the beginning of the recipe.
Onion: Onion is a staple ingredient in many soups and stews that helps to build the flavor profile.
Salt: Don't skip the salt. It enhances the flavors of the other ingredients in the soup.
Garlic: Garlic is a classic ingredient in Italian cuisine and is a must-have in soups.
Italian Seasoning: Click on the link to make your own homemade Italian seasoning from an array of herbs, including sweet basil, oregano, and thyme.
Chicken Broth: The chicken broth provides the base for the soup and adds a rich and savory flavor. You can use homemade or store-bought broth for this recipe.
Crushed Tomatoes: The crushed tomatoes add a tangy and slightly sweet flavor to the soup.
Heavy Cream: The heavy cream adds a rich and velvety texture to the soup. It helps to thicken the broth and adds a creamy flavor that complements the cheese tortellini.
You can use milk or half-and-half as a lighter alternative to heavy cream.
Variations on easy Tortellini Soup
There are so many ways to change up this soup. A popular favorite is to make chicken tortellini soup by substituting the sausage for ground or shredded chicken. You could also make a vegetarian version by omitting the sausage altogether and swapping out the chicken broth for vegetable broth. For a creamier soup, add 1 whole cup of heavy cream instead of ½ cup.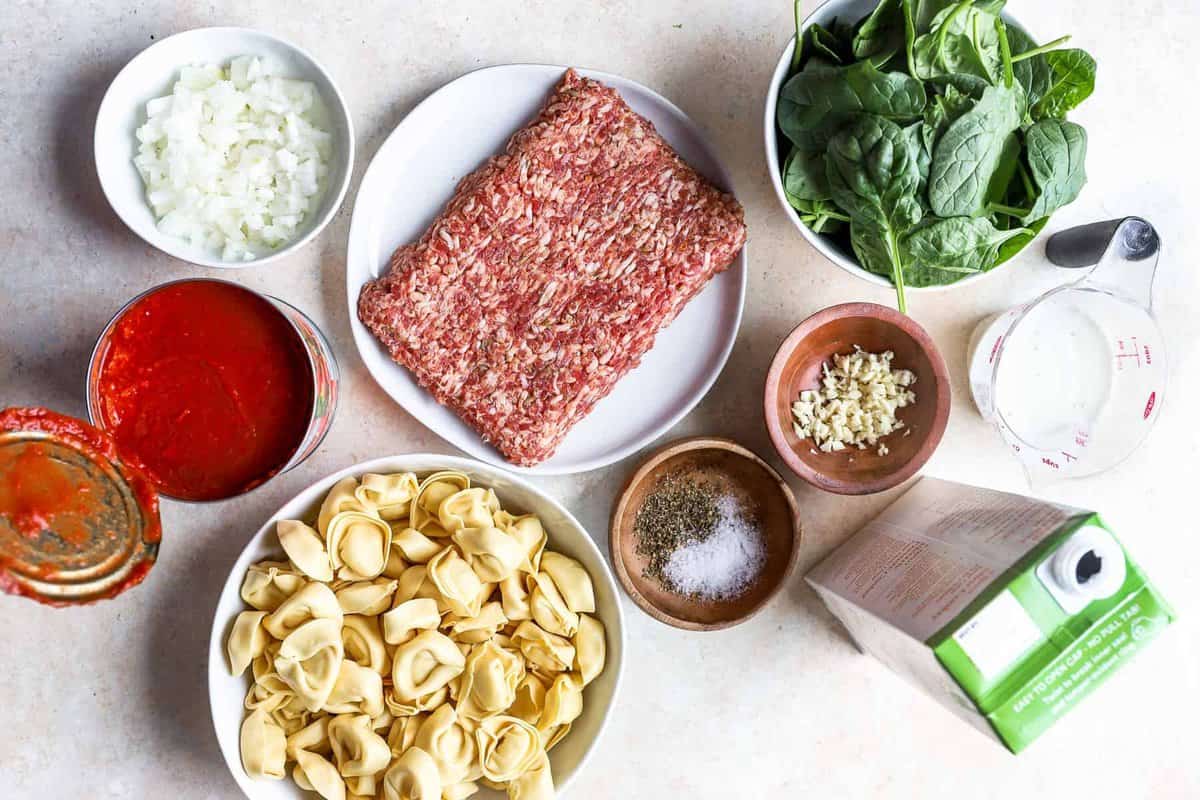 What kind of sausage is best for tortellini soup?
You can use any kind of Italian sausage you like for tortellini soup. Try hot Italian sausage for a spicier soup or sweet Italian sausage for a milder soup.
Can I make tortellini soup with a different kind of tortellini?
You sure can! While I love classic cheese tortellini, you can use any kind you like. I love the spinach and cheese tortellini made by Buitoni because who doesn't love green pasta?! You could also use chicken, sausage, spinach and ricotta, or beef tortellini.
Can I make tortellini soup with frozen tortellini?
Yes! You may need to adjust the cooking time based on the instructions on the package, though!
Can I make tortellini soup in a crockpot?
Absolutely! Cook the sausage, onion, garlic, and Italian seasoning in a pan on the stovetop, then transfer everything to a crockpot (except for the tortellini, spinach, and heavy cream) and cook on low for 3-4 hours. Add the tortellini, cover, and cook for 30 minutes, or until the tortellini are soft and tender. Then, add the spinach and cook for another 5-10 minutes. Finally, stir in the cream just before serving.
How to Store and Reheat Tortellini Soup with Sausage
If you plan to have leftovers, I recommend cooking the tortellini separately according to the package directions and storing them in a separate airtight container drizzled with a little bit of olive oil to keep them from sticking together. Add the tortellini to individual servings of soup as you reheat them.
Store the broth and pasta in separate airtight containers in the refrigerator for up to 4 days. Reheat on the stovetop over medium-low heat until warmed through.
How to Freeze Cheese Tortellini Soup
Freeze tortellini soup without the tortellini, spinach, and heavy cream in an airtight container for up to 3 months. Let thaw overnight in the refrigerator before bringing to a simmer and adding the tortellini. Simmer for 15 minutes, then add the spinach and stir until wilted before adding the heavy cream.
What to Serve with Tortellini Sausage Soup
Tortellini soup is a hearty and satisfying dish that can be enjoyed as a meal on its own, but consider serving it with some crusty homemade garlic bread or even a grilled cheese sandwich (for serious cheese lovers!).