Easy to make Baked Mostaccioli is a weeknight dinner recipe the whole family will love! Tender pasta is mixed with a hearty Italian meat sauce and topped with a decadent combination of creamy ricotta, Parmesan, and mozzarella cheeses.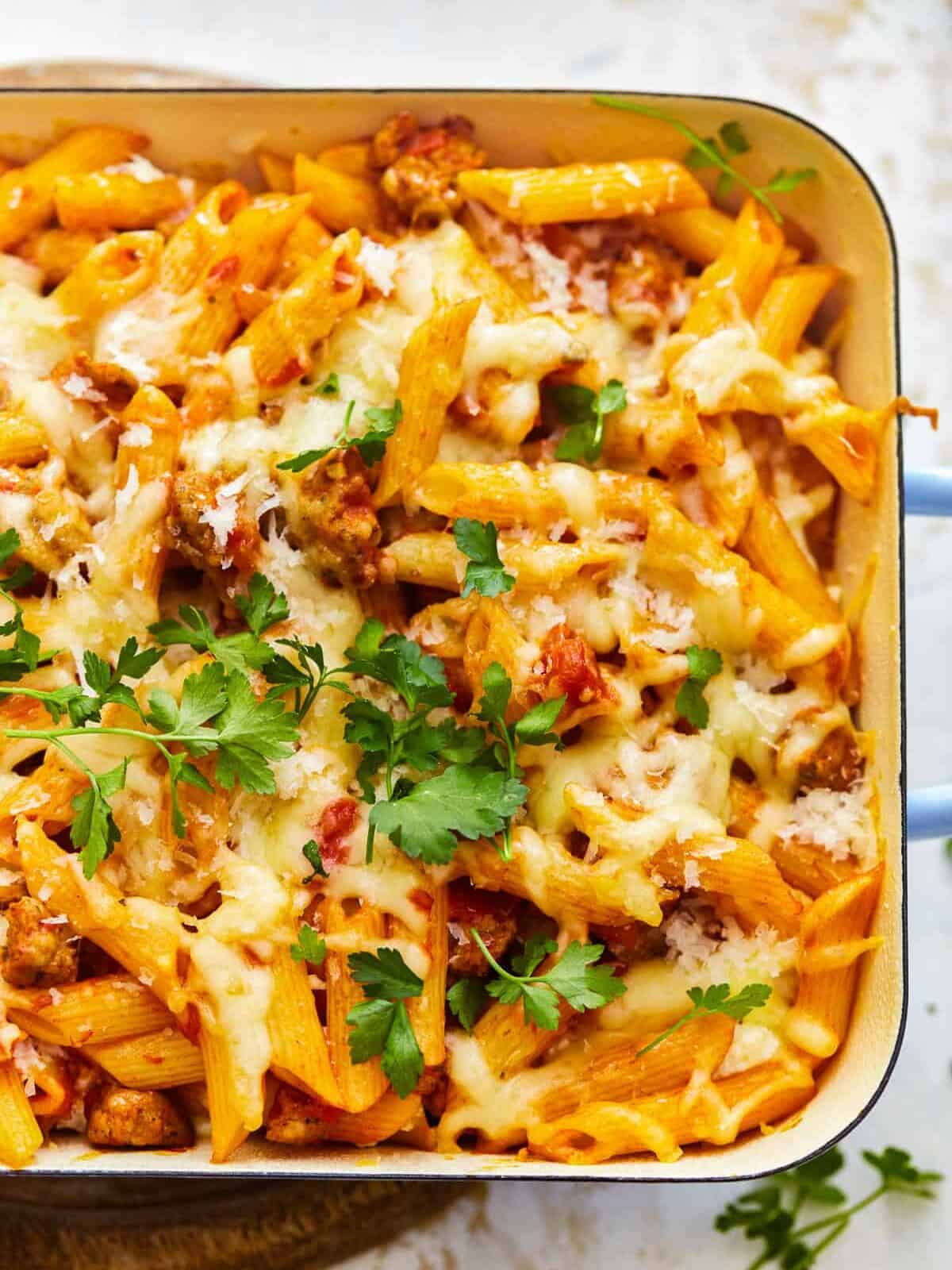 What's in this Mostaccioli recipe?
This baked pasta recipe is an Italian classic that's quick to prep and easy to make. With all that cheese, even the kids will love this one!
Mostaccioli Pasta: Mostaccioli noodles are a smooth, tubular pasta. You can substitute penne or ziti noodles if needed. Be sure boil the pasta before adding it into the baking dish.
Italian Sausage: This is an herb-y pork sausage that adds great flavor into the pasta sauce.
Marinara Sauce: Use a jar of your favorite sauce, or make this homemade marinara sauce.
Ricotta Cheese: The flavor and texture of ricotta is perfect for baked mostaccioli.
Cheese: Use a mix of Parmesan and Mozzarella. Freshly shredded cheese melts best.
Egg: Mixing in an egg helps bind ingredients together for a better texture and fully coated noodles.
Onion & Garlic: Sauteing onion and garlic along with the sausage adds more flavor.
Oregano: A little bit of Oregano adds some herb-y flavor. You can also use an Italian seasoning blend.
Try adding some crushed red pepper flakes to the meat sauce to add a little spice!
Can I use a different kind of meat in the sauce?
Absolutely! Italian sausage is so juicy and well-seasoned, so I love it in this recipe. But you can just as easily swap it out for ground beef, pork, chicken, or turkey. Follow the same instructions to brown the meat before adding it into the casserole.
You can also turn this into a vegetarian-friendly mostaccioli by skipping the meat altogether, or using a plant-based meat crumble.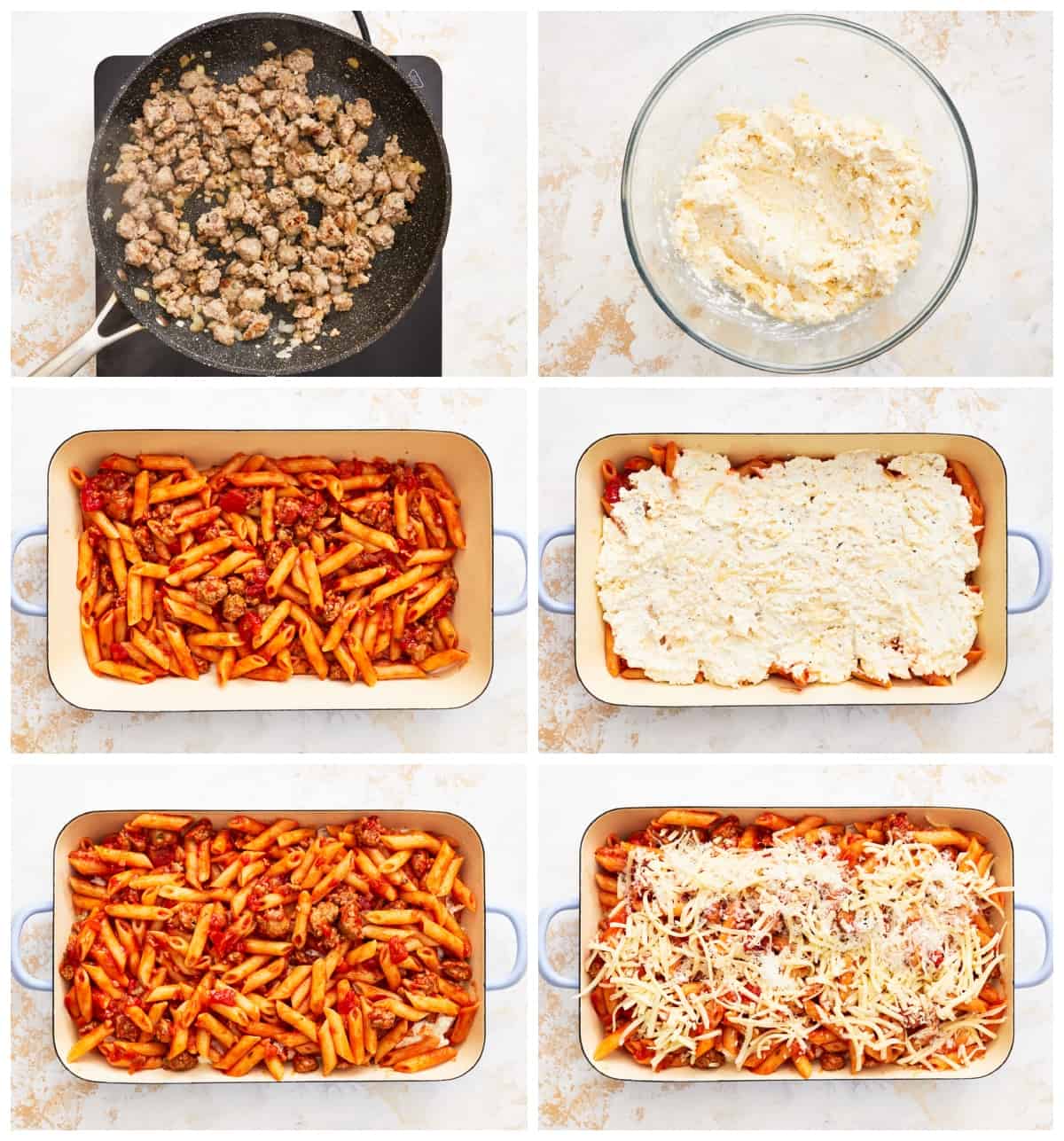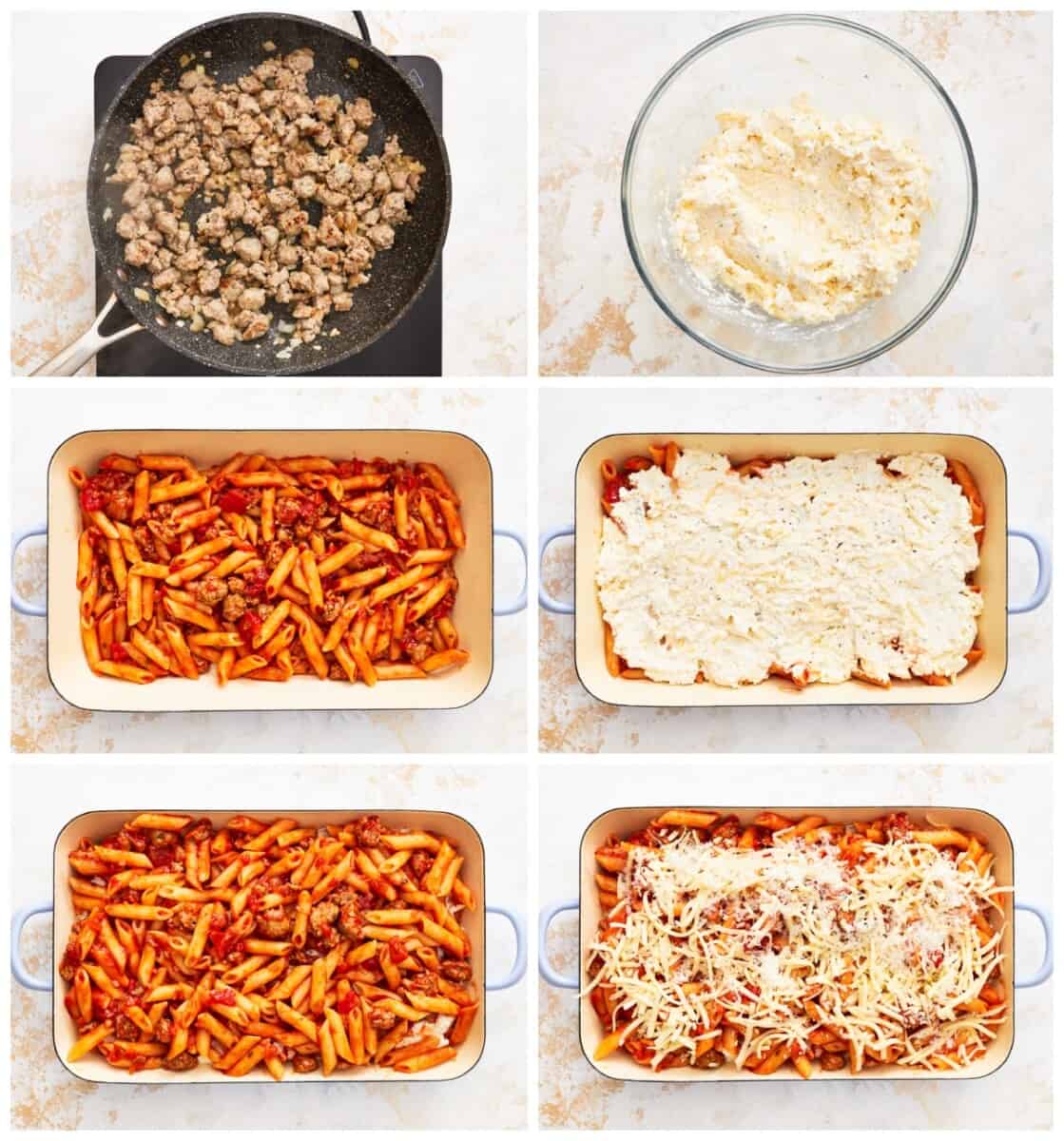 What is mostaccioli?
Mostaccioli is a type of pasta similar to penne with a smooth surface instead of ridges.
How is baked mostaccioli different from baked spaghetti?
While baked mostaccioli and baked spaghetti are made with similar ingredients, the differences are the types of noodles used and the middle layer of creamy ricotta cheese in the mostaccioli!
How do you keep mostaccioli from drying out?
Be sure to cover the mostaccioli for the first 30 minutes of baking. This will prevent the dish from drying out or burning. The ricotta mixture and sauce also helps to stop the noodles from drying out.
How long does it take to bake mostaccioli?
At 350F, it will take about 40 minutes to make this mostaccioli recipe.
Should I cook the pasta first?
Yes! Boil that noodles separately before adding them into the baking dish. Cook them al dente, so that they are tender but not fully softened. If you overcook them, they will be mushy by the time it comes out of the oven.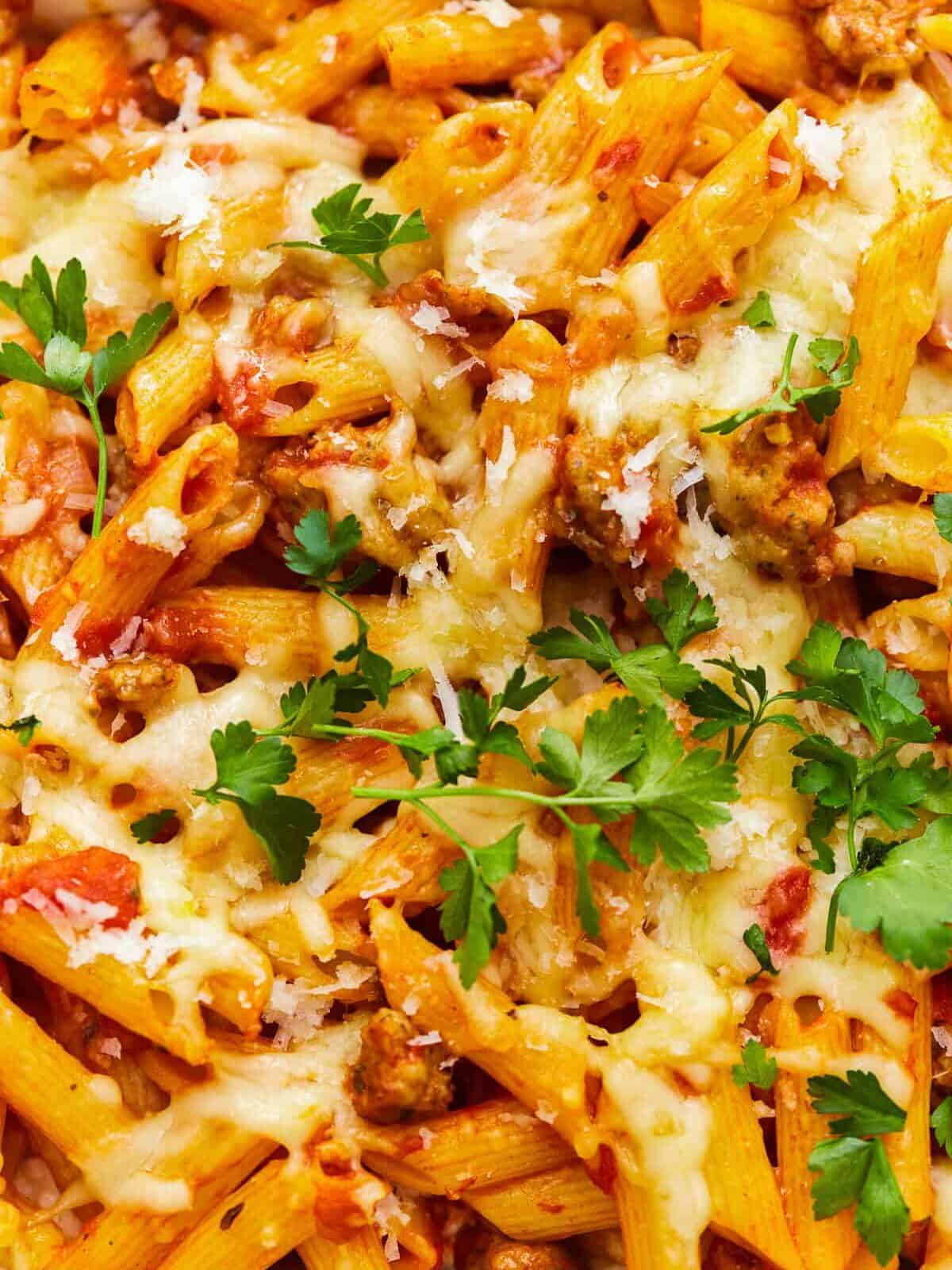 How to Make Ahead and Store Mostaccioli
To make baked mostaccioli ahead of time, make the recipe through step 8, cover tightly, and refrigerate for up to 2 days. When you're ready to bake it, pop it in the oven and bake accordingly. It might need a couple extra minutes in the oven as it will be cold when it goes into the oven.
To store leftovers, place pasta in an airtight container and keep it in the refrigerator up to 4 days.
How to Freeze Mostaccioli Pasta
Let the baked pasta cool to room temperature, then transfer it into freezer-safe containers. Keep it in the freezer for up to 3 months. Thaw it overnight in the fridge before reheating.
What to Serve with Cheesy Baked Mostaccioli
This family favorite recipe is filled with pasta, cheese, and a hearty meat sauce, so it makes a nice full meal. Serve it with copycat Olive Garden breadsticks and chicken Caesar salad. If you need some veggies, quickly roast vegetables in the Air Fryer or make cheesy roasted zucchini.
More Cozy Baked Pasta Recipes We Love: