This Sausage Alfredo pasta recipe is a tasty mix of classic Fettuccine Alfredo and spicy Italian Sausage. A lot of fettuccine recipes feature chicken or seafood, but there just aren't enough Sausage Pasta Recipes out there. This Italian Sausage Pasta recipe is the perfect pasta dish for your next dinner!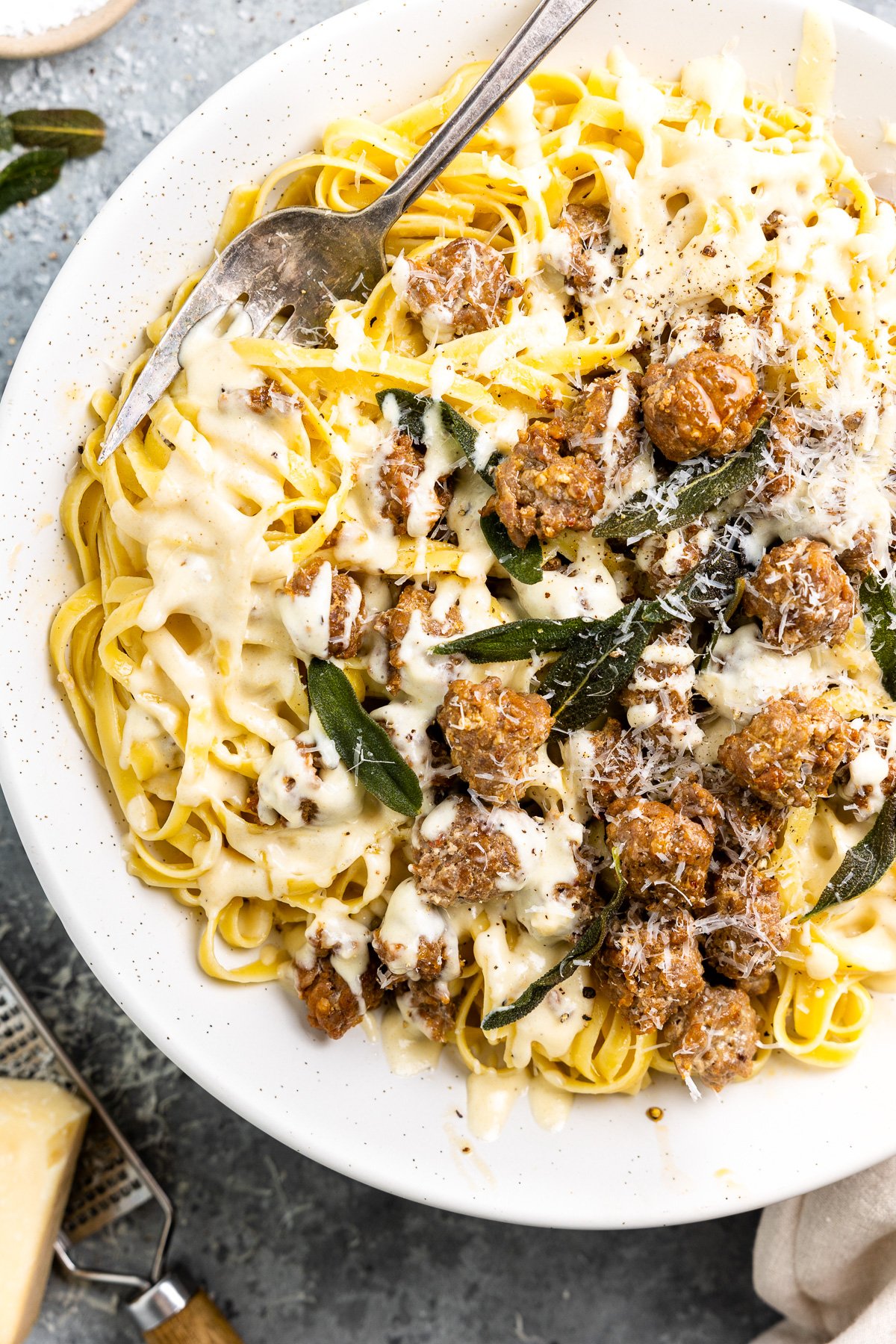 Sausage Alfredo – Fettuccine Alfredo with Italian Sausage
Sausage Alfredo is a tasty mix of creamy Fettuccine Alfredo and savory Italian Sausage.
I don't know about you, but I feel like there just aren't enough Sausage Pasta Recipes out there. It's all about the chicken and seafood (which I love, by the way), but I wanted a good Italian Sausage Pasta for a change.
This Sausage Alfredo is the perfect solution that problem! You can't go wrong with a classic, creamy Fettuccine Alfredo recipe, and when you add hearty chunks of Italian Sausage…even better!
Fettuccine Alfredo with Sausage is the perfect combination! Try this Italian Sausage Alfredo for your next pasta dish.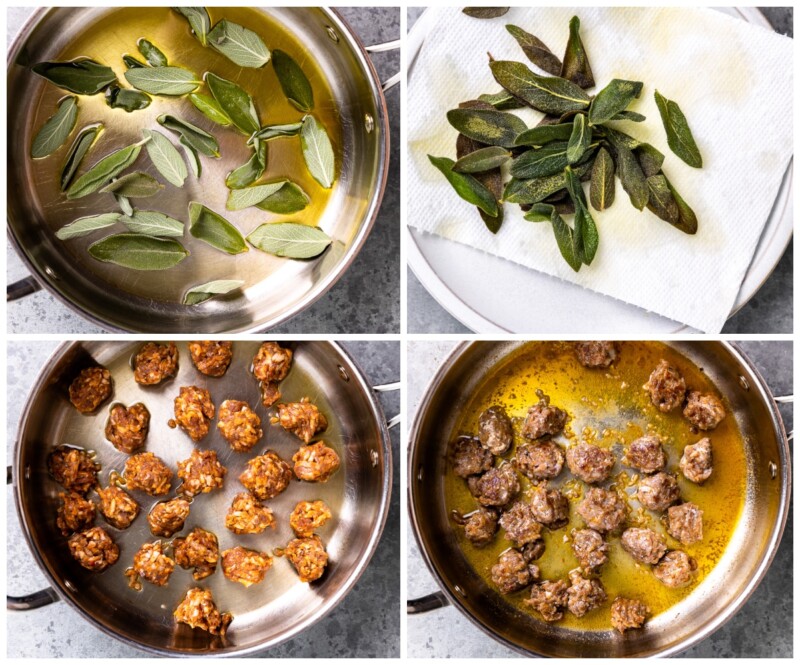 Italian Sausage Pasta Recipe
Fettuccine Alfredo is a classic pasta dish loved by all. That super creamy Alfredo sauce is just so delicious! Add some Italian sausage, and now I just can't get enough. This is the type of comfort food that we love to have on the weekend as a special meal. It's not difficult, but it can still be fancy. So yummy, creamy, and tasty. The flavor combination is out of this world and I just know you're going to love it!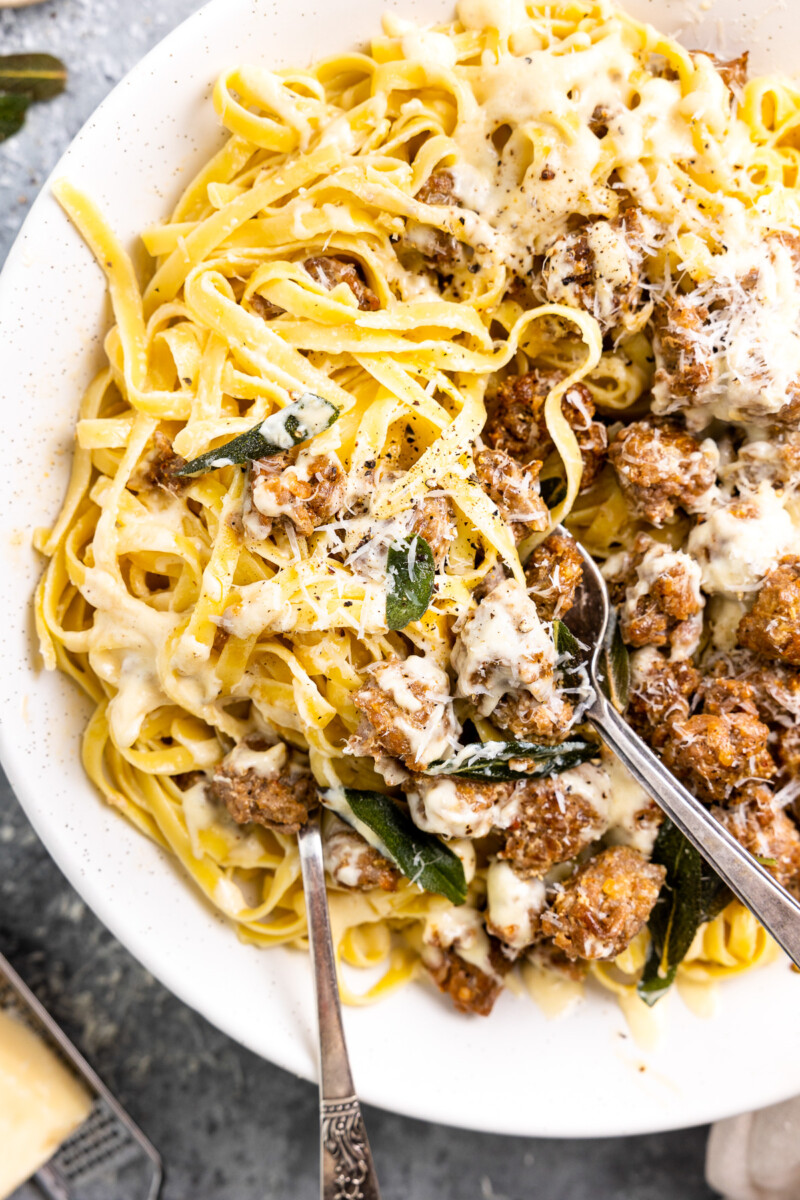 How do you make homemade Alfredo sauce?
Ohhh I just can't get enough of this creamy homemade Alfredo sauce! It's easy to make and so delicious. Alfredo sauce is essentially just heavy cream mixed with butter and some garlic or other seasonings.
For this Sausage Alfredo recipe, we're going to make the sauce in the same pan that we used to cook the sausage. No need to create more dirty dishes than necessary!
After removing the sausages, drain the fat from the skillet
Keep as much garlic in the pan as you can while draining
Pour the cream into the skillet and bring it to a low boil
Continuously stir and scrape the bottom of the pan to keep the cream liquidy as it melts
Once the Alfredo sauce is done cooking, you can add the sausage back in to mix it all together.
How do you make Fettuccine Alfredo with sausage?
The first step in this recipe is to cook the fettuccine. You want the pasta al dente, so cook it in a large pot of boiling water for about 8-10 minutes.
While the fettuccine is boiling, go ahead and cook the sage in oil, then move straight on to the Italian Sausage.
Create bite-sized pieces of sausage, let them cook through, add in the garlic, and then remove them from the skillet and set them aside.
Next, you'll cook the homemade Alfredo sauce as outlined above.
Once the fettuccine is cooked, drain the pasta, and add in the Alfredo and sausage. All done! You've got a tasty Sausage Alfredo ready for dinner.
See recipe card for full instructions.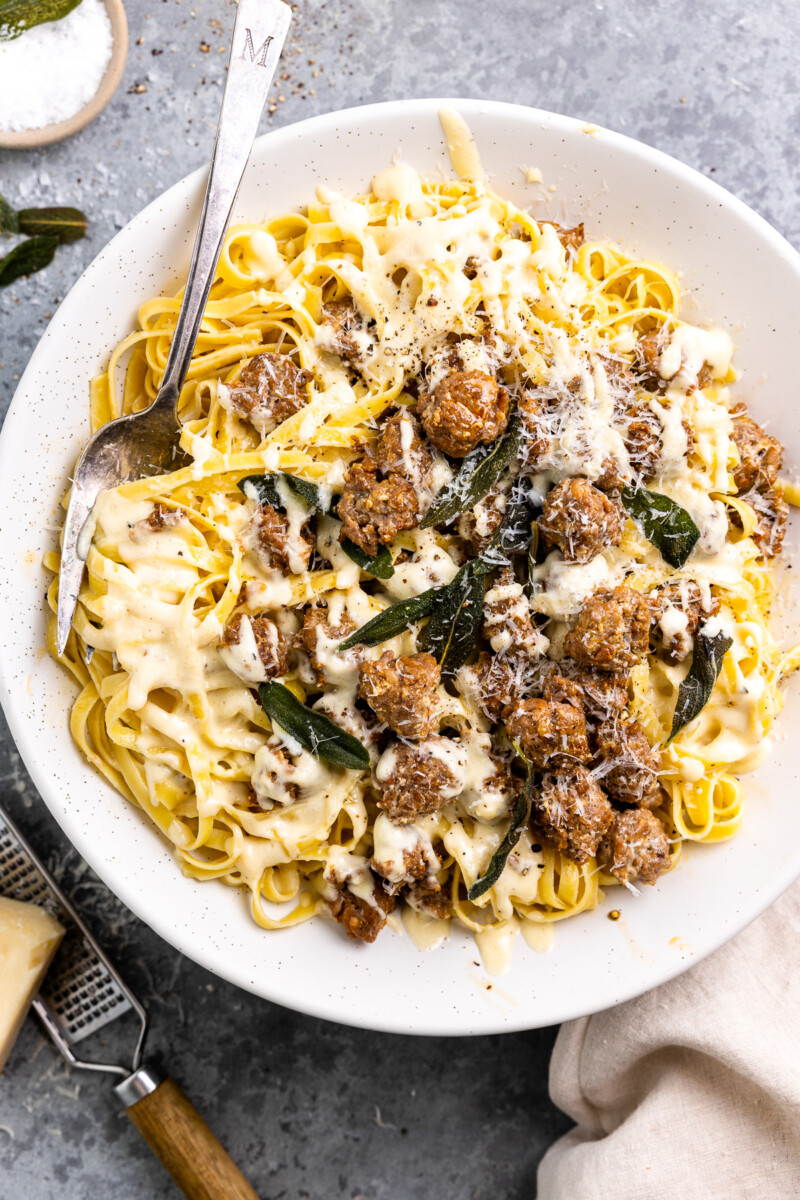 I hope you try out this amazing Sausage Alfredo! There's nothing better than creamy Fettuccini Alfredo and flavorful sausage. This Italian Sausage Pasta Recipe is one of my new favorites for when I need a break from chicken (which is never, but just in case).
If you enjoyed this Sausage Fettuccine Alfredo, try these other pasta dishes: