Sausage Lentil Soup is a hearty favorite. It's like your favorite restaurant comfort food made easy at home! This amazing copycat Carrabba's sausage and lentil soup recipe is a staple at our house. So delicious!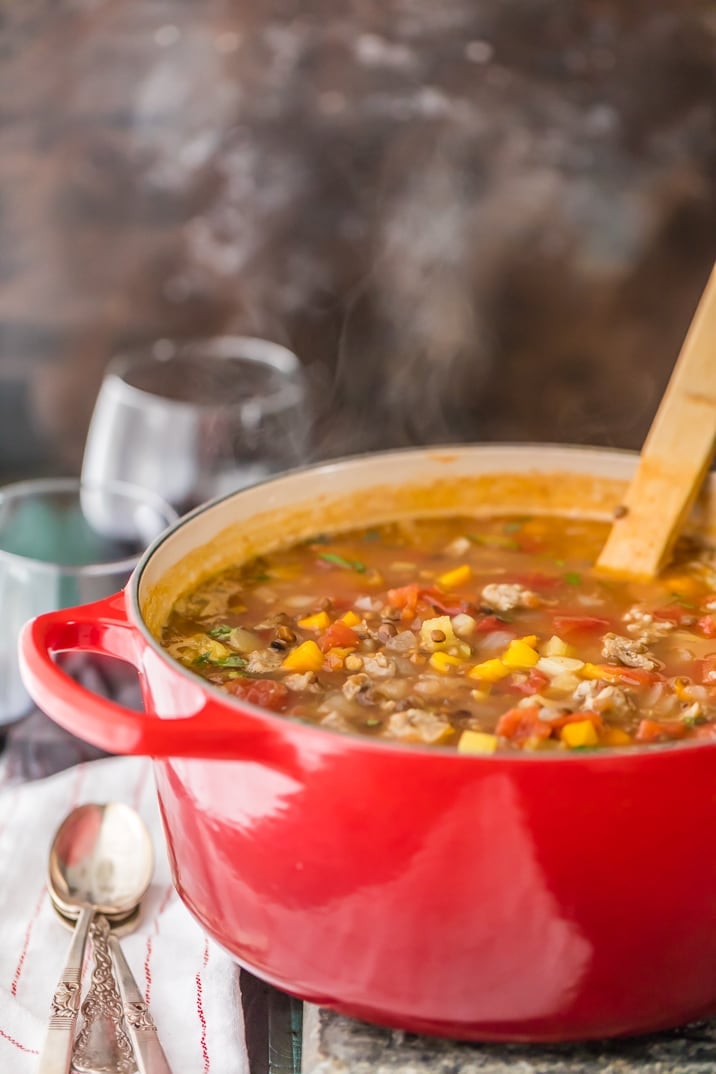 Sausage Lentil Soup
Carrabba's Sausage and Lentil Soup is one of my favorites, and now I can make it at home! This copycat sausage lentil soup recipe is my go to for the season
Let's face it, I LOVE going out to eat. I get to try new foods and I don't have to do the prep or cleanup myself…that's one of my favorite favorite things. Sometimes its just so nice to get dressed up and get out of the house while someone else cooks for you.
But sometimes it's also nice to be able to make your restaurant favorites in the comfort of your own home. It helps when your restaurant favorite comes in the form of a super easy and SUPER DELICIOUS Sausage and Lentil Soup from Carrabba's!
This Carrabba's Sausage Lentil Soup copycat recipe is a favorite. I just love the flavor of the Italian sausage mixed with the lentils and veggies. It's just so delicious! It's not an exact copy of the original, but I wanted to put my own spin on it by making some adjustments. I hope you love this version just as much!
This easy soup recipe is perfect for a winter night at home and takes almost no effort at all. It's exactly the kind of recipe I want when I cook for myself!
Do you love Carrabba's Sausage and Lentil Soup as much as I do? Then you'll LOVE this copycat soup recipe!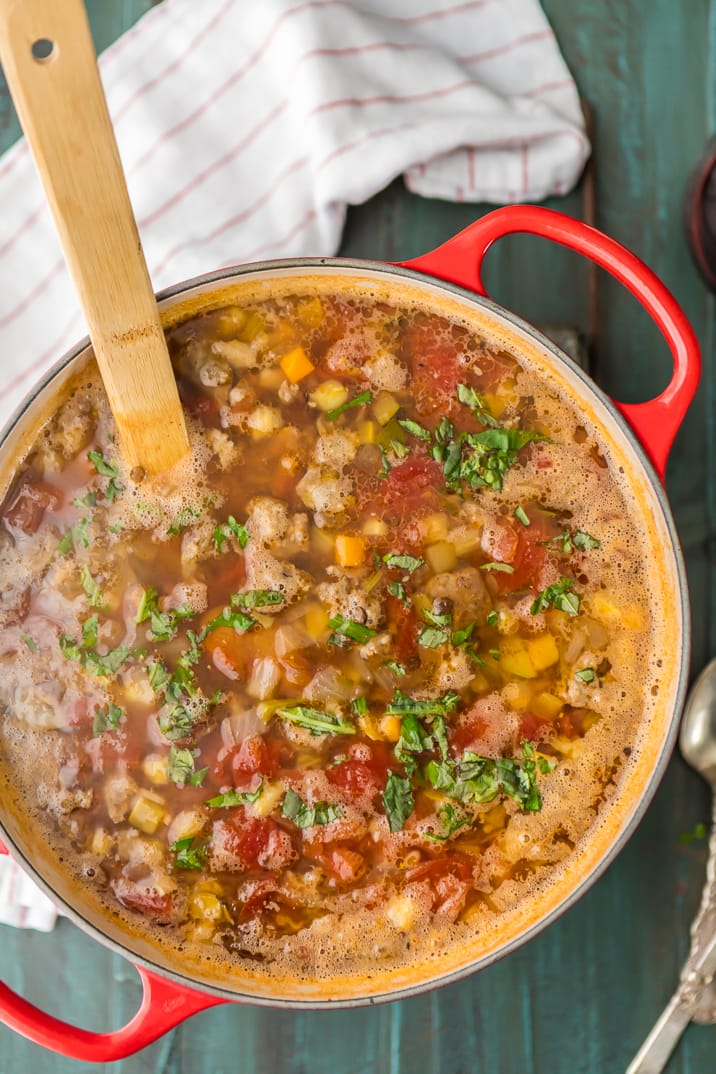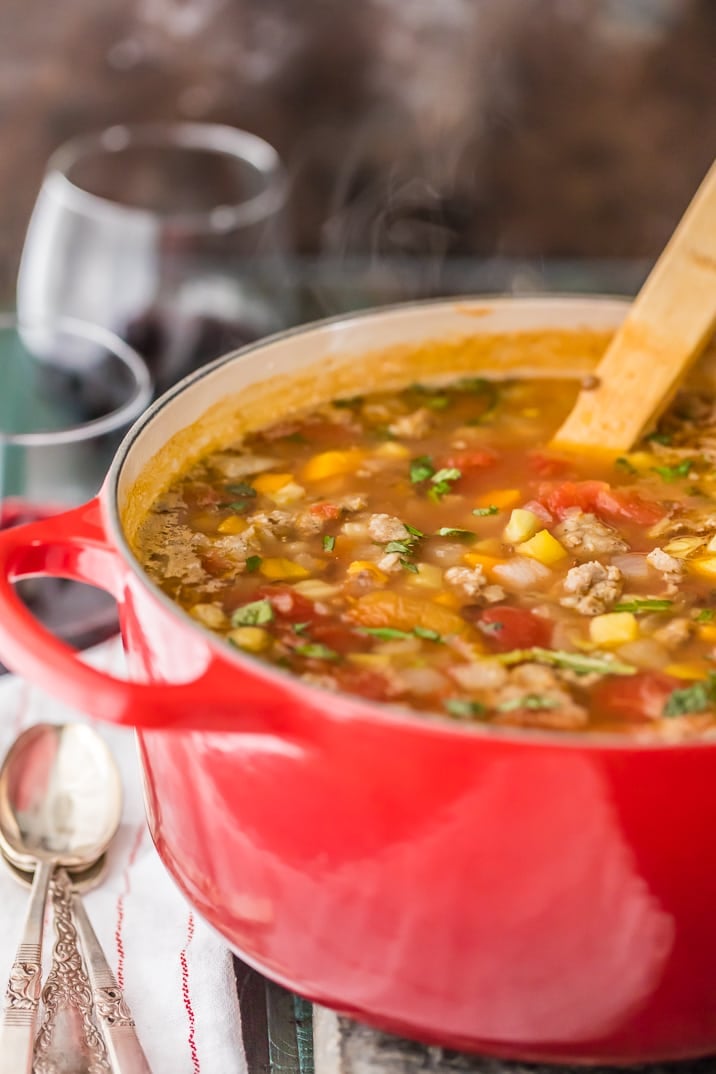 Carrabba's Sausage and Lentil Soup (Copycat Recipe)
Carrabba's is such a great restaurant! I constantly crave their Chicken Bryan (which I recreated HERE). Whenever I go there I eat way too much and come home stuffed. I have to get a soup, salad, entree, and of course dessert. But when I eat at home, it's much easier to cap it at just soup (and wine).
So I love that I can now make my favorite sausage and lentil soup at home! This Carrabba's copycat recipe is so easy, so delicious, and so tasty.
While my recipe is slightly different, feel free to make adjustments to make it more like the original.
Sausage Lentil Soup Ingredient
This hearty sausage lentil soup is filled with some amazing ingredients that make it absolutely craveworthy. I really can't get enough of this stuff!
What's in Carrabba's Sausage and Lentil Soup?
Italian Sausage
Chicken Broth
Lentils
Garlic
Onion
Celery
Carrots
Zucchini
Diced Tomatoes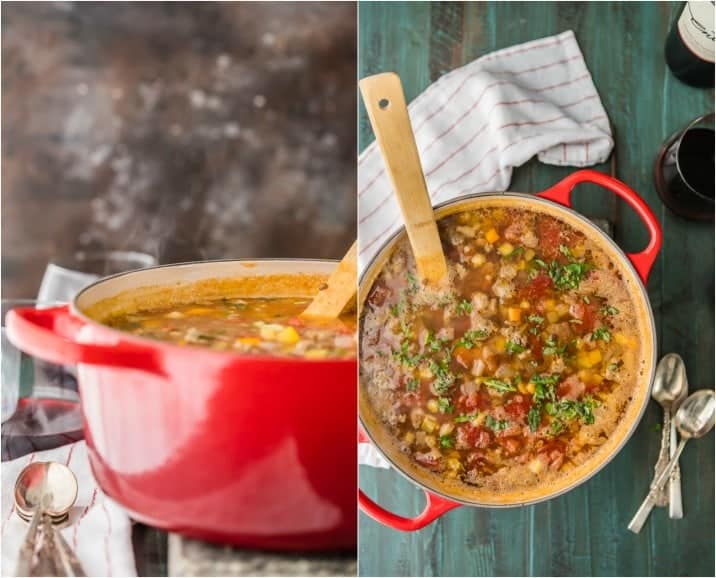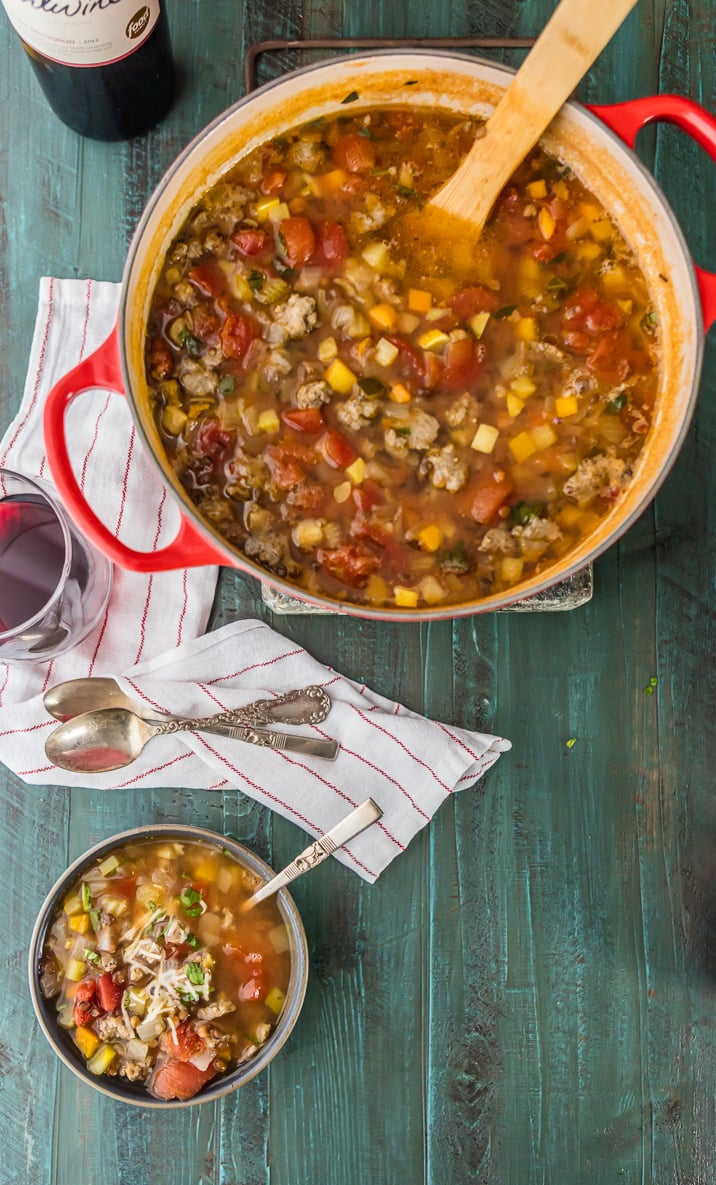 How to Make Sausage Lentil Soup
This sausage and lentil soup is almost a one pot meal. It actually could be a one pot meal if you use the stock pot or dutch oven to brown your meat, but I chose to brown the meat in a skillet first. Even so, you've got just two dishes to wash and tons of soup to show for it.
Crumble and brown the sausage in a skillet (or in the pot/dutch oven you use to make the soup) over medium-high heat.
Combine all ingredients in a dutch oven and bring to a boil, then reduce heat and cover.
Let the soup simmer for an hour, or until the lentils become tender.
You can freeze this soup for amazing comfort food that last throughout the winter season. Win freakin win. To freeze, let the soup cool, place it in freezer safe containers, and freeze for up to 3 months. To reheat, let the soup thaw in the refrigerator, and then heat it on the stove top.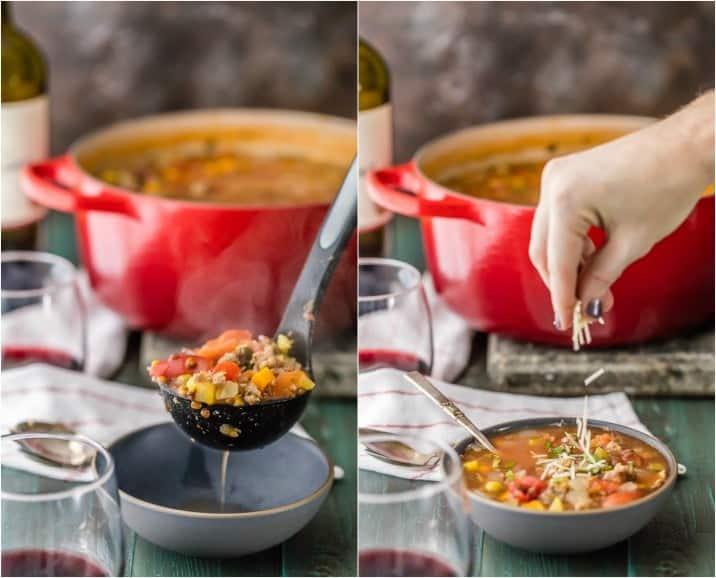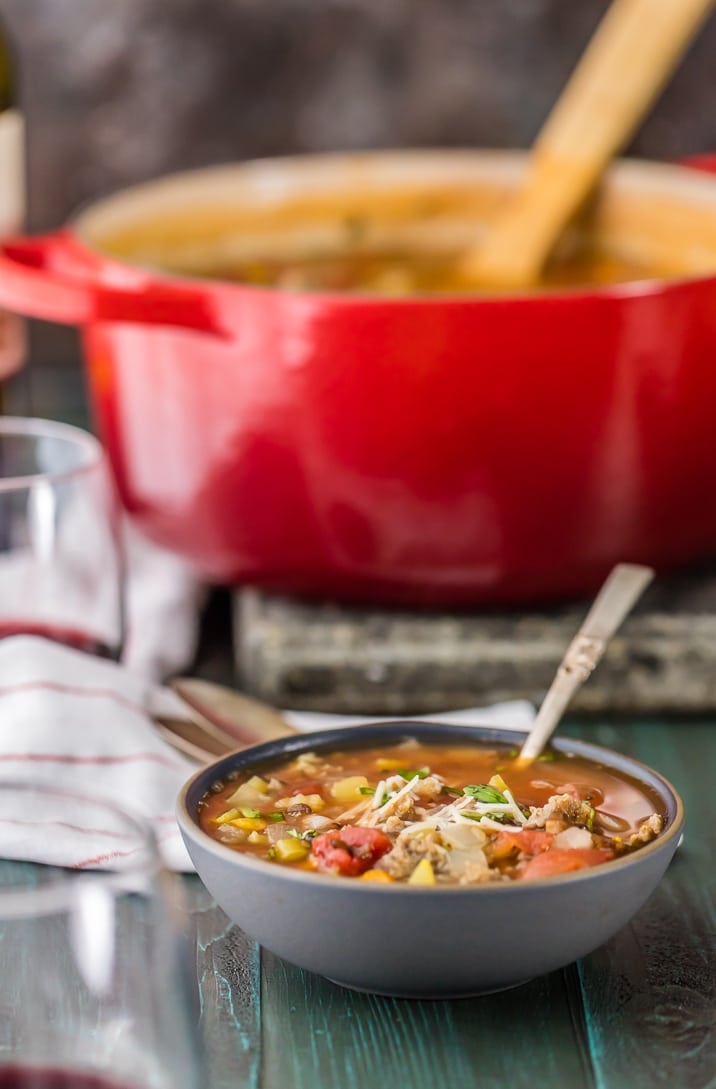 Easy Soup Recipes
I can't believe how easy this lentil soup is! Eating this stuff at the restaurant, it tastes so good you'd think it's super complicated. But you can make a copycat recipe with ease. Simple soup recipes are my favorite thing to make throughout the fall and winter seasons. Luckily I have lots of those!
Try some of my other favorite easy soup recipes: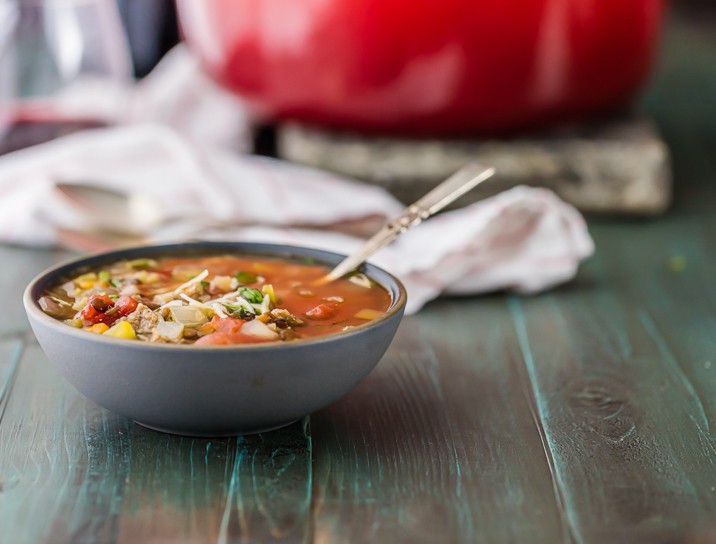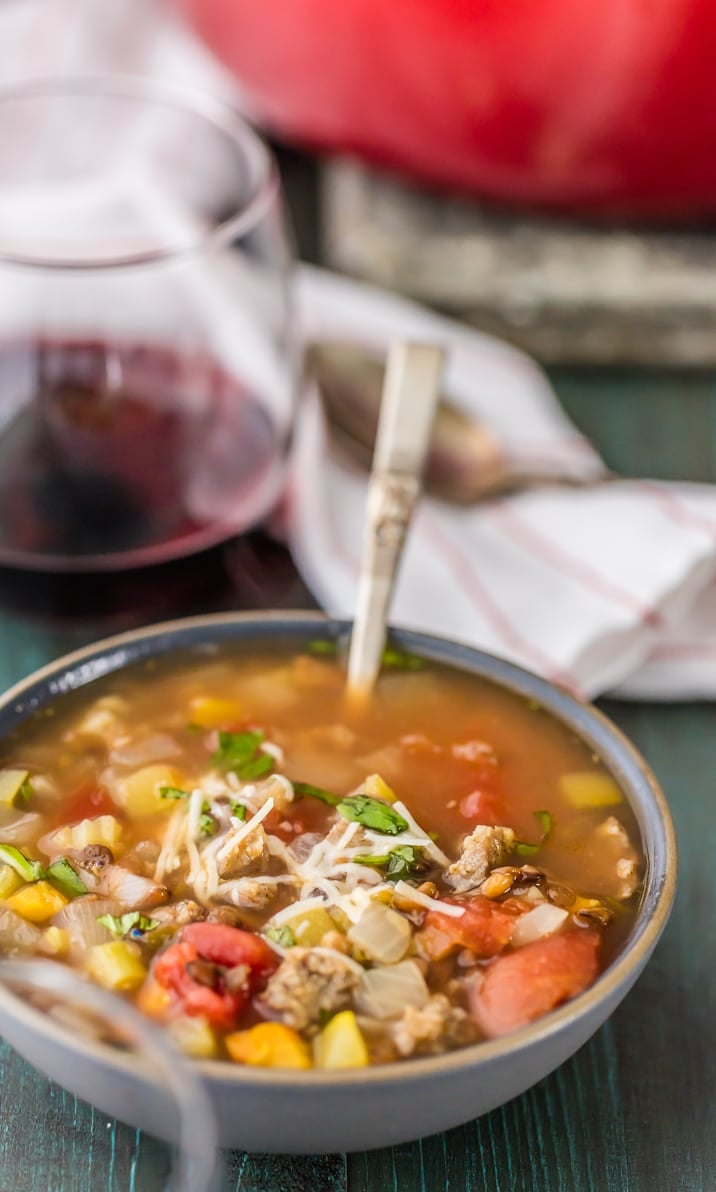 I absolutely love this sausage lentil soup and I know you will too! It is a little bit different than Carrabba's, but I think it's even better, and overall it has the same flavor. So yum!
Watch the Video and See the recipe card below for details on how to make Carrabba's Sausage and Lentil Soup. Enjoy!
If you like this recipe, try these other favorite restaurant inspired recipes: