7 Can Soup is one of the easiest and best soups to make in a pinch! Using canned ingredients and optional spices, you can quickly put together a delicious, hearty meal in under 30 minutes. This flavorful dish is perfect for busy weeknights and a great way to use up pantry ingredients that have been sitting in your kitchen for a while. This delicious recipe is also extremely cost effective and perfect for meal planning!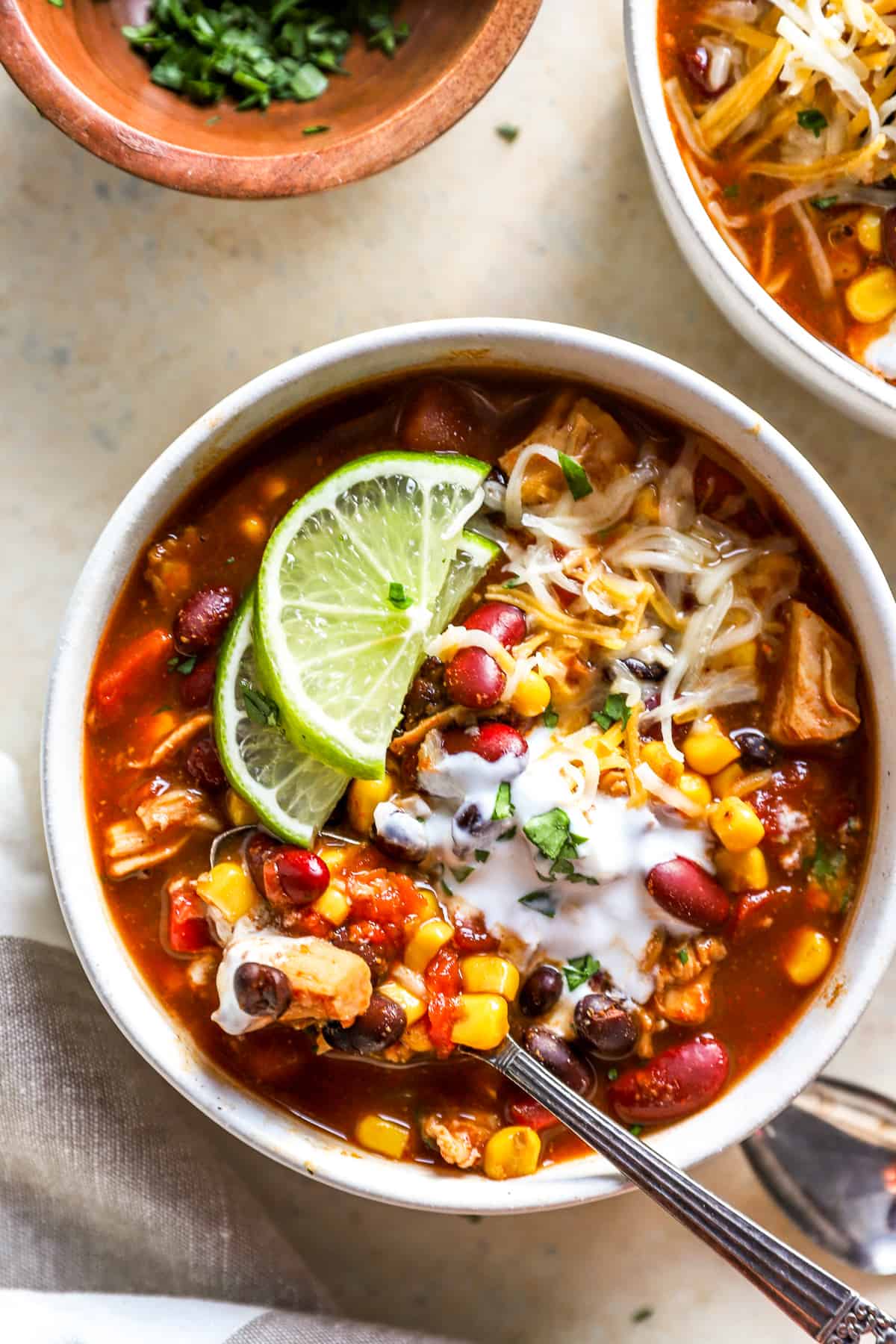 What's in 7 Can Taco Soup?
This quick and convenient take on taco soup is exactly what it sounds like: 7 cans of delicious Mexican ingredients, cooked up into one delicious soup!
Beans: This recipe uses a mix of beans such as black beans and kidney beans. You could also use pinto beans as a substitute.
Chicken Broth: Low sodium chicken broth is essential for this soup recipe and helps bring all of the other individual ingredients together.
Corn: Like a lot of taco soup recipes, this quick 7 Can Soup requires a can of corn.
Tomatoes and Chilies: For added flavor and heat, canned tomatoes and green chilies are essential.
Enchilada Sauce: To add another layer of flavor to this dish, you can use red enchilada sauce or green enchilada sauce within this recipe.
Chicken: Like canned tuna, canned chicken breast is an easy and versatile ingredient to include in a variety of recipes like this delicious soup recipe.
Pro Tip: Although not required, this recipe includes optional spices of chili powder, cumin, salt, garlic powder, and onion powder. We recommend that you add these to the dish according to the recipe instructions to get the most flavor out of this recipe.
Spicy 7 Can Chicken Taco Soup
This soup has a bit of heat to it as is. But if you like your soup extra-spicy, feel free to add a few dashes of cayenne pepper or a chopped jalapeño pepper to amp up the spice!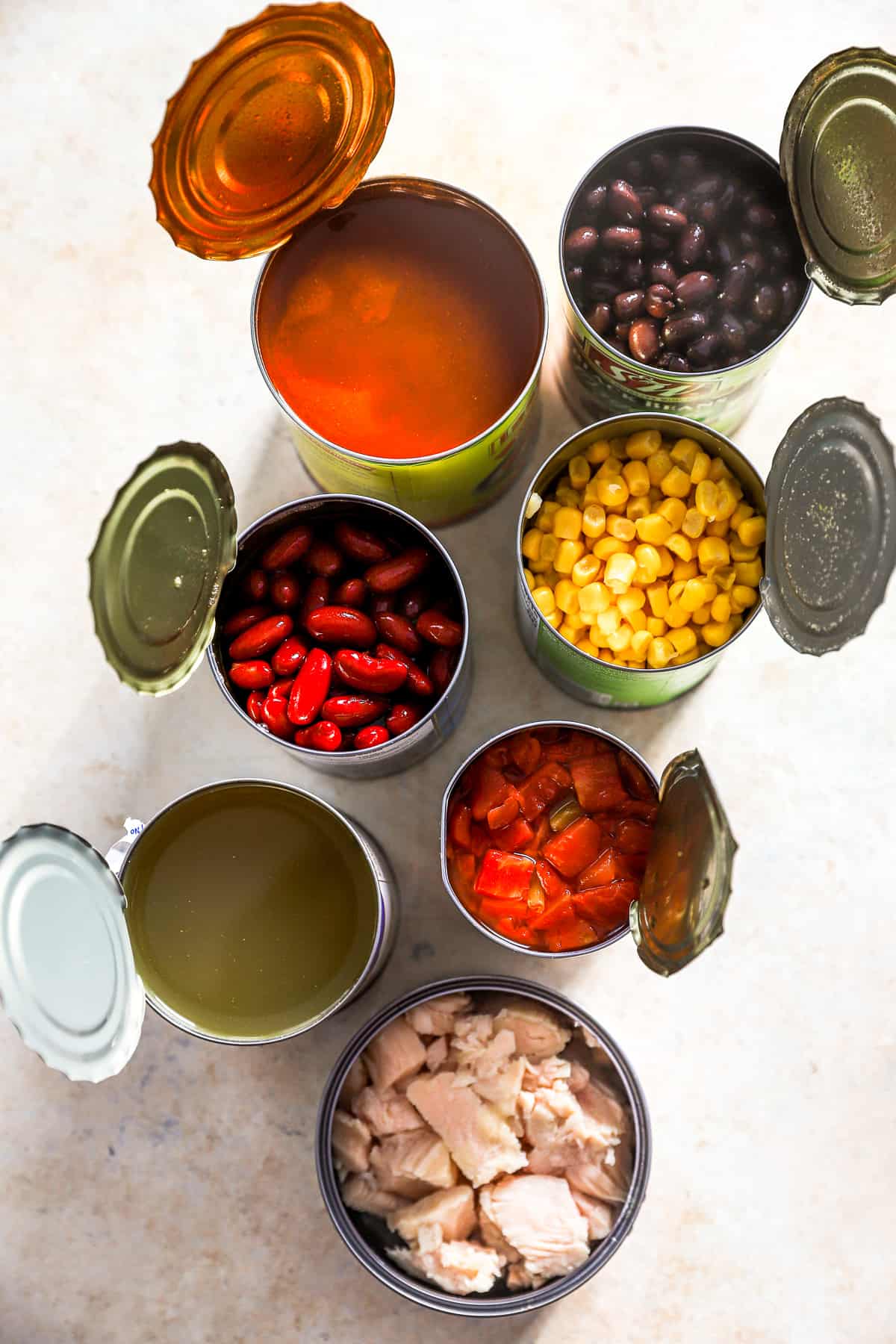 Is 7 can soup healthy?
Yes! 7 can soup contains lots of healthy ingredients, like beans, chicken broth, corn, and tomatoes. Canned product do tend to be high in sodium, though, so if you're watching your salt intake, opt for low-sodium varieties whenever possible. You can also drain and rinse the beans and corn to reduce sodium.
Do I have to use canned chicken?
Nope! You can use leftover cooked chicken of any kind in this recipe. I like to use shredded chicken or rotisserie chicken!
Can I make 7 can soup in a crockpot?
You sure can! Simply dump everything in the crockpot at let it cook on low for 3-4 hours.
Can I make 7 can soup with frozen corn?
Absolutely! You can use fresh, frozen, or canned corn in this recipe. Feel free to add extra veggies as well, if you like!
Can I freeze 7 can soup?
Yes! This soup freezes well and will keep for up to 3 months.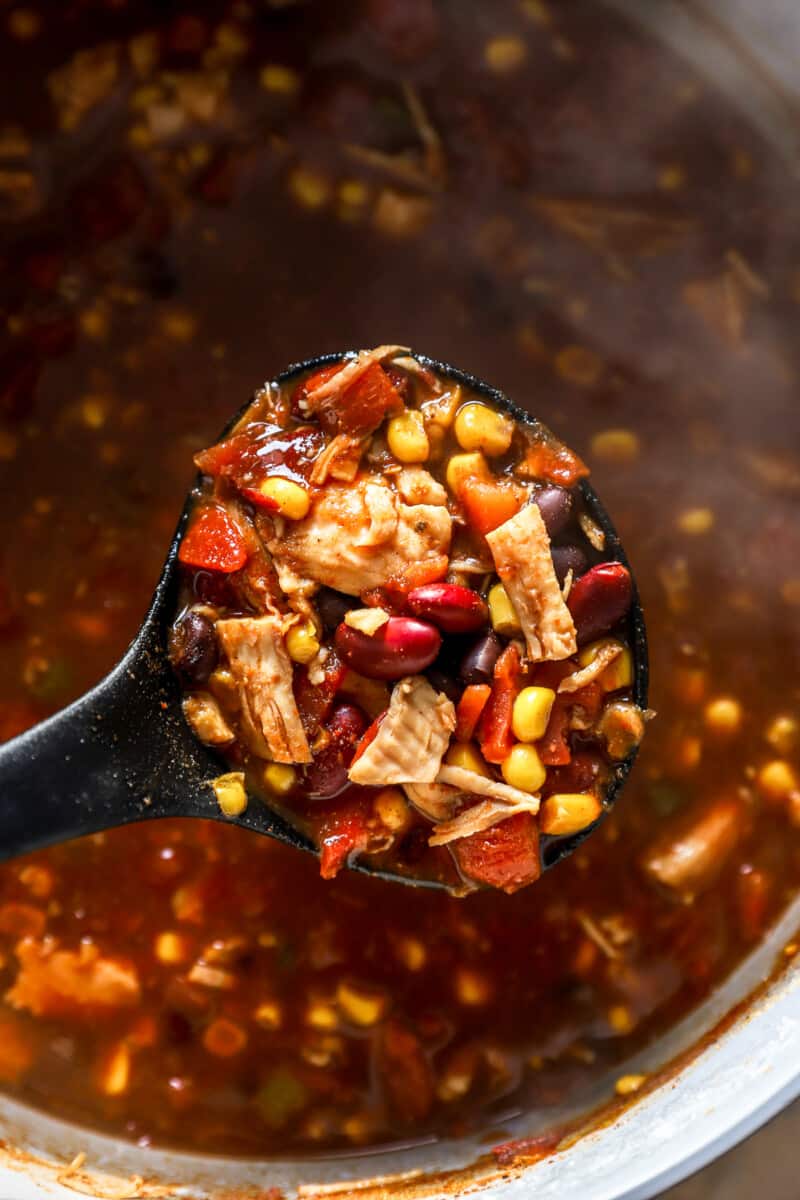 How to Store and Reheat
Store leftover 7 can soup in an airtight container in the refrigerator for up to 3 days. Reheat in the microwave or on the stovetop set over medium-low heat until warmed through.
How to Freeze
Freeze 7 can taco soup in an airtight container or Ziplock bag for up to 3 months. Let thaw overnight in the refrigerator before reheating.
What to Serve with 7 Can Soup with Chicken
This easy recipe can be served with a variety of your favorite toppings including crushed or whole Tortilla Chips, sliced green onions, avocado slices, shredded cheddar cheese, chopped fresh cilantro, or a dollop of sour cream.
You can also pair this dish with other Mexican food recipes that have similar Tex-Mex flavors such as Easy Mexican Rice or Layered Bean Dip.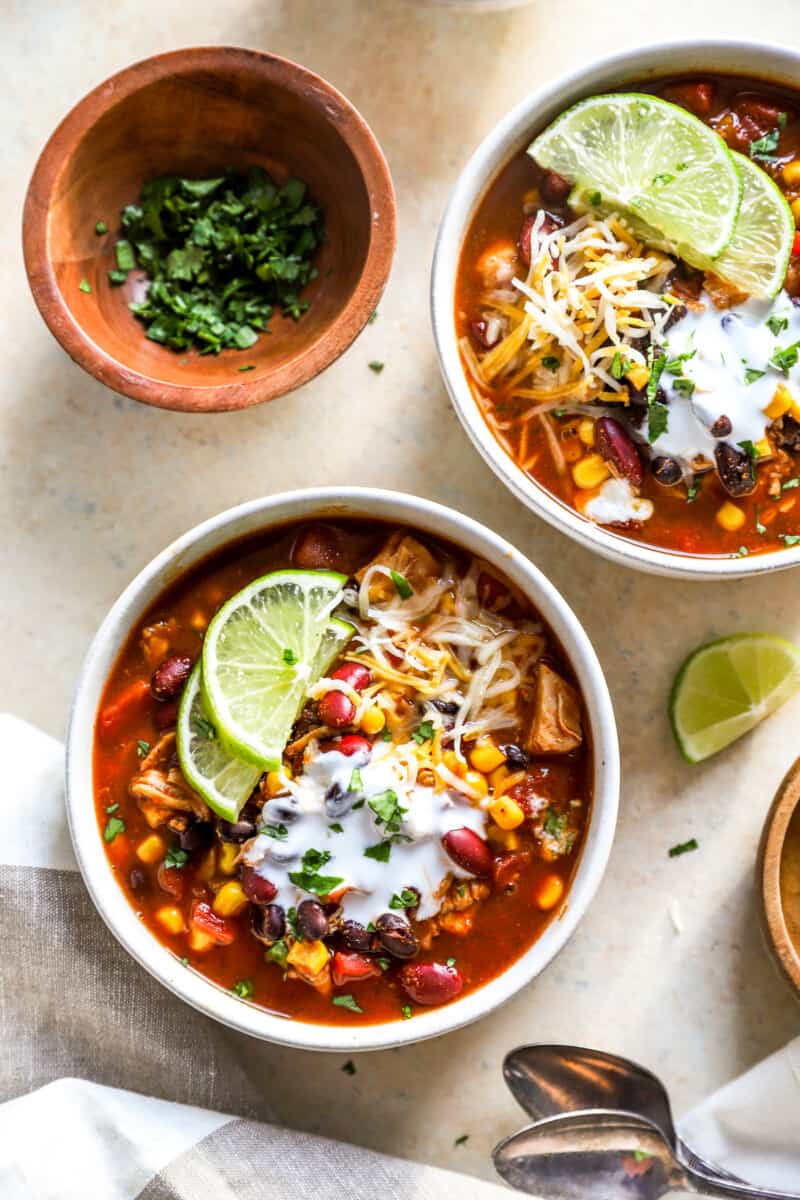 More Mexican Chicken Soup Recipes We Love