This MEXICAN CHEESY CHICKEN CHOWDER RECIPE is the ultimate Winter comfort food soup! Loaded with spicy tomatoes, green peppers, hash brown potatoes, garlic, onion, CHEESE, and more, this was an instant favorite at our house. Serve this cheesy chicken chowder with Fritos or tortilla chips and you're in business. SO GOOD.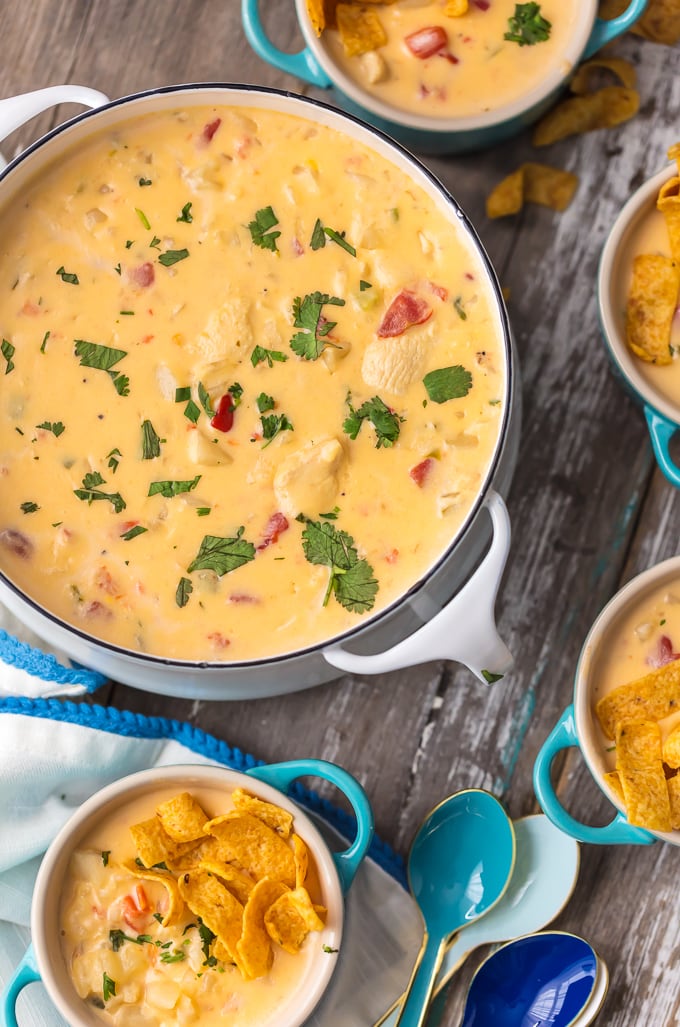 Cheesy Chicken Chowder Recipe
I'm so excited about this cheesy chicken chowder that I'm publishing it just one day after making it. I have quite a few other drafts in queue but this Mexican Cheesy Chicken Chowder got pushed to the front of the line. With the cold weather wreaking havoc on more than half the country, we are all in need of some good old fashioned comfort food.
I absolutely LOVE this Cheesy Chicken Chowder recipe because its loaded with really good ingredients:
Juicy chicken breasts
Diced potatoes
Fresh chopped cilantro
Lots and lots of CHEESE
Onion
Diced green pepper
…plus there are plenty of other tasty ingredients in this cheesy chicken chowder recipe. But it's also SO easy to throw all of this together to make a quick meal. Anything I can make in under 30 minutes is a-okay by me…especially when Henry is in tow. This one is a winner!
This Mexican Cheesy Chicken Chowder Recipe will warm you up with it's cheesy flavor!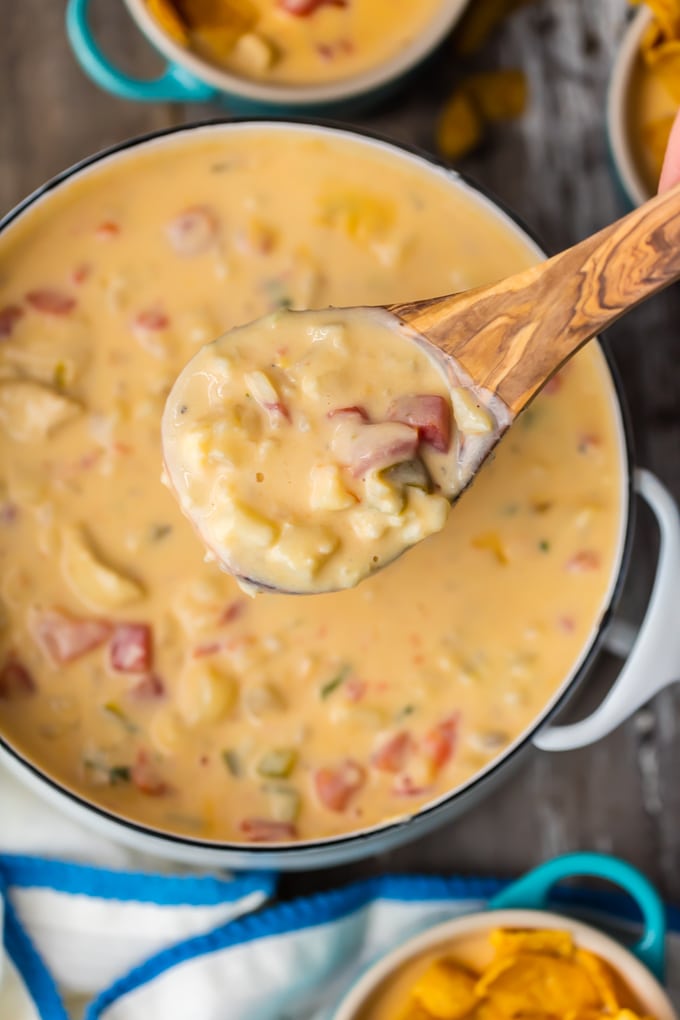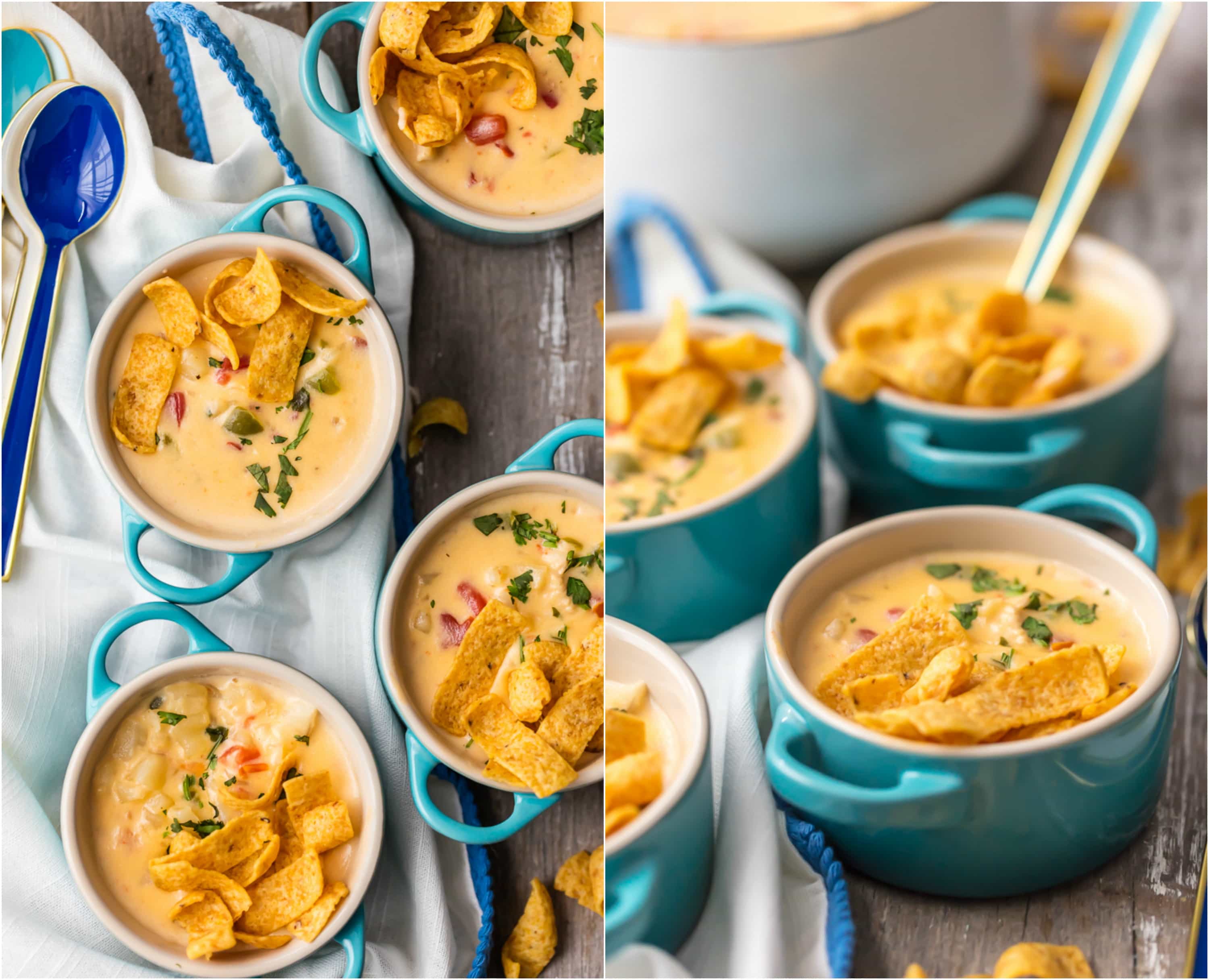 Easy Chicken Chowder Recipe
Pat and I are supposed to be dieting for New Years Resolutions….but weekends are for breaking the rules!
This Cheesy Chicken Chowder recipe made for a great game day. Pat got to watch (so so so so much) sports and I got to just sit in the corner and chow down on cheesy soup. I can tolerate a lot of fantasy football talk as long as I have good food to keep me distracted.
I just love all the flavors in this easy soup recipe and LOVE the creamy cheesy chicken texture. Throw in some Fritos or Tortilla Chips and you're really in heaven. So hearty and comforting. Just the way a good chicken chowder recipe should be.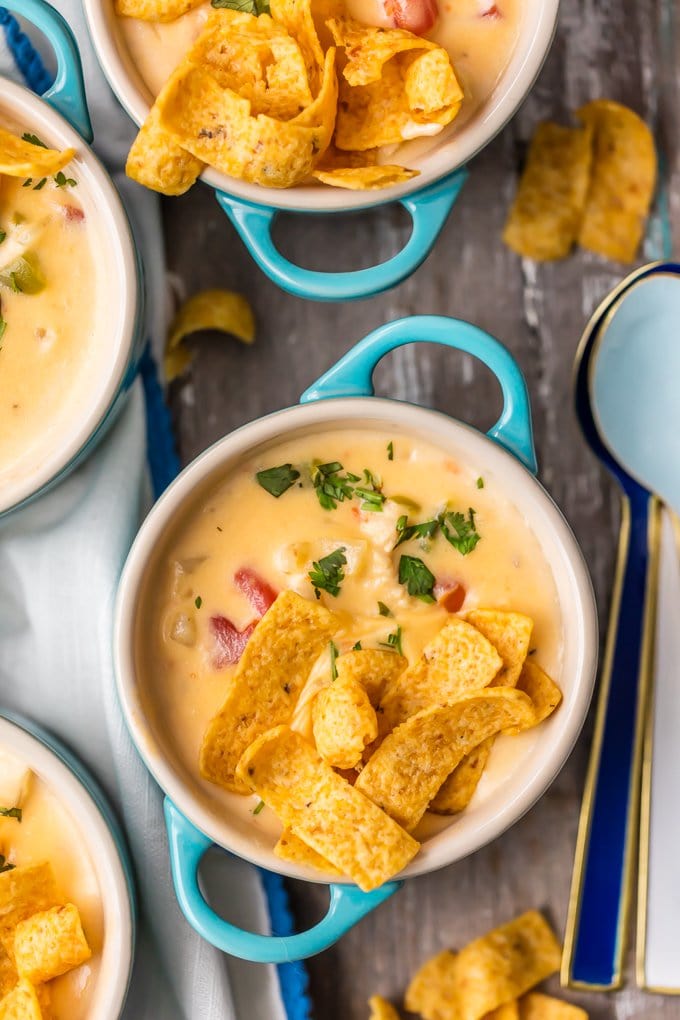 How to make Cheesy Chicken Chowder
This chicken chowder recipe is so easy to make. All you need is 30 minutes and you've got a cheesy chicken dinner ready to go.
Gather your ingredients
Saute onion, garlic, & green peppers
Add in the chicken, broth, and potatoes & let simmer
Stir in the gravy, cream, Velveeta, and the rest of the ingredients
Cook until the cheese is melted
Serve warm with tortilla chips sprinkled on top
Scroll down to the recipe card for full instructions on how to make cheesy chicken chowder.
Slow Cooker Cheesy Chicken Chowder
While this is not a slow cooker recipe, it can be adapted if you wish. This cheesy chicken chowder recipe could be made in a slow cooker, crock pot, or Instant Pot.
If you're looking for slow cooker recipes, try these instead: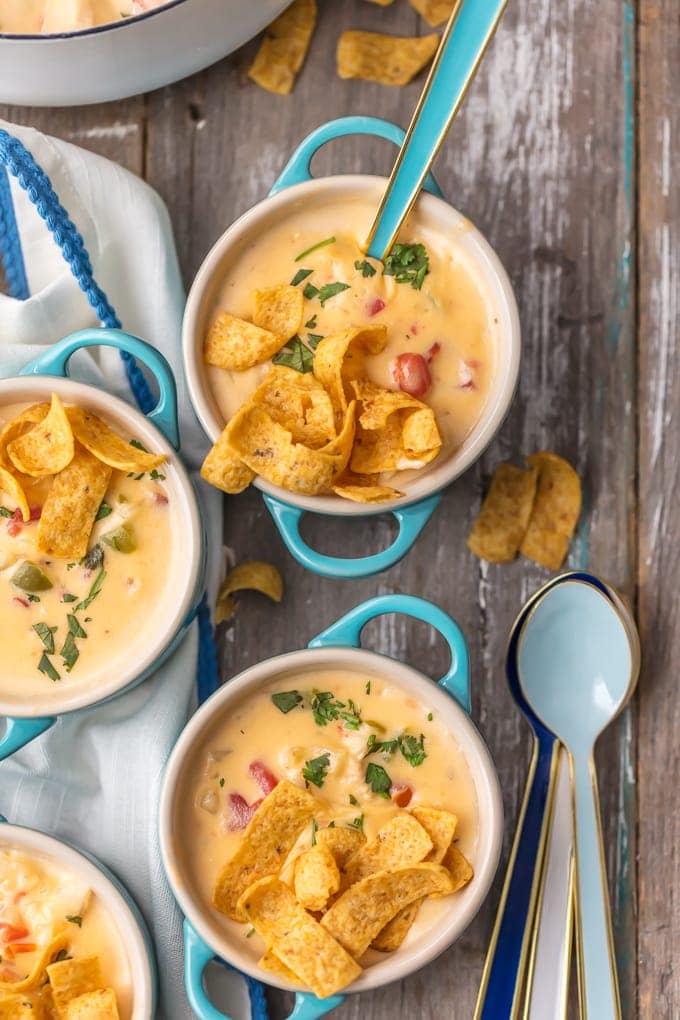 P.S. Can we also talk about those adorable enamel spoons? I DIE. You guys know I have a food prop shopping addiction, and these spoons were a must. They're so darn cute.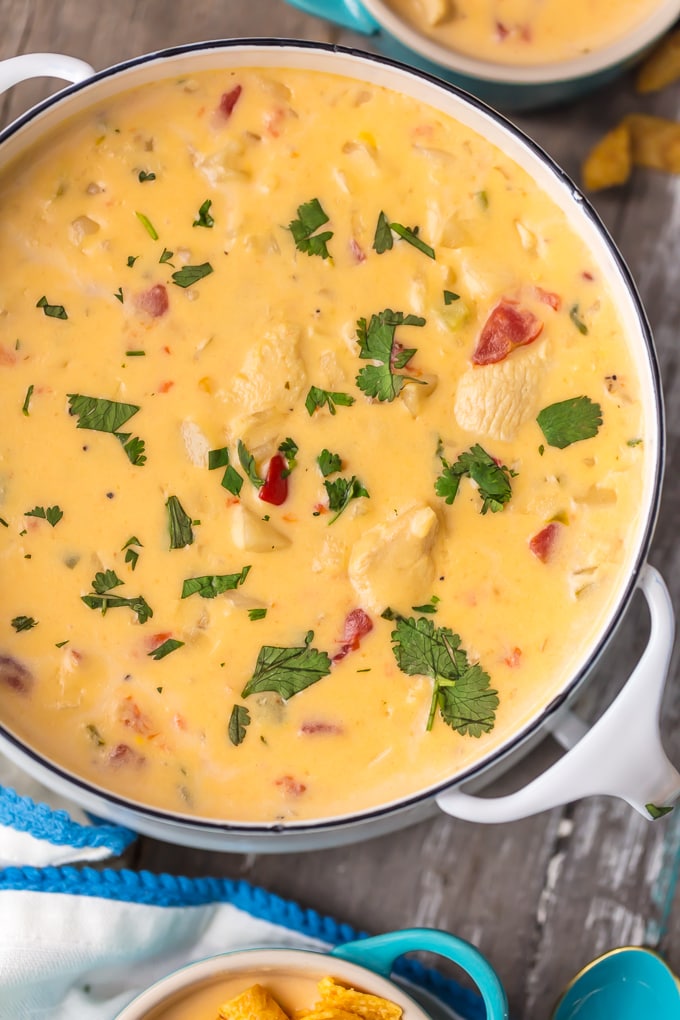 Okay, back to what's important: this MEXICAN CHEESY CHICKEN CHOWDER. I hope you guys love it as much as we do. I have a feeling we will be making this easy recipe again and again!
See recipe card for details on how to make this Mexican Cheesy Chicken Chowder recipe. Enjoy!
We've got plenty more chowder, soup, & chili recipes for you: