This Layered Bean Dip Recipe is one of our favorite ways to tailgate! Guacamole Bean Dip has layers of guacamole, spicy refried beans, tomatoes, onions, and cheese. This Mexican Bean Dip is SO delicious and made in minutes! It doesn't get better than Layered Bean Dip for any and every celebration! Learn how to make bean dip with this recipe.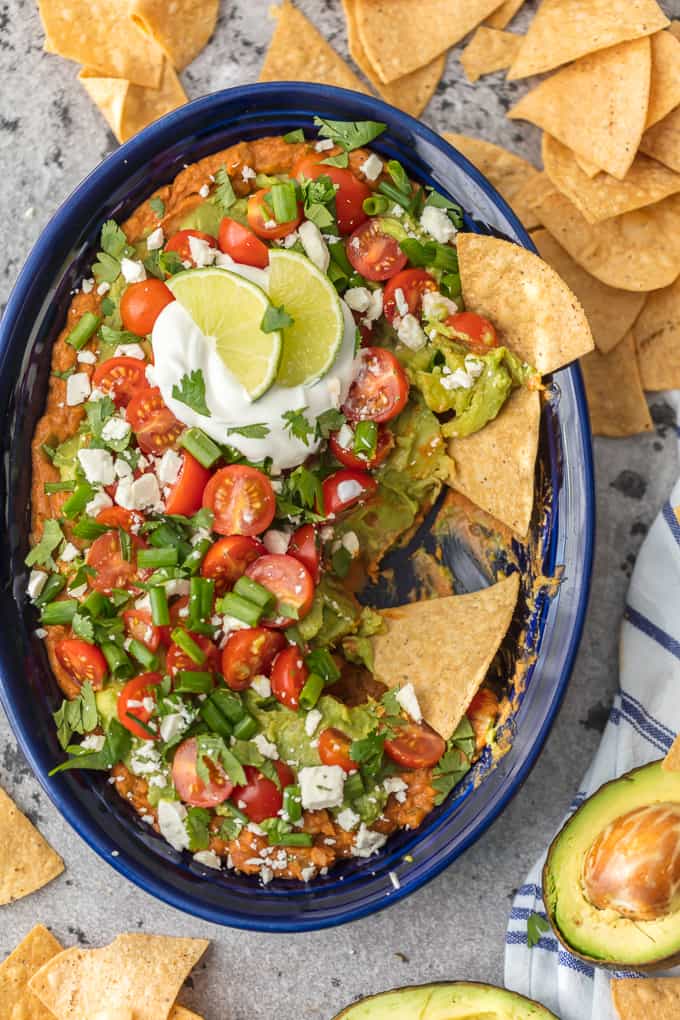 Layered Bean Dip with Guacamole
This Layered Bean Dip Recipe is the perfect Guacamole Bean Dip that your tailgate has been missing!
This Layered Bean Dip Recipe couldn't be easier and it is packed with soooo much flavor. Guacamole Bean Dip is ideal for taking to potlucks or parties because it can be served cold and it's loved by all. A few easy tricks take this from good to great and it will leave everyone asking you for the recipe!
If you want to learn How to Make Bean Dip, then this is the perfect recipe for you! It's super easy and super tasty. It's filled with refried beans, tomatoes, cheese, and (of course) guacamole. So much flavor in every bite. It's the most amazing party dip and absolutely perfect for taco night!
Party Appetizers like this Layered Bean Dip Recipe are my favorite thing to make and I always feel extra confident because there's literally no way to mess them up. No baking required. WIN!
Learn how to make bean dip with this extra delicious Layered Bean Dip Recipe! If you love guac, you'll love this Guacamole Bean Dip.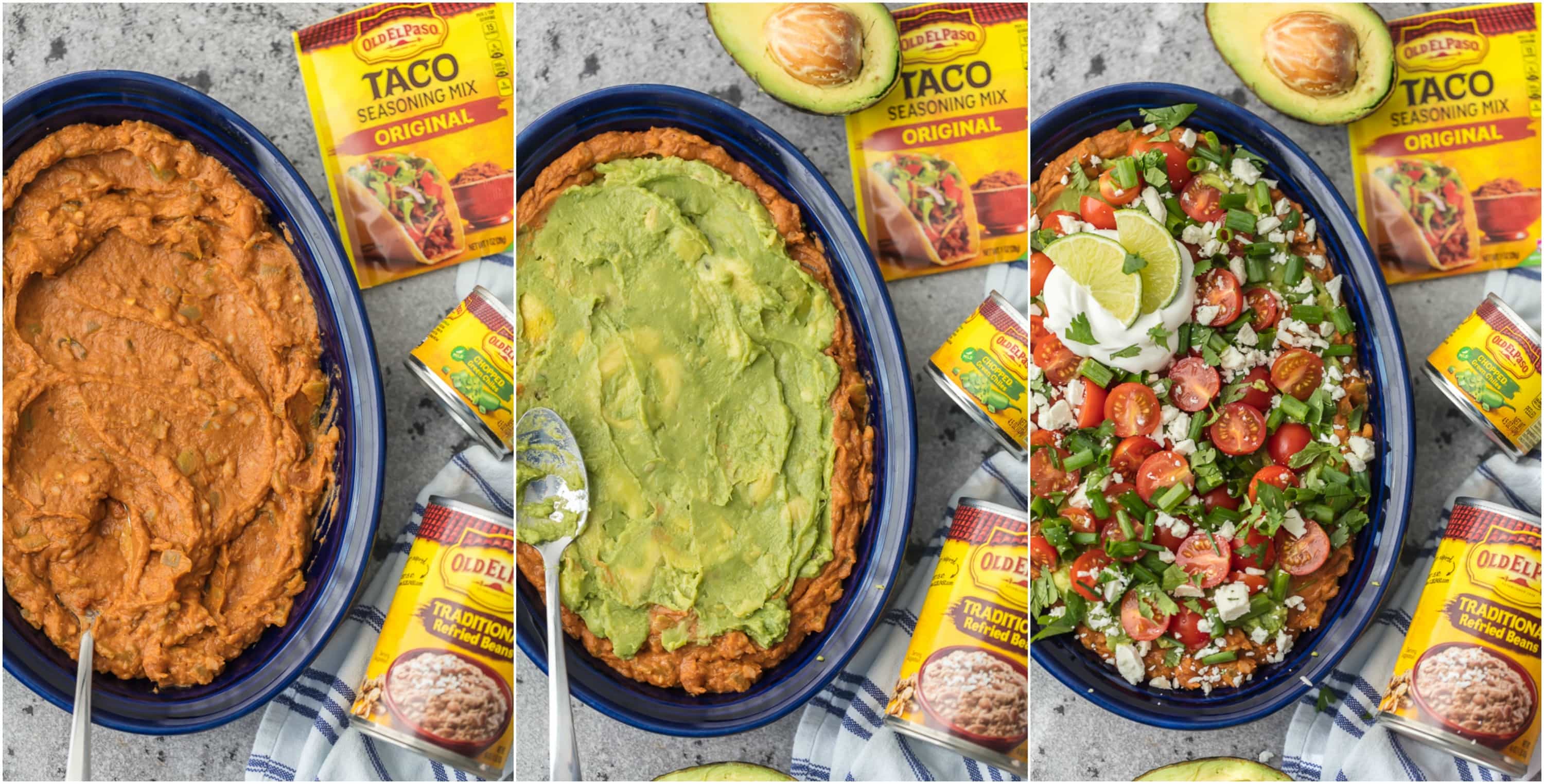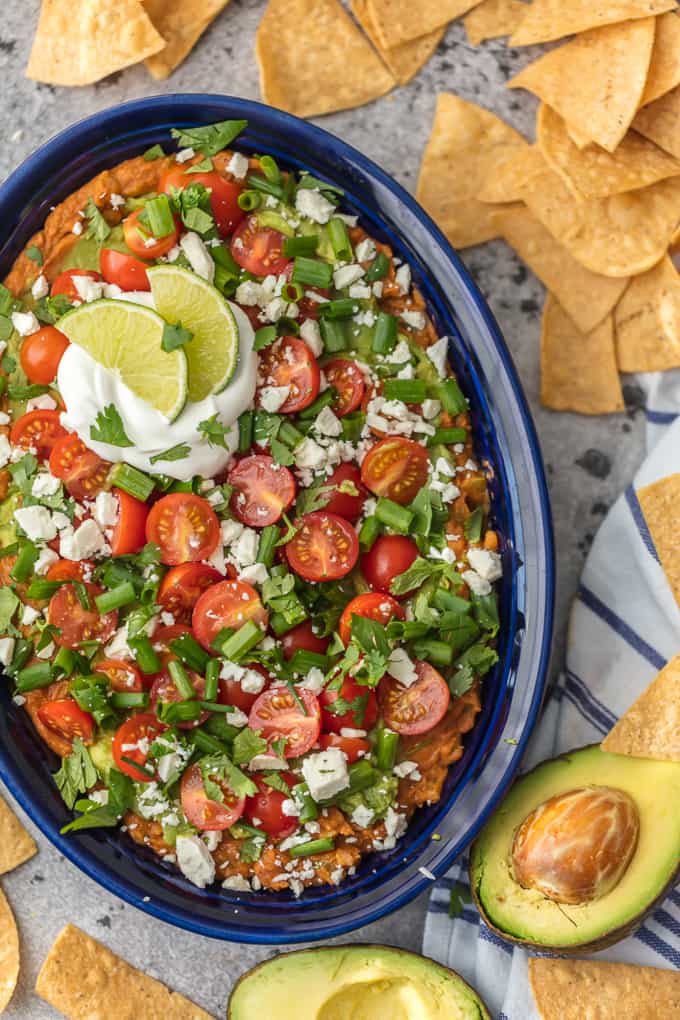 How to Make Bean dip
When making Layered Bean Dip, I try to make things as easy as possible. All of the flavor, none of the fuss!
Thank goodness for Old El Paso in this Crazy Good Guacamole Bean Dip. It adds just the right amount of spice without having to buy tons of items from the spice aisle, the ultimate refried beans that are just the right flavor and texture, and my favorite, green chiles.
I LOVE OLD EL PASO GREEN CHILES! I feel like I use them in about every Tex Mex recipe I attempt.
I've already used El Paso Green Chiles in all these great recipes:
I am obsessed. They're just so good. They take this Layered Bean Dip Recipe from good to great!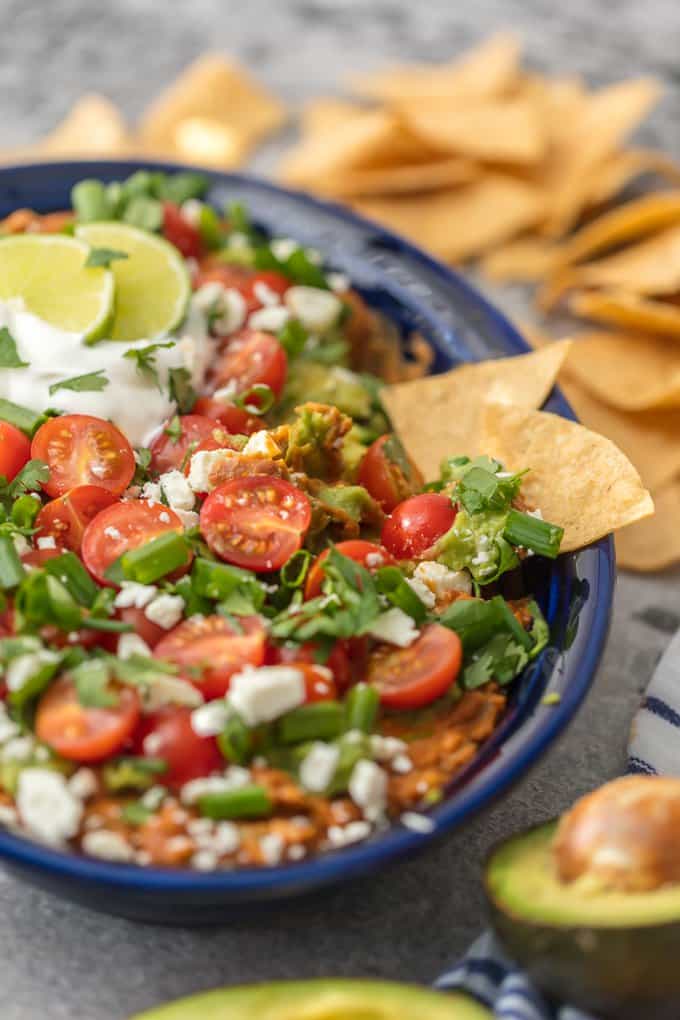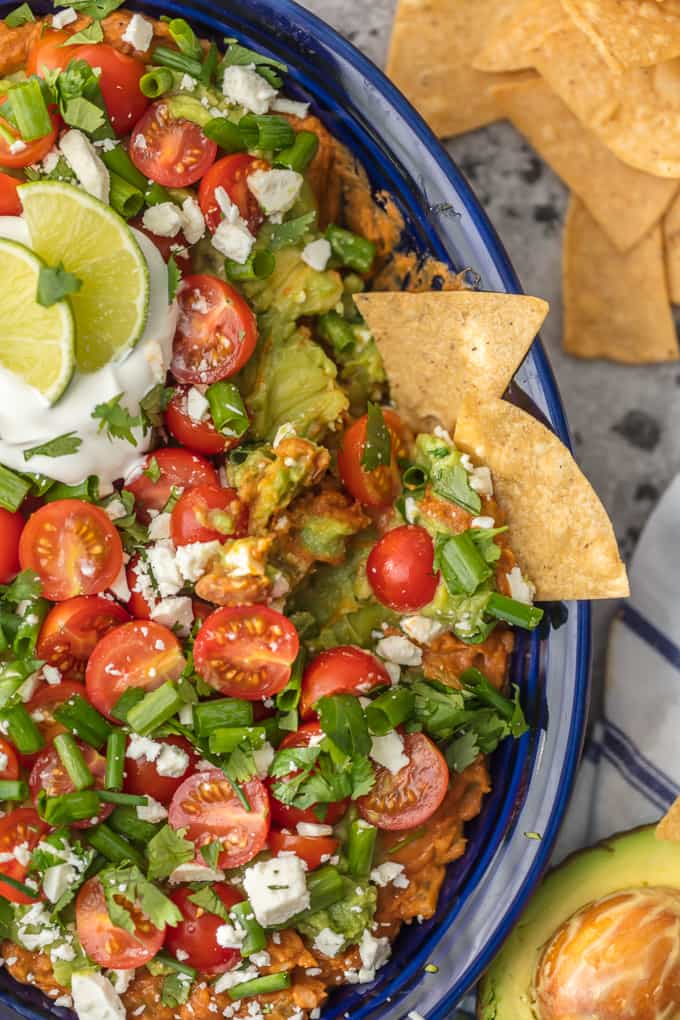 Layered Party Dip with all the Toppings
What I love most about this Layered Bean Dip Recipe is that it's fully customizable with all of your favorite toppings.
We love to pile on the toppings to this Mexican Bean Dip. You could add jalapeños, shredded cheese, black olives, and so much more. I chose to keep things pretty simple, but the sky is the limit. Your next tailgate is going to be pretty darn tasty, I'm just sure of it. Can I come? I'd like to eat as much of this dip as possible!
If you're making this Bean Dip Recipe for Cinco de Mayo, I hope you pair it with some of our fun tequila recipes. These drinks are the perfect pairing:
If you're making a full on Tex-Mex feast, we've got tons of other recipes to go along with this Layered Bean Dip too. I love all the recipes on this site, but I especially recommend these:
Cinco de Mayo is just made for Tacos and Tequila, am I right?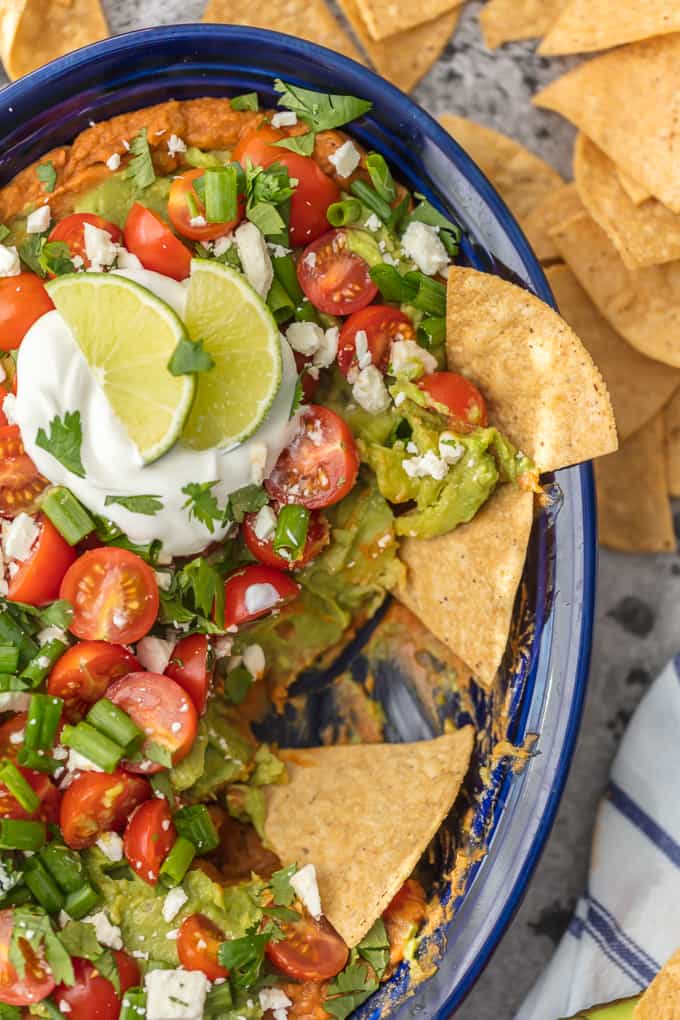 This Layered Bean Dip Recipe will be a hit every time. Whether you're preparing for game day, Cinco de Mayo, a big party, or just looking for a tasty appetizer, this Guacamole Bean Dip won't disappoint.
If you like this Layered Bean Dip Recipe, be sure to check out the rest of our dip recipes! I have almost 70 on the site, so there's something for everyone. Like I said…tailgating is my culinary specialty. :)
See the recipe card below for full details on How to Make Layered Bean Dip. Enjoy!