Chocolate Peppermint Cookies are a festive and delicious treat! These Peppermint Chocolate Crinkle Cookies are so chocolatey, with just the right amount of peppermint flavor. They're the perfect Christmas cookies!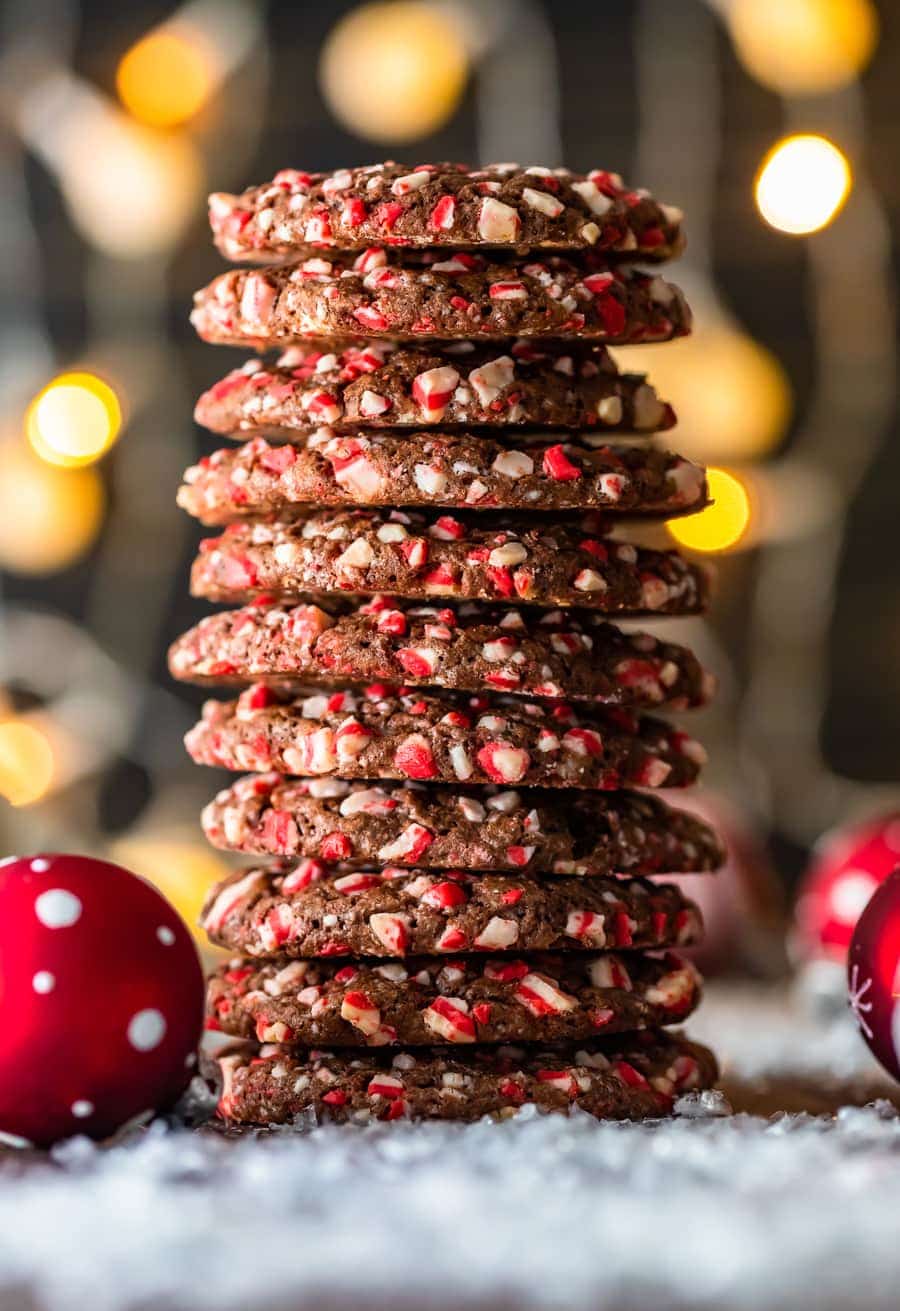 Chocolate Peppermint Cookies
These chocolate peppermint cookies just scream CHRISTMAS! I love the combination of peppermint and chocolate for the holidays.
I'm so ready to start making Christmas cookies and desserts! The big day is almost here, and I know we all need something sweet and chocolatey to fill those holiday cravings. These Chocolate Peppermint Cookies are exactly what we're all dreaming of, and they're so easy to make too.
I've always been a big fan of the peppermint chocolate mix (have you tried these amazing Peppermint Brownies?), so I had to make the perfect Xmas cookie to honor that flavor combo. These Peppermint Chocolate Crinkle Cookies are a dream come true. I love using peppermint baking chips, and they work perfectly with these chocolate crinkle cookies.
Whether you're making some cookies for Santa, for a holiday party, or to enjoy on Christmas day, these chocolate peppermint cookies are definitely going to satisfy!
These Chocolate Peppermint Crinkle Cookies might just be the PERFECT Christmas cookie!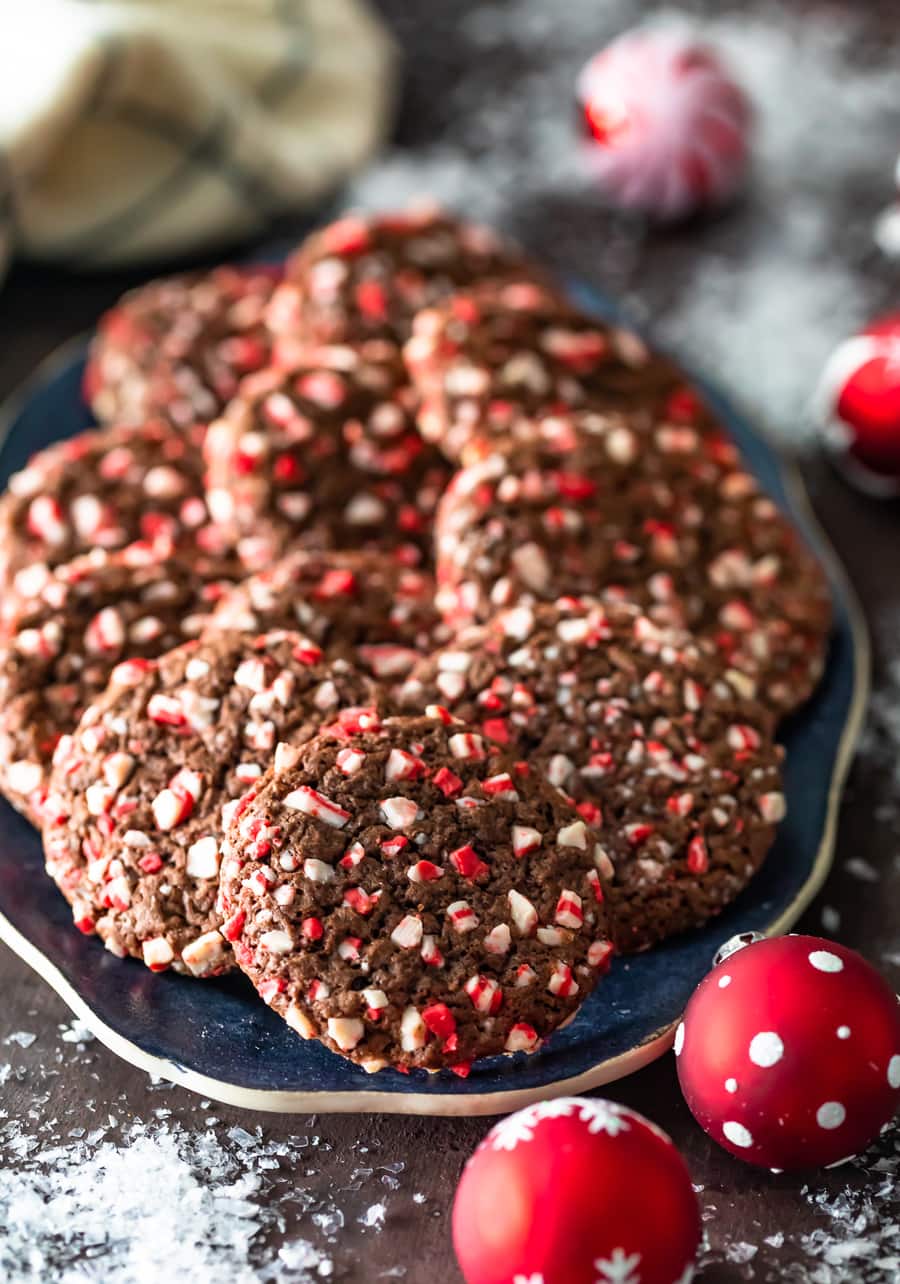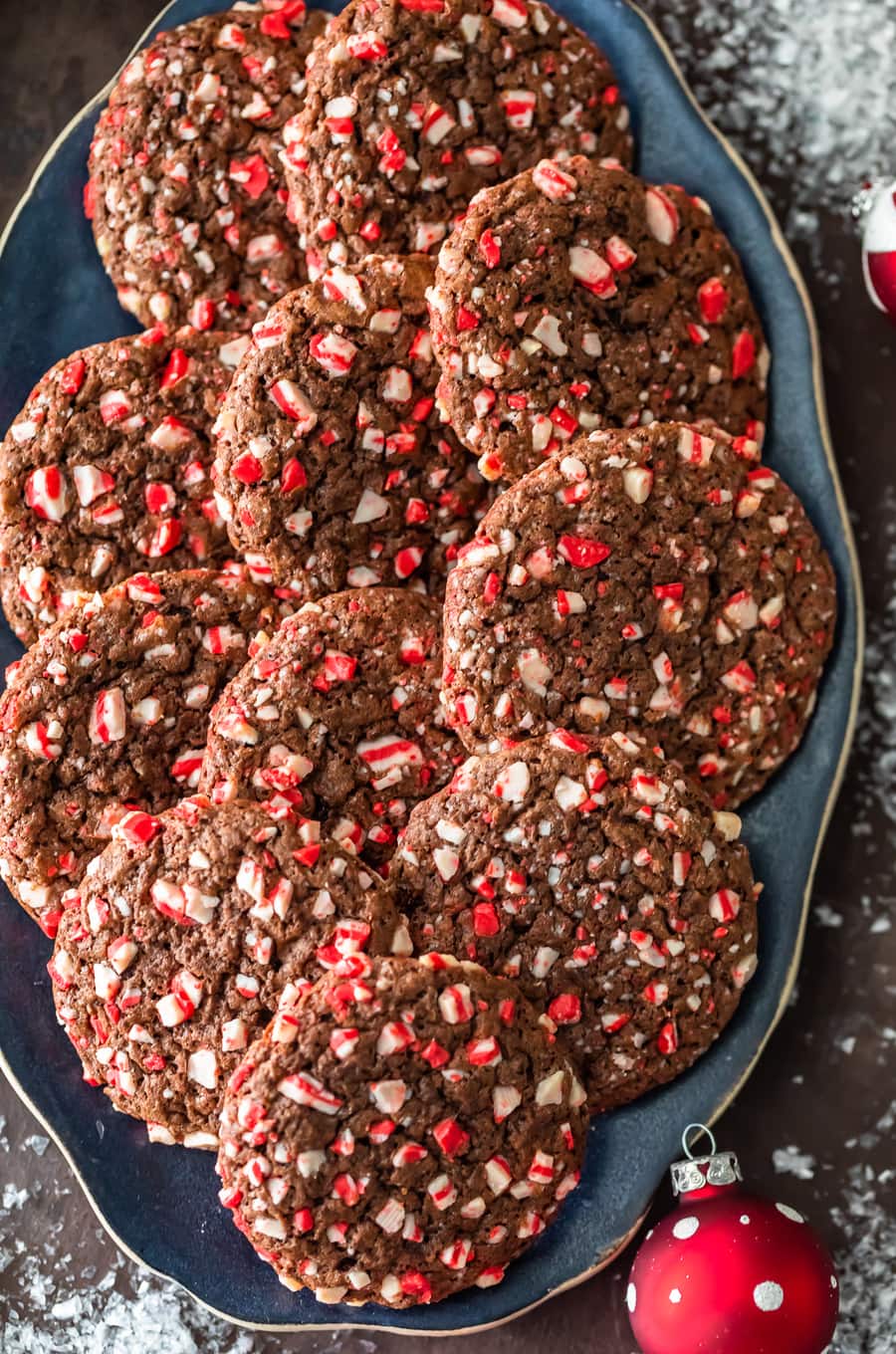 Peppermint Chocolate Crinkle Cookies Recipe
I absolutely love this easy cookie recipe. I've made Peppermint Hot Chocolate a million times during the holidays, and it always hits the spot. So it's a bit crazy not to have that perfect flavor in cookie form…but now I do! These chocolate peppermint cookies have the perfect texture, the perfect flavor, and the perfect peppermint to chocolate ratio.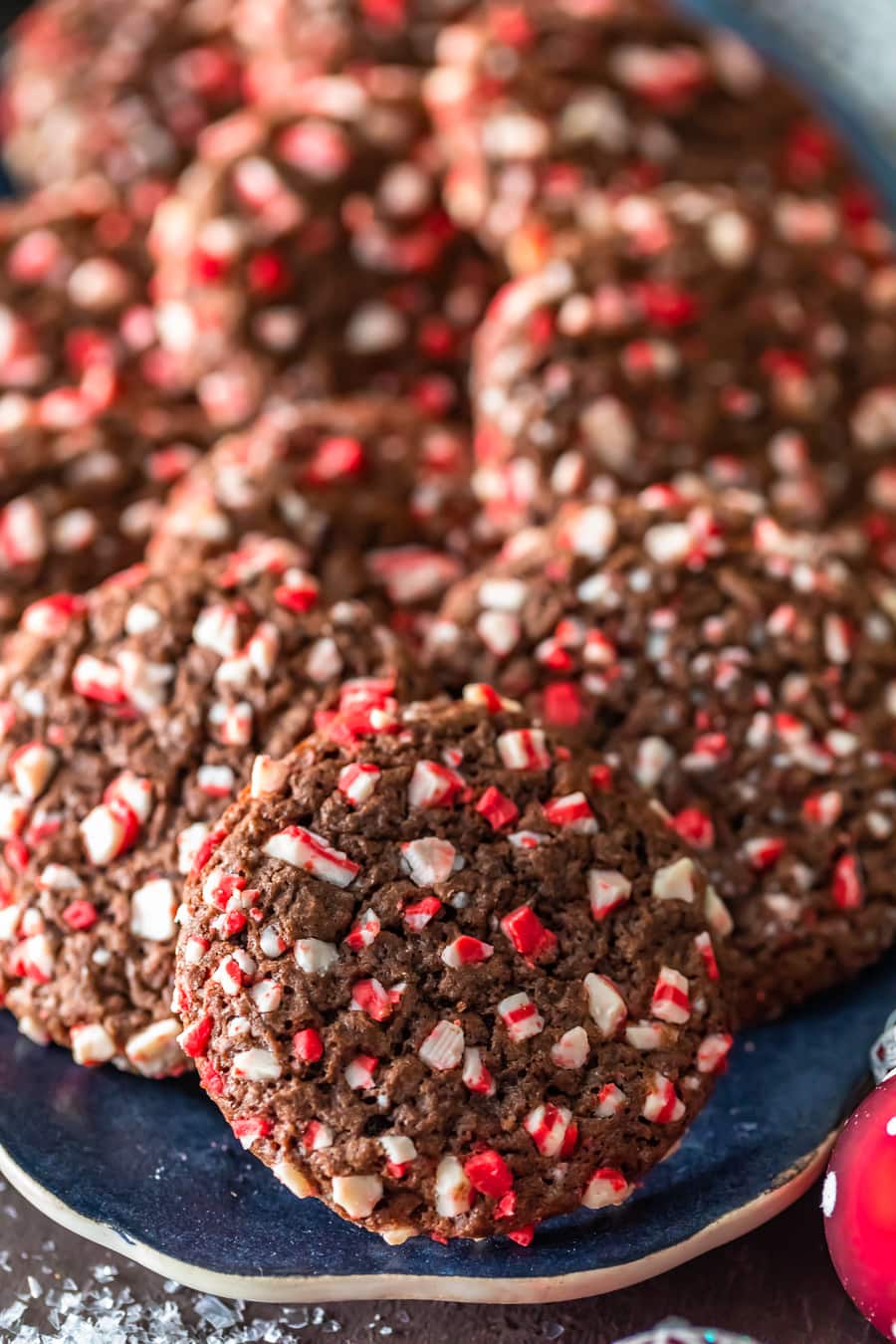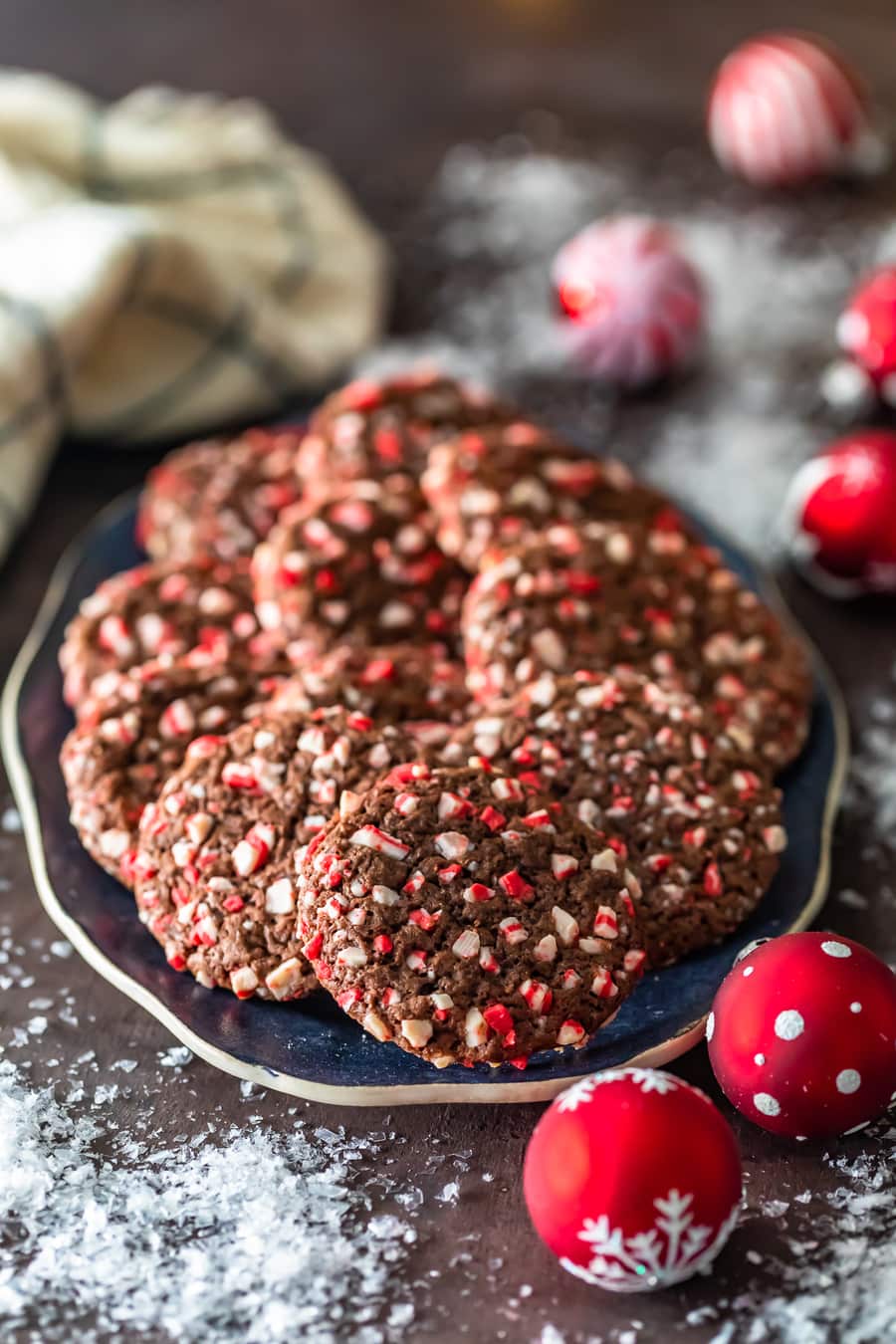 How to Make Chocolate Peppermint Cookies
These peppermint chocolate crinkle cookies are just as easy to make as they are to eat! Which is great because you're going to want to make these every single day leading up to Christmas. Nothing wrong with a bit of holiday indulgence, especially when it tastes this good!
I'll break this down into a few basic steps (check the recipe card for full instructions):
Prepare the cookie dough – Whisk together flour, baking powder, and salt. In another bowl, cream together oil, sugar, and cocoa with an electric mixer. Mix in the eggs (one at a time), then add the vanilla extract. Then add the flour mixture into the wet mixture.
Refrigerate cookie dough – Spray a container with cooking spray, then pour the dough in. Spray plastic wrap with the cooking spray, then place it over the container, and cover it with a lid. The dough needs to be refrigerated for at least 3 hours, or you can let it sit overnight.
Before taking the dough out of the fridge – Preheat oven to 350°F and line a baking sheet with parchment paper. Chop up the peppermint baking chips into about half the original size.
Make the cookies – Roll the chocolate cookie dough into 1 inch balls, then roll the balls into the peppermint chips. Line them up on the cookie sheet and bake 10-11 minutes.
These will last up to 1 week in an airtight container at room temperature, or you can freeze them for a couple of months.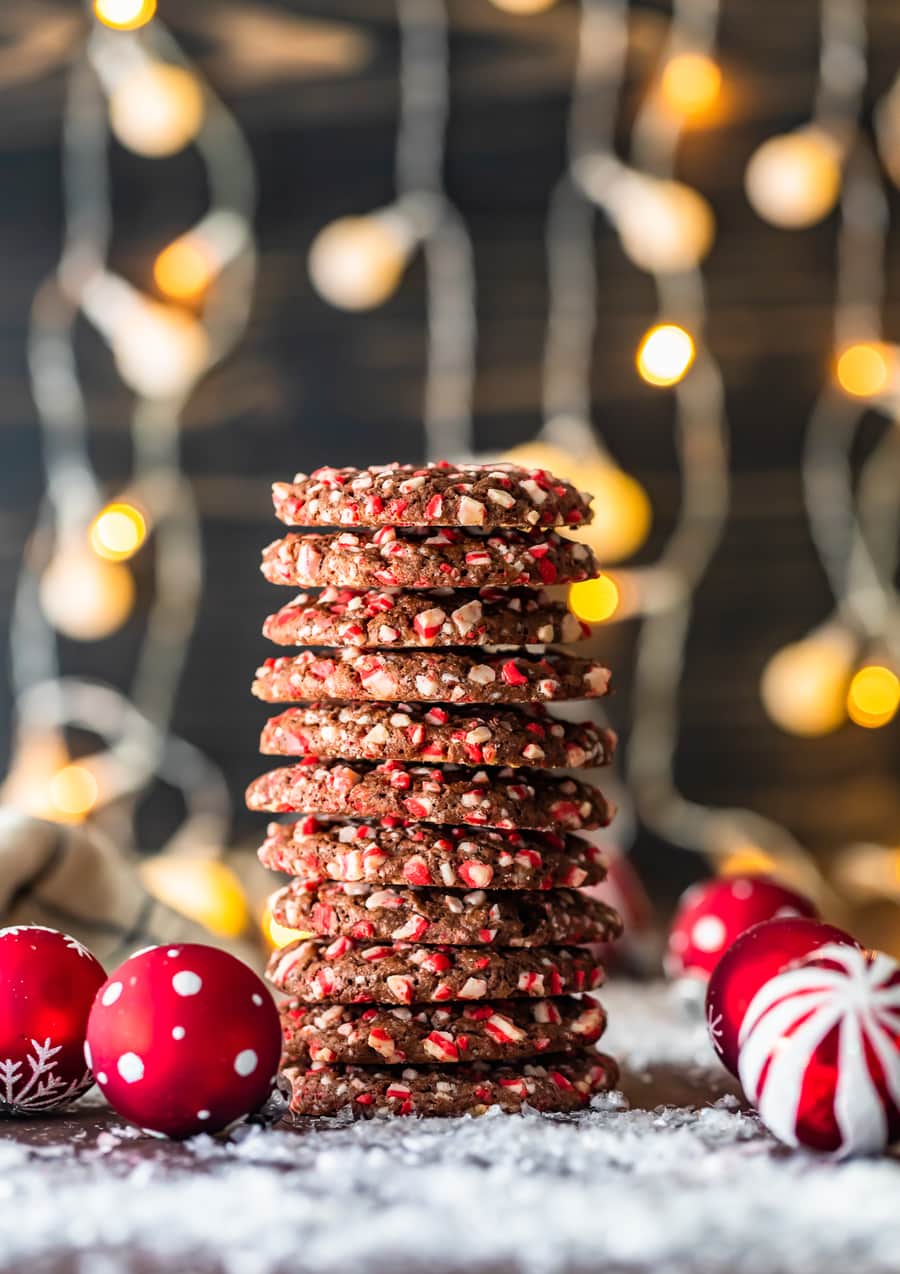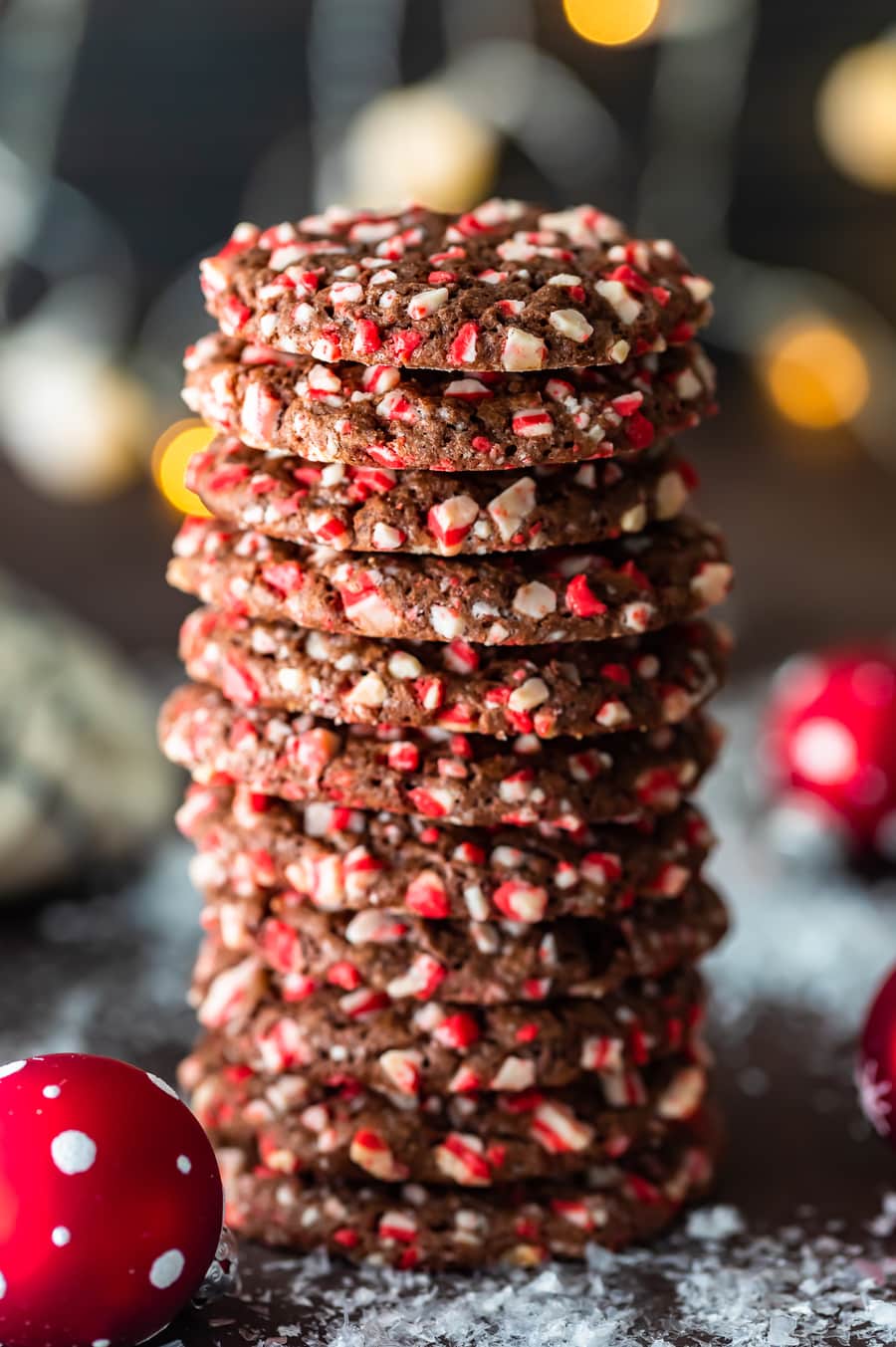 Christmas Cookies
It's really hard to look at these chocolate peppermint cookies without immediately thinking CHRISTMAS. Sure, you can make them any time of year, but they are without a doubt the perfect Christmas cookies. Peppermint Chocolate Crinkle Cookies just have that festive look and taste, so they are a must make this season!
Here are some other delicious Christmas cookie ideas: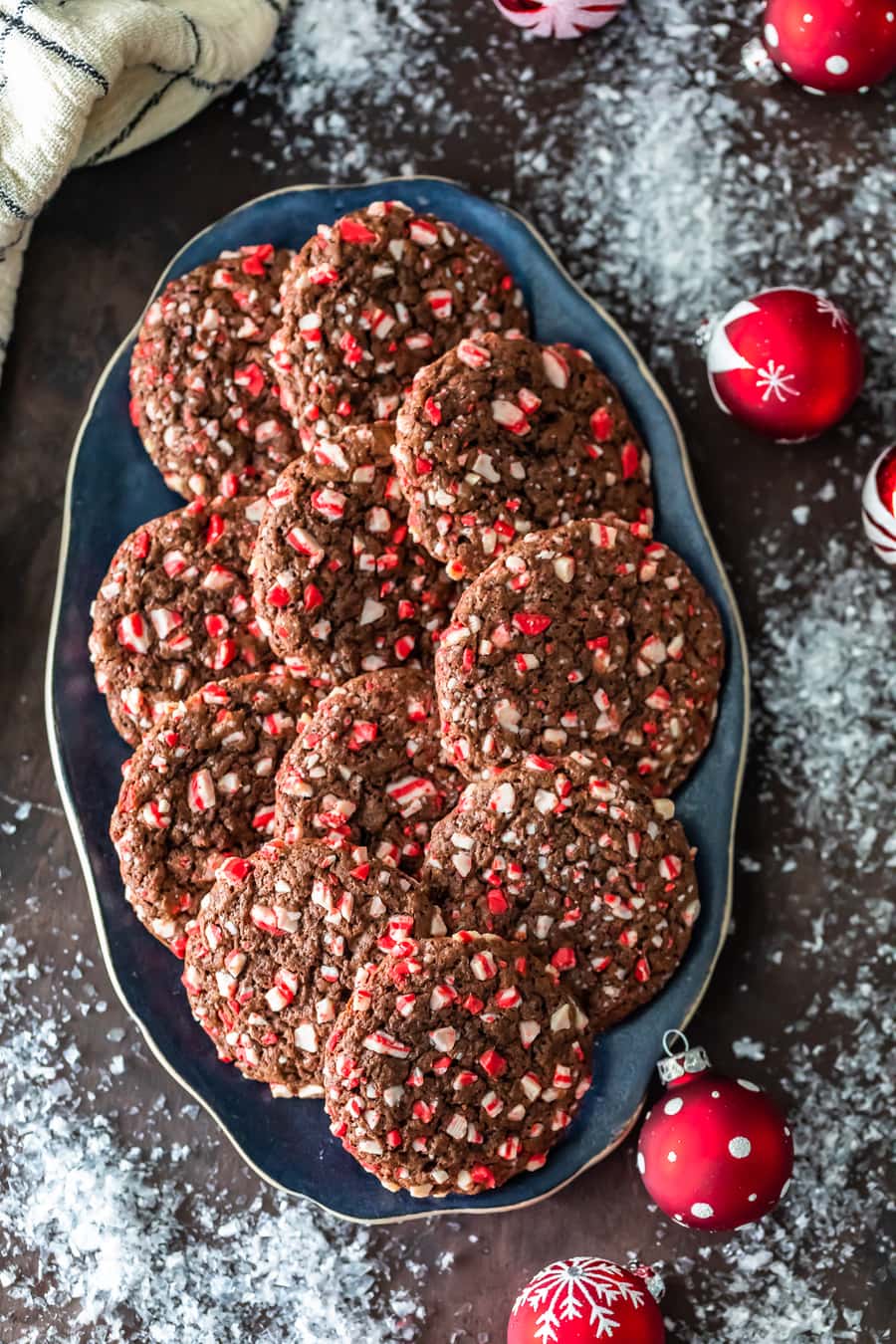 These Peppermint Chocolate Crinkle Cookies are the best cookies for Christmas! I'm going to eat as many as possible before the holidays are over, and savor every last bit of the season. Happy holidays!
See the recipe car below for details on how to make Peppermint Chocolate Crinkle Cookies. Enjoy!
If you like these chocolate peppermint cookies, try these other peppermint treats: