Soft and chewy inside and crisp and golden outside, coconut macaroons are the perfect balance of tempting textures and heavenly flavors. I love making these delicious cookies (they remind my kids of snowballs!) and sharing them during the holidays or for any special occasion.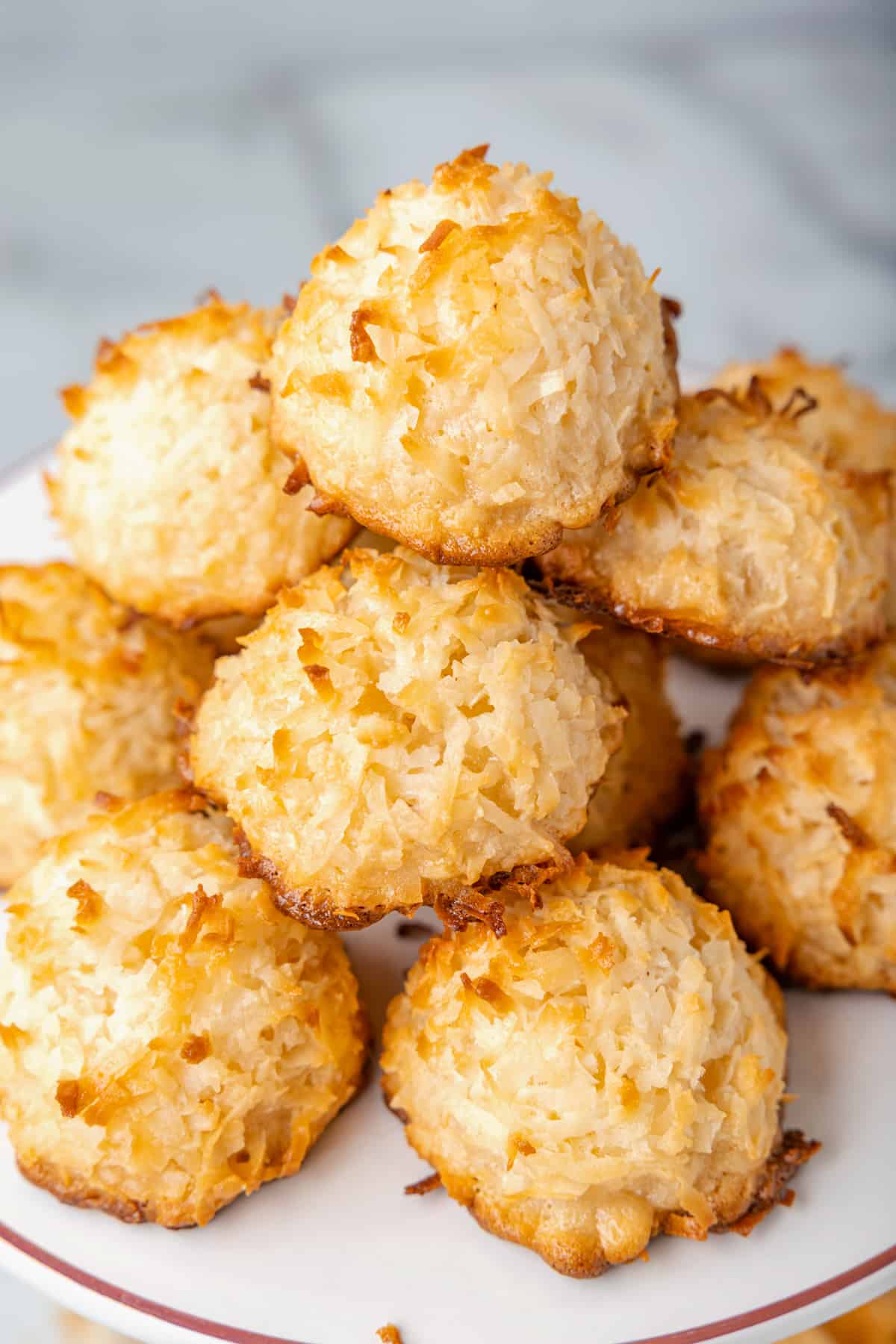 Macaroons
Everyone is going to love this coconut macaroons recipe. These irresistible, toasty little cookies deliver a dreamy, chewy bite with shredded coconut that is perfectly sweetened.
They're so beautiful to look at, and even more fun to eat. Best of all, they're surprisingly simple to make, despite how fancy they look!
Why You'll Love this Coconut Macaroons Recipe:
Easy to Make: Making delicious and satisfying macaroons could not be easier!
Light as Air: Preparing the egg whites takes a little extra time, but the fluff gives these treats a light and airy texture.
Giftable: Because they keep so well, macaroons make the perfect hostess gift, especially when dipped in chocolate.
These are one of my favorite Easter cookie recipes because they're simple, beautiful, and delicious.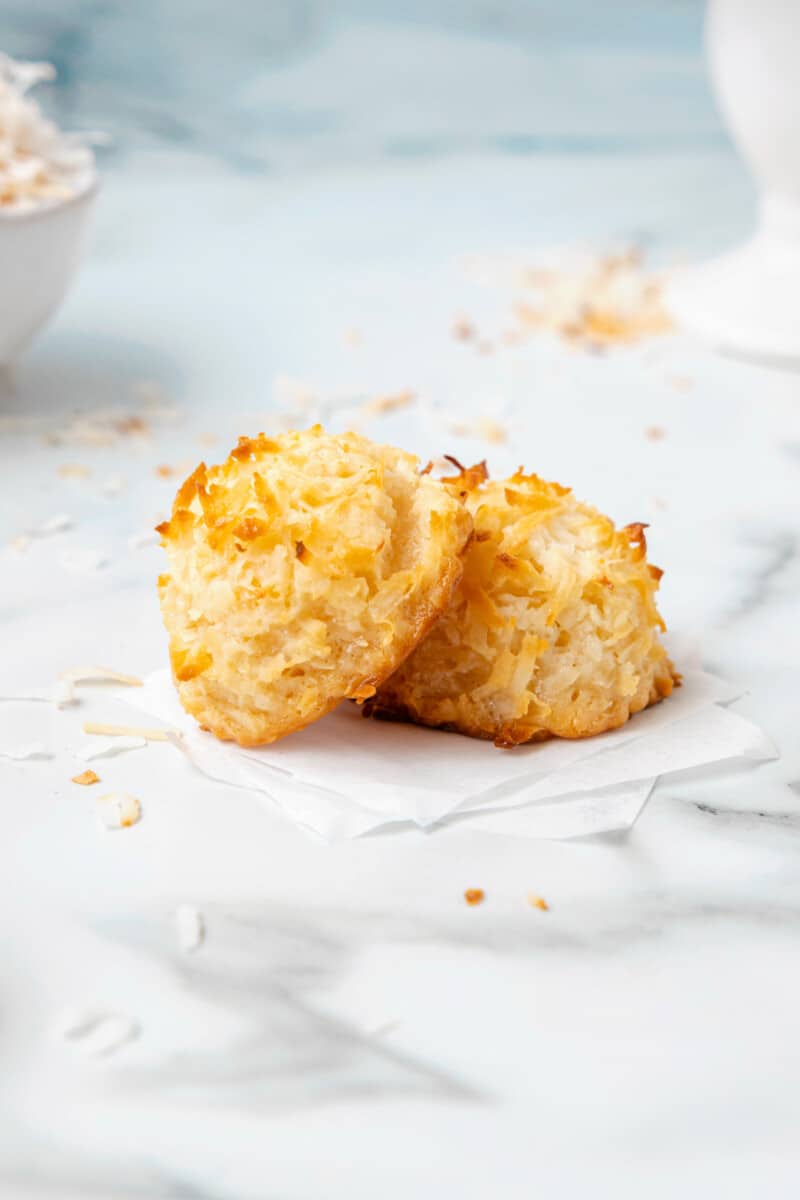 How to Make Macaroons
You can jump to the recipe card for full ingredients & instructions!
Preheat the oven and prepare the sheet pans.
Mix the coconut with everything but the egg whites.
In another bowl, whip the egg whites before folding them into the coconut mixture.
Scoop the batter onto the sheet pan to form the cookies.
Bake until the edges are golden.
Let the cookies cool, and enjoy!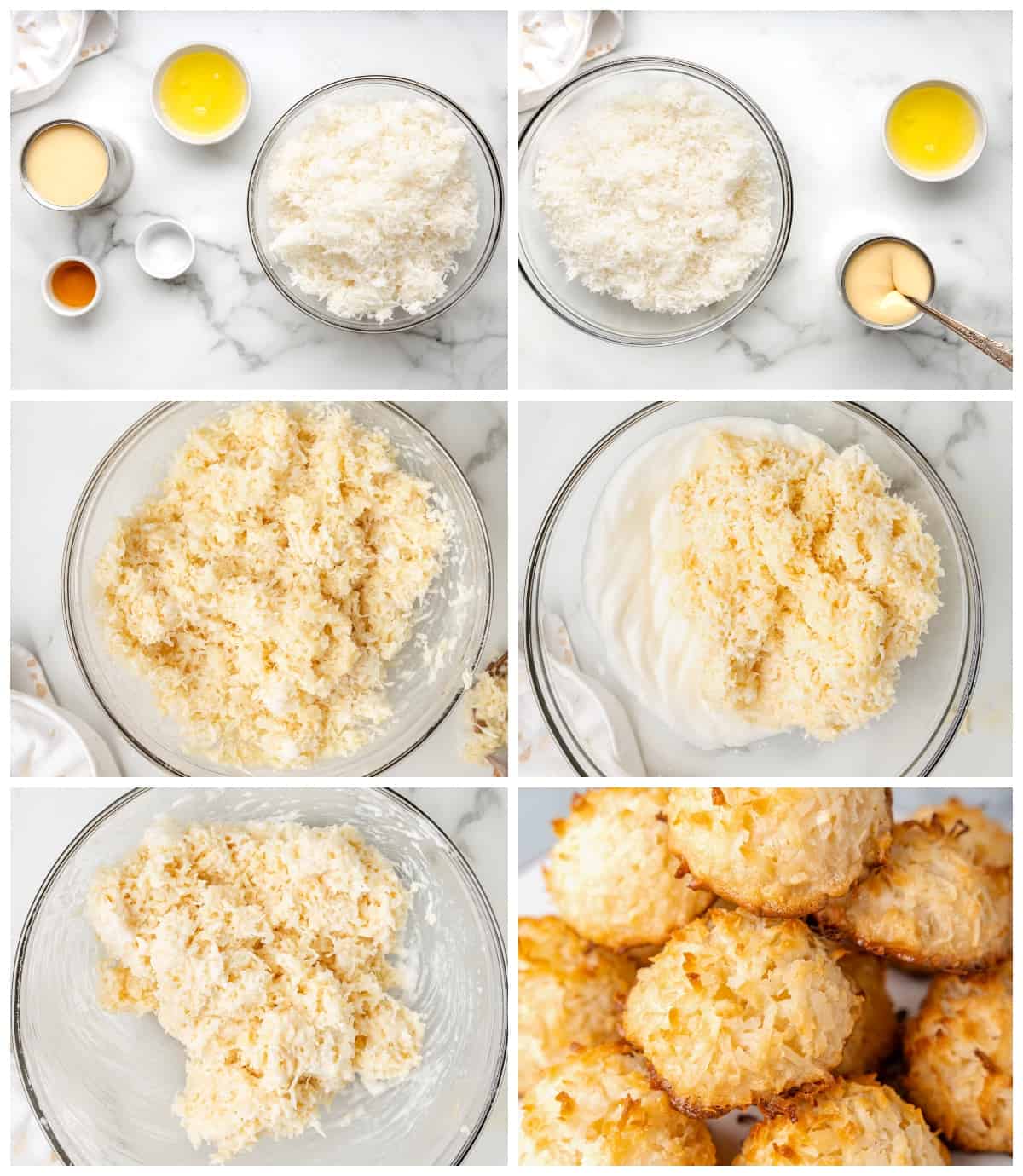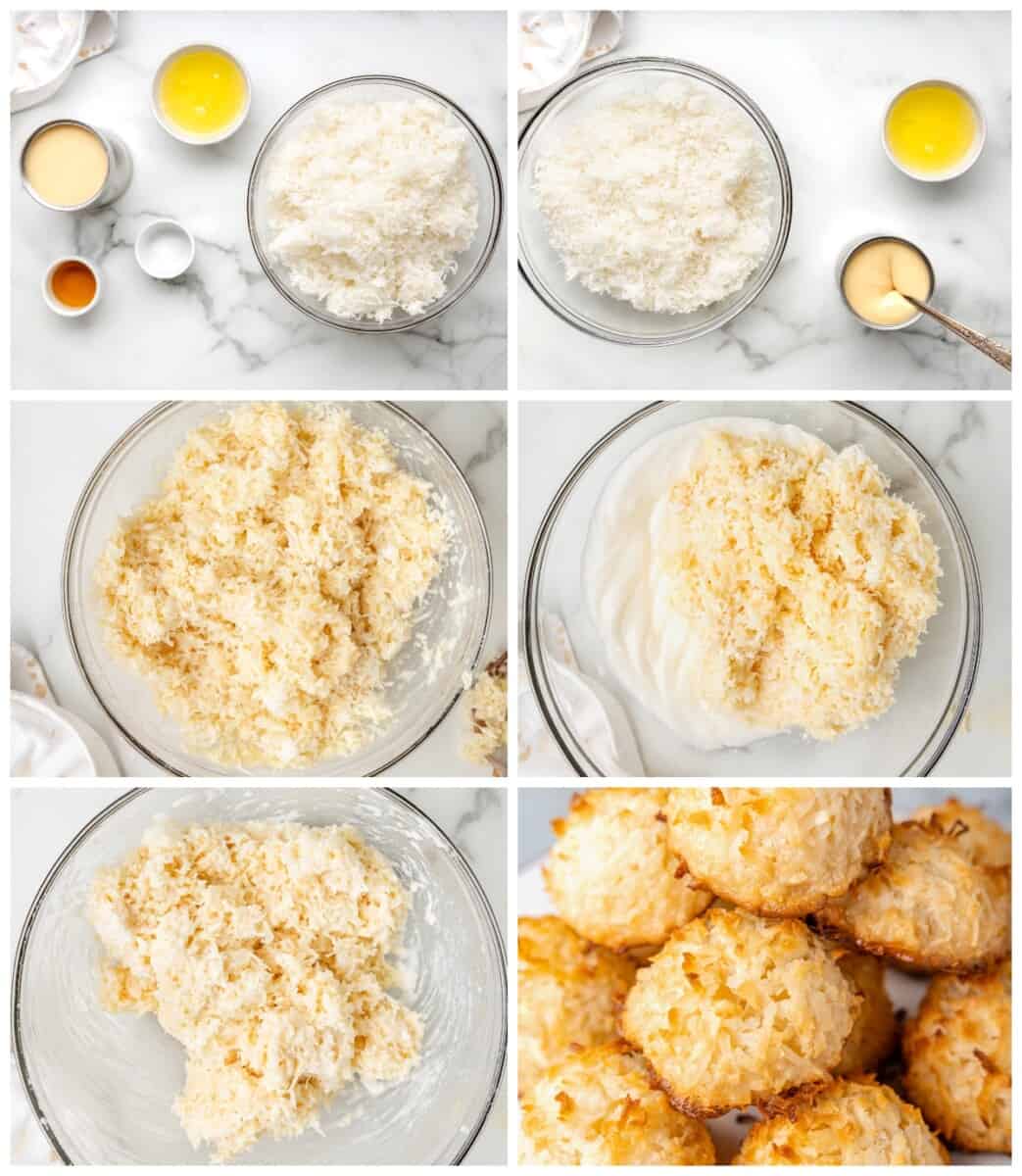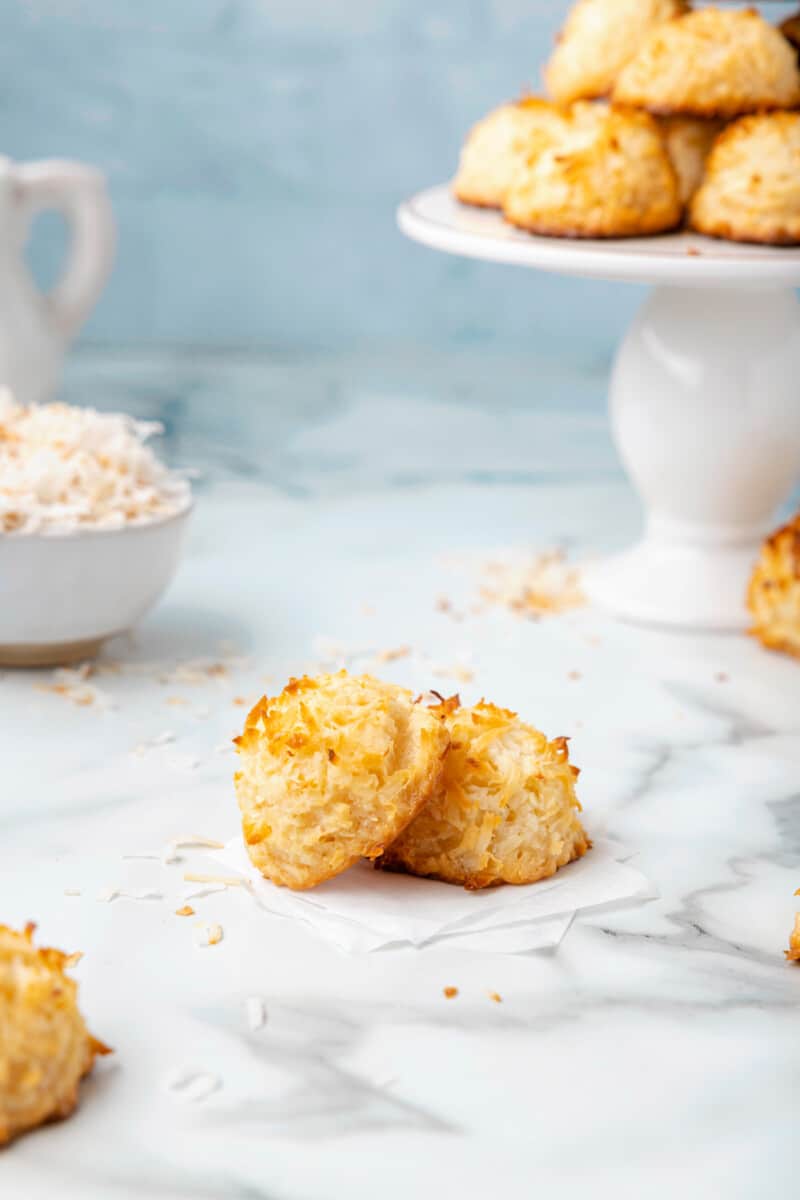 What is a macaroon?
A macaroon is a dense and chewy cookie made from shredded coconut stirred into whipped egg whites and sugar.
How do you pronounce macaroons?
The proper pronunciation is mac-uh-roons, not to be confused with the French macarons (mac-uh-rohns).
Where are macaroons from?
Macaroons are from Italy.
What's the difference between macaroons and macarons?
While the cookies have similar origins and ingredients (hence their similar names), macarons are made with almond flour and macaroons are made with sweetened flaked coconut. Macarons are the cookies that look like miniature colorful hamburgers, while macaroons look like mounds of fresh-fallen snow.
Are macaroons gluten-free?
Yes, this recipe is naturally gluten-free.
Can I make macaroons with unsweetened coconut?
Yes, there is still some sweetness from the sweetened condensed milk to make these enjoyable.
How many calories in a macaroon?
There are 157 calories in one macaroon.
Why are my macaroons dry?
One big reason the cookies might be dry is if you made them too small. You want to make sure you keep the cookies about the size of a golf ball. I like to use a cookie scoop to make sure they are the same size.
Why did my macaroons turn out flat?
If your macaroons spread and turned out flat during baking, you may not have whipped the egg whites enough, or you may have mixed them with the coconut mixture too vigorously. You want to make sure you whip the egg whites to medium peaks and that you very gently combine them with the coconut mixture to keep as much air as possible.
How long do macaroons last?
Macaroons will last in an airtight container at room temperature for about 1 week.
Can you freeze macaroons?
Yes, you can freeze macaroons in an airtight container for up to 3 months.
Coconut Macaroons Dipped in Chocolate
To dress up these coconut macaroons even more, try dipping them in chocolate. Wait for them to cool completely, then dip one side in melted chocolate, and place them on a baking sheet lined with parchment paper. You could also just drizzle melted chocolate on top if you prefer.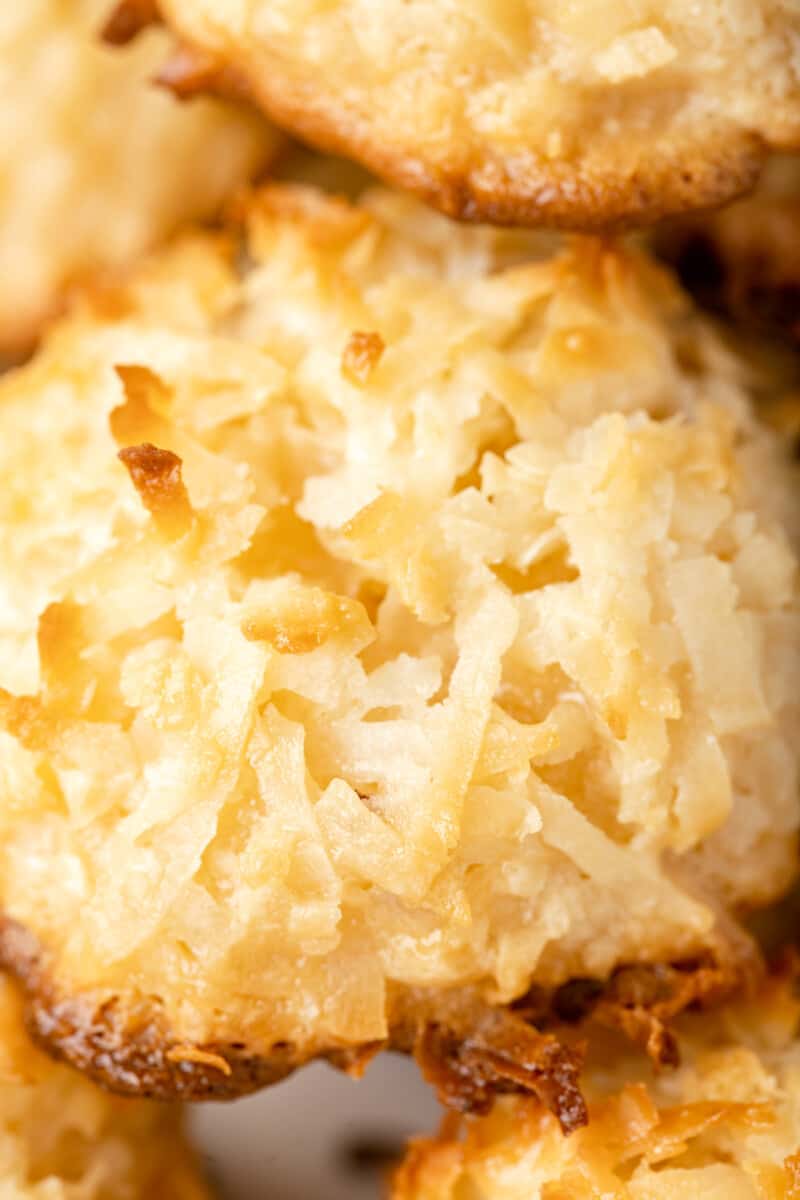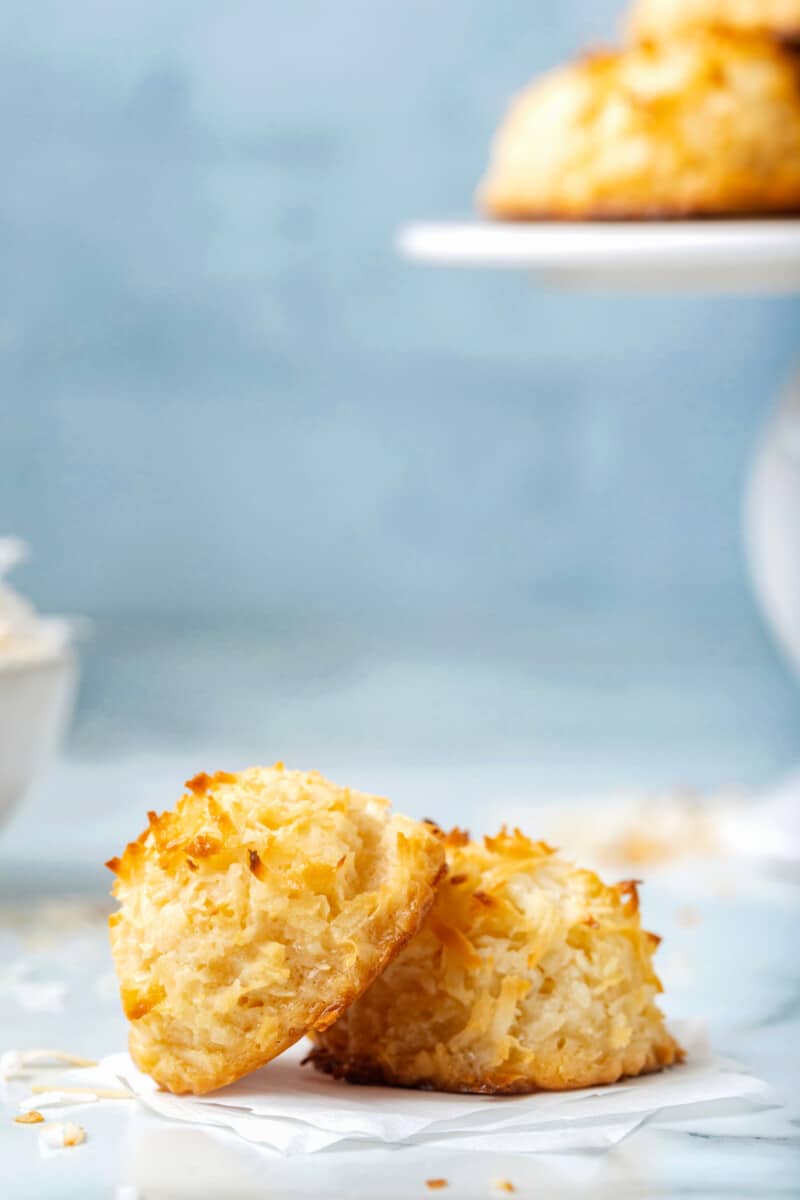 Storage Instructions
Store leftover coconut macaroons in an airtight container at room temperature or in the refrigerator for up to 1 week.
Freezing Instructions
Freeze coconut macaroons in a single layer on a lined baking sheet until solid, about 1-2 hours. Transfer to an airtight container or Ziplock bag to store for up to 3 months. Let thaw at room temperature before enjoying.
Variations
For less sweet macaroons, feel free to use unsweetened coconut.
You can swap the vanilla extract for almond or coconut extract.
Try mixing in ½ cup of sprinkles, chocolate chips, chopped nuts, or even dried fruit.
Dip the baked and cooled macaroons in melted chocolate, or drizzle some over top!
Tips for the Best Coconut Macaroons
Eggs are easier to separate when cold, but egg whites are easier to whip at room temperature. Separate your eggs straight from the fridge and leave them to come to room temperature before using.
For a richer coconut flavor, toast the coconut flakes at 350°F for about 5 minutes.
Make sure there are no traces of egg yolk in your whites; otherwise, they will not whip properly.
Be sure to use a clean mixing bowl without any fatty residue for whipping the egg whites; otherwise, they will not whip properly.
Gently fold the coconut mixture into the egg whites to keep as much air as possible in the mixture.
Use a cookie scoop to make equal-sized cookies.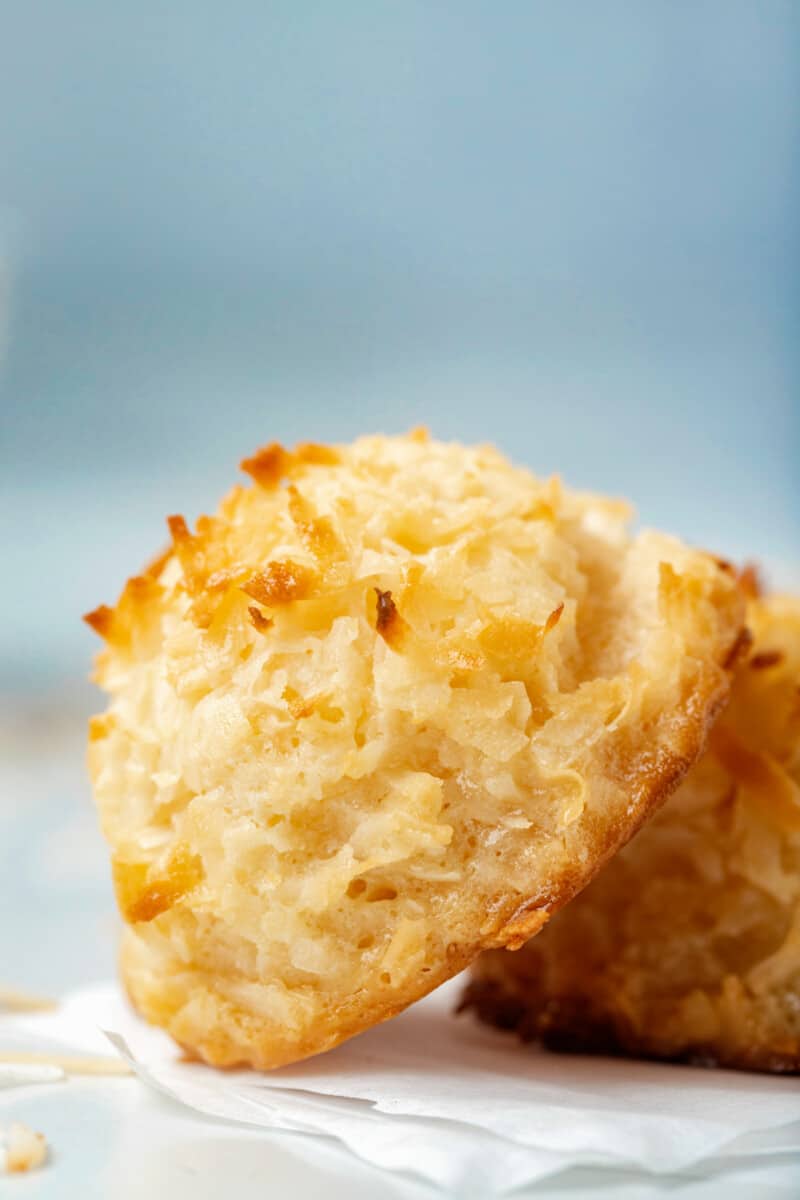 Coconut macaroons are heavenly, whether plain or dipped in melted chocolate. Trust me when I say you will love these simply irresistible treats!
If you make this recipe be sure to upload a photo in the comment section below or leave a rating. Enjoy! You can also jump to recipe.