These Candy Bar Rice Krispie Treats are the perfect Halloween treat, or a great way to use up your Halloween candy! Easy and quick to make with simple pantry ingredients, they're perfect to serve at parties!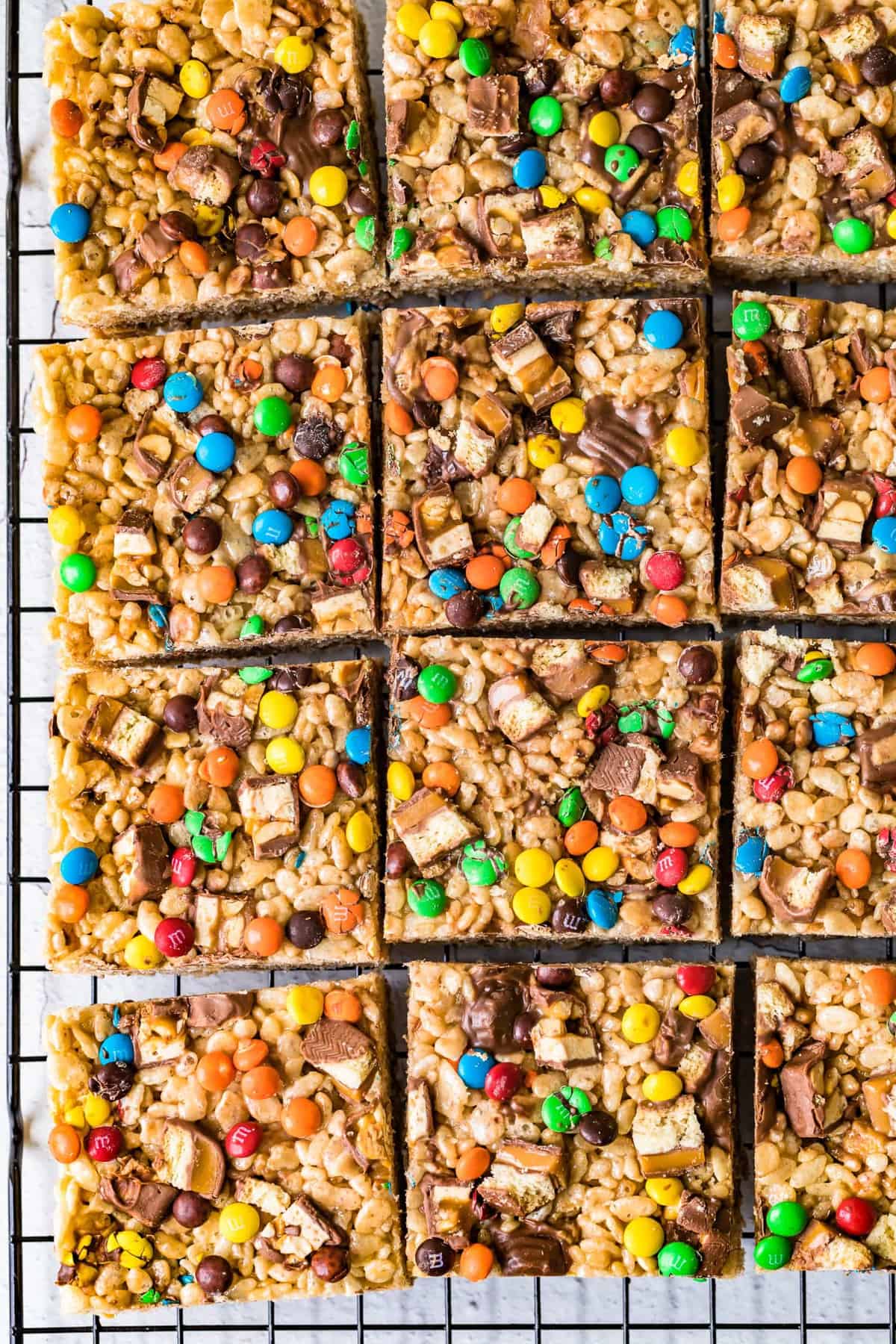 I have got the perfect Halloween treat for you, that kids and adults will all love! Fun to make, it's a great way to use up all the candy collected from trick or treating!
How to Make These Candy Bar Rice Krispie Treats
Spray a 13×9-inch baking pan with nonstick cooking spray.

Make one aluminum foil sling by cutting one piece of foil 18-inches long and folding it 8-inches wide. Fit the foil into the length of the pan, pushing it against the sides and corners of the pan. The excess should hang over about 2-inches on the sides.

Cut another piece of foil 14-inches long ((if using extra large foil, fold it to a 12-inch width.) and fit it, perpendicular, over the first sheet. Again, the foil should have an excess of a couple of inches on each end.

Spray the foil pieces with nonstick cooking spray.

Spray a rubber spatula with non-stick cooking spray.

Cut the candy bars into 8 pieces each and combine all candy in a medium-size mixing bowl. Mix well.

Melt the butter in a large Dutch oven set over medium-low heat. Add marshmallows, vanilla and salt. Cook and stir with sprayed spatula (re-spraying as needed) about 3 minutes or until marshmallows are just melted.

Remove from the heat and stir in cereal and half of the candy mixture. Stir until the candy is fully incorporated.

Spray the spatula or spray your hands and pour the mixture into the prepared pan. Press the Rice Krispie/marshmallow mixture evenly into the pan. Top with the remaining candy and lightly press the candy into the cereal mixture.

Set the Rice Krispie Treats on a cooling rack and let sit for 1 hour to firm. After an hour, lift the Krispies by the foil sling and return to the cooling rack to cool completely. Cut into equal-sized 12-24 bars.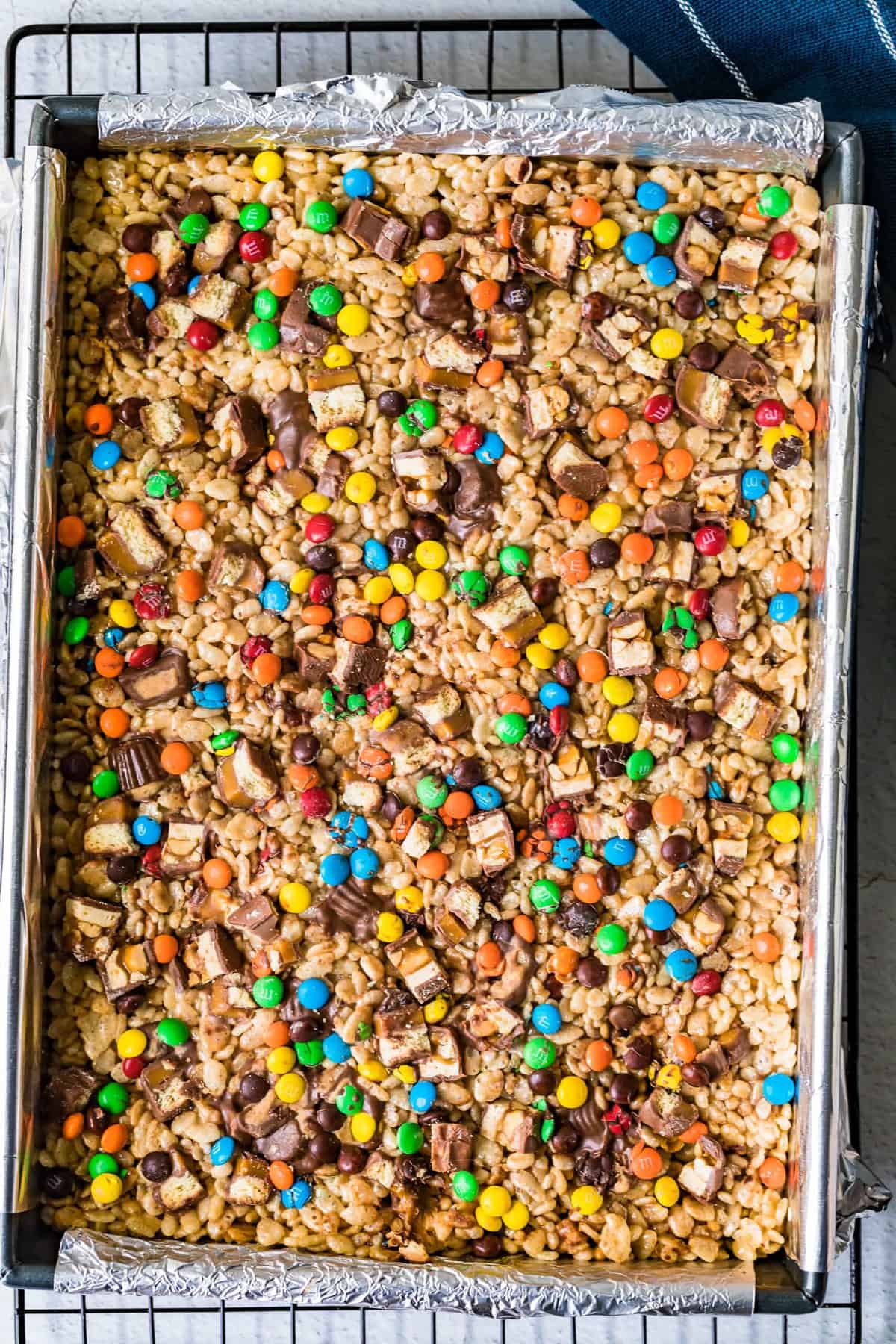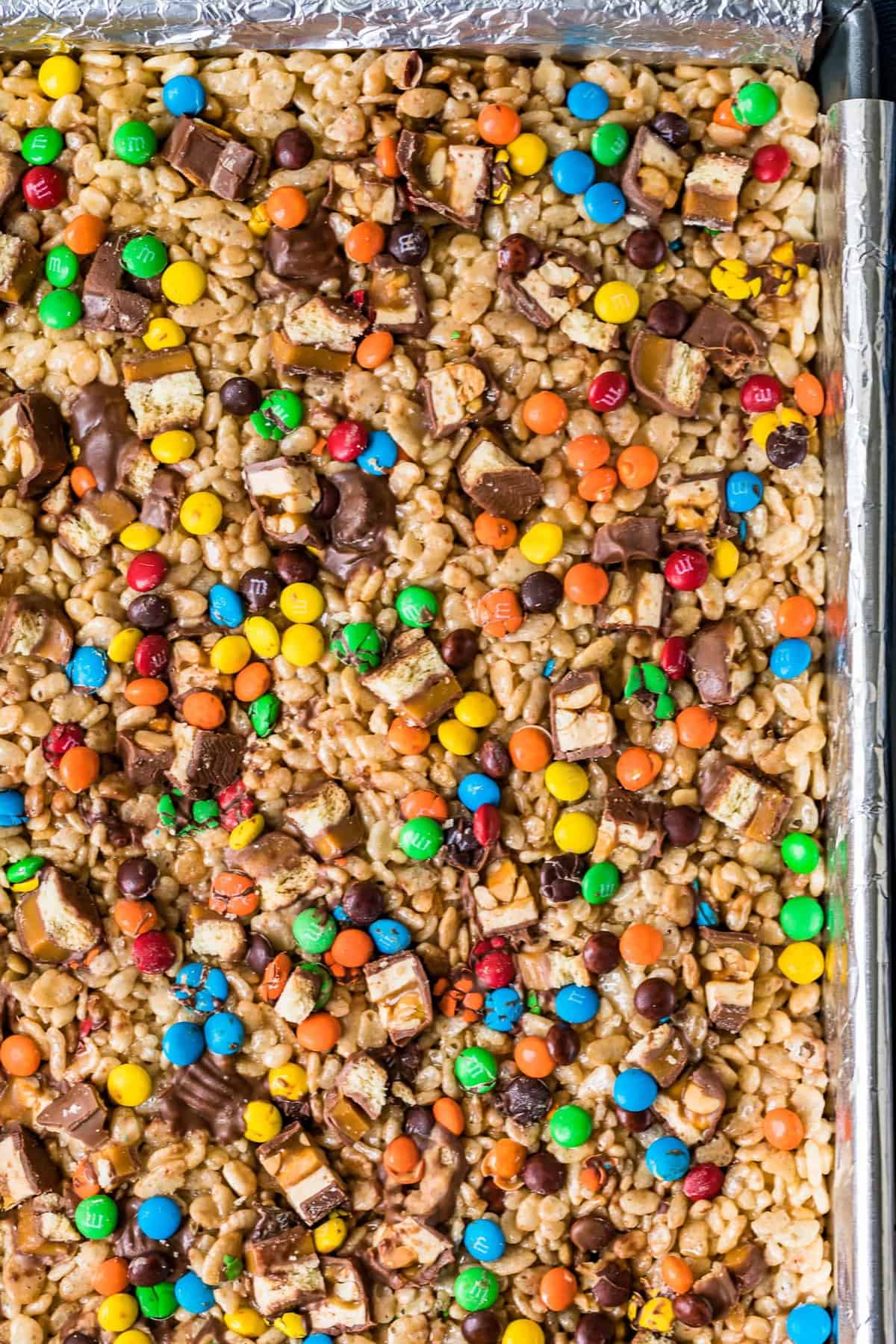 Loaded Rice Krispie Treats
I love how colorful and fun these treats are, and they're a great recipe to get the kids to help with too! I use M&Ms, Twix, Snickers and Peanut Butter Cups, but you can use your favorite chocolate candies! They take no time at all to make and bake, you just have to be patient and let them cool before you eat them!
The best rice krispie treats!
These treats are everything that a rice krispie bar should be! Deliciously crunchy and chewy and perfect for any sweet tooth! The recipe makes a big batch, so they're great to hand out to the neighborhood kids this Halloween.
Try these other rice krispies recipes too!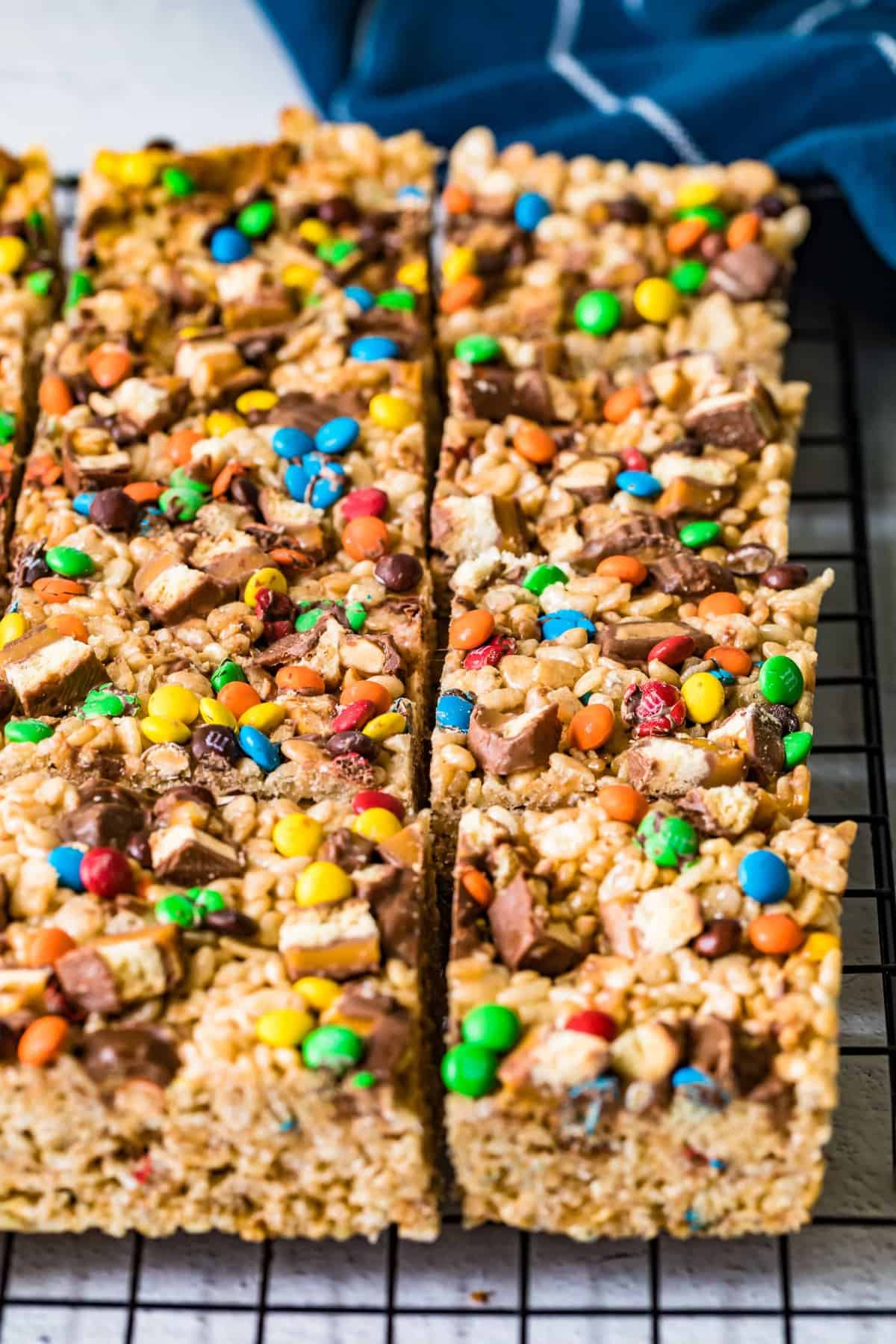 How long do rice krispie treats stay fresh?
Once the rice krispie treats have cooled to room temperature, store then in an airtight container at room temperature. They will keep fresh for around a week. Be sure to make a double batch!
Top Tips to Make This Recipe
Feel free to whatever chocolate based candy you have left over!
Line a pan with foil and spray with cooking oil for easy removal.
Allow the krispies to cool completely before serving.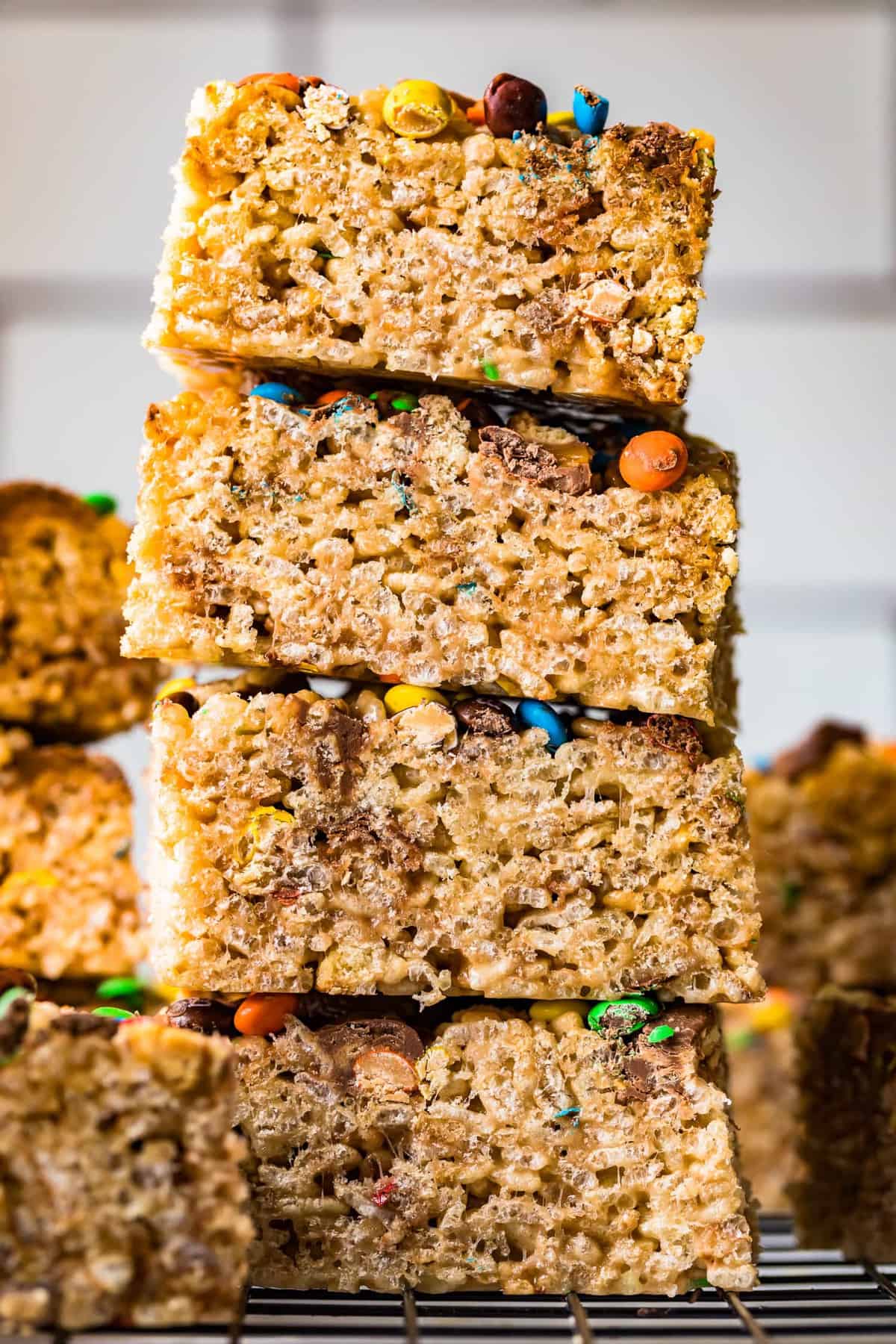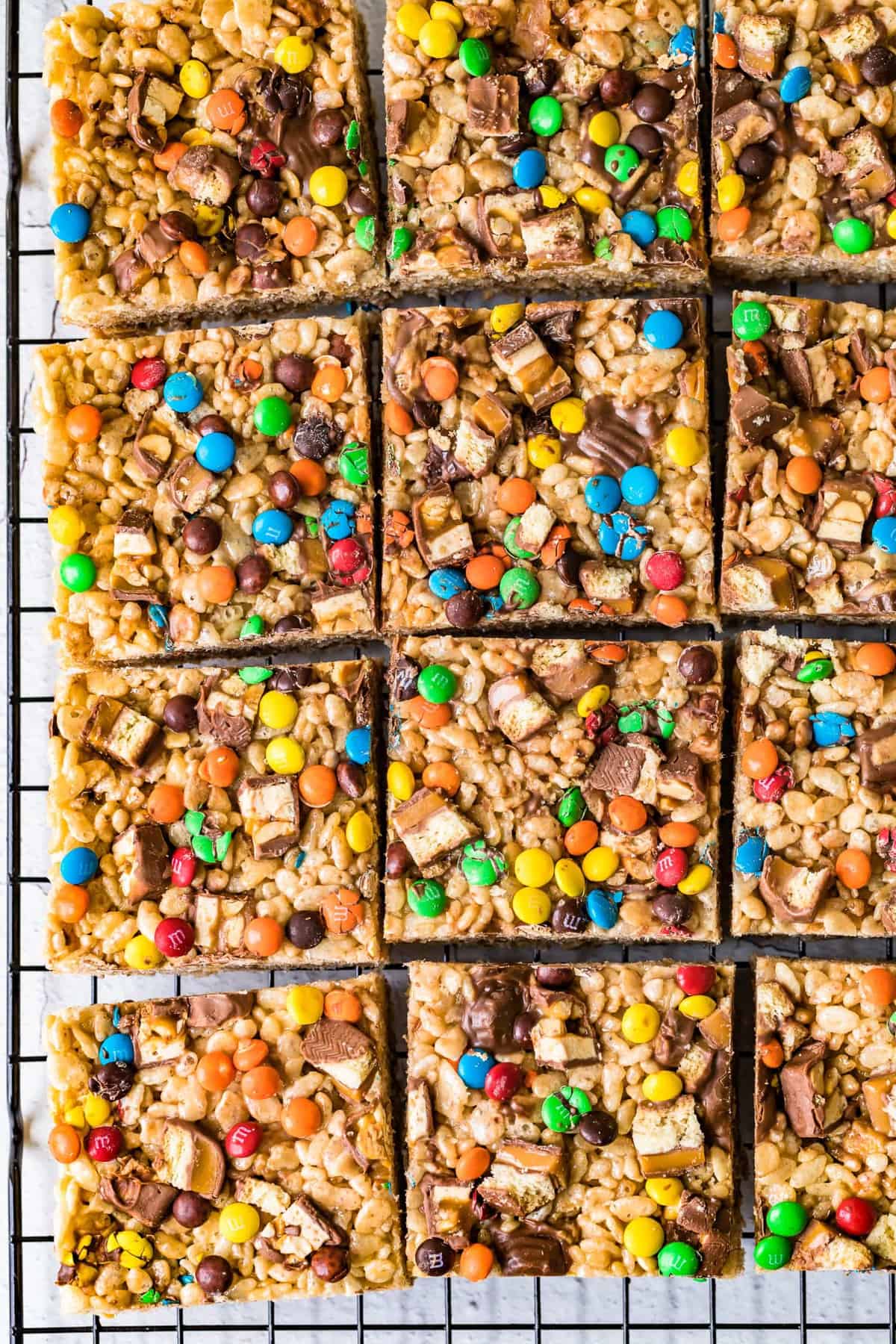 Be sure to check out these other Halloween treats!