This Chocolate Pound Cake is sure to satisfy the sweet tooth of any chocolate lovers! The rich chocolate glaze paired with the moist pound cake makes this the perfect dessert for any elegant evening at home or for sharing with others.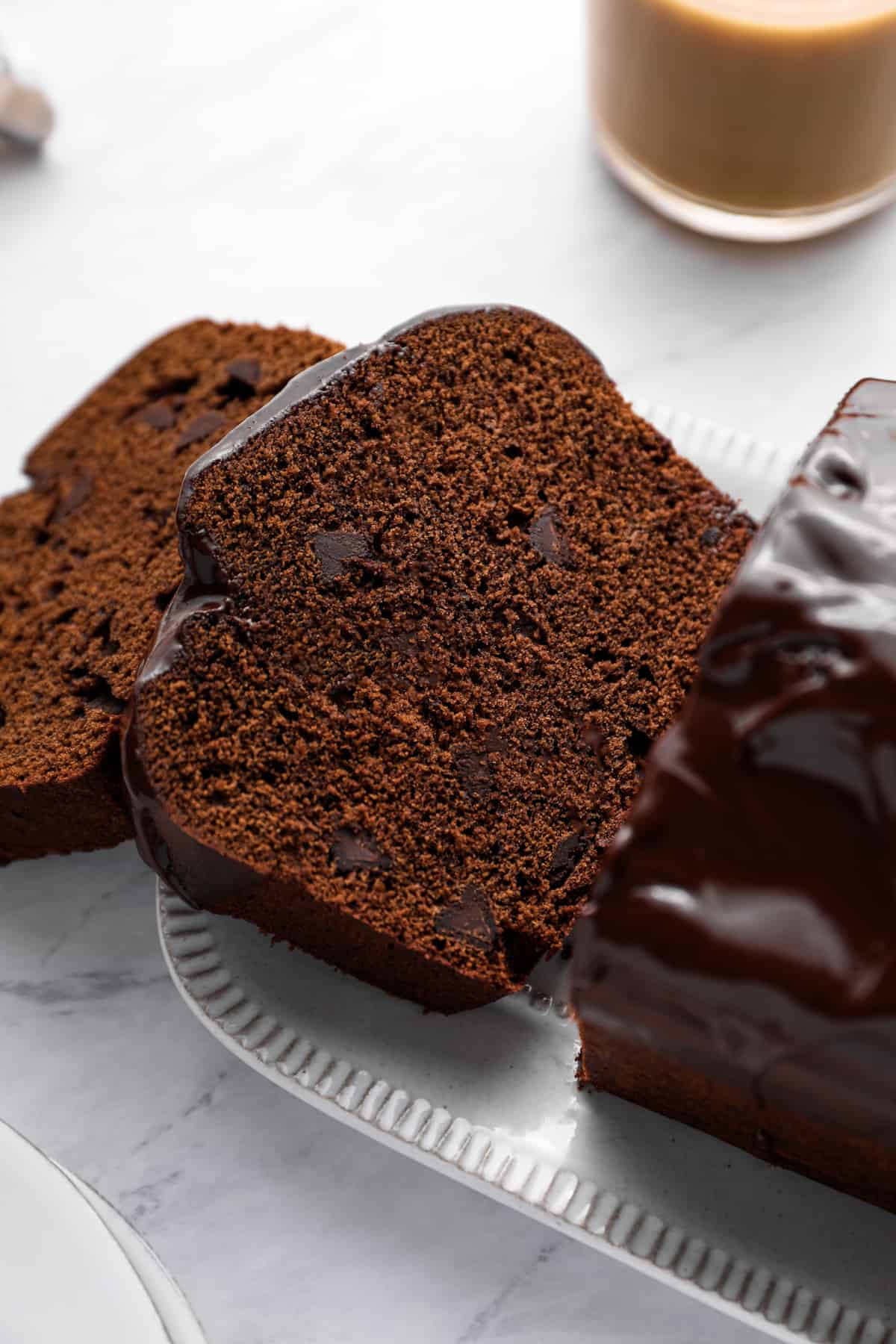 Chocolate Pound Cake Loaf
This easy Chocolate Pound Cake is made from simple ingredients that create a moist cake with a rich chocolate flavor. It's irresistible!
Make this chocolate loaf cake any time you need a simple dessert that will satisfy those cravings. Everyone will be digging in for more!
Why You'll Love this Chocolate Pound Cake Recipe:
Chocolatey: The combination of cocoa powder, espresso powder, and chocolate chips creates a decadent chocolate pound cake with deep chocolate flavor.
Simple Ingredients: All ingredients listed are simple and easy to find in any grocery store.
Easy: Despite any intimidation you may feel about making this delicious chocolate pound cake, the process is actually extremely easy and so worth the effort!
Impress friends and family with this easy chocolate pound cake recipe! This chocolate lover's dream is just one of many classic pound cake recipes that every home cook should try at least once.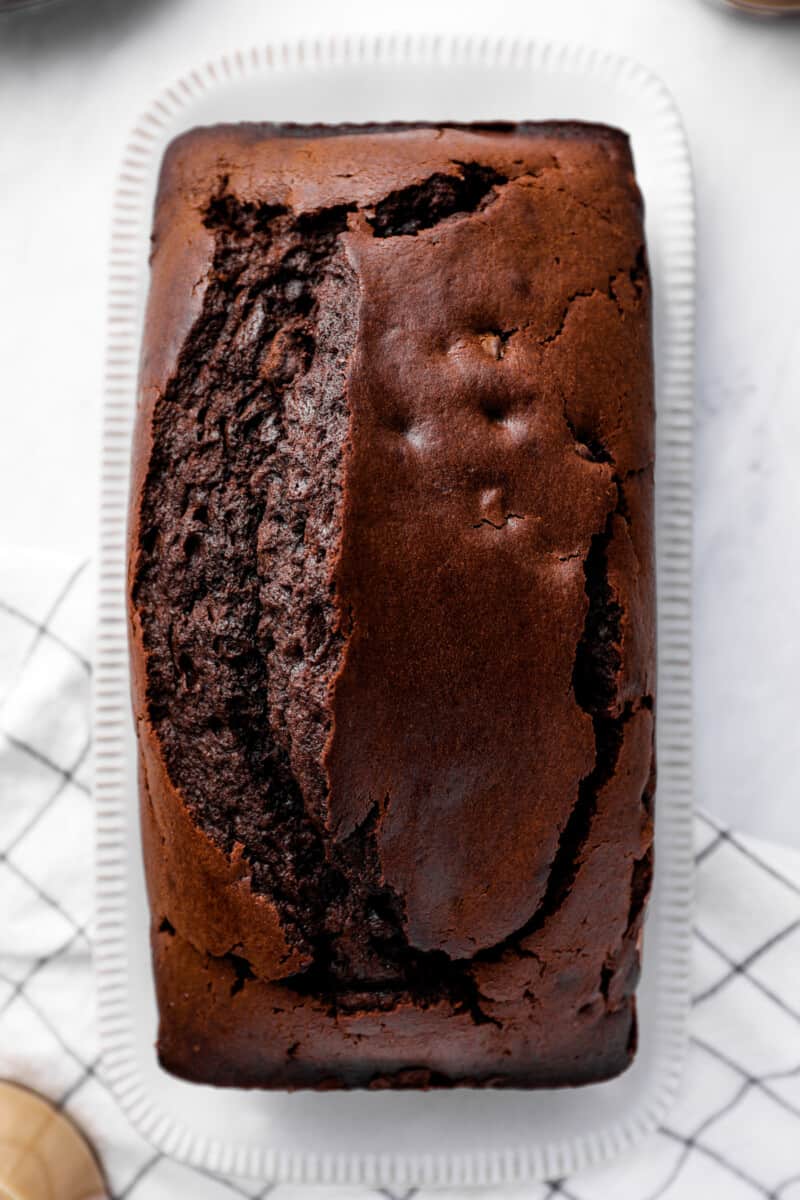 How to Make Chocolate Pound Cake
You can jump to the recipe card for full ingredients & instructions!
Coat a loaf pan with non-stick spray and line with parchment paper before setting aside.
Combine flour, cocoa powder, baking powder, baking soda, and salt in a large bowl and set aside.
Combine espresso powder and water in a measuring cup and set aside.
Beat the butter and sugar together in a stand mixer then add in eggs and vanilla.
Add the dry ingredients mix in batches to the stand mixer then add in the espresso mixture.
Fold in the chocolate chips then pour the cake batter into the prepared pan.
Bake in the oven then cool completely.
Place a heat-proof bowl over a pot of boiling water and melt chocolate, butter, and corn syrup together.
Pour the glaze over the cooled pound cake and serve.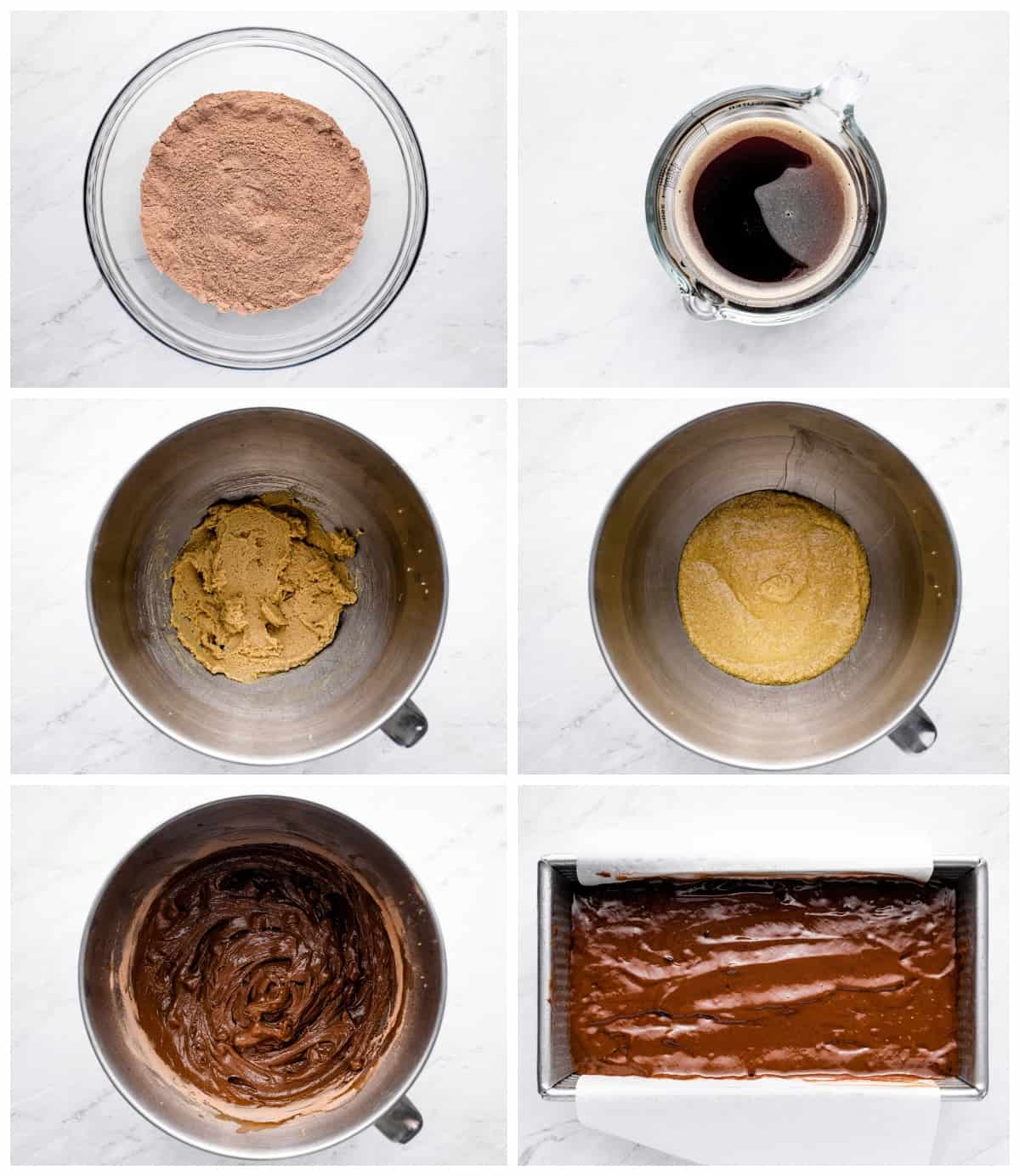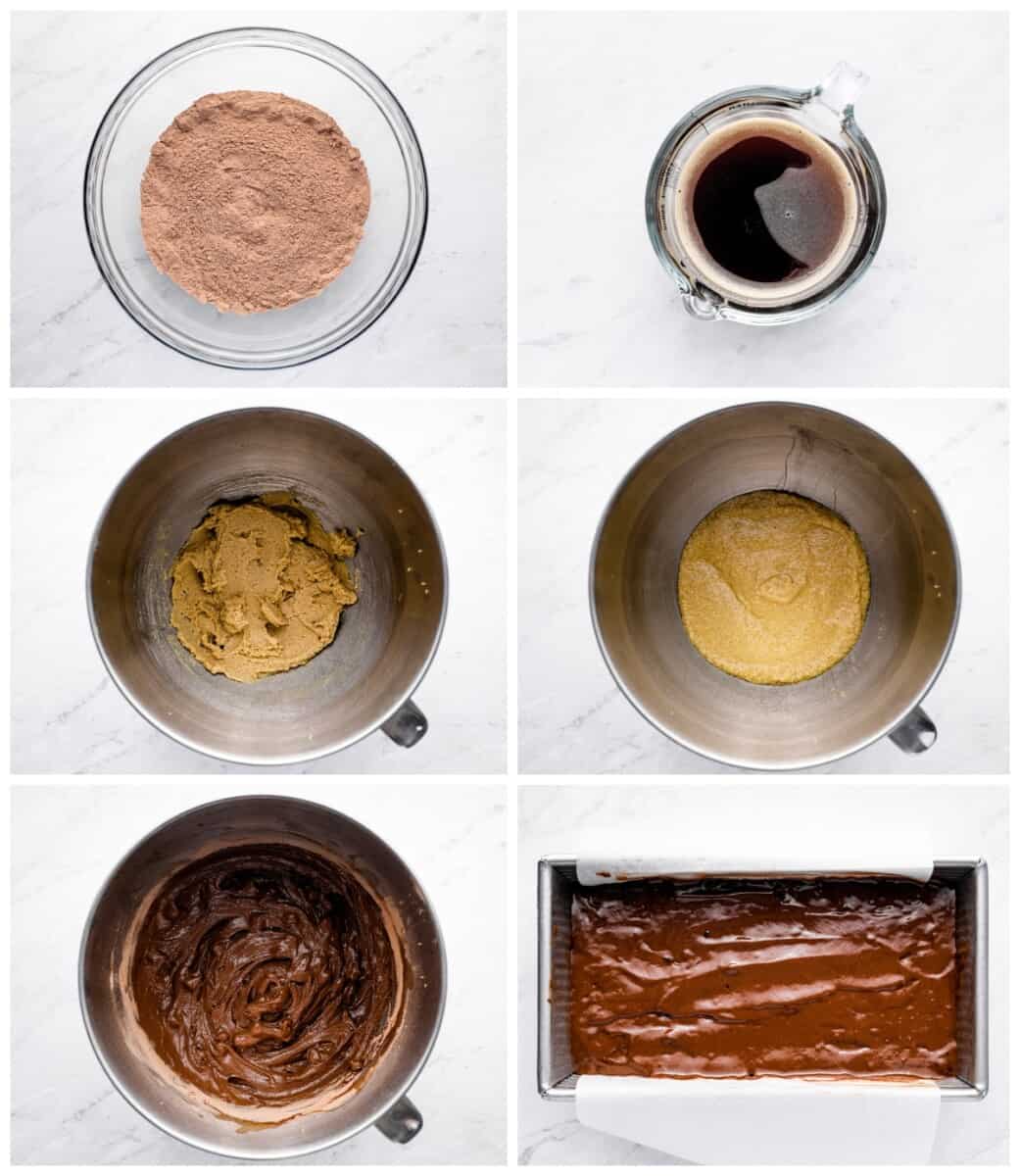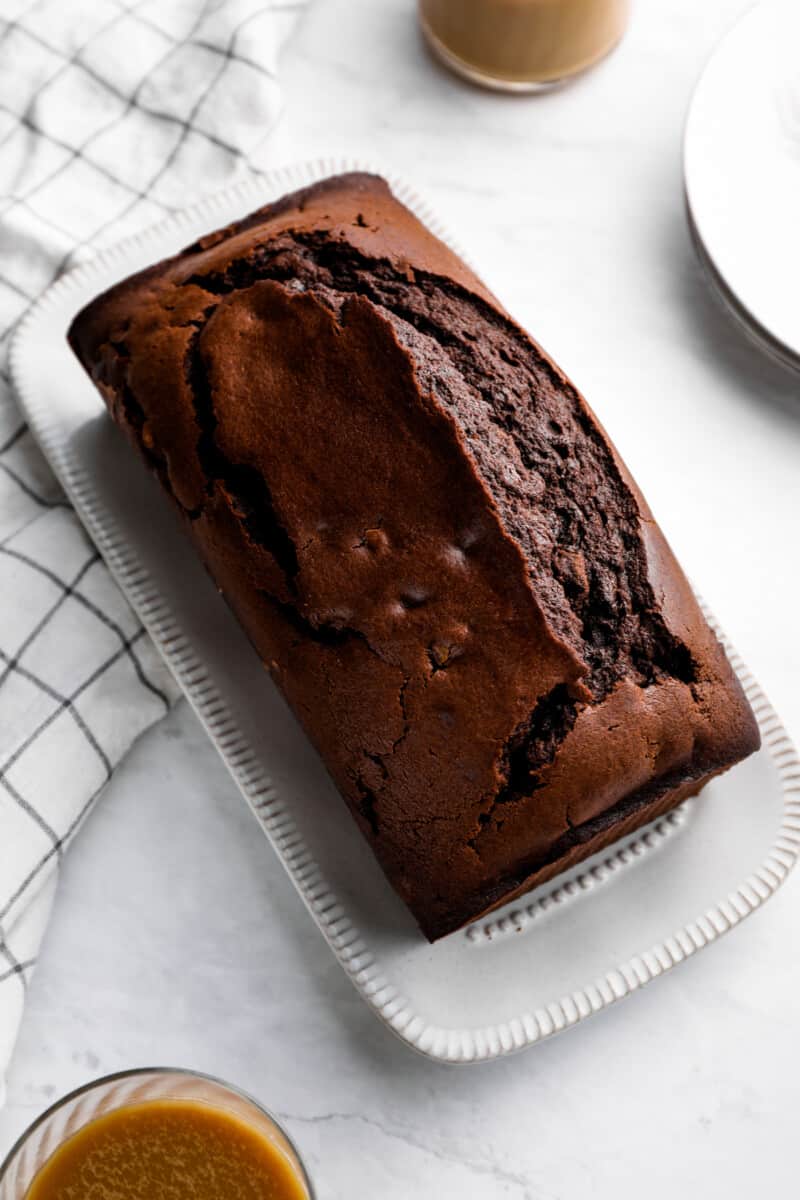 Why is it called pound cake?
Pound cake got its name from the ratio of the ingredients. The original pound cake had one pound each of butter, sugar, eggs, and flour.
How is a chocolate pound cake different from a regular chocolate cake?
Chocolate pound cake is much richer, denser, and butterier than a regular chocolate cake. It is also typically baked in a loaf pan and enjoyed in slices.
What's the best flour to use for chocolate pound cake?
The best flour for pound cake is cake flour, since it adds lightness. All-purpose flour will also work, but it will produce a denser cake.
What kind of cocoa powder should I use in chocolate pound cake?
While you can use any unsweetened cocoa powder you prefer, I like to use natural cocoa powder here because the baking soda helps to neutralize the acidity of natural cocoa powder, letting its rich flavor shine.
How do I make chocolate pound cake moist?
The secret here is to measure your ingredients properly. Use the spoon-and-level method to measure your flour to ensure that you don't end up with too much flour. Too much flour will dry out your pound cake. Also, pound cakes are easy to overbake, so I recommend using an instant-read thermometer to check for doneness. The cake is done when it reaches 210°F internally.
What's the secret to a good chocolate pound cake?
For the best chocolate pound cake, make sure that your ingredients are all at room temperature. This will ensure that they combine well and without lumps.
Why did my chocolate pound cake sink in the middle?
If your pound cake sinks in the middle or has dense, gluey streaks, you likely overmixed your batter. Overmixing the batter causes too much gluten to develop, which causes the cake to rise well but sink as soon as it leaves the oven.

Serving Suggestions
This perfect chocolate pound cake pairs beautifully with the following foods:
A scoop of vanilla ice cream.
Fresh berries (blueberries, raspberries, strawberries).
Crushed peppermints (sprinkled on top).
Afternoon or evening espresso.
Sliced almonds.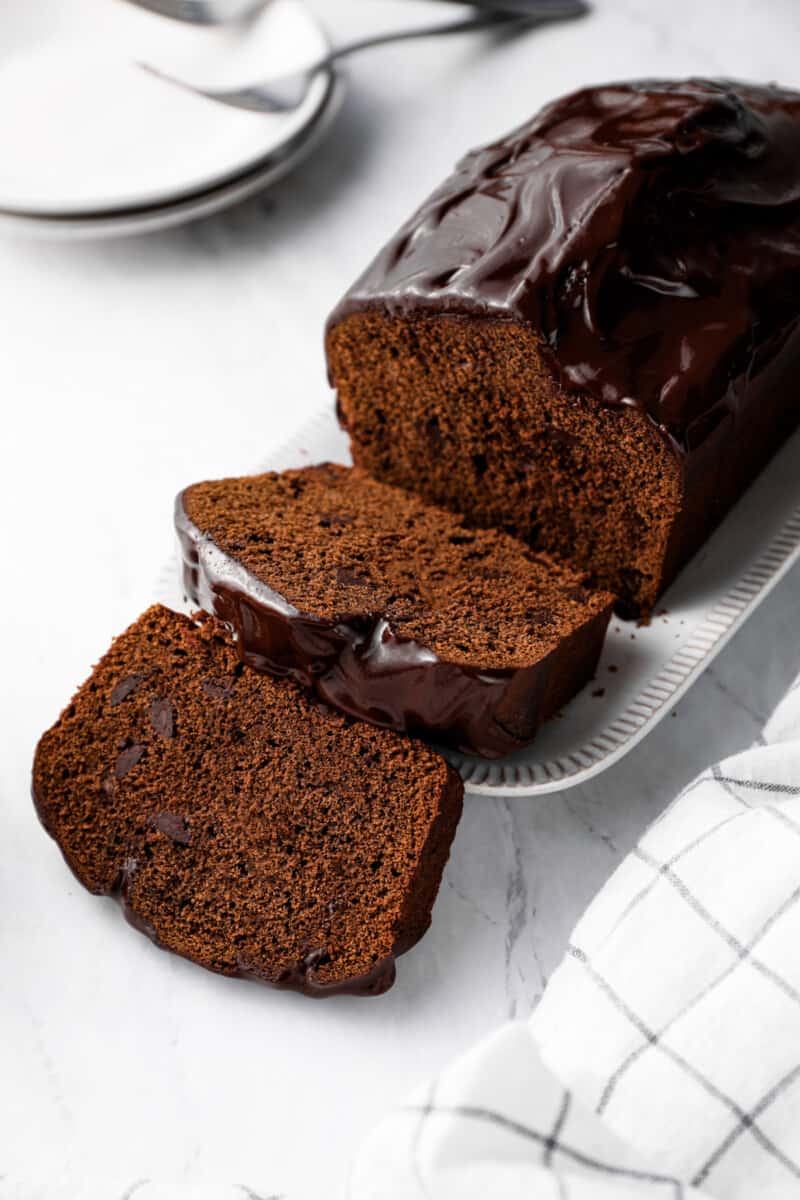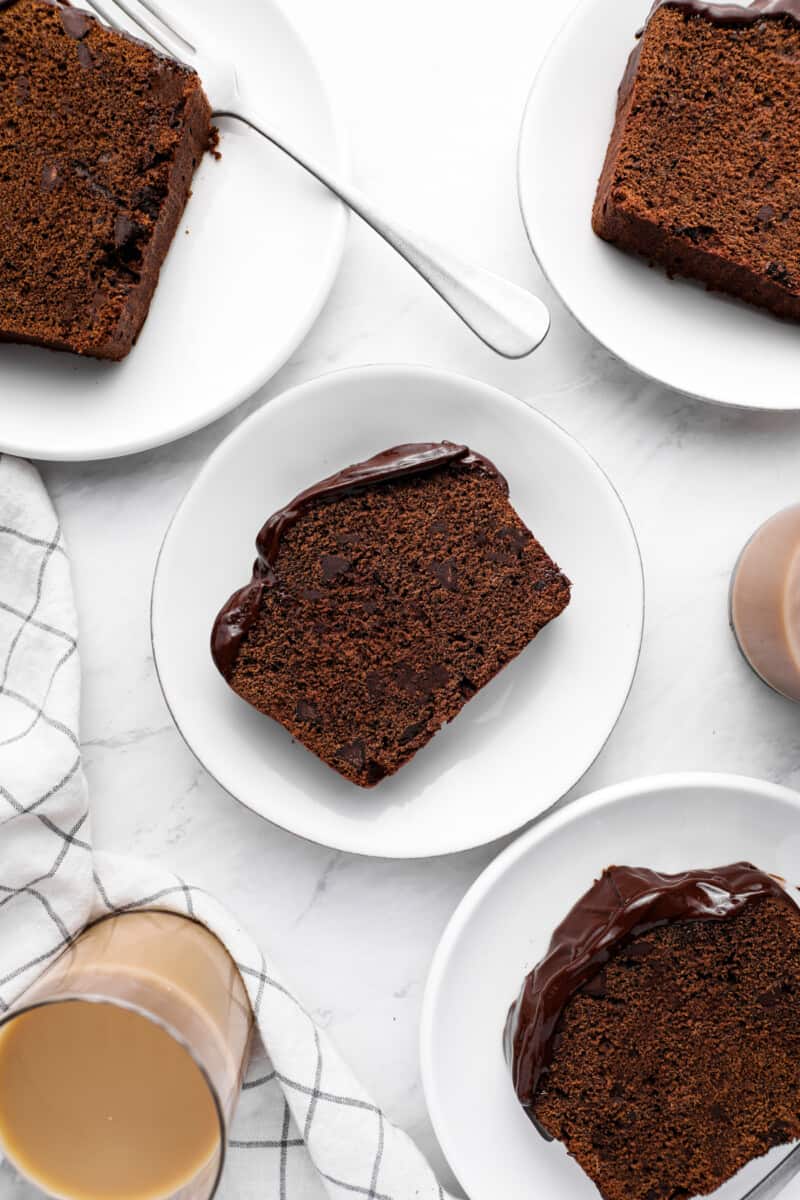 Make Ahead Instructions
You can make this chocolate pound cake up to 1 day in advance of when you plan to serve it. In fact, some people swear that pound cake is best when left overnight before slicing. Store the pound cake in an airtight container at room temperature until ready to serve.
Storage Instructions
Store leftover chocolate pound cake in an airtight container at room temperature for up to 2 days or in the refrigerator for up to 5 days. Enjoy at room temperature.
Freezing Instructions
Freeze chocolate pound cake whole or in individual slices tightly wrapped in 2 layers of plastic wrap and 1 layer of aluminum foil for up to 3 months. Let thaw overnight in the refrigerator before enjoying.
Substitutions
If you don't have cake flour, you can make your own by combining all-purpose flour with cornstarch.
You can use any unsweetened cocoa powder you have on hand, but I prefer natural cocoa powder!
In place of the espresso powder and water, you can use an equal amount of strongly-brewed coffee or espresso.
In place of the brown sugar, you can use granulated sugar, but the taste will be different.
You can omit the chocolate chips, if desired.
You can omit the corn syrup from the glaze, but it will not be as shiny.
Tips for the Best Chocolate Pound Cake
Use high quality cocoa powder, such as Ghirardelli, for the best flavor.
Use room temperature ingredients for the best results.
I do not recommend omitting the espresso powder from this recipe, as it helps to enhance the chocolate flavor.
Don't overmix the batter; otherwise, you'll end up with a gluey pound cake.
Take care not to overbake your pound cake. It is done when it reaches an internal temperature of 210°F.
Let the pound cake cool completely before glazing; otherwise, the glaze will run off.
Instead of using the glaze, you can simply dust this pound cake with powdered sugar.
If you can, wait until the next day to slice and enjoy this cake; you won't regret it!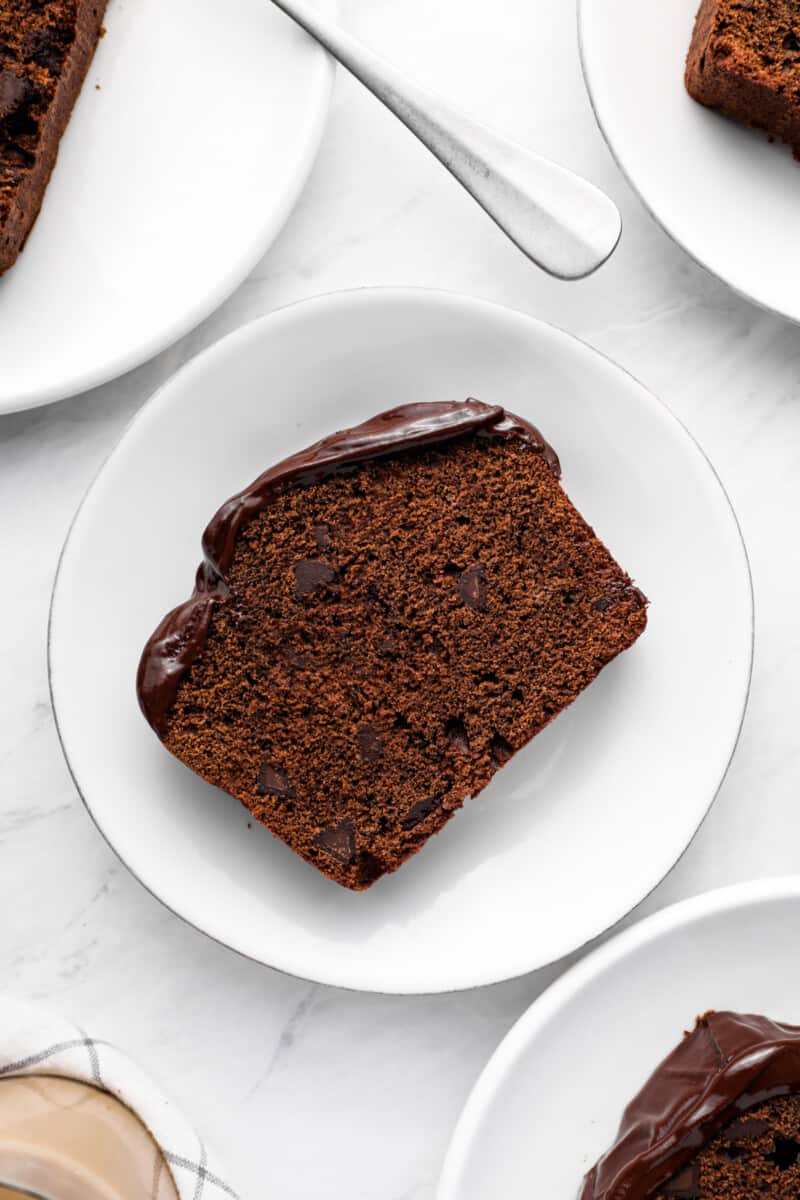 This Chocolate Pound Cake is an excellent choice to bring to your next holiday gathering or work event! For best results when making this recipe, be sure to read the full description, instructions, and notes included in the recipe card below.
If you make this recipe be sure to upload a photo in the comment section below or leave a rating. Enjoy! You can also jump to recipe.