Bacon Wrapped Scallops are a delectable appetizer for any party or special occasion. They have a savory, buttery flavor, with a bit of spice thanks to the hot pepper jelly on top. This bacon wrapped scallops recipe is so easy, and so delicious!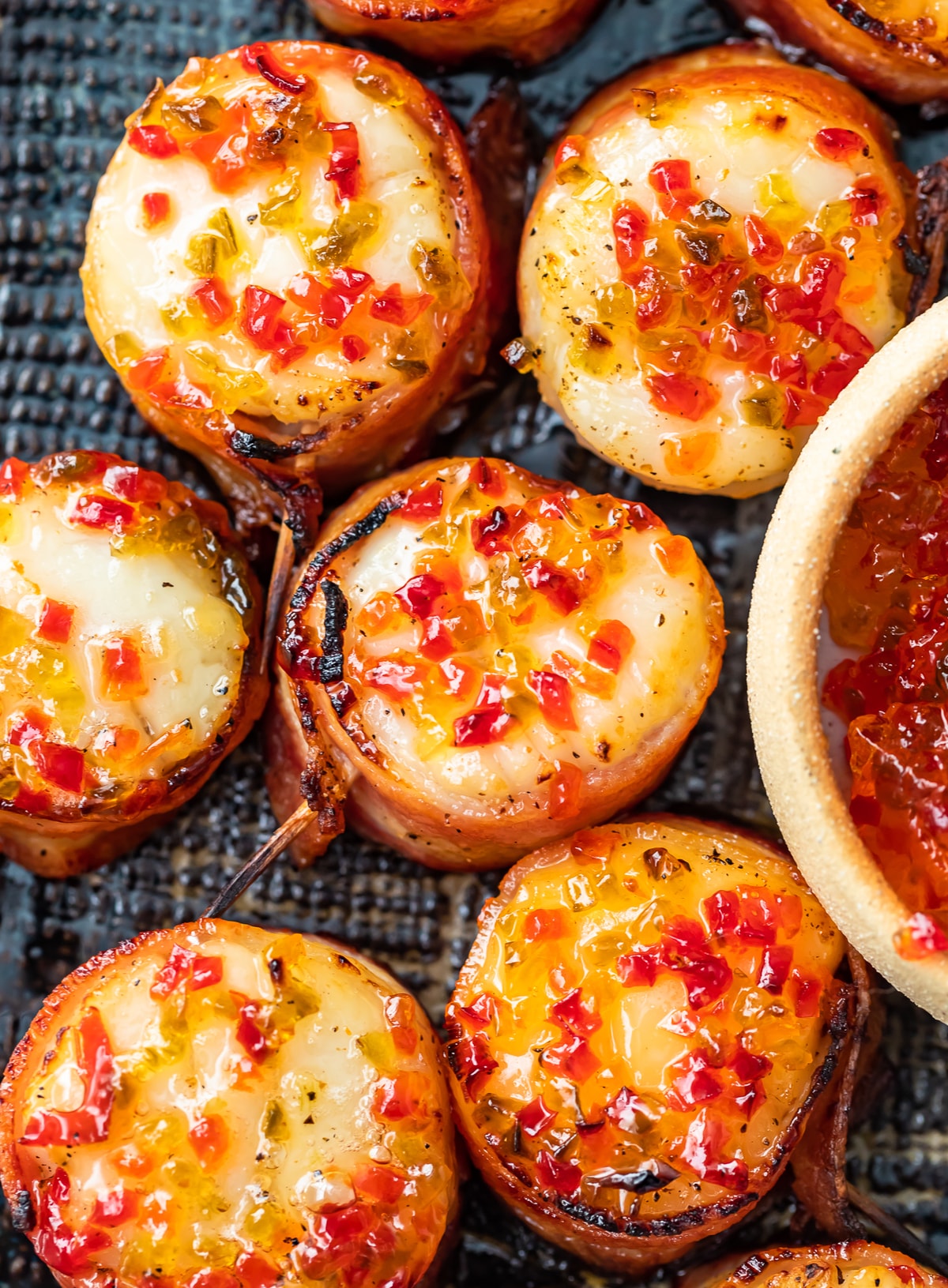 Bacon Wrapped Scallops (Sweet & Spicy)
This bacon wrapped scallops recipe is the perfect party appetizer. Scallops wrapped in bacon and topped with hot pepper jelly creates the perfect sweet and spicy balance!
You might know by now that bacon wrapped appetizers are one of my favorite things. I mean, who can resist something wrapped in bacon? Especially when that something is scallops!
This bacon wrapped scallops recipe brings all the best flavors together. You get a little bit of sweet, a little but of savory, and a little bit of spicy.
Scallops have such a light, almost buttery flavor, and it is perfectly complemented by the savory bacon and the spicy hot pepper jelly.
These sweet and spicy scallops are so easy to make, but will surely impress everyone! They make great appetizers for the Super Bowl, New Year's Eve, or any party that needs something special.
Make some Bacon Wrapped Scallops for your next party, event, or special occasion. They're so easy and so delicious!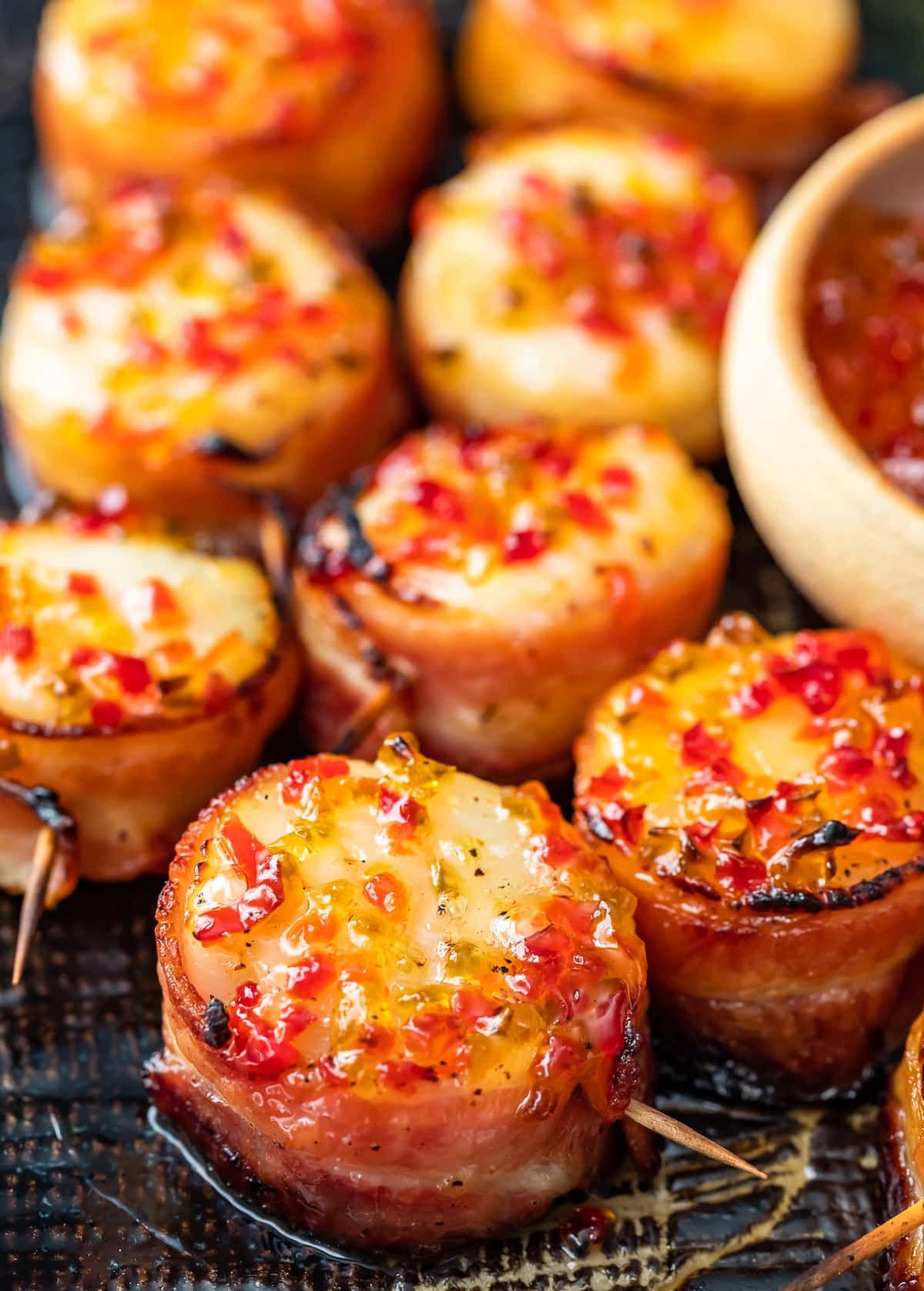 Bacon Wrapped Scallops in the Oven
I love how simple this bacon wrapped scallops recipe is. All you need are the scallops, bacon, a bit of salt, and some hot pepper jelly. That's an easy ingredient list to remember!
The scallops themselves don't need much cooking, just a quick broil once they've been wrapped in bacon. Overall, this recipe will take you maybe 30 minutes tops to make.
Which means these are great appetizers to throw together when you don't have much time. Scallops always seem fancy though, so everyone will be impressed, despite how little time you spent on them!
Be sure to try these simple seared scallops or creamy garlic scallops too!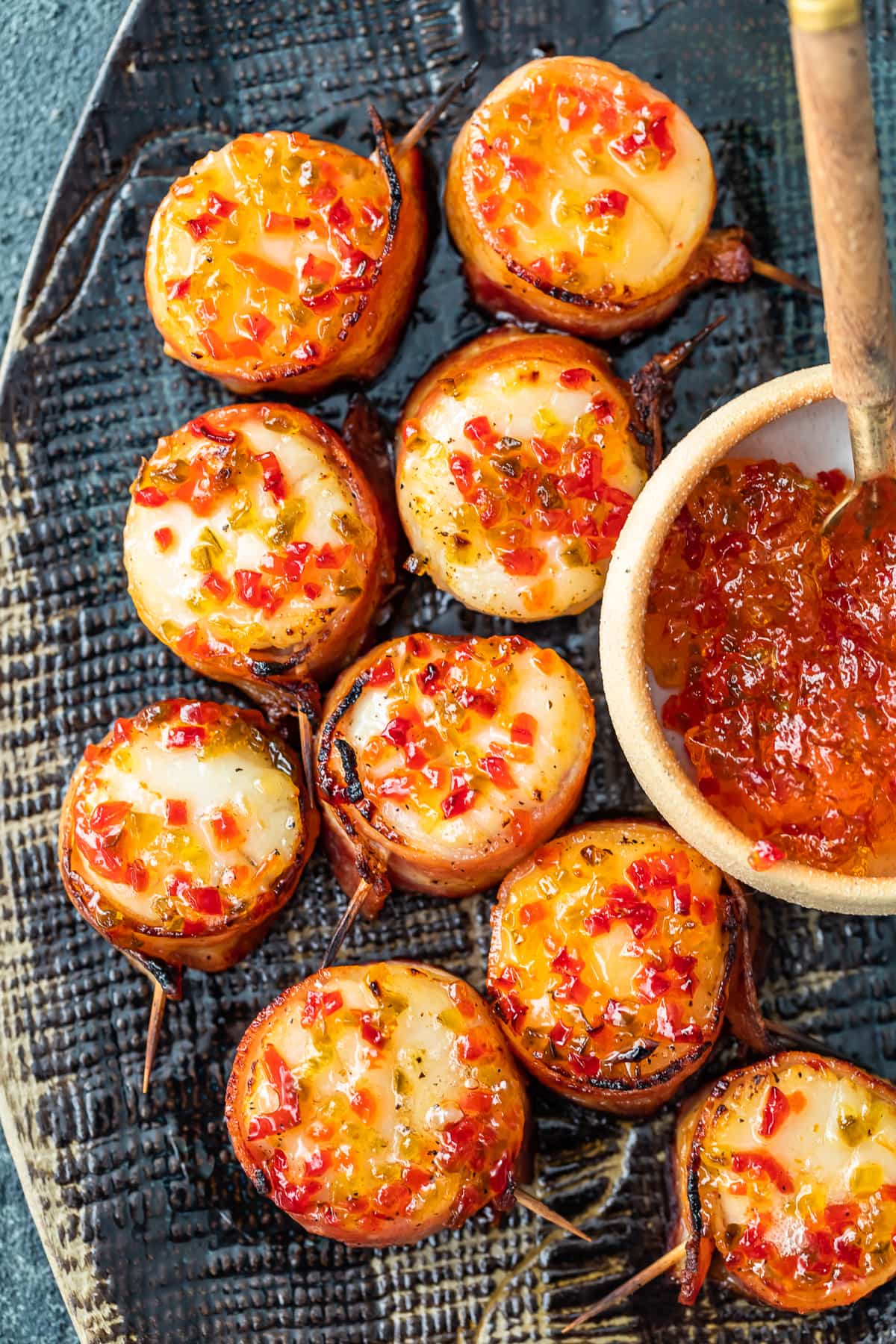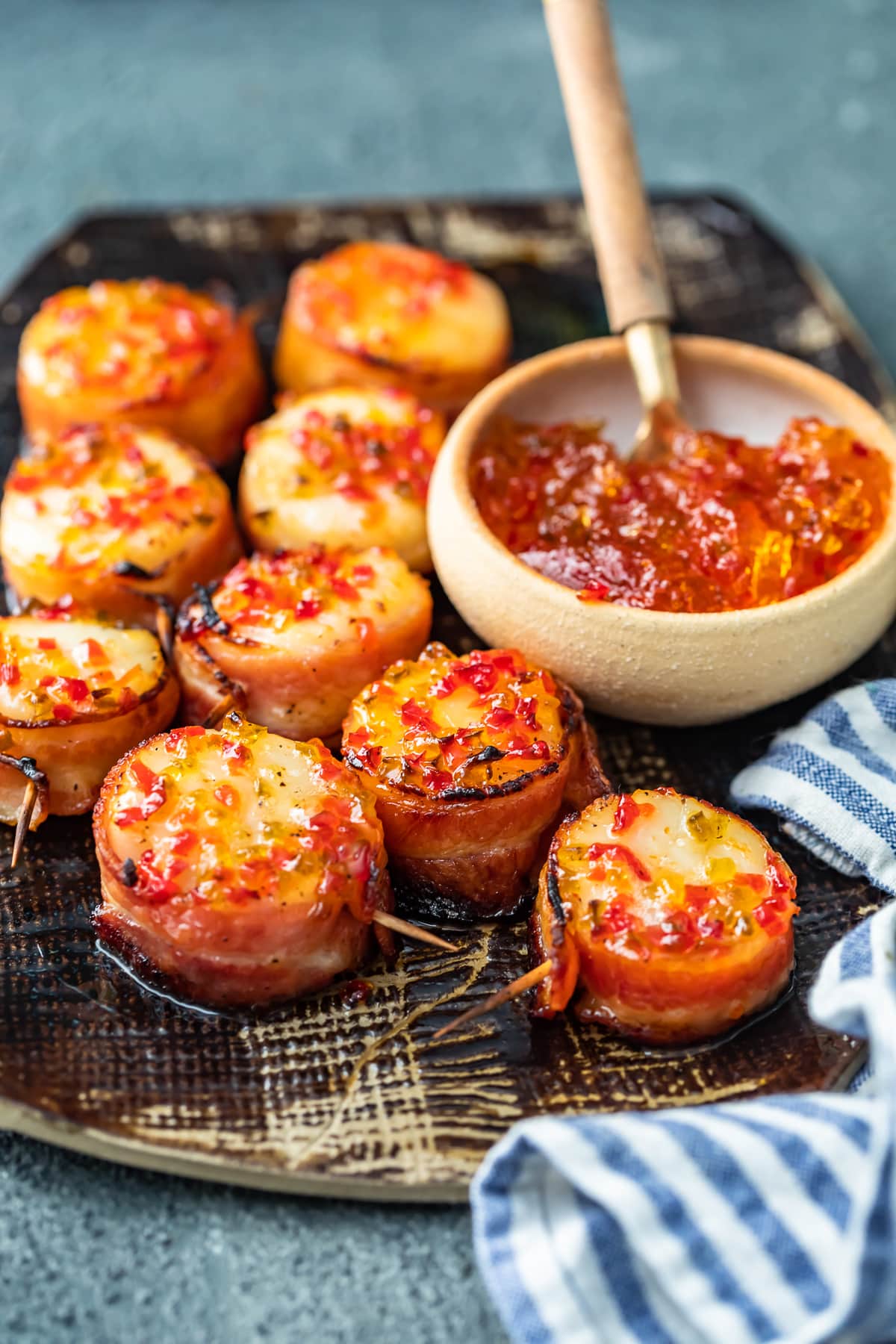 How to Make Bacon Wrapped Scallops
Like I said before, the scallops don't need much cooking time, but you do want to make sure the bacon gets fully cooked. That's why you'll need to parcook the bacon before wrapping it around the scallops and broiling them. This is easiest to do in the microwave.
Prep the scallops by removing the side muscle, cutting them into smaller pieces (you want them all to be the same size), and then season them with salt.
To par-cook the bacon, place the strips between layers of paper towels on a plate, and then microwave for about 2 minutes.
Cut each slice of bacon so that it wraps around the scallops, with just enough overlap so that you can secure it with a toothpick.
Wrap each scallop with bacon, secure it, place it on the prepared baking sheet, and then top it with 1 teaspoon of hot pepper jelly.
Broil the scallops in the oven for about 3-4 minutes. The bacon will brown and the scallops will turn opaque.
You can jump to the recipe card for full ingredients & instructions!
Easy as that! Serve them while hot and enjoy. They are such a delicious little treat! Check the recipe card for more detailed instructions.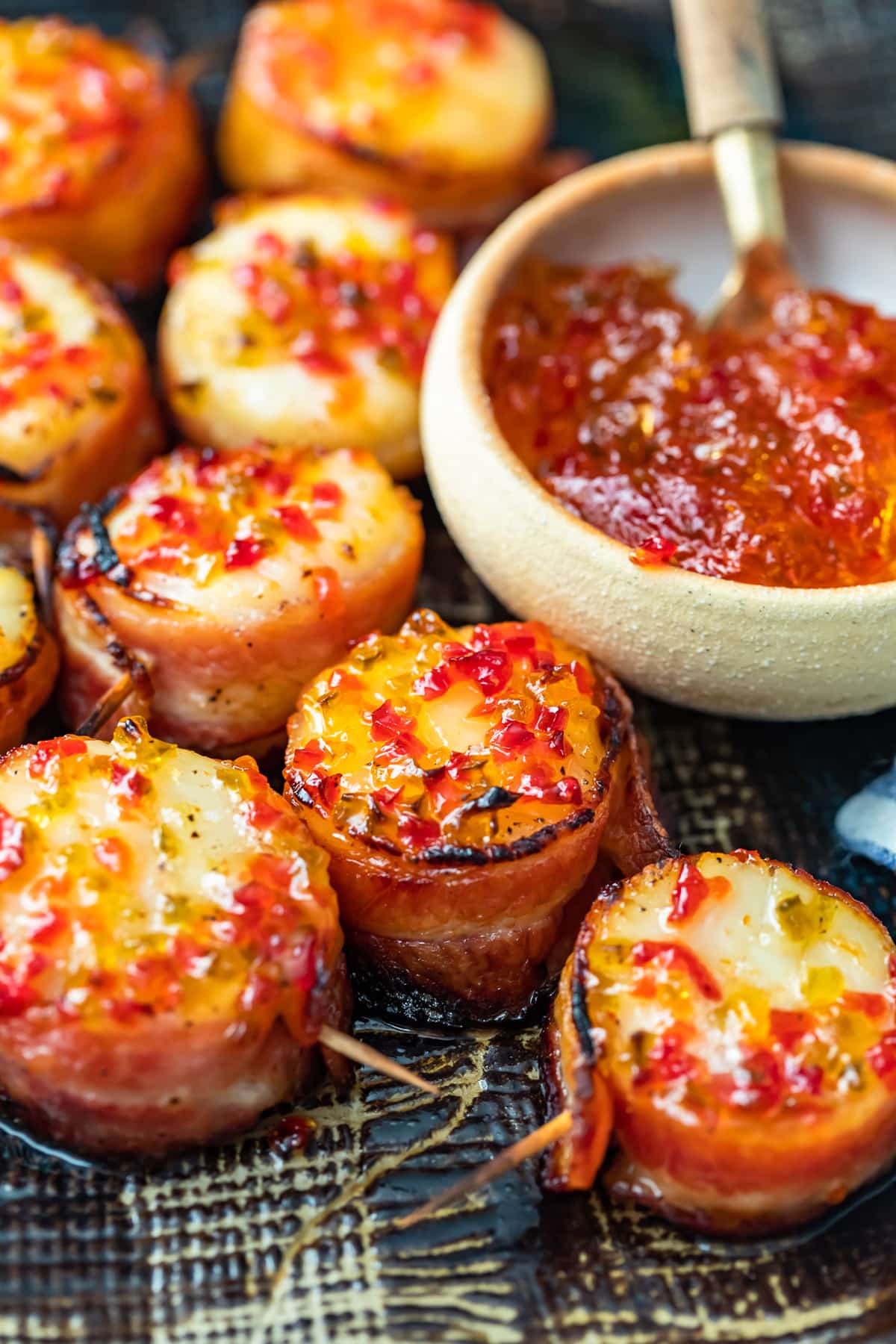 Make Ahead Instructions
Yes, you can make bacon wrapped scallops ahead of time. Since these don't need much cooking, all you would really need to do ahead of time is the prep stage.
Par-cook the bacon, wrap the scallops, and then refrigerate them until you're ready to serve. They'll only take a few minutes in the oven.
While you can do this, I think it's just as easy to make them when you need them. Like I said, prep is easy, broil time is short, and it just won't take too long to make overall. Plus scallops are best if cooked and eaten within a day or so of buying them.
But if you know you'll be in a rush right before serving them (maybe you're making lots of other food and appetizers), go ahead and prep a few hours ahead or the day before, then just take them out of the refrigerator and broil.
Dipping Ideas
The hot pepper jelly adds the perfect amount of flavor to these bacon wrapped scallops, so dips aren't necessary. However, I'll never turn down an opportunity for dipping.
I think a teriyaki sauce or soy sauce would make a great flavor addition to these. Anything sweet with a bit of heat would be a perfect compliment!
If you don't want to top each one with hot pepper jelly, you can serve it on the side. That way people can choose to dip or not.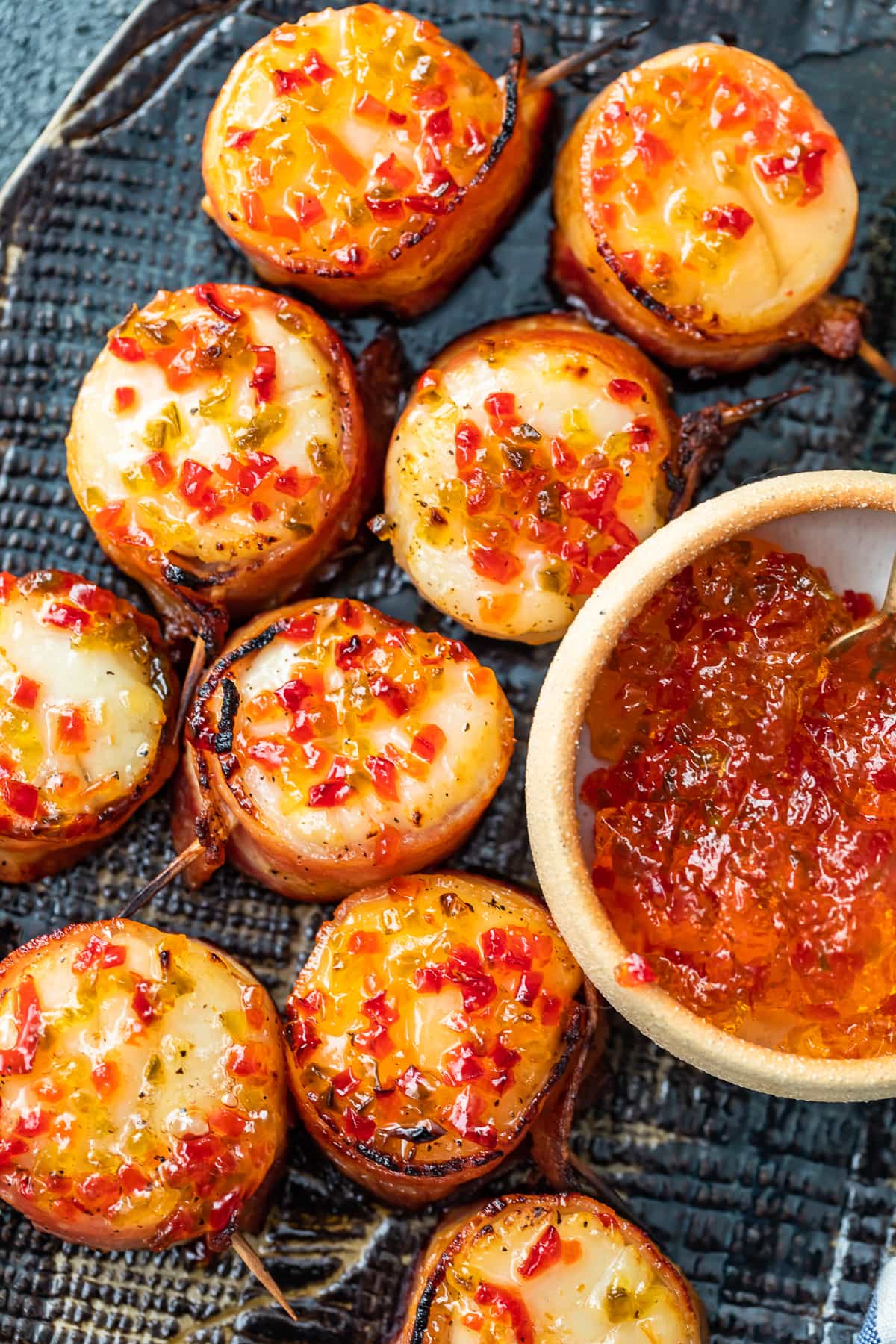 Make sure you add this sweet and spicy scallops recipe to your next party menu. These bacon wrapped appetizers will impress everyone that tastes them!
More Bacon Wrapped Recipes
We LOVE wrapping things in bacon! These Bacon Wrapped Scallops are just one of our favorites. Check out our other fun recipes below.
If you love these Bacon Wrapped Scallops please upload a pic in the comments below or leave us a rating. Enjoy!